Couple workouts are scientifically proven to be more successful than a lone-workout. Personal trainers Claudia Newland and Nicola Addison, who are also a couple, finish their 4-part series with Healthista with a 20 minute abs workout
If you're not familiar with the phenomenon of couple workouts, you will see the benefits in the sheer strength of Louise Thompson's abs. The Made In Chelsea star got together with her boyfriend Ryan Libbey on the screens a couple of years ago, and from there, we have been bombarded with their sickeningly cute workouts with each other. We may be a tad jealous.
OTHER COUPLE'S WORKOUTS FROM LOUISE:
10 minute butt and back workout for couples 
How to stretch with your partner
20 minute HIIT workout for couples
https://www.instagram.com/p/BPS_nwPg-bV/?taken-by=louise.thompson&hl=en
The pair motivate each other, and Louise has made it clear Ryan was a huge influence in her fitness transformation, encouraging her with compliments. 'Before I met Ryan I definitely took exercise less seriously. It was always a temporary solution', she told OK! Now, couple workouts have created a deeper bond between them. 'We have a lot of fun in the gym together, I love it. They say that the pheromones released make you more attracted to someone so maybe that plays a role in why we're so obsessed with each other', she said.
They aren't alone, as a recent survey of 1,007 Brits conducted by Be a Better You found that 42 per cent of couples work out together, either in the gym or at home. It has actually been proven to improve your workout success rate, as those who workout together in the gym have a 6-per cent drop out rate, compared to those who work out alone with a 43 per cent drop-out rate, according to a Channel 4 documentary 'How To Get Fit Fast'.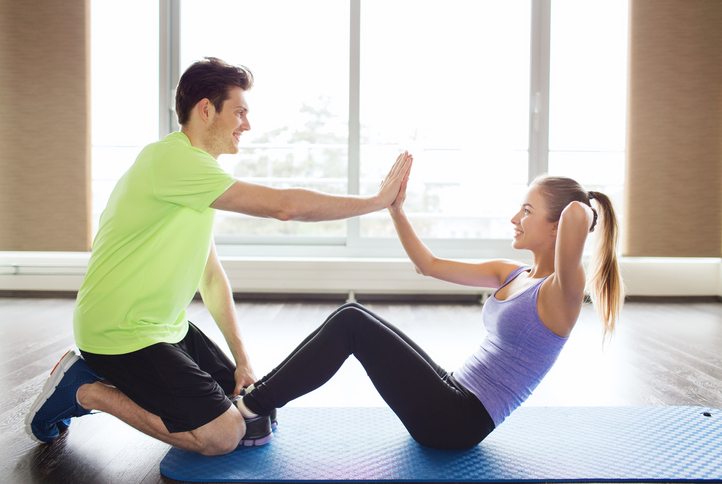 Personal trainers Nicola Addison, who owns Eqvvs Training gym, and Claudia Newland have teamed up with Healthista and created a four-part couple workout video series. Nicola is a celebrity trainer, helping shape the bodies of Elle Macpherson, Erin O'Connor and Daisy Lowe, so we are taking note!
Previously, they have taken us through a 20 minute HIIT routine, 10 minute butt and back workout, and shown us how to stretch with a buddy. This week is the final video so its time to blast those abs in a 20-minute workout with a warm up and cool down included.
Have you got a couple workout move to show Healthista? Tag us in your video on Instagram – @HealthistaTV and follow @EqvvsTraining.
READ MORE
Healthista 30 Day HIIT Challenge
10 best workout channels on YouTube
Could having an affair help you lose weight?
Like this article? Sign up to our newsletter to get more articles like this delivered straight to your inbox.