Couples Workouts are great for bonding on top of shaping up. Personal trainers Claudia Newland and Nicola Addison, who are also a couple, have created an exclusive 4-part workout series for Healthista, and this week it's for the butt and back
Healthista have curated a 5-part workout series that you can do at home AND with a partner or friend. Personal trainer Nicola Addison owns Eqvvs Training gym and has helped shape the bodies of Elle Macpherson, Erin O'Connor and Daisy Lowe. Nicola and her partner Claudia Newland, also a personal trainer at Eqvvs, have cleverly put together these workouts so exercise doesn't need to be so lonely.
Previously, they have taken us through a 20 minute HIIT routine, and shown us how to stretch with a buddy. This week it's time to get the glutes working with a 10 minute butt and back workout, otherwise known as a 'posterior chain workout' (the muscles on the rear of the body), or 'ass and back' as Nicola puts it! There is an additional warm up and cool down, too.
MORE: 30 Day Bikini Challenge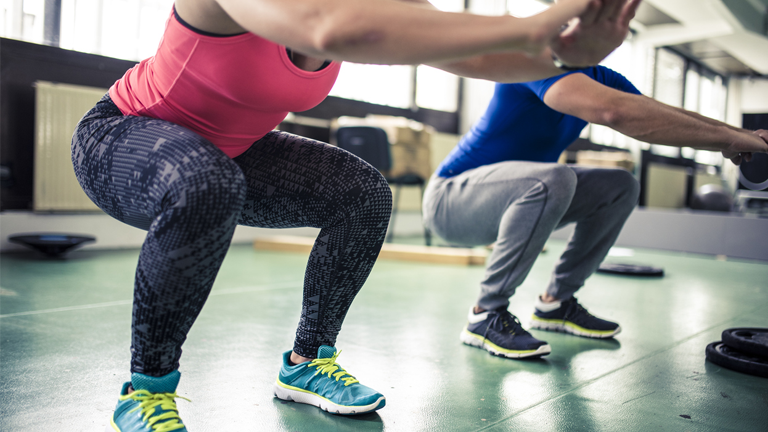 Couple workouts have been shown to not only strengthen the bond between two people, but also the commitment to your fitness goals. Research, reported in a Channel 4 documentary 'How To Get Fit Fast' has shown you are more likely to succeed at the gym with a pal, burning 21 per cent more calories, and working out for 16 per cent longer. You are less likely to cancel too, having already committed to turning up.
Co-ordination, communication and motivation will keep you and your partner going, as well as strengthening your relationship. So get squatting!
Have you got a couple workout move to show Healthista? Tag us in your video on Instagram – @HealthistaTV and follow @EqvvsTraining.
READ MORE:
Celebrity trainer secrets: Supermodel Jourdan Dunn's workout plus tips from her PT brother Antoine
Celebrity trainer secrets: Harley Pasternak, personal trainer to Ariana Grande, Amy Schumer and LOTS of other A-listers
4 stretches to do at your desk right now
ARGUING AGAIN? 5 ways to fight smart from a couples therapist
A cure for IBS? This probiotic pill is scientifically proven to help
Like this article? Sign up to our newsletter to get more articles like this delivered straight to your inbox.