A staggering three quarters of women won't talk about digestive problems such as IBS because of embarrassment. But the help is out there
Abdominal pain. Bloating. Constipation. They're familiar, everyday symptoms for the 25 per cent of us who suffer with IBS (Irritable Bowel Syndrome). While a myriad of potions and remedies exist that claim to treat IBS – the market for such products is predicted to reach $1.5 billionUS by 2023 – few, if any come with solid scientific evidence. Now, a new probiotic supplement has been proven in numerous scientific trials to target and alleviate the signs of IBS. For sufferers of the abdominal pain, bloating, wind and constipation that come with IBS – symptoms that have been shown to lead to low mood and even depression – it's heartening news.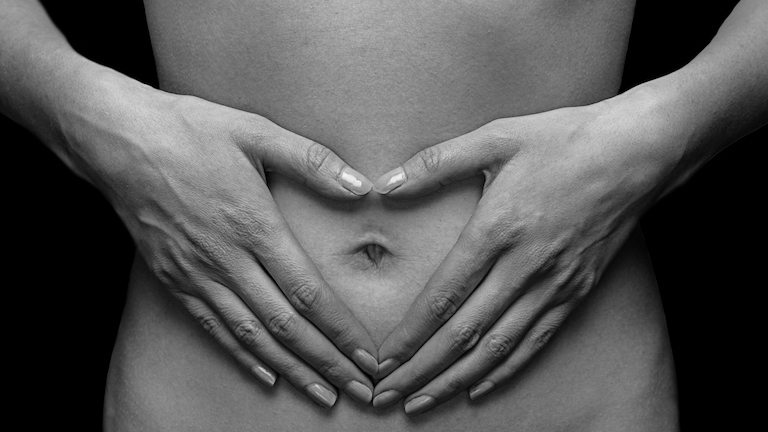 IBS is a list of common symptoms rather than an actual disease, and often diagnosed by GPs when other tests have proven inconclusive. Indeed, its treatment often stumps the medical community. Usually associated with abdominal pain and spasms, errant bowel movements, bloating and wind, it's most common in women and usually diagnosed between the ages of 20 and 30. Although IBS is believed to affect about a quarter of the population, few will talk about this embarrassing condition. Indeed, research conducted two years ago found that three quarters of women wouldn't talk about digestive problems at all, the embarrassment factor was so high.
three quarters of women wouldn't talk about digestive problems at all
It's time we did talk about IBS however, because at last, a natural, scientifically-proven has supplement has been launched that  is revolutionising treatment – even for people who've tried everything.
MORE: 11 foods to help bloating already in your kitchen
A new probiotic, called Alflorex, is the result of more than 15 years of clinical research and 75 leading scientific publications. Alflorex contains a probiotic strain called B. infantis3564 which specifically targets and alleviates the symptoms of IBS.  Only recently launched in the UK, the strain is known in the US as Align, where it is the number one probiotic recommended by gastroenterologists for the treatment of IBS. 'The gut bacteria plays an important role in many digestive health issues,' says Professor Eammon Quigley, one of the world's leading Gastroenterologists in IBS and Chief of Gastroenterology at Houston Methodist Hospital. 'B. infantis 35624, the strain in Alflorex, is one of the few products that has been truly developed on a scientific basis and tested in high quality clinical studies to help the symptoms of IBS.'
In the US it's the number one probiotic recommended by gastroenterologists for IBS
Gut bacteria and probiotics
You probably know you need to have good bacteria for good health right? And you've you've obviously heard the hype about probiotics. You may even have heard the terms lactobacillus and bifidobacteria, often describing ingredients in common probiotic supplements.  Probiotics are live bacteria and yeasts promoted as having various health benefits, according to the NHS.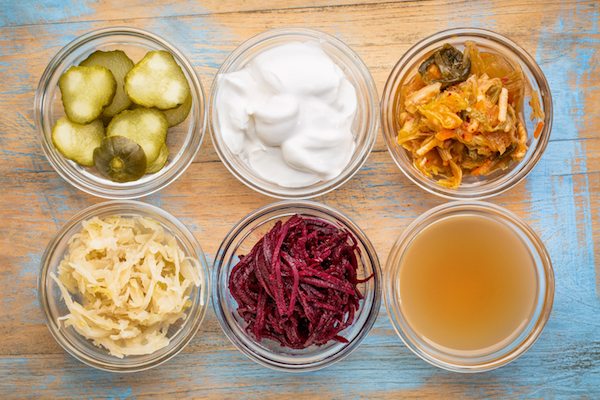 They're usually added to yoghurts or taken as supplements, and are often described as 'good' or 'friendly' bacteria. Probiotic yeasts and cultures also occur naturally in fermented foods such as sauerkraut, kimchi (Korean pickles) and kefir (and Eastern European cultured milk drink) – high in beneficial bacteria).
MORE: Can fermented foods change your life?
Why the strain of bacteria matters
Your gut contains trillions of such gut bacteria and terms such as lactobacillus and bifidobacteria are like family names of these bacteria, also found in probiotic supplements, explains nutritional scientist Dr Eileen Murphy. Within these families are strains of bacteria that are like children of those families. 'There are many Magees in Britain,' says Dr Murphy. 'But there's only one Anna Magee who was born on this particular date.' That's the same with probiotic strains, she explains. 'There are unique ones that play all different roles in health and you need to find the right strain for the right job because like people, they all have different talents. Although a lot of probiotics claim to help with digestive issues, B. infantis 35624 is the only unique and patented strain that has been clinically studied to specifically target the  symptoms of abdominal pain and discomfort, bloating, and wind associated with IBS.  So its specific talent is IBS.'
Real-life success
This evidence also worked for TV presenter Zoe Salmon, who has suffered from IBS since her late teens. After years of trying diets and supplements, Zoe, 37 started taking Alflorex.
I have eaten pizza, and bread and drank champagne and didn't have an IBS attack thanks to Alflorex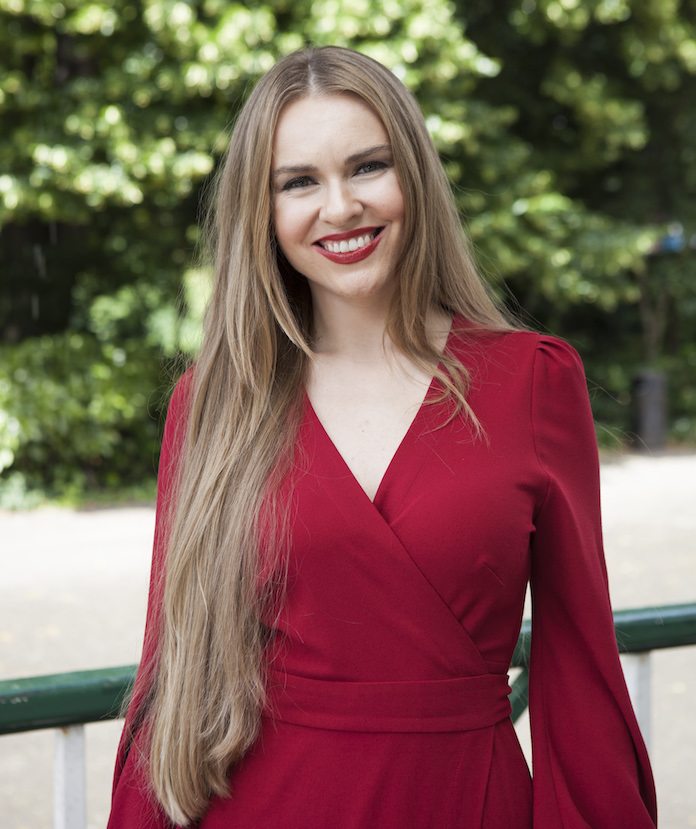 'I can basically eat what I want now' she explains, 'I do choose to eat healthily the majority of the time but I have eaten pizza, and bread and drank champagne and didn't have an IBS attack thanks to Alflorex.'
MORE: Is this the diet to end IBS?
What's the scientific evidence Alflorex relieves IBS?
Alflorex was developed in collaboration with the APC Microbiome Institute in Ireland a centre at the cutting edge of global probiotic research. Just last year, I reported on work being done there which showed that men taking another probiotic strain, called Bifidobacterium longum 1714 performed better in stress tests than those taking a placebo.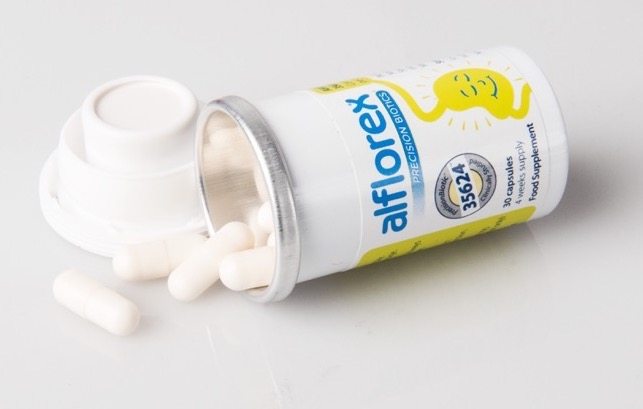 Among the numerous clinical studies showing Alflorex's effectiveness was a fascinating one done on 362 female patients with IBS. Half were given a placebo and half were given Alflorex to take and their IBS symptoms were monitored daily. The research, published in the American Journal of Gastroenterology found that at the end of the four weeks the women taking the Alflorex saw their symptoms significantly improve, especially abdominal pain, constipation, bloating and wind.
At the end of the eight week trial, those taking B. infantis 35624 saw improvement in bloating, abdominal pain and constipation
In another study, 77 sufferers of IBS were randomly assigned  to receive a supplement of another probiotic strain, Lactobacillus UCC4331 or B. infantis 35624 (the one in Alflorex). At the end of the eight week trial, those taking B. infantis 35624 again saw an impressive improvement in symptoms of bloating, abdominal pain, constipation compared to the other supplement.
The Healthista verdict
At Healthista, we look for evidence when it comes to remedies for serious conditions such as IBS. Alflorex's strong body of scientific research, the anecdotal evidence of its effectiveness and its phenomenal success in the US, suggests it could indeed provide relief for IBS sufferers.
How should I take it?
Alflorex is super-easy to take. It's one small flavourless capsule, taken once daily anytime during the day (with or without food) and for those that struggle with capsules or for the younger ones (Alflorex may be taken from 12 months), the capsule may be open and its contents mixed with water, milk or natural yoghurt. While the makers say you should start to feel a difference within two weeks, they suggest you keep taking one tablet daily indefinitely to ensure your symptoms don't return.  One month's supply – 30 tablets – costs £19.99 at Boots stores nationwide and online.
MORE: 4 hormones stopping you losing weight 
Reader offer
We're excited to offer an exclusive 10% discount for Healthista readers for Alflorex adult capsules. Simply use the discount code HEALTHISTA at checkout, valid until 31st May 2017.
DISCLAIMER: We aim to ensure that the contents of this article (materials) are accurate and consistent with current knowledge and practice. However, the materials are not exhaustive, presenting some but not all aspects of conditions and cannot always reflect all the most recent medical research in all areas. We make no guarantees, representations or warranties whether express or implied that the materials are accurate, complete or up-to-date.
Accordingly the materials are presented for information purposes only and are not intended to amount to advice on which reliance should be placed. The materials in no way replace the professional medical advice or treatment of a doctor or other qualified practitioner and cannot and should not be used as a basis for diagnosis or choice of treatment. If you have health problems you should consult a doctor for a full and proper diagnosis based on an analysis of any symptoms and your medical history.