Finish 2021 with a bang and try out these cool and trendy fitness classes – perfect to boost immunity, let off some steam, practice your zen and uplift your mood
With gyms back in action, there's no better time than now to kick up a sweat and lose those lockdown pounds…just in time for the festive season.
But where do I begin, we hear you ask?
Well lucky for you, at Healthista HQ, we went on a fitness class spree to dig out the trendiest fitness classes to ever grace our beloved city, so you don't have to.
at Healthista HQ, we went on a fitness class spree
And let me just warn you now, some of these are intense, leaving some of us suffering from near-death experiences (we won't mention names).
So, to get your hearts pumping and juicy endorphins racing, here's a list of our top 16 classes guaranteed to make you feel good in no time.
Whether you're a beginner, pro or somewhat pro, there's a class for everyone and anyone. You just need your bad-ass (with a hint of zen) attitude at the ready…
#1 FORE FLOW at The Fore
What is it?
This is yoga with a twist (quite literally) – with the use of TRX to fulfill those yoga moves but without the yoga if that makes sense.
It's the perfect balance between flexing your mind's muscle whilst training your body's muscle to precision.
Starting with light breathe work and simple yoga positions, then very swiftly moving onto the hardcore TRX where the real fun begins.
https://www.instagram.com/p/CPQ2jZAn0li/
You'll probably like it if…
You're looking for something different than the usual yoga experience, that still builds on your core strength and improve flexibility in a challenging way.
Also, if you feel you suffer with poor posture, the use of TRX helps to straighten your posture and help better your form and balance.
Hit or miss?
I absolutely loved this class and would say a definite hit! I felt slightly scared at first, but this quickly changed into warrior mode when trying to master the TRX.
It's quite the experience, with the addition of TRX you feel like a true acrobat (when you eventually master the skill of hanging upside-down) with an outside view to stand for it too, a bonus!
The teacher offers her assistance and support in every way possible, giving you the encouragement and motivation you need to carry out each move.
Tip: Eat something light an hour or two before session.
Interested in this class? Find out more here.
#2 Power Yoga at Core Collective
What is it?
At the beginning of 2020, Sea Containers London in collaboration with Core Collective launched a series of fitness classes, Skyline Stretch, all located on the 12th floor of the plush sleek rooftop bar 12th Knot.
However, this class is no longer available at this location but fear not, you can still take full advantage of this powerful class through their various boutique locations.
This specific class focuses on fast-flowing movements and control, balanced with strength and light playful flows guaranteed to get you kicking up a sweat and releasing those happy endorphins.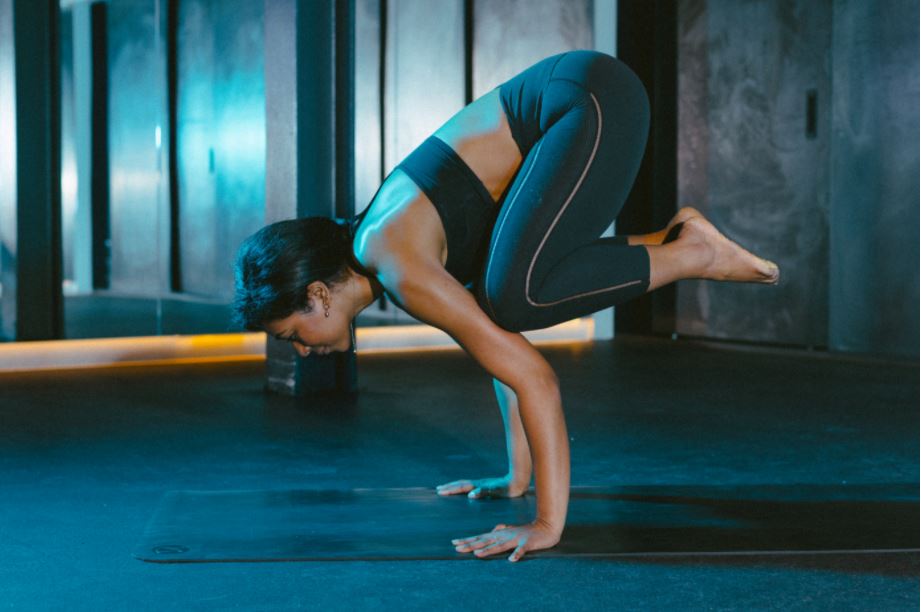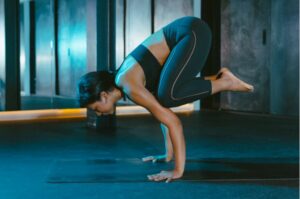 You'll probably like it if…
You're looking for a clear, much needed headspace to practice yoga that is a little more upbeat.
Sweat factor?
4/10 – it does kick up a sweat with the fast flowing moves as they can be quite repetitive but that's where the 'power' part really does come in and you definitely feel it.
Hit or miss?
Seeing the word 'rooftop' was enough to draw me in (a total sucker for those) but experiencing a fitness class on top was a whole new level of enjoyment and I felt absolutely buzzing after and I'm sure this exact feeling will be replicated in their boutique locations.
The moves were challenging and different but the mix of fast and slow is something I really enjoyed (especially the slowing down ones).
The view will be missed but the sensation of feeling content and relaxed is something you don't want to miss and I would definitely try this class again!
Interested in this class? Find out more here.
#3 MINDFUL RIDE- Boom cycle
What is it?
In collaboration with Emotion Matters and CALM, Boom Cycle debuted their very first 'Mindful Ride' concept in 2020 – a 'fitness experience that builds confidence and overall happiness in daily life to Boom Cycle riders'.
It was a sensory experience- fusing meditation and exercise by focusing on breathing, the powers of imagination, scent and sight, all to push you out of your comfort zone.
They made the room smell like roses as they guided you to imagine you were a rose about to bloom.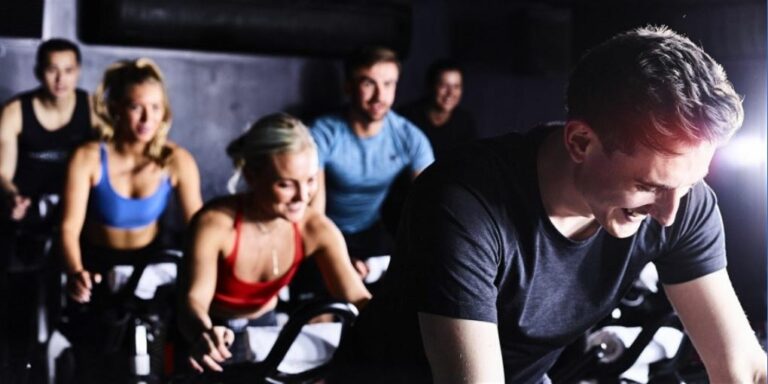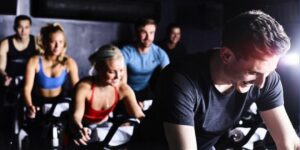 Sweat factor?
The class pushed you to work out hard, however the cooling and meditative nature made it easy to wipe away the sweat and keep going.
Pain factor?
For new-time cyclists this class is a good option because it balances rigorous exercise with deep breathing and meditation-which helps reduce pain and keep stamina up.
You'll probably like it if…
You can't decide whether to hit an intense cycling class or unwind at a yoga class then the Boom Cycle mindful ride balances on that fine line- you get a good workout but also a bit of a break from the stress of the day.
Hit or miss?
I think a hit! The studio is so luxe with built in hair dryers and straighteners to freshen up before you leave.
The people are so friendly and guide you through your 'journey' and ease you out of your comfort zone. Plus, they had healthy snacks (e.g. grapes, hummus, vegetables and guacamole) available afterwards!
After I finished the class I had so much energy, I skipped the tube and walked all the way home!
This was a one-off event class at the time but BoomCycle offer various other event classes (e.g. Pride) which you can find more about on their website here.
#4 Full body at Sweat IT LDN
What is it?
This workout had everything you needed for a full body workout. The usability of the equipment is easy and practical to work your whole body.
The treadmill has three settings: run, sled and parachute.
The workout includes incline running, fast running then into sprints and once you feel you can't go anymore the trainer will put you into sled or parachute mode on the treadmill where you will be running with a resistance on the treadmill.
The weights section of the workout is filled with full body movements to target literally everywhere.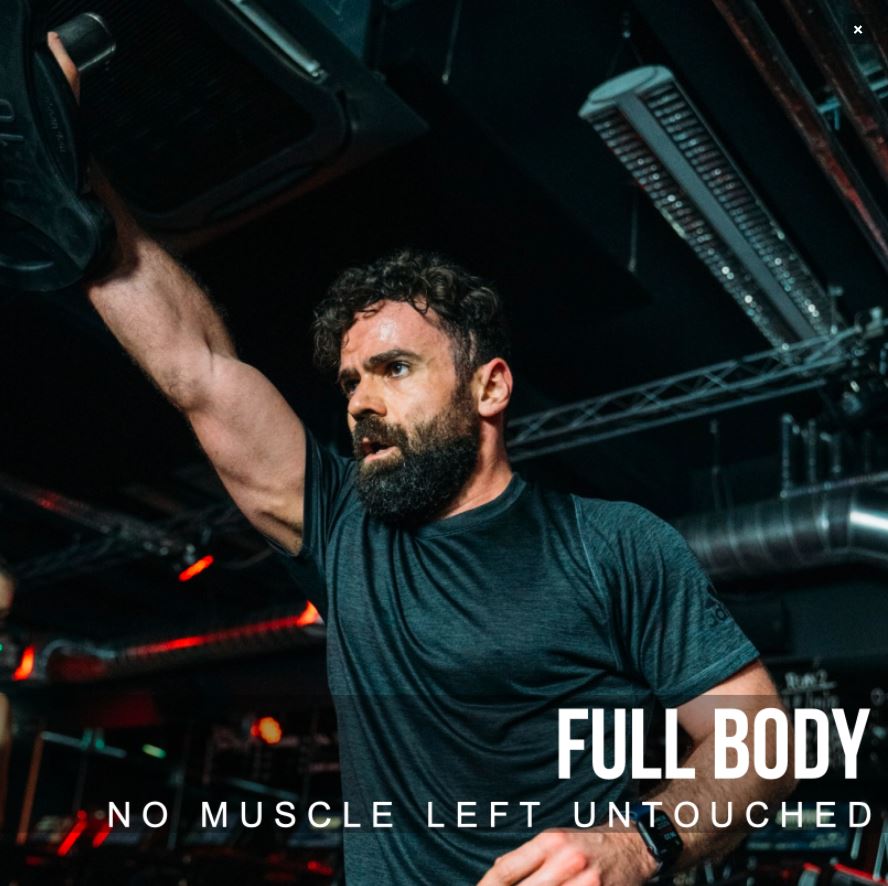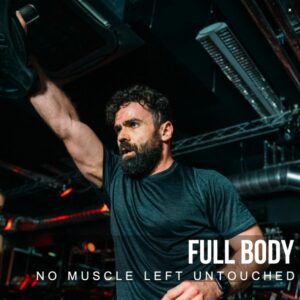 Sweat factor?
Let's just say the workout is split up into five mini circuits and after first circuit, I was already sweating.
Pain factor?
9/10
Calories burnt – 650 kcal
You'll probably like it if…
You're looking for that full body workout to burn a load of calories. Or for someone that wants to make a good start too the week and attack all the muscles in their body and feel it for days after.
I would say though, that the level is quite high so this would not be for a first time gym-goer and more of an intermediate level.
Hit or miss?
I would go back. What stood out to me the most was the structure of the workout, even though there are moments where you feel you can't go anymore, the rest periods are well placed to make sure you can complete the whole workout.
With mini circuits built into the workout, you get a good combination of cardio, strength and endurance.
Interested in this class? Find out more here.
#5 Upper body at Sweat IT LDN
What is it?
This workout had treadmill-based circuits that I felt increased my heart rate, delivered that burning sensation in the legs and as I burnt 750 calories it would be a good one to try if you are keen to burn fat.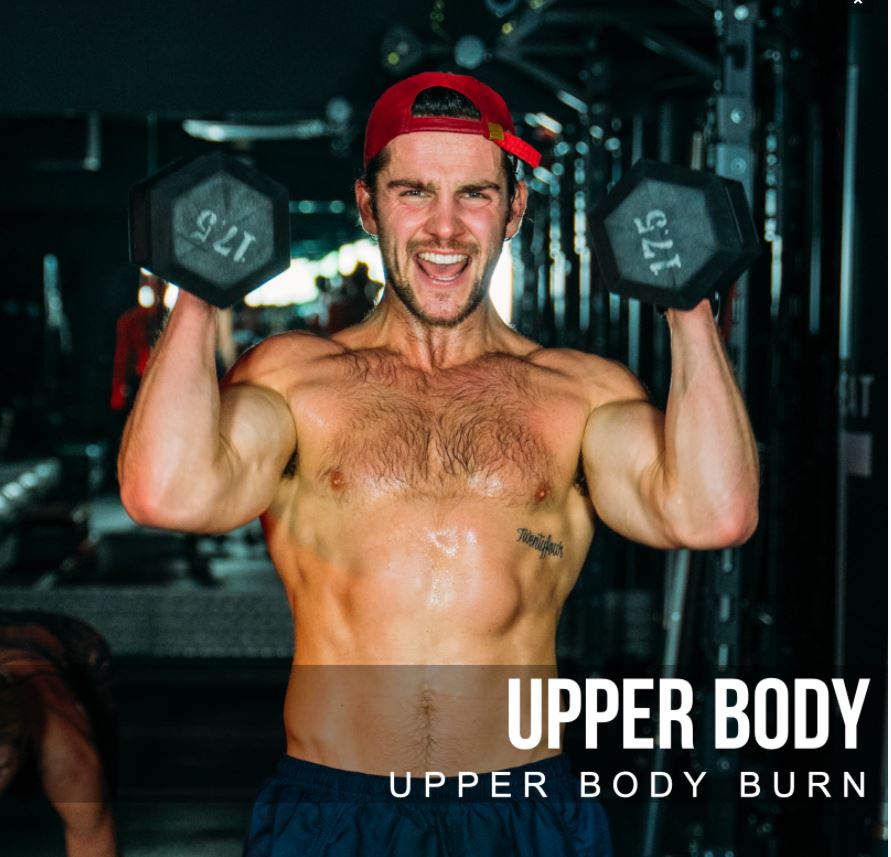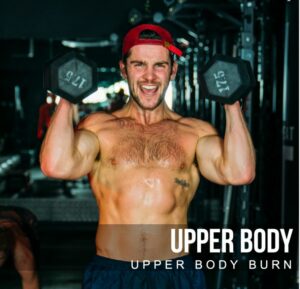 Sweat factor?
It couldn't have been more than 10 minutes in and HELLO SWEAT.
Pain factor?
9/10
Calories burnt – 750 kcal
You'll probably like it if…
You're looking for that upper body workout with weights but still includes cardio to aid fat burn time.
Hit or miss?
I would go back. The upper body weights exercises were well structured and gave you movements that hit every part of the upper body.
As with the full body workout, the usability of the equipment is easy and practical to work your whole body.
There were a range of moves that didn't just focus on one body part, some moves would hit the core and then the arms, then the back, then the shoulders and this kept the workout interesting as it would keep you guessing to what you would be doing next.
Interested in this class? Find out more here.
#6 SoulBeat at SOULCYCLE
What is it?
SoulBeat is an in-app experience that lets you track of each of your sessions. Linked to your bicycle you can check your power, distance, RPM and how closely you matched to the sound of the beat. Over time you can track your progress.
https://www.instagram.com/p/CSPR5eTnhL0/
Sweat factor?
5/10
The intensity is gradual as it follows the beat of the music so there will be chances for you to cool down.
Pain factor?
10/10
If you're a beginner you will really feel it in your thighs for the next few days.
You'll probably like it if…
You're looking for some stress release. The high intensity really makes you focus on the class and leave your worries at the door. Also, if you're looking for a way to challenge your stamina this would be great.
Hit or miss?
For me personally, a miss. I never plan on walking back into a SoulCycle class again, but I hate cardio so I'm not the best judge.
Interested in this class? Find out more here.
#7 F45 – Hybrid class
What is it?
Army style boot camp.
Well, that's what it felt like but in less scarier terms, a high intensity circuit training packed with both cardio and weights.
There are 18 different exercises in total (e.g. to name a few..), each one for 2 minutes with a 60 second rest in between- you do 2 rounds of this.
Then you finish off with a speedy circuit and complete each exercise for 20 seconds each. The whole session is done in pairs and there is an interactive session to help guide you in completing each move.
https://www.instagram.com/p/CL-eyloAqhs/
Sweat factor?
5/10
For a first timer, I took regular intervals to rest so felt majority on the back of my neck and whole back.
Pain factor?
7/10
You do feel a burn in your legs, my legs were basically trembling, but hard work never comes easy!
You'll probably like it if…
You like variety and a combination of exercises that challenge your core, upper and lower body. For someone that is a beginner, it allows you to judge whether you prefer cardio, weights or both.
Hit or miss?
Although I did try to make a run for it in the last 15 minutes (but failed miserably), I felt empowered and like a new person.
I found it very challenging and it really tests your strength but once you get into it, determination kicks in and you feel like you want to battle through (whilst silently crying on the inside).
What struck out to me the most was the interactive screens. Especially if you're an amateur and don't really know what you're doing or how to do a move, or if you've forgotten what it is you have to do next, then the interactive screens are your best friend. It's such a great idea!
What I also noticed, as a beginner, you must make sure that your form and posture is always right to prevent any sort of injury to your back or anywhere else.
There are at least three instructors moving around the circuit making me feel at ease in case I came across any problem and help make sure my form is correct.
They also help you with alternative moves if you're struggling with ones that seem challenging or you're not familiar with.
I quite liked the mix of cardio and weights, as I'm not a massive cardio fan so incorporating weights is a plus and I would go back and try again.
Interested in this class? Find out more here.
#8 SWEATBOX at Sweat BXR
What is it?
A fusion of boxing with conditioning training in a 2-part full body workout.
Set to upbeat hardcore music to get you in the mood, this class teaches you how to box or polish your boxing skills (for those who are slightly more advanced), whilst also improving your strength and stamina with floor/box exercises such as mountain climbers, lunges and squat burpees.
https://www.instagram.com/p/CQF8aBvHLNs/
Sweat factor?
6/10
More with the conditioning training part than the boxing, although the hooks, jabs and kicks still work up a sweat.
Pain factor?
5/10
Because the session is split into two, I feel as the though the pain is surprisingly balanced out quite fairly. You do, however, feel it more in your core area and lower body.
You'll probably like it if…
If you want to let out some steam or stress but also tone and strengthen your whole body, then this is for you.
Hit or miss?
I really enjoyed this class. It's nice to get a variety of the two types of training, with the boxing my least favourite part.
For someone who is a beginner I felt the boxing doesn't emphasise on how to carry out the different techniques, and because only half the session is dedicated to it, it doesn't satisfy the full boxing experience for me whereas it may be suitable for someone who is more advanced and knows the different techniques.
A full boxing session, which I have experienced before, plays far better as more attention is given.
The conditioning part is great for toning your whole body and you have the option of using weights too.
Interested in this class? Find out more here.
#9 Rebounding at FRAME
What is it?
Trampoline. Party music. Pure vibes. Need I say more?
A high energy full body workout using your very own mini trampoline.
https://www.instagram.com/p/CSgurEdIJJE/
Sweat factor?
7/10
Those dance moves whilst 'catapulting' in the air is sweaty.
Pain factor?
You feel it on your legs but by next day, you're as good as new.
You'll probably like it if…
You want to get your mojo on and have fun whilst working out, rather than dreading it.
If hardcore HIIT circuits aren't for you, then you can jump your way through this one, with great tunes and dance moves, you'll be wanting more!
Hit or miss?
Certified hit! So much fun whilst working up a sweat, it's really the fitness class you NEED to add into your diaries.
Interested in this class? Find out more here.
#10 BarreRESTORE at Barrecore
What is it?
Set in a beautiful soothing ambience, this class is all about restoring your muscles and focuses on your breathing techniques as well as teaching you joint mobilisation and lengthening stretches to help you achieve everlasting results with your form, balance and posture.
https://www.instagram.com/p/CUcX3xbAp_G/
Sweat factor?
Zero. Relaxation factor…10/10!
Pain factor?
1/10
When using the tools you may feel slight pain but this is all to help loosen and restore your muscles and relieve pain in areas you didn't think you had tightened muscles/knots.
You'll probably like it if…
You're looking for a relaxing class at the end of a long stressful day and want to get rid of any stress, tension or deep knots in your body and massage your way through them.
Hit or miss
Such a hit! I did this class after work and loved every bit of it, I was ready for bed.
You have a chance to rest your eyes and stretch and with the diffusing oils and calming music, it's the perfect setting.
Also you complete some moves with the side bars available along the room, which was different and a great way to practice stretches.
The instructor even gives you a two-minute head massage which was a real treat and so unexpected, I honestly had a spring in my step on my way to work so I can see how this class works in lengthening your body and improving your posture, all while feeling zen but like a happy bunny after.
Interested in this class? Find out more here.
#11 Dynamic Reformer (Beginner level) at Ten Fitness
What is it?
Not your typical pilates class as it involves a machine called a reformer which aids you in completing classic pilates moves.
The machine has different levels of spring weights inside and focuses on your core muscles and glutes whilst implementing key isolation moves all while helping to improve your posture, form and flexibility.
https://www.instagram.com/p/CUSxF9UInv8/
Sweat factor?
1/10
For a beginner level, I didn't feel as much but it really does test your core strength.
Pain factor?
5/10
Those isolation/core moves are no joke!
You'll probably like it if…
You're a beginner looking to start your pilates journey and improve your core strength as well as posture.
Or if you're generally looking for a full body workout to get you back into the swing of fitness. Also helps aesthetically ladies! *wink wink*
Hit or miss?
For a beginner who didn't have a clue what a reformer machine was or how it worked plus trying pilates for the very first time, it was a great learning experience discovering all the hidden tools which makes this machine so great as well as making me realise how much I really need to improve on my core strength!
The key to this class is concentration and practising mind to body. The instructor helped to guide me in doing so, making sure my posture and form was correct with each move.
If you want to try a level higher, intermediate and advanced levels are also available. All in all this class is challenging and one I'll accept with each class.
Interested in this class? Find out more here.
#12 Animal Flow at Ten Fitness
What is it?
At the time, this was a new class by Ten fitness which I tried just before the pandemic.
It's a ground-based movement discipline based on animal movement such as crawls, stretches, transitions and hand balances to create beautiful (sometimes challenging) flows plus a fusion of mindfulness with coordination to really tackle your stability whilst shaping your form/posture.
Sweat factor?
It doesn't build up a sweat but does increase your body heat.
Pain factor?
5/10
My flexibility is poor, so at times I did struggle, painfully but in a good way.
You'll probably like it if…
You want to try bodyweight training in a safe and free-flowing environment. Think martial arts mixed with yoga, like Karate Kid you could say!
Hit or miss?
I would say hit. You go in not knowing what to expect but come out feeling refreshed and reenergised and with each class I can see how your flexibility will improve.
Interested in this class? Find out more here.
More Healthista Content:
Tired all the time? 7 tried and tested ways to improve your snooze
6 strength training benefits everyone should know about
Weak bladder? 9 tips to manage your symptoms
Personal trainer to Leigh-Anne Pinnock & Lily James reveals 9 ways you can get in shape and stay that way
Foodie Friday healthy lunch: Crushed pea, pesto and goat's cheese bruschetta
Like this article? Sign up to our newsletter to get more articles like this delivered straight to your inbox.