Need to get in shape fast for the party season? Healthista's Vicky Hadley dives into the newest classes to bring you the top fitness workouts and just how effective they are in the sweat stakes
1. The footballers' workout
Speedflex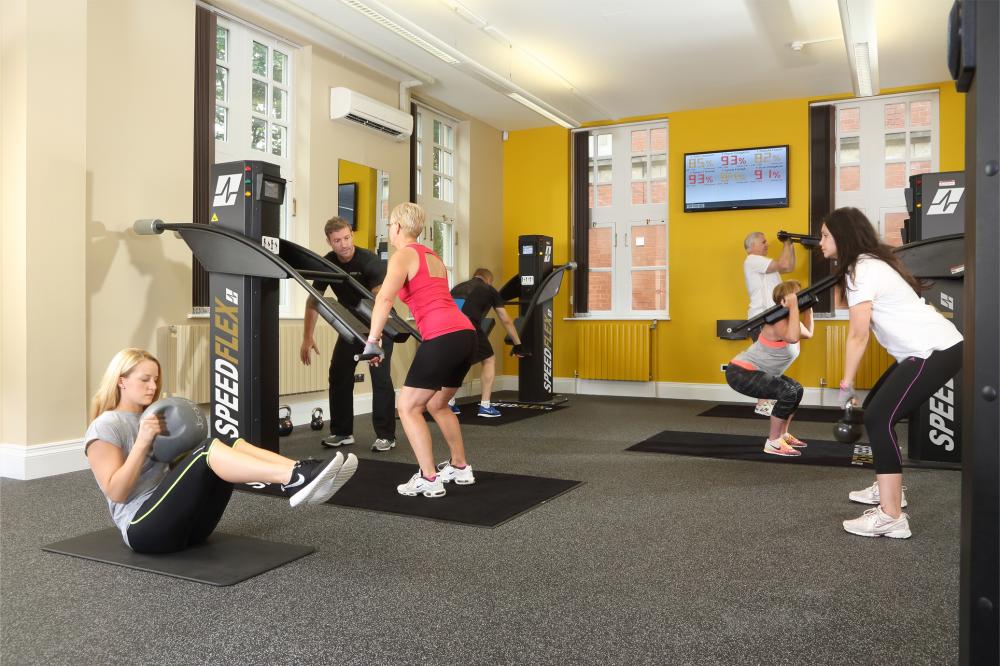 What: Speedflex takes heart rate training to a new level. You're given a heart monitor belt that you wear throughout the session and Speedflex's trainers give you a complimentary fitness assessment to then help you adjust your lifestyle to hit your goals.
The sessions are not for the weak hearted, you will be left red-faced, dripping in sweat and heart pumping. Your total calories burnt are shown on the television screen throughout the workout along with the percentage you are working at. You are encouraged to sustain your heart rate in a high intensity zone of above 85 per cent; this will increase your fitness levels, stamina and results in the quickest possible time. Speedflex have brand new machines that can be used in hundreds of different ways to get you in shape so no class will ever be the same.
Where: Speedflex, 33-36 Lombard Street, Monument, London
Why we love it? Whether you're looking to shape up, improve health or give yourself an intense challenge speedflex is for you. You will be motivated by the trainers and will not be able to cheat your way through this workout as your trainer can see exactly how hard you are working.
Sweat factor: 10/10 if you want a real blood pumping workout then this is for you, you will be pushed to get your heart rate to your maximum so sweating is inevitable.
Sore factor: 4/10 these machines are aimed at lowering the soreness and chance of Delayed Onset Muscle Soreness (DOMS) which is what happens when your muscles don't recover properly after hard exercise. However I did feel quite tight in my legs after my hour long workout, but nothing on a traditional leg day workout.
2. The NEW cardio yoga
FIERCE GRACE – WILD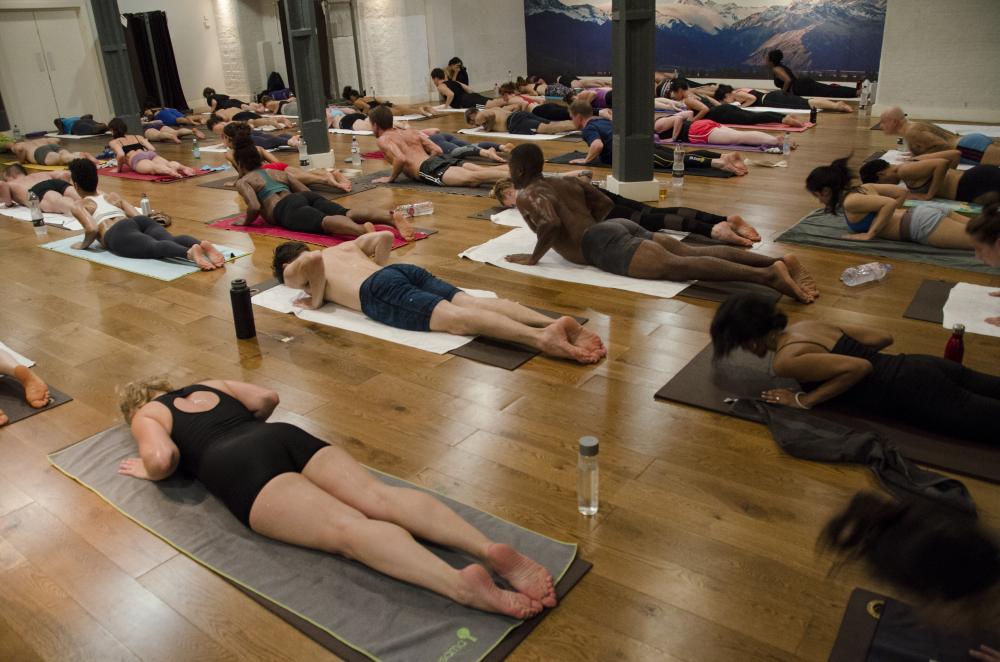 What: Think of a hot yoga class mixed with Pilates mixed with aerobics and you have WILD. The brand new cardio yoga class designed by Fierce Grace founder Michele Pernetta that has just launched at Fierce Grace. WILD, fires up the body with an intense cardio class that will keep you moving non-stop. Whether your working your arms, legs or core you will be feeling the workout the entire time. Great news for all you sweaty betty's out there.
WILD will improve your overall fitness levels and build strength throughout the whole body. WILD incorporates style of Martial Arts, Kundalini Yoga, Ballet Conditioning, Qi Gong, Physiotherapy, resistance stretching and HIIT. It is great if you are looking to tone up, lose body fat or have a laugh in a fun environment – one where you might catch your teacher saying a naughty word or two!
Where: Fierce Grace Hot Yoga Studios throughout London. See website for locations.
Why we love it: There is no slow holding of poses as in your typical yoga session so if you get bored easily do not worry. We reccomend you bringing a towel though as you will be dripping by the end of class – in this case less is more (we're talking about gym clothes).
Sweat factor: 9/10 expect to get sweaty and burn a lot of calories.
Sore factor: 2/10 Fierce Grace doesn't cause too much soreness the next day, maybe a slight ache in your arms but nothing that will cause any issues the next day.
3. The inner-child's dream workout
Oxygen Free Trampolining

What: An hour of playing in a trampoline park that has an obstacle course, foam bit, dodgeball area and of course hundreds of trampolines. Exercising will never be boring again, you will push your body harder and faster as you won't even realise your are doing it. The constant jumping and cardio will boost your metabolism and help aid fat loss. If you prefer to be in a class rather than exercising on your own then this option is available also. Oxygen also offer a 'Airborne Fitness' class which is a high intensity and low impact structured exercise class that helps you to burn fat and tone up whilst following a routine led on trampolines by the instructors.
Where: Oxygen Free Jumping Park, West Acton London
Why we love it: If, like us, you have ever felt envious of children running off to jump and play on a bouncy castle as you watch from the side lines you will love Oxygen Free Jumping.
Sweat Factor: 7/10 This is entirely dependent on the individual and how far you want to push yourselves.  If like me you are jumping from one end of the park to the other then you will work up quite a sweat. However, it is great for those who are trying to incorporate a new level of exercise into their lifestyle as you are given the freedom to choose what and how intense you want to exercise.
Sore Factor: 0/10 There is no need to worry about feeling sore the next day, the foam pits and airbags will aid your jumps and the only negative is how much you will miss it when you leave.
4.The brazillian booty workout

CorpãoX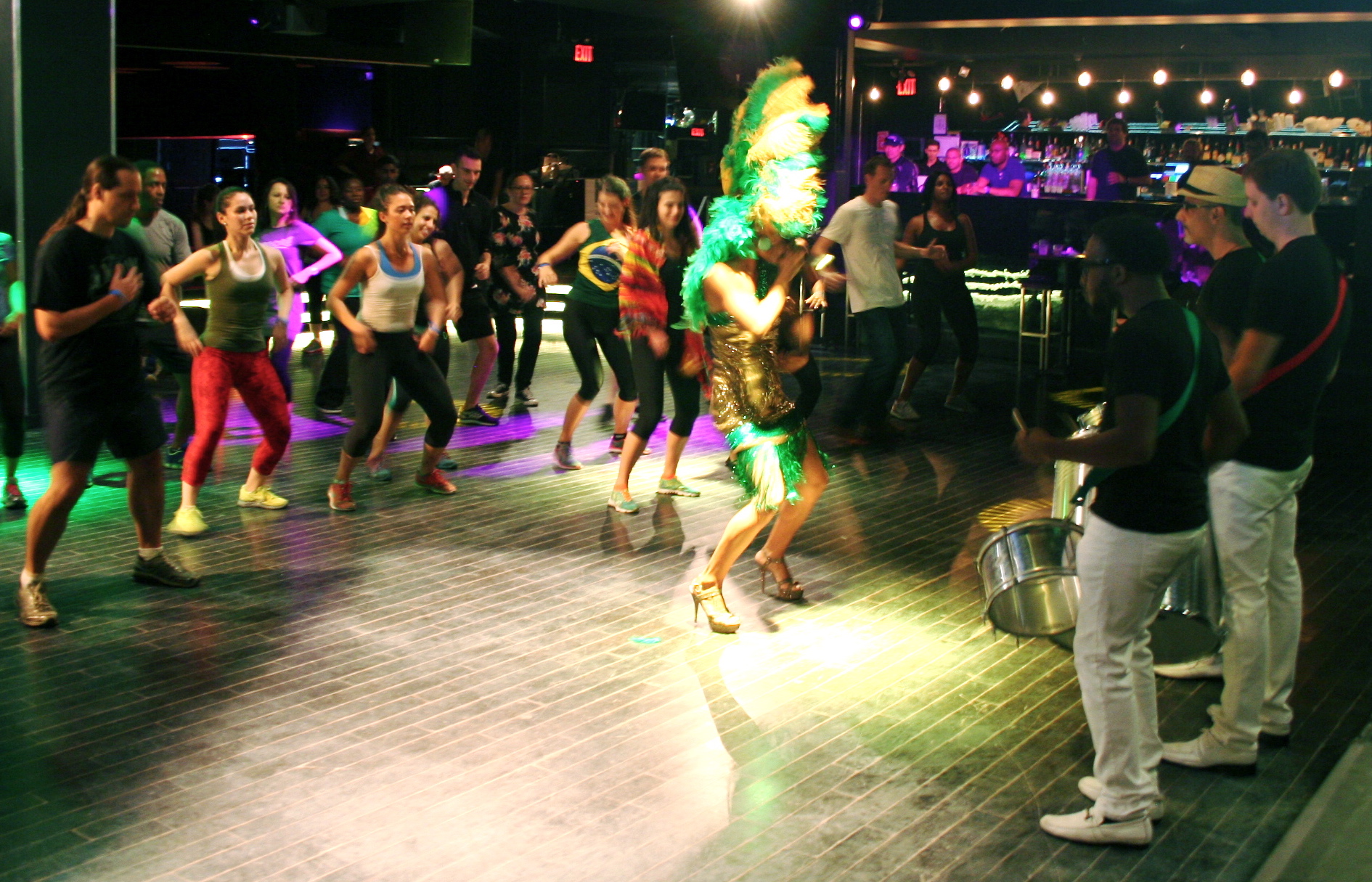 What: CorpãoX is a Brazillian inspired workout designed by founder Chardet Durbin in 2012 who couldn't afford the gym so created this dance and resistance-inspired workout. It has just launched in the UK and is an incredible and sexy fusion of fsamba, capoeira, barre and lower body sculpting exercises commonly found in Brazilian gyms. CorpãoX combines flexibility, endurance and strength into a one hour long workout class, using a martial art style of training for strength and fsamba for cardio.
You will be handed a resistance band whilst performing plies and leg raises to build strength in your legs and glutes. It is not all toning though there is plenty of butt shaking and twerking involved so you are sure to be left crying with laughter.
Where: Pulse Dance Studios, 15 Liverpool Road, London
Why we love it: CorpãoX gets you jumping around the room and shaking your bum like your eleven years old again. With a mixture of all the best workout styles you will be left sweaty and high on endorphins for the rest of the day. CorpãoX is designed to give you the classic Brazillian body: curvy, yet toned and strong, what's not to love?
Sweat Factor: 8/10 45 minutes of high and low intensity workouts, switching between resistance training and cardio means you will be constantly challenging your body.
Sore Factor: 3/10 If you are new to ballet or barre you may experience slight muscle stiffness in your legs from the resistance work but thanks to the stretching at the end, you won't be left with much.
5. The Victoria Secret Models' workout

Lagree Fitness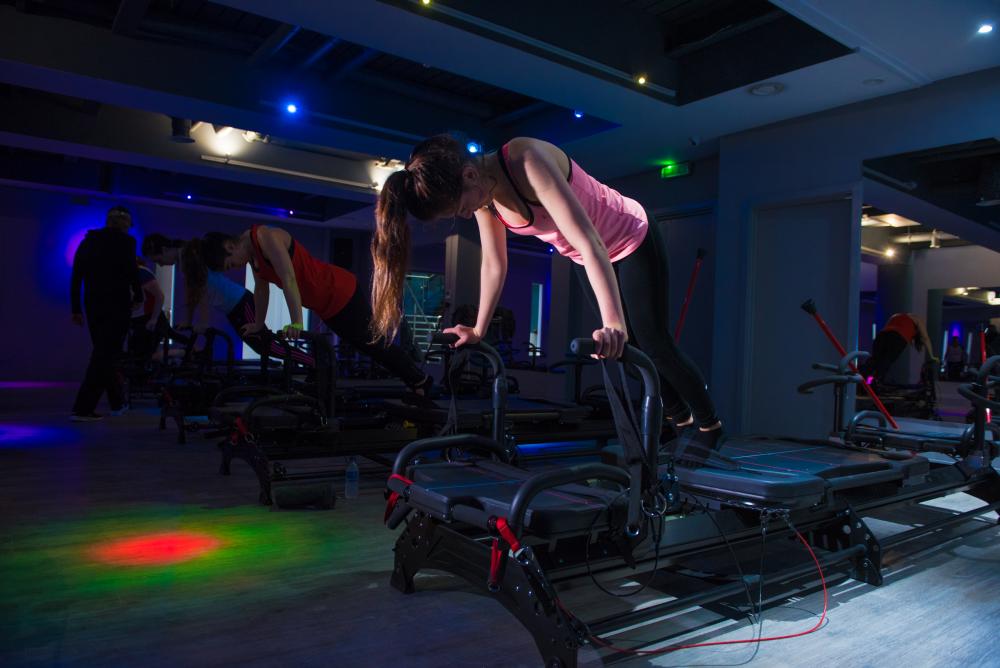 What: Brand new to the UK fitness scene and already a hit with some big celebrities: Lagree Fitness. The classes take place on machines called Megaformers™ which are specifically designed to give you an all over workout. Imagine a rowing machine enlarged for toning the whole body; Lagree Fitness gives you a core workout whilst improving toning, muscle building and flexibilty. Lagree fitness was created by Sebastien Lagree in the USA, who initially started his fitness career with a body building background, however Sebastien developed an interest in pilates and wanted to create something that combined the two. In 1999-2001 Sebastian Lagree mixed weight training and the reformer machine together to create Lagree Fitness. The Lagree Fitness workout method is used by some of Hollywood's hottest celebrities including Kim Kardasian, Jennifer Anniston, Nicole Kidman and some of the Victoria Secret models.
Where: Studio Lagree City at 35-37 Chiswell Street, London, EC1 4SE and Studio Lagree Guildford at 2nd Fl, 16-19 Chapel Street, Guildford, Surrey, GU1 3UL.
Why we love it: Who doesn't want the workout secrets of a Victoria's Secret model, we know we do, and if it's good enough for body goddess, Kim Kardashian then it is good enough for us. You stand on the megaformer machines and slide your leg backwards and forwards whilst using the resistance weights to keep the intensity slow and strong. The workout stretches your core in a new way, you will begin in childs pose with your hands places on the side of the megaformer, and then push and pull your body away from your hands using the resistance weights, this will target new muscles that you wouldn't normally work.
Sweat Factor: 7/10  You might not feel that you are working as hard as you do in a heart pumping cardio workout but the amount you will be sweating will prove otherwise. You will work muscles in the opposite way to a normal strength building workout, by stretching out each muscle as well as reclining you will build lean muscle and have amazing results.
Sore Factor: 4/10 You may experience  DOMS in the back of your legs from the opposing pushing and pulling on the Megaformers, but it is not anything too painful, which makes it an ideal workout for all.
 6.The heart rate workout you can't cheat at
HiPer Zone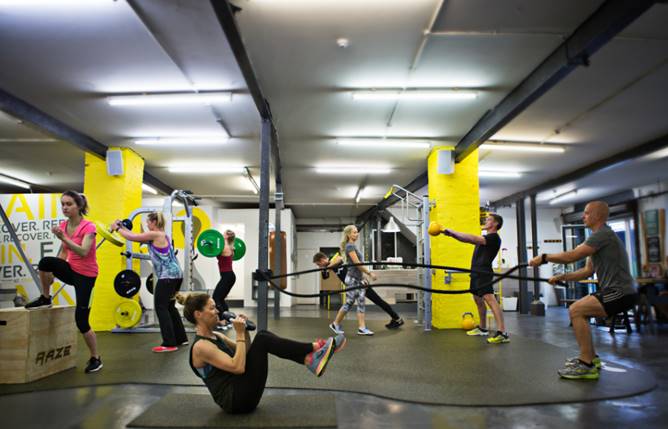 What: HiPer zone is another heart rate training trend that is unmissable. Utilising battle ropes, a squat rack, a boxing bag, kettle bells and a wall climbing ladder, this is not for the faint hearted. HiPer zone is an incredible workout that gets you to work at a sustainable heart rate level to optimise fat burn. You work your way around the circuit doing a intense workout on each piece of equipment and then resting for half the time.
HiPer zone is an amazing workout to do with a friend as it is not competitive; your heart rate is shown on a screen and you move through the stations trying to keep your heart rate in the orange zone at all times. The orange zone keeps your heart rate at a minimum of 70% and a maximum of 79%; you will be working at a moderate to high intensity to keep your heart rate steady. Two new classes are going to be launching soon which will be based at a moderate-high level of training and a very high level, both will aim to keep your heart rate at a high level at all times, we can't wait to try them out.
Where: Transition Zone,17 Heathman's Road, Parsons Green, London SW6 4TJ.
Why we love it: You will not only improve your over all fitness level and burn a lot of calories, the calorie after burn will continue into the next day meaning your fat burn is even higher. After you finish your class, transition zone will send you a detailed break down of how your performance and calorie burn which will allow you to track your progress and continually work at becoming stronger and better. You will be given a belt which goes below your chest that measures your heart rate; no way to cheat then.
Sweat Factor: 7/10 You will find it harder to work at the same level the entire process, when you become exhausted you will find you need to slightly drop the intensity of your work out to prevent yourself from going over 79%, however when you aren't pushing hard enough it is equally challenging to make your way back up to 70%, so the continual change and shock for your body will result in quicker fat burn and getting more sweaty.
Sore factor: 5/10 If you are new to weights and high intensity workouts, you will probably feel the workout the next day, however you are cooled down and stretched out so the soreness won't be too intense.
7. The sober nightclub workout

PULSE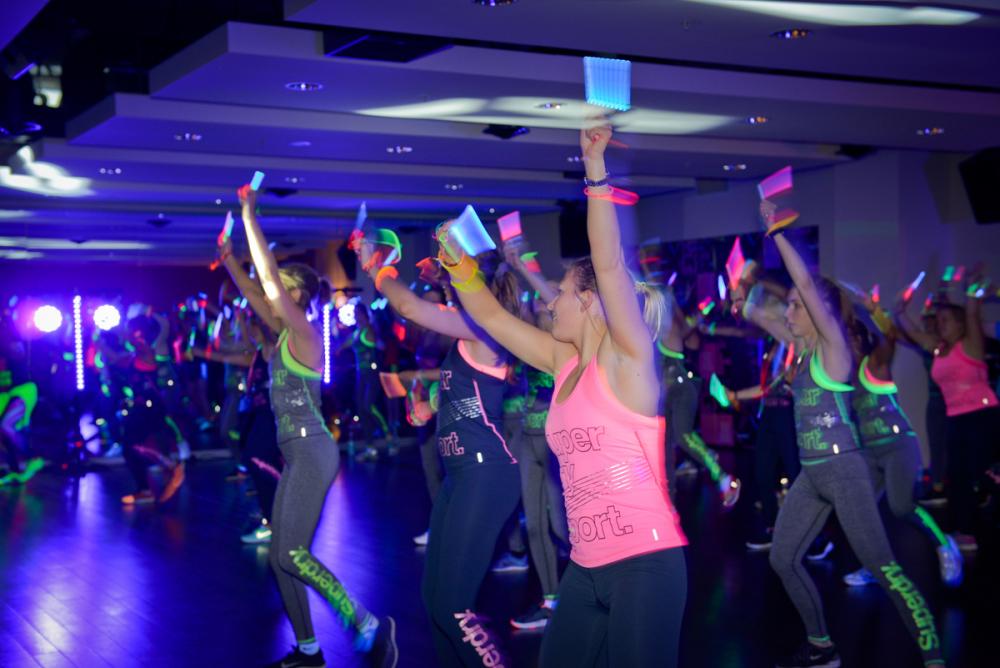 What: PULSE, a brand new glow stick style workout that mixes clubbing with exercising to create 'Clubbercise.' Pulse is a one hour, cardio busting dance class that requires a lot of energy and laughter to make it through. The class has a mixture of old school and current chart topping songs that are blasted out whilst the incredibly empowering teachers bring a nightclub to you. The studios are transformed into nightclubs whilst you will be holding glow sticks and wearing glow in the dark paint. The class involves a mixture of aerobic and hiphop dance moves that will be sure to leave you red faced and full on endorphins.
Where: Virgin Active Clubs nationwide, see website for locations.
Why we love it? Everyone loves a boogie, but when you are getting the same calorie burn as you would in a club minus the alcohol what's not to like?
Sweat factor: 6-8/10 The sweat factor can vary depending on how hard you actually work, for example I was waving my hands in the air like I just didn't care, whilst others were slightly more reserved. If you want to really burn some calories and get sweaty then this class has the potential to storm up to 8-10/10.
Sore Factor: 1/10,despite the initially intense class you have a really good stretch at the end of the workout which enables minimum muscle soreness. Looks like you can go back every single day then, no more living for the weekend.
MORE:
6 health trends your body needs this month
12 health food trends for 2015 
Like this article? Sign up to our newsletter to get more articles like this delivered straight to your inbox.