Healthista's Vicky Hadley reviews the brand new adults only area Zen Oasis that has just opened in the stunning white sandy beach resort of the Dominican Republic.
Whilst I knew that Club Med offered a luxurious holiday, nothing could prepare me for what I was about to experience at the Punta Cana Resort. After a long nine hour flight I arrived at the tropical paradise. Palm trees enveloped the entrance and bamboo lanterns hung from the ceiling. I was greeted with a bright yellow cocktail and a group of smiling performers singing and dancing in Hawaiian costumes. Despite it being 10 pm at night the air was warm and the atmosphere was alive. The performers enthusiastically cheered and welcomed us into the reception area that was over-looked by a gigantic golden Christmas tree.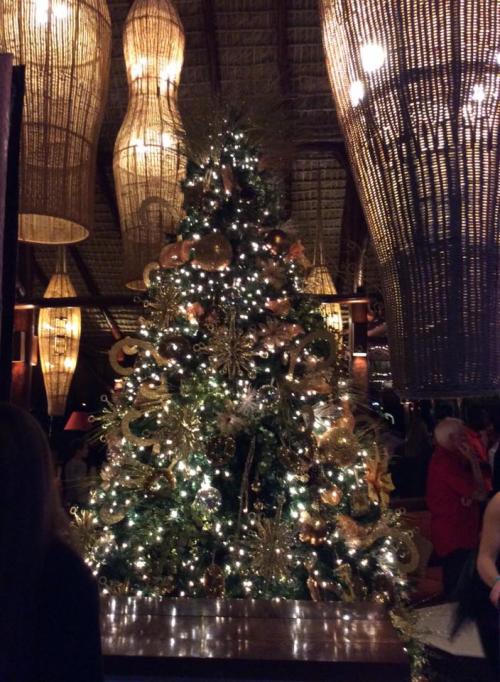 My suitcase was collected and delivered straight to my room as I was escorted to the Samana restaurant for dinner. Upon entering the dining hall, my stomach flipped and my mouth dropped, crystal chandeliers were hanging from the roof and tables upon tables of delicious buffet foods stood next to one another. The selection of food included everything from Japenese sushi, fresh fish and salads to Thai and Indian. Not wanting to miss any of the choices I reluctantly dragged myself away from the bar before I consumed my entire body weight in food.  Promising myself the rest would still be there tomorrow I opted for the Sushi. The chef had freshly prepared the ingredients and laid them out on the table in front of him. I filled my seaweed wrap with sticky rice, cucumber, salmon and a tasty homemade wasabi sauce that gave the sweet taste of the rice a zingy spicy hit. The desert buffet was even more impressive, from palm-sized cream cakes, macaroons and pastries to fresh fruit and ice cream, I was utterly spoiled for choice.
After dinner we were escorted to our rooms in the Zen Oasis area. We walked past numerous luxurious villas with balconies and draped sun loungers in their front gardens but as we approached the villa at the end, I was told that this room was mine. I stepped through the glass door into my bedroom and stared in awe at the huge room before me – king size bed, plasma television and an en-suite bathroom that resembled my own private spa. A fluffy white dressing gown and slippers lay on a tree stump in the bathroom that gave the large bath tub and a rainfall power-shower a rain-forest like feel.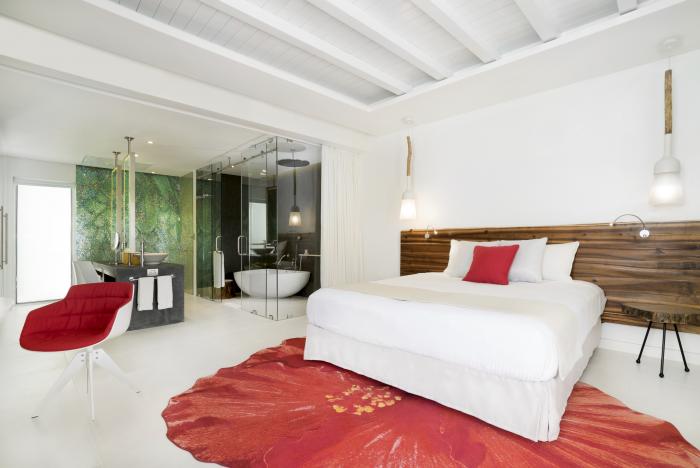 I am always over packing so was prepared to be living out of a suitcase over the next few days however the bedrooms had a huge amount of wardrobe space, so I was left with one wardrobe completely bare, minus the complimentary yoga mat. I played some music on my phone whilst unpacking and was suddenly transported into what felt like a live concert as my music started blaring from the built in speakers around the room.
I changed for the evening and went down to the Creactive area to watch an incredible Cirque du Soleil performance of flying trapeze, arial yoga and bungee jumping. I was told that Club Med have just introduced Creactive, an entertainment activity that gives holiday makers the chance to try out all of the stunts that the Cirque du Soleil acrobats perform for themselves.
I climbed a long ladder to reach a platform before being told to 'jump off and swing' by one of the acrobats.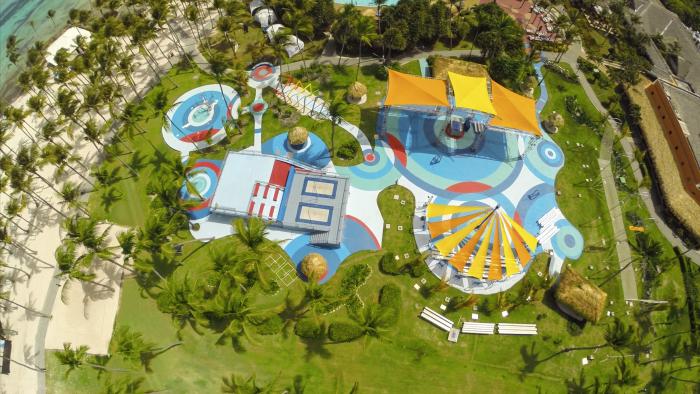 The next day I decided to try the flying trapeze first despite it easily being the largest and probably the scariest activity in Creactive. I climbed a long ladder to reach a platform before being told to 'jump off and swing' by one of the acrobats. My heart racing and my legs resembling jelly, I felt completely terrified and couldn't keep the doubt from running around my mind.  'No way can I do I this' kept repeating itself over and over again in my head. Looking down at a huge net and tiny handle bar swing, I took a deep breath and to my surprise I found I jumped and I caught the swing. Holding onto the swing my mind had switched off, all I could do was listen to the instructor who was shouting, 'hook your legs over the swing and let go of your arms', next thing I knew I was completely upside down hanging on the swing. The experience was breath taking, a huge adrenaline rush and I couldn't quite believe I'd done it. After sending about 50 photos to instagram I decided to tackle the bungee.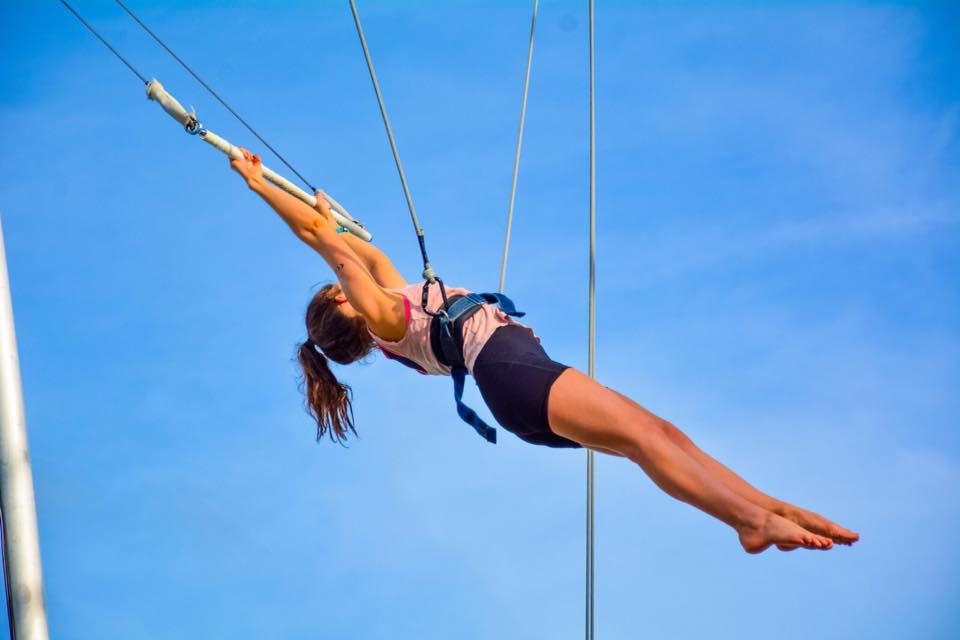 The bungee was my favourite activity, I was attached to two ropes and suspended around 20 feet in the air. I was told to move up and down by pulling the ropes up then letting go causing the ropes to bounce. I could see the entire resort from my height; just as I was beginning to relax into the bouncing my instructor shouted, 'let go off the ropes and pull your knees into your chest', as I did so I was flipped backwards. Never did I believe that I'd be able to flip, let alone master a back flip 20 feet in the air, but I had and I felt completely invincible.
I'd been told that the resort was not short of fitness activities, but I wasn't expecting to be surrounded by options to try water sport activities, yoga on the beach, Creactive and a state of the art gym that includes free personal training sessions for all the guests.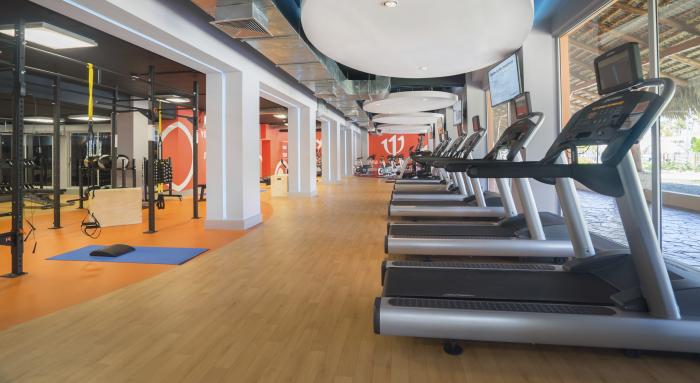 Despite only getting four hours sleep and probably suffering with jet lag, I woke up early and joint the 8 am yoga class held on the private Zen Oasis beach. Let's just say, the view was a little bit different to how it is on my usual walk to the gym, rather than passing tall grey buildings of London I looked out across the white sandy beach and turquoise ocean. The class was a gentle vinyasa style session with sun salutations, stretching and strengthening exercises that helped me switch off from my busy schedule back home.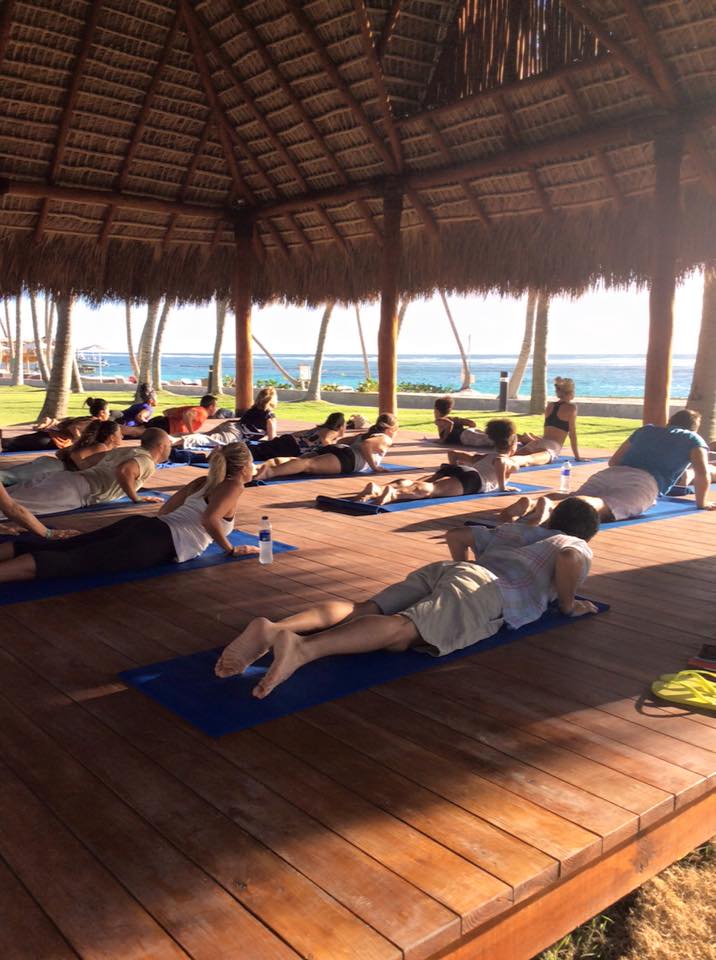 After the class we headed to the Hispaniola restaurant for an incredible buffet breakfast of poached eggs, avocado and quinoa, blueberry porridge, leaving the restaurant feeling happy and full I headed to the Zen Oasis area to relax by the pool. Iced smoothie in hand I chose to lie in the water lounge chairs that are attached to the swimming pool, meaning I could sunbathe whilst staying cool in the water. The only sound came from the gentle bubbling coming off the jacuzzi, again – a little different to London's police sirens.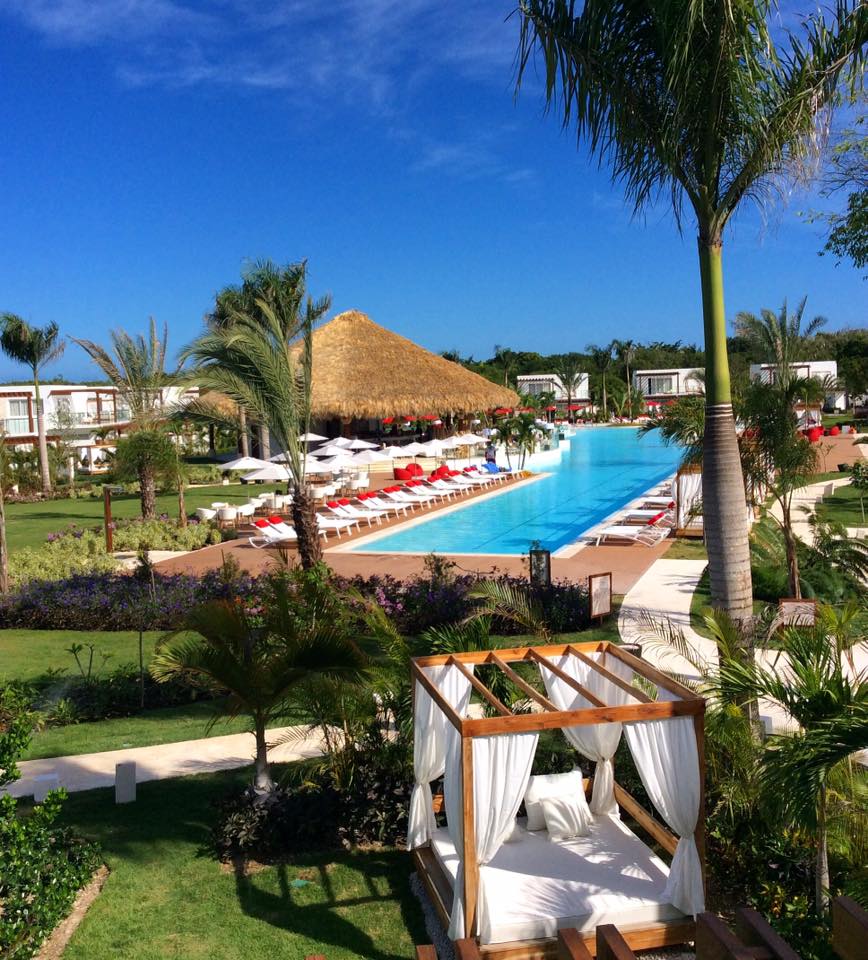 There were themed parties at the resort every night from beach chic party to a white party, the resort definitely isn't short of ideas or alcohol. The Zen Oasis lounge bar was transformed from a relaxing pool bar to a stylish night club. We posed in a beach themed photo booth and enjoyed an incredible arial yoga show that was even performed on white drapes to keep with the white theme.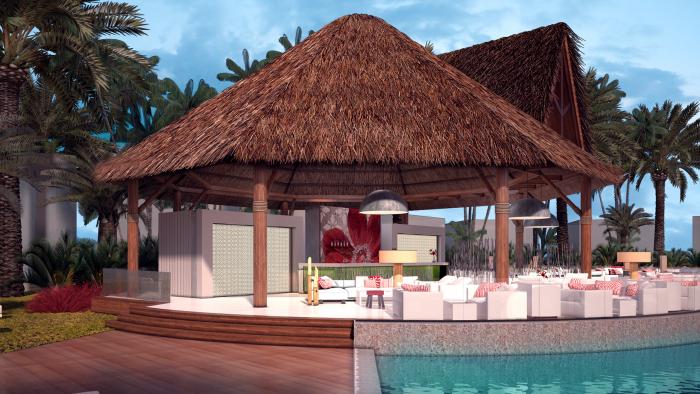 Even though I definitely sacrificed my sleep to enjoy the night life, Club Med kept me looking presentable thanks to an energising facial at the L'Occitaine spa located on the Zen Oasis beach. Walking down into what looks like a beach hut with wooden walls and a thatched roof I entered the spa. Pots of beautifully scented L'Occitaine products filled the main reception area and a drinks fountain that served herbal tea and lemon infused water sat in the center of the room.
I followed a Spanish lady into a dark room filled with rose scented candles. Before my facial began my therapist sat me down and told me to put my feet into a warm foot bath, after a night of dancing in six inch heels the soapy water filled with sea salts helped alleviate my aching feet and put me into a state of pure relaxation. Next I was directed to lie down on top of the massage bed and was hugged in by towels and blankets. As I closed my eyes my therapist placed a warm flannel over my face to open my pores. Using creams scented like manuka honey and almond milk she began to massage away the tension in my temples and forehead. Her fingers pushed deeply and softly into the sides of my face as she stroked and plumped my skin repeatedly; within five minutes my self-inflicted hangover headache had completely disappeared. My content and relaxed state lasted throughout the entire facial and just as I felt myself drifting off into a relaxed slumber, a cool flannel was placed over my face which closed my pores and gently woke me up from my meditative state bringing me back into the room.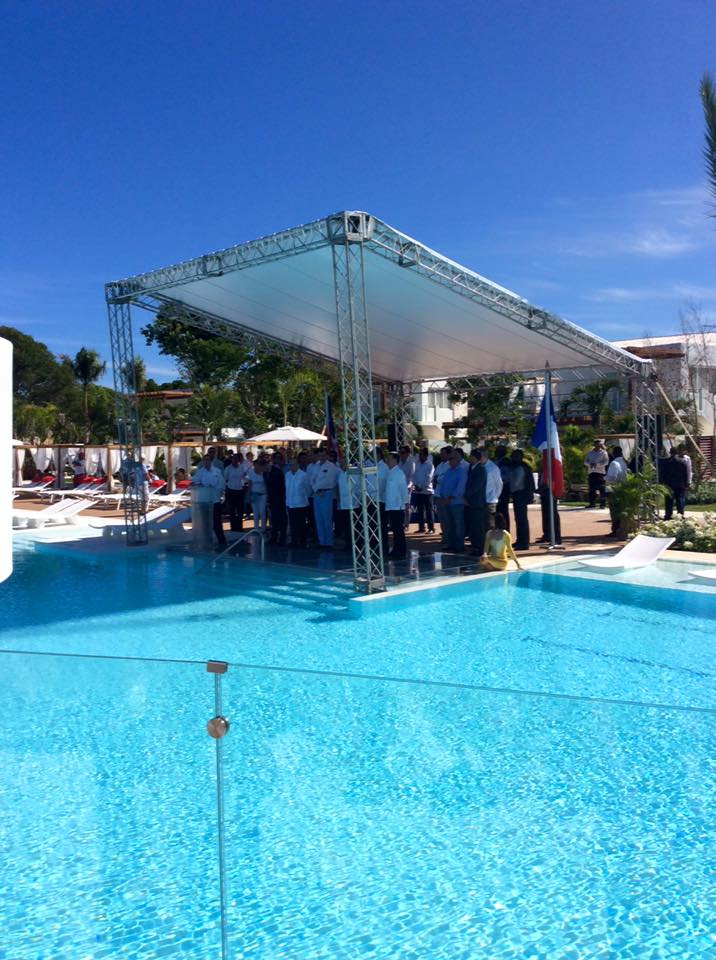 After only four days I was left feeling carefree, relaxed and inspired, which was definitely needed in my busy city lifestyle. The president of Punta Cana said that the Dominican Republic have the happiest people in the world and Club Med have used this statement to build a resort that aims to help you recover your natural state of happiness, which is definitely what they achieved for me. If you are needing a Post-Christmas, January blues break then Club Med is the perfect option.
What you need to know:

• Currency: Dominican Peso
• Capital City: Santo Domingo
• Languages Spoken: Spanish
• Time Difference from GMT: -4 hours
• Flight Time from UK: 9 hours
Prices depend on season and chosen villa or hotel suite, see full prices on the website.
Departure on the 08th September from London Gatwick to Punta Cana, Dominican Republic for an all-inclusive 7 night-holiday in a Club Room will cost £855/ per adult and £559/child – children under 6 stay free
Departure on the 08th September from London Gatwick to Punta Cana, Dominican Republic for an all-inclusive 7 night-holiday in an Oceanfront Family Suite – 5 Trident Space will cost £1,399/ per adult and £835/child – children under 6 stay free
Departure on the 08th September from London Gatwick to Punta Cana, Dominican Republic for an all-inclusive 7 night-holiday in an Deluxe Zen Room (in the Zen Oasis) will cost £1,105/ per adult
Like this article? Sign up to our newsletter to get more articles like this delivered straight to your inbox.