If you want a body holiday that offers a culture fix to write home about Gozo's barre fitness retreat delivers, says Sharon Walker
I am lying on my back, shoulders lifted from the floor, with a squidgy ball jammed between my shoulder blades.
The trick is not to collapse onto the ball but to keep my muscles tight and lift, so if it wanted to the ball could roll away.
The lifts are tiny, almost invisible. The burn in my abs however is very noticeable indeed.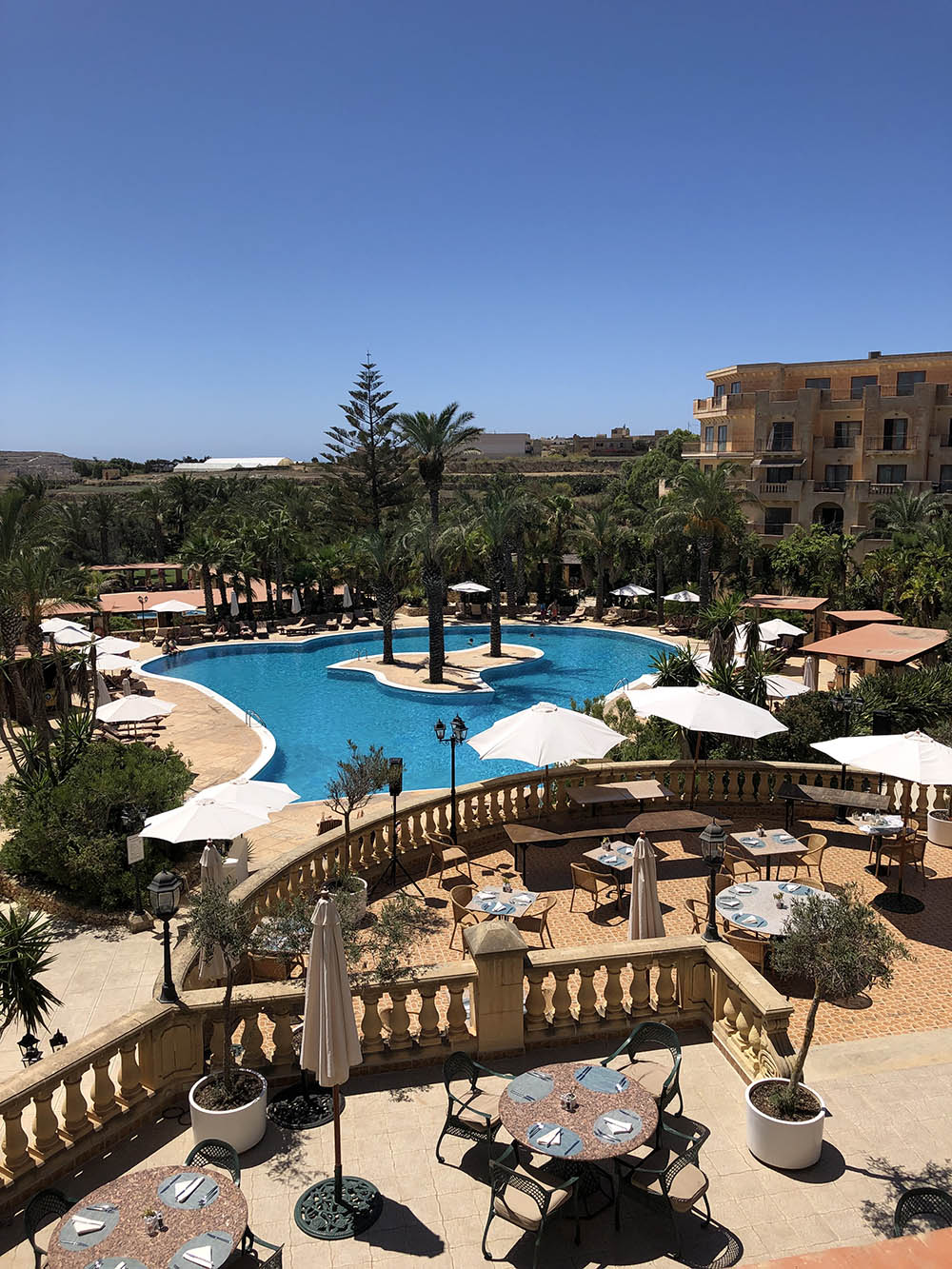 It's a feeling I will become very familiar with over the next five days, as I'm here on the first ever barre class retreat in Gozo, Malta, with daily fitness classes served up at the five star Kempinski San Lawrenz Gozo, along with a healthy side order of local Maltese culture and cuisine.
The next hour might be tough, it won't be long before we'll be whisked off to the sparkling sapphire waters of the Blue Lagoon, a wine-tasting at a local vineyard to or to eat melt-in-the mouth sheep's milk or lobster pasta and pulled pork in a local restaurant.
Where is Gozo anyway?
One of the small group of islands that make up Malta, a small nation in the Mediterranean, just south of Sicily, beyond Italy's boot, up until the sixties, Gozo was part of the British Commonwealth, though fortunately the food and culture owes more to neighbouring Sicily than anything Britain has to offer.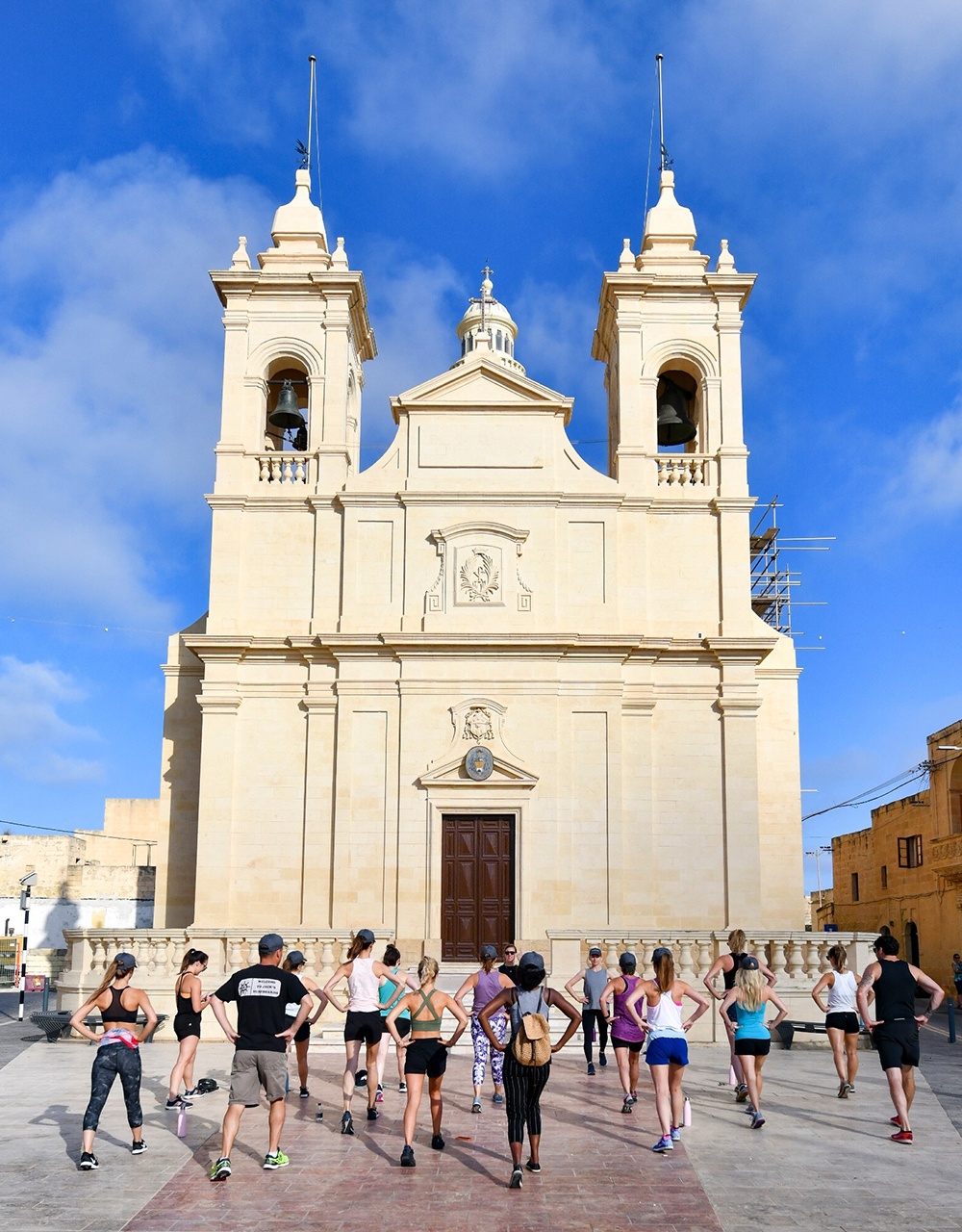 What's unusual about this retreat, compared to most fitness holidays, which tend to focus of classes at the villa or hotel, is that you get a really good flavour of the island, with a daily schedule that includes not just one or two barre classes a day, but also daily excursions to points of cultural interest.
a small nation in the Mediterranean, just south of Sicily, beyond Italy's boot
The classes are a moveable feast jumping between the poolside gazebo, an indoor squash court and various points of local interest. On one morning hike, we get some quizzical looks from the locals as we limber up outside a one of Malta's many churches.
While on another evening we are treated to the magical experience of working out in the midst of the Ġgantija Temples, which pre-date the pyramids.
So what is barre fitness?
Barre, for anyone who has missed the rapid proliferation of barre studios throughout the well-heeled Pilates zone of London and beyond, is a deceptively demure looking body-sculpting technique, which has its roots in the Lottie Berk method, a system of exercise that draws on ballet moves to develop core stability.
It relies heavily on isometric exercises, where you hold the muscle in position and use your body weight to challenge the muscles.
Devotees love it as you become stronger and more toned, while maintaining the long lean limbs of a dancer's body. The exercises are small, safe and controlled, all done with body weight and at most a ball or resistance band.
relies heavily on isometric exercises, where you hold the muscle in position and use your body weight to challenge the muscles.
There's no leaping around – barre is a friend to your pelvic floor – and no humping of heavy weights. If I could liken it to anything, I'd say the exercises somewhat akin to the Jane Fonda method or the Callanetics system of exercise which was popular in the Eighties.
Why the A-Listers love it
The modern-day barre classes we are practicing in Gozo are being taught by teachers from Barrecore, one of the UK's most popular barre class studios, though next summer's retreat will be taught by another popular teacher Paola Di Lanzo of Paola's Body Barre.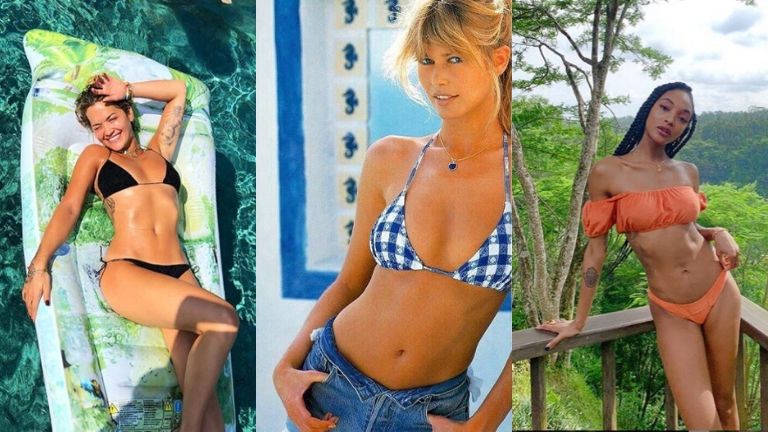 The exercises focus not just on the core muscles, guaranteeing a flat, toned stomach and pert butt, hence its cult following and A-list fans from Rita Ora through to Pippa Middleton, Claudia Schiffer and Jordan Dunn, but also all the smaller muscles that support and stabilise the joints, making it a favourite with physiotherapists and anyone recovering from an injury.
The magic shake
Anyone looking on at our class from the comfort of their sun-lounger, could be forgiven for thinking that not much was happening, but they would be WRONG. This is tough. Holding my torso just an inch off the floor, with my muscle contracted but not moving, my abs are beginning to shake. The shaking is a Good Thing. This is where the magic happens.
Next to me a strapping, former special forces soldier is quivering like leaf and dripping sweat. This the TV personality and former model Jodie Kidd's partner, Joseph Bates. Like me, the couple are here to sample the retreat, along with other influencers and journalists.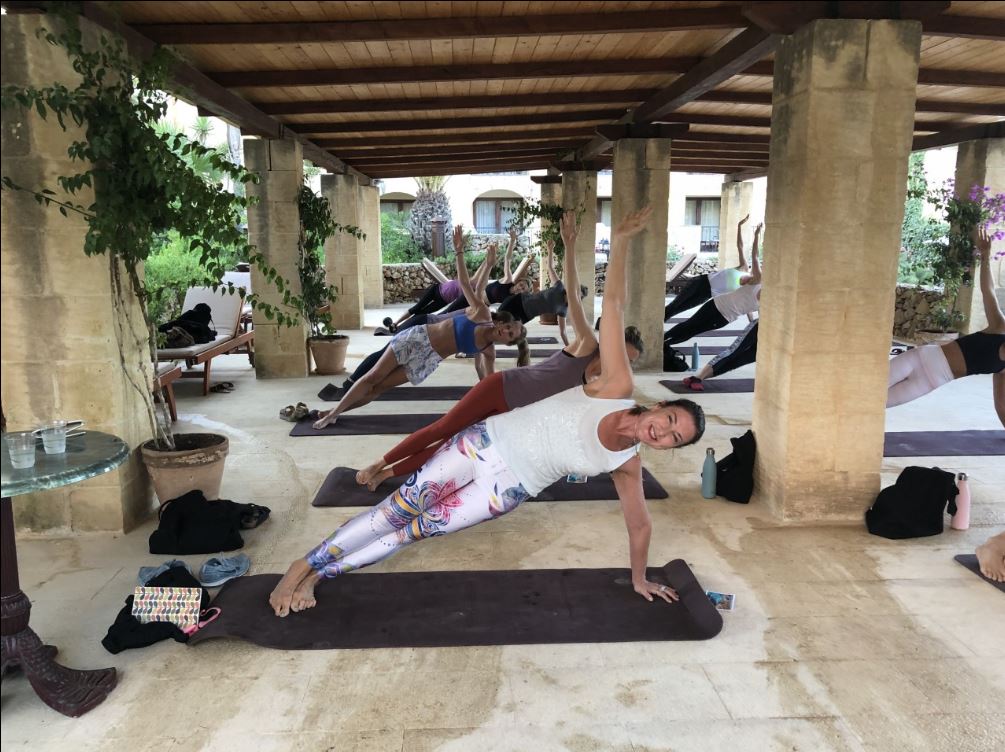 Bates is a man well acquainted with 'going hard at the gym', who thinks nothing of sprinting up a hill in the 30-degree heat, as he does on our morning hike. The point being this is no flimsy girly exercise, but a tough workout by any standards.
'You will be melting fat for 48 hours after the class,' confirms Barecorre's founder Niki Rein, who is heading up this retreat tells us.
'Four classes weekly are the optimum number to see REAL change, after six weeks you will transform. Your clothes will be looser where you want, but might feel tighter on your butt, where the muscle has grown.'
So, something to look forward to.
Core fitness
Barre teachers, I notice, all seem to be in possession of an enviably taught midriff, of the type you might see on a dancer or Victoria's Secret model.
No one here, however, is eating Victoria's Secret-sized portions, as we are fully embracing the Epicurean pleasures of Gozo's many wonderful restaurants, with nightly opportunities, on the five-day retreat, to indulge in fresh pasta, locally-caught fish and the wonderful local wines.
Cultural highlights
One afternoon we drive to red sand Rambla Bay, fifteen minutes from the hotel, which is reputedly Malta's best beach.
Then, it's back to the Kempinski's oasis-like pool, before heading out to the 350-year-old Xwejni salt pans. This is an incredible sight with the pans cutting into ocean and waves crashing against the cliffs, where we are greeted with a picnic of local homemade specialities, prepared for us by Anna of Gozo Picnic.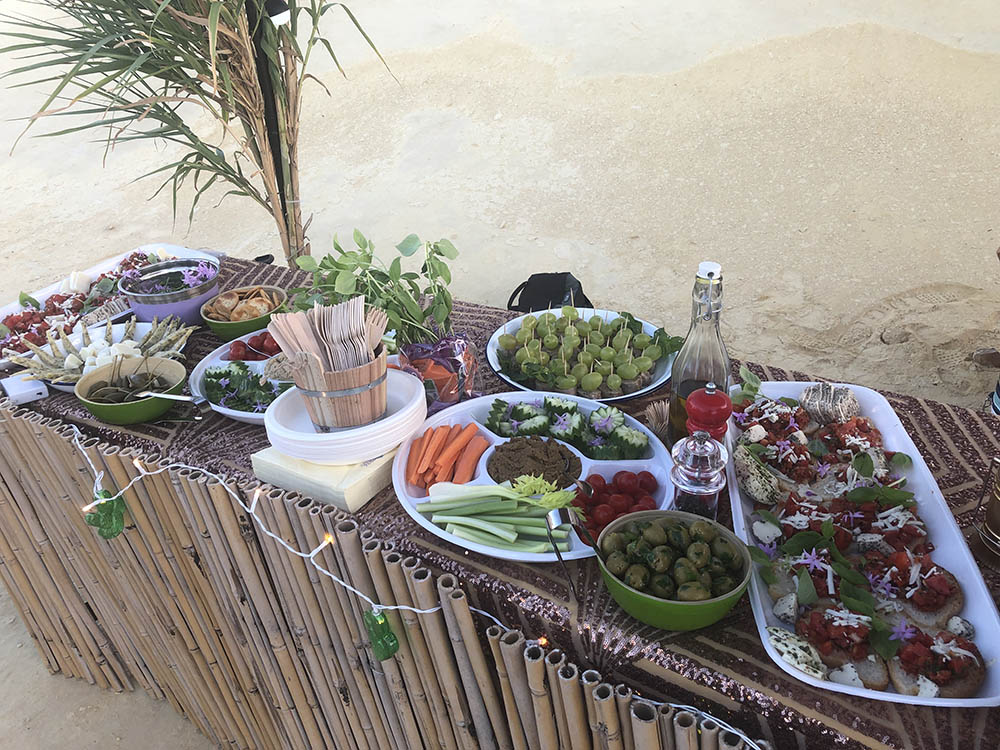 I rarely eat red meat but the Bragioli, a local dish of beef stew made with red wine and herbs, is too good to resist and there are vegetarian options too, like stuffed olives and local sheep's milk cheeses, which we eat as we watch the sun sink into the ocean.
On day three – and anyone who does the retreat next year will experience the same programme –  after an Express Class by the pool,  we are off to the Blue Lagoon, a 15-minute boat ride from Mgarr Harbour, to experience Malta's best swimming spot before the crowds.
ou can see why people flock here, for the incredible clear turquoise ocean.
Island Flavour
At lunch time there are salads from a buffet at the Kempinski hotel, but evenings offer an opportunity  to sample the tasting menu at Ta' Frenc, an historic farmhouse and other gastro hot spots.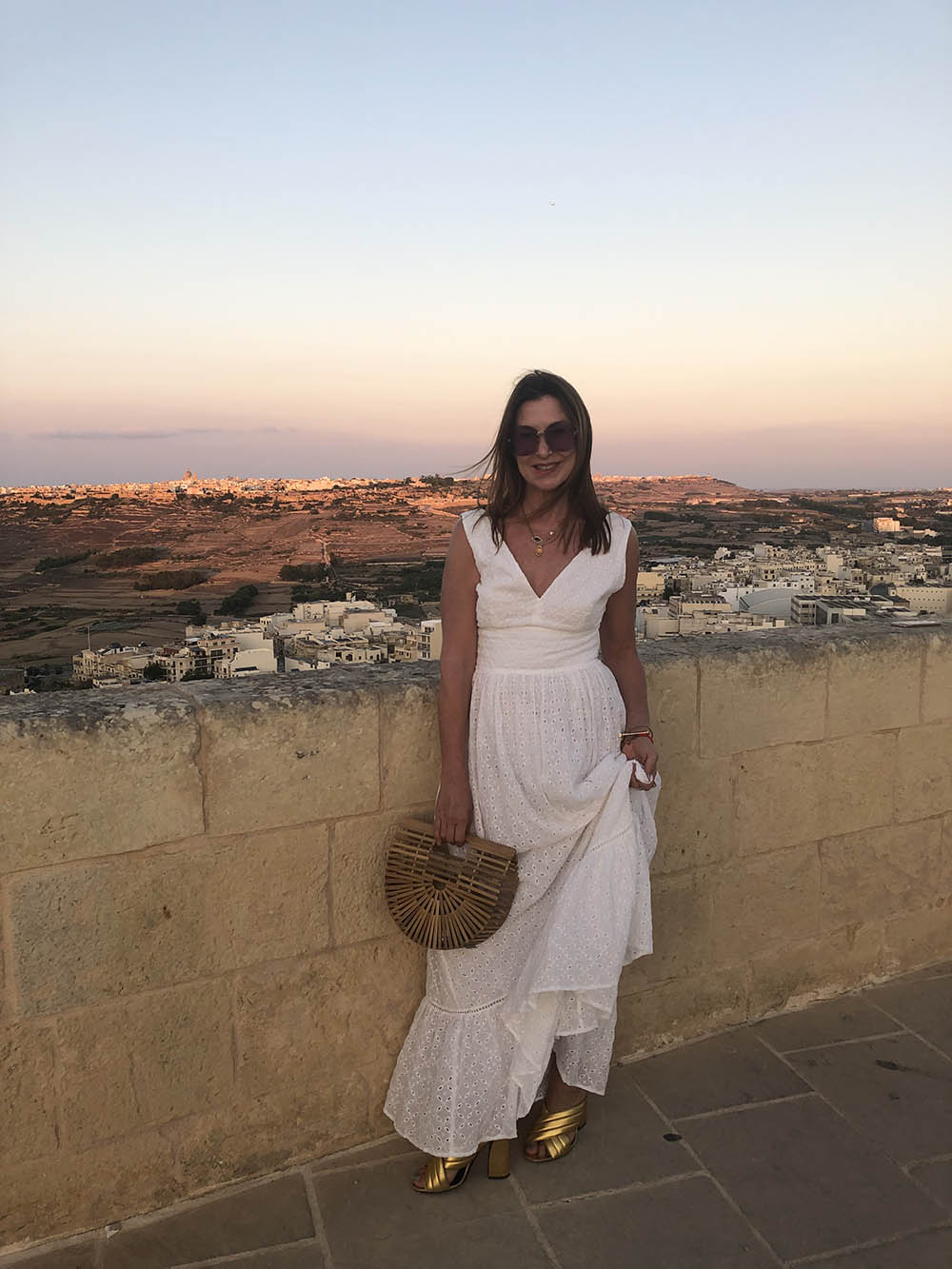 The undeniable highlight was the private dinner at the Citadel, the ancient fortified city, which is Gozo's major landmark, visible from all over the island.
Here we ate a gourmet meal of chicken thighs in pine nuts, sundried tomatoes, black olives and peppered sheep's cheese, with a potato puree, followed by berry tarte and fig-leave ice cream and pink peppercorns meringue.
All this in the pristine walled square, with incredible views. It was far from the usual frugal spa food, you might ordinarily expect from a fitness holiday.
Dive right in
But it's not all wining and dining, for anyone who heads to Gozo and this trip next May, there's a whole raft of fitness activities on offer, with a choice between rock climbing, kayaking and scuba diving.
I dusted off my ancient PADI certificate and joined St Andrew's Divers' Cove, in the fishing village of Xlendi Bay, which has a reputation as one of the best diving schools.
Gozo is a diving hotspot, with more than 50 dive sites around the island, famous for its wreck dives, caves, drop-offs and Blue Hole, at Dwejra. This is a 10-metre-wide natural inland pool which turns into a larger hole underwater leading out to sea.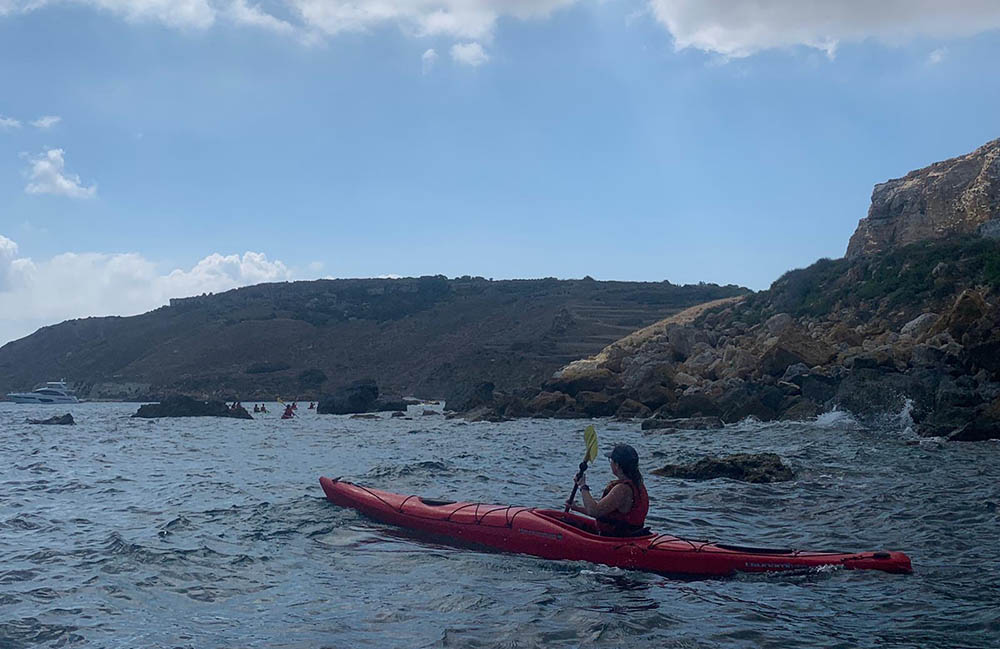 But with just one dive under my belt, Director of Diving, Mark Busuttil, deemed this an adventure too far and instead – to my relief –  took us for a shallow dive, walking straight out from the shore on to the reef, where we swam into the Xendl tunnel, where time stood still and an hour flashed past as I glimpsed fish big and small, and amazed myself by swimming through the tunnel, which was actually more thrilling than scary.
And if you think all that sounds hectic, it really wasn't. When we weren't exploring the island or honing our bodies in the classes, there was still plenty of time to relax and chill out.
The Kempinski San Lawrenz Gozo, which is home to the retreat, is proper holiday hotel with a DJ by the pool, sun loungers aplenty, ice cream and cocktail trolleys and a big spa with treatment rooms and even a squash court.
So plenty to keep you occupied and ensure you feel like you've had a proper holiday.
I came home feeling well rested and that, not only had I reset my body and whittled my waistline, which is always welcome, but that I'd got to know Gozo and enjoyed a thoroughly well curated tour of the cultural highlights.
If you'd like to sample the retreat, which is curated by the Malta Tourist Board, next May here are the details:
12th – 17th May 2020 in partnership with Paola's Body Barre.
The package is priced at £2450 for return flights with BA, five nights at the Kempinski, all meals, excursions, transfers in Malta and Gozo and barre classes.
Paola's Body Barre has a studio in Fulham and also teaches at KXU and Flex Chelsea.
Relevant Healthista Content:
Exhausted? 9 ways to beat burnout I learned from this Ibiza wellness retreat
21 solo travel secrets from globetrotting women
Healthista Content You May Also Like:
What's your attachment style? The relationship advice everyone needs
The eating insects trend – 4 brands that make creepy crawlies delicious
The secret to diet, exercise and skincare lies in your DNA
3 steps to breaking bad habits from a world-class willpower expert
Like this article? Sign up to our newsletter to get more articles like this delivered straight to your inbox.