Wellness retreats are a guaranteed way to learn key tips on how to de-stress and reset. Healthista Editor Olivia Hartland-Robbins shares the tips she learnt on two different retreats 
From the Peak District to Portugal and anywhere in between, wellness retreats can recharge and reshape your outlook on life – especially if you're under more stress than usual.
Whether you want to focus on overcoming anxieties, or simply learn how to switch off and relax, these two wellness retreats will help you do just that.
The Retreats…
Down To Flow Escapes
Down To Flow Escapes are a luxurious new range of wellness retreats offering the chance to unwind and reset at unique locations worldwide, including the UK, Spain, Portugal, South Africa, Sri Lanka and Bali.
Retreats last around one week and a typical day includes a yoga class or bodyweight training session, a nutritious breakfast made from locally sourced food, an afternoon of walking and a delicious picnic, followed by a wonderful evening of wine and gourmet food.
a luxurious new range of wellness retreats offering the chance to unwind and reset
Founders Dylan Salamon and Molly Robinson have set out to help their guests find 'a state of flow' through yoga, Pilates, hiking, strength training, breathwork, journalling and much more.
On leaving a Down To Flow retreat, guests can expect to feel greater self confidence, energised and will have improved mental clarity.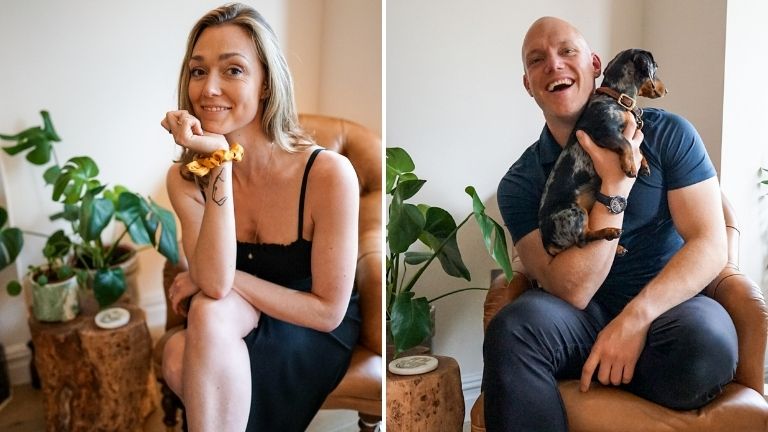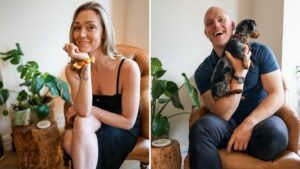 Weleda Wellness Retreats
Activating your wellbeing from within is what Weleda Wellness Retreats sets out to achieve.
From delicious food to blissful treatments, Weleda retreats offer guests the opportunity to completely re-set and replenish; reconnect with nature and learn much more about how to support your own health and self, every day.
Weleda Wellness Retreats offer seasonal three-day retreats designed specifically to help you achieve holistic wellbeing.
Weleda retreats offer guests the opportunity to completely re-set and replenish
Taking place in the breathtakingly beautiful Peak District, Weleda will be running retreats throughout the year and one early next year to mark the Spring Equinox, Summer Solstice, Autumn Equinox and Winter Solstice.
Weleda Wellness Retreats are run in partnership with Secret Warriors – an all-female team who create tailored retreats to help people feel stronger, happier and healthier.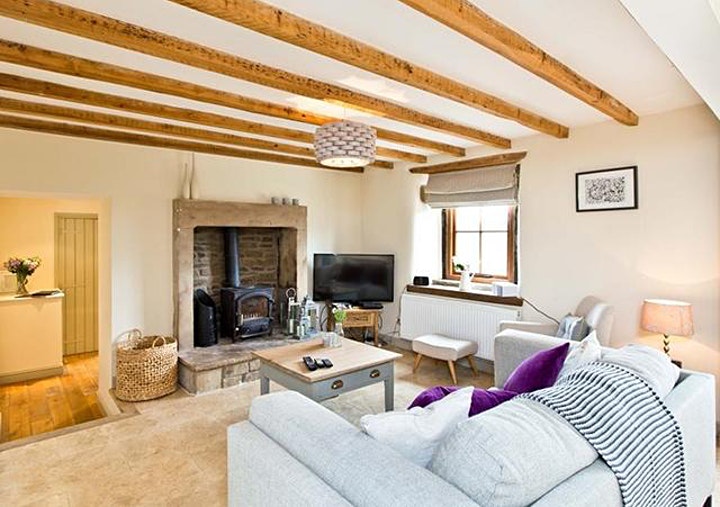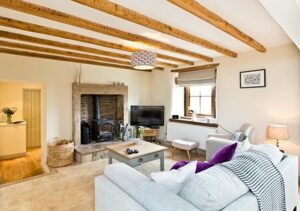 De-stress tip #1 Move your body with Yoga
Yoga is a pivotal part of both Down To Flow Escapes and Weleda Wellness Retreats and for good reason.
Yoga helps to cleanse the body via the lymphatic system – the lymph nodes are responsible for helping to fight infection and get rid of toxins in the body.
Plus, yoga also aids flexibility, builds muscle strength, improves blood flow and boosts immunity. That's a lot of healthy benefits to gain from just yoga alone.
Yes morning yoga is usually rather early, but there is something about being up that early that helps to clear the mind. The birds were chirping, the weather wasn't too hot and I felt like I had the whole day ahead of me once yoga was over.
yoga also aids flexibility, builds muscle strength, improves blood flow and boosts immunity
Led by experienced wellness practitioner, Sharron Fitzpatrick, yoga during the Weleda Wellness retreat felt both calming and revitalising. Some felt so calm and relaxed they even attended yoga in their pyjamas!
Whether you're a beginner or a yogi regular, you're sure to feel the benefits of these Weleda yoga sessions.
At Down To Flow the weather was nice enough for us to experience yoga in the garden. Our first yoga session was led by Molly, a dynamic vinyasa expert, and the next session focussed on stretching led by Dylan, who's passionate about yin yoga and mobility.
The dynamic duo have even opened a new movement studio in SW London – Flow Culture Studio.
De-stress tip #2 Eat locally sourced nutritious food
Nourishing the body means nourishing the mind and soul.
And no matter where you go, and if you seriously love food (like me) what you eat always leaves an impression, and boy did both retreats do just that.
Not only does nutritious food taste good, but it also has the ability to boost our mood. In fact, the food we eat can alter the levels of brain chemicals that contribute to mood such as dopamine and serotonin, that can result in changes in our emotions.
Read More: 5 proven ways to boost your mood through food
Therefore, what you eat is not only critical for your body, but also for your mental and emotional health. The saying 'you are what you eat' comes to mind here.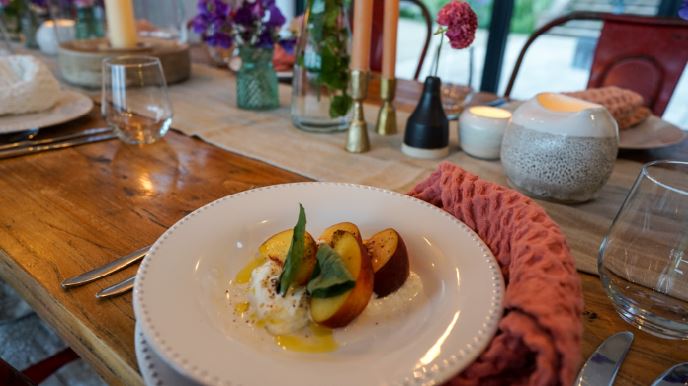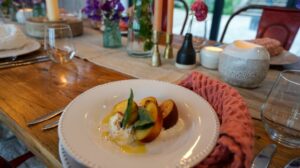 What I loved most about both retreats was the focus on providing guests with seasonal and organic produce that was all locally sourced.
From vegetarian dinners, impressive vegan creations and vibrant salads the meals at both retreats were full of wholesome goodness.
At Down To Flow, Chef Woody Pyke of Peckham Levels in London prepared all the meals, focusing on fresh, seasonal British ingredients, some even grown at his own allotment!
De-stress tip #3 Self-care is a must
Self care and self soothing is big business. The phrase self-care denotes nice things we can do for ourselves, to keep our body, mind and spirit in shape.
So many of us have learnt to self soothe with alcohol, cigarettes, food or drugs and getting into those patterns is tricky, many of us don't even know how to do it differently.
self-care denotes nice things we can do for ourselves
Learning to self soothe in other ways is exactly that – a learning one has to want to put into place.
There's an important crossover between beauty and self-care. When you apply a beauty product or 'indulge' in a beauty ritual, you create a conscious connection between you and your body that's very nurturing.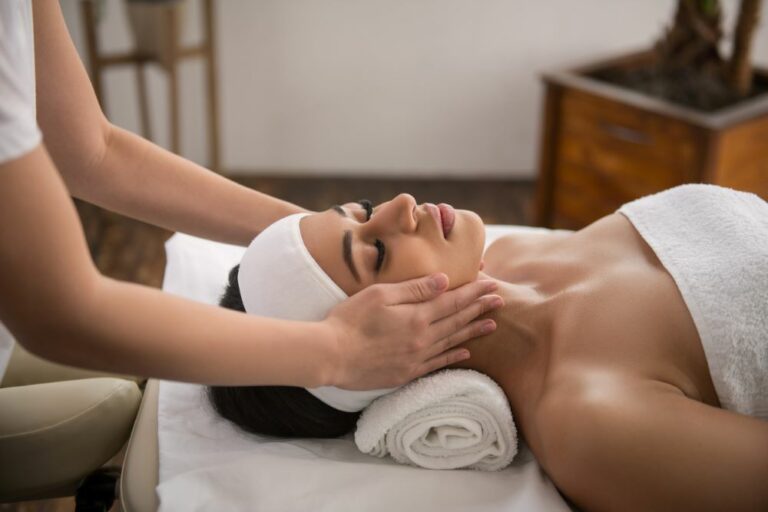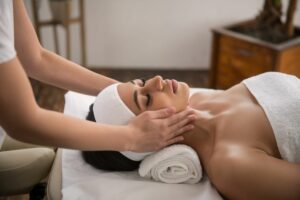 At Weleda, there is a focus on caring for your skin as a form of self-care. In fact, the retreat experience includes an Awakening Skin workshop led by senior aesthetician and skincare expert, Elizabeth King.
'Natural radiance is the result of both inner and outer self-care, involving good diet, quality sleep, organic natural skin care and continual striving for harmony with the environment,' explains Elizabeth.
The workshop teaches guests how to understand your skin's language and how best to support it – which of course is different for everyone.
This workshop was then followed by Weleda's brand new Signature Skin Treatment using luxurious Weleda products – 90 minutes of pure, transporting holistic bliss that will leave you feeling calm, balanced and rejuvenated.
Natural radiance is the result of both inner and outer self-care
At Down To Flow Retreats, we were able to experience a personalised myofascial treatment carried out by Team GB physio Tim Kayode, co-founder of Myoset.
Tim is a qualified Sports & Performance Therapist and has dedicated his time in developing a deep knowledge on how to make people feel better, recover and live pain free lives through functional movement, stretch and manual therapy.
Using products provided by Pure Sport, Tim really got to work on our tense muscles. The Puresport CBD muscle and joint balm works as a natural solution to pain relief.
I almost felt lighter after my treatment with Tim, whether that was thanks to release of physical or emotional tension, whatever it was, it worked. My posture also saw an automatic improvement.
I have always suffered from tense, sore shoulders and I can honestly say that taking the time to perform a self-care ritual of rubbing the Pure Sport CBD balm into my shoulders every evening, has worked wonders – it's definitely worth the investment.
De-stress tip #4 Do something crazy
Each Down To Flow retreat always features a surprise on the final evening, and our surprise was definitely one to remember.
As the sun set on the beautiful Somerset landscape, the retreat guests were taken up into the evening sky by Fly Away Ballooning – on a hot air balloon ride.
I'm the first to admit my fear of heights but there was no way I was missing this bucket list activity!
The experience – as crazy as it seemed to me at the time – was simply unforgettable. What's a better way to feel a state of flow than floating over the beautiful British countryside?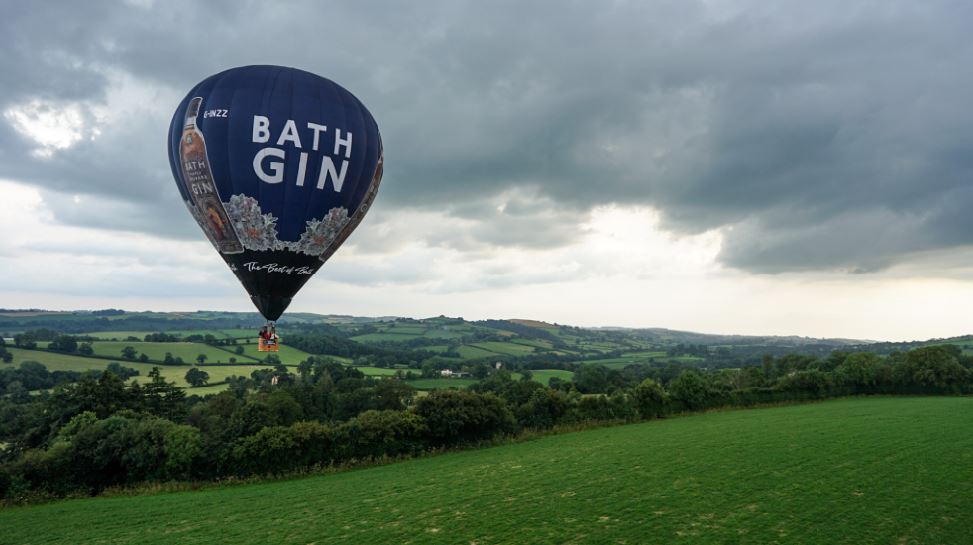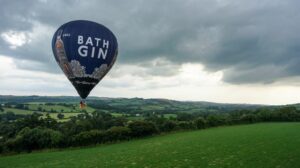 One thing that stood out most about the Weleda Wellness Retreat was the sense of community between hosts, experts and guests.
On the final evening, a log fire was lit outside. We were told to wrap up warm and grab our blankets as we were all going to sit around the fire – we thought they must be crazy, it's March and it's freezing!
Once we were out there though, the sense of community and togetherness put a stop to all thoughts of the chilly temperature.
Guests and hosts alike shared our experiences and gratitude for life – there was a sense of how lucky we all were to be in that moment in nature with one another.
There really is something to say about sharing your thoughts, experiences and feelings with others. Once you say something out loud you realise it's time to deal with whatever it is that may be upsetting you or you truly appreciate how lucky you are.
Upcoming Down To Flow Retreats:
Rise & Release – (5th – 11th April 2022 / Portugal) A tempting spring retreat that will help you to dig deep into your psyche through movement, adventure and abstract art, together we will strip away seeds of doubt and uncertainty to nourish any soul searching for more from life.
Playing with Motion – (14th – 20th May 2022) / UK) Our 'Playing with Motion' retreat offers you the chance to escape to a cornucopia of wildlife and adventure. Set amongst 320 acres of rustic farmland our retreat home will help you to embrace personal challenges through movement and cold water therapy. Release all fears and bear all on this explorative fitness escape.
Down To Flow Retreats start from £160 per night. This includes a Fable yoga mat plus all food and activities except travel and transfers.
Summer: 8 – 11 July 2022
Autumn: 23 – 26 September 2022
Winter: 6 – 9 January 2023
Weleda Wellness Retreats start from £850 for a single occupancy room with ensuite and from £645 per person for a twin occupancy room with ensuite. 
More Healthista Content;
Hair guru reveals 5 rules for healthy, shiny hair
7 superfoods you need to be eating
3 ways CBD can make your workouts better
Foodie Friday: chocolate & peanut butter protein balls
4 ways you can change your relationship with exercise for the better
Like this article? Sign up to our newsletter to get more articles like this delivered straight to your inbox.