Want to start road cycling but don't know where to well, start? As Bike Week kicks off, cycling expert Chris Reddish offers his top tips to help get you safely on your bike
With the roads in Britain's cities getting busier every day, and more people taking to a bike to cut the commute at the same time as keeping fit, this month we've spoken to Chris Reddish at Raleigh Bikes to bring you a starter kit for staying safe on the streets when on two wheels.
As he explained, it's not just helmets, high-vis clothing and lights, it's about how you approach riding on roads jam packed with vehicles. Here are Chris' top tips for staying safe:
1. Choose the right bike
There are lots of bikes and types of bikes to choose from, here are a few helpful pointers for anyone thinking of taking up or returning to cycling from Raleigh Bikes:
Decide on the type of cycling you want to do at the outset Whether it's a leisurely hour or two cycling with the family at weekends or as a healthy (and environmentally-friendly) way to get to and from work, your planned activities and ground conditions should be considered when choosing a bike.
Try before buying It's easy to buy anything online, but it is highly recommended to try out a few bikes before buying. Different frame designs and wheel and frame sizes will suit different people. The people in bike shops are experts and Raleigh's dealers are specialists steeped in sector knowledge. You can rely on your dealer for advice. Many dealers will be happy to let you go on a test ride to make absolutely sure it's the bike for you.
Choose the right size bike for you. This helps with safety, comfort and performance. It's not true that you need to be able to put your feet flat on the floor when you sit on the saddle, instead it's generally best for your feet to be able to just touch the floor. Remember there can be a variance in different bikes of the same list size, for example, not all cycles with 19" frames will give the same ride height.
As well as helping you in selecting the cycle type and brand your dealer should be able to help with choosing the correct size of bike for you.
2. Pick out the right helmet
Just as there are many options in choosing a bike, helmets come in a range of shapes and sizes. There are recreational helmets that are suited to everyday riding including commuting. Road helmets designed for road bike enthusiasts with weight and aerodynamic design in mind. Mountain-bike helmets that tend to have visors, lots of ventilation and increased coverage of the rear of the head, some also feature full face protection.
When choosing a helmet, try different sizes and use the sizing wheel that adjusts the internal sizing ring to find a fit that means the helmet is snug but not too tight and does not shift significantly.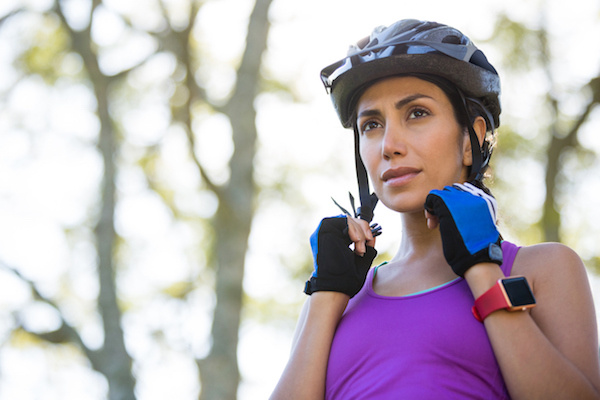 3. Invest in lights to stay visible
You'll have probably noticed that lots of new cars have running lights on all the time improving their visibility to other road users. Getting a set of lights like the Raleigh RX10 USB chargeable light set (£29.99) that are not only bright at night, but are capable of being seen in daylight and will make you much more visible.
4. Build your confidence
Use designated tracks or start on quieter routes even if they're a little longer as this will help build up your confidence. Riding the route outside rush hour to start with will also make it much easier when you come to the commute.
5. If in doubt, get some cycle training
There is a plenty to consider here and lots of resources and cycle training courses available.  Bikeability is a government recognised, practical training scheme underpinned by the National Standard for cycle training. The Bikeability programmes has helped over two million cyclists and uses National Standard approved trainers to offer three levels of cycling proficiency training, giving cyclists an understanding on how to cycle on today's roads. Getting comfortable, confident and safe in the saddle is the objective of this training scheme and can help riders of all proficiency levels improve upon their cycling skills.
Use designated tracks or start on quieter routes even if they're a little longer as this will help build up your confidence.
6. Assume that other road users don't know where you are
On a bike, it's all too easy for other road users to miss you coming along, try to make eye contact with drivers if possible so that you know they've seen you. If this isn't possible, anticipate what their next move might be and watch their front wheels as this will give you the first clues of a direction change. Expect people to open car doors in front of you and leave enough space if you can.
Check that you can see the wing mirrors of the car in front – like the sticker on many lorries state, if you can't see their mirrors, they can't see you!
7. Stay out of the gutter
This might seem like advice for a night out, but it rings true for cycling too. The gutters are full of debris and dotted with pot holes and drains. Riding in the gutter may feel like you're leaving other road users plenty of room to pass, but you're risking humps, bumps and burst tyres. As a cyclist, you're entitled use the whole of the lane, therefore don't be afraid to do this when necessary.
8. Claim your space on the road
As mentioned above, car doors and gutters mean leaving a wider gap to the kerb and riding more centrally in the road. Whilst this may feel more uncomfortable with cars stuck behind you, chances are that they wouldn't be able to safely pass you if you were closer in to the kerb anyway, but if you leave a glimmer of space they would be more tempted to give it a try. Be bold and use the space you require in the lane you're in rather than conceding space to motorists that might put you at risk.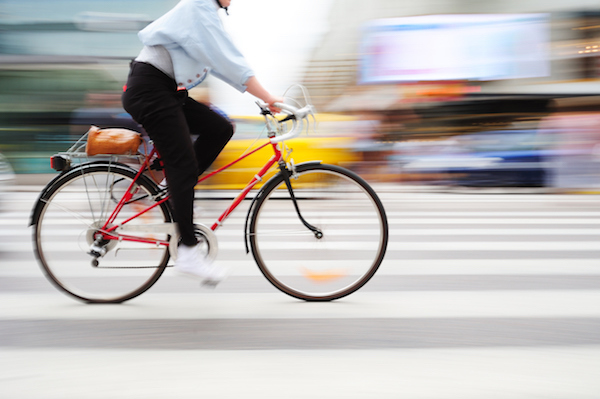 9. Alert others as to how much room they've got
Some drivers find it hard to gauge the width of your bike and handle bars and therefore may misjudge the space available to overtake you and clip you as they go past. There are fold out reflectors available that to attach on to the right-hand side of the bike frame, this will help show drivers behind you that you are not as narrow as the rear wheel of the bike and give other road users a clear idea of how much space you need.
10. Keep calm at T-Junctions
As you're approaching a T-junction on your left, it's worth adopting a more central position within the lane you're in. This gives drivers at the junction a better chance of seeing you and deters other drivers from overtaking near the junction. British Cycling have some great tips, see the following articles on britishcycling.org.uk that include where to position yourself in the road in different scenarios such as heavy traffic or where there are parked cars.
11. Learn to safely pass congestion
When traffic is very heavy or at a standstill, cyclists can often keep on going. Going down the left-hand side of the traffic can seem like the natural place to ride, however, people are more likely to open doors or turn down side streets with little or no warning therefore go between the lanes or better still down the outside as long as the middle line is dotted and not continuous. If you are going to do this, make sure you check the oncoming traffic well ahead, stay alert and try to anticipate the actions of other road users.
Be bold and use the space you require in the lane you're in rather than conceding space to motorists that might put you at risk.
12. Know that large vehicles mean larger risks
Lorries, busses and vans have much less visibility of cyclists so never go past them on the left-hand side of the vehicle and be cautious of going past them because they have larger blind spots than cars. Also, make sure you look beyond the vehicle in front to check ahead for junctions before you overtake, vehicles entering the road from the left will be unable to see you if you're shielded from them by a large vehicle and therefore are likely to pull out across you.

13. Know how to handle an accident
First and foremost, and if you're able to, move to a safe position and call the police and if you're injured, an ambulance. Even if you are not seriously injured, you should see your GP and make sure they take details notes. When the police arrive, co-operate and give your side of the story. Take a note of the police case reference number and police officer's name and number.
There could be several reasons you've been in an accident, from a pot hole to a pedestrian collision, to a crash with a vehicle or another bike. It's important to capture images of the incident, including your injuries and damage to equipment and vehicles, pot holes in the road with something to demonstrate size and location. It's also a good idea to get the contact information of other people involved and witnesses.  If a motorised vehicle was involved, as a minimum try to make sure that you get the registration number as you can trace most drivers with just this information.
For more information on keeping safe on the roads and cycle training visit britishcycling.org.uk, cyclinguk.org and other similar sites. For more information on Raleigh bikes and accessories such as lights, helmets and clothing, please visit Raleigh Bikes.
Read More:
WE LOVE: Odlo summer kit for cycling and running reviewed by Healthista writer Yanar Alkayat
CYCLING Get on your bike with Olympian Lizzie Armistead
REVIEWED: The brand new Psycle studio in Canary Wharf – London's coolest cycle club now has a yoga component too. We're in love.
Like this article? Sign up to our newsletter to get more articles like this delivered straight to your inbox.