In this week's women's sport report— celebrate with Serena on winning her 6th Australian Open title, get pumped for the women's rugby Six Nations tournament, find out why jockey Hayley Taylor received a penalty ban and enjoy some poetry that might just make you want to run a marathon

Serena Williams beats Maria Sharapova for Australian Open title
Despite battling a cold, Serena Williams was successful in her 6-3, 7-6 (5) victory over Russian tennis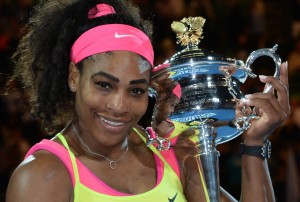 player Maria Sharapova at the Australian Open on Saturday.
The win secured Williams' 19th Grand Slam title and at 33-years-old, made her the oldest woman to hold the Australian Open women's title. As head-to-head opponents, Williams has won 16 matches in a row against Sharapova. The last time Sharapova was victorious over Williams was in 2004.
'I'm so honored to be here and to hold this 19th trophy,' Williams told ESPN. 'I didn't think it would happen this fast, to be honest, but it feels really good.'
Tamara Taylor is the new captain for England women's rugby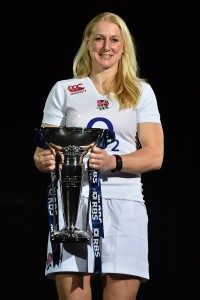 Rugby will be in the spotlight from February through March during the 2015 Six Nations international tournament where rugby teams from England, Ireland, Scotland, Wales, France and Italy compete. Late last week, Tamara Taylor, 33, was named captain for the England women's rugby team.
A team player for the Darlington Sharks and England, Taylor has played in three World Cups. The naming of Taylor as captain came shortly after Katy McLean—England's original captain—was placed in the England Women's Seven squad traveling to Brazil for the Sevens World Series.
Taylor told BBC Sport, 'To captain any team is a privilege, and to captain England is the highest level you can go.'
The England women's rugby team will play its first Six Nations game against Wales on the 8th of February in Swansea.
Hayley Turner, Britain's leading female jockey, receives 10-day ban

Hayley Turner, one of the first women to have a successful, professional jockey career in the UK, will not be able to participate in races through most of February due to a penalty ban she re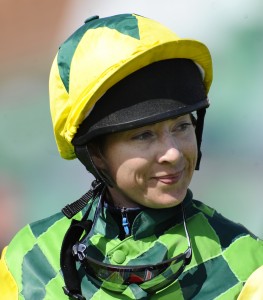 ceived on Friday.
Turner stopped riding short of the winning post, which sparked discussion among the Lingfield stewards about why she took such action. As a result, the stewards found Turner in violation of not riding out a horse that if had not stopped, would have finished in third place.
Upon hearing the penalty punishment, Turner was accepting and acknowledged her mistake.
She told Racing Post, 'I deserved it. I've never done it before in all my years riding, but it was human error and I hold my hands up.'
Turner's ban excludes her from any races held from the 13th through 24th of February.
Manchester Great Run takes poetry in stride

Although the 2015 Morrison Manchester Great Run is not until 10th May, runners and poets alike will be in for a treat via a new promotional video.
Combined with footage from last year's 10k run, a poem by performance poet Tony Walsh also known as Longfella is read— tugging at the emotional value of what the run may mean to others. Oftentimes, great feats like a 10k can send anyone out of his or her comfort zone.
Inspirational and touching all at once, the video may make you want to 'do something…' like maybe run a marathon?
https://www.youtube.com/watch?x-yt-ts=1422579428&x-yt-cl=85114404&v=bEa9SLC2Ifk
Read last week's women's sport report
Like this article? Sign up to our newsletter to get more articles like this delivered straight to your inbox.