Over a third of us are on the hunt for low calorie snacks according to a new survey by Healthista. We love the Asian inspired itsu range, full of flavour and believe it or not – nutritional 
'I'm not even hungry!' I say, as I reach for yet another snack late in the afternoon. I'm stressed, and food is my comfort. 48 per cent of people are in the same boat, according to new research by Healthista on 2000 readers aged between 18-68. Other reasons people reach for nibbles are out of boredom (58 per cent) and during their period (31 per cent).
Snacking, is by no means a bad thing. Strategically done, it can keep blood sugar levels stable and ward off hanger (angry outbursts due to being hungry). But it's not so much our tendencies to snack that can be a problem – three quarters of our respondents admitted to having at least two snacks a day and nearly one in five opted for as many as four or more snacks a day – but the choices of snacks. 40 per cent of us opt for fruit, but chocolate, crisps and biscuits are just as popular, according to the survey. If my habit to eat a whole entire share bag of crisps in one spontaneous sitting is anything to go by, it's pretty accurate.
Passing round everything from satsumas to spirulina crackers to dark chocolate truffles in the Healthista office, we are agree that most importantly,  a snack needs to be tasty and filling for us to even acknowledge it happened. Our favourite at the moment is the itsu Asian inspired range, but get this – they are considered healthy too being ridiculously low in calories and with actual nutritional benefits. If your 'January diet' is starting to take it's toll, we've round up the best low-calorie, high-nutrition options: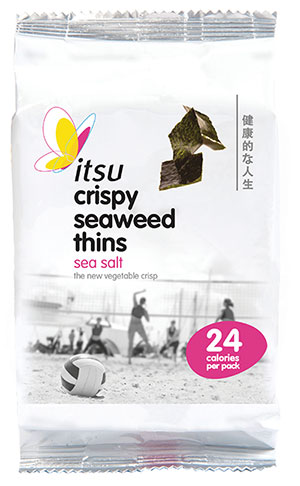 Bear with us on this one. It's not exactly a packet of Sensations or Walkers, but this seaweed snack all the way from the crystal clean waters of South Korea took us by surprise. If the savoury taste is your thing, this will hit the spot without ruining the diet, at an astonishing two calories per thin and 22 per pack. In fact, it's content of zinc, iron, B vitamins and iodine (65 per cent of the recommended daily dose), have it set to be the next green superfood of choice. Already, sales for these nutrient dense nibbles have gone up over two-thirds year on year – vegan friendly, too and the flavours of wasabi and sweet soy and sea salt are so more-ish. Wasabi is the new cheese and onion – trust us.
£1, Handypack, £1.99 Multipack of 3.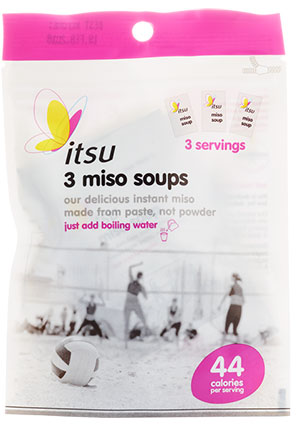 Next time you're feeling peckish, try miso soup for a snack. It's both warm and filling, a comfort during the colder months. But best of all, itsu's miso soup with wakame seaweed is high in protein, with one serving containing 2.6 grams and the vegetarian version containing 2.5 grams of protein. To put that into perspective, that's almost as much as a handful of nuts. Yet with miso soup, at 44 calories per serving, you're saving on calories big time. Full of flavour and rich in nutrients, the Japanese staple is celebrated here as a healthy snack ready in seconds. We simply added hot water to the paste for a natural soup that doubles as a delicious marinade, dressing or glaze.
£2.00 for 3 sachets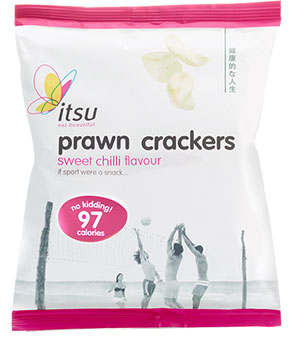 Another choice for those who crave an oily and finger-licking savoury snack, these are to die-for. I always thought prawn crackers were naughty, associated with a Chinese takeway. But itsu have designed them just as delicious, light and crisp – in flavours of sweet chilli, wasabi, salt and vinegar and Peking duck (our favourite) without any artificial flavourings. They are less than 99 calories per pack – hallelujah! Take them to the cinema so you aren't missing out, swap for your lunch time treat or keep on your desk for desperate times.
Available for £0.79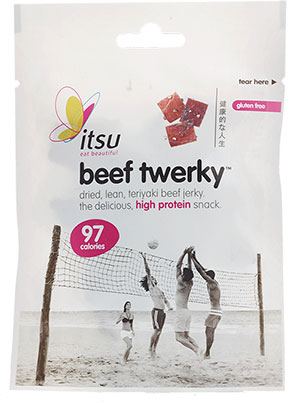 Protein, protein and more protein – that's what's on the minds of anyone you speak to who's serious about their health goals. Why? Protein is an essential of the human diet, helping us to repair muscles, produce new cells and – as an aid to weight loss – helping us to feel full. High-protein snacks are soaring, and itsu's Beef Twerky is a natural source. The dried, lean, teriyaki strips will get meat lovers' tastebuds tingling, marinated and gently smoked over applewood for serious savoury flavour – sometimes enough that makes you stop before the packet is finished. But even if you get to the end, you've only clocked in 97 meagre calories. Result.
Available for £2.00.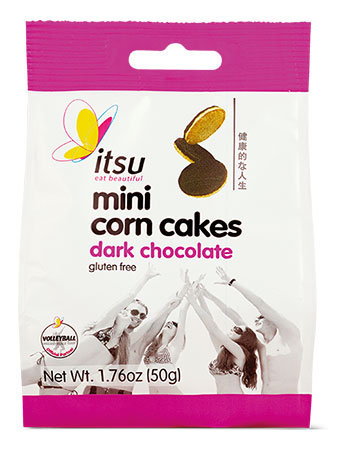 With a sweet snack, the last thing you want is to feel you are missing out. When a piece of fruit won't suffice, these rice cakes coated in a generous layer of either milk chocolate or dark chocolate are our new go-to. You can either get a packet of three large ones (also coated in yoghurt), each no more than 85 calories, or in a packet of minis that come jn at 118 calories – amazing. Being so crunchy, the rice cakes, made with a balance of wholegrain and white rice, won't leave you feel unsatisfied or reaching for something else in five minutes. We love that these rice cakes aren't too indulgent or sweet, but still curb our sugar cravings in the afternoon. Small changes, such as switching these for biscuits and chocolate bars, are realistic changes we know we can stick to.
Available for £1.00 50g, £1.85 100g
All itsu snacks are available at supermarkets nationwide 
Find out more about the nations snacking habits and Healthista's healthy snacking guide by clicking here. 
READ MORE
The new rules of healthy snacking
20 healthy snacks to satisfy your crisp cravings
8 BEST raw snacks for healthy indulgence
6 healthy snacks under 100 calories
WE LOVE: Raw Halo vegan chocolate
Like this article? Sign up to our newsletter to get more articles like this delivered straight to your inbox.