Wondering what are the secrets of Vicky Pattison's weight loss, despite all that partying? Her personal trainer Robbie Thompson gives his top tips for keeping on track
Vicky Pattison, 29, has come a long way from her Geordie Shore days back in 2011-2014 (oh how times flies). She made a celebrity name for herself with her larger than life personality and even larger bust-ups and boozy nights in Newcastle with her co-stars.
But Vicky had a shock when she saw photos of herself in a bikini in Marbella in 2013. Years of partying had caught up with her, topped with an engagement break-up that left her 'eating her feelings'. She prepared herself for a fitness DVD release, in which she lost four stone in three months with personal trainer, Robbie Thompson.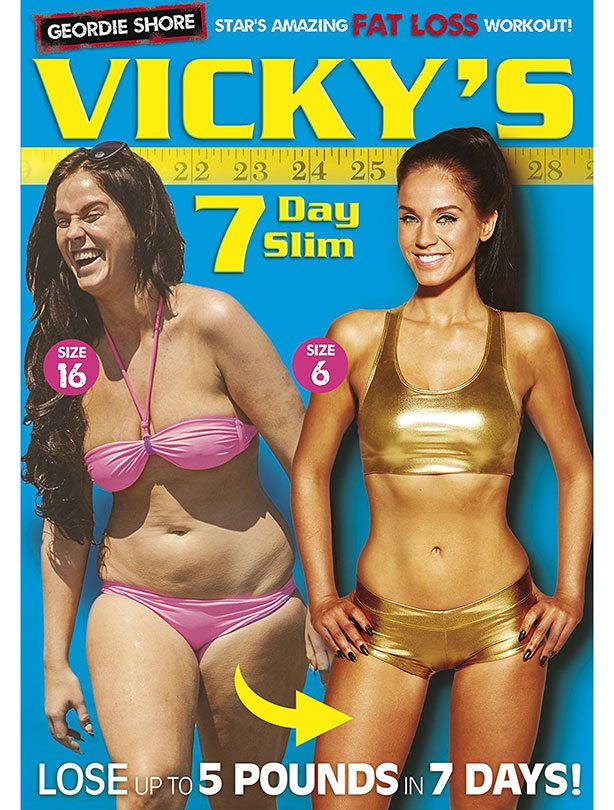 Her lifestyle was completely overhauled, ditching sugary drinks, packaged foods, kebabs, Jägerbombs, and takeaways, opting instead for a high protein diet and early morning gym sessions. Her drastic weight loss, taking her from a size 16 to six, leaving fans stunned and eager to find out her secrets. Following Vicky's number best seller Vicky Pattison's 7 Day Slim, in which she claimed would take you from 'mingin' to mint', Vicky launched her own health brand, Mini V, complete with supplements and nutrition regimes.
I wasn't happy… I ended up looking too skinny
At last, Vicky had become the role model she had dreamed of. But then reality hit. 'When the DVD was over and I took a look at myself, my life and what I'd become I wasn't happy', Vicky told The Mirror. 'I ended up looking too skinny. My mum was worried. My face looked gaunt and I became obsessed'. Vicky looked incredible, but she missed the Nando' with her girlfriends and guilt-free Geordie days.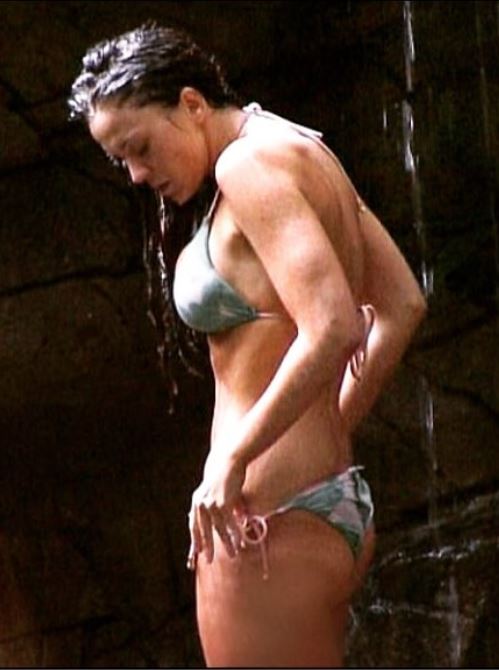 Vicky's weight fluctuated as her career reached new levels. She was crowned Queen of the Jungle (I'm A Celebrity) in 2015, had regular spots on Loose Women and This Morning and even became a co-presenter for spin off I'm A Celebrity shows. 'I came out of the jungle a lean, mean Queen, I was just over 9st', Vicky has said. 'But then I was sucked into a life of daytime TV, night-time panel shows, evening events, late restaurant dates and very little sleep with a lot of drink. I ended up being over 11st by the end of the year.' [2016].
It's not easy and I understand the struggle
Keeping on top of her healthy regime has been a struggle for Vicky, just like the rest of us. 'I would rather drink strawberry daiquiris and eat nachos in the sun all day and have my only form of exercise be my walk to the bar and back than have spinach with my breakfast and do circuits in the sweltering heat! That is who I am!', Vicky said in a recent Instagram post.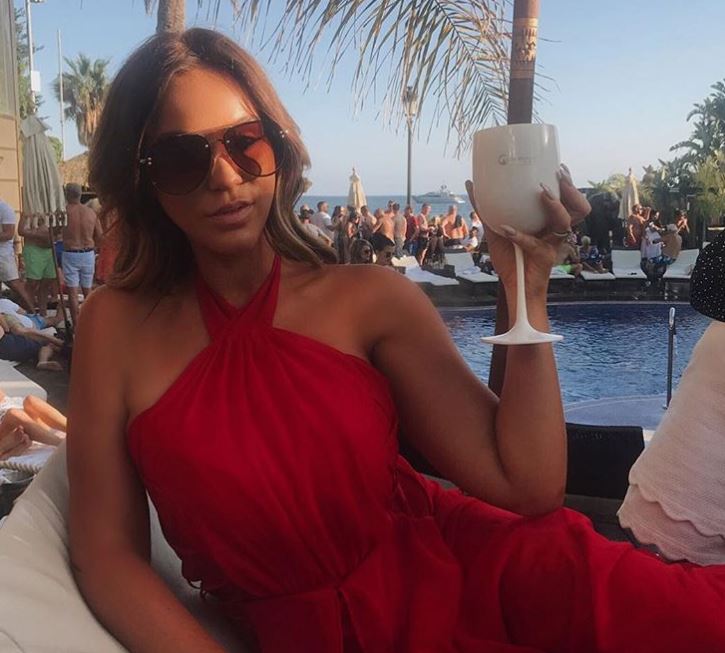 Now looking her healthiest yet, and not afraid to show it off in gorgeous bikini shots, Vicky has had to learn the beauty of balance. 'I didn't work this hard and lose all this weight to sit at home and calorie count, and watch other people have a good time', she told The Mirror. 'I have to strike a balance and make sure exercise and good nutrition are part of my everyday routine!', she wrote on Instagram. 'I've grown to love them and the feeling they give me but trust me when I say… It's not easy and I understand the struggle! But the rewards are so WORTH IT!'
Her Newcastle based personal trainer, Robbie Thompson, rode the journey with her. 'Life throws up obstacles and Vicky was no different', he told Healthista. 'We came up with a plan that took into account potential barriers and worked through them to continue to make progress – which she has done'. Robbie, who also runs Lean Mums website, talks to Healthista about how to keep on track with healthy habits when your inner party animal strikes.
How does Vicky stay on track?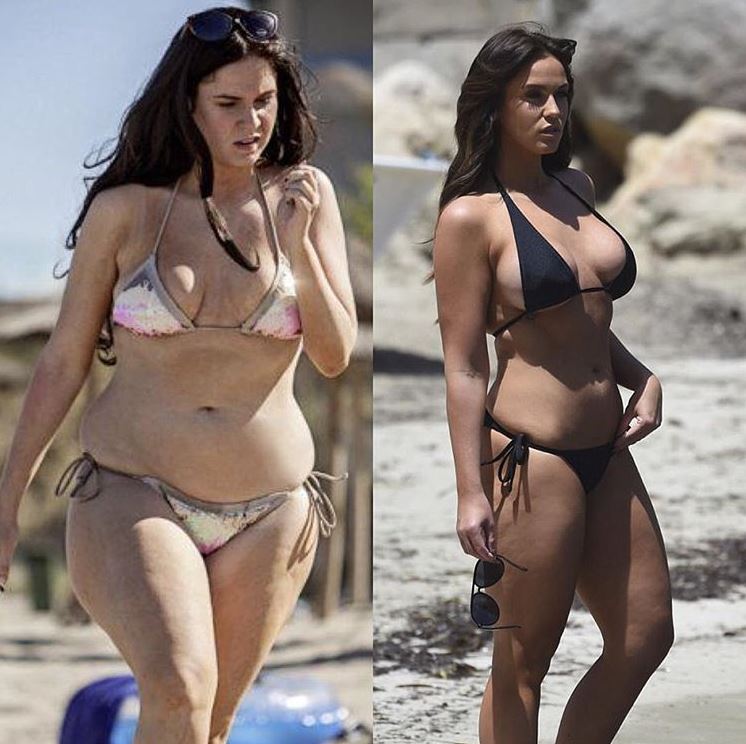 'Her weight fluctuates but she's done really well to stay in shape', Vicky says. 'As with anyone, it's about bringing it back to basics all the time. We developed a plan that suited her and she has learnt what works within her lifestyle. It's important for her to keep working out – she knows that she feels better when she trains regularly and eats well. Vicky likes lifting weights, she is strong, so we incorporate things like squats, deadlifts and pull ups into her sessions. They do work for people generally. Women shy away from lifting weights but you get great results.
'She generally trains 3-4 times a week. Sometimes she'll do a session herself because she is more capable of that now as she knows what to do. It's very manageable and that's what I'm keen to press on people I work with. People have enough stress in their lives anyway, so you don't want the added stress of diet and working out. That should be de-stressing you and making you feel good.'
Vicky Pattison's workout
The idea is to start with exercises that she can lift heavier weight with and that use a range of muscle groups. Then we finish with exercises that use less weight but more reps that target specific muscles. Work through each circuit (and then die – just kidding!)
Circuit 1: Trap bar deadlift 6-8 reps
Dumbbell shoulder press 8-10 reps
Core exercise such as a plank for 30 seconds.
Rests for 90 seconds before repeating three times.
Circuit 2: Heel raised squat 12-15 reps
Cable face pulls 15 reps
Ball crunch 10-15 reps.
Rest for 90 seconds before repeating two or three times.
Circuit 3: Bike (30 seconds flat out)
Dumbbell lateral raises 15 reps
Medicine ball twists 10 each side
60 seconds rest before repeating three times.
How to stay on track when you're a party girl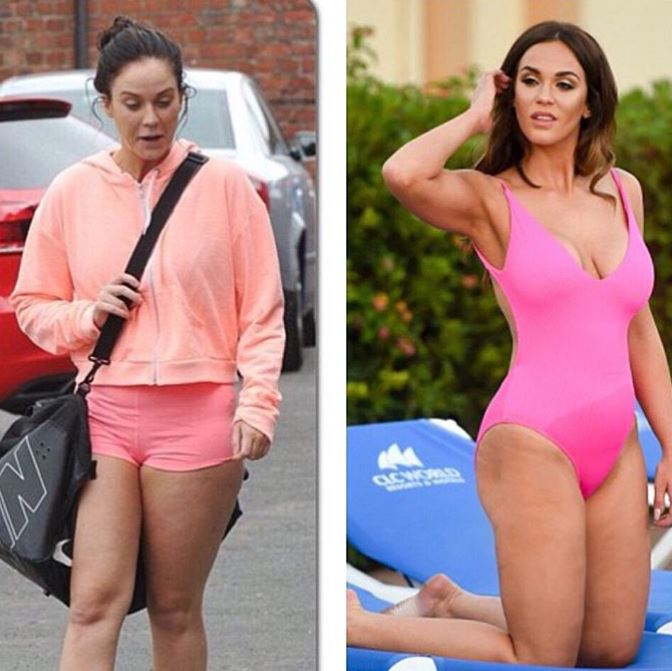 For some women, the back and forth of dieting and indulging can leave them exhausted. Despite knowing you feel better when you hit the gym and the green smoothies, sometimes you just can't reign in your inner party girl. How can you do both without feeling guilty? 'There has to be a balance there', says Robbie. 'What is the point in working out to look great if you can't show it off because you're locked away eating rabbit food? You can't be out every night eating what you like and being drunk, but socialising is a big part of people's lives and I say it is important that remains.
'If you are having a couple of nights out a week, there is still plenty of scope within that week to be doing the right things. In the lead up to Christmas there is loads going on, so decide which nights you are going to pay more attention to and which are the ones you are going to cut loose.' Robbie shares his top tips for keeping the balance:
Have 3-4 gym sessions in the week to keep active.
Be aware of the calorie content in alcohol A gin with a slimline tonic is 50 odd calories which is a huge difference to a mojito. In a best-case scenario, you will ask yourself how many drinks are you anticipating. You may decide 4-5 gin and tonics which is a few hundred calories. Clearly there are the nights out where you have no idea how much you had! On those nights, if you have cocktail after cocktail, they are a few hundred calories each which is dangerous.
Eat well on the day so you aren't going out hungry and getting food on the way home. You will also get less smashed and crave all those bad foods hungover the next day.
Don't write days off Say there is an evening event where you know the food won't be perfect and you will be drinking – there are still two meals which you can make perfect: breakfast and lunch.
Hangover food does count It's 50/50 – some people crave stodgy food when they are hungover and others feel better by eating something healthy. The sooner you can get back on track the better, which always depends on the level of the hangover – you know those ones that can last a week! Break the cycle by getting out for a walk for some fresh air.
Eat enough protein I find with a lot of people if they aren't getting enough protein they over eat on other things. If you fancy a sandwich, if you include some protein it's unlikely you'll want that packet of crisps after. A chicken salad sandwich is a good example. It's tiny things like that that will draw you back to the good habits slowly.
When you drink you are consuming a lot of calories so a full English the next morning isn't ideal and is fatty protein. Having something healthier won't add extra calories on top of those drinks. Leaving out the black pudding might help…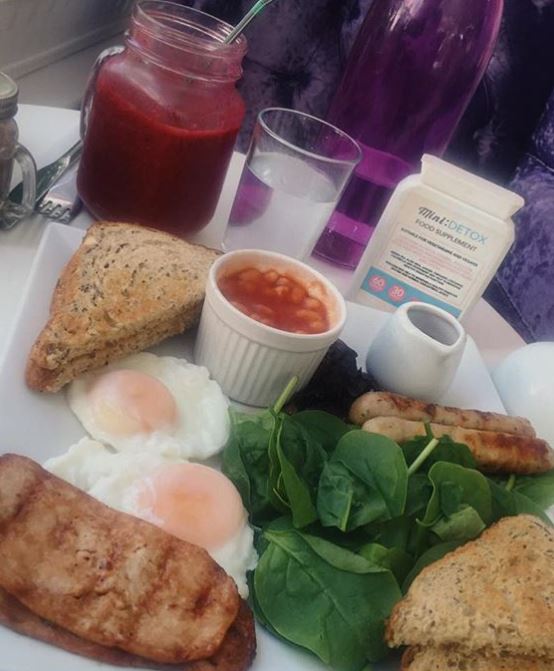 Make sure you drink plenty of water both on the day and the next day.
Have fun Sometimes you just have to go out and have a great night!
How to eat healthily when out for dinner
So you're going out for dinner this evening – how do you avoid falling into the 3-course trap with a large serving of alcohol?
'Its great now loads of restaurants have their menu online so you can take a look before you go', says Robbie. 'More and more of these menus have the calories on there which is really helpful. Pick before you go so you don't look obsessive over calories and can enjoy your time like everyone else. I use a daily budget analogy for calories. Think ahead about how you will allocate those for the day and try and have a healthier breakfast and lunch. You'll feel you deserve that dinner out even more.
Have fish rather than steak or half a portion of chips or even new potatoes
'If you're going to be drinking during or after the meal, I'd suggest a lower fat meal (and therefore lower calorie). If you have a burger, try a chicken burger instead of beef as beef is more calorific. Have fish rather than steak or half a portion of chips or even new potatoes. These tiny swaps can save a decent amount of calories. If there is alcohol, a lot of calories will be taken up by them, so don't have the starter or dessert!'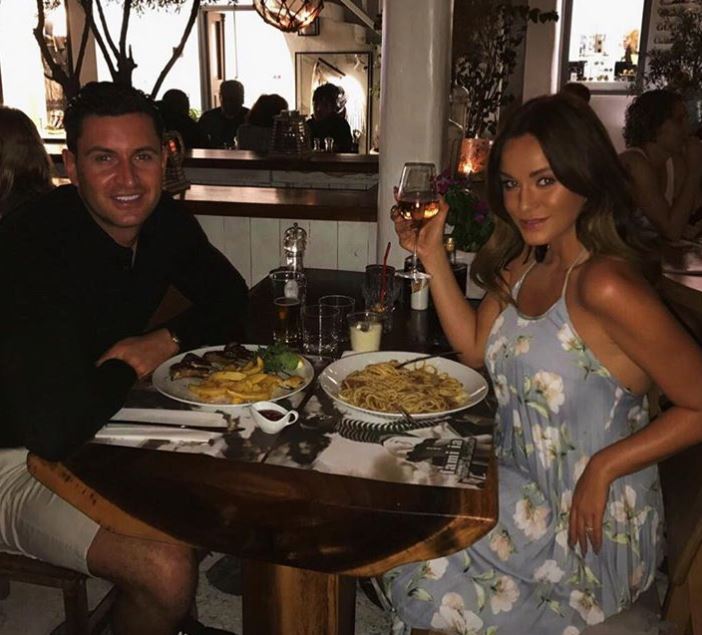 What to do when you fall off the wagon
That's all very well. But what if that horrendous hangover leaves you in a carb coma for a week with no energy to get to the gym? 'It's really common and we all do it', Robbie reminds us. 'The instinct is to starve yourself on the Monday after a massive Saturday night because you've gone to one extreme and so you think you should go to the other. It's almost self-punishment. But that's the worst thing you can do. It leads to people wanting to binge and repeat the cycle again. The best thing to do is go back to your original plan. Get some positivity back in there by doing something you know you enjoy or that works.'
How to lose weight for Saturday night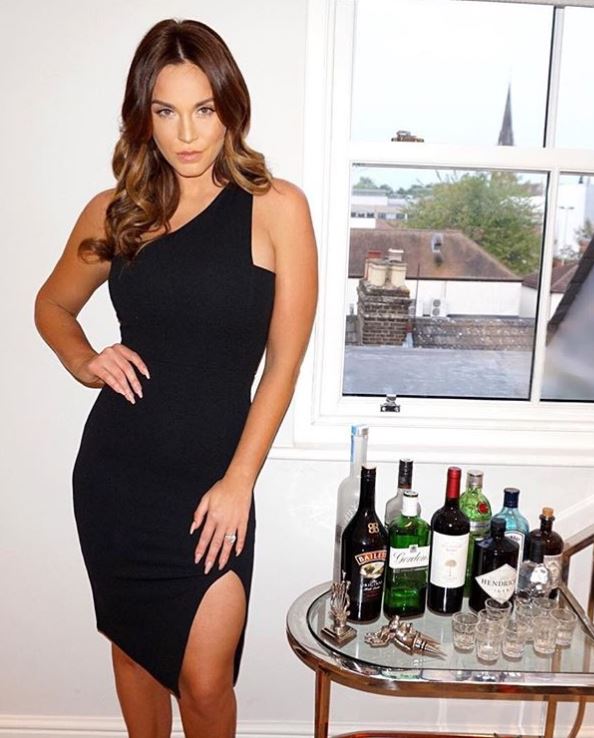 Got a party in seven days but still lacking confidence in your new dress? We get it. Fad diets are never beneficial for the long term. But how can you see a drastic result healthily for the big night?
'Most people would be amazed at how quickly you can see results by consistently doing the basics', says Robbie. 'If you set out on a Monday for a party on Saturday and have protein at every meal – eggs for breakfast, chicken for lunch and fish in the evening – you immediately reduce the amount of carb you want and how much you snack. Vegetables at every meal takes up space on your plate and keeps you feeling full. Most people eating off track are eating plates full of carbs but that leaves you craving snacks.
'More protein, water and vegetables are very straightforward but doing those three things, as basic as they sound, you will start to lose weight. You will also be less bloated than when you are eating sporadically.'
How to stick to habits in the long term
https://www.instagram.com/p/BamosdRAjq3/?taken-by=vickypattison
They say diamonds are a girl's best friend, but some of us have come to the realization that it's actually a glass of wine we would like to spend an evening on the sofa with. Robbie says it's not impossible to live a healthy life whilst enjoying treats, as Vicky does.
Think carb clever: 'Get into good habits by having vegetables and protein in every meal. But carbs aren't the devil and they are important for energy. I would suggest having something like an omelette for breakfast and a salad for lunch and saving carbs for your evening meal, where you usually want a nice sit down meal with the family or your partner. This is more realistic and if you are losing weight at the same time, it will work for the long term.
It's not true that you shouldn't eat carbs after a certain time in the evening.
'It's not true that you shouldn't eat carbs after a certain time in the evening. You're body doesn't start storing fat when the clock strikes 6. It starts storing fat when you eat too much.'
Count your calories by week: 'I try and get people to think about their calories over a week. You may eat really well for five days and then go on a binge at the weekend but wonder why you're not losing weight. When you total those calories and divide them by seven, you might be overeating.'
Avoid bingeing and 'cheat days': 'I've done every diet. I used to give myself one day a week where I could eat anything I want. I'd have cookies for breakfast and a Twix at 11.55 at night before bed because I thought I need to get this in before getting back on my plan. This is terrible. If you were to take those calories you eat in that day and divide them over the week, you will be in a calorie surplus which is where you eat more than your body needs. When that happens consistently you gain weight, so it renders all those 'good days' pointless.'
Treat yourself regularly: 'To stop the binge or cheat day cycle, why not enjoy the odd treat over the week? Rather than it being an off on switch, think of it like a dimmer switch, so it's not so drastic. This is the 80/20 rule. 80 per cent should be what you think you should eat- the boring things! 20 per cent will be the things you enjoy – chocolate or wine. Getting balance seems a bit alien to people if they have an extreme mindset. They will say 'I can't have one Digestive because then I will want the whole pack', so it often takes a bit of getting used to.
'If you stick to the 80/20 rule every day you will be fine. Or, you could save that 20 per cent every day and have more on a Saturday or Sunday but still keep track that you aren't going overboard.'
Focus on the diet: 'I don't like to place too much emphasis on training because it takes away from the importance of diet. If you go to commercial gyms you see people trying so hard but their body doesn't change and that is because they are placing the importance in the wrong area. Generally, your diet is what's going to make the difference and steer your fat loss and the training is there to keep people strong.'
Incorporating fitness into a healthy lifestyle
https://www.instagram.com/p/BaZjzrqDuqW/?hl=en&taken-by=robbie__thompson
So you've nailed the diet. Now how can you ramp up the exercise?
Forget the cardio: 'For workouts, you want to be doing the ones that have more bang for your buck. The workouts I do with Vicky use the big compounds movements such as squats, pull-ups and lunges. They are tough at the time, but the body continues to burn calories after the workout. You can kill yourself on a treadmill, but 20 minutes later you'll feel alright. Whereas if you do a decent session of tough exercises you feel shellshocked for a little while after.'
Fight for the muscle and metabolism: 'Lifting weights encourages the body to hold on to its muscle. When people crash diet they will often lose a lot of muscle as well as fat which slows the metabolism and then they put on weight and store fat faster afterwards.'
Be more active: 'If you really want to see results faster, small changes will make a big difference. Taking the stairs and hitting 10,000 steps for example – Fit Bits are brilliant for tracking that.'
How much is enough? 'It very much depends on your fitness levels but if you think of an effort scale being 1-10 and 10 being eyeballs popping out your head, I would generally suggest people to be around 6-8. Here they are pushing themselves but not exhausting themselves and this should be 3-4 times a week consistently.'
Don't reach for the post-workout snack: 'Sometimes the harder people train, the more they think they can get away with eating. If you train really hard you are starving afterwards. So people leave the gym and pick up the most convenient thing and they probably just undo all that good work. To lose weight, you need to eat the same thing you would eat if you hadn't trained.'
What to do when the weight comes off: 'The easy answer is nothing. If you follow a plan you enjoy and works for you, you continue the plan. You have factored in that you have a takeaway on a Tuesday night, but within that they have their good habits in place. That's why people are better off losing weight slowly. As soon as you say 'a diet' you are putting an end date on it.'
Robbie Thompson has been a personal trainer and lifestyle coach since 2008, working with hundreds of clients including celebrities. His website Lean Mums provides home workouts and easy to cook, healthy recipes for busy mums.
Follow him on Instagram or visit his website 
READ MORE
Celebrity trainer: Demi Lovato's Brazilian Jiu-Jitsu trainer says the sport is life changing
Celebrity Trainer Secrets: This PT's workout is a favourite amongst British TV stars
Kate Winslet's yoga teacher reveals 9 ways it could change your life
Why we should give up drinking but not getting drunk
10 ways to relax after work without alcohol or food
Like this article? Sign up to our newsletter to get more articles like this delivered straight to your inbox.