London's first vegan patisserie opened this summer at Cafe Forty One. To celebrate Afternoon Tea Week, Healthista's Marie Pan (a pastry-mad vegan) tried it – it kicks off our vegan baking special 
I turned vegan a few months ago and now, whenever someone discovers this about me (I promise I don't tell them within a few seconds of meeting), after the initial shock, they invariably ask: 'What food do you miss most?' That's easy. Pastries.
Meat was the easiest to give up, then fish. I'd watched several documentaries on Netflix; 'Cowspiracy: The Sustainability Secret' was particularly striking to me, for its exploration of the impact of animal agriculture on the environment and graphic content on animal cruelty. After watching that, I couldn't look at a steak or plate of sushi in the same way again.
Giving up cheese as tough though, especially at first, because the animal cruelty is staring you in the face on a slice of pizza as it is with say, a plate of chicken wings.
But the thing is, veganism has become so popular in the UK over the past few years – it is estimated that 3.5 million British people now identify as being vegan.
That's meant health brands and supermarkets have been delivering more vegan alternatives to meat, cheese and cakes, which helped ease me into a plant-based diet during my transition.
You can find vegan substitutes for meat, cheese and cakes…but what about a good old croissant?
You can substitute meat with tofu, seitan or other vegan 'meats'; supermarkets stock many different vegan cheeses (from vegan 'cream cheese' to 'cheddar' made from things like almond or coconut, seriously, some are delicious).
Living in London is a huge help as well, as there's such an abundance of vegan restaurants at the moment and vegan options in restaurants which are not strictly vegan.
READ MORE: 22 vegan protein sources and how to use them
However, this vegan cuisine falls short is in patisseries. I was born in Paris, and so french food has always been close to my heart (as in, in my stomach). I'm not kidding, I used to be able to inhale a baguette and round of camembert and top it off with a croissant…okay, and maybe a pain au chocolat.
I used to love eating a croissant or pain au chocolat for breakfast – oh, how I miss the buttery flakiness of them.
Since I became vegan, I've found plant-based alternatives to satisfy all my other cravings except for my craving for pastries.
And I know that you can find vegan croissants in Planet Organic, but I'm scared of being sorely disappointed (it doesn't help that I've heard other people's bad experiences with vegan pastries).
You can imagine my excitement, though, when I heard news of the first vegan patisserie opening in London, led by a vegan French pastry chef, Clarisse Flon.
Cafe Forty One, in Paddington, offers vegan breakfast, lunch and afternoon tea. Finally, all my vegan pastry dreams were about to come true.
London's first all vegan patisserie led by a Parisian vegan chef
I visited Cafe Forty One on a Tuesday afternoon; it was drizzling slightly, but I told myself that no rain was going to ruin my experience.
I ordered a passionfruit and almond mocktail, while my (non-vegan) friend Bisi tried the lychee and vanilla mocktail and we started sipping them as we awaited the food – eagerly.
The selection of sandwiches included: chipotle cheese with caramelised onion chutney and rocket on rye bread, brioche roll with cream cheese and smoked carrot 'salmon', BLT with eggplant 'bacon' and vegan mayonnaise on sourdough and Mediterranean hummus and cucumber on farmhouse loaf.
What amazed me was how much flavour was packed into every bite. My favourite sandwich was the brioche roll – Flon's twist on a smoked salmon and cream cheese sandwich. I knew I was eating carrot, but it didn't taste like any carrot I'd ever had. It's safe to say my mind was blown.
With the sweet treats, it doesn't specify the selection of pastries you'll be served – the menu reads only 'patisseries of the week'.
On that particular day, I tried the cherry and pistachio financier (a small almond cake), vanilla berry tart, marble cake with praline buttercream and lemon meringue tart.
Yes, that's right – a vegan lemon meringue tart. Vegan. Lemon Meringue.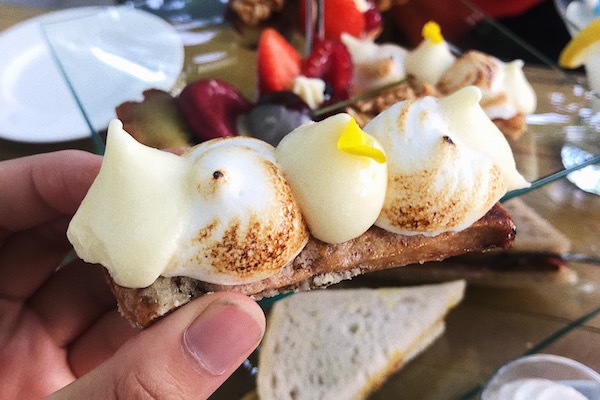 The lemon meringue tart was, hands down, my favourite of the whole meal (I say meal because I couldn't move afterwards). It tasted creamy and yet the sharpness of the lemon flavour came through, leaving me to wonder how exactly Flon had managed to concoct a dessert without the use of eggs.
It was simultaneously light and indulgent and struck the perfect balance. One slice was not enough – I was almost tempted to steal Bisi's share.
The whole array of food was so delicious that, halfway through our journey towards a food coma, Bisi suddenly said 'I just realised – none of this contains any dairy or eggs. How did the chef manage it?'
Good question. I spoke to Flon, who explained the concepts and reasons behind her vegan menu.
'I've been vegan for four years now. Many vegan cafes make brownies and cupcakes, but I find these too heavy and sugary,' explains Flon.
'That's why I wanted to focus on making pastries, which is more about the texture and flavour rather than providing a sugar hit.'
'I want to surprise people with vegan twists on classic dishes, by experimenting with different ingredients. If I can find something that has the same texture and similar flavour as meat or fish, I'm going to try it.'
As well as afternoon tea, Cafe Forty One offers all-vegan breakfast and lunch, also full of desserts that bring a twist to French classics. These include a chocolate and praline millefeuille and a raspberry, matcha and apricot entremet.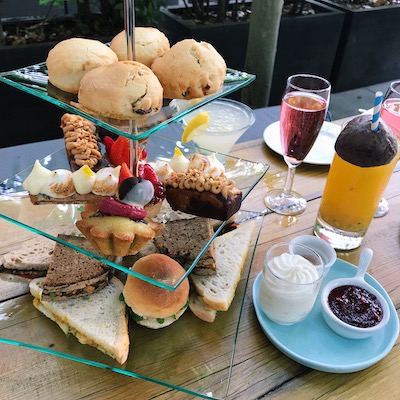 THE secret ingredient for vegan baking
If you want to tackle making plant-based pastries, Flon recommends using aquafaba (chickpea juice). It's the jus that beans and chickpeas have been cooked in. You can't buy it on its own, but the good thing is that it's inside the can of chickpeas you would usually buy from the grocery store.
'Many pastry recipes involve using eggs and butter. So when you want to make vegan pastries, the process becomes complicated,' says Flon.
'For me, the turning point was my discovery of aquafaba and using it as a replacement for eggs.'
'Lots of preparation in French patisserie relies on eggs; for example with chocolate mousse, meringues, pavlovas. Aquafaba made it much easier for me to develop the perfect recipes.'
Generally, the formula is three tablespoons of aquafaba to about one whole egg, or two tablespoons of aquafaba instead of one egg white. One can of chickpeas makes up around 1/2 to 3/4 of aquafaba, which is about eight to twelve tablespoons.
Quite a simple secret behind achieving light and airy vegan pastries – I suspect there's a little more to it, but it's a good place to start.
Afternoon Tea is served 12pm to 5pm daily at Cafe Forty One in La Suite West Hotel, priced at £35 per person. Click here to book. 

Healthista is giving you the chance to win an incredible spa detox break worth £1750 with spa specialists The Body Retreat at their gorgeous Somerset venue.
To enter, just take our 5-minute Gut Health survey
Related Healthista Content
Sugar-free vegan protein muffins recipe ready in 15 minutes
Going vegan? 18 things this famous chef wants you to know
22 vegan protein sources and exactly how much to eat of them