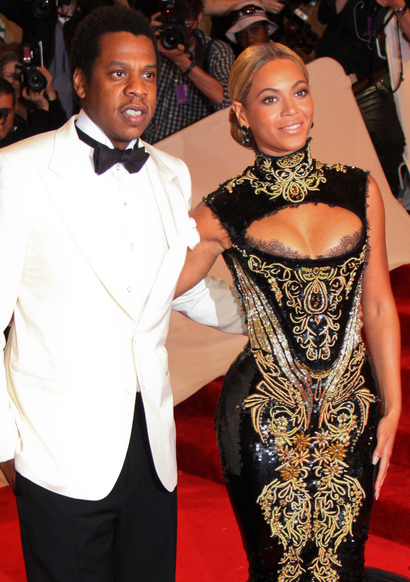 Last week Jay Z announced on his blog that he was starting a 22 day vegan challenge on December 3rd and that wife Beyonce was joining him. It's now a week since they started their mission and if you fancy joining the megastars – even if it's only for one meal, Charlotte Dormon has London's top vegan hotspots
1. EXOTIC The Gate restaurant – Hammersmith & Islington
One of London's most decedent vegan-dining hotspots since 1989, its recent refurbishment has made it even more appealing.  Chefs Adrian and Michael Daniel (two brothers and founders of The Gate) are passionate about good food and their cooking is influenced by their Italian and Middle Eastern upbringing.  They are great believers in using seasonal and organic ingredients and liven up their dishes with an array of vibrant spices and punchy herbs that make everything taste outstanding and look incredible on the plate  without being pretentious. I love the plantain fritters, that come filled with spiced sultanas, carrot, pine nuts and mint, served with sweet chilli coulis and a fennel and pomegranate salsa with a coriander and lime dressing as a starter. Also delicious is the wild mushroom pan-fried polenta with sauté girolles, warmed root vegetable, lentil and wilted spinach, finished with a cèp reduction sauce and truffle oil drizzle.
2. ITALIAN Amico Bio –  Holborn & Barbican
Amico Bio's is organic Italian food at its best.  They source fresh ingredients from their family farm in Capua, Italy, and offer a deliciously varied range of vegetarian, gluten-free and vegan dishes, created from seasonal products with an authentic and traditional Italian spirit. Amico Bio is relaxed and laid back, and would be ideal for a lunch meeting with clients or dinner out with friends. Signature dishes include wholemeal pennette with broccoli and tofu or pan-fried spelt cake with crispy aubergines and salsa verde – amazing – and some unbelievable desserts.
3. FILLING Mildred's – Soho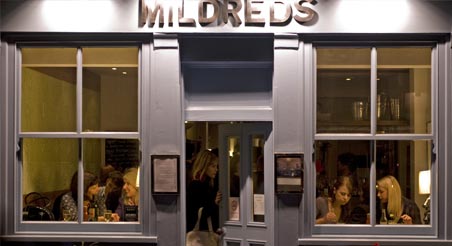 Mildred's is always packed day and night.  The menu doesn't change much but portions are big and filling (my favourite is the Sri Lankan sweet potato and cashew nut curry) and a great choice of vegan starters, which also work well in you are popping in for a light lunch.  Friends of mine who go a lot always go back for the grilled gyoza dumplings with mirin and soy dipping sauce.  The other winner on the menu is the daily soup served with crunchy freshly baked homemade bread. You can't book Mildred's and it gets packed out fast, so be sure to arrive early and wait at the bar with a glass of organic wine until you can get a table.  It is great for a lively dinner with friends but as tables are packed in tight you may not want to come here for a business lunch.
4. HANGOVER-FOOD Sagar Vegetarian –  Covent Garden & Hammersmith
This south Indian restaurant is 100 per cent vegetarian and has plenty of tasty choices for vegans.  If you like hot and spicy food, this place is a must.  Try the Masala Dosa (a rice and lentil pancake filled with potato, onions and spices); it has been one of my favorite Sunday hangover foods for as long as I can remember.  Sagar is basic and laid back; not a place to impress a date, but great for a cheap bite out with curry loving friends.
5. CELEB-Y Manna – Primrose Hill
A vegan dream meal awaits you in this pretty restaurant famous for it's celebrity clientele. Harry Styles has been spotted outside and Ariana Grande and Nathan Sykes were recently spotted there eating and smooching and Anne Hathaway, Russell Brand, Mila Kunis and Chris Martin are fans.  The food is 100 per cent vegan with plenty to choose from.  The Sunday roast is worth the trip and followed with the chocolate torte, you will wonder if you ever need cow's milk again. Manna is cosy and comfy and a nice place to get together for a weekend lunch with family and friends, or nice for a date with a cute vegan!
6. BOHO Vitao – Oxford Street
Vitao was my first encounter with great vegan cooking in London.  For many years the Bohemian Vitao was the Soho media party-hard crowd's best-kept secret for  daily detoxing, and has fed many of the world's sexiest vegans when they've hit London –  including the lead singer from The Red Hot Chilli Peppers. In fact, celebs love it and other fans include Sadie Frost and Bjork.
Now moved to Oxford Street, Vitao re-opened it's doors again in late November.  For busy Londoners looking for a re-fuel over lunch to nourish their poor bodies back to good health, this place is like lunchtime rehab.  For under £10 you can choose between ten or more dishes from their tasty vegan buffet selection (all food, as well as being 100 per cent vegan is free from gluten and sugar, organic when possible and cooked in a special way so it is only gently heated and cooked slowly to make sure it retains as much nutritional value as possible). Freshen up with a green juice from the extensive list of nutrient-rich combinations (kale and parsley anyone?) – all freshly prepared on the spot. You can pay a little extra and add in some extra va, va voom, such as spirulina, wheatgrass or maca to give you a little afternoon boost.  If you are looking for a treat, then their homemade vegan, sugar-free raw puddings are an absolute must. I am a sucker for the strawberry cheesecake (they also make raw cacao hot chocolates with homemade nut milks).  For a healthy lunch in a rush, this place is a must.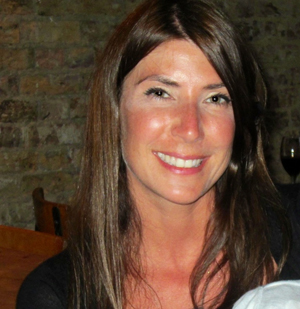 CHARLOTTE DORMON is our Healthista Eats blogger.  She's not a chef, or even that much of a cook.  If it's recipes you're looking for – you're in the wrong place.  But whether it's Sunday lunch or Friday night cocktails, she's the one friends and family turn to when they want to know how to eat out and be relatively healthy.  Each week she'll now be bringing you the same insider knowledge.  We'll drink – and eat – to that. Follow Charlotte on Twitter @lottielurvsu