Fancy some yoga to kick start your day the healthy way? Hot yoga studio Triyoga is doing pop up classes on the rooftop of Selfridges on Oxford Street. Lorna Van Baar tried it
This year, Triyoga, one of our favourite yoga studios, have teamed up with Forest on the Roof to bring you outdoor summer sessions at one of the hottest locations in London.
Well known for their high quality teachers and studios, Triyoga, are dedicated to helping people lead healthier and more fulfilling lives, mostly through yoga, pilates and treatments.
Each Tuesday through summer, the classes will be led by different yoga experts including top names such as Julie Montagu, Lisa Sanfilippo and Healthista blogger Genny Wilkinson Priest.
This week Healthista were lucky enough to experience the first of the alfresco yoga sessions for 2016 led by Canadian born Mercedes Ngoh Sieff.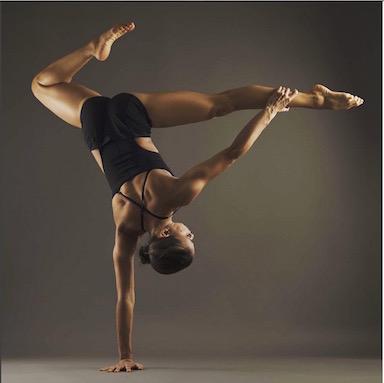 Sieff went to university in California which is where she got into yoga. Now, many years later she teaches exclusively for Triyoga in the Camden and Chelsea studios and spends half of her week in Devon teaching yoga in her very own health retreat Yeotown.
My experience
I got up to the top floor of Selfridges at about 9:45am by travelling in the 'express' lift which is to the left of the Dior counter on the ground floor. There isn't actually a number to press in the lift to get up to the top – it felt like a secret floor which added to the excitement.
As you come out of the lift you are greeted by a lovely setting of flowers and then you must walk through a small corridor which makes you feel like you are walking through a forest, with soft music playing of birds whistling. You then arrive at the restaurant which you must walk to the end of to get out onto the roof terrace.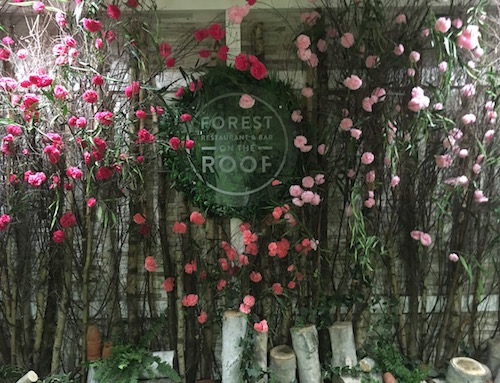 Luckily the weather was gorgeous for the first time in a while – it was warm and the sun actually made an appearance, which was perfect for an outdoor yoga session. When I arrived there were ladies setting up the matts all in a line, in front of Forest on the roof's gin garden huts which you can sit inside.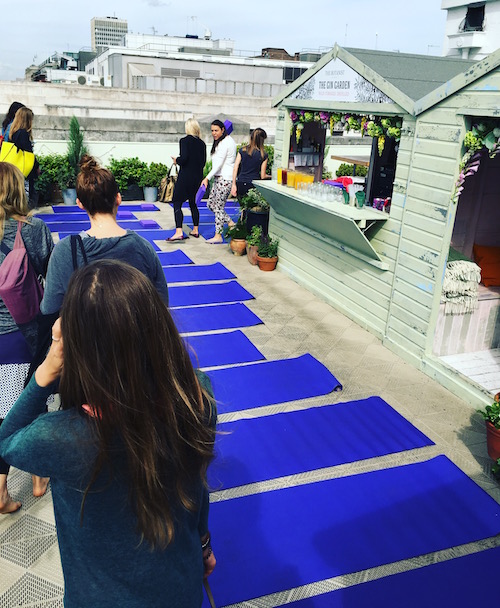 The roof is on the fifth floor up so you can see the tops of lots of buildings but for those of you who don't like heights – don't worry. The roof is secure making it impossible to even go near the edge.
The class began at 10am and seemed quite fast paced for me as a yoga beginner; however, the lessons are suitable for every level. Mercedes made adjustments for those who weren't comfortable with the more advanced moves.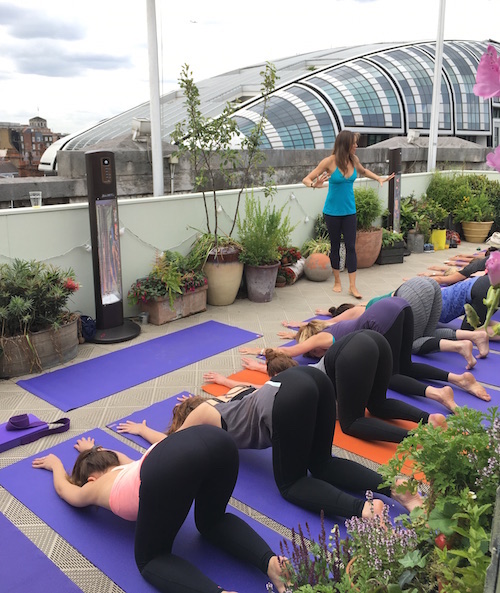 We started off by focusing on our breathing and stretching by raising our hands into the sky and then coming down into  the rag doll/standing forward bend position to stretch the back of our legs and get some blood pumping to our brain.
The class lasted around an hour and included  different movements and sequences, many starting with a downward dog and finishing in cobra position. We did lots of stretches whilst in a plank and the main sequence  was a complex variation on sun salutations including a lunge forward, stepping between your hands and lifting your other leg out (definitely not as straight forward as it sounds and really challenging).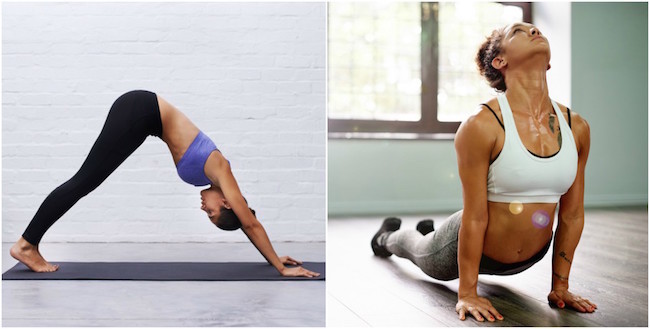 It was definitely a flow class and much tougher than any I have attended before which have been more focused on breathing and relaxation. My body was shaking at times when my weak arms were finding it difficult to hold up my body weight. Especially when I started to sweat. I found the crow and side planks particularly hard and although the hour went quickly I was happy when we got to relax in child's pose as I felt worn out.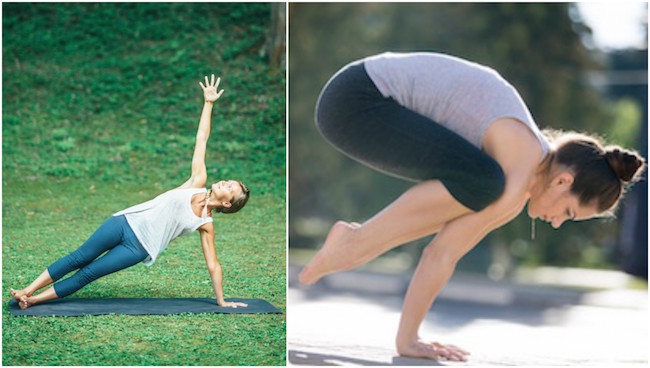 After the hour was up, the lesson finished and we were all given some breakfast of avocado on toast from the trendy restaurant and could pick between several juices that were on offer. The roof was available for our use until 11:30am. Afterwards we were given a lovely goodie bag courtesy of Triyoga which contained: a mini REN flash defence anti-pollution stick, a sachet of Ener-C 1000 mg Vitamin C, a yoga matters yoga belt, a delicious vegan friendly Squirrel Sisters Coconut Cashew raw snack bar and a voucher giving £5 off a £25 spend at Triyoga (see picture of the goodie bag contents further down).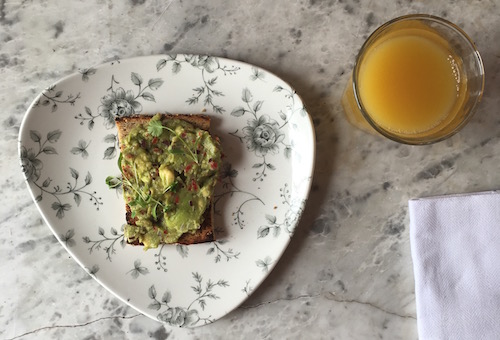 Today my body is aching all over which confirms that the yoga session was a great workout, but it made me feel pumped and energised and most definitely ready for the day.
Classes are for all levels, and include a nourishing breakfast of avocado on toast and fresh fruit juice – and the triyoga goodie bag! Mats are available for all participants but it's best to arrive in your yoga gear as there's no suitable changing rooms. If mat Pilates is more your thing, a special class has been incorporated into 2016's line up – even better!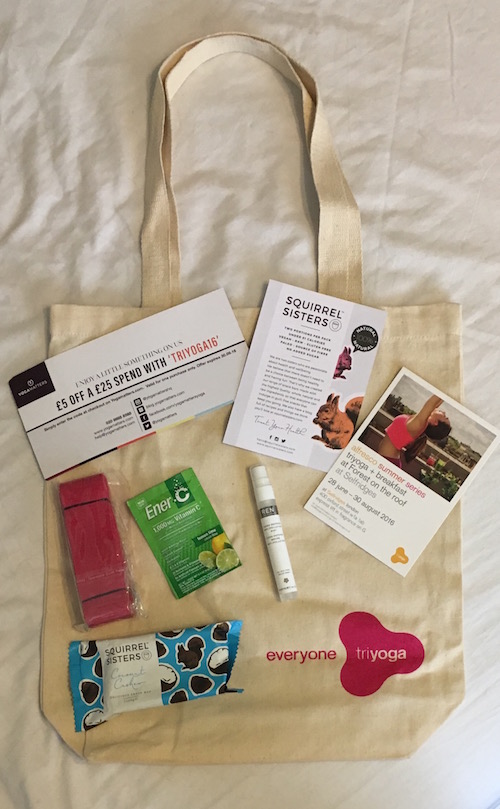 Here is the schedule for summer 2016:
28th June            Mercedes Ngoh Sieff

05th July              Amme Poulton
12th July              Nikita Akilapa
19th July              Rachel Okimo
26th July              Cheryl Mokhtari
02nd August        Julie Montagu

09th August         Laura Gate Eastley
16th August         Lisa Sanfilippo
23rd August         Maika Klaukien (mat Pilates)
30th August         Genny Wilkinson Priest
The outdoor series is taking place every Tuesday, from the 28th June through to the 30th August from 10.00am – 11.00am and cost £20 if you pre-book or £25 at the door. Visit triyoga.co.uk to book your place.
Like this article? Sign up to our newsletter to get more articles like this delivered straight to your inbox.