On a gluten-free diet? Healthista's Lorna Van Baar went to try out the gluten-free cookery classes at the Raymond Blanc cookery school 
Growing up with a mother who trained as a chef back in the 80's, I have always eaten good food and surrounded my pallet with many tasty cuisines. This has increased my interest in cooking and when it came to fending for myself, I couldn't be the girl to live off microwave meals – certainly not after a youth of having my tastebuds tantalised by my mum's fabulous cooking, which often included anything from traditional English meat and two veg to flavourful Mexican dishes such as chilli con carne or fajitas. 
However,  I still have a lot to learn, and a range of food that I don't know much about, but has become increasingly popular in recent years is gluten-free cooking – with a recent study from Mintel showing that 12% of new food products launched in the UK in 2015 carried a gluten-free claim, up from 7% in 2011.
12% of new food products launched in the UK in 2015 carried a gluten-free claim, up from 7% in 2011
I often feel bloated and sluggish after eating too many gluten-containing foods, and screening studies suggest that one in 100 people have celiac disease with only 24 per cent of those clinically diagnosed.
MORE: The fitness retreat where you won't know you're on a diet
So I was excited about increasing my cookery knowledge by attending a gluten-free cookery class at the acclaimed Raymond Blanc Cookery School.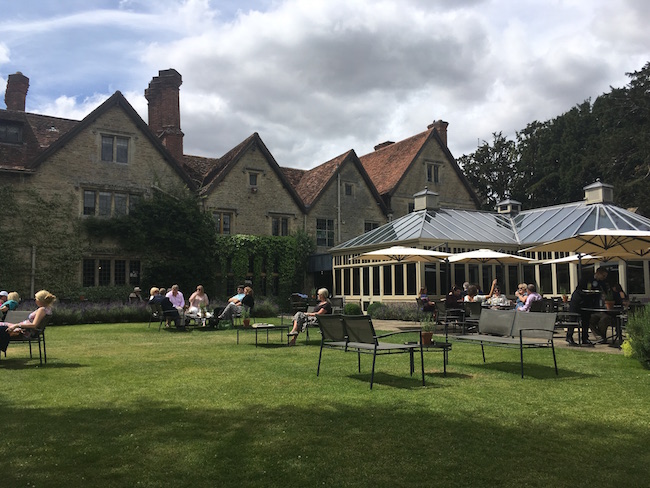 In the idyllic Oxfordshire village of Great Milton, 'Belmond Le Manoir Aux Quat'Saisons' is a stunning hotel and restaurant renowned for offering one of Britain's finest gastronomic experiences.  The hotel was created by celebrated chef Raymond Blanc OBE in 1984, and the restaurant has two Michelin stars.
Keen to share his passion of good food, Raymond Blanc opened the 'Raymond Blanc Cookery School' in 1991 offering a number of courses suitable for anyone, including child-friendly sessions. Now, different courses run nearly every day and can hold up to ten people. If you'd like to see a particular class take place you can suggest it to the school and they will consider it if it has high demand. Last week, I attended the gluten-free cookery class at the school to expand my cookery knowledge and skills.
MORE: 7 low-sugar recipes that still taste like treats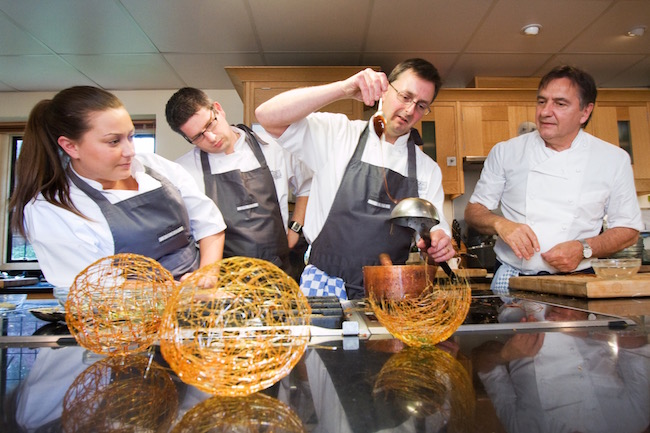 I arrived in front of the stunning building of Belmond Le Manoir aux Quait Saissons with its typical traditional English countryside feel, surrounded by luscious lawns, flower borders and orchards, and was greeted in reception by a young gentlemen who was actually French (which does the hotel justice and helps to set the scene).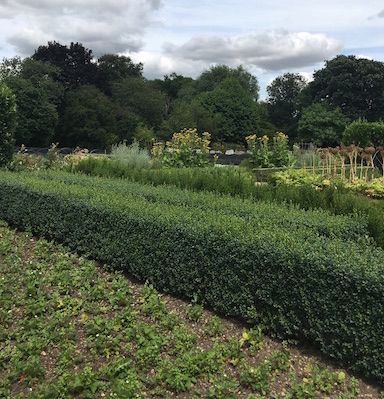 My gluten-free cookery class doesn't begin for another 45 minutes so I take my time taking in the breathtaking scenes that the building and land has to offer. As well as the glorious flowers, trees and rows of lavender, the gardens contain their very own fresh vegetable and herb patches which are all growing beautifully. Everything is in immaculate condition – there are many staff which take care of the gardens and I must say I was impressed with the neatness of it all – not even the home grown salad leaves had any insect damage in sight. I was dazzled to discover that on average over a 12 month period, 10 – 12 percent of produce used in the kitchen and cookery school comes from their very own gardens.

I wandered back and was greeted by Mark Peregrine, the chef who was about to teach me how to cook some gluten-free dishes to die for over the next three hours. Three other ladies and I were led to another building, through a huge industrial kitchen and to a separate room inside the kitchen which was the cookery school. I took a seat in front of the central reservation and the class began. The small number of students was great because the intimate atmosphere enabled us to learn a lot more.

MORE: 3 healthy dinner party recipes from Fearne Cotton
Mark, who is also the school's head tutor became Raymond Blanc's first apprentice at Blanc's first restaurant, 'Les Quat' Saisons' in Oxford. It was there that he worked with Raymond to win the first Michelin star. He was later sent to France to continue to learn the trade and since then has developed a wealth of experience in all aspects of the culinary world. Mark then introduced us to his assistant for the day, Rebecca Boast, who is also a chef who works at the cookery school, as well as Natalia Traxel, the head nutritionist at the cookery school. Natalia sits in on most of Mark's lessons to help the students gain a better understanding of how food affects your body.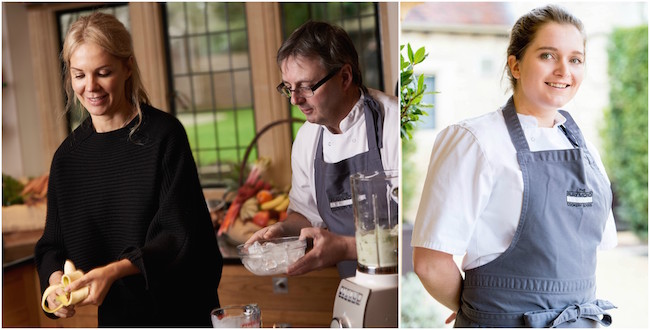 We were each handed a little paper booklet which included the recipes that we were about to make, as well as a list of some ingredients essential for gluten-free cooking such as, a list of 10 suitable flours and xanthan gum (a thickening powder to give structure), nutritional information, and some allergen information (the cookery school can provide for people with allergies as long as you let them know before the class).
Mark started by making the mix for a focaccia. He'd prepared a mixture before the lesson covered with cling film and it was resting in order to give it enough time to ferment before cooking (at least one hour resting time).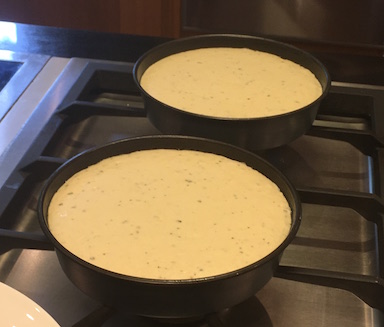 This focaccia recipe requires three types of gluten-free-friendly flour: gluten free white flour, maize flour and chestnut flour. Mark explained how you can have a play with any of the flours listed in the back of the book, to try and find the structure that you like. His favourite is chestnut flour because of the flavour it gives and he says it has a sweetness to it which is 'perfect for his sweet tooth'.
We then moved on to make a frangipane almond tart. Mark made it look so easy, and us students were all extremely eager to get stuck in and have a go at something ourselves. So we got into pairs – my partner Sophie is taking the course as she is celiac and admits it's difficult to buy foods that actually taste good – especially breads.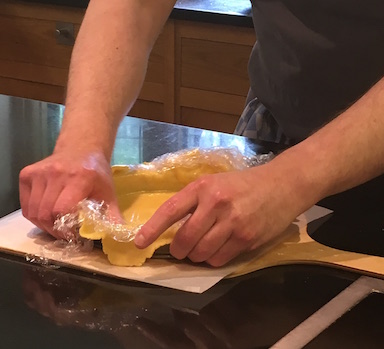 After pouring all the ingredients into the bowl I had the messy job of kneading the sticky consistency until it formed a dough-like pastry texture which I found was a funny feeling as it squeezed through my fingers. We then split the mixture in half to give us both some of our own pastry to play with which, (after rolling it out), fitted neatly into a metal ring and was put into the fridge before moving on to the next step – the filling. Inside a clean bowl, we put all the ingredients for the tart filling and mixed it all up. The star ingredient for mine was fresh cherries, we pitted the cherries using a cherry pitter – yes, that's a real thing. I had never seen one before so I weirdly quite enjoyed fitting each individual cherry into the handheld kitchen tool and popping the stone out.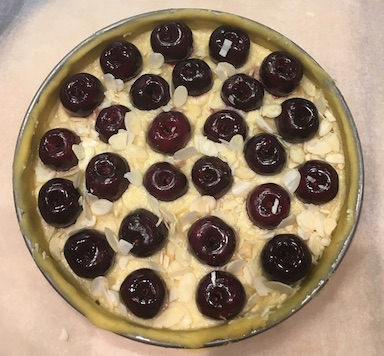 After getting the pastry out of the fridge, pouring the filling into it and putting the cherries into the tart along with a sprinkle of almond flakes we baked it for around 45 minutes.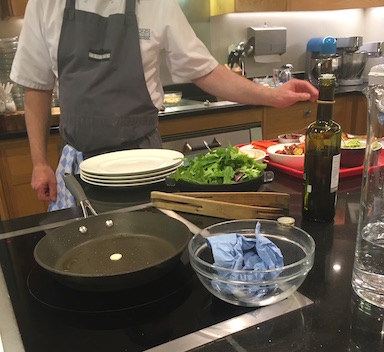 Mark also showed us how to make easy buckwheat crepes which can be enjoyed sweet or savoury. When the mixture was ready to be cooked, some olive oil was drizzled into a pan. And here is one of the most useful chef tips I learned for cooking crepes: the best way to check if the oil is hot enough to use is by pouring a small dot of mix into the centre of the pan, and when it starts to golden sightly, the oil is ready to make your first pancake. Mark stressed that the oil should not be smoking as that means it is far too hot. We all went round and had a go at cooking our own crepe.
Inside my savoury pancake I put smashed avocado (which Rebecca made with some lime juice, green chilli, salt and pepper), some chicken, tomatoes, and the most exciting things of all – some fresh leaves and radishes straight from the vegetable garden.
MORE: 5 summer beauty foods from the A-list makeup artist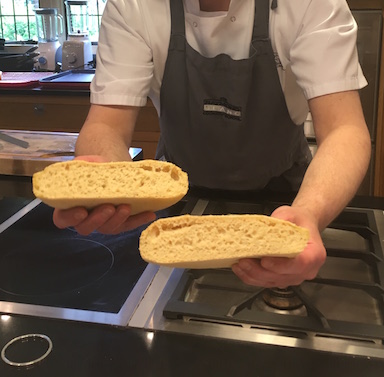 WE all excitedly gobbled down our pancakes and mine tasted to-die-for and was even more delicious for being filled with fresh ingredients straight from the garden. The focaccia was then out of the oven, and boy did it smell amazing. Natalia said that when cooking bread it is best for your digestion to eat it when cooled down, but, as much as we all appreciated her advice, we didn't care because we couldn't WAIT to try the warm Italian gluten-free bread as fresh as possible (I think even Natalia gave in and had a slice).
Just when we all thought we couldn't eat anymore we had our deserts – two of them.
Mark's example frangipane tart came out of the oven and his had apricots topping it rather than cherries – the one's we made were for us to take home. So we tried a piece of his, fresh, warm and straight out of the oven, scrumptious almond tart which proved that any fruit works well with this recipe – the apricots just melted in my mouth and the flaked almonds on top added the perfect bit of crunch to this sweet treat.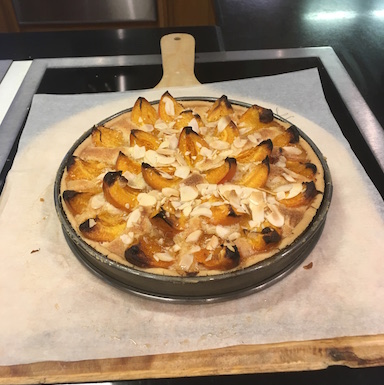 When everything else was being prepared, Mark was melting some dark chocolate with some butter on a low heat, slowly prepping for the grand finale of fondant which was our final desert (made with 70% cacao dark chocolate). Mark lined the fondant rings with a thin layer of butter coated with a sugar and cocoa powder mix. When Mark took them out of the oven 12 minutes later they looked glorious and Mark paired the fondant with a nut mix and some gorgeous ice cream which was so sweet and creamy – the hot fondant and cold ice cream combined made my mouth tingle with sensations.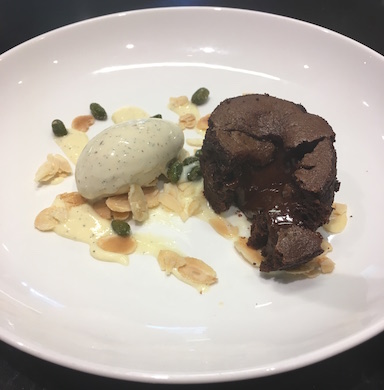 After the fondant we were all fit to burst and Mark decided that we had all passed his cookery class and awarded us with framed certificates.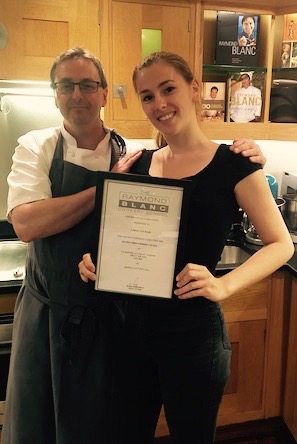 From gluten-free flours to cherry pitters I can't believe how much I learned in three hours. I was allowed to keep the booklet I was given which has gone straight into my kitchen – ready and waiting for me to have a play with the recipes in it by using various different gluten-free flours that, prior to the class, I hadn't ever heard of. The intimate atmosphere and the beautiful surroundings added to the experience, and if you're a foodie like me, it really does feel like you're stepping in to heaven when you enter the grounds founded by a famous chef – with the sweet, floral scent of lavender looming from their lavender gardens which relaxed me for the day. The thing I loved most about the experience was that as well as learning how to make the impressive dishes, I got to eat them too, so it felt more like a personal lunch with a lesson.
If you want to experience one of the many brilliant cookery classes available at 'The Raymond Blanc Cookery School' such as: 'My Garden to Your Plate' (which involves harvesting your own produce from the gardens and turning it into some lunch), 'The Magic of Vegetables, Herbs & Pulses' (suitable for vegetarians) or 'Treasures from the Sea' (which teaches about the skills and techniques to creating great fish and shellfish dishes), you can browse and book online on their website – there really is something for everyone and you can even coincide an overnight stay with a course – win, win. Prices start from £185 per person. The gluten-free course costs £210 per person.
3 TIPS ABOUT GLUTEN-FREE COOKING
1. Don't just replace ingredients with gluten-free versions Recipes for gluten-free cooking are completely different to normal recipes – you couldn't swap a normal plain flour in a recipe for a gluten-free one or vice versa as the texture and structure of the dish just wouldn't be the same. You'd have to get a completely different recipe altogether to make the same item.
2. Try xanthan gum Xanthan gum (one brand name is Xantana) is made by the combination of corn starch and bacteria from cabbage through fermentation. It is often used in gluten-free baking to mimic the binding and hydrating qualities of gluten and it is not affected by heat.
3. Experiment with alternatives There are so many gluten-free flours available such as amaranth flour, buckwheat flour, hemp flour, flavour flour, sorghum flour, teff flour and various different pulse flours and each of them work well with a number of recipes as they all have various tastes, and provide the dish with different structures. You can experiment with the different flours to see which ones work with particular recipes.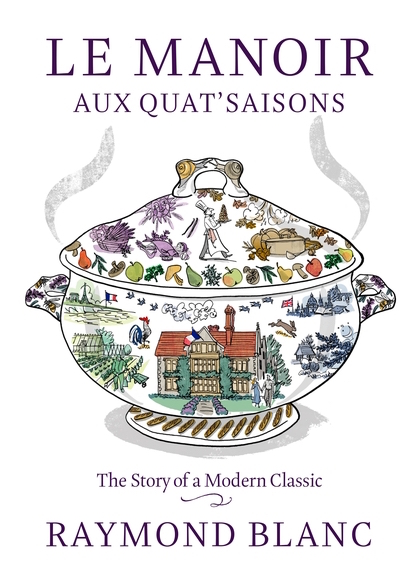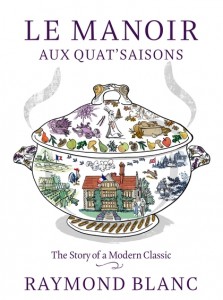 Raymond Blanc's new book Le Manoir Aux Quat' Saisons is due to be published by Bloomsbury publishing on the 6th of October. The book is set to contain a personal tour of Raymond Blanc's legendary restaurant-hotel through the four seasons, with 120 recipes from his celebrated kitchens.

MORE: 17 surprising ways to use sweet potatoes

Like this article? Sign up to our newsletter to get more articles like this delivered straight to your inbox.