Want to know what really happens on a luxury fitness retreat? Editor Anna Magee went to the Greek Island of Kefalonia in Greece on an HHH Retreat, the group renowned for challenging fitness holidays with gourmet clean cuisine. Here's exactly what happened
There's a tower of food in front of me. Not a metaphorical tower, but an actual tower. From a stainless steel arch hang char-grilled peppers, onions, local baby tomatoes and chunks of marinated tempeh hovering over a thick, sticky salsa made from sun-dried tomatoes, lime juice and garlic. That's just the vegan option specially made for my non-meat eating tastes. Sarah, the carnivore next to me gets the same thing but with marinated chunks of chicken breast instead of tempeh. See Exhibuts A and B, below left (tempeh) and right (chicken).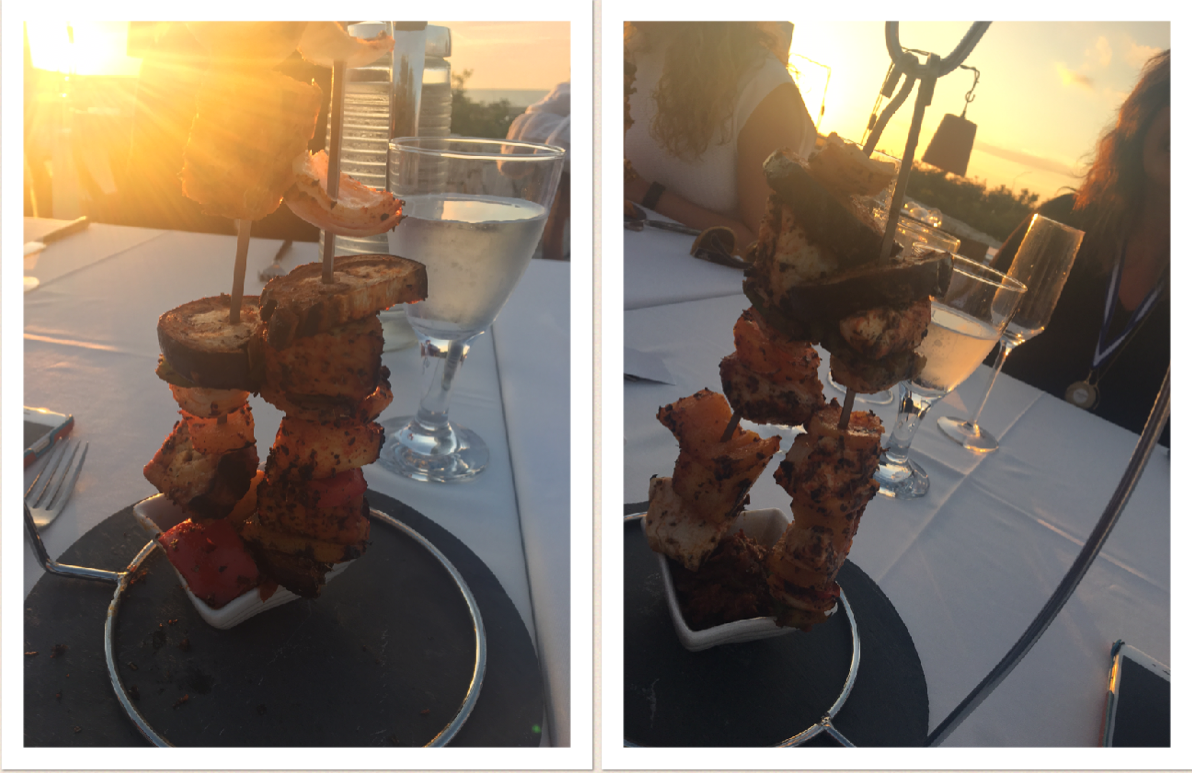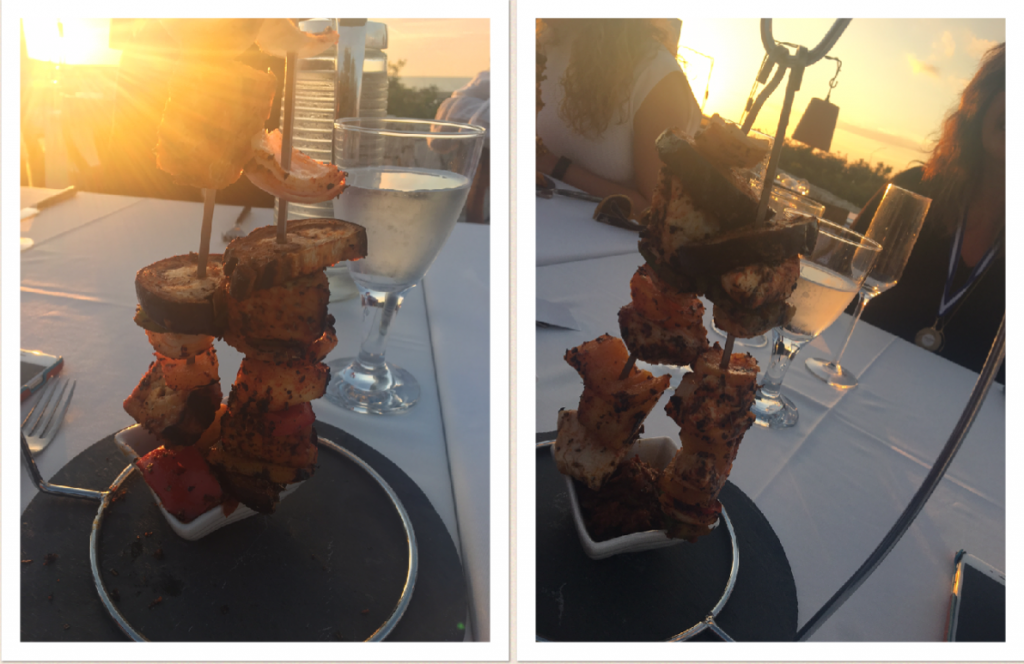 This is dinner and although I have already eaten four times that day, there's more food to come – a side of lightly steamed vegetables on a base of slow-roasted sweet potato whose dimensions are more like the size of a main course.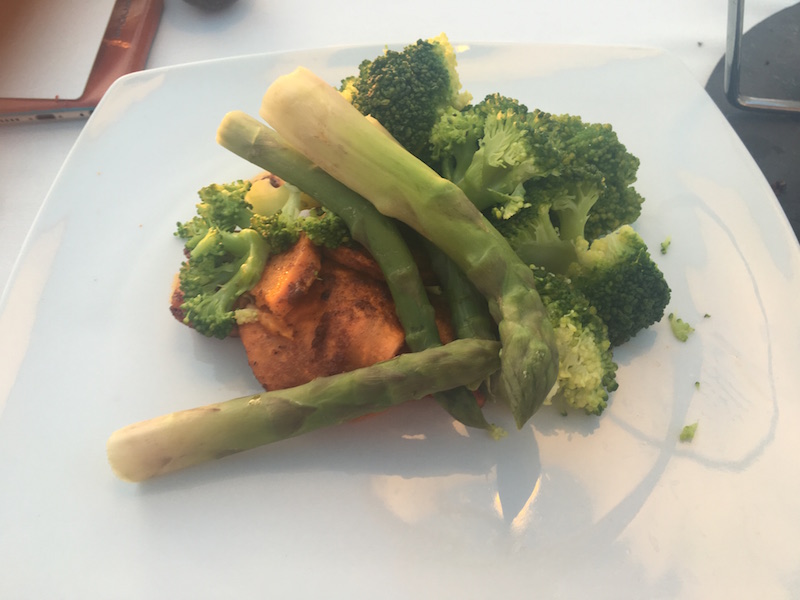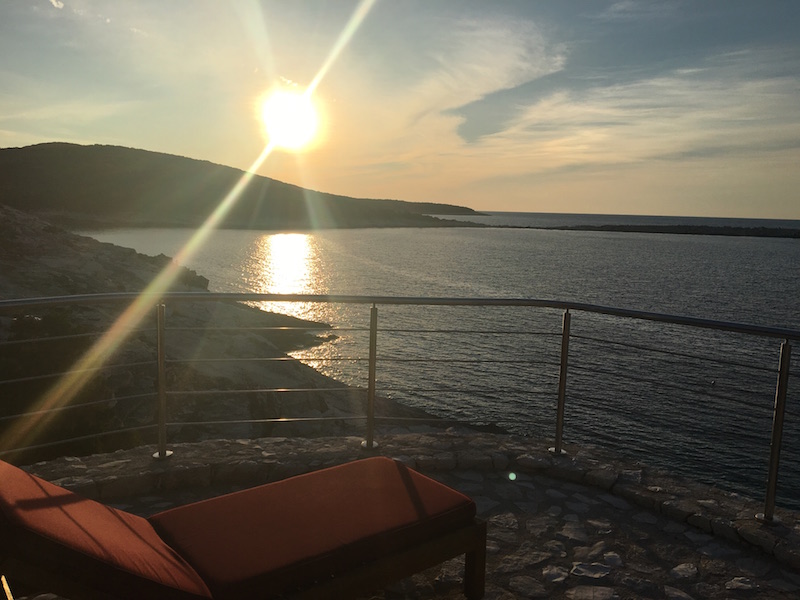 Looking up, there's no stark restaurant interior but a warm sunset whose amber light bathes the faces of the 12 people sat at a long table eating. The moment is magical. But apparently, I'm on a diet; a seven-day fitness retreat where the prime object is weight loss.
The HHH retreats boast a staggering 72.6 per cent repeat business rate
This is a 7-day HHH Health retreat on the Greek island of Kefalonia run by trainer Henlu Van Der Westhuizen, a high-profile personal trainer based in West London and his chef business partner Al Wichert, recently named one of the top 12 fitness holidays by The Times. They boast a staggering 72.6 per cent repeat business and last year, one of our reboot challenge candidates Caroline Holmqvist attended and reviewed a HHH retreat. She was so taken with it, she went again the following year. I'm here with the object of finding out what the fuss is about as well as shaping up and getting healthier without starving. It's only day two and you can consider the latter box well and truly ticked. I'm eating more here than I would back home.
Struck by the sheer beauty
The flight was three and a half hours from Gatwick on Thomas Cook and an hour and 15 minute drive to the hotel along the coast of this mountainous island with it's voluptuous coastline and steep cliffs reaching all the way down to the sea, punctuated by stunning small sandy inlays, like Myrtos Beach, where we stopped to admire the clear, turquoise sea below.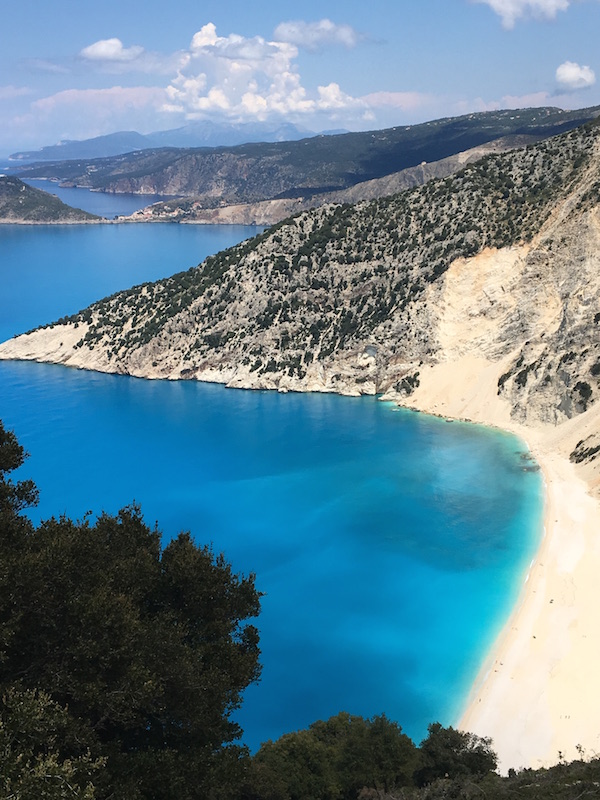 There are none of the rambling white flat-roofed structures typically associated with Greek Island architecture. Instead, the buildings have an Italian renaissance look and feel, all clay hues of earthy stones and burnt oranges or baby blues, shuttered windows and manicured facades built wide and rich into the island's ample cypress-lined mountainsdes.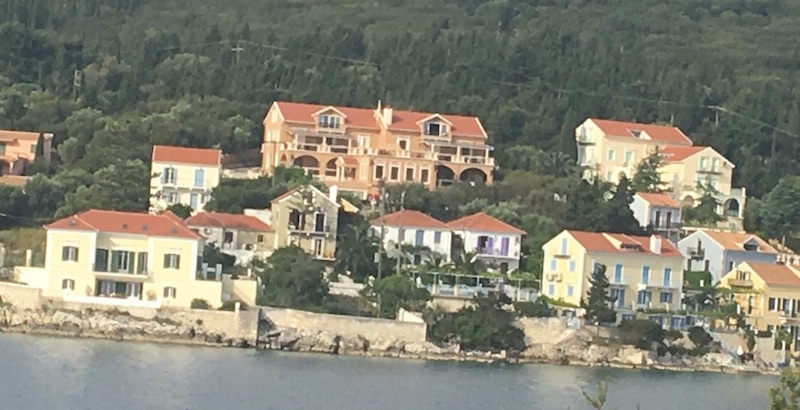 A hidden hotel paradise
The retreat is based at The Emelisse Hotel, a ten minute walk from the seaside village of Fiskardo, with its sophisticated tavernas and array of moored boat life ranging from tiny fisherman's dinghies to massive mega-berth sailing boats on flying visits from the Caymans.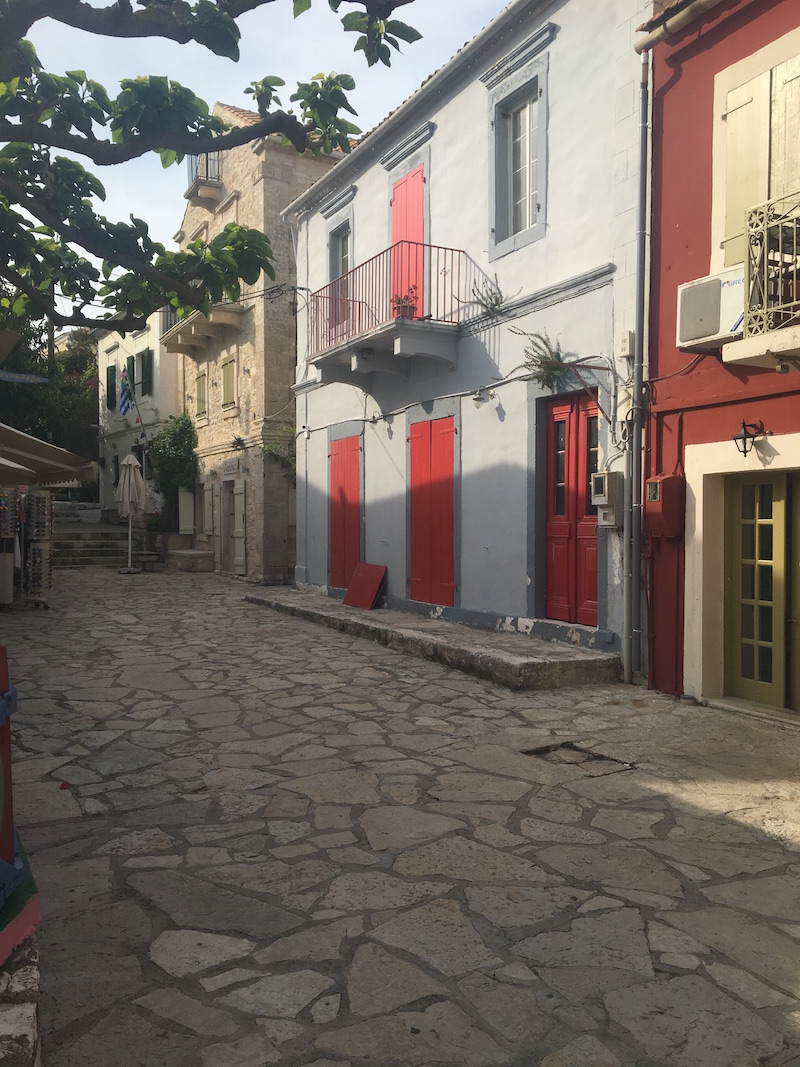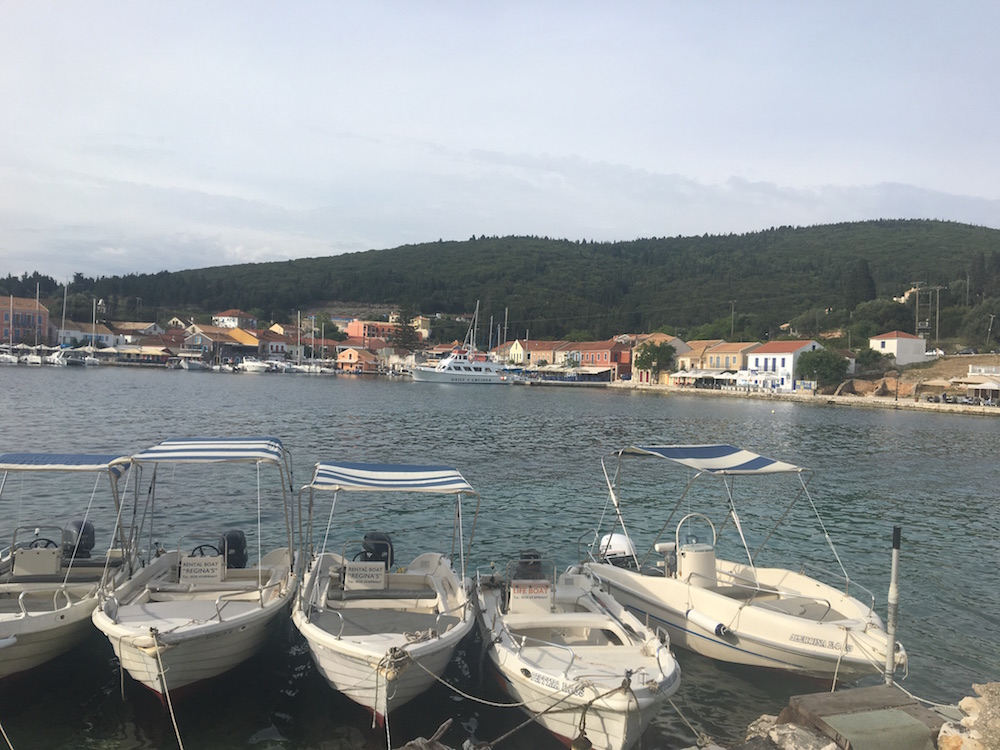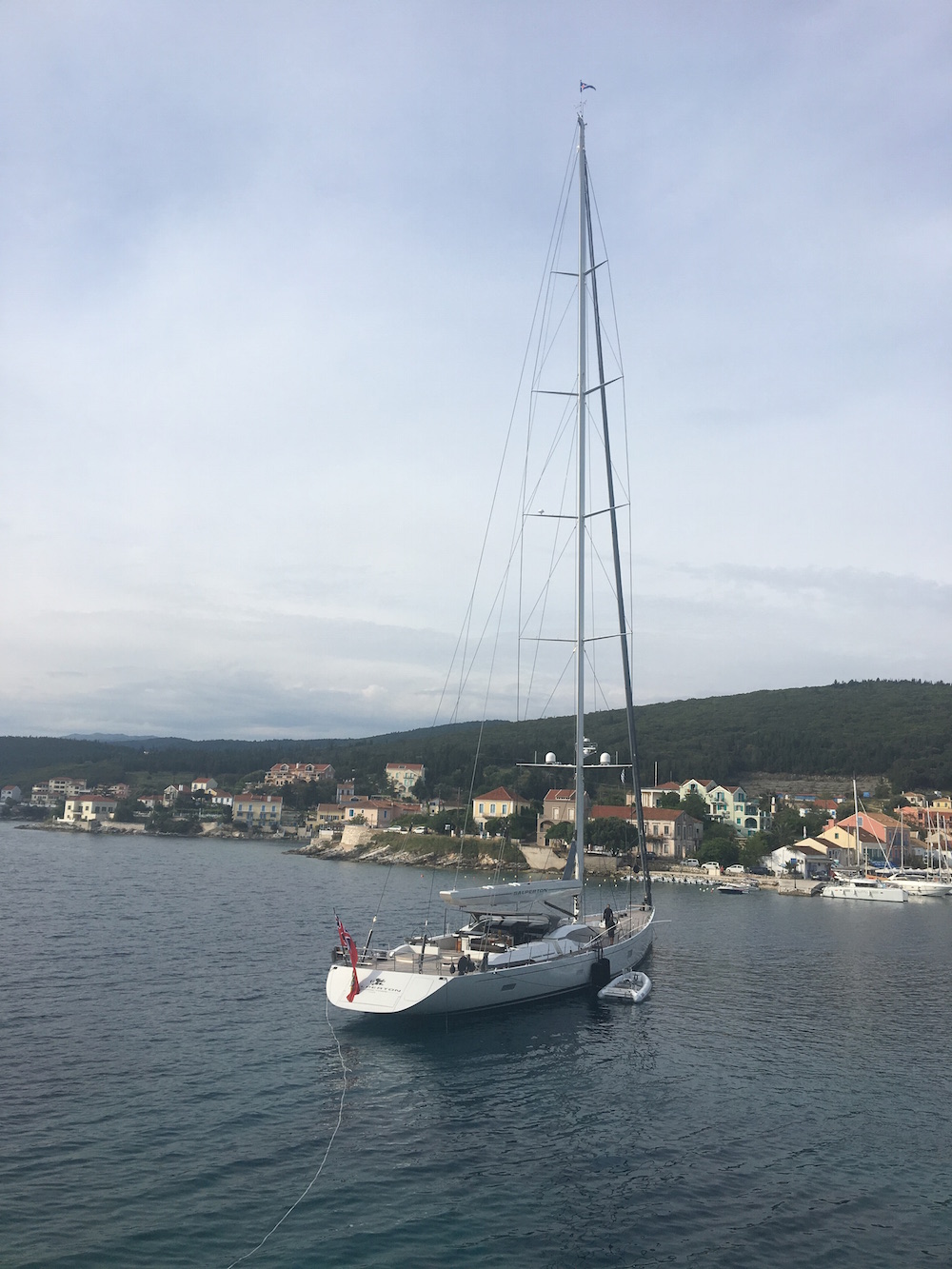 I usually associate weight loss retreats with accommodation that can be euphemistically described as 'Spartan' or 'homely' (charming, at best). But the Emelisse was a stunning surprise with its 5-star rambling luxe stone villas built into a mountainside above Eblisis Bay. London designer Sophocles Maraveyas has married Med-themes with an almost Eastern feel, kitting out the rooms in teak wood with subtle olive shades. There is every kind of comfort you could want (though the wireless was a little slow for my taste) including surround sound speakers into which you plug your iPhone.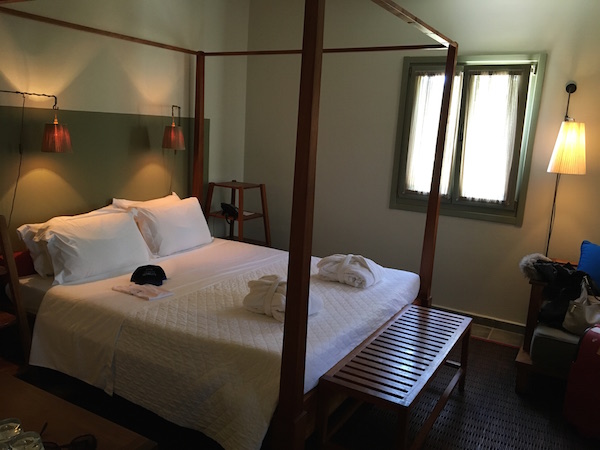 My favourite bit was the bathroom featuring a massive overhead shower lined in textured slate which became a bliss point for my tired muscles throughout the week.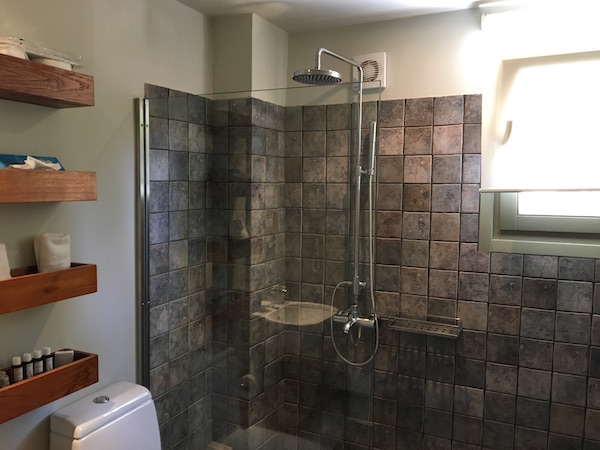 The Emelisse is built wide, like a rambling small town and with a view of the sea and an infinity pool around every corner of the stone pathways that link its villas, many of which (including mine) have their own private pool.
The main pool is flanked by the restaurant where we have lunch and dinner and looks out onto the mountains of Ithaca on the right and the islands of Skorpios and Lefkada on the left.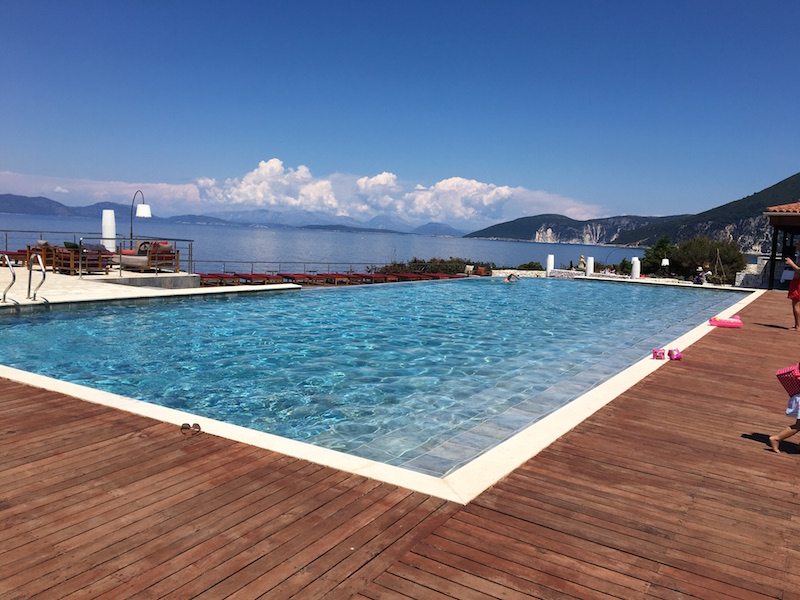 On arrival we're each given our own bottle of water, with our name on it, a HHH cap and T-shirt (these guys have the branding thing down literally to a tee). We're also given the schedule which looks hectic and just a little terrifying. Each day there's an optional run, swim or cycle pre-breakfast at around 7am, with three long hikes during the mornings, fitness training every afternoon followed by yoga. I'm comforted by the thought of the two hour-long massages included.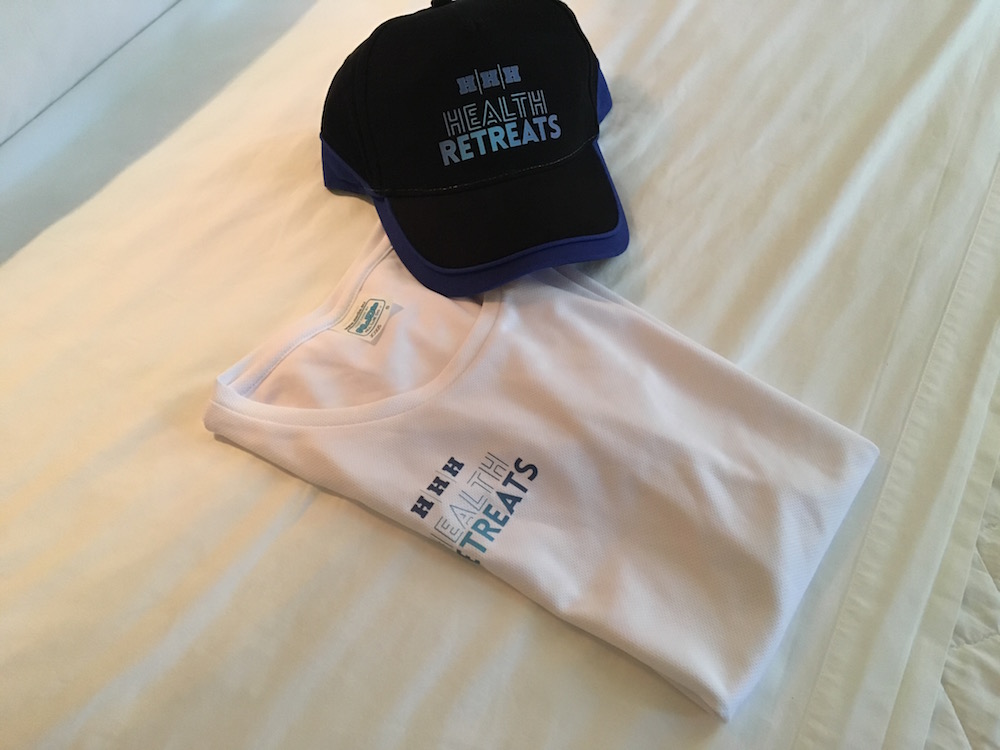 Oh. My. God. The food
We start day one with a breakfast of chocolate protein banana smoothie, porridge oats cooked in water, fresh hazelnut milk, with grated green apple, cinnamon, blueberries and banana with wheatgrass shots. A separate table has extras we can add including water flavoured with fresh fruit, 'tea' of rooibos, mint or lemon hot water (caffeine is banned all week – though I smuggled in a boatload of green tea), a selection of nuts, seeds and fresh hazelnut milk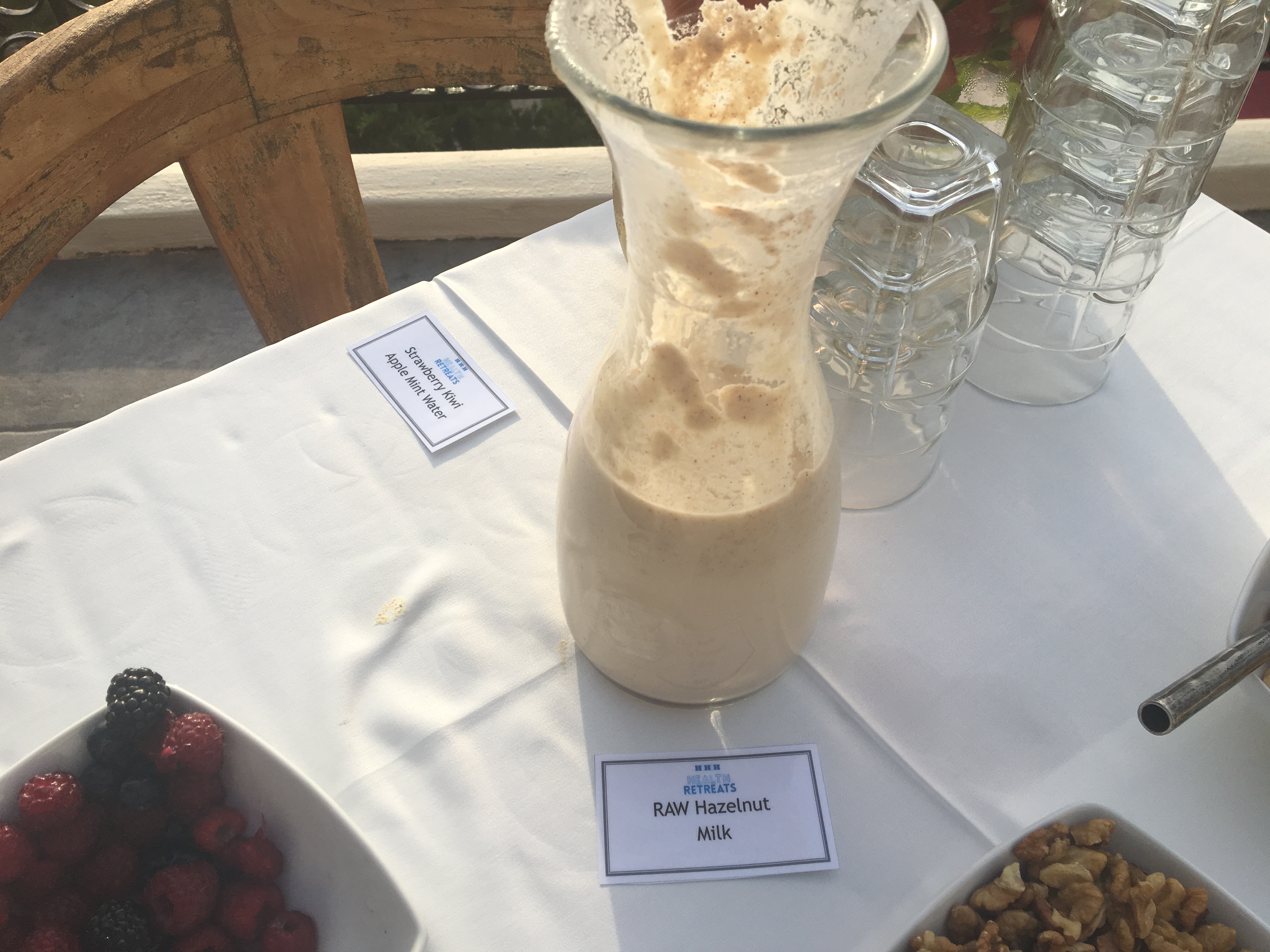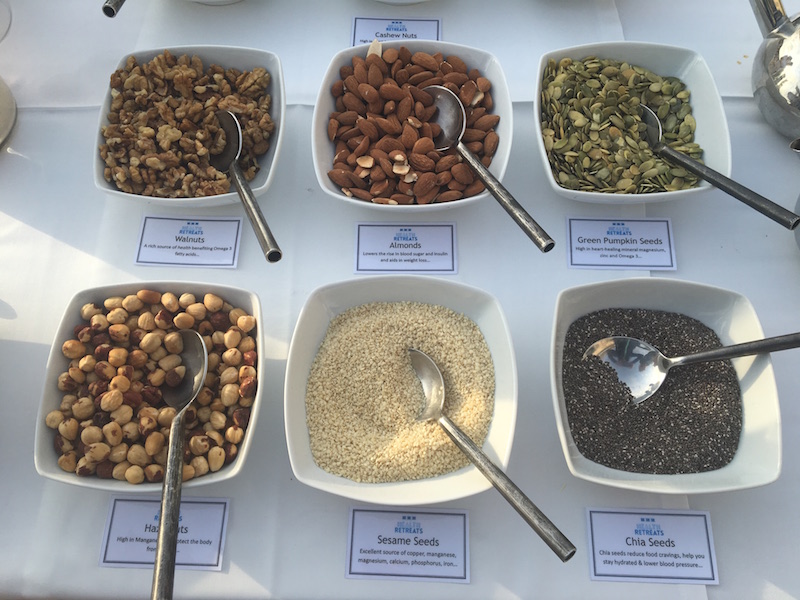 Later that week when I am flabbergasted at how many inches everyone loses (more on that later) I ask Al how it's possible to eat so much food and still lose so much fat. He says it's a combination of what people are eating and when. Breakfasts are big to fuel our hikes and ranged from hearty porridge crumbles to gluten-free pancakes and huge egg delights. And, always served with either a smoothie or a vegetable juice and a shot made from fresh wheatgrass or acai berries.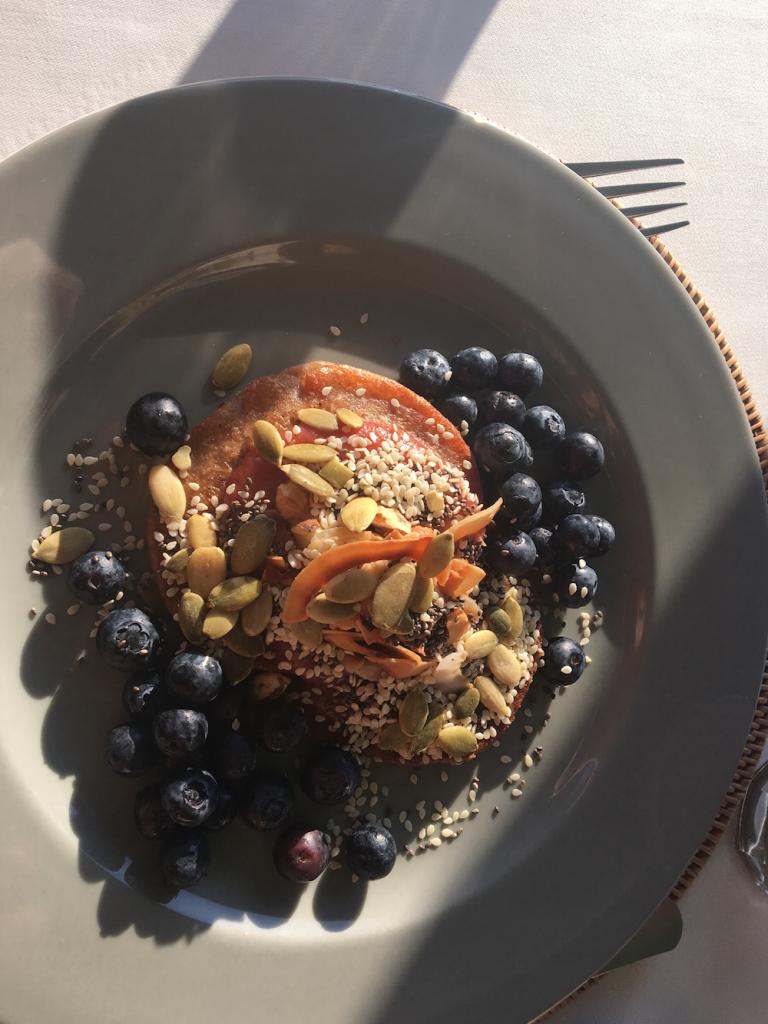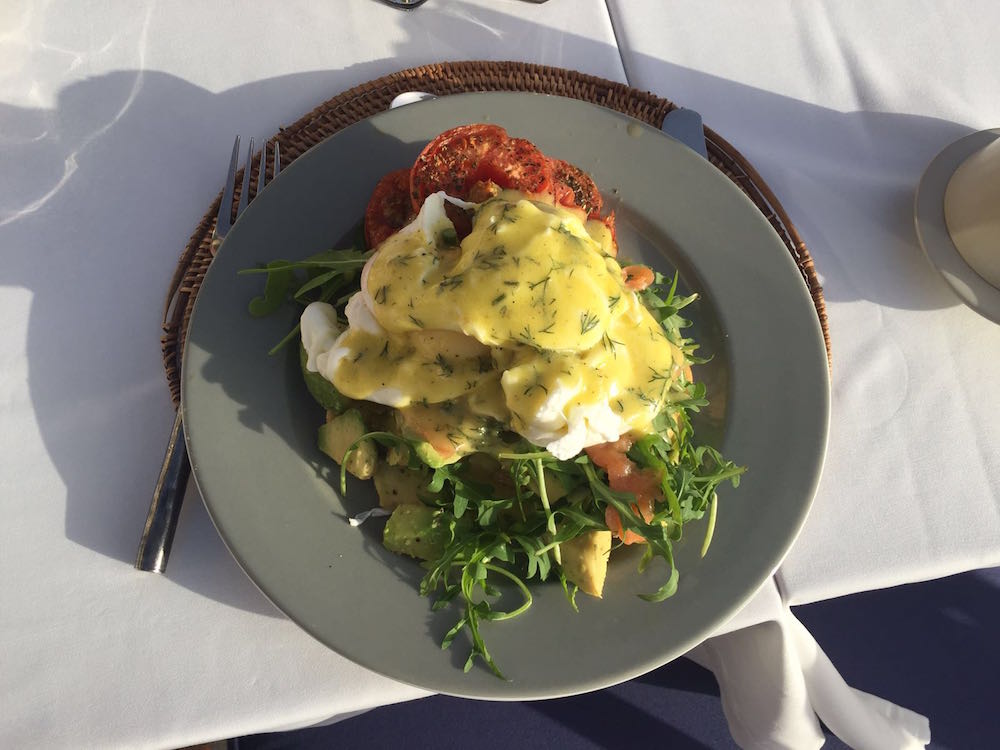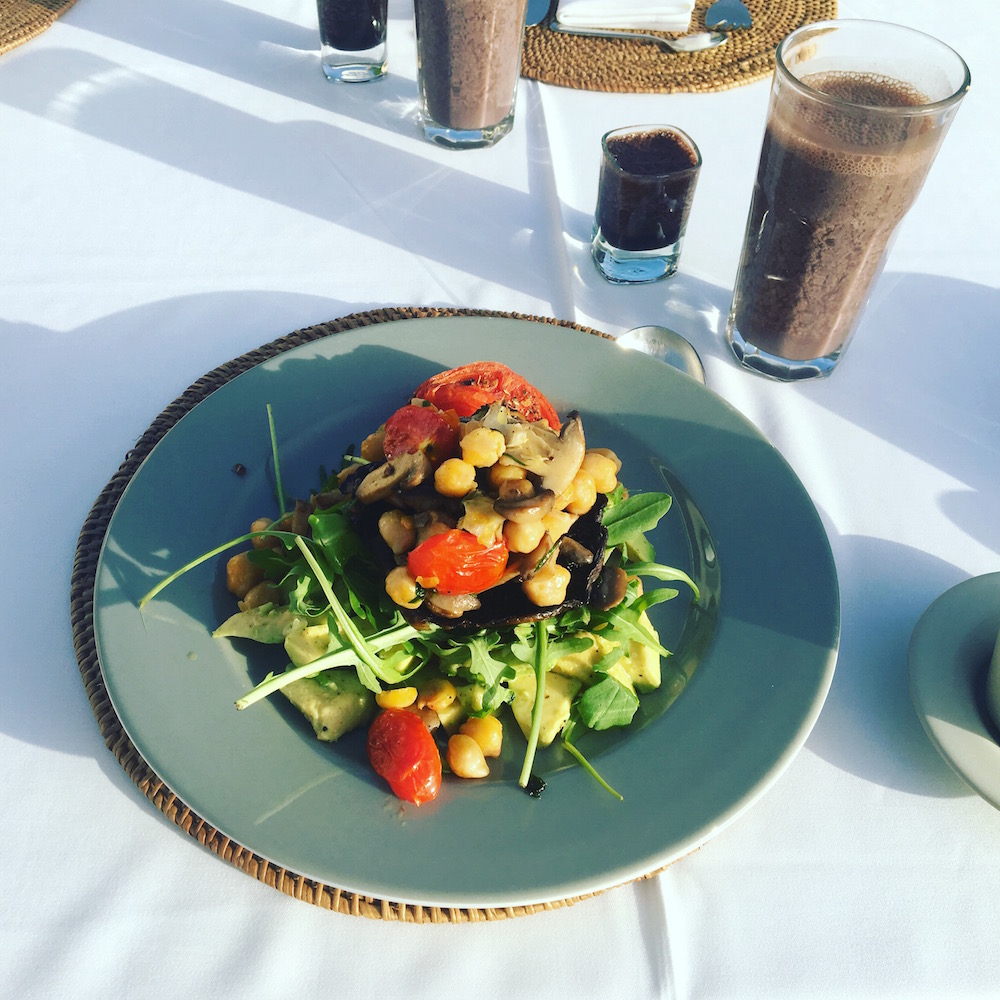 The lunches too were enormous. And exciting. They were usually a huge meal such as the utterly to-die-for avocado and vegetable wrap below made with rice flour and side of quinoa tabouleh and Mediterranean salad served with the most incredible dairy-free mayonnaise I have ever had plus a buffet of salads, beans and pulses made with local vegetables.
The lunches too were enormous. And exciting.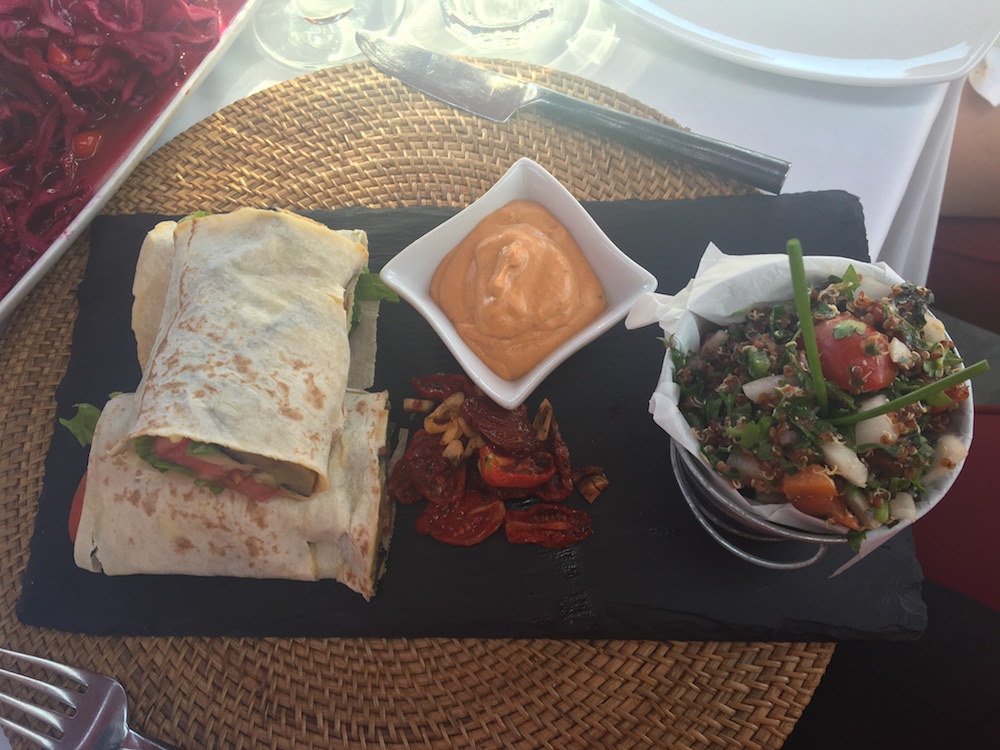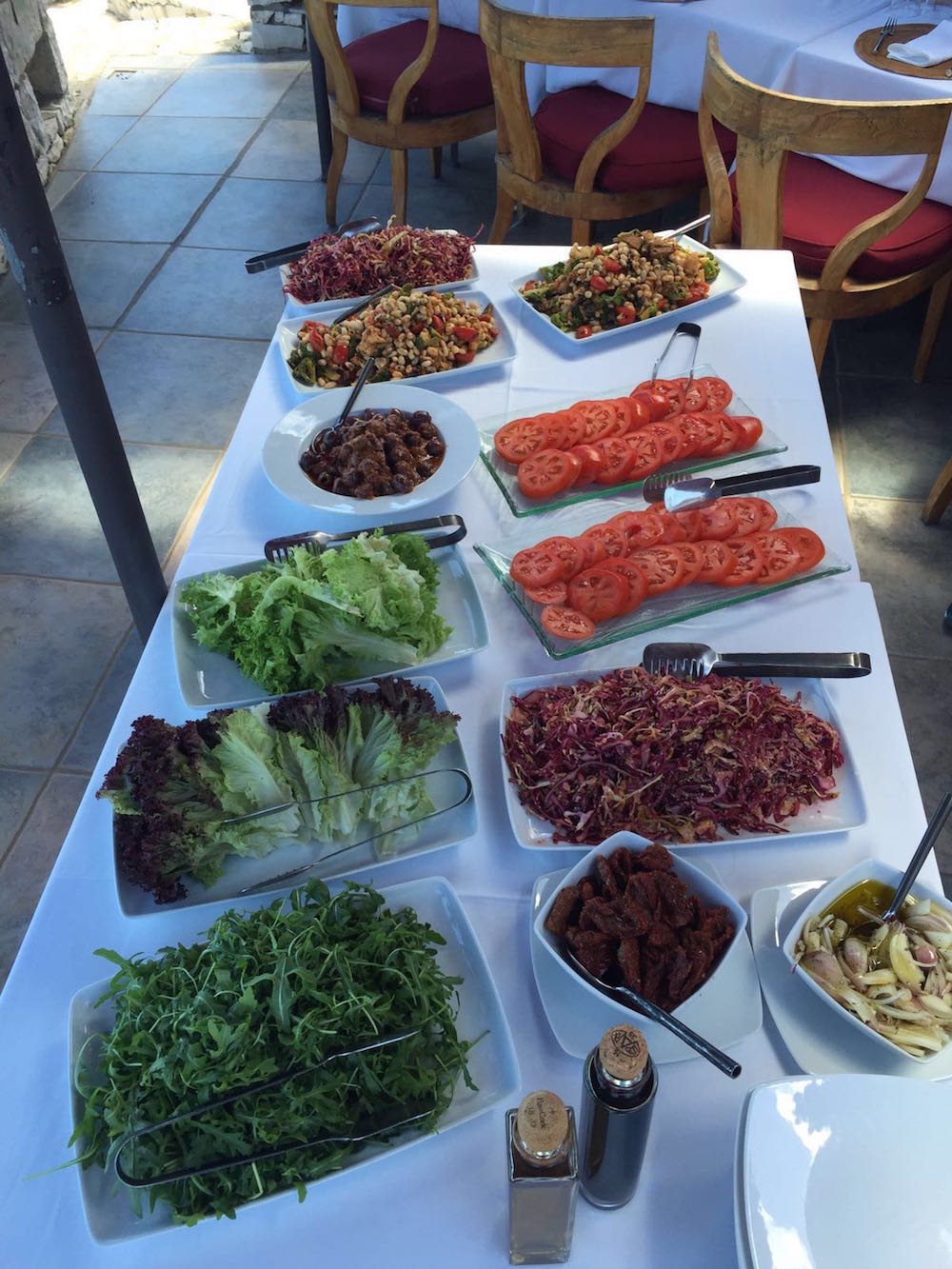 I'd heard about Al's cooking from my nutritionist friend Ali Godbold who had been on retreats where he had cooked before, but I wasn't expected the sheer taste and unpredictable flavours that this guy could bring to the idea of healthy eating.
Al's background is in restaurants, but years ago he was asked by naturopath supremo Max Tomlinson to attend and cook at a weight loss retreat that Tomlinson was running. The brief? Gourmet food cooked with no sugar, salt, gluten, saturated fat, dairy, wheat or caffeine. Wichert's response – he's from Sydney so you need to imagine this said with a strong Aussie twang: 'So what the f*&k does that leave me to cook with Max, maaaaate?' There's something of the Aussie larrikin about Wichert that charms the guests and – along with Henlu, who is from South Africa and loves a tongue-in-cheek joke – keeps the atmosphere light and fun (unusual among health retreats).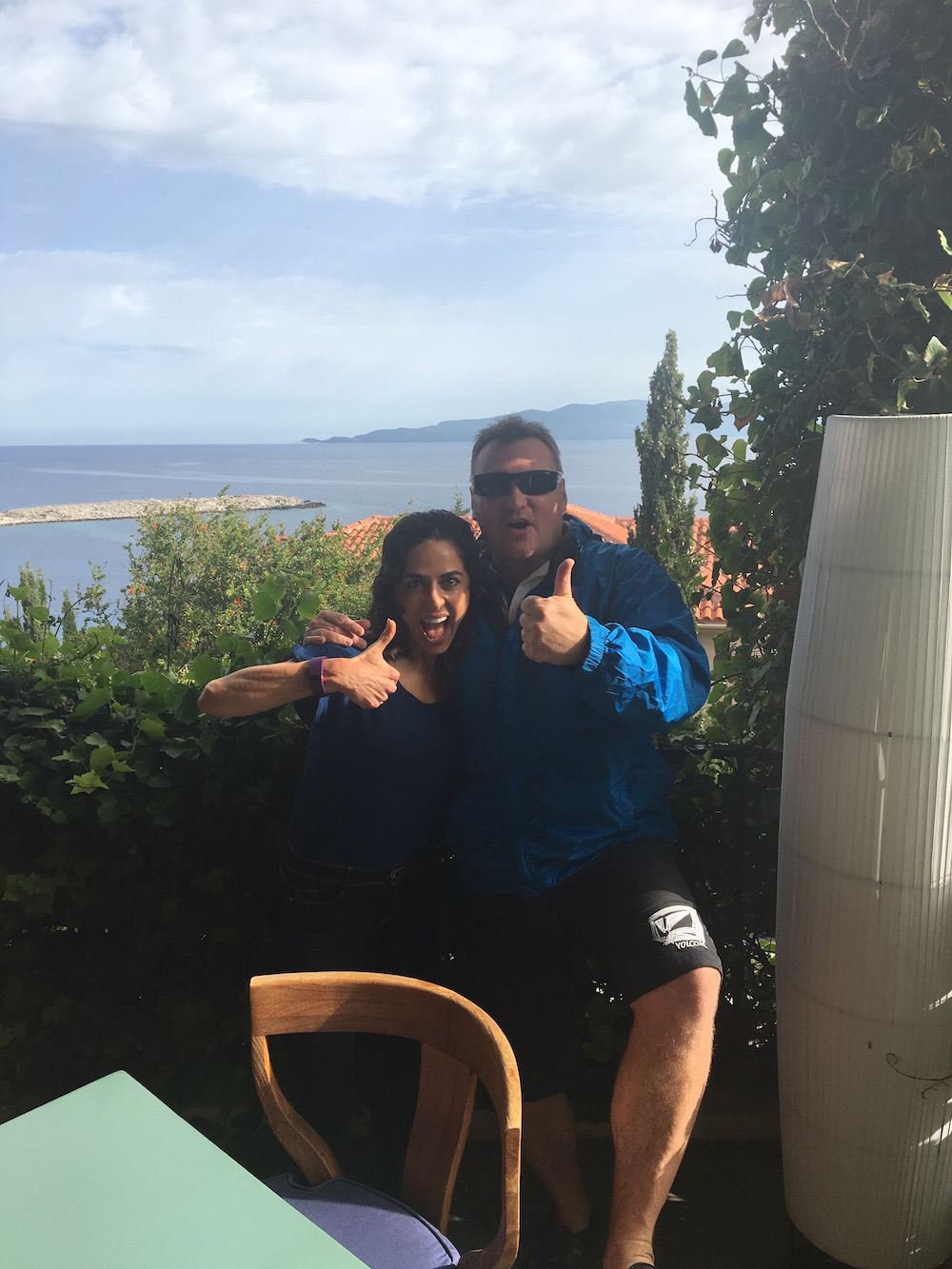 Being a quick-thinking former music DJ and producer, Wichert put the menu together and wowed both Tomlinson and his guests who went on to lose weight without feeling hungry. Wichert knew he had something going on in the healthy eating arena and when he met Henlu whilst they were both working on another weight loss retreat, the HHH idea was born. Here's a collage of some of the meal highlights -though I don't think it does the food justice because you can't hear the moans and groans and exclamations of 'I can't believe this doesn't contain salt/sugar/dairy!' of the guests…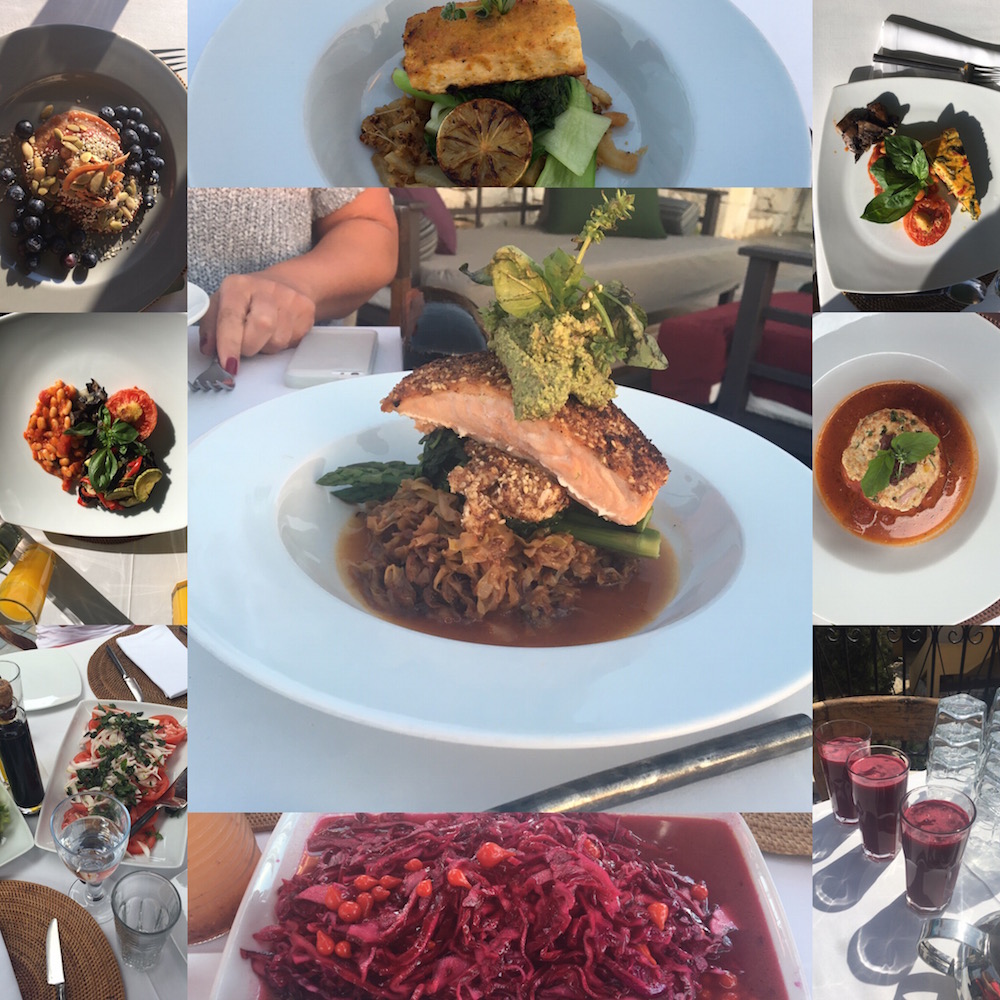 Apparently, reducing sauces and tomato salsas with plenty of lemon makes a great replacement to salt, Wichert says. Thankfully, he's not cagey or precious about his techniques and is only too willing to share his recipes and secrets with the guests. Not only do we receive some 60 recipes from the retreat the following week but we're also treated to a cooking class with Al in which we learn to make a quick breakfast crumble, vegetable sushi and a dairy free cashew-based ice-cream.
I marvel at how simple Wichert's unique take on healthy eating is, its key components: the local fresh ingredients you can find such as fish, herbs, spices and multicoloured vegetables, simple healthful additions such as coconut fat, rolled oats, quinoa and all types of nuts with blood-sugar balancing extra touches such as cinnamon, flax and chia seeds used creatively but with minimum fuss. My favourite thing about the food was its sheer volume – if you love seeing packed plates and lots of food, this is the retreat for you. Exhibit C is the superfood salad we received upon arrival.
Three hour hikes and HIIT that HURTS
You might not know you're on a diet at this retreat but you will certain know you're on a fitness holiday. The 'basic' fitness is about 3-4 hours a day with extras that mean if you wish, you could be exercising for about six hours (there is also optional tennis and squash at the hotel). In fact, some of the other guests – predominantly hard-boiled finance and legal types – were training for a triathlon in just a few weeks time so some of the 'extras' on the fitness schedule (that I sat out, thanks very much) were geared toward getting them ready with cycles, sea swims and runs.
With a client base of high-net worth Londoners who are only too quick to complain if something isn't right, every last detail on this retreat is taken care of
Host and fitness trainer Henlu Van Der Westhuizen (below) is originally from South Africa and runs the retreats with military precision, getting away with it thanks to his dry take-no-prisoners sense of humour. With a client base of high-net worth Londoners who are only too quick to complain if something isn't right, every last detail on this retreat is taken care of, from the snack packs provided on the hikes (an apple and ten almonds – no more) and the post hike beetroot juice, to the well thought out hiking routes on which there is always a local to provide inside knowledge. This is Henlu clutching a fresh orange juice and a bottle of cider vinegar, a drop of which we were encouraged to put into our juices to help allays the body and encourage metabolism.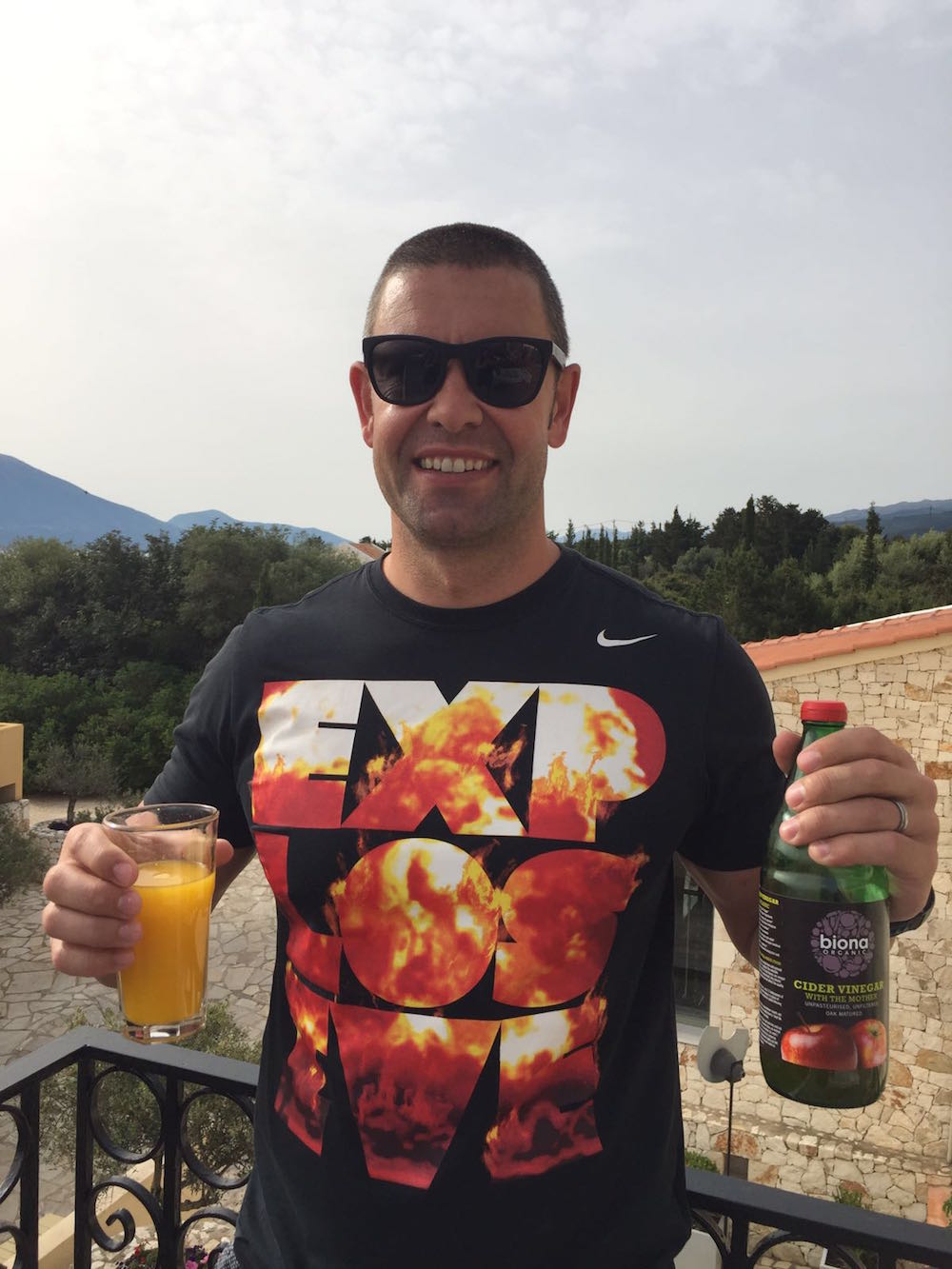 Ah, the hikes. They were another favourite of mine because I had absolutely no idea – other than from watching that terrible movie Captain Corelli's Mandolin featuring old mono-expression himself, Nic Cage at his best, which was set there – how breathtakingly beautiful the island of Kefalonia is. On the first day, we hiked for three hours (15,000 steps and 1000 calories according to my FitBit) through nearby Fiskardo village doing a loop around a historical walk that featured an old lighthouse and fortress facing the sea and the remnants of an old medieval church.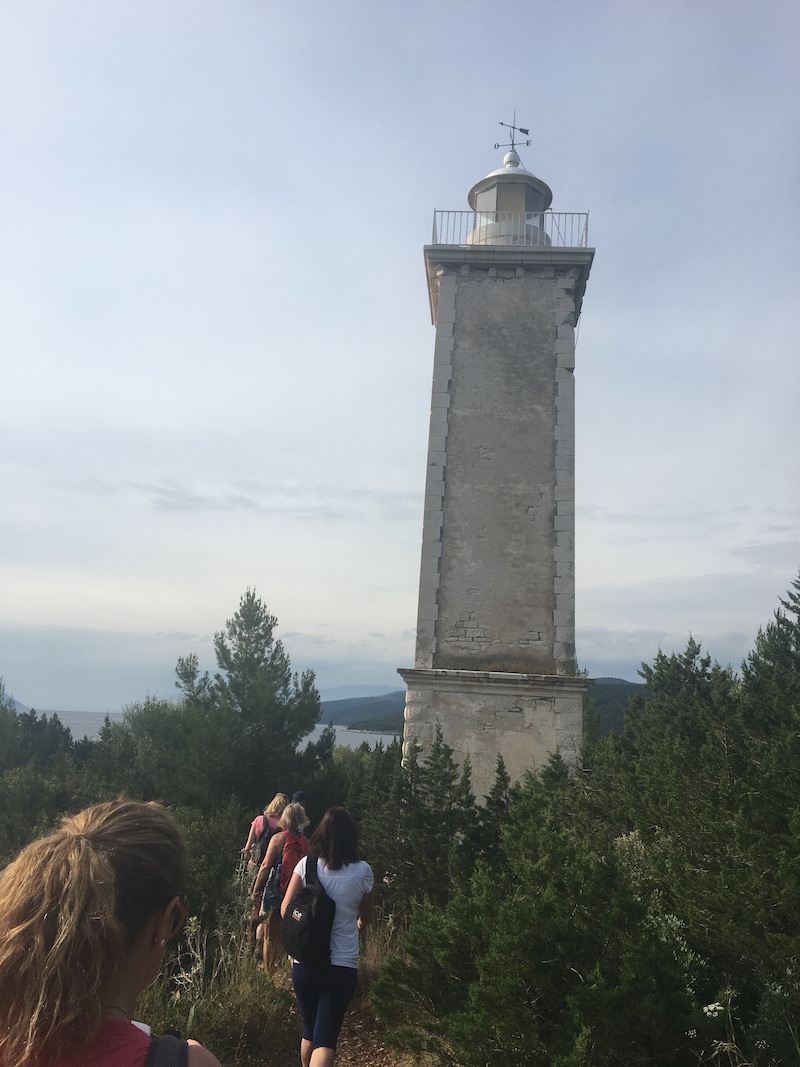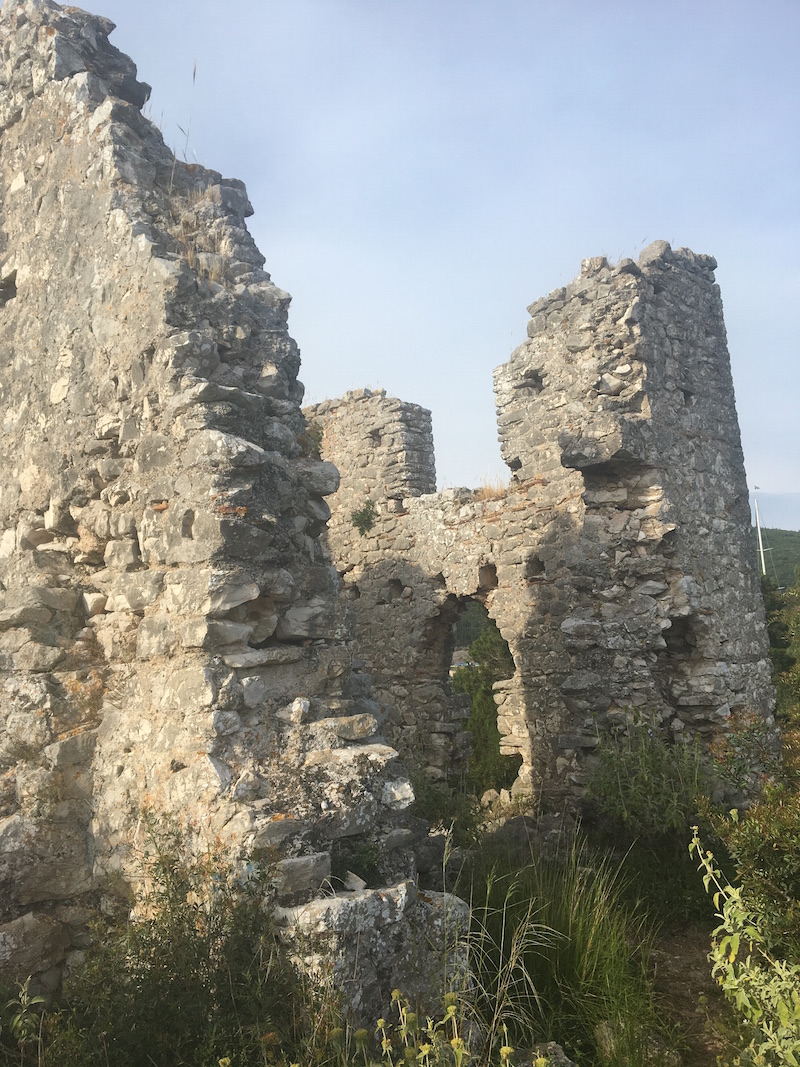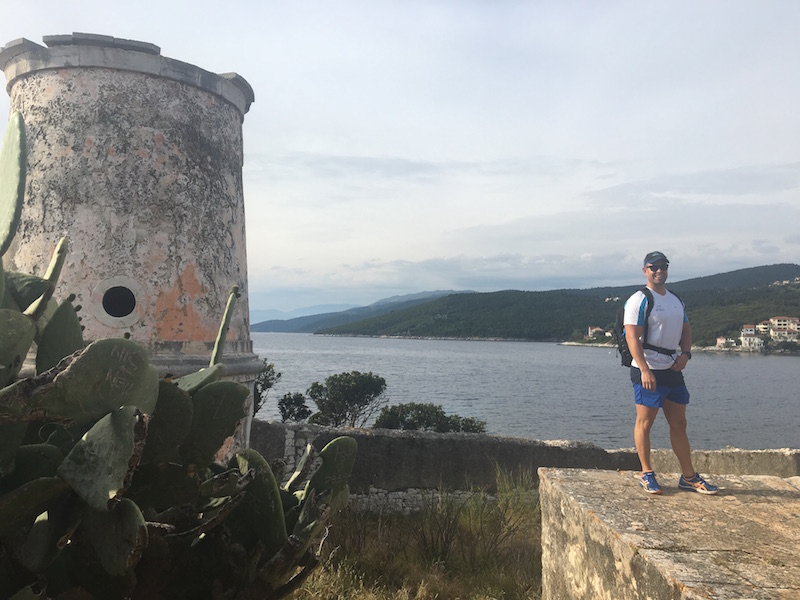 The fun sightseeing didn't last though and the second leg involved climbing a steep hill continuously for about an hour through nettle bushes and rocky terrain. It did wonders for the heart rate and stopped all conversation fairly flat.
Mercifully, the massive hikes took place every other day and became increasingly difficult as the week progressed. The second hike was my favourite, up a steep nettle-lined hill (wear long leggings) and ending at a deserted white beach where the crystal waters welcomed our weary limbs and being sans other guests, we could flit around un-selfconsciously in our bikinis.
the second day's hike was my favourite, ending at a deserted white beach where the crystal waters welcomed our weary limbs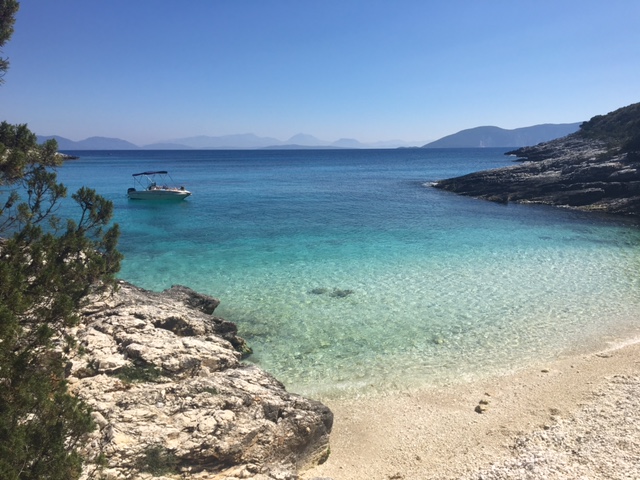 The 'finale' involved a steep incline that seemed to go on forever, encircling the seaside village of Assos whose difficulty was surpassed only by the breathtaking beauty of the scenery. The climb took place along the outer edge of a mountain high above the bay over Assos town and the views were utterly heart-stopping, punctuated by the odd medieval wall of mid-century old prison. I loved how the scent of thyme and pungent herbs I couldn't name filled the air and each tree I picked seemed to emit an even more delicious aroma.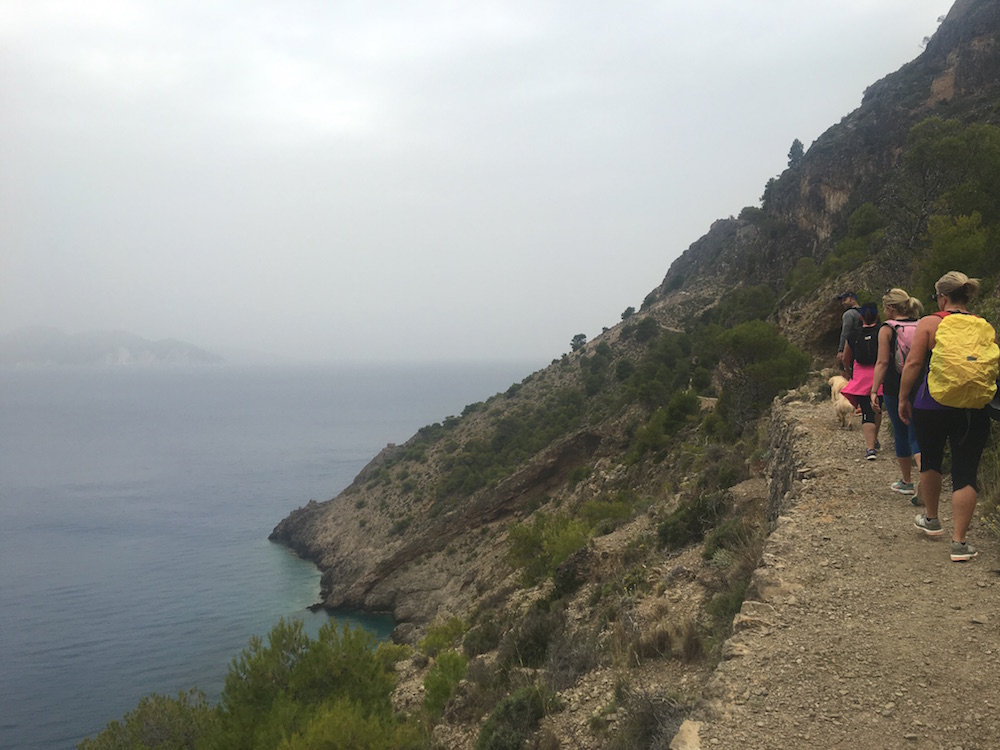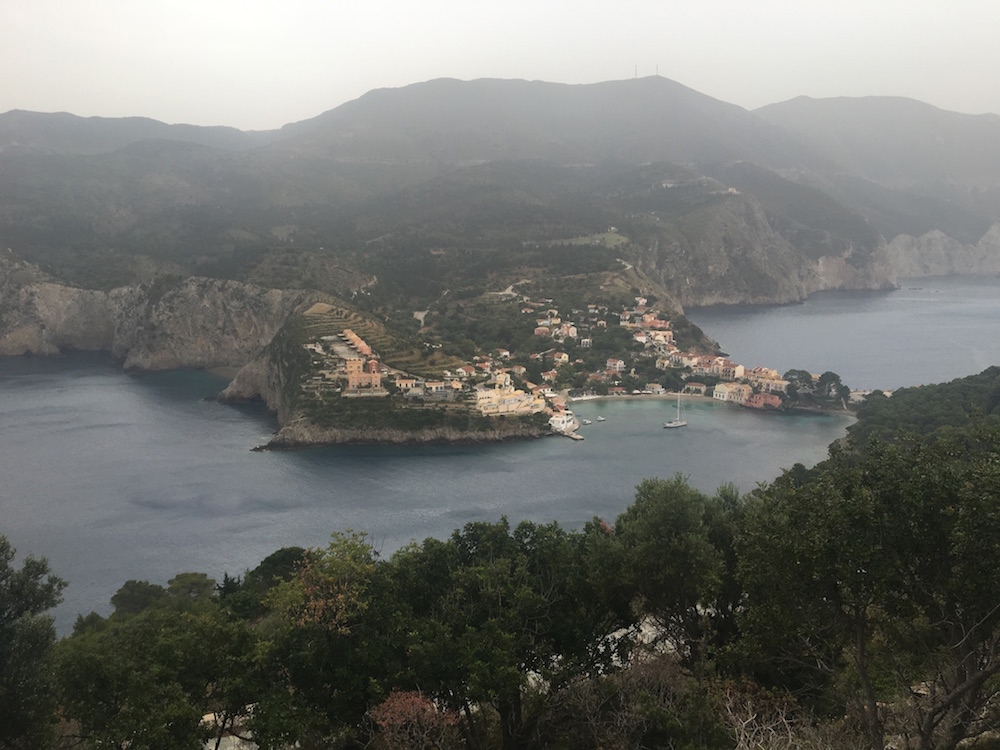 The best yoga venue this side of Goa
Whether its done on the edge of a beach called 'Om' in Goa, India or in a cold community centre in Ilford, I pretty much love yoga, whichever way – and wherever – it's served up. But the yoga at this place was truly special.
First of all, it's done just before sunset, either on the helipad – yes helipad – (that's me looking pig-in-sh*t happy below during a session) or on the hotel verandah, both of which face the Ionian sea and a glorious mountainous horizon.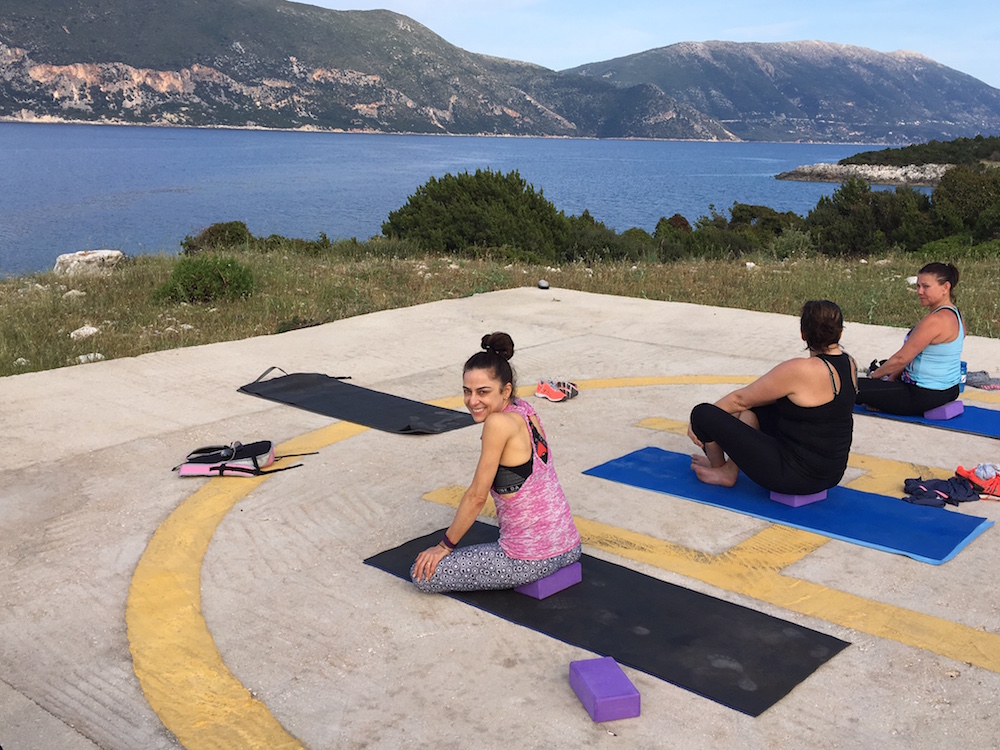 Doing my tree poses and warriors while facing a shiny blue sea is proper fuel for the spirit (sunglasses optional!).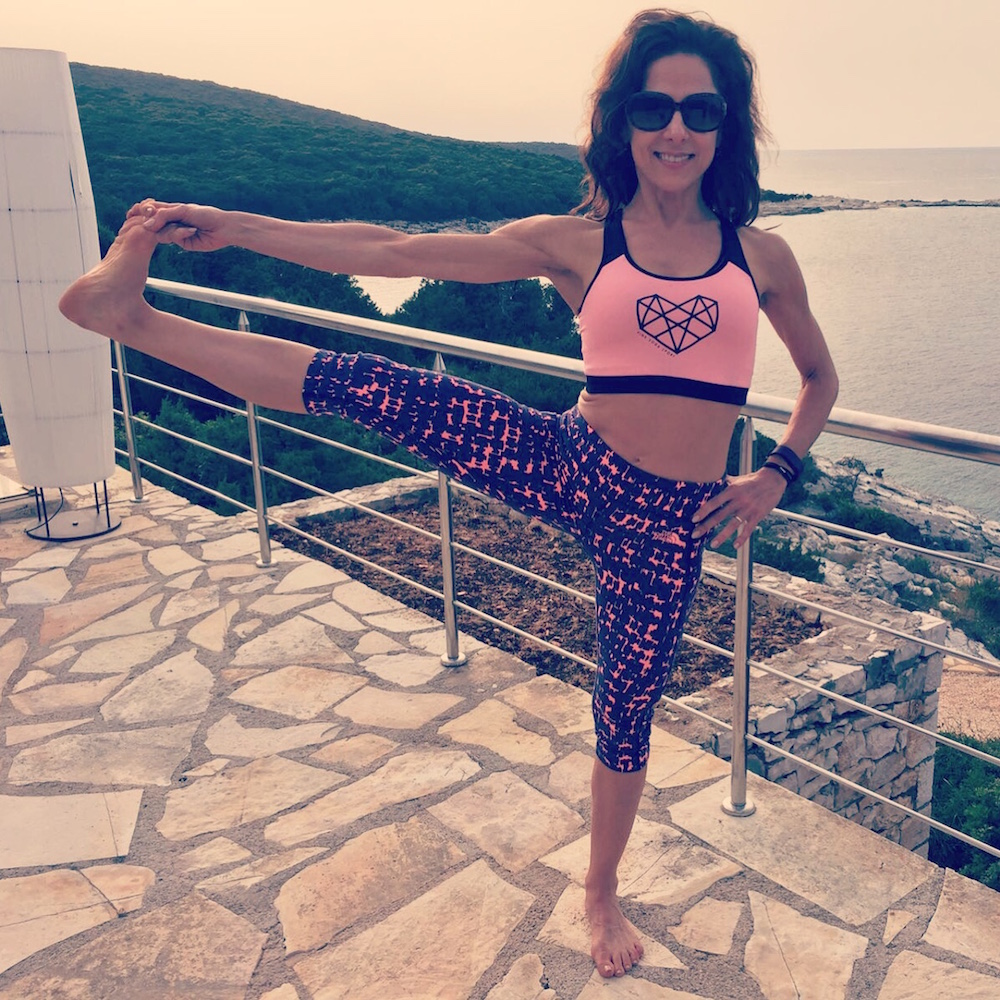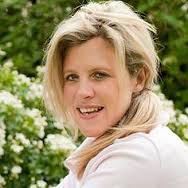 Teacher Jacqueline Porjes (left) is a great example of an anti-yoga teacher. Instead of the floaty, ethereal and slightly terrifying demeanour so many yoga teachers have these days, Jacqui's keen sense of humour and ability to use wit and instinct to make beginner students feel welcome and safe while also challenging the advanced students was impressive. I loved how the sessions were different everyday, some days flowing and energetic, others relaxing and renewing, depending on the energy levels of the students that day (though it was usually 'exhausted' most of the time, thanks to having a massive fitness agenda on almost all days).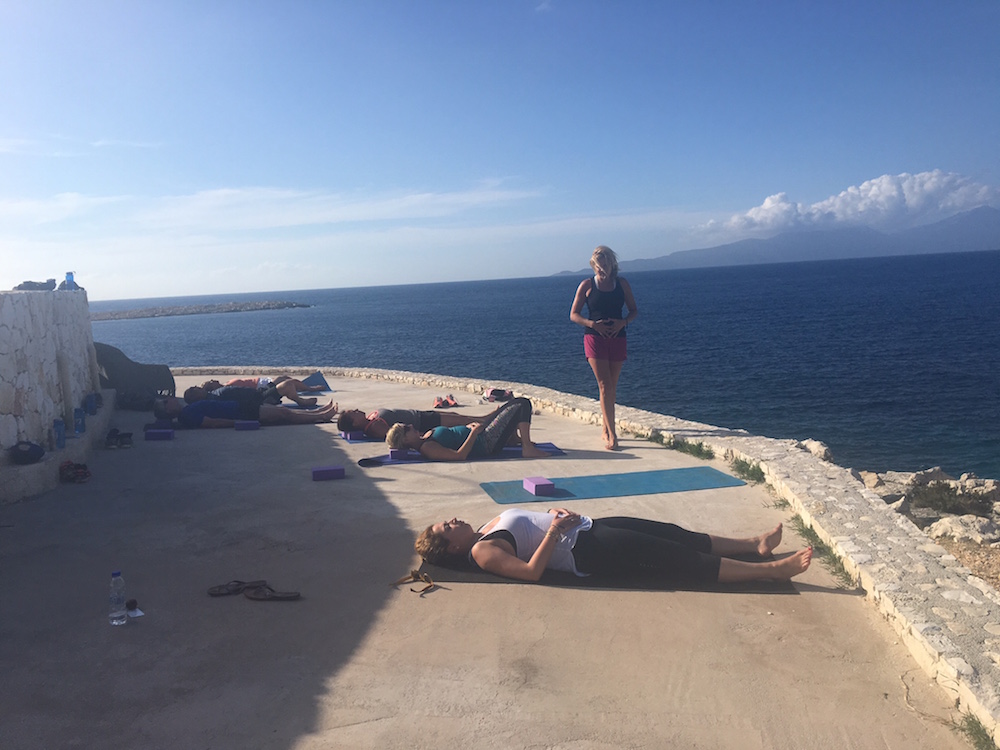 I see yoga as a system that conserves or creates energy, rather than uses it all up and Jacqui's classes always had this quality. During them, watching the sparkling sea and surrounding gentle mountains and feeling the breeze on my face, breathing through my sun salutations I was constantly thinking; 'This really is one of life's special moments, remember and cherish it.' Afterwards, I always, always felt renewed, rather than spent – which brings me back to just how much I love yoga…
GASP! The massages…..
The cost of the retreat is all inclusive (except airfares) and part of that is two hour-long massages at the hotel's Elemis spa. If you like a firm, therapeutic massage, ask for Sotiris, who is a booked-out physiotherapist in the neighbouring island of Patra in the winter and spends his summers at the Emelisse pummelling guests' sun- and sea- soaked muscles. A former Greek national heavyweight boxer who now works with some of Greece's biggest athletes, this guy knows a thing or two about muscles and what they need.
you'll feel like someone has literally poured cleansing solution through your muscular system
But be warned, though you'll feel like someone has literally poured cleansing solution through your muscular system afterwards (while your circulatory processes are going 'What happened?') this guy's massages are deep and therapeutic and meant to work on repairing and reviving muscles, not only relaxing the body. It was so therapeutic for my tired, exhausted body that I ended up having another one the very next day that I paid extra for.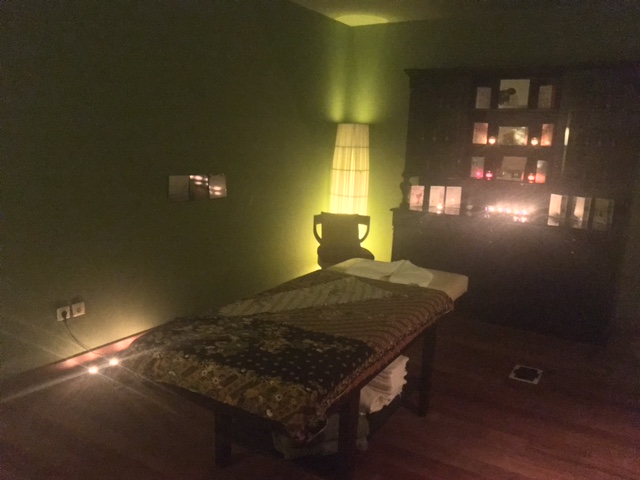 If you're more one for a gentle aromatherapy experience, Aphrodite is a fabulous massage therapist, with a relaxing touch that was both transporting and soporific at once. Make some time for a nap after…
So, is it worth the £££s?
With a starting price of almost £2000, this retreat isn't cheap. But I can honestly say – having been on so many of these sorts of things – it was the best I had ever experienced. I'm not alone in this – the HHH Retreats report a 72.6 per cent repeat business rate, which is astounding. Indeed, as I said above, when we sent our Reboot Challenge Body Blogger on a HHH Retreat (for free) she went the following year again, this time paying full price!
by about day four I couldn't help but be struck by how people were clearly leaning out, their bodies streamlining before my eyes
Not only fun, challenging and relaxing, this retreat was also effective. When we did our final measurements, I had lost two kilos, one centimetre around my waist and three around my bum while other people lost much more – one man shed a staggering 15 centimetres around his belly. I'm not normally someone that notices people's weight, but by about day four I couldn't help but be struck by how people were clearly leaning out, their bodies streamlining before my eyes, despite all of us eating the same sizeable portions of food at regular times throughout the day. I don't remember anyone saying 'I'm hungry'. For a weight loss retreat, that's a hell of an achievement.
The next HHH Retreat at the 5-star Emelisse Hotel in Kefalonia takes place on June 11-18th and again on September 24th – October 1st.  Prices start from £1895 pp sharing or £2495 pp single room all inclusive (except airfares). Anna few to Kefalonia direct on Thomas Cook airlines.
Like this article? Sign up to our newsletter to get more articles like this delivered straight to your inbox.