Looking for a yoga retreat that is about more than just relaxing? Louise Atkinson visits the French Loire Valley for a life changing experience
We all sign up for a retreat for our own reasons. Some of us feel the need to step off the stress conveyor belt for a few days, kick start a healthy eating or exercise regime, escape the husband and children, drop a few pounds, build a bit of muscle, or perhaps pick up new friends and positive lifestyle skills.
But when I booked in for five days in rural France I had one thing on my mind: handstands.
Nutritionist May Simpkin has a mission to provide a relaxed and inviting environment
I'm a late but extremely enthusiastic convert to yoga and, in my fifties, I've joined the growing band on a quest to achieve the latest yoga holy grail – a few seconds of blissful balance upside down.
Nutritionist May Simpkin has been running retreats at her delightful family chateau in the Loire Valley for the last four years, with a mission to provide a relaxed and inviting environment where guests can be infused with her healthy eating principles, enjoy her clever cooking, relax, but at the same time, be more active than they've probably ever been before.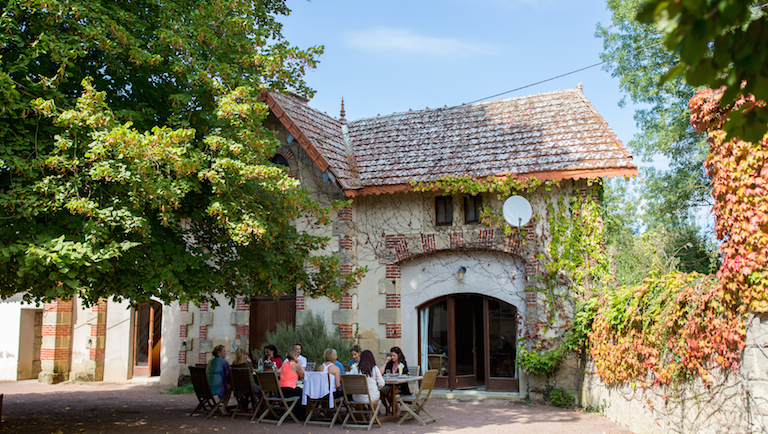 A yoga retreat that is a 'home from home'
A first glimpse of the itinerary reveals cooking workshops, talks on stress and self-sabotage, power-walks, cycling (to a vineyard!), massage or reflexology, and – to my delight – every day book-ended with an hour and a half of yoga.
It's a short hop to Nantes from Gatwick and an hour and a half in a shared taxi to the quaint country town of Saumur, but some of my fellow guests arrived by car, having driven all the way in a similar amount of time (with enviable boot space to take local wine home with them).
We were allocated ensuite rooms in the chateau. Mine was HUGE with a delicious double bed, arty French furniture and a chez long – perfect for the introspection and pontification I had planned.
The place has an air of cosy faded grandeur – very 'home from home' (if you're lucky enough for one of your homes to be a chateau).
May works closely with Jamie Blowers who specialises in actually teaching yoga teachers so I figured he must know his stuff. He practises a dynamic form of yoga called 'rocket yoga' which is a fast-moving blend of hand balances and tricky moves. If anyone was going to be able to nudge my handstand aspirations forwards, I was confident it would be him.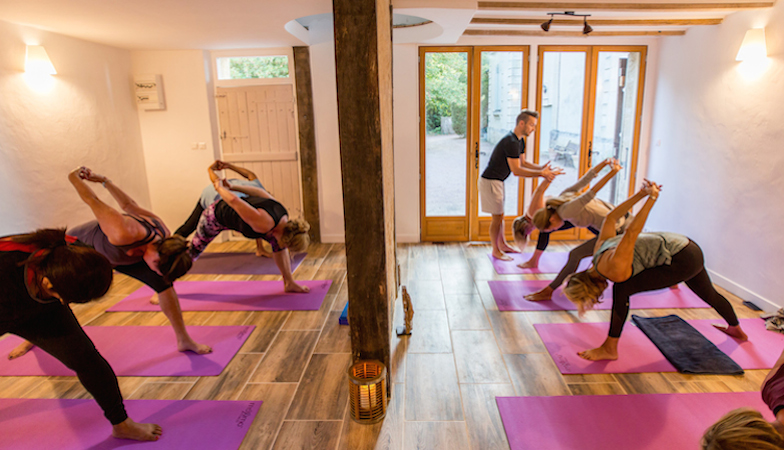 Yoga for all abilities
Our first session on the mat in May's beautiful new yoga studio (freshly converted in time for our visit, we learned, from crumbling bike shed) revealed a VERY wide range of yogic abilities and I wondered how on earth Jamie would cope.
We were ten, including May who joined all our activities, marinating every minute of every day with her dietary knowledge, warmth and enthusiasm. Our ages ranged from mid-30s to 70 (a mother and daughter combi), our sizes from 8-18, and for all but three of us, this was the first time in a downward dog.
Completely undeterred, Jamie very cleverly coaxed and cajoled, teasing out stretches and holds from the most wary and inflexible, ending each session with deeply relaxing breathing exercises that left us starry-eyed and yawning.
It was great to be able to go right back to basics to strengthen my yoga foundations, and I soon realised I was probably that kid promoted rather too fast to the top set in maths who had been hanging on by the skin of my teeth (relying on quick-fix cheat moves I hadn't even realised I'd adapted).
Amazingly no one skipped a single class and the novices progressed fast. As a treat, Jamie laid on a one-off 'rocket' class for two of us – thereby taking that day's total to an unprecedented six hours on the mat – but it gave me the handstand tuition I had so desperately craved.
I was concerned I'd slide into hideous detox hives without coffee, tea or alcohol I needn't have worried
If the yoga wasn't exhausting enough, we were all hustled out before lunch each day for an invigorating power walk through the bucolic French countryside. Fellow retreater and exercise-specialist, Lucy Wyndham-Read got us all swinging our arms, wiggle-bottom walk-racing, with an impromptu programme of squats and lunges at every brief pit stop.
We were kept so busy I barely had time to squeeze in a little bit of late summer sun by pretty outdoor pool, let alone take out the books I'd brought with me.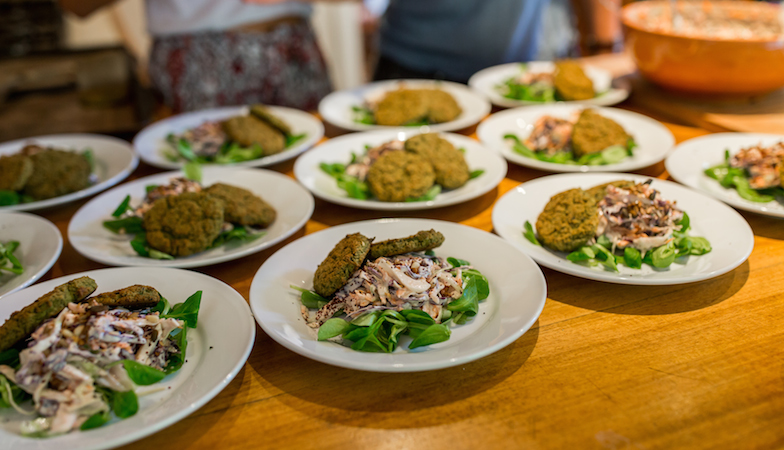 The cuisine is often accidentally vegan
With so much activity I was concerned I might be hungry and that I'd slide into hideous detox hives without coffee, tea or alcohol. But with May in the kitchen I needn't have worried. She might extol the virtues of herbal teas but there are Yorkshire tea bags by the kettle and proper plunge coffee at breakfast.
I have to confess the portions were considerably smaller than I'm used to and I finished the first meals thinking I could happily eat the same all over again, but to my surprise, I was never hungry.
May has a masters degree in personalised nutrition and is possibly the most knowledgeable food-expert I've ever met. She doesn't believe in calorie-counting, but every meal was planned to precisely balance our nutritional needs. I clearly need less than I thought.
We were offered a fresh juice on waking each morning, breakfast after yoga, then a plant-based lunch, a healthy treat with afternoon tea (carrot cake, sweet potato brownies, frozen bananas with almond butter dipped in chocolate) and a three-course dinner – with dessert! – each evening.
We tucked into roasted aubergine and butternut squash salad with cashew wasabi dressing, Thai vegetable curry with rice, chickpea felafel, grilled peaches (picked from the chateau orchard) scattered with toasted pecans, and chocolate mousse.
Although May very modestly claims she's 'just a mum who cooks' her plant-based cuisine (much of it accidentally vegan) is utterly delicious, and we were all inspired by her cooking demonstrations to expand our culinary horizons back home.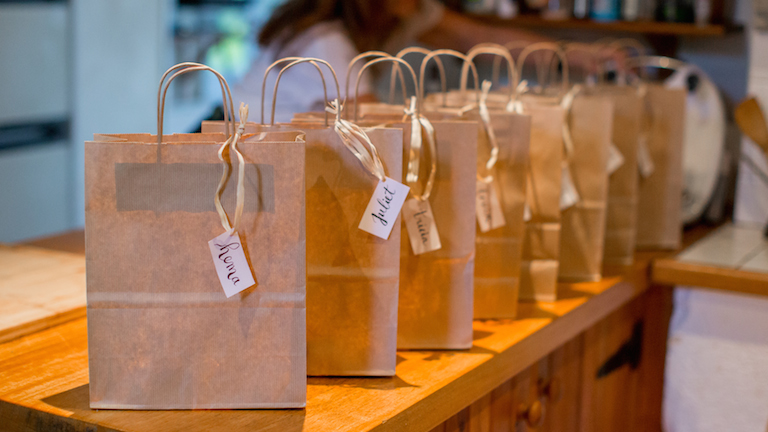 A yoga retreat to remember forever
With no wine in sight I didn't miss my regular evening tipple as much as we feared, but we did all get ridiculously giggly on a thimble of wine on a trip to the vineyard and pounced as one on the celebratory fizz served with great ceremony before dinner on our last night.
Yes, I got my handstand practice, and, with Jamie shouting miniscule adjustments over the sound of my heart beating wildly in my ears, I got to hold the balance for seconds – far longer than I'd achieved before.
Someone took a mini video of me upside down in front of the yoga studio in the evening sunlight of our last day on retreat, and it's an Instagram image I will treasure forever.
But that wasn't the most enduring memory of my retreat. On smaller portions, endlessly active and without my usual wine calories, I felt distinctly stronger and leaner as we were driven back to the airport clutching our personalised 'goodie bag' of nutritious snacks for the journey home.
Every mealtime had been alive with laughter and health-based chatter as we swapped stories and experiences, learning about healthy eating from May, and about life from each other.
It turns out being on a retreat is less about temporarily cutting yourself off from toxic food, drink or influences and more about giving you a few days of space, potentially in which to grow.
I hadn't expected the sense of camaraderie, the shared pooling of wisdom and encouragement and the sheer joy of spending time in an idyllic setting among strong, clever, kind women.
May Simpkin's four day retreat at Chateau de la Vigne: prices from £995 – all meals and activities included. EasyJet flights from Gatwick to Nantes cost from £25.
For more information see www.maysimpkin.com
Related Healthista Content
The body retreat that will reset your mind too
Reviewed: Yoga Nidra by Stephen Marks at The Bermondsey Square Hotel
The yoga retreat that can restore you in TWO days
Yoga flow workout for beginners and advanced with celebrity personal trainer Holly Davidson
Like this article? Sign up to our newsletter to get more articles like this delivered straight to your inbox.