These healthy breakfast hacks contain virtually no calories but volumes of nutrients. From porridge to pancakes, it's time to get sprinkling
The breakfast: Pancakes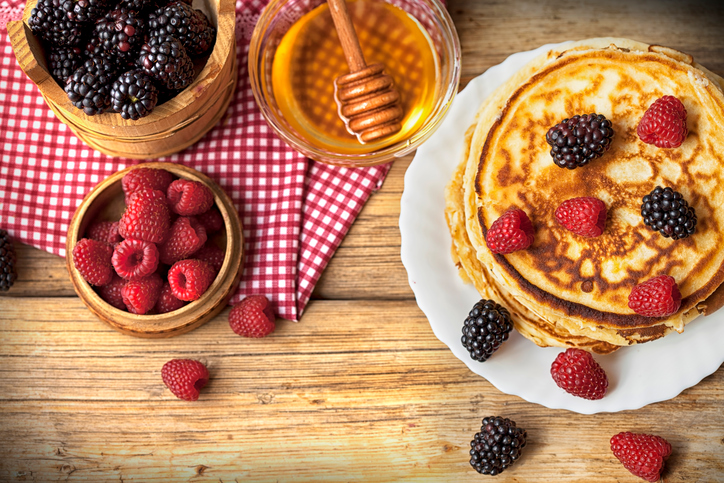 Move over berries, the African superfruit Baobab is the most highly concentrated with antioxidants, according to research in The Journal of Nutrition. Combined with a huge dose of vitamin C, more than three times the amount of an orange, your skin health and immune system will be thanking you. Vitamin C not only promotes collagen formation, leading to glowing skin, it's also a favourite amongst fitness junkies. Research by the university of Birmingham found that volunteers who took vitamin C exhibited 75 per cent more post exercise recovery than those who consumed vitamin E or a placebo. This is because baobab may help keep blood sugar (and later cravings) stable, which means it's great for a breakfast option too.
The fruits benefits don't stop there. Being a rich source of potassium and B vitamins, baobab can be useful for the healthy functioning of the nervous system and in particular the regulation of the sleep cycle, which when lacking can cause problems such as insomnia and depression. Being so nutritious, it's no wonder the Hadza Tribe in Tanzania, who eat baobab as a staple in their diet, have the most diverse gut bacteria of anyone in the world – 40 per cent more than the average Westerner.
How to use: Baobab has a citrussy taste, so it works beautifully in a fruit smoothie for a slight sour kick. However, we would recommend trying it in your batter the next time you make pancakes. It will give them a gorgeous yellow colour, and with a topping of berries, your antioxidant levels will be through the roof. A typical pancake mix may include 1/3 cup of brown rice flour, a cup of oats, 1 1/2 cups of almond milk and a mashed banana. Add the boabob powder and a couple of dates for sweetness. Blend, and fry in coconut oil – heaven.
TRY: Aduna Baobab Superfruit Powder, £12.99
The breakfast: Porridge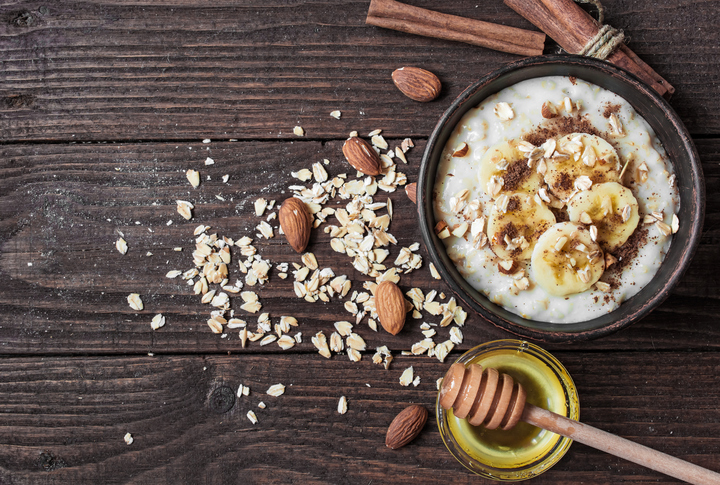 If you're looking for better hair skin and nails, flaxseeds are a great option to consider adding to your diet. They are high in alpha-linolenic acid, also known as ALA or omega-3 essential fatty acids, the good fats which boast huge health benefits and could help with skin conditions such as rosacea, eczema and acne. ALA  is also considered good for heart health by lowering blood cholesterol levels. Flaxseeds are also linked to reduced risks of cardiovascular disease, diabetes and lung disease.
The American Nutrition Association highlighted the importance of this 'neglected food,' stating that flaxseed is 'an excellent source of fiber and a good source of minerals and vitamins'. The soluble fibre in flaxseeds can lower cholesterol and glucose levels, whereas insoluble fibre keeps things moving in the digestive system. Since flaxseeds are a good source of both fats and fibre, it can potentially aid weight loss by helping you feel fuller for longer. Coming in a variety of ways, it's really easy to find a product that suits you.
How to use: Flaxseed is so versatile it can be added to pretty much everything without affecting the taste. You can sprinkle ground flaxseeds onto porridge and it goes really well with honey. Alternatively, add a tbsp to your smoothie in oil form. The seed themselves can be baked into loafs and breads, or even used as an alternative to egg –  use two tablespoons of flax with two tablespoons of water soaked for two hours to replace one egg.
TRY: Linwoods Organic Milled Flaxseed, £5.19
The breakfast: Latte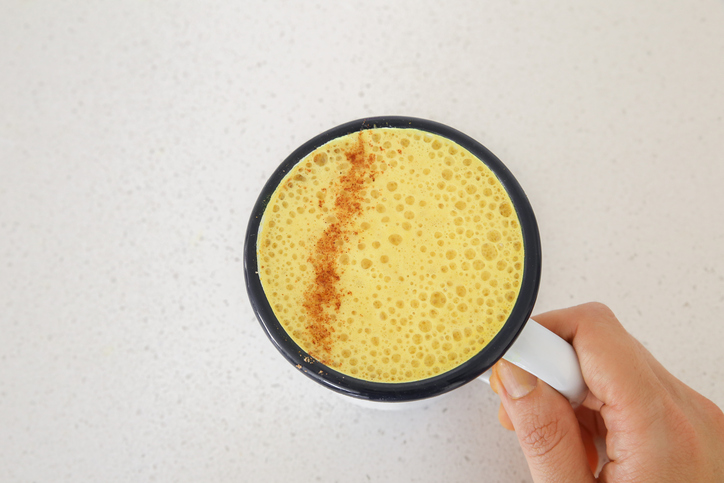 If you're not aware of the turmeric tirade, have you been living under a rock for the past two years? Another Asian pantry essential that seems to have made its mark on the health science, turmeric has been used as an Ayuverdic and traditional medicine for centuries. In a new report on food trends in the US, Google noted that searches for turmeric increased by 56 per cent from November 2015 to January 2016, most likely since it's popping up in every health food shop in the form of supplements, teas and powders.
It is in fact the compound curcumin in turmeric that makes it so effective; an antioxidant whose anti-inflammatory properties make it useful for, well, just about every condition under the sun. One comprehensive scientific report published in 2013 compiled the results of a collection of clinical trials of curcumin over the prior 50 years, claiming, to quote, "promising effects" for a tremendously long list of ailments. We are talking arthiritis, muscle pain, cancer growth, liver disease, irritable bowel syndrome, Crohn's disease, diabetes, psoriasis and cardiovascular diseases, to name a few. But ask any devotee what they use it for, and they will most likely say because it's trendy right now.
How to use: You will be familiar with the spice, coming from a root, in curries. It is now recognised amongst hipsters globally as the star ingredient in 'golden mlyk', which is a yellow coloured latte most often using a milk alternative. To make your own, try this recipe from Food Babe: Bring ½ cup filtered water to a low simmer and then mix in ¼ cup of ground turmeric, stirring constantly until it makes a thick paste (this can take 5-10 minutes) adding more water as needed. To make the golden milk, mix 1/2 teaspoon of paste with 1 cup of milk (any type) in a saucepan and cook over medium-low heat for about 5 minutes. Stir in about 1/2 teaspoon of coconut oil or ghee before drinking (you can also add other spices like cinnamon, ginger, or black pepper, and honey or maple syrup for some sweetness). Store the remaining turmeric paste in your fridge for two weeks.
TRY: Superfruit Organic Tumeric Powder, £6.10
The breakfast: Chia pudding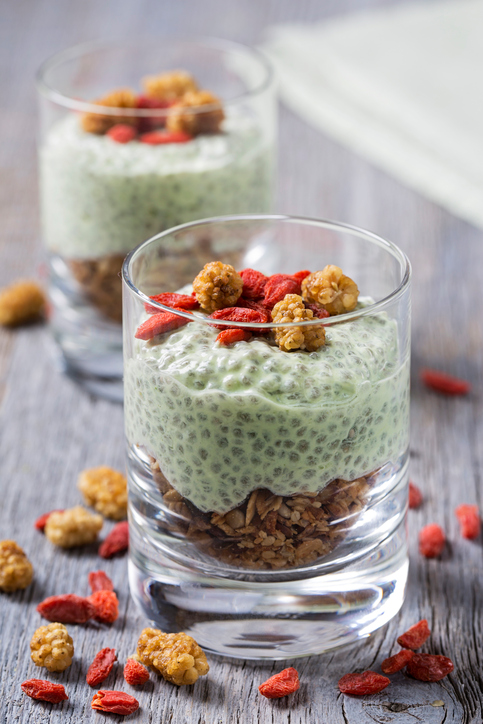 As one of the oldest species of algae in the world, chlorella has earned its superfood status with benefits to the whole body. Due to containing vitamins such as C, B12 and D, it's supportive of the immune system, which in turn leads to better health.
Chlorella is also known to be detoxifying to the body, which is beneficial for a number of reasons. For example, the Journal of Medicinal Food researchers state, 'chlorella intake resulted in noticeable reductions in body fat percentage, serum total cholesterol, and fasting blood glucose levels'. Studies have shown chlorella is also able to wrap itself around even toxins such as lead, mercury and uranium. It's a great liver cleanser and could help PMS by helping the body detoxify excess hormones.
How to use: Look for 'cracked cell wall chlorella', which is the best way for humans to easily digest chlorella. To pimp up your chia pudding breakfast, use 1/4 cup of chia seeds to a cup of coconut milk, with a half a tsp of chlorella, tbsp of maple syrup, a tbsp of ground cinnamon, a scoop of vanilla protein powder (Try Healthista's Lean Vegan Diet Protein 24.95 – it's amazing) and some red berries.
TRY: Synergy Natural Organic Chlorella Powder, £20.90
The breakfast: Toast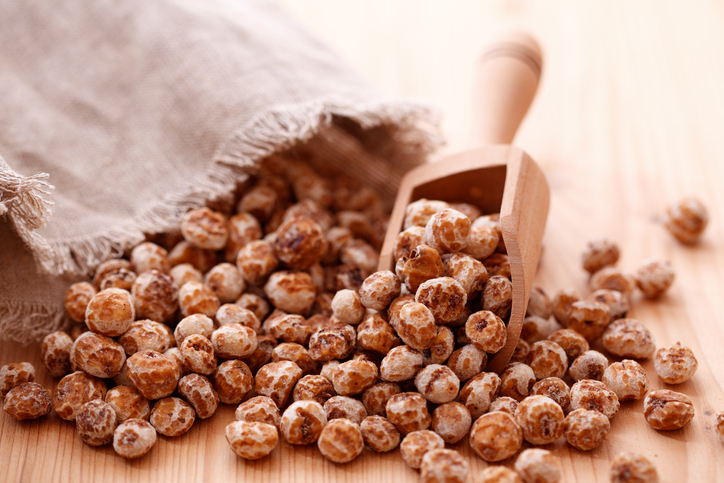 Get ready for the introduction of what will be your new favourite snack – the tiger nut. It's recently made its appearance amongst the healthy food blogging community, particularly because of it's incredibly high fibre content. A 30g serving of the nut (which is actually a small root vegetable known as a tuber), has a whopping 10 grams of fiber – the daily recommendation is 30 grams. Fiber helps you to feel full, prevents disease such as heart disease and maintain a good digestive system, but typically people in the UK only reach 18g a day.
Tiger nuts are a potent source of resistant starch, meaning is resists digestion. This is known to be useful for a number of things, such as stimulating blood flow to the colon, helping us absorb nutrients and aiding weight loss, so many see the nut as a probiotic source. Other perks include its magnesium content, which can help with regulation of sleep, and oleic acid – a monounsaturated fat found in olive oil that is great for hair, skin and nails. What are you waiting for?
How to use: Tiger nuts have a sweet, caramel sort of taste. To eat raw, you are best leaving them to soak in water for 12 hours (they're quite chewy so beware). Add it to a trail or granola mix, which will certainly keep you full until your next meal. Lots of nut butters are available too, making it a gorgeous topping for oats, toast with banana, or on it's own a spoonful is the perfect sweet treat after a meal.
TRY: Bim's Kitchen Tigernut & Macadamia Butter, £6.95
The breakfast: Energy bars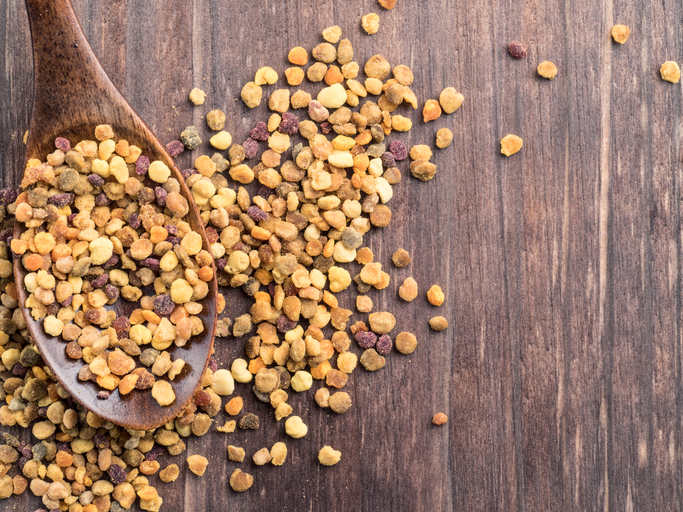 Bees are vital for providing much of the food that lands on our table, mostly fruit. But it's the tiny pellets of pollen made by working honeybees that are fast becoming a cupboard staple. Devotees include Victoria Beckham, who said in a tweet in 2014 that she was 'obsessed' with them. Superfood supplier Greens Organic then saw 'an immediate tenfold increase in orders for pollen', which the founder, Morris Ahmed, said leaves customers reporting thicker and shinier hair, better skin and more energy.
Although there is relatively low scientific support for the effects of bee pollen, some say it contains almost every nutrient humans need. It's high in fibre, which is good for prevention of weight gain, heart disease and diabetes, protein, vitamins such as B1, B2 and E, as well as amino acids. With high magnesium and iron content, bee pollen is touted for reducing tiredness, too. One of the most common uses of bee pollen is to ward of pesky allergies such as hay fever, flu and the common cold. This has been explored in animal based research, such as a 2008 study on mice which revealed that bee pollen may inhibit activity in mast cells – cells that release histamine in response to allergens and, as a result, trigger allergy associated symptoms. Try for yourself and make your call.
How to use: Bee pollen is suitable and best eaten raw. The taste varies but tends to be sweet, a bit like honey (coincidentally), and slightly floral. Add to protein bars for a delicate crunch or like many superfoods, added to your favourite smoothie. Drizzle dark chocolate on frozen bananas and then roll them in bee pollen for a healthy treat. Take caution, as some people are allergic to bees and honey.
TRY: Green's Organic Bee Pollen, £7.49
The breakfast: Overnight oats
https://www.instagram.com/p/BXCiv9Mnz3F/?hl=en&taken-by=healthistatv
Feeling ravenous for your lunch before it's even midday? Nutritionists recommend starting the day with a protein packed breakfast to keep hunger at bay by reducing signals to the brain that control eating motivation as well as reducing the hunger hormone ghrelin. This is backed up by a lot of scientific evidence such as one study on women, published in the NCBI, which showed that increasing protein intake from 15 to 30 per of total calories helped them eat 441 fewer calories per day. They also lost 11 pounds (5 kg) in just 12 weeks.
If you haven't got the time to cook an omelette every morning, smoothies can incorporate delicious fibrous fruits and vegetables whilst protein rich ingredients such as yoghurt and protein powder will balance out the sugars. There are also powders on the market that are vegan, using plant-based proteins such as pea, hemp, rice and pumpkin seeds, which contain key amino acids.
How to use: Typically protein powder is taken in the form of a shake. However, some are proving to be more than just an aid for muscle gain, but an all-round health booster. Indeed, Healthista's Lean Diet Protein does just that and is packed with ingredients that help with metabolism, muscle recovery, fat loss and energy, such as inulin, matcha green tea and carnitine. You can read more about our protein range for weight loss here.
Make protein oats for an post workout session or delicious breakfast – cook your oats the normal way (we suggest half a cup of oats to one cup of almond milk or water), but add an extra little liquid. Cook in the microwave or on the hob until a slightly runny consistency. Stir in a scoop of Healthista's Lean Diet Whey protein powder in rich chocolate after it is cooked. The extra liquid makes sure the porridge doesn't end up stodgy. Top with a nut butter, such as Pip and Nut Honey Cinnamon butter, and some fruit.
TRY: Healthista Lean Diet Protein, £24.99
The breakfast: Smoothie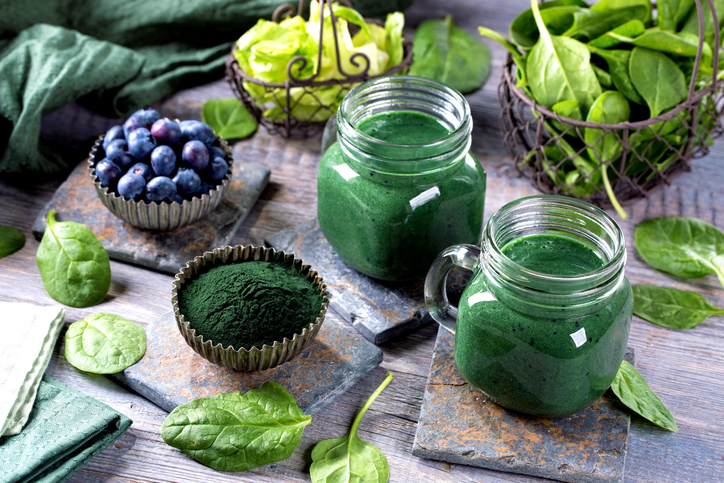 We have saved what many would think as the best until last, considering spirulina is often referred to as the most nutrient-dense food in the world. Why? The list of vitamins and minerals within the food is as long as your arm, all with very few calories. It contains vitamins B, E, K, A, magnesium, iron, copper, potassium and all the essential amino acids, which play parts in our health from energy levels to fighting toxins in the body. It's even high in protein, containing 60-70 per cent, however as the serving per gram would be considerably lighter than meat or beans, it won't suffice as a substitute.
With a huge dosage of nutrients, some look to spirulina for help with the growth of healthy gut flora. This has been shown by some animal studies to inhibit the dreaded candida (aka thrush) from developing. Athletes may also benefit from the superfood, which has previously been shown to enhance endurance and minimize oxidative damage – a contributor to muscle fatigue and inflammation. The anti-inflammatory effects are down to a main component called phycocyanin. This is what gives spirulina its unavoidable green colour. However with free radical fighting and antioxidant benefits, it's time to think about introducing the blue-green algae.
How to use: Unfortunately spirulina doesn't taste great and needs to be disguised. The easiest way of using it is with a teaspoon or two of flakes (the flakes don't taste as strong as the powder) in a smoothie with delicious fruits such as mango, frozen banana, coconut milk, spinach and apple juice. Aside from breakfast, editor Anna Magee will drink the powder with vegetable stock (acquired taste, okay). But be warned – it leaves your mouth green! Think of the benefits, think of the benefits, glug, glug, glug….
TRY: Gourmet Spirulina Flakes £12.95
What are your favourite ways to boost your breakfast? Tag your smoothie bowl extravaganza's on Instagram: @HealthistaTV
READ MORE
Why reishi mushrooms are the new superfood of the moment
Is turmeric the new kale? 12 best products containing the super spice
8 new superfoods your body needs right now (Clue: kale is not one of them)
5 low-sugar breakfasts ready in 10 minutes or less (PLUS how eating less sugar in the morning could change your life)
Need a protein powder for weight loss? These are the 6 ingredients to look for
Like this article? Sign up to our newsletter to get more articles like this delivered straight to your inbox.