Victoria Beckham set the Twittersphere alight by declaring her love for it, Healthista investigate the buzz behind eating bee pollen.
When Victoria Beckham tweeted about her love of bee pollen last week, she sparked a health frenzy among her 7.5 million followers.
Along with a photo, Victoria wrote: 'Totally obsessed with this Bee pollen! So good for u!!' The tweet was met with delight by the more health conscious of her fans, who immediately started offering up their own serving suggestions for the snack.
Amazingly, Morris Ahmed of Greens Organic said the superfoods supplier saw 'an immediate tenfold increase in orders for pollen' following Mrs Beckham's tweet.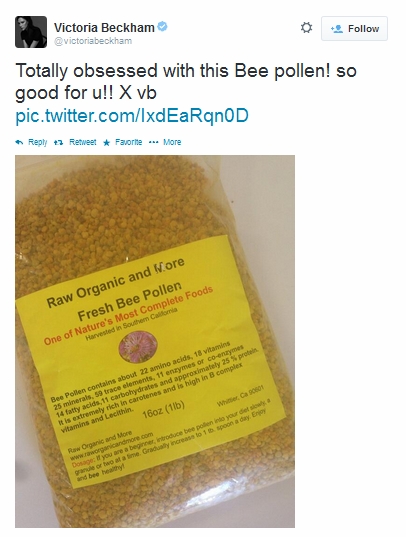 In fact, pollen can have a big impact on how we look and feel, Ahmed alleges. It's high zinc content has been shown to boost libido, it's a complete protein and is easy to digest.
He said the organic bee pollen they supply from Spain leaves customers reporting thicker and shinier hair, better skin and more energy.
It is high in fibre which is good for preventing heart disease, diabetes and weight gain, contains a lot of vitamins B1, B2 and E and is high in amino acids. It is also said to reduce tiredness and fatigue due to its high Magnesium and Iron content.
Our editor Anna has tried Victoria's golden delicacy before and says it tastes crunchy, like pellets with a hint of honey – not as unpalatable as some health concoctions that's for certain.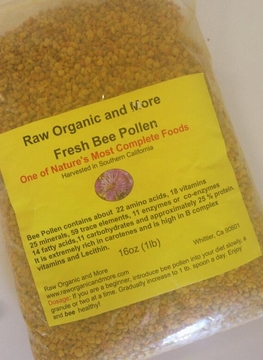 Find out more about bee pollen from Greens Organic.
Like this article? Sign up to our newsletter to get more articles like this delivered straight to your inbox.