Profhilo is the popular new anti-ageing injection beauty editors are having in their droves.  In today's episode of our Transformation Special series, beauty expert Alice Hart-Davis asks Dr Vicky Dondos exactly why
What is Profhilo?
Profhilo is a fluid type of gel made from hyaluronic acid – a substance that occurs naturally in our skins and which holds many times its own weight in water – which, when injected into the skin, acts as internal moisturiser. It softens, smooths and firms the skin from the inside and the results last for six months.
It is not the first type of injectable hyaluronic acid gel designed to rehydrate the skin from the inside, but it has quickly become hugely popular with both clinics and patients, as Dr Dondos explains.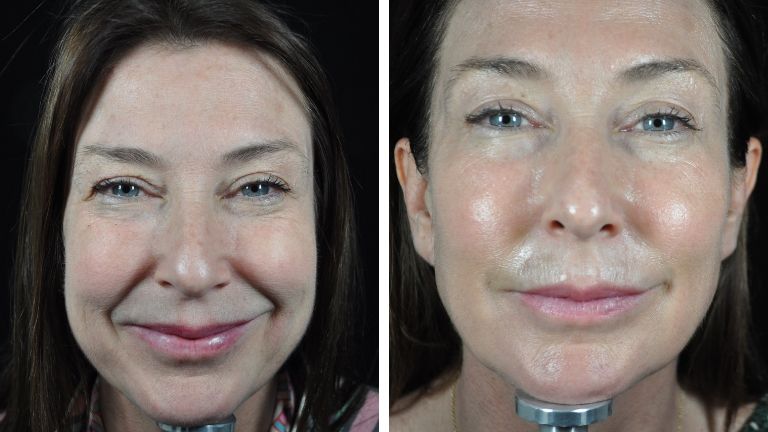 Why is it such a popular treatment?
Partly because it works so well, and partly because it works either on its own, or alongside other tweakments such as Botox or fillers. People love the results it gives, says Dr Dondos. Why? Because they see firmer skin, which looks fresher and more radiant.
Is Profhilo the same as filler?
No, Profhilo is not a filler. Yes, it is made from hyaluronic acid gel, which most injectable fillers are made from, but it is a runnier sort of gel. Fillers come in different thicknesses for use in different parts of the face. If you want more definition on the jawline and chin, you'll want a thicker type of filler.
If you want to boost volume in your cheeks or lips, you need a softer, more pliable filler. Profhilo is much more fluid than this. Rather than staying where it is placed in the skin, the gel spreads thinly beneath the surface of the skin to cover the whole face.
If you're wondering whether Profhilo will make your face look puffy, which can happen when fillers are inexpertly injected in the face – no it won't. That's because it is not creating volume in the face, just hydrating and strengthening the skin from within.
In this video, beauty 'tweakments' expert Alice Hart Davis discusses Profhilo with Dr Dondos.
Check Healthista.com every Tuesday morning for a new Tweakment Guide video
How many injections does Profhilo need?
Just 10 small injections at strategic points of the face, which takes less than 10 minutes.  Afterwards, you'll look like you have some weird, swollen insect stings on the injection points but these will vanish by the end of the day, because the product is gradually spreading itself beneath the surface of the skin.
Why is Profhilo so different?
Profhilo isn't the only injectable moisture treatment. There's Restylane Skinboosters, which has been around since 2004 and Juvederm Volite, though both of these require around 200 tiny injections to place the product into the skin, whereas Profhilo only needs 10 injections – which makes it very attractive for patients.
The main difference, though, is the way that Profhilo has been clinically proven to encourage the skin to regenerate itself. The extra hydration provided by the hyaluronic acid kickstarts the production of collagen which gives skin support, and elastin, which provides stretch. That means skin ends up firmer and smoother and fresher-looking.
Where can Profhilo can be used?
You can have Profhilo treatment on areas other than the face. It helps to soften wrinkly skin on the neck or décolleté  – and some doctors are experimenting to see what it can do to tone loose skin on bingo wings or the tummy.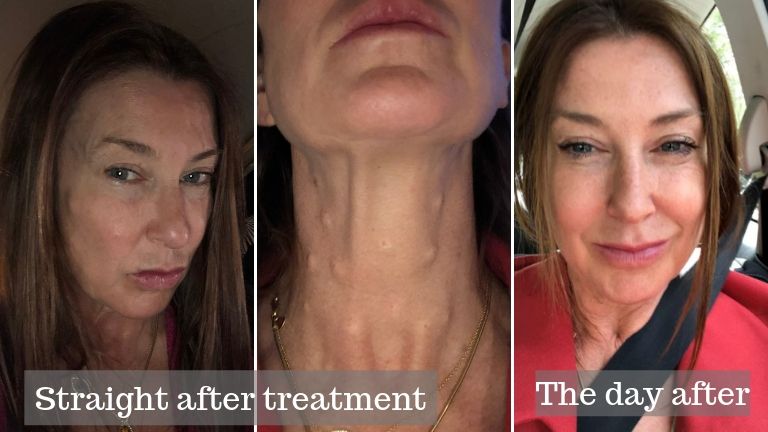 How long does Profhilo take to work?
You need patience here. Your practitioner will advise you that the results – the smoother, softer skin – won't show until 8 weeks after the first treatment (the treatment protocol is to have two treatment sessions, a month apart).
I found that I could tell the difference after five weeks, because suddenly, my skin felt so well hydrated that it didn't need moisturiser. The improvements in firmness and springiness will take three months to show, as the new collagen and elastin is generated within the skin.
Does Profhilo treatment hurt?
Hardly at all, because there are so few injections, and the needle used is very fine. And numbing cream is always an option.
What does Profhilo cost?
At Medicetics, Profhilo costs £850 for two sessions of injections.  It usually needs to be topped up every six months or so.
Where can I get Profhilo treatment?
Medicetics offers Profhilo in central London. For other practitioners around the UK, take a look at the practitioner finder on The Tweakments Guide.
Alice Hart-Davis is an award-winning beauty journalist and author of The Tweakments Guide: Fresher Face
. For nearly 20 years she has been reporting on the aesthetic cosmetic pocedures known as 'tweakments' and has trialled countless procedures.
She attends aesthetics conferences around the world catching up with the doctors, surgeons, dentists, nurses and the companies behind the technology in this fast-expanding field, the better to understand the tweakments on offer.
Alice lives in London, a short bicycle ride from Harley Street, with her husband and a lively Jack Russell terrier. Her three young adult children don't have much interest in tweakments, but accept that these are something she does for work (and, possibly, for reasons of vanity…) In case you're wondering how old she is, she's 56.
Vaguely relevant Healthista content:
The Botox and fillers rule book – 10 must-dos this beauty editor swears by
Botox and fillers – top doctor explains what you need to know
Healthista content you might also like:
The beauty editor's guide to perfect lips
How this beauty expert looks better today, at 56, than she did in her late 30s
'I had fat freezing to lose weight and this is what happened'
7 signs of vitamin deficiency ruining your looks
Like this article? Sign up to our newsletter to get more articles like this delivered straight to your inbox.