There are so many new healthy restaurants opening in London right now – Healthista Eats columnist Charlotte Dormon (aka @healthyeatslondon) has found five new places you will love this spring
Spring is in the air at last. The days are getting longer and lighter, and warm dreamy days of summer picnics and chilled bottles of rosé seem just that little bit closer. Whilst we wait in anticipation for our summer of alfresco dining, there are plenty of tasty eats and treats around town that we can get excited about, right here, right now. But before we do, let's take a quick look at the big eating trends across the Capital.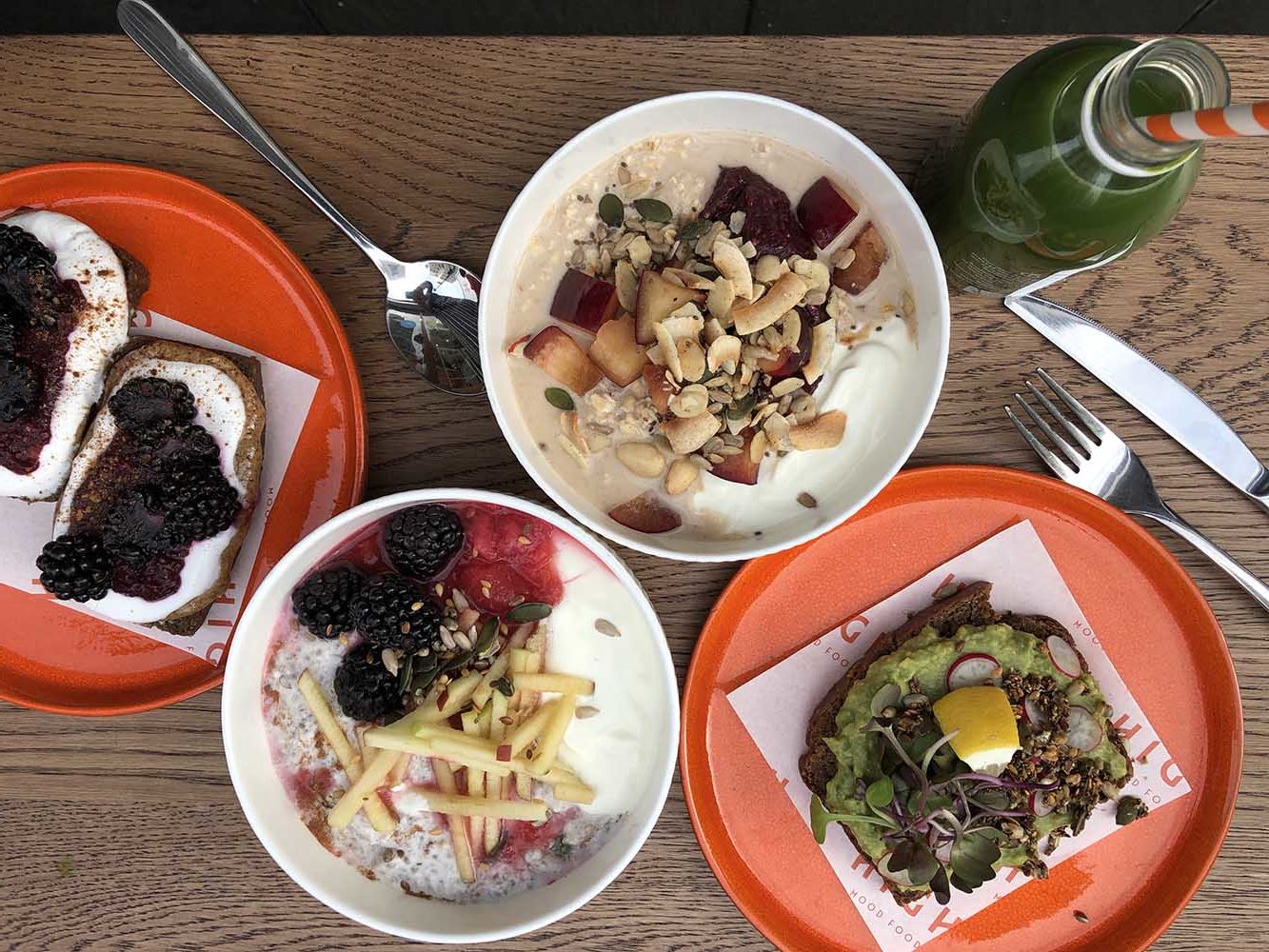 Plant revolution
If, like me, you've been scrolling the top healthy foodies on Instagram, you'll know that plant-based and vegan dining has become the hip and hottest trend of 2018. And it's no longer just vegans steering clear of dairy and meat; plant-based dining has taken the London food scene by storm and a huge number of us steak and roast chicken-loving carnivores are actively avoiding animal foods in favour of everything plant based, even if it's just for a night out.
Gut to be good for you?
Another healthy trend of 2018 that's become more popular than the Kardashians is gut-friendly foods, especially anything fermented such as kombucha and kefir, both fermented drinks. If you're a little bemused as to what this fermented malarkey is all about, don't be too alarmed: even your regular bottle of vino counts as fermented food – although it's unlikely to have the same gut benefits as a bottle of kombucha, of course. (Try: Captain Kombucha original £2.89 from Healthista Shop)
Total wheat out
Wheat, gluten and even grain-free dining are now bigger, better and more available than ever. For us gluten and wheat-free foodies, the bad old days of forking around a boring mixed leaf salad while we watch our friends tucking into piles of hot and steamy pizza and spaghetti are well and truly over.  With many restaurants – even high-street Italian chains like Carluccio's and Pizza Express – now offer a wealth of gluten-free options so dining out can be a carb indulgence once again.
So now you know the insight into all things healthy and happening on the food scene, here are a few healthy places I've been loving of late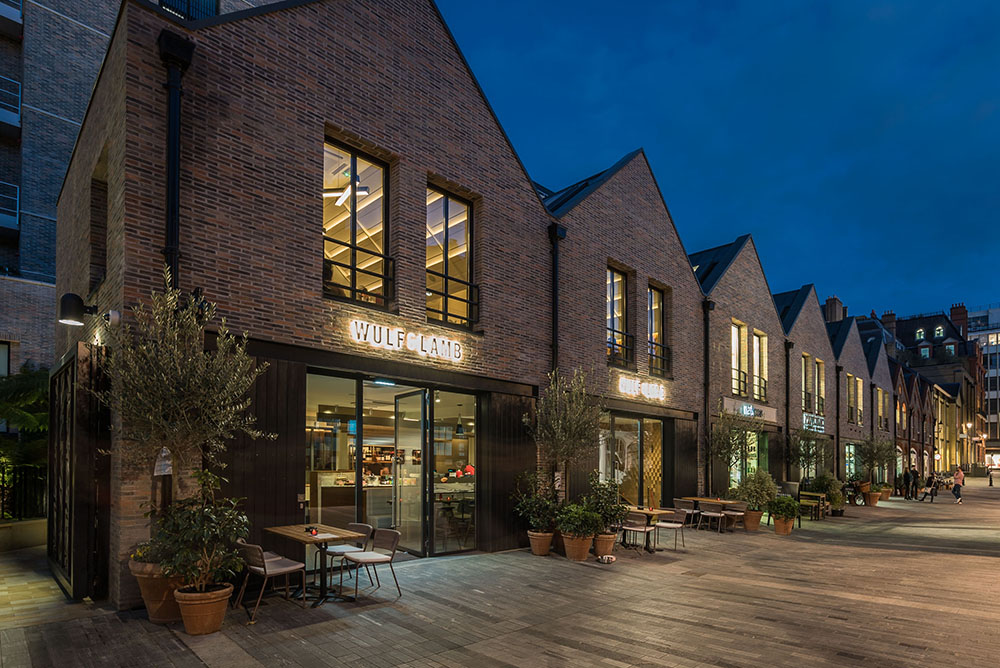 Where: Chelsea
Good for: Plant-based / vegan-friendly food feasting, tasty dates, dinner and drinks with your mates and big groups.
The name makes it sound more like a country pub than a vegan, plant-based restaurant in Chelsea.  But that's one of the reasons I really like this place. Not only is the food delicious, it doesn't look like your stereotypical 100 per cent vegan restaurant. Which works very well when you're trying to attract a new audience who – although not necessarily vegan – still want to enjoy meat and dairy-free options.
While there have long been good vegetarian restaurants in London, as well as decent meat-free dishes elsewhere, finding vegan options that taste of more than just bland veg has not always been easy. Thankfully, Wulf & Lamb have accomplished a menu that bucks the trend, with the sort of taste experiences you may never have expected eating out as a vegan.
To sample all that Wulf & Lamb have to offer, I met with my fellow Healthista Vanessa Chalmers to get ready for a meal we hoped would leave us howling with delight.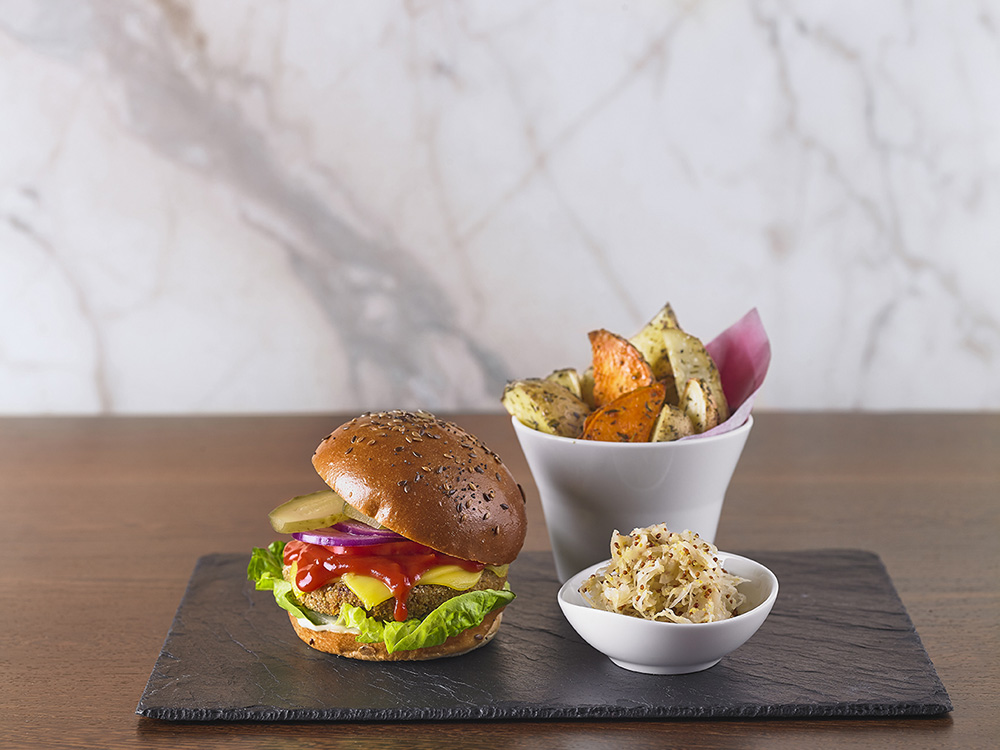 Because I like to leave enough room for a pudding (I've never been one to say no to vegan chocolate brownies) we opted to head straight into the mains. After much deliberation, we chose not just two but three main courses to share, as there was so much great choice. Our selection consisted of the Spicy Veg Burger (topped with tomato, baby gem, pickle, red onion and cashew aioli in a brioche bun with house sauerkraut and wedges), the Wulf Pie (pulled jackfruit and lentil stew with mashed-potato and baby carrots) and the Green Thai Curry (sweet potato mash and in-season vegetables, aromatic Thai roots, spices and coconut cream with jasmine rice).
Now, I've had a number of disappointing veggie burgers over the years – enough to make anyone go running to the nearest Burger King. But we couldn't have been further from disappointed with any of the food we chose, including the burger. I had mine with the gluten-free bun, which in some cases can be like chewing through cardboard – not the case here! And the cashew aioli and sauerkraut made it even more like the real deal.
The Thai curry was full of amazing flavour, with perfectly cooked veg and bursting with fragrant herbs, with a base of delicious homemade Thai paste. The coconut-based sauce was light and not too spicy or too sweet – just very moreish. So much so that Vanessa said she just wanted to "lift the bowl up and drink it straight".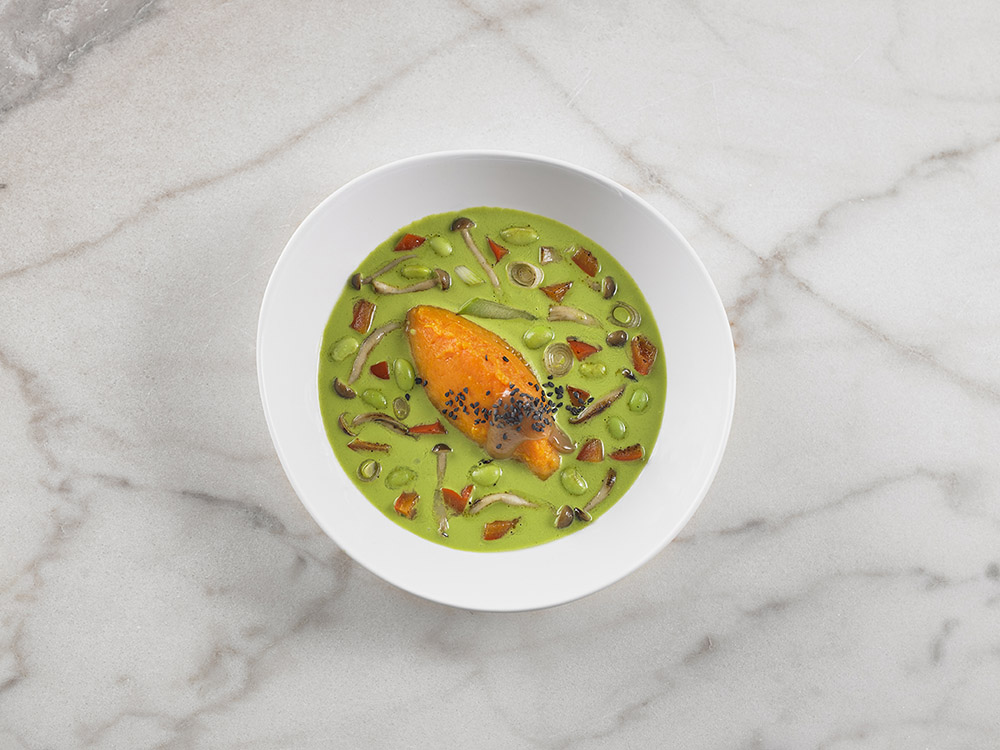 My personal favourite of the night was the Wulf Pie. I'd never tried the 'hero' ingredient jackfruit but keep seeing it popping up on plant-based menus all over the place. And after this experience, I can certainly say I'm a big fan. For me, this pie was the dish du jour and I haven't stopped thinking about it since leaving the place. I absolutely love mashed potato and comfort foods like this, but rarely get to indulge as they're usually loaded with butter or cream – neither of which I can eat.
So, did eating vegan foods make us feel like we were missing out? On the contrary. The pie in particular tasted so very similar to a shepherd's pie and the texture of jackfruit is similar to meat, so it's an ideal dish for someone who is making a gradual transition from a meat-based diet to veg.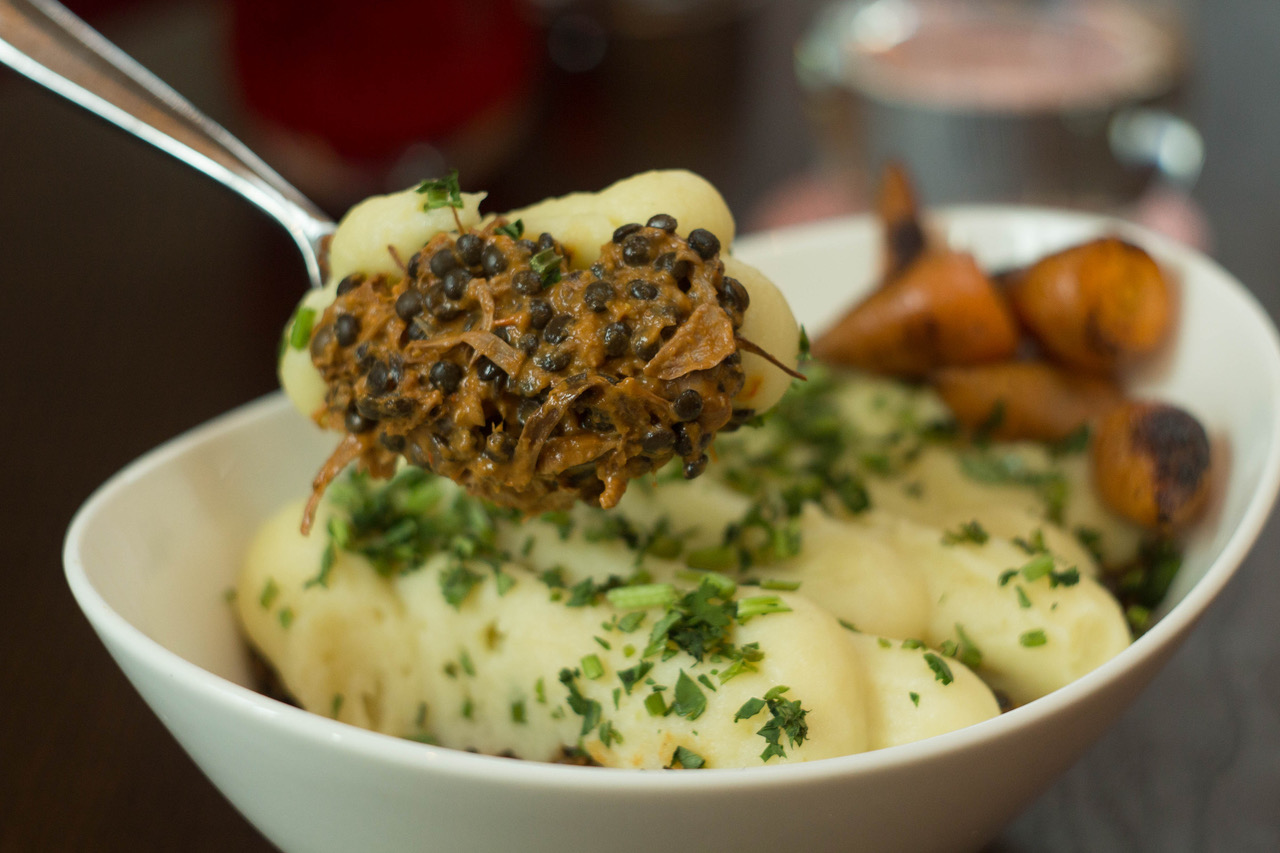 The final fling of the night was the gluten and dairy-free chocolate brownie.  Now, as much as I would love to suppress my sweet tooth, it's just not something I can control… my willpower when it comes to chocolate is very weak! I do both envy and admire those people who are able to shun sugar; sadly, as most of the pleasure vices I used to enjoy are non-existent these days, chocolate is certainly one I won't be giving up anytime soon.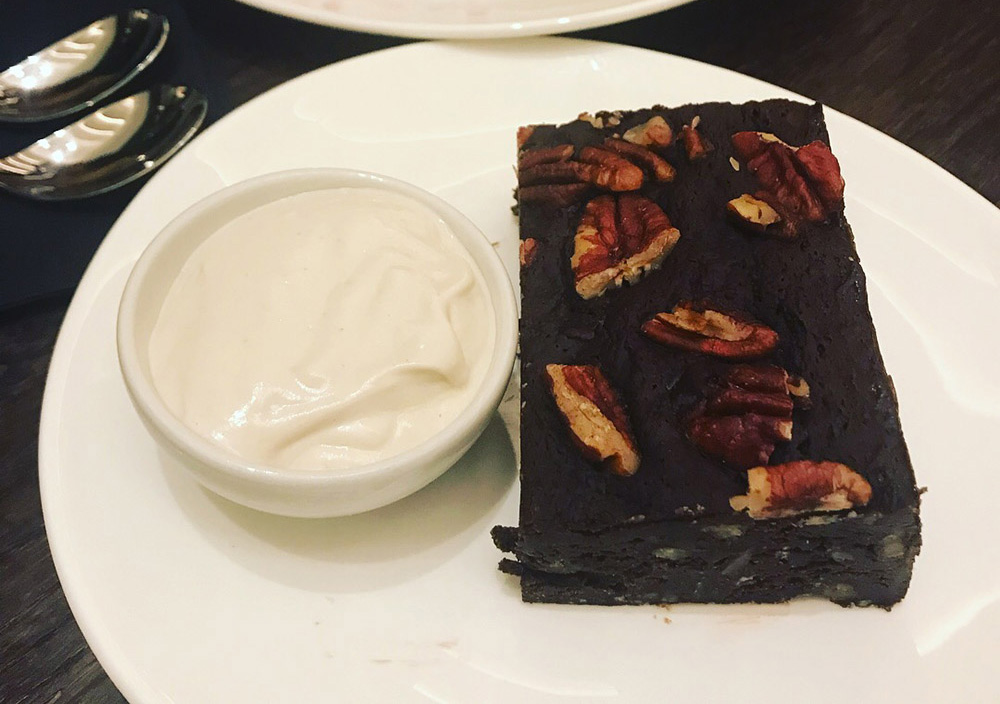 The brownie wasn't the best I've had around town, but I'm a bit of a connoisseur when it comes to chocolate brownies (my ultimate favourite in London is at Mildred's and comes served warm with a hot caramel sauce and vegan ice cream… heaven). But my Healthista sidekick said this was one of the best desserts she'd ever had, and she doesn't even need to avoid gluten or dairy – so that's really saying something!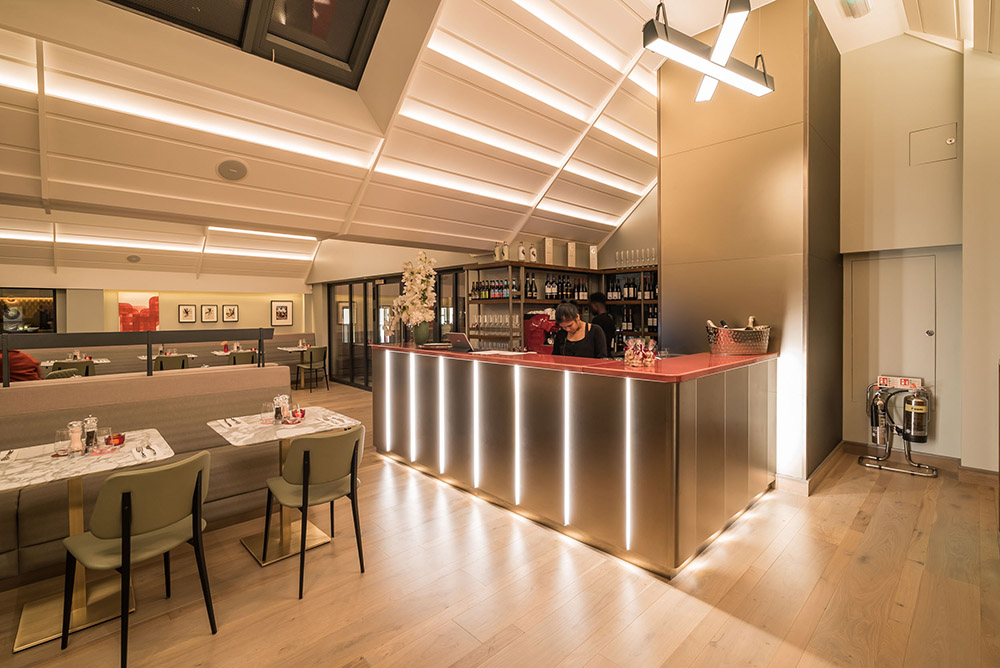 Overall, we both loved Wulf & Lamb. The staff were great, the venue is lively and fun and the food is amazing. Whether you're vegan or not, you're going to love it. And for those avoiding gluten, just ask the staff, as there are plenty of delicious and healthy options to go for.
Don't miss: Wulf Pie and the Spicy Veg Burger.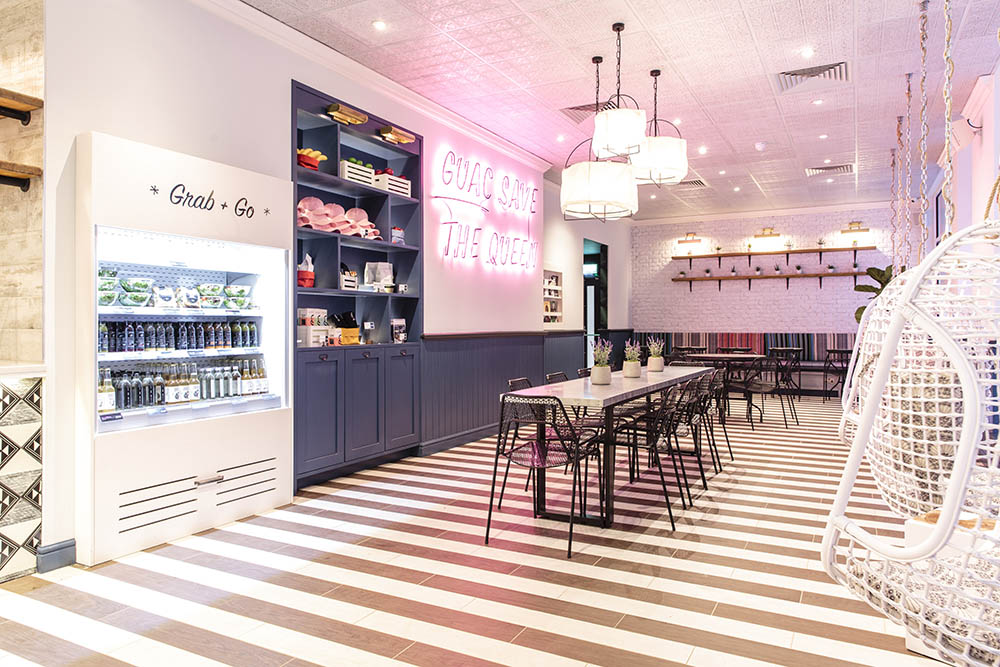 Where: Covent Garden
Good for: American diner/fast-food vegan food. Hanging out with friends for some naughty fast-food indulgence.
By CHLOE is the newest kid on the block when it comes to powering London with plant-based food. Hot from the streets of New York and LA, By CHLOE is one of the coolest looking meat-free healthy-eating dining spots around.
I took my friend Naomi along. As a nutritionist and foodie who follows a 90% vegan diet most of the time, she was a great person to give honest feedback.
By CHLOE is the newest kid on the block when it comes to powering London with plant-based food.
On arrival we were blown away by how busy the place was. It was buzzing with excitement, with tons of people waiting to order food and find a place to sit.  Be aware that you can't book a table, and if there are more than two of you going at peak times – especially around 7 or 8 pm – be prepared to wait a while for a seat. It's very popular indeed!
Similar to a regular fast-food joint, you head to the counter to order your food and wait in line until they call your order. But what makes it very different to other American style fast-food joints is the fact that everything is 100% vegan.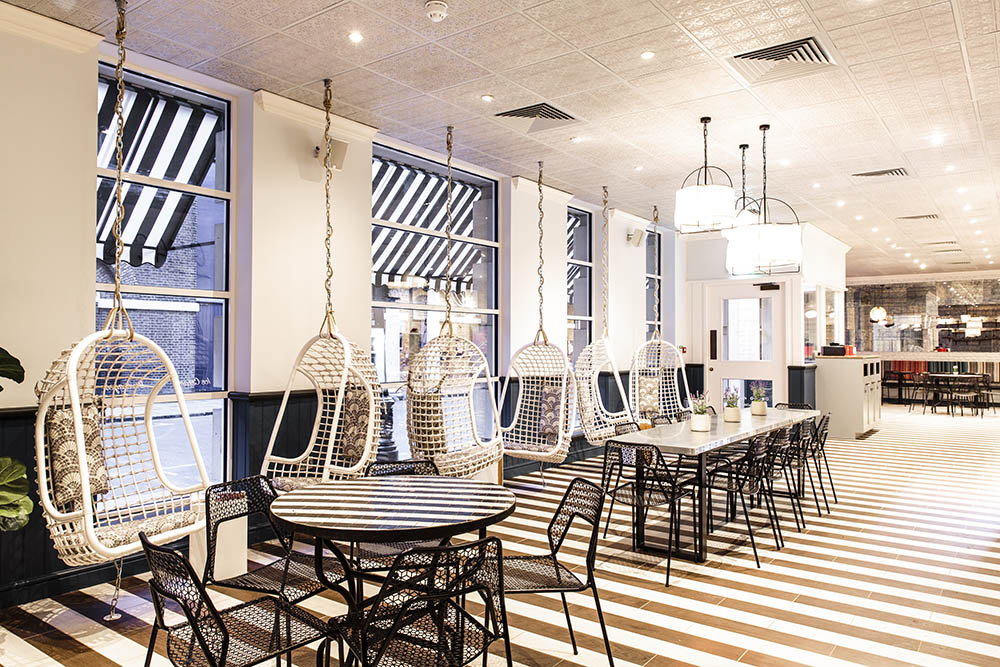 As well as healthy salads, they make vegan versions of traditional comfort and 'junk' food favourites such as fish & chips, shepherd's pie and mac & cheese. Although the salads aren't what you'd come here for (there are way better options, in Naomi's and my opinion), the other choices taste as good – if not better – as the real deal.
Naomi and I ordered the Mac & Cheese (sweet potato and cashew cheese sauce, shiitake bacon, almond parmesan – that we had made with gluten-free pasta) the Pesto Meatball (Portobello mushroom and veggie 'meatballs', marinara sauce, sweet peppers, basil pesto, cashew mozz, almond parm, potato sub roll) and the Guac Burger (black bean, quinoa and sweet potato patty, corn salsa, onion, guacamole, tortilla strips, chipotle aioli, whole grain bun).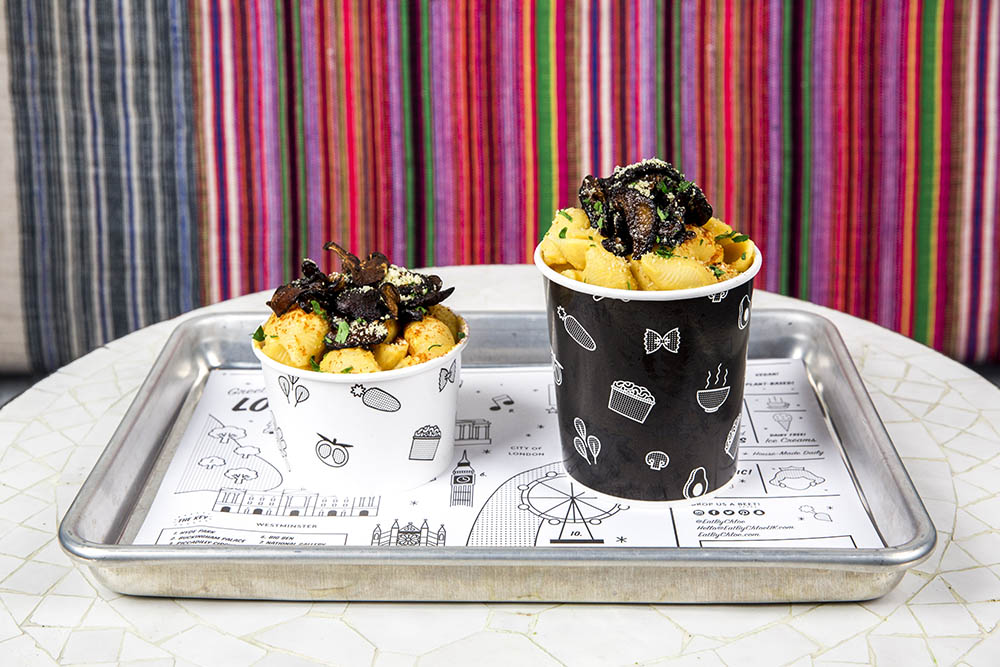 To drink, we ordered the Kombucha. (Top tip: kombucha is a non-alcoholic fermented tea-based drink that's not only good for your gut thanks to the naturally occurring good bacteria, but is a great low-sugar drink that's perfect for those avoiding alcohol!)
The food was as indulgently good as we were hoping for. The Mac & Cheese was unreal, considering that it was both plant-based and gluten-free – it totally blew us away and was just divine in every way.  For those people who think they could never skip cheese, try this dish and tell me you don't think this could do the job for you.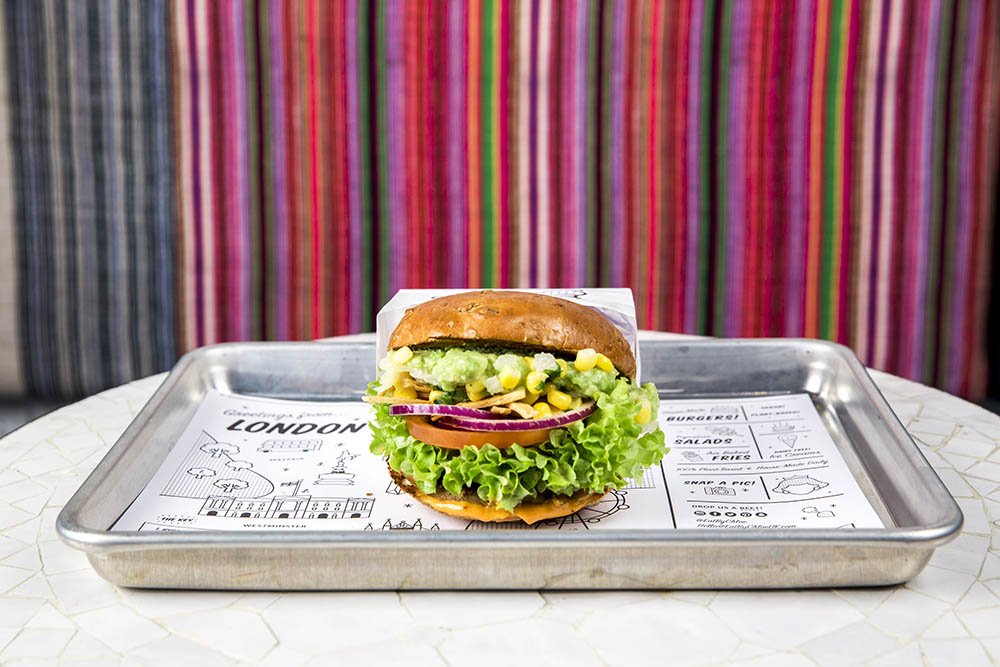 Next up were the Guac Burger and the Pesto 'Meatballs'. I couldn't try the meatballs as they're not gluten-free, but was happy to get stuck into the burger whilst Naomi filled up on her Italian treat. Both dishes are huge – proper American-style portions – so much so that if you're blessed with a small appetite, you could certainly share a main.
The burger (mine with a gluten-free bun) was really good, super tasty and packed with all the ingredients I love: salsa, guacamole and spicy aioli. Be warned, though: it was pretty hard to eat without getting most of it around your face or dropping it all over the place! Maybe not the best choice if you're on a first date or keen to impress someone… but I absolutely loved it.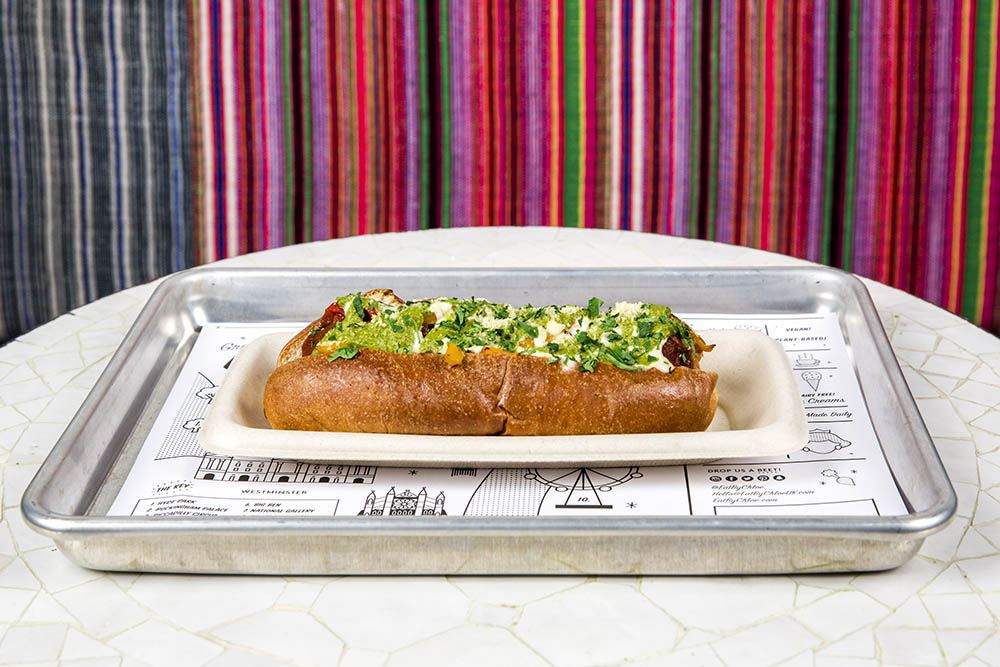 When it came to pudding, for once I was actually too full to eat anything else, so we opted to take out a gluten-free chocolate cupcake to enjoy a little later in the evening. When our mains had finally left a little room in our stomach, we managed to sample our sweet American classic treat. It tasted really good considering it was both gluten and dairy-free, and even yummier as it had a very sweet chocolate frosting on top – you can't beat that.
Overall I was super-impressed with By CHLOE. I think what they have done is really clever, and for those looking for a pleasure-seeking fast-food dining experience with indulgent foods like Mac & Cheese that are suitable for vegans/dairy-free diets, this place has totally nailed it.
Don't miss: The Mac & Cheese and the Royal Flush Kombucha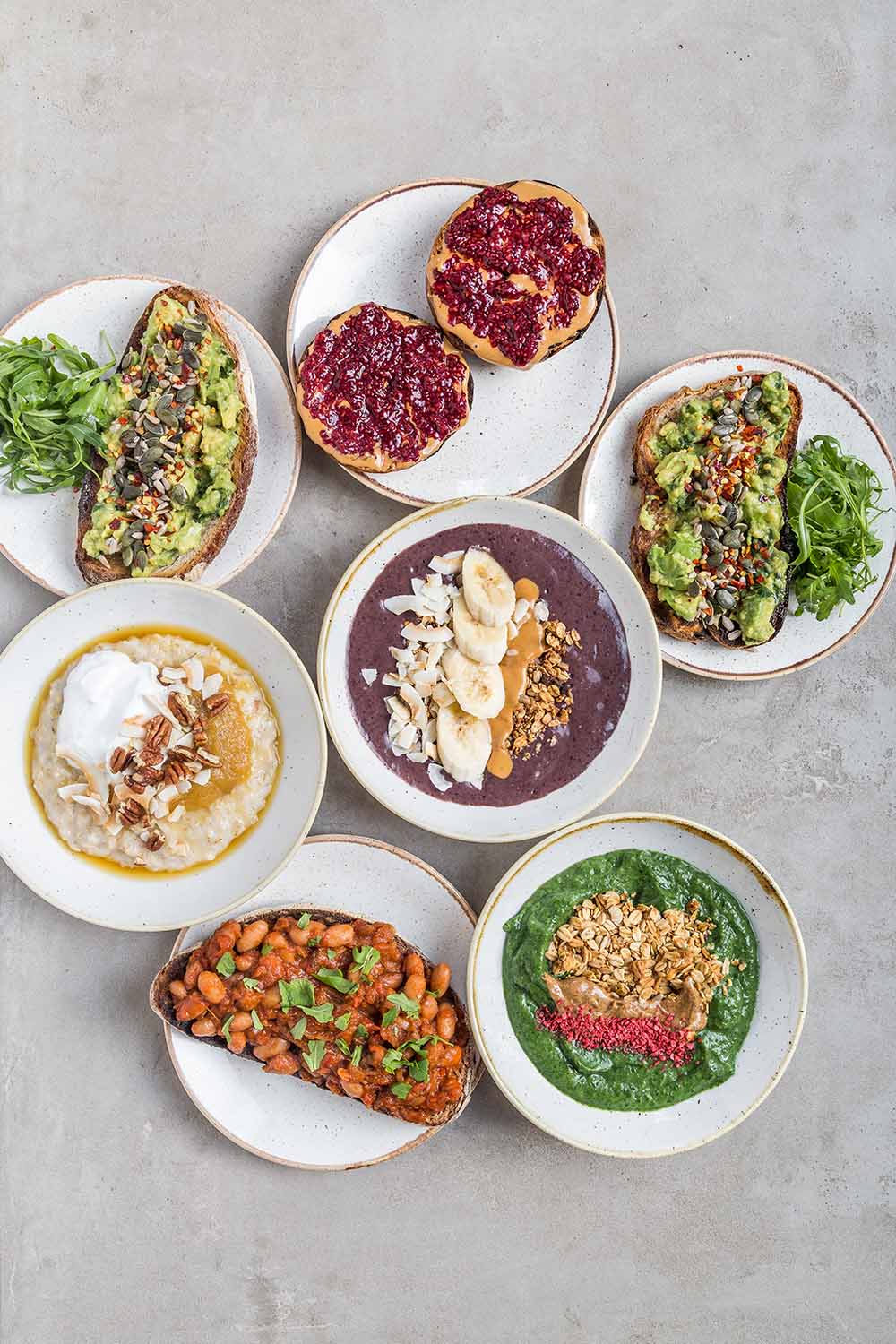 Where: Bond Street/Oxford Street
Good for: Healthy and filling breakfast, brunch and lunch options. There are great options for gluten free and vegan diets. A good peaceful spot for work meetings and working.
Deliciously Ella (aka Ella Woodward) rose to fame as one of the UK's top healthy food bloggers, becoming famous for her healthy recipes and in particular her amazing sweet creations – especially her sweet potato brownie. After the success of her blog and recipe book, it was time to share her food with her fans by opening her own café and deli.
Although I've never tried making any of Ella's recipes myself, I have tried her food creations at Wilderness Festival and was really impressed. And for me, being dairy and gluten free, I was able to eat everything on the menu.
Ella's deli on Weighhouse Street is in a brilliant location. Just a short stroll from the madness of Selfridges and Oxford Street, you'll find this peaceful healthy food hotspot full of everything yummy you could wish for. Unlike most healthy cafes, where finding a space and some peace and quiet can be hard, there's plenty of seating downstairs with lots of room to enjoy your food and some quiet time – as well as a seating area by the deli itself. The place is beautifully decorated and inviting.
I went in on a Saturday morning to try out the breakfast. I'd not long finished a pretty intense cardio class at Frame gym, so was feeling really hungry and ready to eat everything!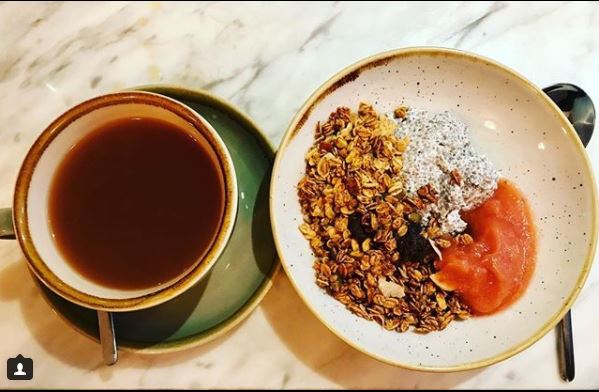 I opted for half a portion of the gluten-free granola topped with roasted pineapple compote and coconut yoghurt, and half a portion of the chia pudding with some apple compote. As I'm greedy – and as it's my job to give you feedback on the food, of course – I also had half a bagel topped with mashed avocado and chilli. I'd never tried a gluten-free bagel, so this was also a treat in itself.
Once I found a good spot to sit, relax and people-watch (oh come on, don't tell me you don't do this when eating alone… just staring at your phone the whole time is boring) I was settled and ready to try out my Deliciously Ella breakfast feast.
Peaceful healthy food hotspot full of everything yummy you could wish for.
The granola was just perfect. Really thick chunky toasted oats with nuts, a sprinkle of cinnamon and – thank goodness – no dried fruit or raisins (I really don't like raisins in my granola, they're just far too sweet). The pineapple compote was a great accompaniment – not too sweet – and along with the coconut yoghurt made the whole thing a healthy yet enjoyable breakfast indulgence.
The chia pudding made with coconut milk was pleasant and good for those avoiding grains. But I can't say I'm a huge fan of chia in any guise. If you are, I'm sure you'll love it.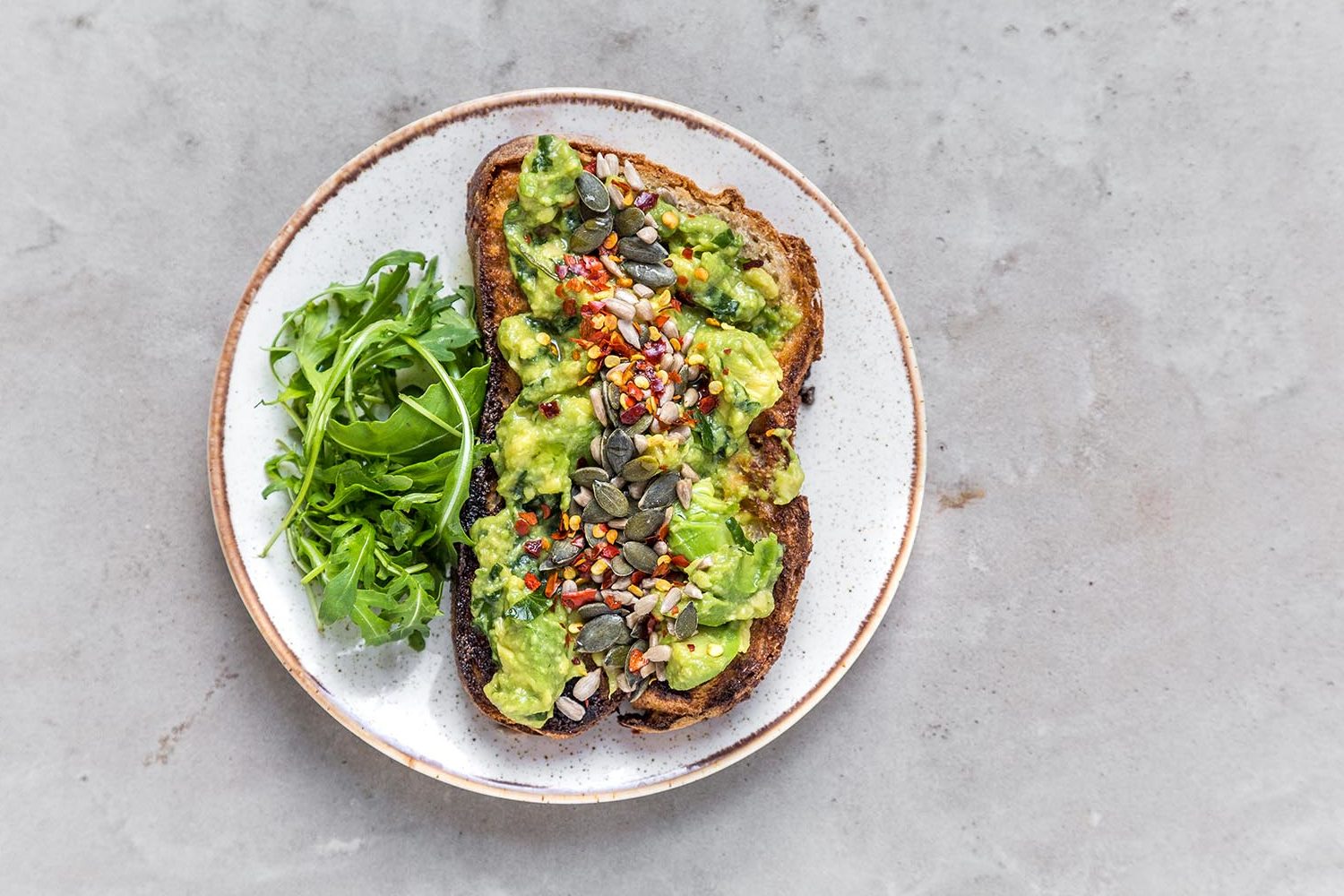 And the bagel? Yes, this was definitely worth ordering, no doubt about that.  Made with sourdough, it has an authentic Jewish bagel-style chewy texture and really tastes like a proper bagel. Okay, maybe not quite as nice as the real deal, I'm not going to lie – but it was certainly very impressive, and I personally could happily order a stack of them to take home.
Overall I really enjoyed the experience. The food was good with plenty of healthy things to eat and drink, and a very good venue option for those following a vegan diet. The staff seemed friendly and helpful, and ambience calm and tranquil.
Don't miss: The bagel with avocado and chili and Deep Greens juice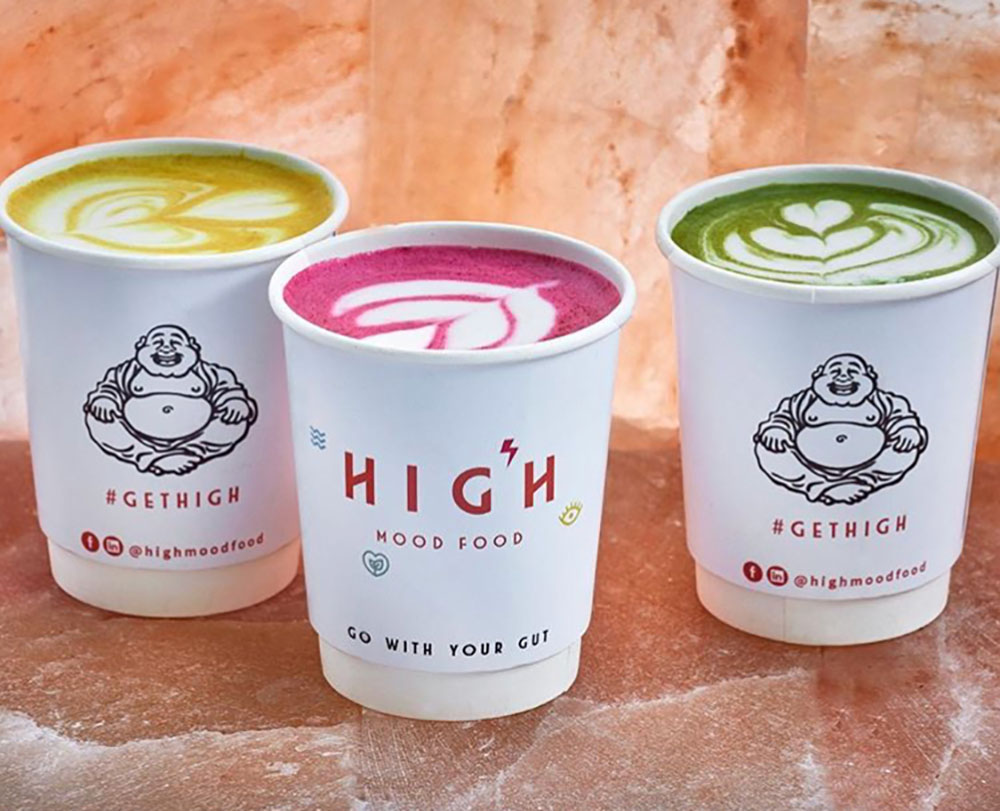 Where: Marylebone/Oxford Street
Good for: Gut friendly foods, fermented food fans, Paleo and gluten-free diets, protein-rich salads and healthy takeout
High Mood Food is a brand new 'gut-friendly' deli and dining concept. Here, guests eat super-nutritious foods created by nutritional experts to taste great and keep your digestive system feeling good.
Breakfast is my favourite meal of the day. So, going out to enjoy something more exciting that my gluten-free porridge or a smoothie at home is very appealing! It's also one of my favourite times of the day for work meetings. First, because it gives me an excuse to spend money on a posh, frothy cup of coffee. Second, it's my most productive time of day for work meetings as my brain is primed to fire out loads of creative ideas.
On my visit, I met with my friend Sadie. As well as being a fan of a big breakfast (people who can't eat breakfast early are not good for morning dates!), Sadie is also is a fully qualified health food junkie with a passion for turmeric almond milk lattes and vegan pancakes.
We started off with a flat white and a homemade turmeric latte, both made with almond milk. This was followed by ancient grain porridge topped with coconut yoghurt, berry compote, nuts and seeds, toasted coconut and bee pollen. I know – a lot going on here, but all very healthy and tasty. (Ancient grains are generally are very good for us and contain lots of key nutrients. And 'ancient' doesn't mean it's been stored for yonks in a cupboard, but comes from the fact that these grains cultivated before wheat and other more 'modern' grains, so we tend to digest them far easier.) All this was followed by the Happy Tummy gluten-free bread, toasted and topped with smashed avocado, radish, sprouts, toasted seeds and a drizzle of chilli sauce.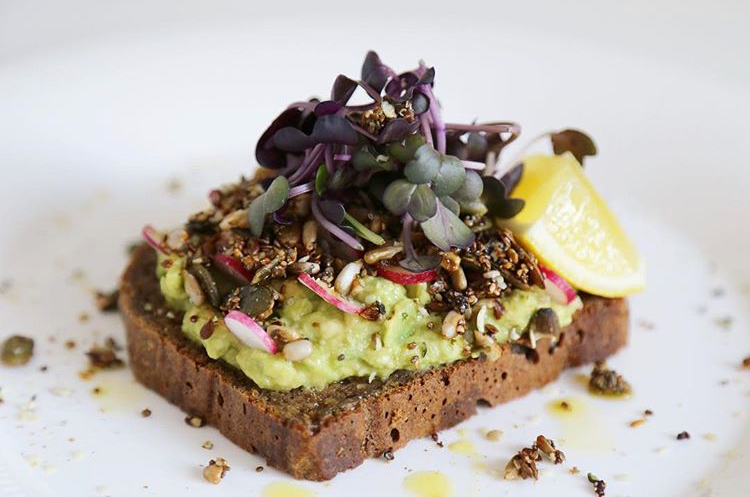 Well, it certainly was a nutritious morning feast. Both dishes were very different, but equally as tasty and made even better by the different textures and flavours from all the different ingredients. And although I'm generally underwhelmed by avo on toast nowadays, this one didn't disappoint. High Moods Happy Tummy bread is really good quality and tastes almost cake-like. And the addition of the toasted seeds, spicy radish and chilli to the avocado meant it was far from boring.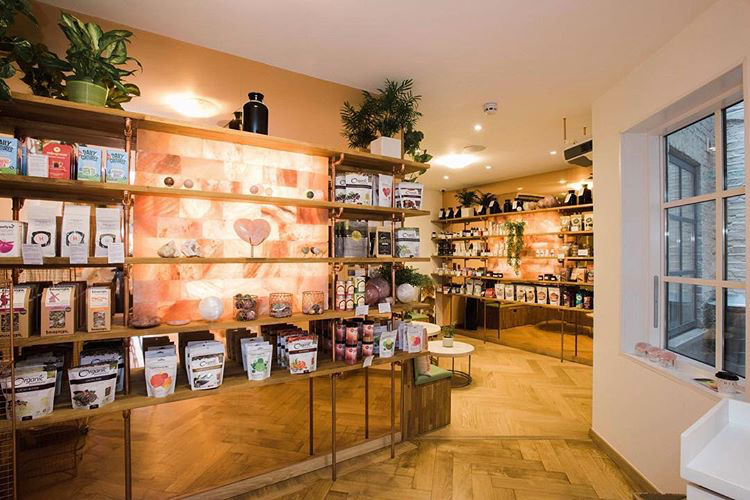 As well as yummy tummy-friendly breakfasts, High Mood also has a fantastic deli for takeout dishes served throughout the day, and a little ambient and chilled grocery section of well-sourced healthy foods, superfood powders, kombucha, juices and organic beauty products to purchase.
Don't miss: Happy Tummy toast with avocado, and the turmeric latte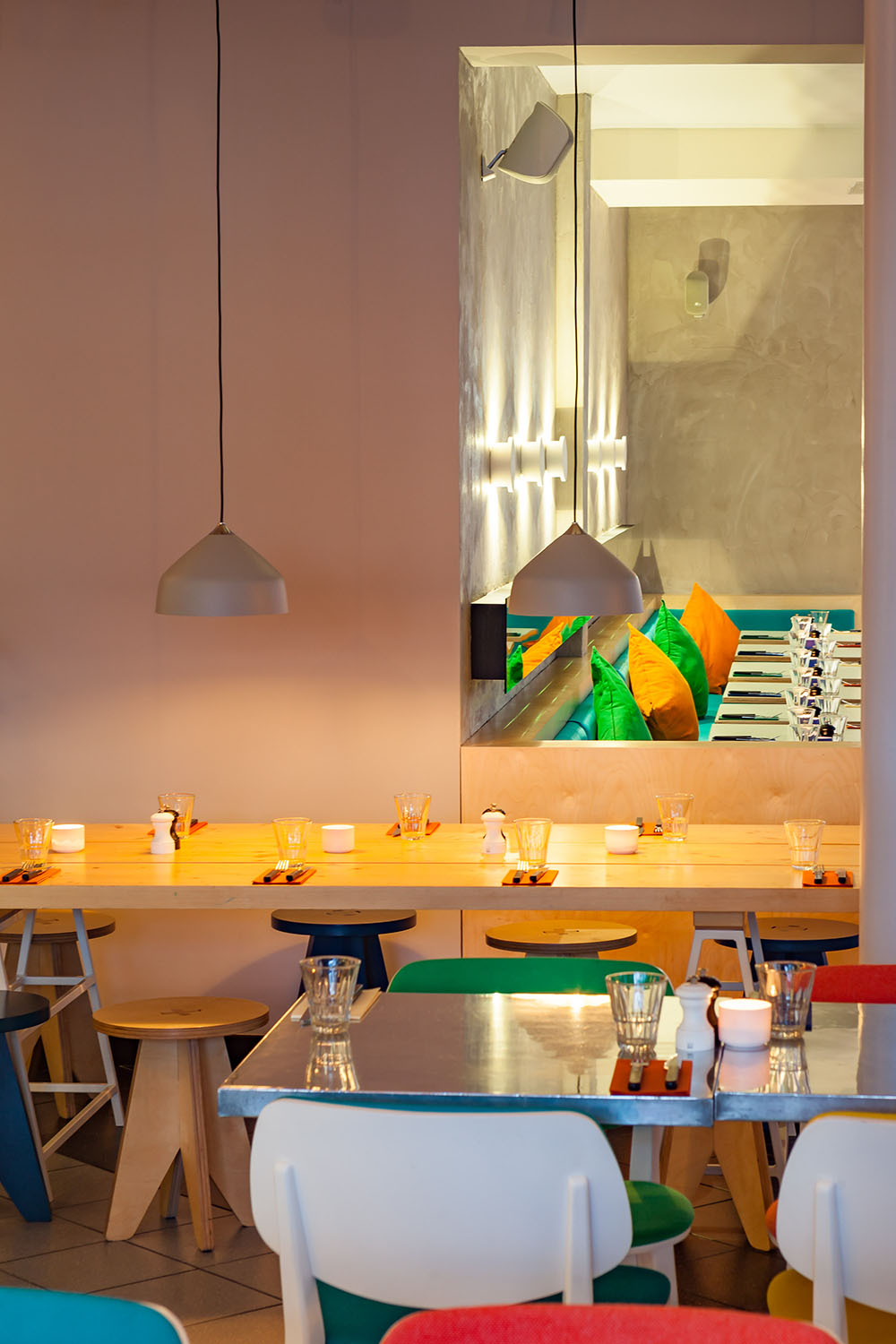 Where: Notting Hill
Good for: Healthy hot dates, celebrations, big groups, grain and gluten-free dining, carnivores and pescatarians, and Paleo diet perfection. Affordable food for the excellent quality.
Pomona's is an attractive-looking light and airy restaurant and bar located in Notting Hill. It offers a fantastically good dining menu inspired by the ethos of Californian living.
Now this place is not a hotspot for hardcore vegans or vegetarians, as good-quality meat and fish are certainly a central focus on the menu. But if you're more into your sea bass and scallops than your soya beans, this is a great place to come. And the whole menu is clearly labelled for those avoiding gluten.
Head chef Wolfe Conyngham has created a menu that showcases nutritional and seasonal dishes, from wood and charcoal meats to healthy and light vegetables. All are lovingly prepared in the open kitchen, and created with the most sustainable and freshly sourced local ingredients.
My hot date was with my amazing friend Cassandra to celebrate her 40th birthday. Cassandra not only looks about ten years younger than she's supposed to be, but she's one of the fittest people I know.  As well as being a brilliant nutritionist, she's also a body pump instructor and is forever in the gym pumping weights, or walking high-speed to burn off her insane amounts of energy. She's not only very inspirational, but also incredibly motivational when it comes to me getting my butt into a fitness class.
Cassandra, like many people I know in the nutrition world, used to be a semi-vegetarian. But after many years of munching on beans, rice and veg and feeling bloated and tired, she opted to try a Paleo diet, and went from beans to beef and tofu to turkey.
This Paleo-style diet works wonders for Cassandra and since changing her eating habits, she says her gut feels happier and bloating is greatly reduced. So, this restaurant was a perfect choice for Cassandra.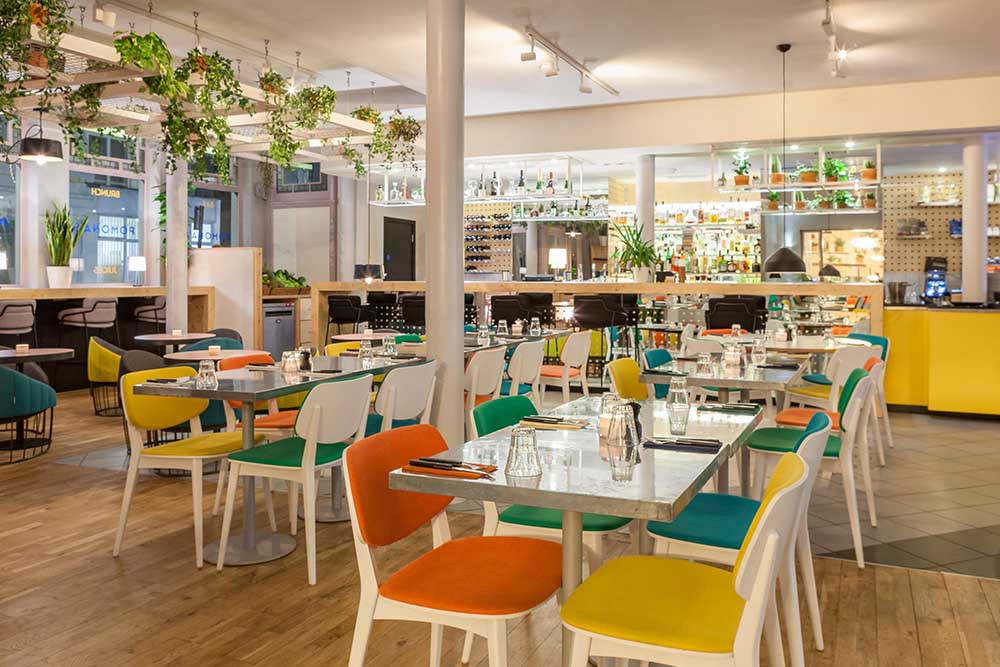 We started with a glass of wine and alcohol-free beer. This won Pomona's a big gold star right from the start, as so many restaurants don't have any decent 'grown-up' alcohol-free choices.
For starters we didn't find much on the menu that caught our attention, so went for mains to share and chose the wood oven-cooked Madagascan prawns that came served with lemon, chilli, parsley and butter. And for mains we had the specials: a Wild Sea Bass that came served with salsa verde, and the Indonesian Monkfish Curry with steamed jasmine rice, accompanied by sides of seasonal veg and quinoa salad with pomegranate, goats cheese and fresh herbs.
The food from start to finish was exceptional, the taste of each dish as good as the next. We shared everything and smiled with enjoyment the whole way through. The ingredients used were all super fresh, and each of the sauces made from scratch and seasoned perfectly.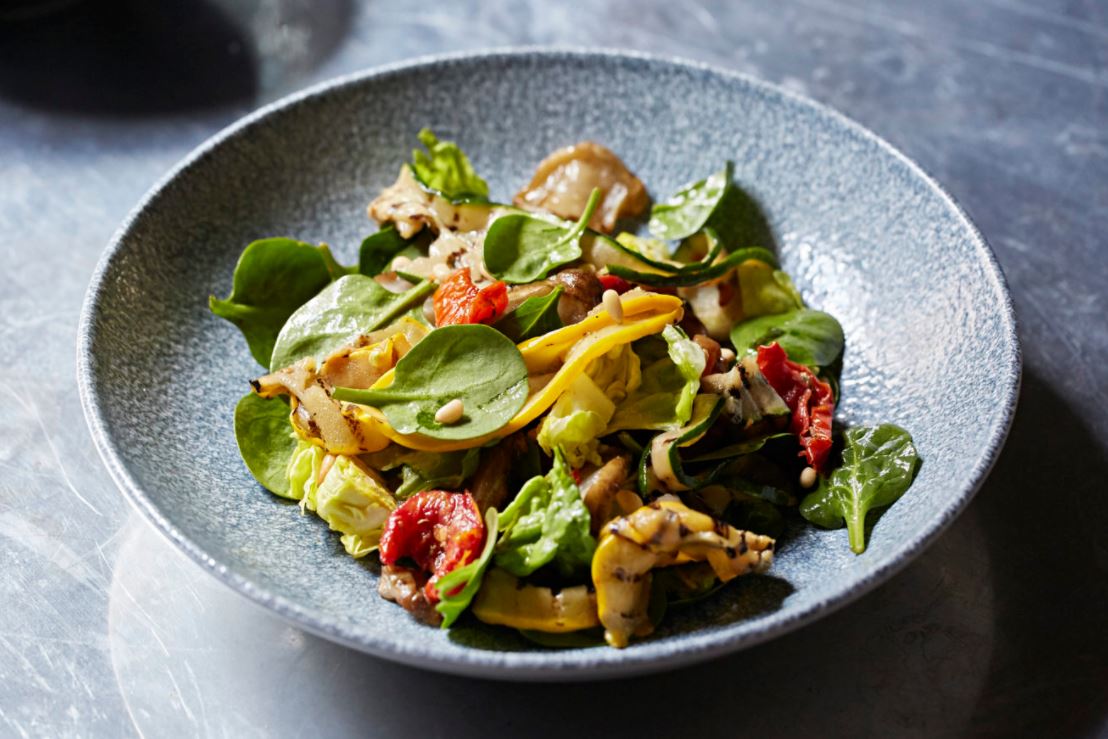 My personal favourite was the monkfish curry – full of fresh flavour and not too spicy. I'm a huge fan of spicy and Asian food, and this was one of the nicest dishes I have been served in a very long time – a 10 out of 10.
As well as the great-quality food, I really liked the whole venue and atmosphere of the place. It can be hard to find somewhere cool and fun to eat out that also serves really good, fresh food at reasonable prices (all of the mains on the menu are priced at £15.00, which I thought was excellent value for meat and fish), so Pomona's is a really good find in London. We also both liked the fact that they used a wood-fired oven and charcoal grill to cook everything, which means the flavour of the food is outstanding.
When it comes to puddings, I wouldn't go expecting much if you're dairy or gluten free. It's a shame as the mains are great, but the options were just not there for desserts. But if you don't have a crazy sweet tooth like me, you'll be okay!
Don't miss: the Indonesian Monkfish Curry.
CHARLOTTE DORMON is our Healthista Eats blogger. She's not a chef, or even that much of a cook.  If it's recipes you're looking for – you're in the wrong place.  But whether it's Sunday lunch or Friday night cocktails, she's the one friends and family turn to when they want to know how to eat out and be relatively healthy. We'll drink – and eat – to that.
Follow Charlotte on Instagram @HealthyEatsLondon
3 best healthy restaurants – Healthista Eats blogger Charlotte Dormon brings you her favourites this week
13 best healthy cookbooks of the year
10 best coffee shops in London (and they're healthy too!)
HEALTHISTA EATS At the new Hot Pink Grill where you get healthy versions of naughty foods
Like this article? Sign up to our newsletter to get more articles like this delivered straight to your inbox.