Our healthy restaurants trekker Charlotte Dormon enjoys a diet friendly burger and fries at Hot Pink Grill – a new American style diner with healthier versions of some of the naughtiest of foods
As with many of my pre dining out discussions with my best friend Naomi, it started like this:
Me: 'So what do you fancy eating?'
Naomi: 'Maybe Thai food?'
Me: 'Hmmm, I'm not sure I fancy that.'
Naomi: 'Vegetarian?'
Me: Oh no, sorry, I would, but I went twice last week.'
Naomi: Well, what about Hot Pink?'
Me: 'That sounds like a seedy bar?'.
Naomi: 'It's a cool restaurant where you can eat things like burgers and fries, but they are not as bad for you'.
Me: 'Sounds like a plan'.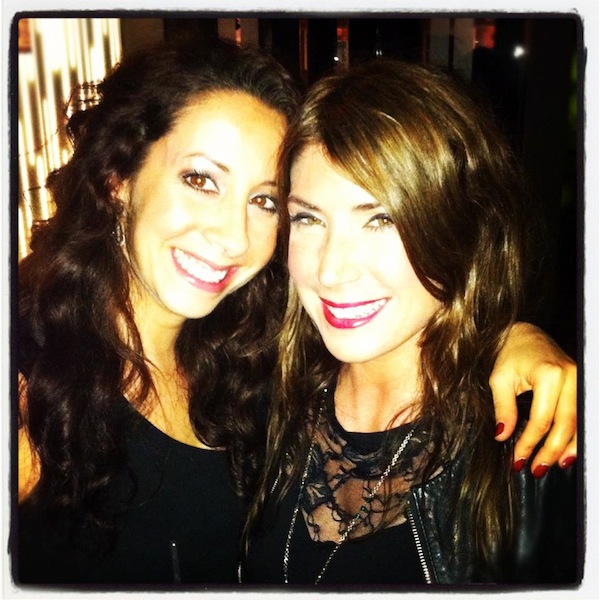 Ever since Naomi and I met 10 years ago, we pretty much became best friends.  She is a brilliant nutritionist and knows everything there is to know about staying healthy and all the things you should be eating – which keeps us chatting for hours.  She, like me, also loves eating out, drinking Champagne and cocktails, rock music, glamorous shoes and has a one of London's most infamous collections of vitamin remedies to deal with hangovers.
One of the main reasons we get on so well is down to our similar eating style.  Both of us cannot skip meals – ever (dangerous for all involved).  Would consider it ridiculous disorganisation to not carry healthy snacks at all times if venturing too far from good food civilisation (basically trains, planes and shopping centres) and would never dream of going out for the night without a substantial dinner first.
So with the background history of us over, I shall share with you our recent healthy eating out find – Hot Pink – a healthier version of your regular American style diner in London's leafy Wimbledon.
This new healthy grill venture is founded by Cokey Sulkin, a serious foodie with a history of managing some of London's best bars and private members clubs as well as co-owning an award-winning gastropub in Vauxhall.
With his love of old fashioned American diners and spending a lot of his time in NYC researching all the best ones for his project, he finally put together his perfect healthy diner style concept to launch in London.
Hot Pink is aimed at health-conscious customers who want enjoy the option of eating favorite American classics who want a wider choice of dishes and more nutritional value.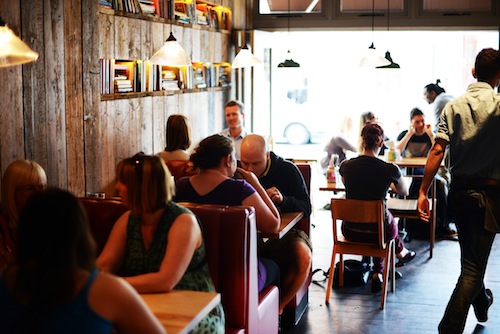 On our arrival the place was buzzing with people.  Service was friendly and staff were helpful and knowledgeable, answering all the questions we had (even from the extra nosy nutritionist) about their gluten free, dairy free and vegetarian options.
As far as the nutritionist's approval goes, Naomi was impressed with Hot Pink's health credentials.   For one thing, grilled food is one of the healthiest forms of cooking as all the fats drop away and the food is cooked quicker retaining moisture and nutrients.
I really hate restaurants that use too much salt and usually ask for them to reduce this, so I was pleased to hear back that the chefs never add salt to any of the dishes.
It's good to see that along with veggie sausages and a falafel burger, there is both a fish burger and grilled salmon and seabass choice on the menu (which I will go for next time). But after all my New Year green smoothie drinking and vegetable munching, I went for the grilled beef burger with no cheese with Hot Pink's special sauce (all sauces are homemade and GF).
You have the choice of healthy wholemeal buns to go with your meat, or if you're feeling bad…brioche.  I chose neither as I am gluten-free, so opted for the low-carb lettuce wrap.   Along with this I had the sweet potato wedges baked with sage and garlic.   To cut some calories, they use rapeseed oil for cooking fries, which naturally contains around 50 per cent less fat than regular sunflower or vegetable oil
Naomi is not a fan of too much meat and went for the Halloumi and 7 Veg Stacker (both vegetarian & GF) which is a tasty combo of grilled aubergine, courgette, red peppers, yellow peppers, red onion and halloumi with fresh avocado, home-made pesto and sun blushed tomatoes.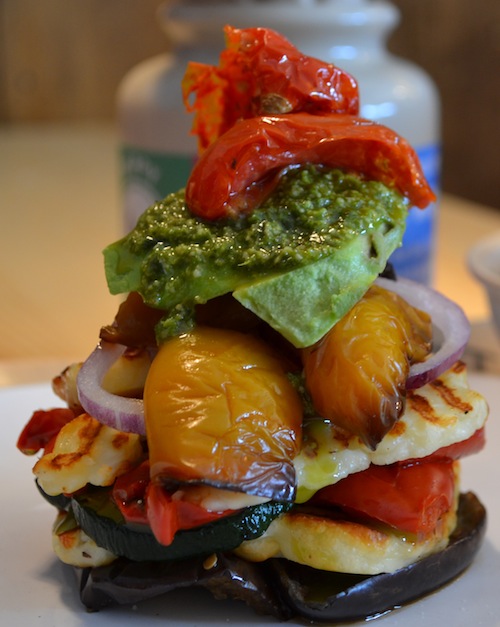 She had a side serving of brown rice & lentils that came topped with crispy onions and fresh parsley.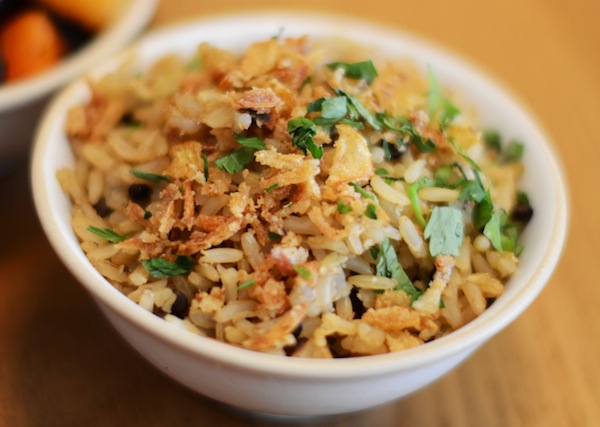 To drink we had a Skinny Slush Mango Margarita (only 100 calories).  They are loaded up with a shot of tequila to get the party going, but are naturally sweetened with just the fruit rather than any unnecessary extra sugar.
The 7 Veg Stacker is a good choice for veggies, or those wanting to cut back on meat.  Halloumi cheese naturally contains a lot less fat that other types of cheese, so is often touted as a better option for those watching their intake.    The grilling process just enhances the flavour and is a good protein source along with the veg.   The lentil and rice is also ideal for veggies, as these two carbohydrates combined are also a good source of plant-based protein.  Lentil and brown rice are also a good source of fibre, so will keep you full for hours.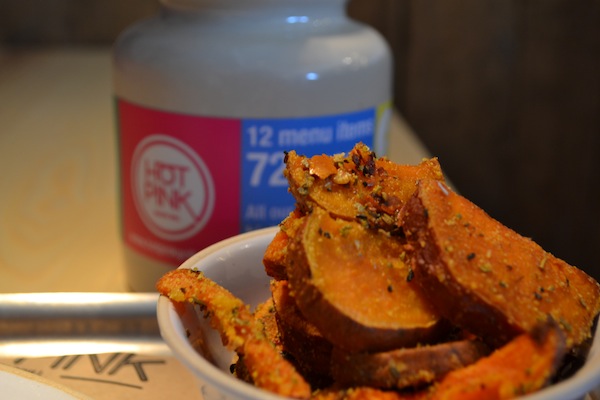 The burger hit the spot and was just what I needed.  The meat was used was good quality and with it being grilled, meant it had such a lot of natural flavour.  The sweet potato wedges as a side are a better choice than the regular fries, as sweet potato is lower GI (lower in sugar when digested) and have more value nutritionally.  Although not as healthy as just having a salad with your burger, the baked wedges are a good for when you just need that satisfying carb hit.  They are crunchy and crispy without being oily and the rosemary and garlic liven up the overall taste.
Extra benefits of Hot Pink I noticed were the fact that they only served organic and fairtrade tea and coffee.  They supply fizzy drinks that don't contain sugar, natural brewed beers and English cider and low calorie larger – great.
Hot Pink is a great place to hang out and eat out with friends, family (especially good for parents with teenagers/young kids wanting their burger and chips fix) or a tasty place to meet up for a delicious date.
You can find Hot Pink at: 86 The Broadway
Wimbledon, London SW19 1RQ. Call: 020 8542 6066
Although there is only one branch in Wimbledon at present, I hear that two more are opening around South West London in the not too distant future.  Find out more about them at www.hotpinkgrill.com
Prices for a meal start at around £17.00 per head for mains, sides and a drink
READ MORE HEALTHISTA EATS
HEALTHISTA EATS Designer vegan
HEALTHISTA EATS The 5 best gluten free afternoon teas
HEALTHISTA EATS Quick hot lunch 
HOW to eat PIZZA without the bloat
Have a HAPPY NEW YEAR with these skinny cocktail recipes we stole from London's hottest bar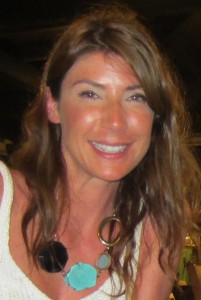 CHARLOTTE DORMON is our Healthista Eats blogger.  She's not a chef, or even that much of a cook.  If it's recipes you're looking for – you're in the wrong place.  But whether it's Sunday lunch or Friday night cocktails, she's the one friends and family turn to when they want to know how to eat out and be relatively healthy.  Each week she'll now be bringing you the same insider knowledge.  We'll drink – and eat – to that. Follow Charlotte on Twitter @lottielurvsu
Like this article? Sign up to our newsletter to get more articles like this delivered straight to your inbox.