It's that time of year again when Healthista recommends only the year's best healthy cookbooks to take every type of cook, cuisine and diet on an adventure
We see a lot of cookbooks at Healthista, for weight loss to desserts, vegan, paleo and everything in between. We've handpicked the ones that have made us say 'ahh' and 'oooo' at every page turn, just in time for Christmas. You're welcome.
Best for: People who can't lose weight
Artful Eating: The Psychology of Lasting Weight Loss
, £11.99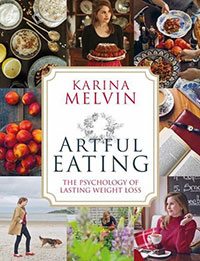 The author: Karina Melvin decided she needed to do something about the amount of people who came to her psychotherapy practice dissatisfied with their relationship with food. Her CV boasts a BSc in Psychology, MA in Addiction studies and MSc in Pyshcoanalytic Psychotherapy.
Why we love it: This book is incredibly practical for making real change. It's less of a cookbook and more a self-help book, bursting with strategies to overhaul your lifestyle. At the forefront of the book is Karina's key message – diets don't work, which she largely learnt herself in her twenties. But instead of fluffing the pages with clean eating recipes, she helps readers overcome their weight issues by looking into the psychology of their unhealthy habits and debunking typical diet myths.
'We are missing the most vital ingredient in the weight loss battle: the mind'
'We are missing the most vital ingredient in the weight loss battle: the mind', writes Karina. With an incredibly friendly and wise tone, activities encourage you to set goals, prepares you for a new set of deep-rooted patterns and teaches strategies to take forward into your new, guilt-free life around food.  Simple and nourishing recipes and shopping lists close the book – and sugar is not banned.
Don't miss: The Cognitive Hypnosis Audio bundle which can be downloaded for free to your phone. The cognitive behavioural therapy (CBT) accompanies the chapters in the book, and Karina advises when to listen to them and how often. Goldust.
Best for: Trying all cuisine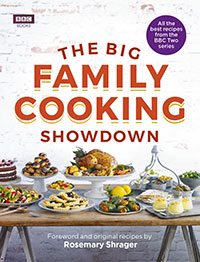 The Big Family Cooking Showdown: All the Best Recipes from the BBC Series
, £8.99
The author: Although the foreword is by British chef Rosemary Shrager, her recipes are alongside those created by 16 different families who took part in the BBC TV show of the same name.
Why we love it: If there was to be a modern family cookbook bible, this would be it. From classic favourites such as fish and chips and lasagne to the more rare recipes such as Potted Brown Shrimp with Beetroot Soda Bread, there really is something for everyone. There is short foreword from legendary TV chef Rosemary, who was joined by Giorgio Locatelli, Zoe Ball and previous GBBO winner Nadiya Hussain on the programme, about the joy of cooking with your family, before it jumps straight in to the recipes. Flicking through the pages of mouth-watering photography, the diverse cultures of the authors spring out at you.
Syrian, Italian Indian, Viatnamese, Japanese, Middle-Eastern and British, there is something for everyone.
Don't miss: Chapter two, fish. Crab and Prawn Ravioli, Curried Scallops, Salmon with Tarragon Hollandaise or Rosemary's luxury fish pie – apparently eating two portions of fish a week was difficult?
Best for: Fermenting foods for beginners
Cultured Food in a Jar: 100+ Probiotic Recipes to Inspire and Change Your Life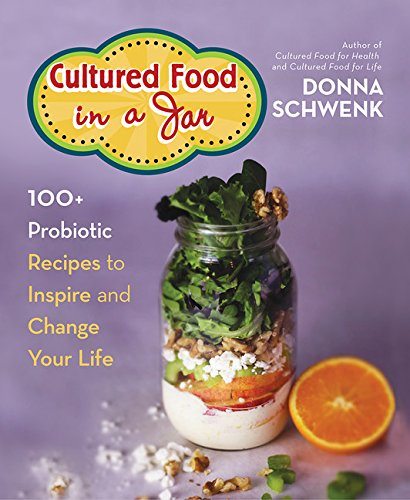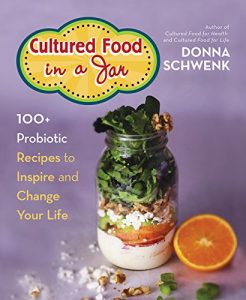 , £11.30
The author: Experienced fermenter Donna Schwenk, who opens people's eyes to the world of cultured foods and, according to her, their life-changing health benefits. We are listening.
Why we love it: A lot of people still don't know what fermented foods are, and those who do, don't really know what to do with them or how to make them. This book starts with the basics which are very important, particularly if you're fermenting at home. How to care for kefir grains, make basic kombucha and pickled vegetables, and of course, answering all the questions we have on why these funny tasting foods and drinks are so necessary to our health (hint: they contain probiotics, the holy grail for a healthy gut).
How to care for kefir grains, make basic kombucha and pickled vegetables, and why these funny tasting foods are so necessary to our health
Then the book goes on to the exciting part, using your cultured foods in recipes, and boy, they are like nothing we have seen before. Watermelon Kombucha Margarita, Coffee Kefir Frappe, or Raspberry Kombucha Jam. OMG.
Don't miss: The dessert section. We doubt any dinner party guests will complain of the tart, fizzy kefir taste when it's disguised in a chocolate mousse or peanut butter cup. Desserts that really are good for you.
Best for: Trusted advice
The Doctor's Kitchen: Supercharge your health with 100 delicious everyday recipes
, pre-order for £14.99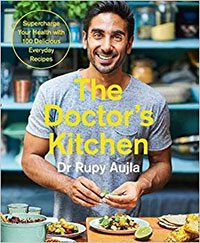 The author: The warming smile on the front cover is of Dr Rupy Aujla, who's profile of The Doctor's Kitchen has grown from strength to stength. He launched the multi-platform blog amongst his crazily chaotic career as a junior doctor, keen to advise people on the prevention and treatment of life related illnesses such as diabetes, obesity and heart disease. All his knowledge stems from his extensive research into nutrition, something he felt was lacklusture in his GP training.
Why we love it: His passion for food in Dr Rupy's Aujla's next cookbook seeps through the sumptuous pages, almost as much as the intensely (yet reader-friendly) information. His matter of a fact message – food is medicine – is at the centre of the book, and he insists this is not opinion or a fashionable trend. It is fact, and he stands apart from the crowd by backing up his claims with medical evidence.
He stands apart from the crowd by backing up his claims with medical evidence
But don't be fooled into thinking this isn't about the food. Rupy grew up in an Indian household, and no doubt he takes flavour to the next level in his 100+ recipes. The variety of foods is almost overwhelming, and that's not a bad thing.
Don't miss: 'Worth the extra spend' chapter. Rupy picks the best of expensive health foods judged only on the science, including hemp seeds and matcha. It's relief amongst all the waffle.
Best for: Fitness foodies
Protein POW: Quick and Easy Protein Powder Recipes
, pre-order for £14.99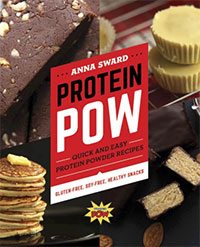 The author: Anna Sward, who we salute for her dedication to feeding the fitness fanatics who have a taste for the sweet stuff. Anna's global brand, with thousands of recipes across three cookbooks, an app and products, started when she was bored of her protein shakes in college. Protein Pow, a small idea in her kitchen, turned into a phenomenon as the food went mainstream.
Why we love it: It's brimming with indulgence heaven, divided into five sections – protein bars, truffles, pancakes, chocolate cups, and mug cakes. Each has recipes utilising protein powder with the most accurate measurements (because who hasn't had a protein baking FAIL?), and no soy, gluten, refined carbs, refined sugars or hydrogenated oils – some are vegan, too.
It's brimming with indulgence heaven
To help newbies, Anna gives the 101 on protein at the front of the book – why does everyone rave about it? Which one should I use? Why should I make my own protein snacks? The answer to the last, being because homemade cuts out the sugars, preservatives, and shelf-life extending ingredients that come in those shop-bought 'healthy protein bars', says Anna, who's mantra is 'why have a shake when you can have a cake?'.
Don't miss: The calories and nutritional data per recipe at the bottom of the page. This is incredibly useful and we think it takes away from the fear of protein and 'bulking'.
Best for: Lazy cooks
5 Ingredients – Quick & Easy Food
, £10.99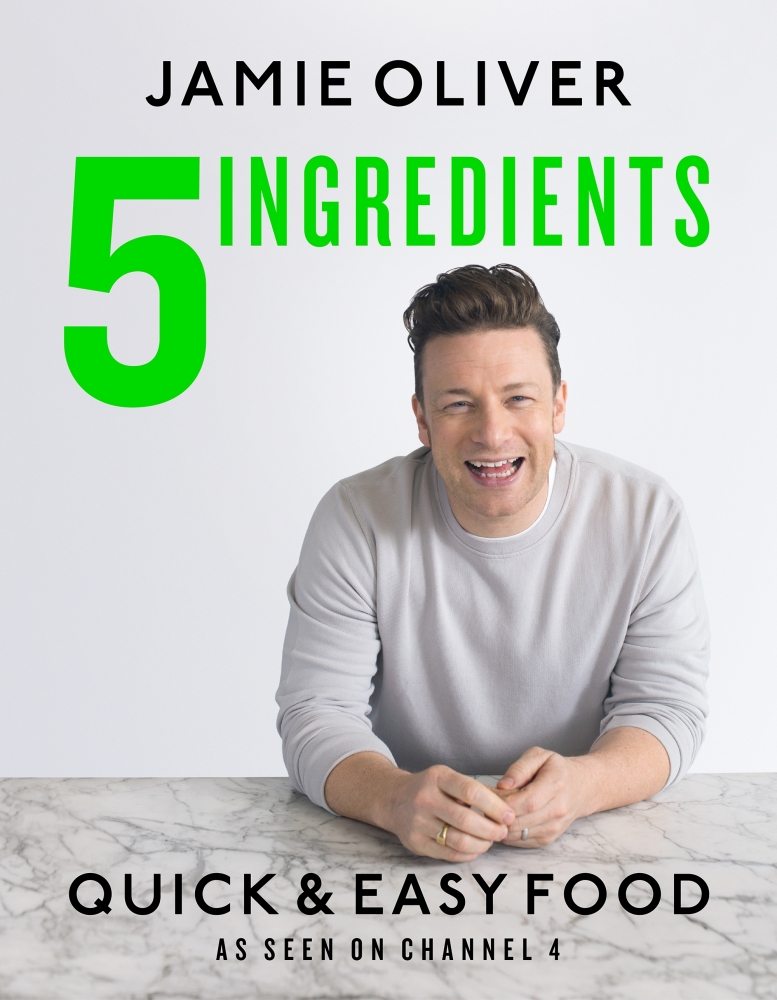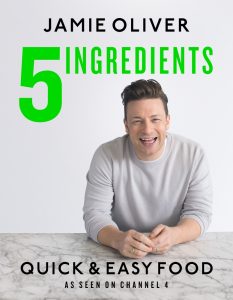 The author: Jamie Oliver. Just as we thought he was sooo last season, he shows up with one of the best cookbooks of 2017 according to charts and, well, us.
Why we love it: The less complicated cooking is, the better and the more likely people are to try something new. Five Ingredients literally means using only five ingredients per recipe, which, after a lot of testing, are ridiculously easy to make and still have the wow factor.
It takes the stress out of mid-week cooking
It takes the stress out of mid-week cooking, with recipes that even the laziest of cooks will be inspired to try. For example, Aubergine Penne Arrabbiata, Thai Red Chicken Soup, Redang Beef and Cauli Rice and Hoisin Pak Choi Rice. Jamie says 70 per cent of the recipes are healthy, because what cookbook would be complete without dessert? There are now no excuses to not cook from scratch.
Don't miss: The lamb chapter. A luxury cut of meat made so achievable and fuss-free. Tender lamb shoulder, aromatic lamb curry or stew – yes please. (sorry, vegans).
Best for: Having a health makeover
The Fat for Fuel Ketogenic Cookbook: Recipes and Ketogenic Keys to Health from a World-Class Doctor and an Internationally Renowned Chef
, £15.19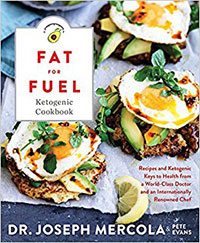 The author: Dr Joseph Mercola, a physician who has been sharing his extensive knowledge of alternative and natural medicine in mainstream media for decades, sometimes controversially.  Alongside him, award-winning chef Dr Pete Evans who already has seven bestselling cookbooks. physician of twenty five years and owner of a top worldwide website, Mercola.com,
Why we love it: This is serious stuff, expanding on Dr Joseph Mercola's book Fat for Fuel which taught us how to 'boost brain power, energy and combat cancer' with a diet called Mitochondrial Metabolic Therapy or MMT. This way of eating aims to heal the root cause of chronic disease and ageing, which Dr Mercola states are caused by a defective metabolic processes in the bodies mitochondria. Yep, it's heavy, but essentially he explained how eating too many carbs can mess up your body. Instead he praises high fat diets (like ketogenic), for their ability to burn fat.
This way of eating aims to heal the root cause of chronic disease and ageing
Follow the recipes within this book, and you too, can reap the 'profound' benefits. Or, if you're more into a low carb diet, you'll soon be upgrading your caulirice.
Don't miss: The first part of the book which explains the ketogenic keys to health in detail. If you're going to cut a food group, do your research. Dr Joseph Mercola goes in as deep as what types of water to avoid and how the condition of your knife effects food's nutrients.
Best for: New mums
Truly Scrumptious Baby: My complete feeding and weaning plan for 6 months and beyond
, £8.49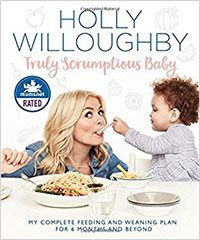 The author: Holly Willoughby. Is there anyone who doesn't like her? The bubbly blonde who graces ITV's This Morning is clearly a trusted voice amongst mothers as her second baby book was awarded a Mumsnet Rated Badge – kinda a big deal.
Why we love it: We guarantee that this will become your kitchen bible over the first two years of your baby's life. Holly admits there is no one-size-fits all approach but one thing is the same for all parents – the importance of feeding their baby with nutritious food. After one flick through this book, your own stomach will be rumbling, too.
Recipes that utilise veggies in the most vibrant way to entice children whilst being affordable and fast
Divided into ages, the recipes utilise veggies in the most vibrant way possible to entice children whilst being affordable and fast. Even ingredients such as kale, quinoa and cottage cheese make an appearance – who would have thought? Amongst this is Holly's warm advice on everything from equipment to veganism, meal plans and personal stories. Feeling broody, anyone?
Don't miss: The baby-led weaning section, which offers invaluable advice. The pros, cons, risks, tips and strategies to help baby safely start feeding itself.
Best for: Improving your gut health
Be Good to Your Gut: The ultimate guide to gut health – with 80 delicious recipes to feed your body and mind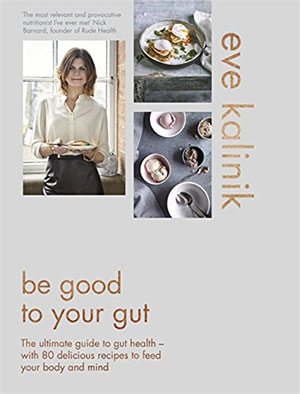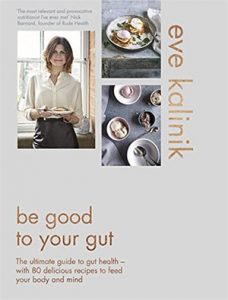 , £13.45
The author: Sought after nutritionist Eve Kalinik regained her own health after years of antibiotic use, bloating and kidney infections by – you guessed it – healing her gut. But it doesn't end there. She is armed with A LOT of knowledge into the much-hyped topic.
Why we love it: The science behind what experts call the 'forgotten organ' and 'the second brain' is somewhat confusing. But wise Eve has a broad understanding of how the foods you feed your gut affect everything from the immune system, digestion, fertility, stress and mental health with a no-nonsense attitude. No stone is left uncovered as the book, intertwined with practical recipes spans ten chapters.
Each chapter leaves you feeling enlightened and fired up to make real change
Each chapter leaves you feeling enlightened and fired up to make real change. One thing we really love is that despite Eve harping on about the detrimental effects of sugar to our health, she doesn't avoid tempting us with tantalising desserts like chocolate ice cream and matcha banana bread. If you're unsure on where to start with improving your microbiome monster, this book is for you.
Don't miss: The guide on probiotics and supplements. Away from the media madness, Eve has some wise words on the exact bugs a good probiotic should include.
Best for: Vegans (but you don't need to be vegan to drool over this)
Feed Me Vegan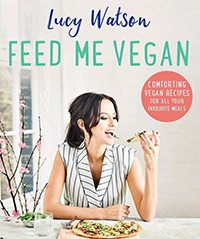 , £8.50
The author: Lucy Watson, a reality TV star (Made in Chelsea) turned world advocate for the animal kingdom. Her much anticipated book set her Instagram fans into a frenzy.
Why we love it: Lucy sums it up in her intro. Fed up of people asking her, 'if you're vegan, what do you eat?' she set out to prove that vegan food is awesome. The 26 year old told Healthista in 2016, 'You have to find the balance between preaching and not preaching. But I have to make the most of my platform'.
Lucy smashes negative connotations of plant-based life
She keeps the intro short and sweet, aware people don't want veganism shoved down their throats. But the recipes speak for themselves. Comforting, satisfying and far from limp salads (we are literally dribbling over the mushroom mac and cheese), Lucy smashes negative connotations of plant-based life and we love her for it.
Don't miss: The fry up. If there's anything daunting about making the leap into veganism, it's saying goodbye to a full English. The void is sure to be filled with this dish combining smoked tofu, beans, sourdough, vegan sausages and of course, avocado.
Best for: Healthy bakers
Modern Baker: A New Way To Bake, £16.57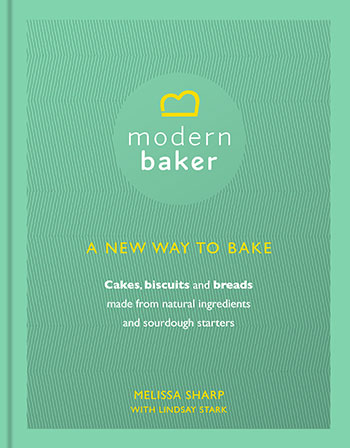 The author: Melissa Sharp was faced with grade three cancer in 2010, going through chemo and radiotherapy at just age 36. She was forced to confront the connection between stress, nutrition and chronic ill health and immersed herself in healthy living. Embarking on a new business journey once recovered, she teamed up with baker Lindsay Stark. The Modern Baker, a café-bakery in Oxford, was born in 2014, a business thriving on the idea that food can still taste delicious when it's good for you.
Why we love it: The team at Modern Baker have only one thing in mind, a healthy gut, and who would have thought this would involve eating cake? Except, their bakes have no refined sugars and are often dairy free, vegan and gluten free. All their breads and many of their sweet treats have one thing in common – they are made with natural sourdough starters.
Who would have thought a healthy gut would involve eating cake?
'When the ingredients are combined to make sourdough, they explode into the millions of fermenting microbes that our gut is crying out for, vital elements of which survive through baking. This opens the door to a wealth of benefits that can transform overall health', say the authors. The 120 recipes for bread, pizza and cakes (all the favourites) break the traditional baking boundaries, proving healthy eating never has to be boring.
Don't miss: 'Making your sourdough starter'. Once you've bossed this, and honestly it doesn't look complicated, you're open to a whole new world of baking. Sourdough Cinnamon and Pecan Buns, Roasted Aubergine and Pesto Pizza, shall we go on?
Best for: Bored healthy eaters
Supper Love: Comfort Bowls for Quick and Nourishing Suppers
, £11.84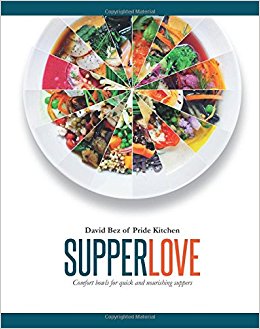 The author: David Bez, whose first book Salad Love in 2013 went viral and translated into more than 30 languages. The guy – not even a chef, simply an Italian food lover – blogged his mission to make a different 'sexy salad' at his desk every day (for four years) proving to the world how easy it was. Two more books followed his first, Breakfast Love, and now, Supper Love, which we like, LOVE.
Why we love it: This book isn't an ordinary healthy cooking book. It takes the comforting food bowl phenomenon (the idea that everything is so much more better eaten from a bowl) and merges it with eating healthily. Soups, grain bowls and broths never looked so good, bursting with colours and textures.
Options are endless and instructions are effortless
At the beginning, David explains the exact formula to make an ideal supper bowl, or 'anatomy', with balanced nutrition, followed by 130 recipes which can be adapted to suit all diets including vegan or vegetarian. Despite being so simple, the options are endless and vary from light, raw and fresh, to hot, filling and wholesome. We love that the instructions are so effortless, too, capturing the ease of cooking from scratch once you've got the basics.
Don't miss: David Bez's Pride Kitchen in Neal's Yard, plant based, refined sugar free and gluten free. Ok, so it's not in the book. But it's a great way to experience David's food, especially as you can make your own supper bowl, or try his superfood lattes or plant based cakes, mmmm! The passion oozes from his menu and you wouldn't believe he didn't come from a chef background.
Best for: Saving money on food
Too Good to Waste: How to Eat Everything
, £9.07
The author: Victoria Glass, a London-based food writer and recipe developer. The humorous lady knows most about baking, although her latest cookbook ventures into a huge hot topic at the moment – food waste. Shockingly, food waste costs the average person in London £200 a year, rising to £700 for a family with children, according to Recycle For London, continuing to make it an environmental, economic and social problem.
Why we love it: Victoria starts by addressing the fact 'waste not, want not' is an oldage saying we have forgotten. Although sustainable living is clearly a big factor here, this book isn't simply about addressing our eco-footprint, but getting adventurous with all those scraps in the fridge and as a result, saving money. And no, she doesn't mean scraping mold off the cheddar at the back of the fridge! The recipes are no doubt different to your normal mid-week dinner. We're talking mashed potato sponge cake, bone marrow toffee, berry leather and sour milk scones.
Get adventurous with all those scraps in the fridge and as a result, save money
But despite being on the quirky side, they use ingredients we are all guilty of chucking, especially veggies, and you'll find plenty of do-able treasures. For example, little gem lettuce is transformed to a bacon, mint and peas supper and Indonesian dish Nasi Goreng is simply leftover rice bursting with flavours and left over meats and veg. Some recipes have the added benefit of being able to be frozen, making it stretch even further. This is the type of person that would be useful when stranded on a dessert island.
Don't miss: All of it. We guarantee you haven't made 95 per cent of the recipes in this book. But what we were really impressed with was the Herbal Remedies section, for those packets of limp rosemary and thyme. Victoria advises how to store these properly to avoid waste, but then goes on to share recipes such as Chimchurri, Tabbouleh, Herb Oil and even Honey, Lemon, Marjoram and Thyme Ice Cream.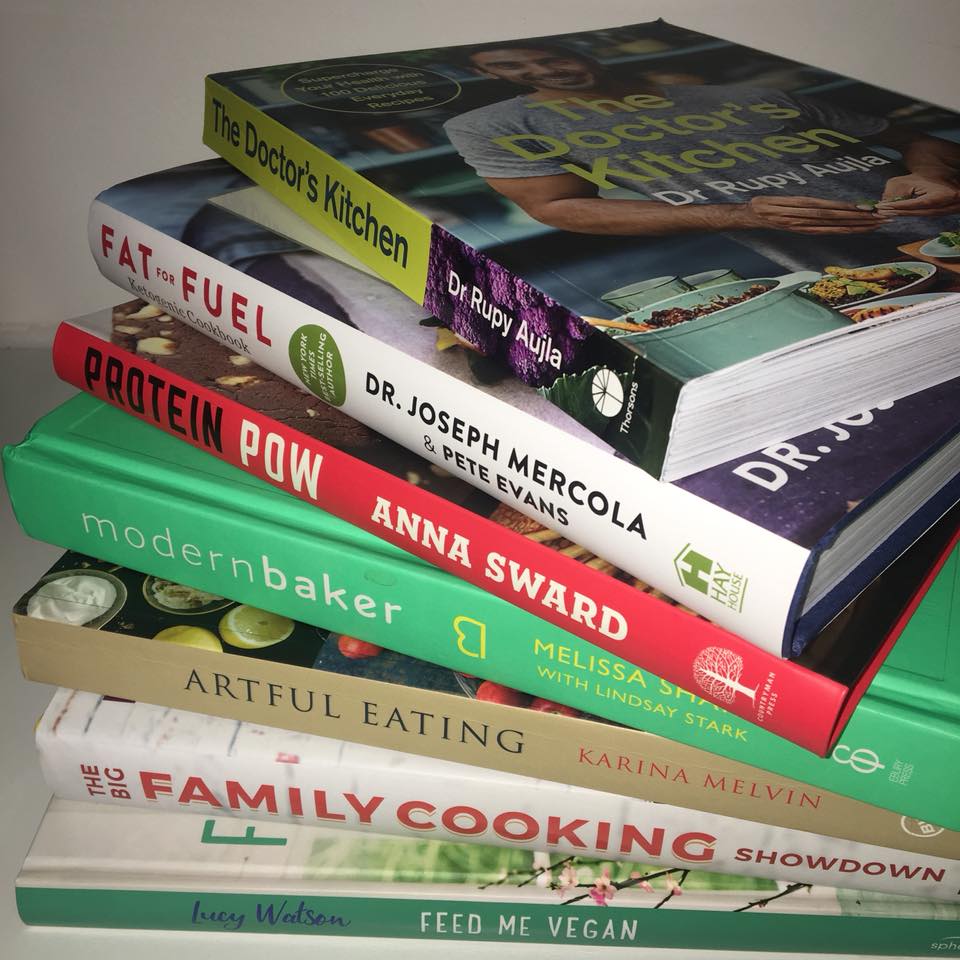 READ MORE
15 easy mushroom recipes for a tasty antioxidant boost
26 healthy food hacks these top Instagrammers use every day
4 healthy recipes to replace your favourite take-aways
Healthy meal ideas – new online tool for recipe inspiration based on your tastebuds
How to cook healthy for beginners
YOUR CHANCE TO WIN THEM ALL!
Fancy winning a selection of Healthista's best healthy cookbooks featured here? Of course you do!
TO ENTER: Simply share this post on social media with the hashtag #HealthyCookbooks and tag @HealthistaTV on Twitter, Instagram or Facebook for a chance to win!
These include The Doctor's Kitchen by Rupy Aujla, Fat For Fuel by Dr Joseph Mercola, Protein Pow by Anna Sward, The Modern Baker by Melissa Sharp, Artful Eating by Karina Melvin, The Family Cooking Showdown and Feed Me Vegan by Lucy Watson
Entries close Monday 11th December 2017.
Like this article? Sign up to our newsletter to get more articles like this delivered straight to your inbox.