Need a morning energy boost? Your food choices will help. Author of Ignite Your Light, Jolene Hart has five easy recipes that will help kick-start your day
Are you one of those people who struggles to jump out of bed every morning? Is a coffee the only thing that fuels your morning routine?
If you're in need of an early morning energy boost then it might be an idea to incorporate some foods that promote energy to help kick-start your day.
Ignite Your Light, by Jolene Hart is a perfect guide on how to harness your own energy to support your health, happiness and beauty
Morning is the time to refuel after hours of rest
'Morning is the time to refuel after hours of rest,' says Jolene. 'Your breakfast choices, set the tone for your energy and your physical performance over the rest of the day'.
Instead of grabbing a coffee and a muffin, Jolene suggests that you opt for foods that deliver re hydration as well as meals that contain the essential trio of healthy fats, clean protein and fresh produce.
Examples of high energy morning foods include: nut butter, avocado, coconut, clean protein, eggs, hempseeds, collagen. greens, herbs and water-rick fruit.
Below are five recipes from Ignite Your Light, that will help you start your day with an energy boost.
Energy Boost Recipe #1 Sunday Morning Ginger-Apple Fritters with Raw Honey Glaze
I love Sunday morning energy – calm, slow, indulgent. Take some extra time to peel apples, grate aromatic ginger, and savor the process of making these addictive (yet protein-packed) bites.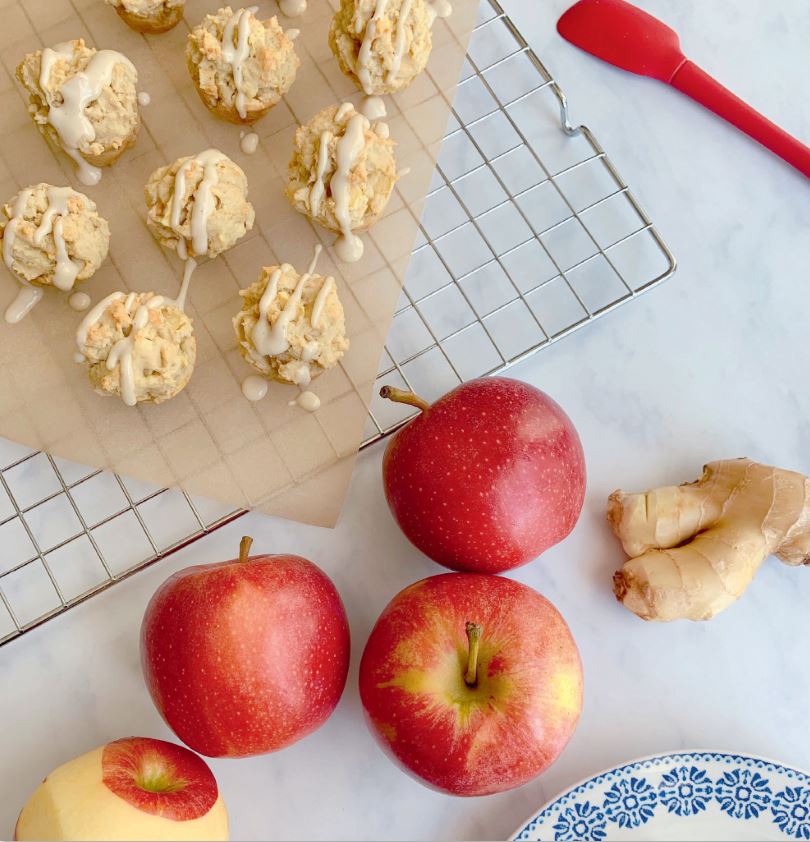 Makes 20 Fritters
Ingredients:
Coconut oil, for pan
1 cup/110 g blanched almond flour
1 cup/140 g gluten-free flour blend (I like Bob's Red Mill 1-to-1)
¼ cup/30 g arrowroot starch
2 teaspoons baking powder
½ teaspoon baking soda
Scant ½ teaspoon unrefined salt
¾ cup/200 ml unsweetened nondairy milk
1 teaspoon apple cider vinegar
2 tablespoons/30 ml pure maple syrup
1 (½-inch/13mm) piece fresh ginger, scrubbed and grated with a Microplane grater or zester
1½ cups/200 g peeled and diced organic apple (about 1½ apples)
For the Glaze:
¾ cup/90 g raw cashews
1 tablespoon raw honey
5 tablespoons/80 ml water
1 ⁄8 teaspoon almond extract
Method:
1. Preheat the oven to 375°F/190°C.
2. Grease a mini muffin pan with the coconut oil.
3. In a large bowl, combine the flours, arrowroot, baking powder, baking soda, and salt.
4. In a smaller bowl, whisk together the milk, vinegar, and maple syrup.
5. Pour the wet ingredients into the dry, and fold in the ginger and apple.
6. Fill each prepared muffin well until slightly mounded with batter.
7. Bake for 20 minutes, or until golden. Repeat with remaining batter.
8. While the fritters bake, combine the glaze ingredients in a highpowered blender and process until smooth, scraping down the sides if needed.
9. Remove the fritters from the oven, let cool slightly, and serve drizzled with the raw honey glaze.
Energy Boost Recipe #2 Vacation Vibes Avocado Smoothie Bowl
Island-inspired breakfast ingredients brighten my energy, even on a cloudy day. This smoothie bowl will sustain you for hours, thanks to its combination of healthy fats, collagen protein, and nutrient-dense veggies.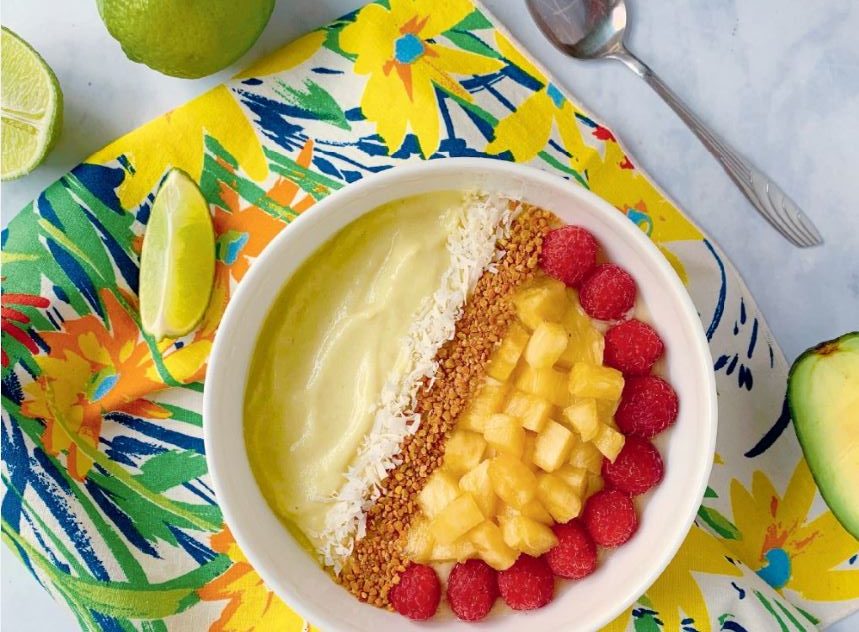 Serves 1
Ingredients:
½ ripe avocado, pitted and peeled
Juice of 1 lime
½ cup/65 g frozen cauliflower
¾ cup/120 g fresh or frozen pineapple chunks
¾ cup/200 ml unsweetened nondairy milk (coconut tastes best here)
1 tablespoon unsweetened shredded coconut, plus more for topping
1 serving collagen powder (I like Vital Proteins Marine Collagen Peptides)
½ teaspoon maca powder Bee pollen, fresh fruit, and/or raw nuts and seeds for topping (optional)
Method:
1. In a high-powered blender, combine the avocado, lime juice, cauliflower, pineapple, and milk until smooth.
2. Add the coconut, collagen, and maca and blend to incorporate.
3. Transfer to a bowl and top with additional shredded coconut, bee pollen, fruit, nuts, and seeds, if desired. Serve immediately.
Energy Boost Recipe #3 Grounding Sunrise Omelet
This recipe makes a perfect power breakfast to build physical energy for the day and it easily scales to serve a crowd.
I love its vivid sunrise colors, from bright yellow pastured yolks to vibrant carrots, that help awaken my senses in the early morning hours.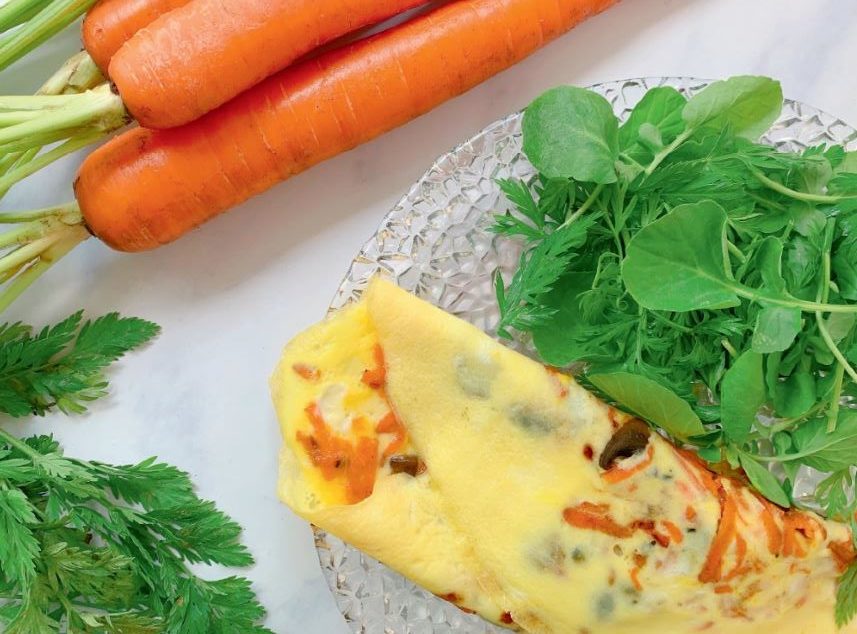 Serves 1
Ingredients:
2 teaspoons unsalted grass-fed organic butter or ghee
Heaping ¼ cup/50 g shredded organic carrot
2 large mushrooms (I like shiitake), stems removed, chopped
2 large pastured eggs, beaten
Unrefined salt
Ground black pepper
Small handful of roughly chopped carrot tops and other assorted greens
Method:
1. In a nonstick skillet, melt the butter over medium heat and sauté the shredded carrot and mushrooms until the mushrooms reduce slightly, about 3 minutes.
2. Pour the beaten eggs over the vegetables, season with salt and pepper, and cook over low heat until the omelet reaches your desired doneness.
3. Fold the omelet, remove it from the pan, and serve alongside fresh greens.
Energy Boost Recipe #4 Green Beauty Broth
I adore this recipe for its resourcefulness: the energizing, nutrient-dense base of this broth is essentially made from the scraps of the soup vegetables that you might otherwise toss.
It was inspired by a beloved spring soup recipe by vegetarian cooking expert Deborah Madison, and has become a staple breakfast (often paired with a hard-boiled, pastured egg for extra protein) in both warm and cool weather.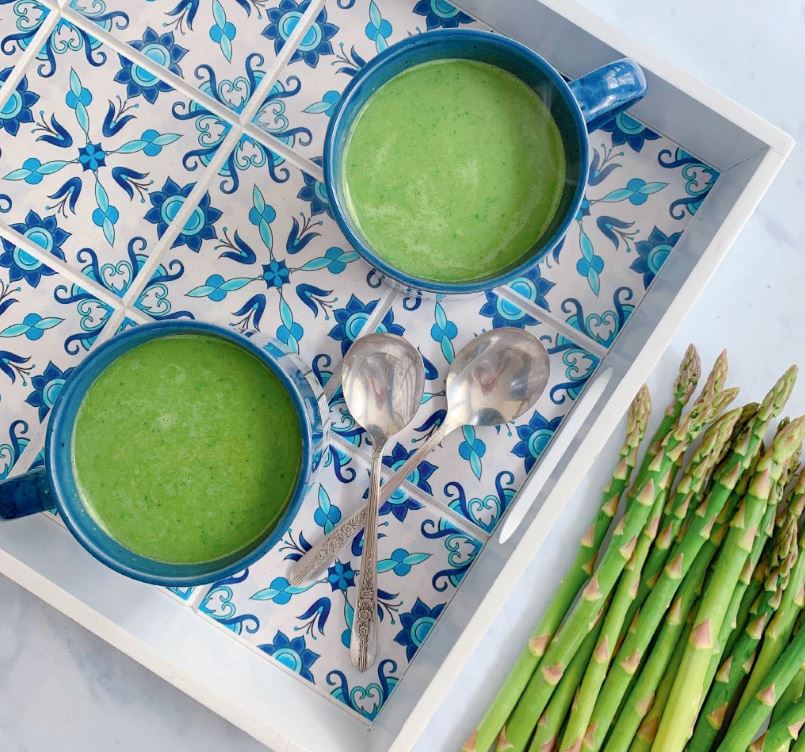 Makes 6 servings
Ingredients for the Broth Base:
0.5 ounce/15 g dried shiitake mushrooms (about 6)
1 organic celery rib, roughly chopped
Tough ends from 1 bunch asparagus
Dark greens from 2 leeks, roughly chopped
3 garlic cloves
1 bay leaf
½ teaspoon unrefined salt
10 cups/2.4 L water
For the Broth:
2 tablespoons/30 g grass-fed organic butter or ghee
2 leeks, white and light green parts, chopped
4 garlic cloves, minced
1 bunch asparagus, roughly chopped
2 organic celery ribs, roughly chopped
½ cup packed/30 g fresh parsley leaves and stems, roughly chopped
shiitake mushrooms reserved from broth base, roughly chopped
¾ teaspoon unrefined salt
7 cups broth base
2 large packed handfuls organic arugula
Method:
1. Prepare the broth base: In a medium pot, combine all the broth base ingredients, bring to a boil, lower the heat, and then simmer for 20 minutes.
2. At the 20-minute point, remove the pot from the heat. Remove shiitake mushrooms with a slotted spoon, chop roughly, and set aside.
3. Strain out and discard the other vegetables and bay leaf.
4. Prepare the broth: In a large pot or Dutch oven, melt the butter over medium heat.
5. Cook the leeks for about 3 minutes, or until they begin to soften.
6. Add the garlic, asparagus, celery, parsley, and chopped mushrooms and cook for 3 minutes more.
7. Add the salt and 7 cups/1.7 L of the broth base, bring to a boil, and simmer until the celery and asparagus soften, about 5 minutes.
8. Remove from the heat and add the arugula.
9. Purée the soup in batches in a high-powered blender.
10. Serve warm or reheat individual servings for a nourishing breakfast.
Energy Boost Recipe #5 Sesame Glow Bars
Processed and packaged snacks are so convenient, but they rarely leave me with the energy or the fullness that I desire.
In their place, I make easily portable snacks, such as these bars that are perfect to grab and go in the morning or any other time of day.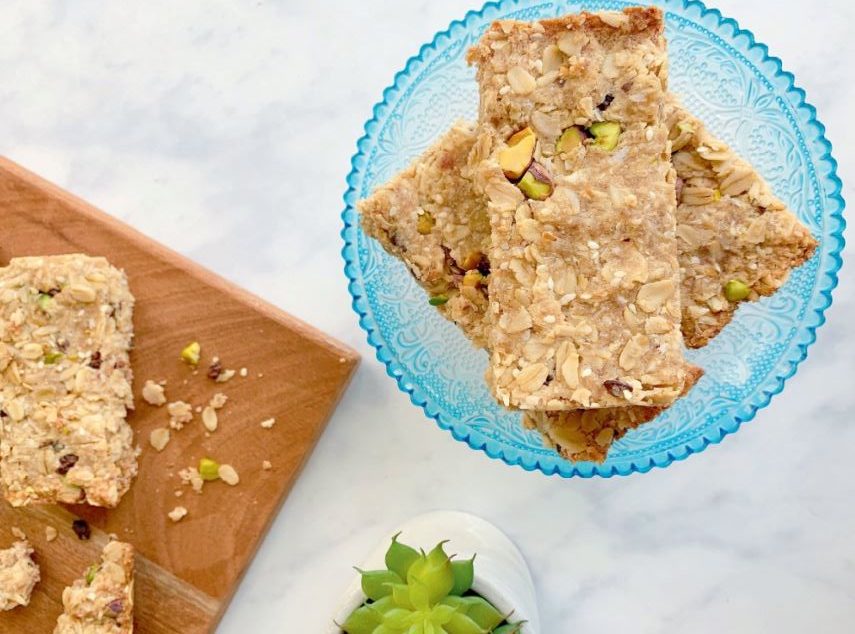 Makes 8 to 10 bars
Ingredients:
1 cup packed/180 g pitted dates
1½ cups/150 g gluten-free rolled oats
¾ cup/80 g blanched almond flour
½ cup/50 g unsweetened coconut flakes
2 tablespoons/20 g sesame seeds
2 tablespoons/20 g shelled pistachios, roughly chopped
1 tablespoon/10 g cacao nibs
Scant ¼ teaspoon unrefined salt
½ cup/120 g sesame tahini
1 ⁄3 cup/80 g coconut oil, at room temperature
1 teaspoon pure vanilla extract
Method:
1. Preheat the oven to 350°F/180°C. If the dates are not soft and sticky, soak them in hot water for 5 minutes, then drain well.
2. In a large bowl, mix together the oats, almond flour, coconut flakes, sesame seeds, pistachios, cacao nibs, and salt.
3. In a high-powered blender or food processor, combine half of the dates with the tahini, coconut oil, and vanilla and blend until the mixture begins to form a paste.
4. Add the rest of the dates, a little at a time, blending until smooth. (The paste may separate a little; this is fine.)
5. Add the date paste to the dry ingredients and use a spoon or clean hands to incorporate until the mixture comes together.
6. Press firmly into an 8-inch/20 cm square baking pan. Bake for 20 minutes or until golden brown.
7. Remove from the oven, let cool in the pan, and then cut into bars.
Ignite Your Light: A Sunrise-to-Moonlit Guide to Feeling Joyful, Resilient and Lit from Within by Jolene Hart (£16.99, Running Press) is available now.
Relevant Healthista Content:
Low on energy? This Instagram yogi's 1-minute mindfulness trick will help
Tired All the Time? 7 signs you need an energy makeover
Healthista Content you may also like:
6 bento box recipes for beginners
5 protein-packed vegan recipes we're loving from Gaz Oakley's new cookbook
Need an easy pastry recipe? Here are 6 to try this weekend
The beauty diet – 5 ways to eat for acne
Like this article? Sign up to our newsletter to get more articles like this delivered straight to your inbox.