Looking for a hiking holiday fit for royalty? Olivia Hartland-Robbins went to Scotland to find out exactly what it takes to 'bag a Munro' – that is, hike up the Scottish mountains the Queen loves to climb
Before I went to Aviemore in Scotland, I'll admit I wasn't too sure what to expect and I certainly had no idea just how popular hiking in this area – famed for its Munro mountains – was.
It turns out Munros have even been climbed by royalty – Queen Elizabeth II has historically climbed 'one of the most celebrated Munros', Lochnagar plenty of times.
Recently on BBC's Sunday evening programme Countryfile, the episode partly focused on exploring Balmoral estate to celebrate 65 years since HM the Queen's coronation.
The episode featured the Queen's love of the outdoors and countryside from an early age, with Ellie Harrison stating that 'the climb up Lochnagar has frequently allowed Her Majesty precious time and space away from affairs of state' and that 'the Queen has long enjoyed walking its (Lochnagars) rugged and unforgiving terrain.'
'This hike has long been one of her [The Queen's] favourites' says Countryfile's Ellie Harrison. Munro Lochnagar reaches 3,789 ft (1,155 m) above one of Scotland's most beautiful corries.
Queen Elizabeth II has historically climbed 'one of the most celebrated Munros', Lochnagar plenty of times.
Callum Miller, Balmoral's Deerstalker who has accompanied the Queen across the landscape many times says that, 'sometimes, in the hills here you can get some really poor conditions, such as sideways rain and midgies, but it certainly doesn't put the royal family off.'
It turns out that 'it's been a tradition for the royal family to bag this Munro since Victorian times' says Ellie Harrison; there's even 'a famous painting of Queen Victoria and Prince Albert scaling Lochnagar on horseback.'
The climbing of Scotland's Munros has seen a huge surge in popularity, becoming a tourist hot spot. Munro bagging has been named as an addictive pastime with thousands of people making their way to Scotland every year to tick another completed Munro off their list.
Clearly I need to try this thing.
What is Munro bagging?
Reaching the summit of or 'bagging' a Munro means grabbing your hiking boots and ascending a mountain that reaches above 3,000 feet high (914m). Munro mountains – and there are 282 of them – are found in the beautiful highlands of Scotland.
These Munros were named as such by Sir Hugh Munro, a Scottish mountaineer, who in 1891 compiled the first ever list of Munros (mountains) known as Munro's Tables.
Climbing these Munros has become an increasingly popular hobby called 'Munro Bagging', and it's easy to see why – the views were simply breathtaking.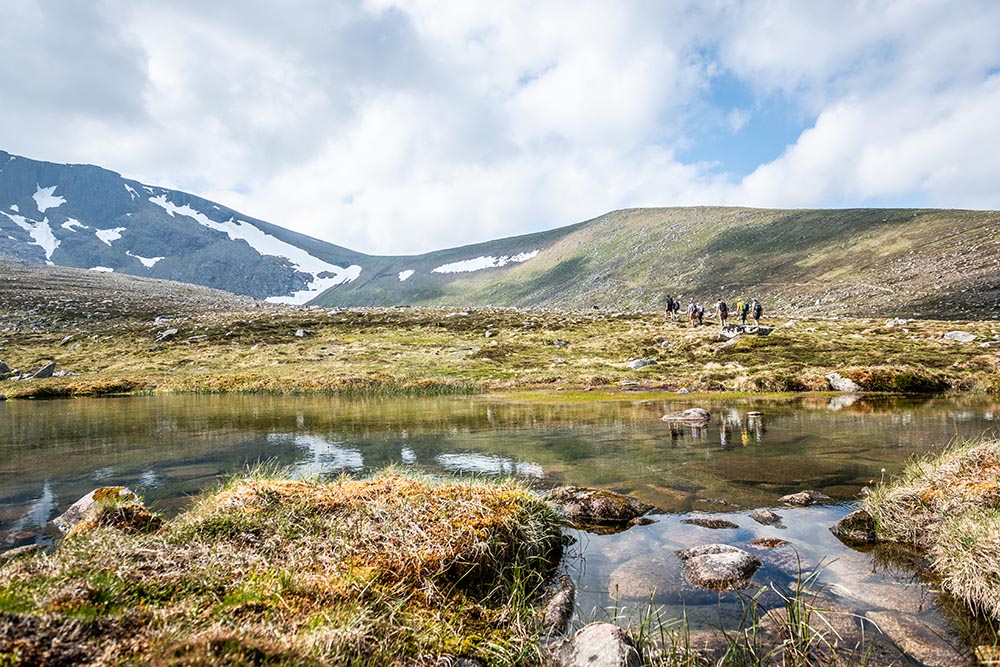 Sir Hugh Munro wasn't able to complete or 'bag' all the Munros on his list. In 1901 however, Rev. A. E Robertson became the first person to complete 'The Munros'.
There are now said to be over 5000 people who have completed 'The Munros'. Once you have ascended all 282 Munros, you are able to proudly title yourself a 'Munroist' or a 'completer'.
To find out more information on how many people have registered as 'compleaters' visit The Scottish Mountaineering Club.
Why you NEED to try it..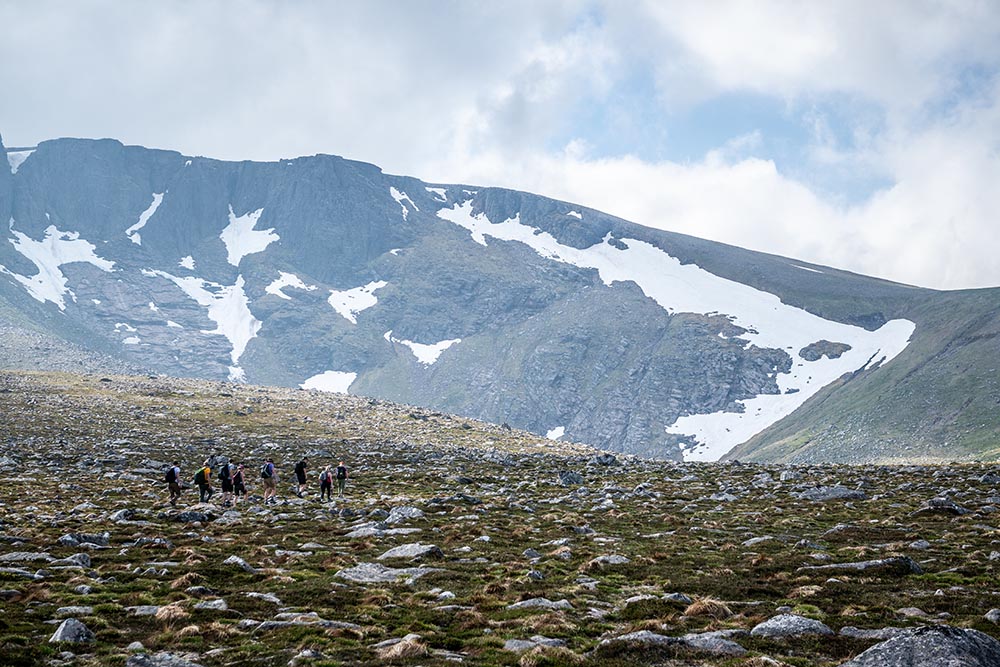 Setting off at 9:30am, we attempted to climb the highest Munro first, Ben Macdui reaching 4,295 ft (1,309 m), the second highest mountain in the United Kingdom (UK). This was a challenging climb, with some steep inclines. It was worth it though, the views were stunning, I felt on top of the world – literally.
After climbing Ben Macdui, to my surprise we had enough time left to take on Cairn Gorm the sixth highest mountain in the UK reaching 4,085 ft (1,245 m).
After about six hours of climbing I was sure I had no energy left whatsoever. We were given the option to climb Cairn Gorn or skirt around the mountain, but I couldn't give up. We were all keen to 'bag' ourselves another Munro, turns out Munro Bagging is in fact 'addictive.'
We managed to climb Cairn Gorm in no time at all. In fact the final ascent took us just 15 minutes.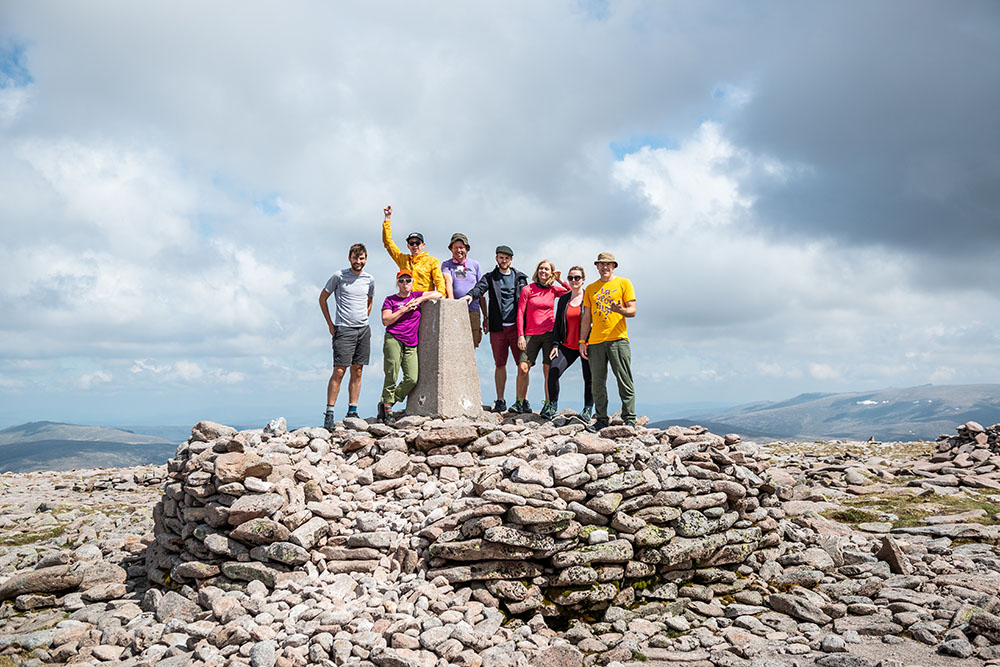 While visiting Aviemore in Scotland we were able to appreciate spectacular views, fill our lungs with fresh air, get some exercise and see some rare wildlife such as the colour changing game bird, the ptarmigan.
These qualities are reason enough to visit this wonderful place in the Cairngorms. But with not much hiking experience, one thing I found so uplifting was the sense of achievement when you (finally) reach the top of a Munro, and we managed to reach the top of not one but two Munros, in just one day – go us.
Would I do it again? At the time, with my heavy bag, weary legs and my sweaty face (really sweaty face) I said 'maybe in a few years time', but I have since changed my mind. I have found myself looking back at the photos, reminiscing the beautiful views and wanting to do it all over again, sweat and all. In fact I have even looked up which Munro I could climb next – watch this space.
Now that 'I've been there and done it', here are some top tips I learnt and can recommend to anyone wanting to take on Scotland's Munros.
Munro Bagging tips for beginners
Tip #1 Find a route
All the gear but no idea? Before you set out in all your gear make sure you have some sort of an idea. Find a walk and print yourself a route using the Walk Highlands website.
We were lucky enough to be guided up Scotland's Munros by Munroist and Mountain Safety Advisor Heather Morning. Completing and climbing Munros since she was nine years old, Heather knew exactly which route to guide us through Scotland's mountains.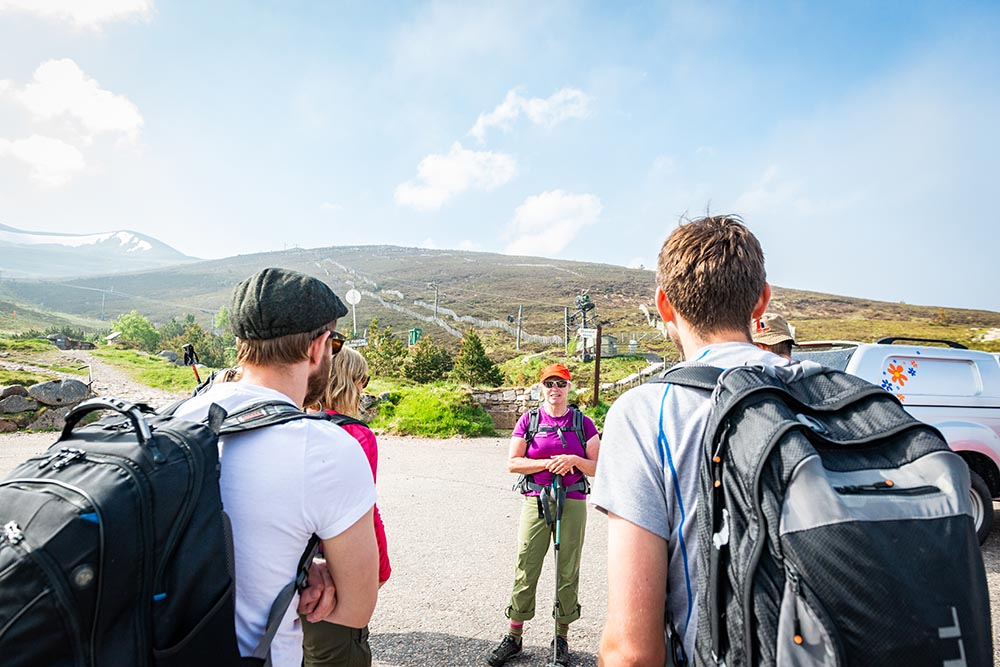 But without Heather, I would never have found my way back. It was obvious to see just how easy it could be to get lost – very very lost..
Tip #2 Tell someone
Even with a map, you may still get lost, it happens to the best of us. Make sure you tell someone where you are going and how long you plan to be. That way if you do end up getting lost or find yourself in some unexpected danger, someone will know when it's time to alert the Mountain Safety Team who can help find you. Better to be safe than sorry.
Tip #3 Take a packed lunch
Walking around all day works up a serious appetite. Be sure to have enough food and snacks to graze on throughout the day in order to keep your energy levels UP.
Tip #4 Hydration hydration hydration
Hydration – so important I had to type it three times or was it four?
All that walking won't only make you hungry, but thirsty too. If you are walking during spring or summer, be ready to sweat – a lot. Not drinking enough liquid will not only result in possible dehydration, reduced physical performance and muscle soreness, you may also be less protected from dangerous factors such as heat exhaustion or hypothermia.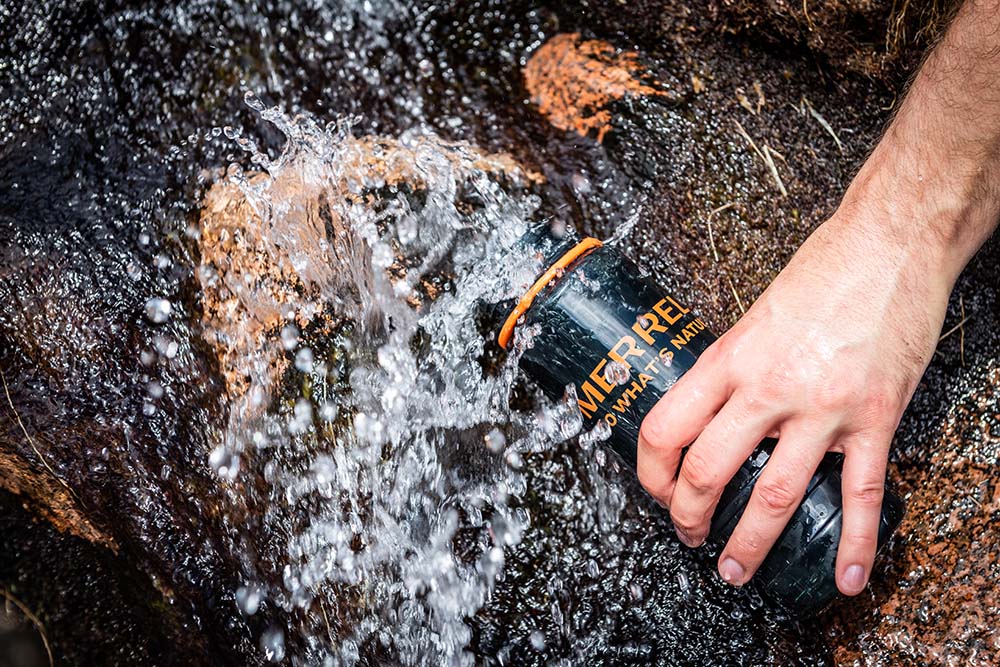 Try to drink lots of water before you leave or on your way to the mountains to ensure hydration. Take a large bottle of water with you (one litre) and if you do run out, don't panic. We were able to refill our bottles on a few occasions with water straight from the fresh mountain burns (a watercourse, from a large stream to a small river).
Make sure the water is flowing to avoid drinking stagnant water (yuk), also be aware to check that the water source is roughly 300m above the last habitation, to avoid contamination of the water from human activity.
Tip #5 Check the weather reports
We all know the weather can be unpredictable. Even if it looks warm and sunny outside, the top of those mountains will be a whole different story. I mean, I was a sweaty mess stood on snow…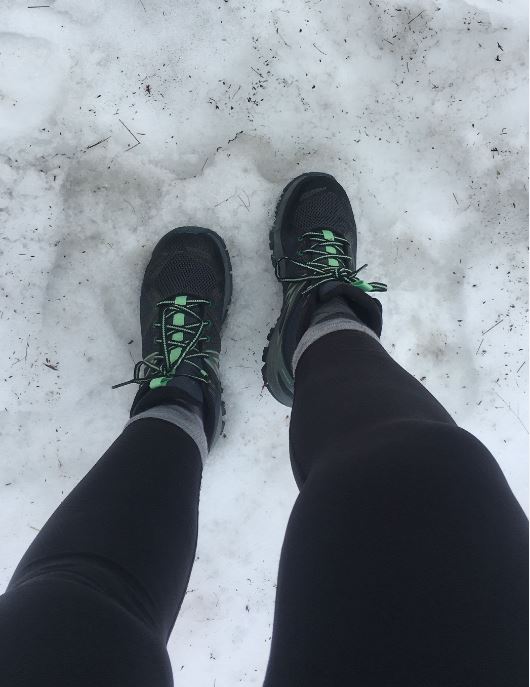 Be sure to check for rain, those waterproofs will be a necessity if you want to have a comfortable hike. Being exposed to the cold and the wind is one thing, throw some wet rain or snow in the mix and the weather can turn dangerous. Waterproof clothing will keep you safe from the risk of hypothermia, make sure it's the first thing you pack!
Tip #6 Try to keep moving or the midges will bite
The Scotland midges or 'midgies' to the Scots are a highland menace. Midge bites aren't painful just irritating (I wouldn't know as I rarely get bitten) but reportedly, some people hardly realise they've been bitten while others can come up in a reaction similar to a rash.
The bite can apparently feel like a sharp prick, irritating lumps will then follow. These lumps can disappear after a few hours or a few days.
Only a small breeze is required to keep the pests away. At normal walking pace, midges will not be able to keep up – so keep moving. If you're still worried, there are plenty of repellent products out there to help keep the 'midgies' away. (Try: Shealife Insect Repellant Travel Balm, £6.95)
Tip #7 Learn some safety information
Common sense is one thing, but when trying something new it's always best to do your research and educate yourself on what to expect and how to prepare yourself. Do your research and see what the experts have to say, they know what they're talking about and have been there to face the conditions themselves.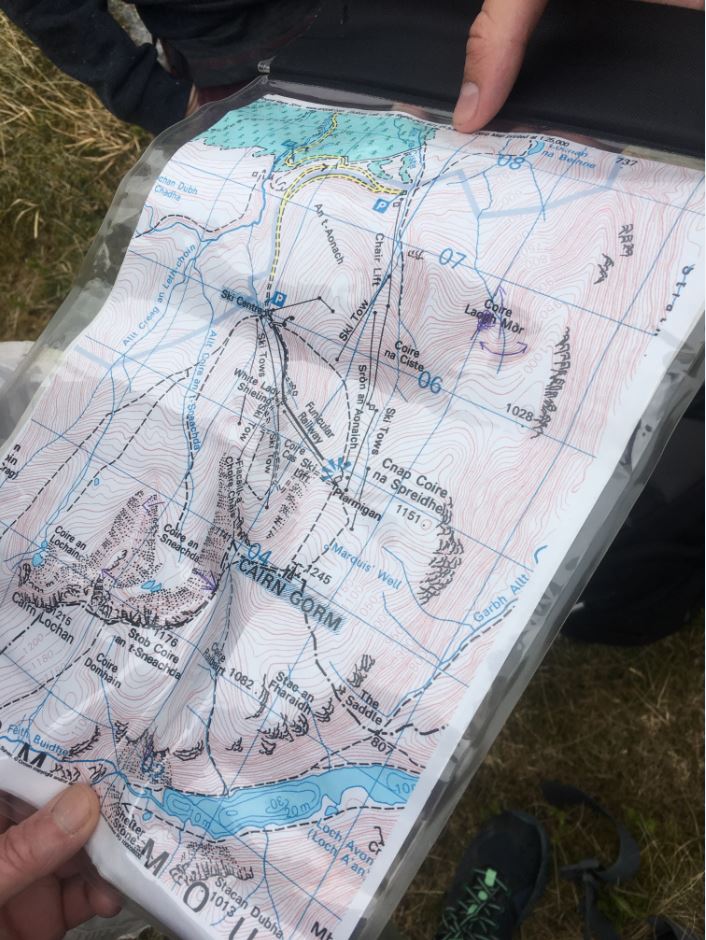 There are many websites, such as Mountaineering Scotland that will provide lots of helpful information, to ensure safety and make sure you get the most out of your hike.
Tip #8 Don't litter
Well not really a tip – just a heads up. One thing I found surprising, along with being so high up in such a beautiful place with amazing views and lovely people – you get the point – there wasn't a single scrap of litter. The shock may have been down to living in London and seeing litter all day every day, but it was so refreshing to see such a vast space without a single trace of human influence.
What are the fitness benefits of Munro Bagging?
Like I said before, be ready to sweat especially if your hiking during the spring or summer. It wasn't only the views that took my breath away, so did the climb. In fact there were many times I had to stop for a breather – or five.
A fellow hiker wearing a Fitbit gave me some statistics at the end of our hike, and I was amazed. We had climbed 353 floors, covered 20km and walked over 30,000 steps with a resting heart rate between 58-74bpm, which for me is quite high.
So if you're bored of HIIT training but still want to get that heart rate up, get yourself Munro Bagging.
What equipment do you need to bag a Munro?
As a Mountain Safety Advisor, I was interested to see exactly what essential equipment Heather Morning  keeps in her rucksack…
Of course there were waterproofs. As mentioned before, waterproofs are essential, not just for comfort but for safety too. The weather is unpredictable, always prepare for the worst, just in case.
a thermal safety tent could just save your life.
Hypothermia is the biggest cause for concern when hikers get lost or stranded. It takes just one hour for the effects of hypothermia to take over; you will experience slurred speech, lose your ability to make rational decisions and you will feel clumsy and confused. This combination is deadly, which is why it is so important to take extra precautions where you can to prevent any risk of hypothermia. Stay warm and stay dry.
Next, an emergency safety tent. If you find yourself lost or stranded, a thermal safety tent could just save your life. The thermal tent will keep you dry, protecting you from the rain, will provide shelter from the wind and significantly lower your risk of hypothermia.
Similar to the safety tent, another essential is an emergency blanket. These safety blankets aren't just designed to keep you dry, but also warm as they reflect 90% of your body heat. Affordable, small and lightweight – an emergency must have.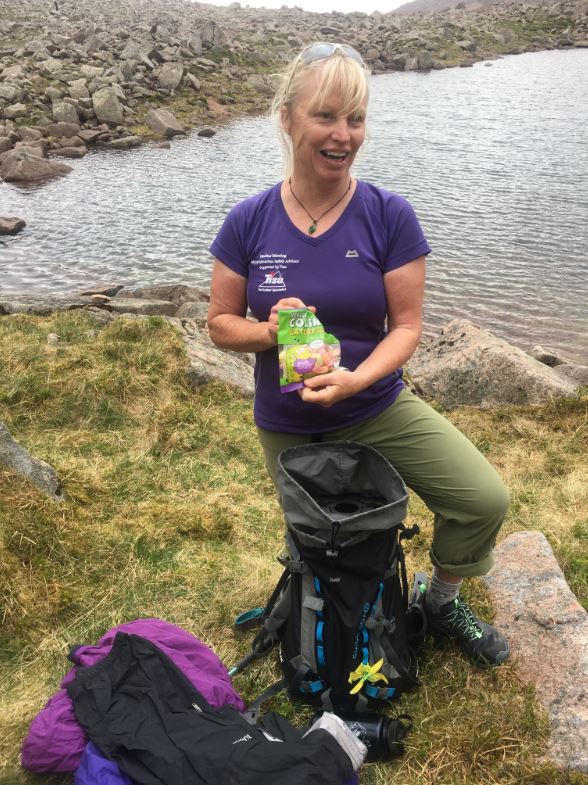 Sweeties – the Colin Caterpillar kind. Okay this doesn't count as equipment, but think of it as equipment for your body, keeping your sugar levels up will keep your energy levels and concentration up too.
Hiking boots
Last but certainly not least – footwear. Before you set out for your hike people always ask 'did you break in your hiking boots first?' but even when you do, you still end up with achy feet and blisters on every toe – I have terrible memories of many painful blisters during my Duke of Edinburgh Bronze award. Hiking shoes can be expensive but if you get the right ones they are totally worth it.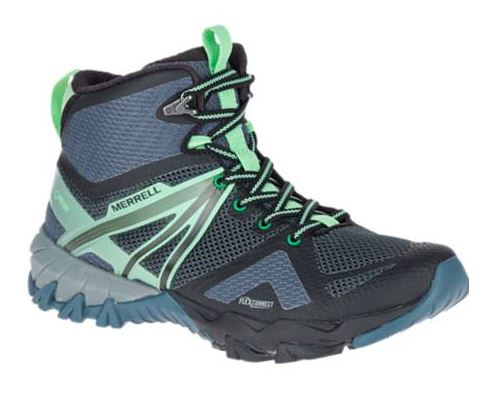 I wore a pair of MQM Flex Mid Gore-Tex Merrell hiking boots, MQM stands for 'Moving quickly in the Mountains', and I think we did just that, we weren't running of course but like I said, two Munros in one day – speedy stuff.
I can't recommend these Merrell hiking boots enough. They were super lightweight, waterproof, provided excellent ankle support and were extremely comfortable – they fit like a glove.
Will you need training to go Munro Bagging?
As far as physical training is concerned, you probably won't need to worry. You will need to be relatively fit though, as some of the climbs can be quite challenging, but stick at your own pace and you should be just fine.
Over reliance on modern technology can get people into some sticky situations.
More importantly, make sure you are prepared. As mentioned previously, do your research and make sure you have all the essentials and equipment you will need.
One last thing, physical training may not be necessary, but you may want to train yourself on your map and compass skills. Try not to rely too heavily on modern technology. Over reliance on modern technology can get people into some sticky situations. That trusty phone or impressive new Sat Nav will eventually run out of battery, if you get lost you will need to use an old fashioned map and compass to safely get yourself home.
More Healthista content:
What on earth is Dru Yoga? Our tester combined this gentle new yoga with hiking on a Wales wellbeing retreat
The astrologer who says you can use the whole zodiac to find happiness
Is your Instagram making you ill?
7 happiness short cuts this psychologist wants you to do every day