Welcome to Day 5 of the Healthista.com teams live juicing blog.  Here's what happened…
THE SKEPTIC
Anna says: Yesterday could be summed up in two words: can't think. Now I know exactly why the drive to eat is so strong – it keeps you focused and thinking and able to function. Yes, that. Other than the most basic adding up of stuff for my tax return I was little use to anyone yesterday, my brain was so scatty. And I had the most dire craving for an apple. One little apple. It's funny how we're all no longer craving junk such as sausage rolls and chocolate – that was the beginning of the week – but lovely healthy food instead. For me an apple and a bowl of steamed vegetables with a pat of butter would have made my day.
I had a repeat of last night's problem in the evening and couldn't face another cold liquid after walking home in gale-forced winds, so I souped again. To be honest, I quite like the idea of souping (it's a trend according to our Bodyologist blogger) as a detox for the winter instead of juicing, it so much more warming and suitable for this weather.
How I'm feeling? Unfocused, cranky and cold.
What I've learned: This is not the best time of year for a juice detox. I need warm food to function as feeling cold is overshadowing any other benefits I'm feeling.
On today's menu: 
Breakfast: Orange Sunrise – one whole sweet potato, four oranges, one bunch celery juiced and then blended with a punnet of blueberries (serves two).
Lunch – Savoury Dream – six tomatoes, one onion, one green pepper and a touch of tabasco (serves one) – this tasted gorgeous, like a Gazpacho soup in a glass.
Mid-afternoon – Miso soup, glass of coconut water.
Dinner – Lean Green soup made in the Vitamix – half a bag of kale, three handfuls collard greens, one handful spinach, crush garlic, half a teaspoon cumin and half a teaspoon paprika with vegetable stock.
THE CONVERT
Christina says:
To be honest I can't believe its already day five, time has gone by so quickly. We all had a conversation today about how we want to eat different things right now. Cassie the juicing virgin really wants some steamed rice, mushroom and spinach omelette and boiled duck egg with Ryveta crispy bread – and steak, but that's not a priority right now. Anna the skeptic can't wait to dig into some steamed vegetables. Although I like most of these things, the foods I crave most are banana, peanut butter and some salmon.
How I'm feeling?
I'm feeling good, not hungry which is nice. However, I do get a slightly overwhelmed at around 4pm, everything takes me a little bit longer than it usually would and I find it hard to concentrate.
What I've learned: 
I don't get cranky when I am hungry – my boyfriend still likes me – It's the physical exhaustion and lack of concentration this made this juice fast most challenging for me.
On today's menu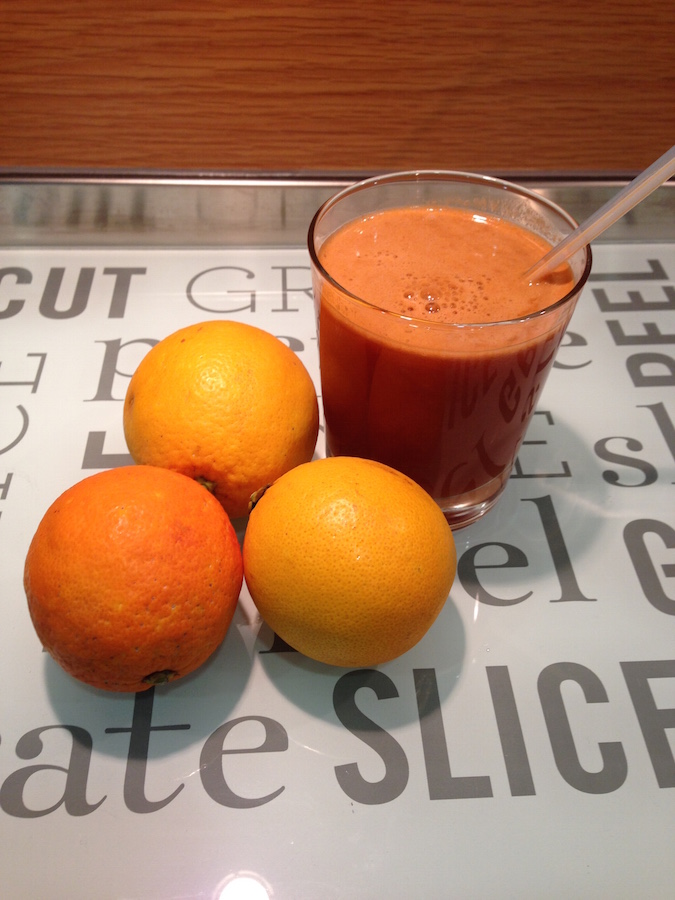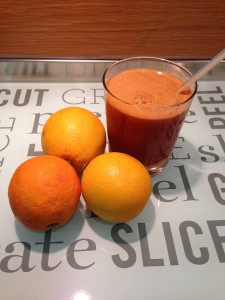 Breakfast: Bloody-Sweetness – This morning I made a juice with blood oranges which was really delicious. I recommend this recipe to juicing newbies who aren't ready to try all the super green juices yet. It tasted sweet and refreshing and has a beautiful red colour. I added 4 blood oranges, 3 carrots and 1/2 cucumber to make this bloody looking juice.
Mid-morning snack: I had some fruit tea with honey, yes I know honey is cheating, but I really need that for extra energy.
Lunch: Lunch was the same as breakfast, because I had quite a lot leftover. I also had a cup of chai.
Afternoon-snack: I can't live without my miso soup now, so I had one at around 3.30pm and it was delicious.
Dinner: Mean green blended with a banana – I wanted a safe choice for dinner and you simply can't go wrong with a classic -the mean green – to give it an extra boost I blended it with a banana. In the mean green: 1/2 a cucumber, 2 apples, 4 celery stalks, 6 kale leaves, 1/2 lemon and ginger.
THE VIRGIN
Cassie says: I woke up with the `furry` tongue everyone else has been getting. Although I'm not thinking about food, I am looking forward to eating something. I've been tempted to have a slice of apple or carrot before I've put it in the juicer. I've got used to the idea that I won't be going out this weekend for drinks or a delicious meal (I'm pretty sure a plateful of crackers would seem delicious right now!) However, Anna and Christina have said to start incorporating raw, solid veg and fruit into our diet over the weekend because a lot of people suffer from bad stomach cramps when they go straight back to cooked food and we all want a cooked meal on Monday, so that's a relief.
How I'm feeling? I'm glad to say hunger hasn't been an issue today and I'm feeling a lot more light even though I still haven't had any bowel movements. (Too much information? Sorry.) However, I felt so nauseous this morning I couldn't finish my juice so bought the rest into work but was still unable to finish it. I'm not sure if the nausea is due to yesterday's soup (see juice blog 4 for more details) but I can't stomach the thought of carrots or tomatoes right now. Concentration has been off today too.
What I've learned:
Heating up juice may not be wise. I'm really not a fan of tomatoes or herbs in juice.
On today's menu: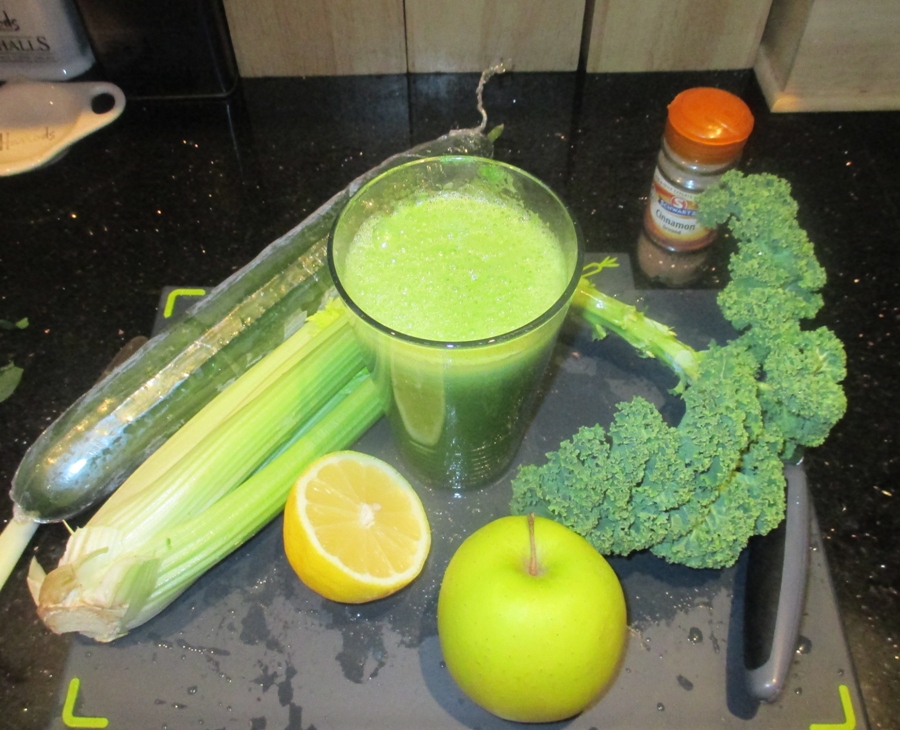 Breakfast: After enjoying it so much yesterday morning, I decided to use Joe Cross' Mean Green recipe again (with some cinnamon).
Mid-morning snack: 1/2 chicken stock cube in hot water. Thankfully, this made my nausea go away.
Lunch: I couldn't stomach the tomatoes and pepper in the juice. It made me feel sick again so I reverted to chai tea with some honey which helped.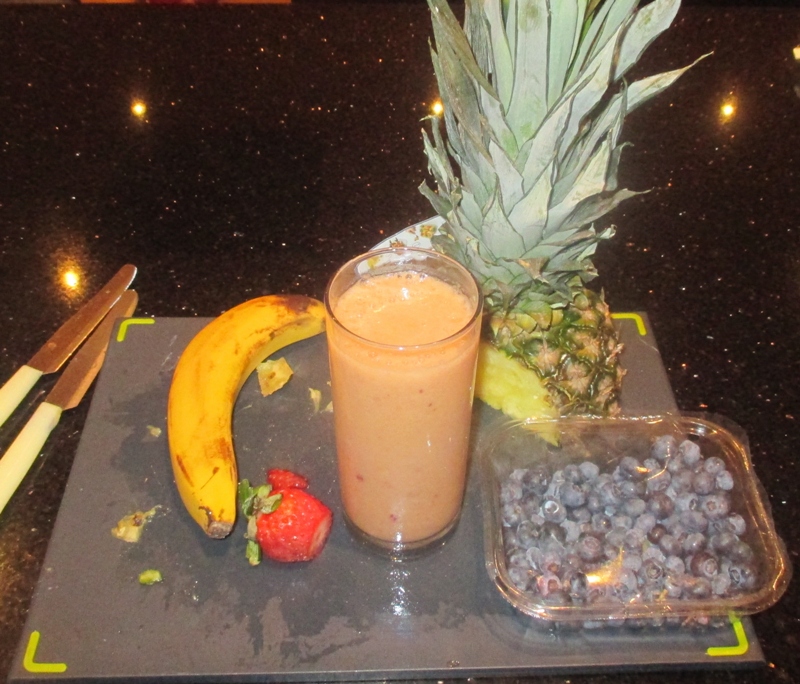 Mid-Afternoon snack:  Some of my Mean Green morning juice.
Dinner: Sweet Goodness – my own invention. I juiced a handful of blueberries, 3 strawberries, 1/4 pineapple with 2 tsps of cinnamon. I then blended this with 1 banana.
I was in need of a sweet fix (and fibre) – this did the job.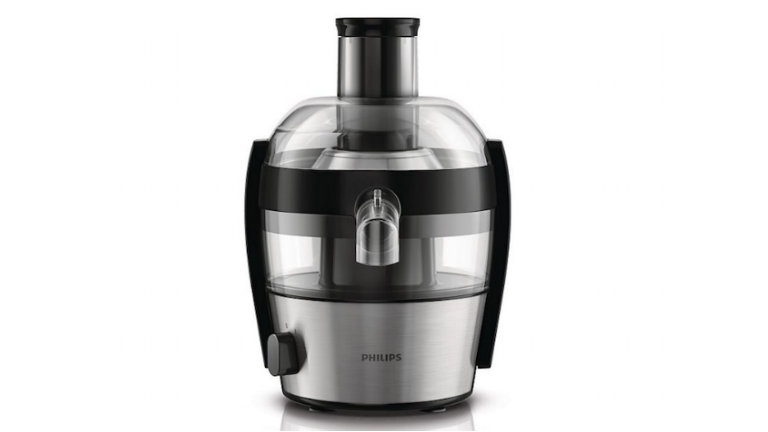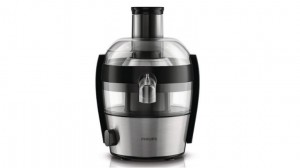 Anna and Cassie are using the Phlips Viva Compact Juicer, see a review here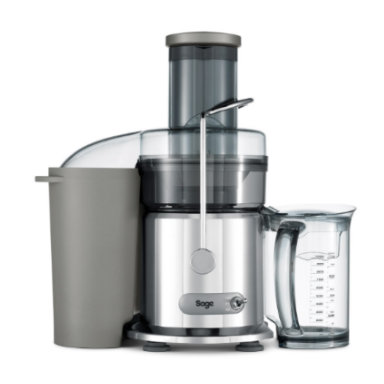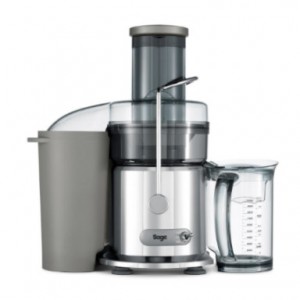 Christina is using the Sage Nutri Juicer by Heston Blumenthal (right) – see a review here
To find out what happened on previous days follow the links below:
Like this article? Sign up to our newsletter to get more articles like this delivered straight to your inbox.