Who doesn't love Jennifer Lopez? This week she opened the American Music Awards with her beautiful voice and inspiring body. Here are some of the tips she uses to look as amazing as she does
5'5, 59kg, curvy as hell – and 46! – there isn't one bit of Jennifer Lopez that we don't love.  Lopez opened the American Music awards this past week with a spectacular rendition of her her 1999 hit "Waiting for Tonight" but showed the crowd that she's still got it, twerking along to Nikki Minaj's "Anaconda". While America the celebrity strut her stuff to the music and out-dance much younger singers, we at Healthista were wondering how does she do it?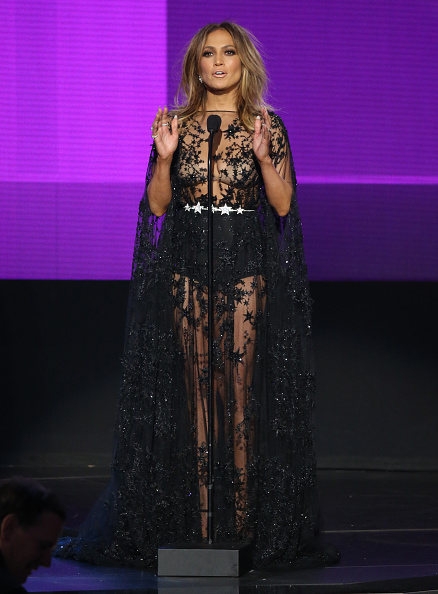 She loves to dance
Here's a secret that should be so surprise to our readers: J-Lo loves to dance.  A year ago, she told Extra that she lost 10 pounds from eating vegan and dancing. Dancing 6 hours a day. Lopez says that she is not an "exercise fanatic"  but that she needs to  practice routines  and dance in her shows. From all those hip-shaking, shimmying, and in the case of the music awards, tweking, she looks better than many women half her age.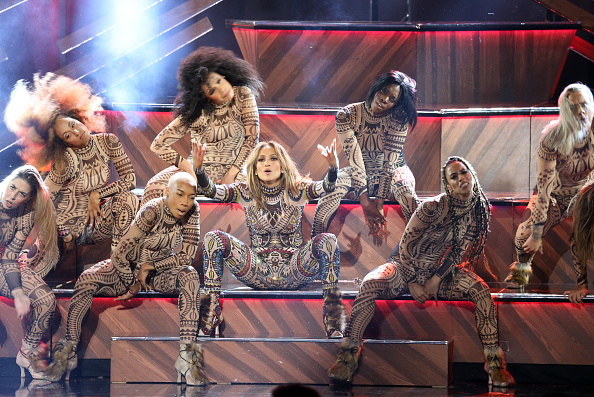 She eats right.
Lopez has bounced back and forth between different diets but for this show, she followed a sugar and salt free diet with a focus on portion control. She is an advocate not to throw away a diet plan because of one slip up. She says "It's about consistently and always trying to be better and trying to do good." Lopez also refrains from cigarettes and alcohol while getting a full 8 hours of sleep a night.
She sweats. 
Jennifer Lopez has been known to use the Tracy Anderson teaching of exercise which focuses on floor work with light weights and lots and lots of cardio. Not only does she get cardio from dancing but her workout get that heart beat up as well. She signed up  for a triathalon in 2008 to help her lose weight after having a baby Lopez states "[I'm like] a fighter, going into the ring. I do my cardio and I do my workouts with the Tracy Anderson Method," One participant in a Tracy Anderson class said "I started with a recommended "AtTAin" class my first time, a 60-minute sculpting session that uses mostly body weight and some light hand and ankle weights to sculpt the arms, abs, booty and thighs. The workout takes place mostly on the floor, but don't expect to leave without absolutely dripping in sweat in the whole way through. By the end of class, I could hardly move a muscle in my body and was covered in perspiration." Now that what we at Healthista want out of a workout.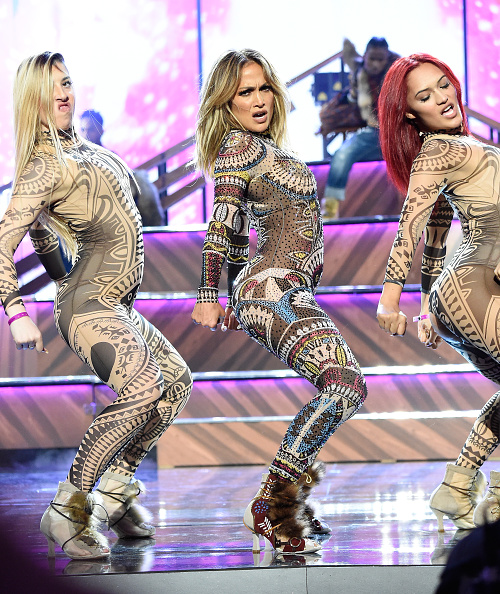 She's practical.
Lopez isn't going to let one crisp or one missed workout ruin her motivation. For her, being a celebrity is her job. She has to look great and be a role model and to do that, she says you  have to put in the hard work.. "You got to work out, you got to watch what you eat," she told Us Magazine. "It's a job — you've got to buckle down." She takes her beauty and her work seriously. Health is not a game with her, it a complete lifestyle.
She keeps a positive outlook.
J-Lo told  Elle Canda that she starts everyday with  self-affirmation." Just like anybody else, there are days I feel great when I wake up, and then there are days when I feel more tired or not ready to face the day. To be quite honest, on those days, I really try to think positively. I try to do a lot of affirmations for good health and positive thinking to just get my mind and my spirit in the right place so I can face whatever it is that I need to face."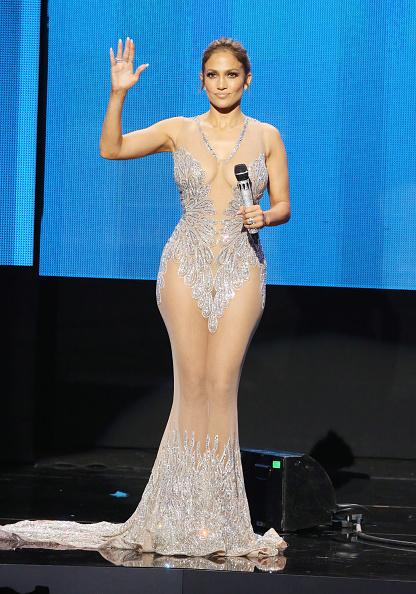 Whether it's positive thinking, her many hours of dance, or her vegan eating,  the value she places on health and self-confidence is part of the many reasons why she is so well loved.  Opening this years music awards, Jennifer Lopez shows us that not only has she not been forgotten but she is looking better than ever.
Like this article? Sign up to our newsletter to get more articles like this delivered straight to your inbox.