In day 3 of our 'How to own a room' series of public speaking tips videos, stand-up comedian Viv Groskop shares her tips on how to speak with confidence on your social media accounts
Ever heard the phrase 'the Internet is forever'? Unfortunately as far as we know now, that's pretty much the truth. The internet is an integral part of our daily lives whether we like it or not, whether it's at home, work or out with friends. Instagram, Facebook and Twitter can be daunting, especially when you're looking at photos of people who seem to live glossier and more glamorous lives than you do.
Allow yourself to try all kinds of things to see what works best for you
Whether you're using it for personal reasons or want to build your professional brand, there's a lot of insecurity out there for people who want to get better at social media. So how do you gain social media confidence?
In the third of a series of five public speaking tips videos running every day this week from comedian Viv Groskop, whose new book How to own a room has just been released, Viv brings you three ways to boost your confidence on social media
Tip #1: Give yourself permission to experiment
'This is so important,' says Groskop. 'Unless you put stuff out there, you never know what's going to work.'
Giving yourself the freedom to try new things is a huge part of gaining confidence, and you never know what people will like. Allow yourself to try all kinds of things to see what works best for you.
'Allow yourself to be a bit of a guinea pig,' Groskop suggests. 'Just think 'I'm just going to put this out there and see what happens.'
Tip #2: Find role models
'Think about the presence that you want to have, and find role models who already have it,' Groskop explains.
Who are your role models, on Twitter or off of it? You probably have a favourite actor or comedian that has a bunch of followers – how do they use Twitter or Instagram? Use their social media as a template to build your own accounts. Whether you're emulating Michelle Obama or Russell Brand, you'll have a better idea of what you want your social media to look like.
'Look for the people already using social media who are doing the things you want to do, coming across the way you want to come across,' Groskop says.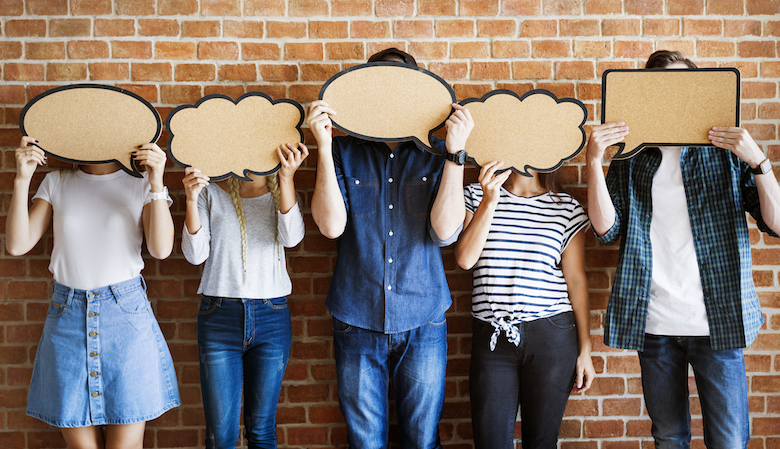 Tip #3: Embrace rejection
'This is probably the most important one,' Groskop says. 'Whatever you put out there, especially if it's interesting or important, someone is going to hate it. That's fine, let them find their own zone, let them find their own things they're interested in.'
Don't worry about the people who aren't interested in it, worry about the people that are
Criticism is a mark of doing or saying something meaningful, and everyone's a critic. Don't take criticism to heart. Hate is a natural part of being online – trolls are everywhere. It just means you've said something meaningful enough to get people's attention.
'You say what you've got to say and own it,' Groskop says. 'Don't worry about the people who aren't interested in it, worry about the people that are.'
More about the author
Viv Groskop is a writer, comedian and broadcaster. She is behind the best-selling book and podcast How to Own the Room: Women and the Art of Brilliant Speaking. Groskop appears regularly on BBC1's This Week and is a guest presenter on BBC Radio 4's Saturday Review and Front Row. She has hosted book tours for Graham Norton, Jo Brand and Jennifer Saunders.
More from Viv:
3 public speaking tips this stand up comic swears by
This is how to win in an interview – from a stand up comic who knows
How to calm down fast if you're having a bad day at work
More Healthista Content:
7 celebrities opening up about their anxiety
Mental health fixes – 13 women share what makes them happy
10 ways to improve mental health at work
8 signs you're addicted to social media
WIN an overnight spa stay worth £279 by taking our 5-minute survey
Do you want to experience ultimate relaxation? To be in with a chance to win an overnight spa stay for two including treatments and meals, complete our five minute survey about how your gut health affects your relationships