Hot leggings are this season's must haves even if you're not planning on going to the gym. We have found some of the prettiest and most practical leggings that are bound to make everyone jealous
Imagine this. You've overslept and you're running late so you throw on some gym leggings and a t-shirt. Did you just get out of bed or have you just come from an incredibly intense workout? We'll never know.
Trendy sportswear or 'athleisure' has taken over the fashion world in recent months, with the likes of Cara Delevingne and Kylie Jenner often wearing them more as casual clothes on a day to day basis.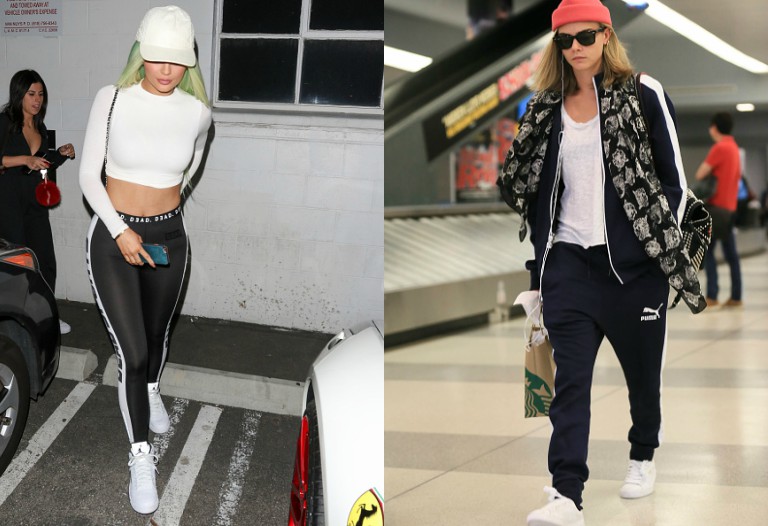 But for us gym bunnies, the idea of gym clothes actually being fashionable has worked in our favour, because now tonnes of beautifully designed yet functional leggings are hitting the shelves left, right and centre.
So, we've been on a hot legging hunt and have found some of the most gorgeous, sustainable leggings of this year's autumn and winter seasons and of course, tried and tested them out to see if they really are practical and as fashionably fit as they look. First here's my video and keep reading for our detailed reviews.
BEST FOR FUNCTIONAL GORGEOUSNESS :

Adidas Orignals Pastel Camo Leggings, £25 (from JD Sports)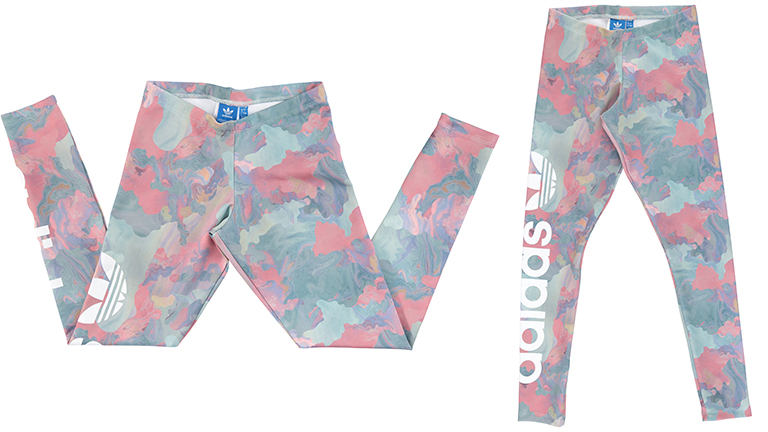 Adidas have done it again and mixed fashion with fitness to create these gorgeous leggings that are exclusive to JD Sports. These leggings pretty much had us fighting in the office because let's face it, they're probably the prettiest pair of leggings we have ever laid our eyes on.
Camoflauge print is all the rage right now, but Adidas have given these leggings a street-chic twist and used pastel colours in order to create a softer print.
Edging more towards the athleisure category, these leggings are perfect to show off while doing low intensity exercises like yoga or dance as the stretch waist and tight fit ensures comfort and flexibility.
Made from 60 per cent cotton and 40 percent polyester these leggings feel thicker than others but it makes them great as they hug your curves and means that they are totally flattering.
Tester says: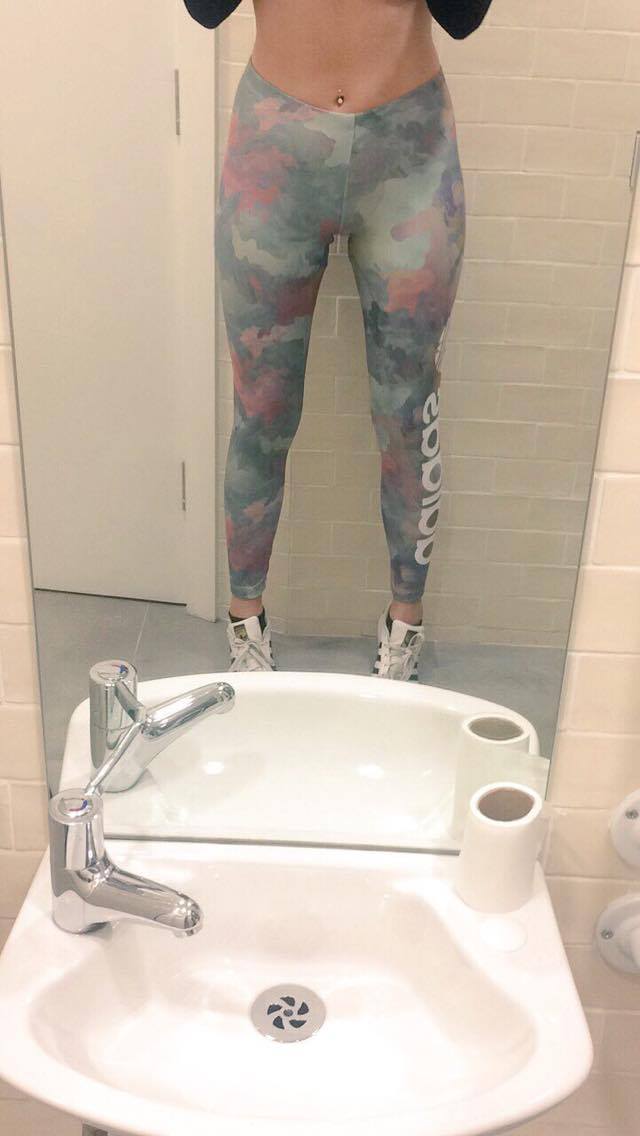 It's safe to say that you'll never be short of compliments when wearing these leggings, everywhere I went somebody told me they loved them. I like the fact that these leggings feel a lot thicker than the standard nylon/lycra leggings as it kept me a lot warmer when running. I like my leggings to be high waisted as I find they sit better. These were a bit too low mid waist for me so when I was running I found that I had to keep adjusting them. I still absolutely love them though, they were super stretchy and I felt super cool when I was wearing them.
Tested by Carly Cochrane – Health, Beauty & Fitness writer for Healthista
2. BEST FOR SHAPE
Reebok One Series Mix It Up Tight, £44.95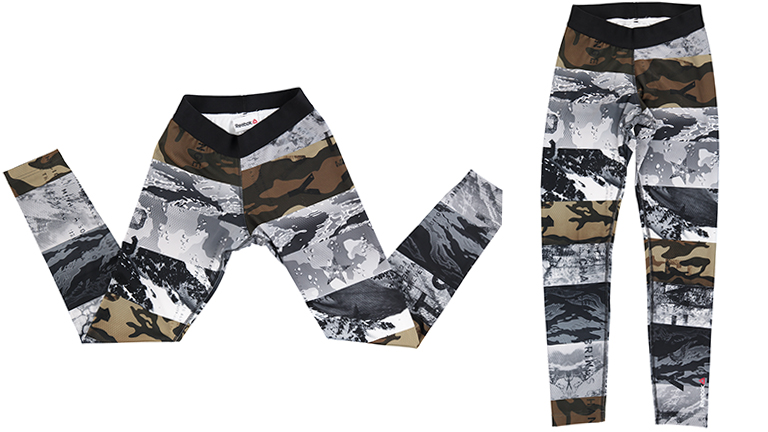 If pastel camo isn't really your thing and you'd rather rock an authentic camo look during your workouts, then these amazing Reebok leggings are calling your name.
We love the wintry mix and match of these camo leggings, or as Reebok calls it – a 'happy accident', but underneath the crazy aesthetics comes plenty of functional and practical uses.
Underneath the crazy aesthetics comes plenty of functional and practical uses
The first thing to notice about these leggings is the slim fit and high waist, making them great for keeping everything tucked in as they wear close to the body and give plenty of movement. The leggings are super soft and sit flat against the skin due to their flat-lock stitching (aka no seams) so you won't have to worry about chafing or twisted leggings.
Although they are designed for more low impact sports like dance, yoga or light cardio, they still have speedwick technology and antimicrobial material, in order to keep you feeling dry and comfortable and to stop sweaty odours.
The leggings are super soft and sit flat against the skin due to their flat-lock stitching
Tester says:
First things first, I LOVE the print of these leggings. The mashup of camo colours just makes me want to hit the gym hardcore.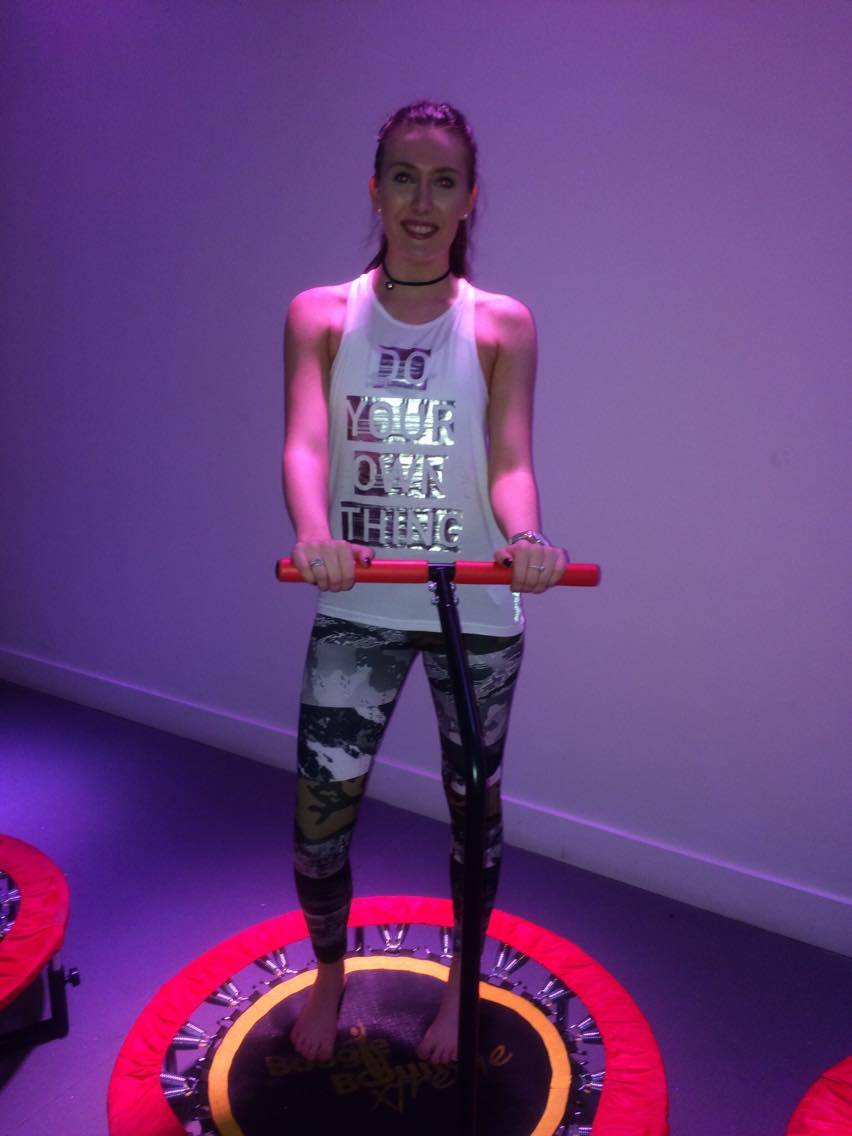 I wore these leggings for two types of classes – a relaxed dance class and a high intensity boogie bounce session and I can definitely say that I was in complete comfort the whole time and I received lots of compliments. I'm really tall (5'10) so finding a pair of workout leggings that don't ride up and give me a camel toe or a wedgie is quite a challenge. The Reebok leggings were quite high waisted on me which I loved, because it sucked everything in and gave me full support from the waist down with no discomfort.The material is really soft and stretchy so I had tonnes of movement and flexibililty when I was bouncing around and attempting to dance and the no seams meant that I didn't have to worry about accidental chafing.
Boogie bounce is a real extreme workout and I was sweating buckets, yet I still felt cool, dry and comfortable. I personally still wash my leggings after every wear though!
Tested by Carly Cochrane – Health, Beauty & Fitness writer for Healthista
3. BEST FOR HEAD-TURNING FACTOR 
Nike Pro Cool Training Capris, £33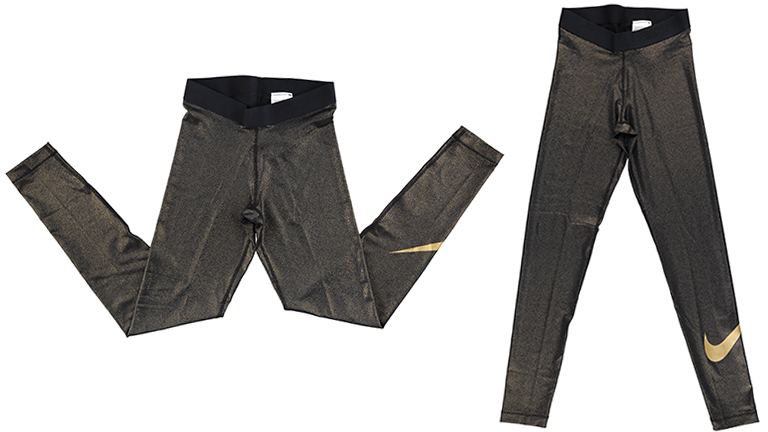 Tough workouts can be horrible, so why not add a little sparkle to make them more bearable. In our opinion, these three quarter length leggings are a great way to apply some festive spirit to your winter workouts.
High intensity workouts require activewear that is going to support your every inch, making the Nike Pro Cool Capris your go to legging for hard workouts. The leggings are made from sweat-wicking fabric and Nike's Dri-Fit fabric – a high-performance, microfiber, polyester fabric that moves sweat away from the body and to the fabric surface where it evaporates. Another great feature of these leggings is that it has flat seams, meaning you can have a distraction-free training session and not have to worry about chafing.
An inside leg gusset (that little triangular patch in the crotch area) keeps you moving without restrictions
An inside leg gusset (that little triangular patch in the crotch area) keeps you moving without restrictions, while the wide elastic waistband delivers a snug but comfortable fit.
Tester says:
There's nothing like looking down while you're trying to deadlift more than your body weight (60kg) and seeing your own gold glittery legs to inspire you. I absolutely adore these babies from Nike, the waistband sits just right and lightweight fabric is like a second skin and doesn't budge, despite being almost like wearing a pair of stockings. Despite being sheer there is no show-through factor either. They have everything you'd expect from Nike too – fit, head-turning style and function.
Tested by Anna Magee – Editor of Healthista (here's a video of Anna shoulder pressing in them)
4. BEST FOR GYM-TO-STREET
Ellesse All-Over Print Marble Tights, £30 (from JD Sports)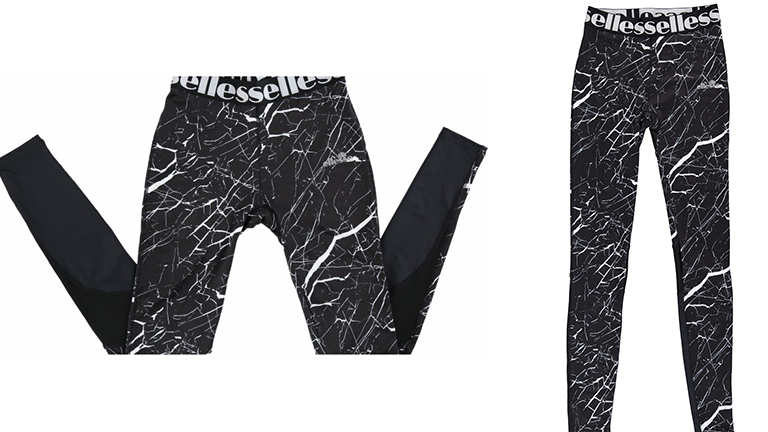 Ex TOWIE star, Lucy Mecklenburgh teamed up with Ellesse to bring us these gorg' all over printed leggings that are exclusive to JD Sports. Marble print seems to be the in thing right now so there's no doubt that you'll be the fashionista of the gym if you were to wear these.
These particular leggings are great for medium impact exercises such as dancing, cardio, or cycling classes but that doesn't mean that you can't push yourself to the limit. Not only do these leggings have a medium rise waistband meaning they're completely practical and there won't be any sign of builders bum or camel toe. They are also made from sweat-wicking material and are fast drying, so no matter where you are, what you're doing or whatever the weather, you can rock them with no worries of feeling damp and smelly.
Made from sweat-wicking material and are fast drying
Tester says: 
When I first saw these leggings I fell in love. They are my definiton of perfection. I like the black and white colours becasue it's so easy to match tops and bras with and the print just gives them that extra edge.
Because of time and weather issues, I decided to try these leggings while doing a home workout – squats, donkey kicks, lunges, you name it, I did it. I tried them on and the material felt really soft against my skin and also really tight, which I loved as it made it a lot easier to move and bend. I also really liked the fact that there were panels on the back of the legs as I felt a lot more supported around my ankles and lower legs. The elasticated waistband meant that I had a personalised fit that was snug around my waist and stayed put throughout. I also found that they could be worn a lot more high-waisted than medium as I'm tall and they still stretched above my hips.
The only thing I was upset about was that I didn't get the chance to show them off to the world.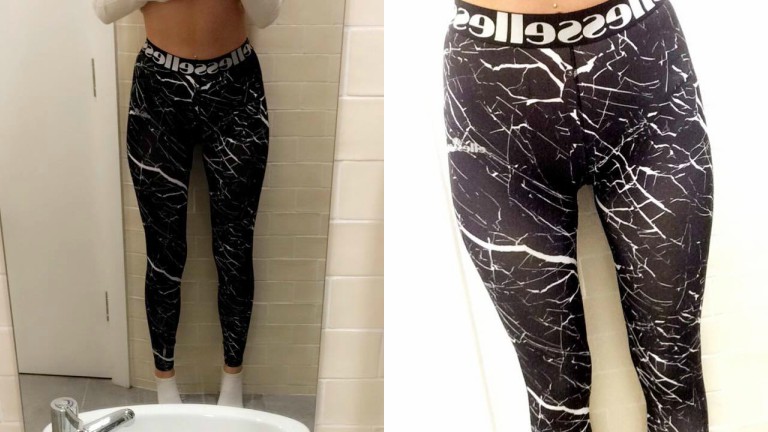 P.s, if you're after a Kim K bottom I would definitely suggest these as a cheat – they made my bum look amazing.
Tested by Carly Cochrane – Health, Beauty & Fitness writer for Healthista
5. BEST FOR SUSTAINABILITY AND STYLE: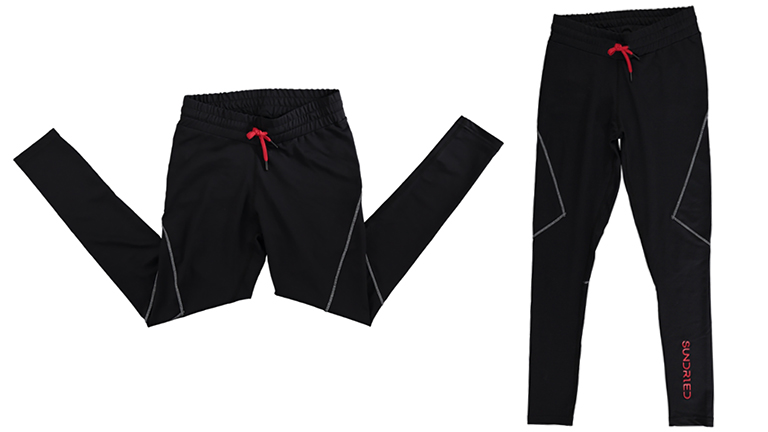 Premium activewear brand, Sundried, who responsibly source all of their material making them completely ethical, have created a legging that is all about function, style and comfort.
Inspired by the peak of Mount Ruinette in the Swiss Alps, the ruinette tight leggings might not be as 'in your face' as the others, but they're most definitely one of a kind and perfect for outdoor activity.
One of the most prominent features that we were all automatically drawn to was the elasticated and drawstring waistband.
Designed to be different, one of the most prominent features that we were all automatically drawn to was the elasticated and drawstring waistband. Not only does this feature make the leggings look like a high end pair of tracksuit bottoms, the fit can be personalised and adjusted to your choice, so whether you want a tight fit for your intense HIIT workouts or a loose fit for some stretching, it's totally versatile and the leggings will stay put and perform with you.
It's all about comfort with these leggings too it seems as flatlock seams and a four way stretch fabric means that you have complete freedom of movement, whether you're squatting, jumping or lifting. Sundried have also ensured that the leggings have a streamlined fit in order to create a smooth, aerodynamic silhouette, so nothing can hold you back.
You can even have the comfort of knowing that you can keep safe as the legs are laced with a reflective strip lining to enhance visibilty and there's a little back pocket where you can keep valuables.
Tester says:
This new brand first caught my eye on Instagram because of its brilliant story fixing sustainibility and style. I love the high waistband that's triple elasticated give the tights an old-school style feel. The fabrics really suck you in and while not quite compression, feel almost like it. I thought they really enhanced my shape in the gym too.
Tested by Anna Magee – Editor of Healthista (here's Anna deadlifting 60kg – her own personal best – in Sundried)
6. BEST FOR LIGHTWEIGHT FABRIC AND FIT:
Tinyfish Tyler White 2nd Street Leggings, £59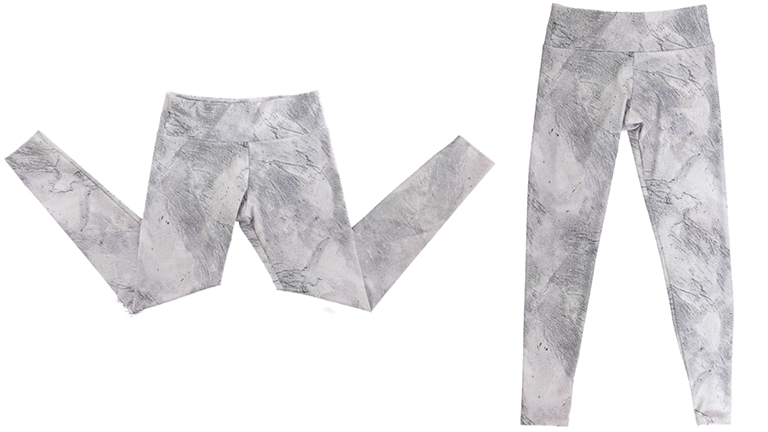 These leggings will literally rock your world. The gritty design stems from the idea of the strength of concrete, which (I think) makes these the perfect leggings to give you the power and motivation to do anything – because strong leggings equals strong mind.
The leggings are not only super cool but also super light weight because they have a four way stretch fabric, which gives you the freedom for all types of movement. They're orignally designed for lower impact fitness like yoga, pilates, barre and spin but nothing is stopping you from wearing these beautys on the treadmill as the quick drying and antibacterial fabrics mean that you can sweat it out and hit it hard.
Tester says: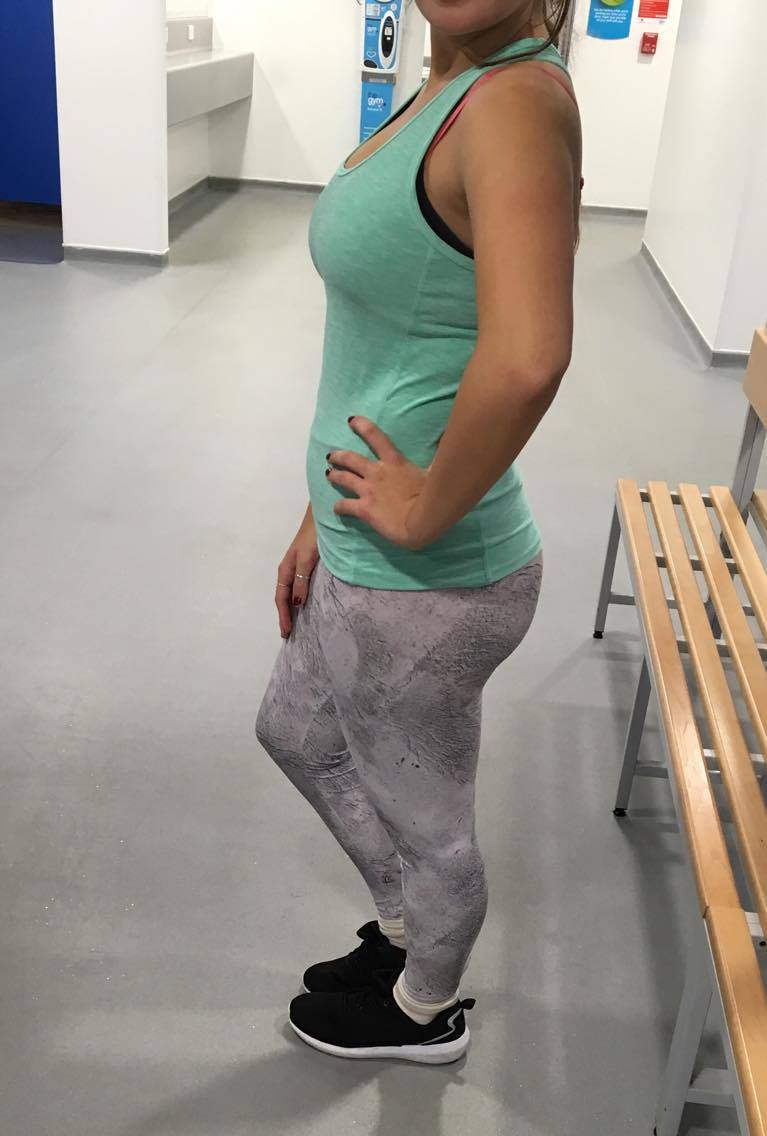 I wore these leggings for a boot camp class at the gym, and I didn't even notice them (which is a good thing). When I first put these on I was worried about the thin material and if this would make them see-through or if they would slip down. But I went through my class and part of my afternoon in them comfortably as if I were bare-legged! I'd definitely wear these again.
I'd definitely wear these again.
Tested by Vanessa Chalmers – Food & Lifestyle writer at Healthista
7. BEST FOR SEXY STYLE
SixtyNinety MEMO Flower Printed Capris, £60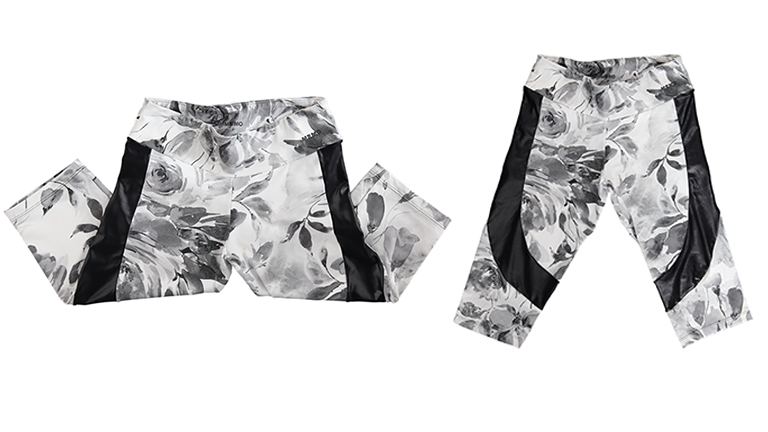 Sixty Ninety is a Brazilian born activewear company raised in London who's name was inspired by the classic myth of 60-90cm as a woman's ideal body measurements. Founded by the gorgeous Brazilian model, Aline Lima, the company stocks a variety of jaw-dropping activewear brands that all combine style with function, but from January you can expect to find only Sixty Ninety activewear on the site.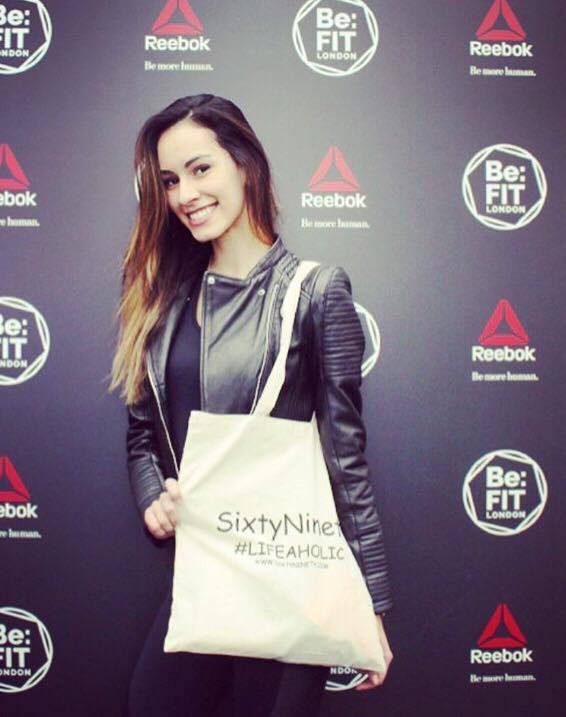 For now though, at Sixty Ninety, you can find these beautiful flower printed capris made by MEMO which we adore.
On top of the stunning print on these leggings, they are made from power mould and ciré fabrics which give a push-up effect that enhances the body's curves – true Brazilian style. It also has a microfibre that is almost six times thinner than a stand of hair, which gives these leggings their super soft touch, flattering fit and allows a greater dispersion of moisture and hot air.
Sounds like the ultimate pair of revolutionary leggings, right?
Tester says:
After meeting the gorgeous Brazilian model Aline Lima, who brought Sixty Ninety to the UK, I was determined to try this brand. It appealed to me because of the way they use plenty of compression fabrics that really shape the booty but also because of the unusual designs and looks I had never seen before. This MEMO outfit was flattering and really sucked in my tummy and booty.  I adored the look as as a huge black and white fan. Am so excited about what this brand will do next.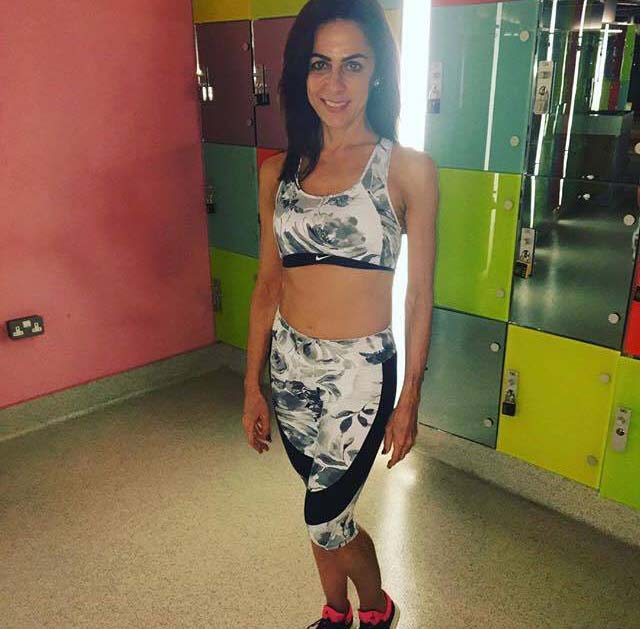 Tested by Anna Magee – Editor of Healthista
8. BEST FOR SUBTELTY
Asquith Flow With It Leggings in Thunder Grey and Jet Black, £45
If crazy print leggings aren't your style at all and you're looking for something more lowkey and conservative then these leggings might be for you.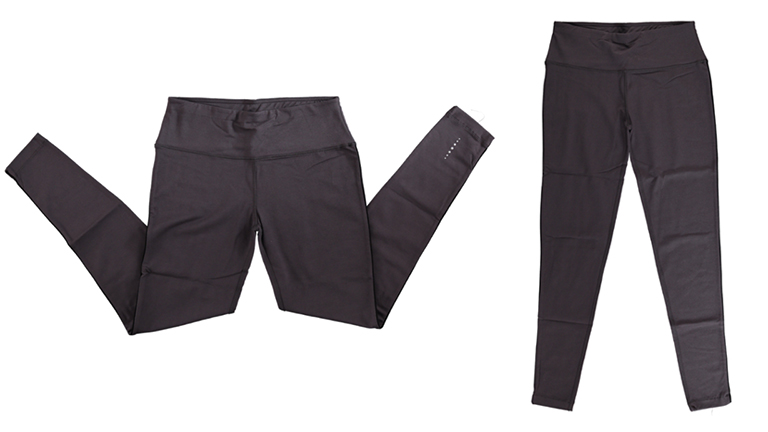 Asquith create eco-activewear for yoga, pilates and living-in from the best organic cotton and bamboo fabrics which are both chemical-free and sustainable, which means they aren't as shiny and nylon like as what we are used to. But just because they aren't fancy doesn't mean that they aren't practical. In fact, this fabric is completely breathable so your body temperature will be regulated no matter how hard you're working and like the majority, they include wicking that will pull moisture away from your skin to keep you dry.
The thick waistband of these leggings is one of our personal favourites as it keeps everything tightly sucked in and in place when you're moving in all kinds of crazy positions and the material contains elastane, which allows a four-way stretch and shape to be maintained.
The thick waistband of these leggings is one of our personal favourites as it keeps everything tightly sucked in
But technology isn't all that these leggings have to offer. They're Oeko-Tex certified meaning they have a low-carbon footprint and biodegradable fibres so they're totally sustainable.
One subtle touch that we love is the small detail along the seams and on the ankles, you can find the small circles across the whole of the Asquith range.
Tester says: 
I did some yoga in these as they looked like a more casual legging. They were so comfortable and cosy, they could double up as loungewear.
In fact I definitely would wear these round the house. The material is soft and they feel high quality.
Tested by Vanessa Chalmers – Food & Lifestyle writer for Healthista
9. BEST FOR EYE-CATCHING STYLE:
ILU Signature Compression Leggings, £60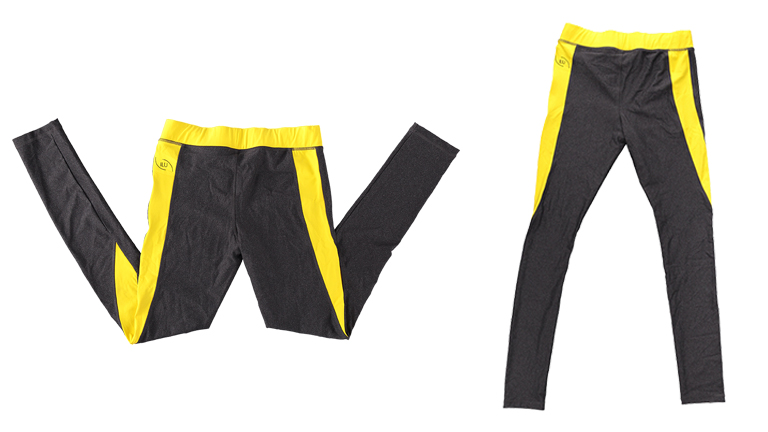 Need sucking in or want to hide those bulging bits? ILU have created the ultimate compression legging that sucks you in hip to heel.
These specific compression leggings have a mid-rise waistband and use technical and supportive fabric in order to banish any podgy bits and be truly functional. Made from a supportive sweat-wicking fabric that's 60 percent polyamide, 30 percent polyester and 10 percent elastane, they are purposely desgined to not have that shiny, lycra look that we so often see.
These leggings come in a variety of mood-enhancing colours including canary yellow, charcoal black and marine blue, and the contrasting stripes are actually cleverly positioned as they lift and flatter your figure and the shape of your legs.
Tester says: 
ILU leggings have really strong sucking in powers and give your legs a curvy shape. Im cautious to try colours in my gym kit, so a small amount of yellow was a nice change. Although not light reflective, it felt a bit safer running in low light outside in these than just black ones, and they are super warm!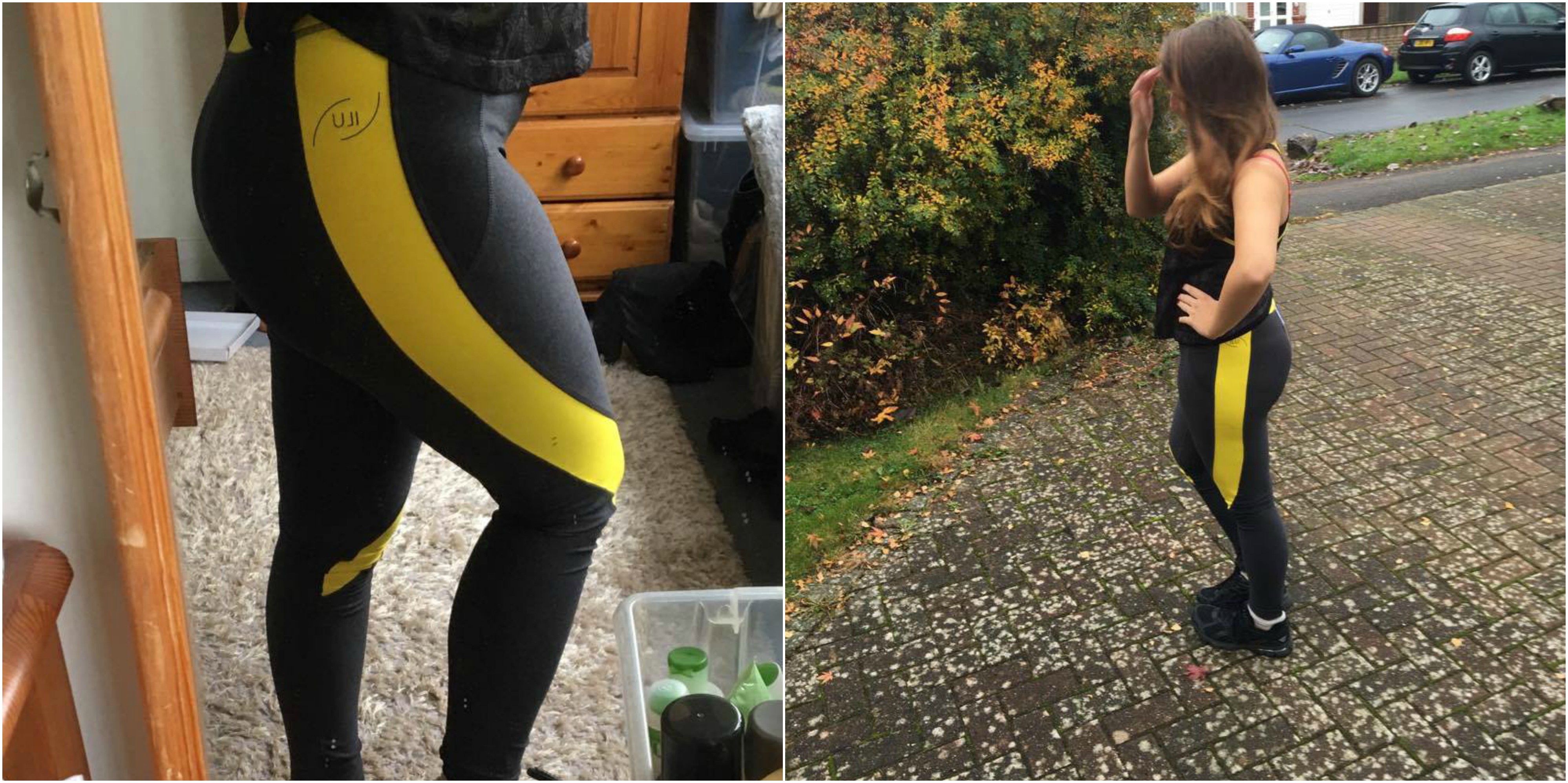 Tested by Vanessa Chalmers – Food & Lifestyle Writer for Healthista
10: BEST NEWCOMER TO WATCH
Another marble print to add to your collection and these leggings are oh so stylish – perfect for the gym, running errands or having coffee with your friends.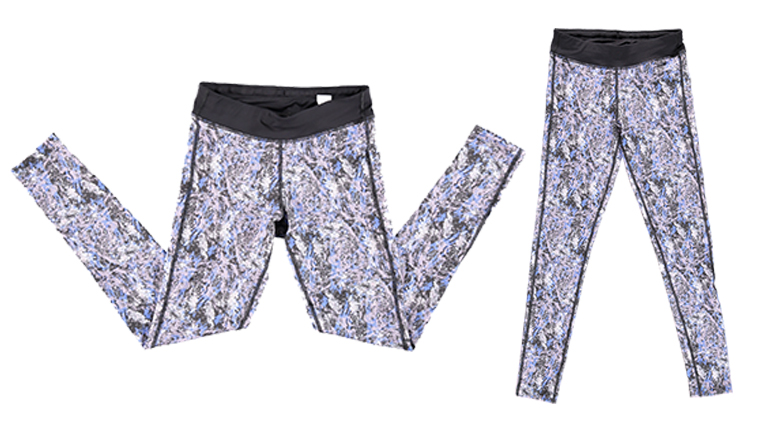 XINX are a new brand provide premium activewear which extends beyond the gym and the yoga mat. And these leggings are oh so stylish – perfect for the gym, running errands or having coffee with your friends.
The leggings are made using only the highest quality performance fabrics and have flat lock seams so you can guarantee maximum comfort against your skin when working out and getting sweaty. They are also completely breathable and wickable.
Tester says: 
These Xinx leggings had a really cool paint splattered print. The design was fun to wear in the gym and made a nice change from my usual boring black leggings. The pants got me a few compliments in the gym changing rooms but the only downside was that they were a bit long for my short legs and scrunched up a lot at the bottom. I'll have to get myself the three quarter lengths!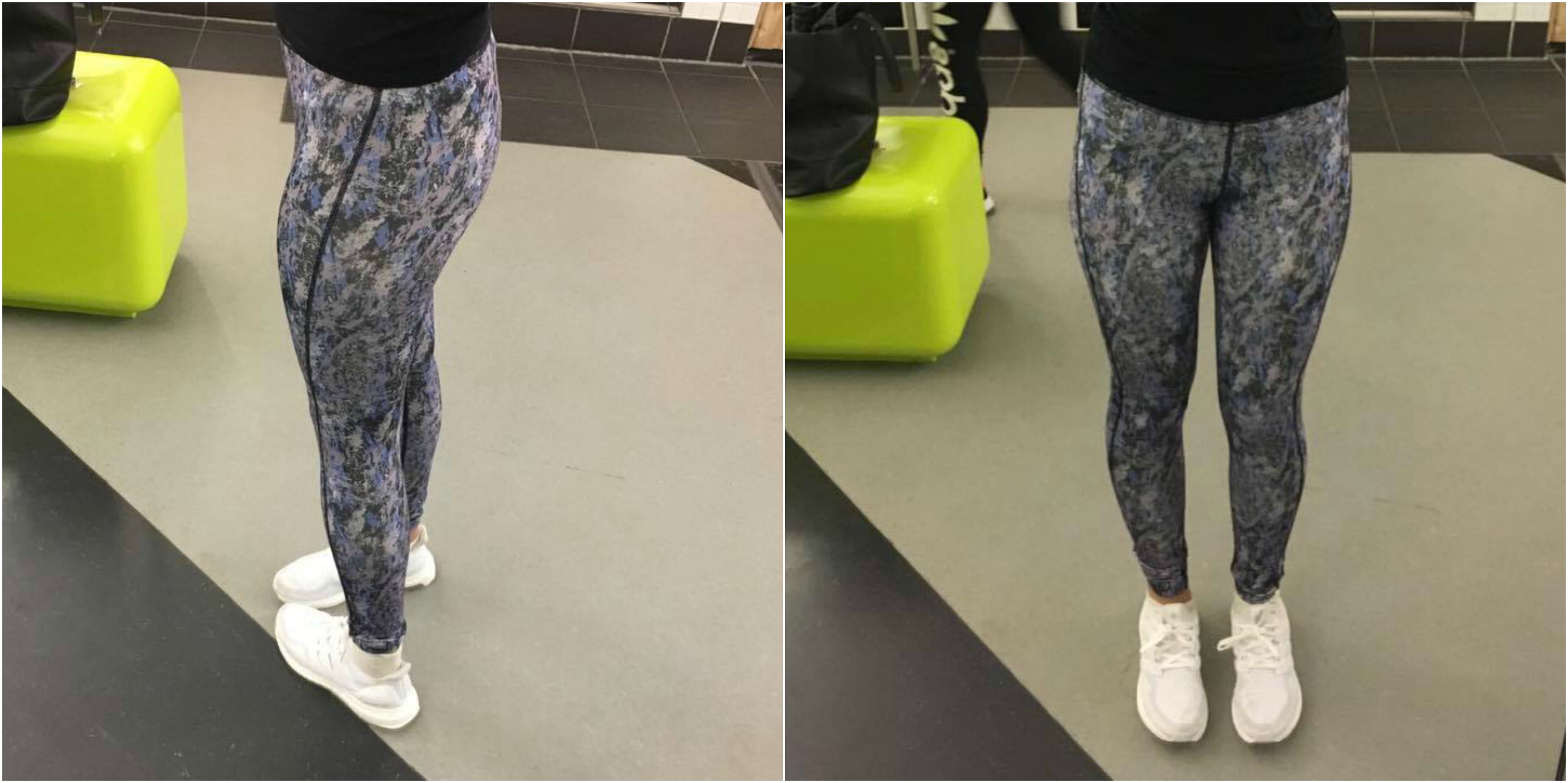 Tested by Parisa Hashempour – Multimedia journalist for Healthista
MORE: 9 best gym leggings for real women