Healthy restaurants in London where you can also have a great time are not that unusual, Healthista's Charlotte Dormon aka @healthyeatslondon found – here are her top five 
We might be cruising into the coolness of autumn right now but if, like me, you've spent a lot of your time in London enjoying the warmth of summer in the city, you'll probably agree it's been one of the brightest and hottest we've been blessed with in some time.
However, with all that summertime sunshine come a lot more social occasions. Whether it's weddings overflowing with champagne, boozy music festivals, or late-night rosé drinking sessions, it seems most of our UK summer celebrations revolve around indulging in unhealthy eating and excess alcohol. All of which can leave us feeling a little overindulged by the time the season ends.
Now don't get me wrong, I'm not saying all of the above is a bad thing. In fact, I would say quite the contrary. As someone who has worked within the wellness sector for a very long time, I'm very much a firm believer in the importance of having fun and letting go of that bullying self-discipline.
In truth, I've gone through periods of my life where I made myself quite miserable by being so wrapped up in an intense regime of fitness classes and following a such a super-strict health regime that I stopped having enough fun to make me happy.
When I was faced with a social occasion, I either tried to avoid it all together, or felt guilty that I wasn't at home eating my organic green veg or drinking a juice, doing yoga, or meditating at a specific time. I can tell you now, coming out the other side of that militant regime, I feel a lot happier for letting go a little more often and not punishing myself for it.
Having fun, being sociable and connecting with others is extremely good for your mental wellbeing. And for so many Londoners who are striving to work hard and work out even harder, this often means forfeiting time for enjoyment – including bypassing meals out with their nearest and dearest in order to stick to a strict diet plan.
Sometimes ditching a low-carb meal and meditation at home for an impromptu late night of dancing and drinking champagne can make you happy
Now, I'm not suggesting it's okay to spend every Thursday and Friday night so drunk that you end up at the wrong end of a bucket of KFC fried chicken, falling out of a taxi and sending embarrassing provocative text messages to your ex/booty call.
If this is the case, then you probably need to have a little re-think. (Just to be clear, I've never eaten a bucket of KFC in my life, but have certainly fallen out of a few taxis and sent a number of text messages I've regretted over the years.)
What I am saying is that it's all about balance: sometimes ditching a low-carb meal and meditation at home for an impromptu late night of dancing and drinking champagne can make you happy.
But eating good, fresh, healthy food certainly makes us feel more vibrant and energized. And when we do deprive our body of it, we can feel sluggish and tired and struggle to maintain stable blood sugar and mental clarity.
To make the next few months easier for you to get yourself back on track, I've found some of the best and most fun places London has to offer has to offer with enjoyable, good and healthy food… that certainly won't make you feel like you're punishing yourself.
Where: Farringdon/Clerkenwell
Good for: Gluten-free diets and Paleo/low-grain diets. The best English breakfast in town that's so good it will totally blow your mind. Homemade cold-pressed super juices and fresh smoothies. Tasty and healthy lunches and homemade gluten-free cakes that will make you want to lie on a furry rug and purr like a contented kitten.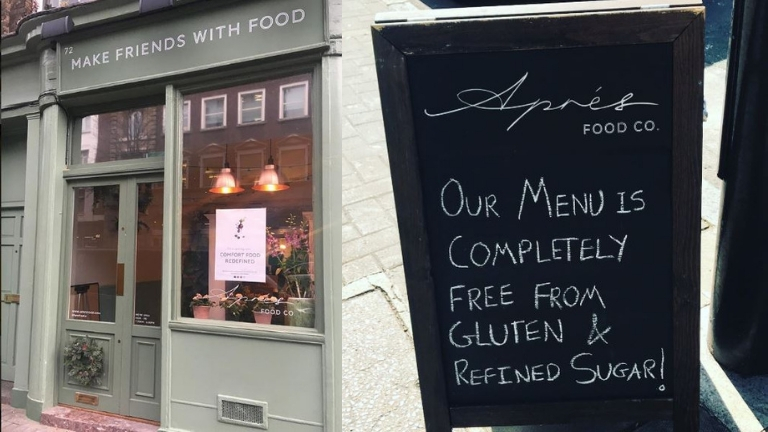 When beginning to write this review, I felt like saying 'go there, right now' but obviously I have to elaborate a little so you can get as excited about it as I am.
Farringdon is not an area I tend to visit too often as I'm generally based in central or west London, so I hadn't been lucky enough to hear much about this brilliant place. But via the medium of Instagram I had it flagged up by a good friend of mine, Carolyne, who sent me a picture of the food telling me how good it all was and that I must go ASAP.
As I'm a coeliac and can't eat gluten, Carolyne was keen to share her newfound love of Aprés Food, whose whole menu is catered to those who can't eat it. And by this, I don't mean they offer rubbish shop-bought gluten-free bread as an alternative, but actually produce their own freshly baked cakes, quiches, muffins and breads with organic grain flours that are naturally free from gluten – as well as a whole food menu that excludes it. Which basically means people like me have a ton of choice available to us.
we went on to have the dish du jour – the home-cooked English breakfast
Aprés Food is the brainchild of Catherine (a qualified nutritionist) and Danny (a top London chef) who have worked tirelessly to create a brilliant menu of everyday tasty dishes that anyone and everyone would want to eat, all made with the best-quality healthy produce. Their combined skill set has allowed them to create a menu that not only ticks a lot of nutrition boxes – including less salt, less sugar and lots of fresh whole foods – but also caters for those with specific dietary needs and is made up of elaborate and indulgent-tasting dishes.
Along with prioritizing gluten-free, they also ensure that everything on the menu – from the condiments to the cakes – is free from sugar, or made with natural unrefined sugars where possible.
My first visit to Aprés Food was a morning one to enjoy breakfast with my best friend and celebrity personal trainer Sarah Lindsay.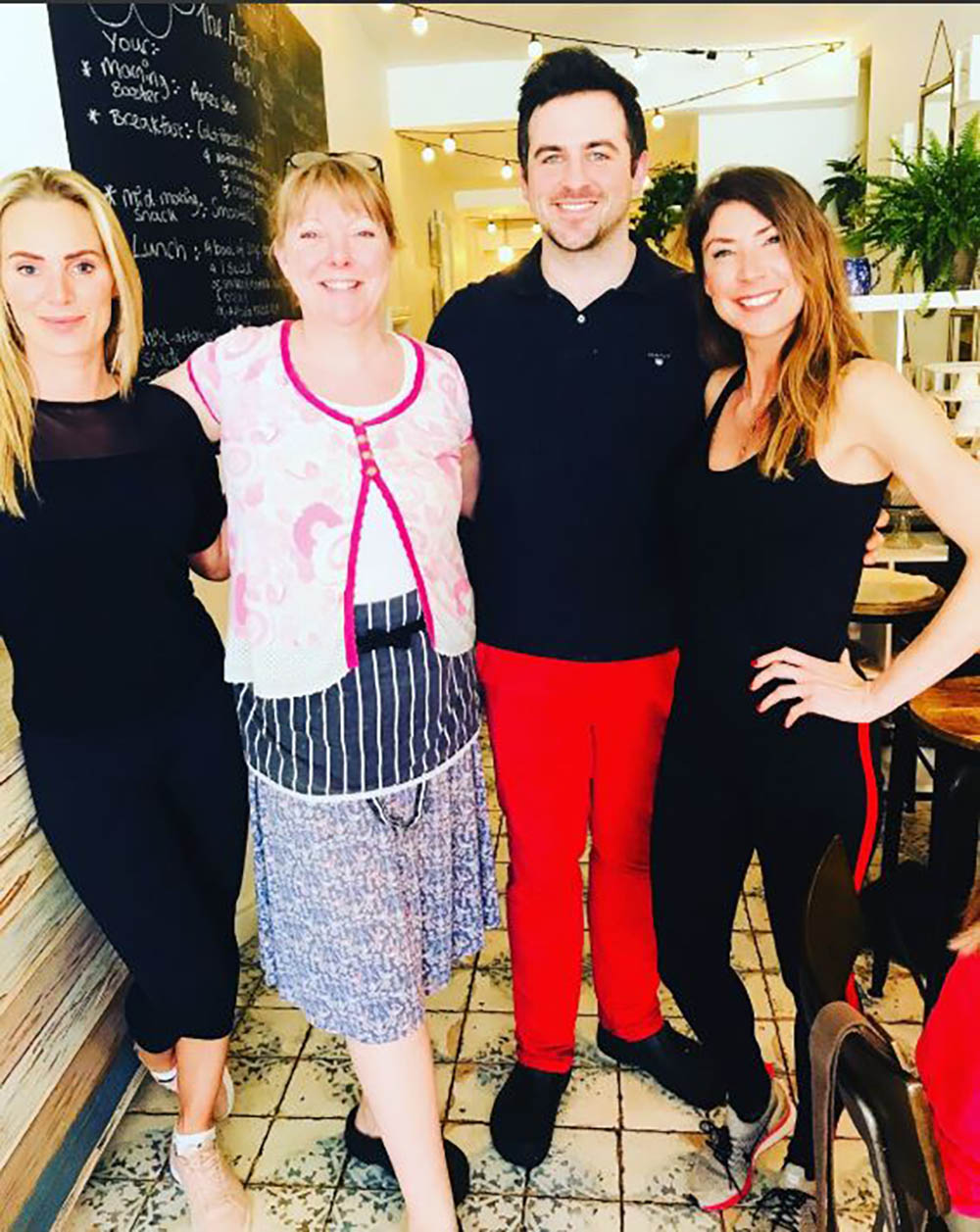 Sarah is a great person to take with me for reviews as not only is she a great cook herself, she spends her life writing diet plans for people who need to be in tip-top fitness. So, when it comes to restaurant menus, she's a good judge of whether it's a yes or no.
One of the first things we both observed about Après Food was just how lovely the place is. Despite being heavily focused on 'healthy food', they had managed to make it feel more like a lovely upmarket deli café than your typical healthy food joint.
After meeting Danny and Catherine – who are both passionate about helping people experience good food without compromise – we were taken through the menu and began to understand all the details that make it so special.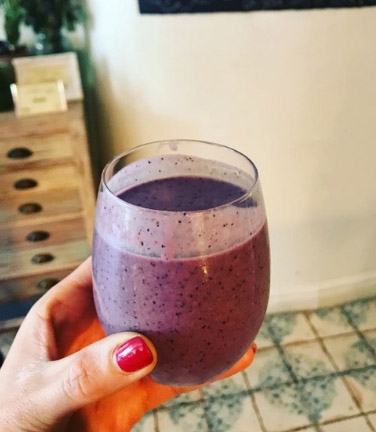 Sarah and I chose to start with an organic coffee with homemade almond milk, followed by the 'Feel Better Than Ever' cold-pressed juice, which contains 30 different types of organic vegetables and 5 different fruits. No better way to get a quick vitamin fix.
After perking up with our juice and coffee (I can safely say the juice tastes good), we went on to have the dish du jour – the home-cooked breakfast.
Now, I know I say a lot of positive things about the places I visit (if I don't like them and don't feel the food is Healthista-standard, I won't write about them – only the good stuff is shared on here). But their take on the 'Full English Breakfast' does excel over and above others I have tried, for numerous reasons.
Firstly, it's huge. Which means you stay full for hours and will most likely not even need lunch. It's so big that even I – who barely ever leave a crumb on my plate – was almost unable to finish it.  And this is not because it's piled up too high, but just because the food and flavour are so good that you actually feel satisfied.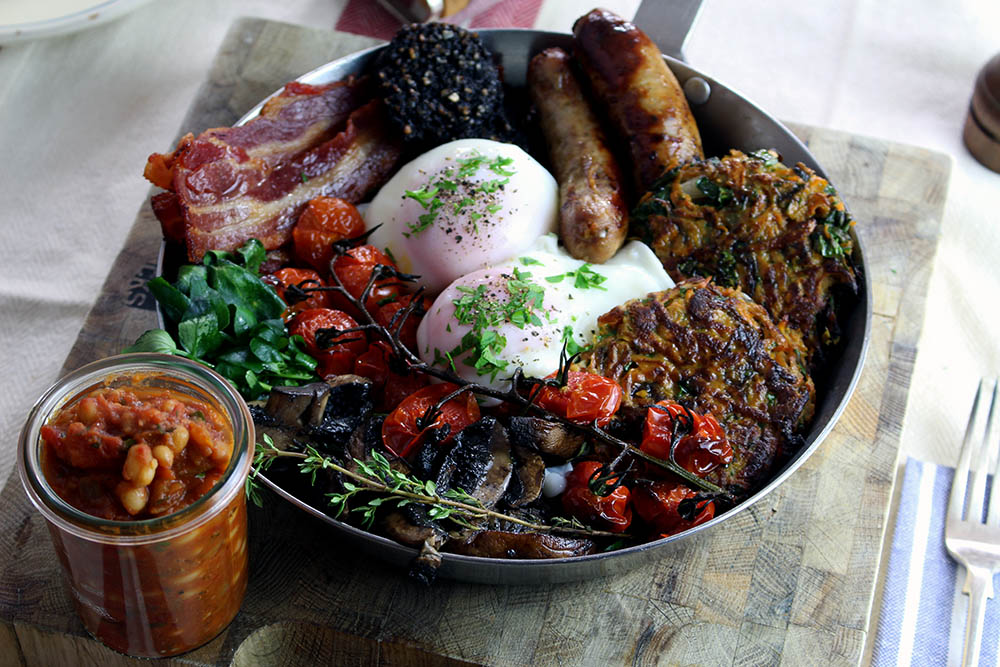 Here is the lowdown on what you get served: Aprés baked beans, Aprés hash, bacon, black pepper, cannelloni beans, cavolo nero, cherry tomatoes, coconut oil, coconut sugar, dijon mustard, eggs, english mustard, field mushrooms, fresh chilli, garlic, gluten-free bread, goats butter, lemon juice, maple syrup, organic extra virgin olive oil, parsley, pink himalayan salt, poached egg, pork sausage, red onions, sprouted seeds, thyme, tomatoes, watercress and Worcester sauce!
This cooked breakfast's got all the tastes and textures you'll ever want. And don't worry about it being all greasy or full of trans fats – this is not the case as they roast it all in the oven.
In summary, we both thought the breakfast was truly amazing.  It was everything you could want and more. As well as getting a thumbs-up for healthy credentials, it's just very tasty.
If you're vegetarian or vegan, there are plenty of options too. And if you have other food intolerances or allergies, Danny, Catherine and the team are happy to adapt the ingredients to suit your needs. Alternatively, you can choose one of the many other fantastic offerings on the menu, such as pancakes, porridge or breakfast cookies. But I'd say go and check out the English breakfast – it will not disappoint.
Where: Battersea
Good for: Fun weekend brunches, good music, organic brunch, wine and cocktails, toasted vegan and gluten-free banana bread that's as hot as Kylie Minogue prancing around in her tiny gold hot pants.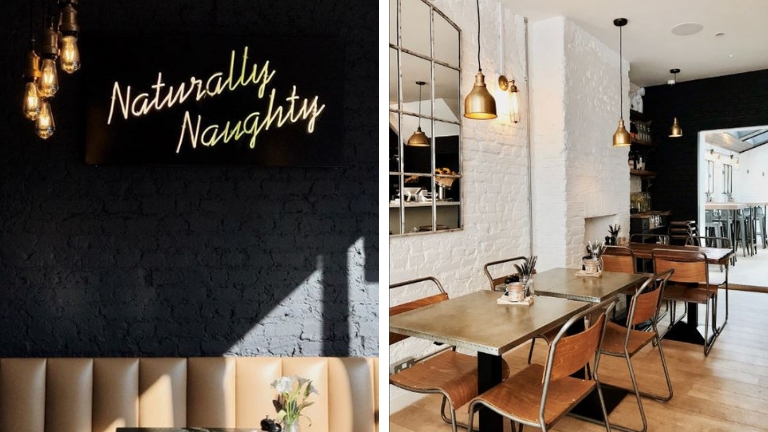 The name 'The Farmer's Mistress' makes this new place sound a little intriguing before you've even had a chance to explore the menu, implying there's something a little cheeky going on! And this is not far wrong. This place offers a 'Naughty but Naturally Delicious' menu that, despite being full of healthy food options, has an indulgent twist full of tasty surprises.
Not long open, this new independently owned chic-looking café aims to be a unique destination for enjoying food that's healthy yet indulgent. It was founded by Joanna Gascoigne, a qualified health coach with a background in luxury hospitality. Joanna's mantra is more about being happy than depriving yourself, and having a little bit of what you want when you want it.
When it comes to a fun weekend brunch experience that's also healthy, The Farmer's Mistress is, in my opinion, a perfect destination.  It has a great atmosphere, good music and looks pretty sexy. And it goes without saying that the food is great and there's plenty to choose from, no matter what diet you are – or are not – following.
Joanna and her team of chefs have created an indulgent and mouth-watering brunch and lunch menu made with natural, wholesome ingredients, using the highest-quality, fresh produce to create exciting and enticing options. They cater for free-from diets, by offering gluten, dairy free and vegan options where possible.
It has a great atmosphere, good music and looks pretty sexy.
Sourcing and sustainability is also a priority, and in addition to using local and London-based food and drink suppliers where possible, they only use grass-fed meats, free-range chicken and organic eggs from a small farm in the Cotswolds.
Once again, I had the pleasure of taking my lovely friend and personal trainer Sarah Lindsay along to sample the menu. There's no better way to spend a weekend than having brunch with one of your best mates, especially in a place where we can both find things we love to eat and that suit our diets (me being gluten-free and both of us avoiding dairy).
On arrival, were really impressed by the décor and general look and feel of the place.  It has a cool NYC look about it (so much so that high heels and a nice dress wouldn't look out of place in here, which suits me as I like to get dressed up, but many places are just far too casual for that!) with smiley staff and good music playing to give it a welcoming, uplifting and fun atmosphere.
There's many a great thing to choose from on the menu. As usual, we found it hard to come to a decision on sweet or savoury, so we opted to have a bit of both. We started off with the Naughty Mistress for Sarah and the Veggie Mistress for me. Both include sweet potato hash, smoky beans, poached eggs, slow-roasted tomatoes, Portobello mushrooms and sourdough toast (which can be omitted if you're gluten-free); and the Naughty Mistress also comes with organic grass-fed sausage and crispy back bacon.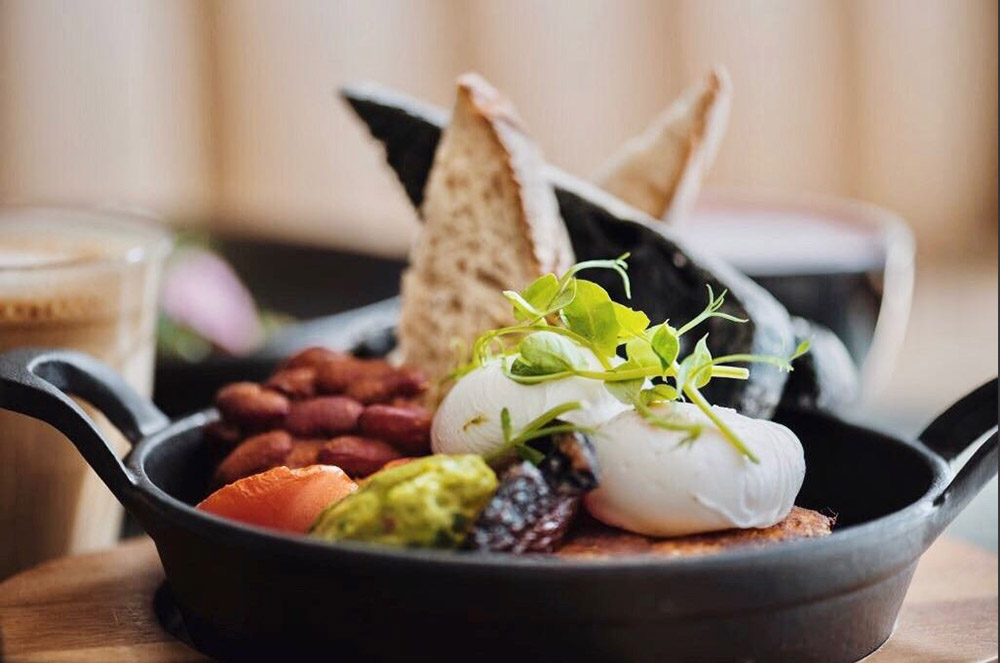 We followed these with (sharing as we were way too full really) the Naughty Banana: caramel-toasted banana bread, banana brulée, pecan praline Booja Booja ice cream and pistachio & fudgy honeycomb. Delicious, gluten-free and vegan.
Once again, we felt like spoilt princesses from having such incredibly good food.  The breakfasts were both amazing, with perfectly cooked poached eggs that worked a treat with the crispiness of the sweet potato hash and homemade beans.  And the banana bread could possibly be one of the nicest things I've ever eaten since I've been alive on this planet.  No words can really describe just how immensely good it really is.
I am a huge fan of ice cream (dairy free) and banana bread, and the combination of this warm soft bread with the caramel and pecan nuts and brulée is in my eyes (and Sarah's too) award-winning stuff, and almost too good to believe that it's both gluten-free and vegan.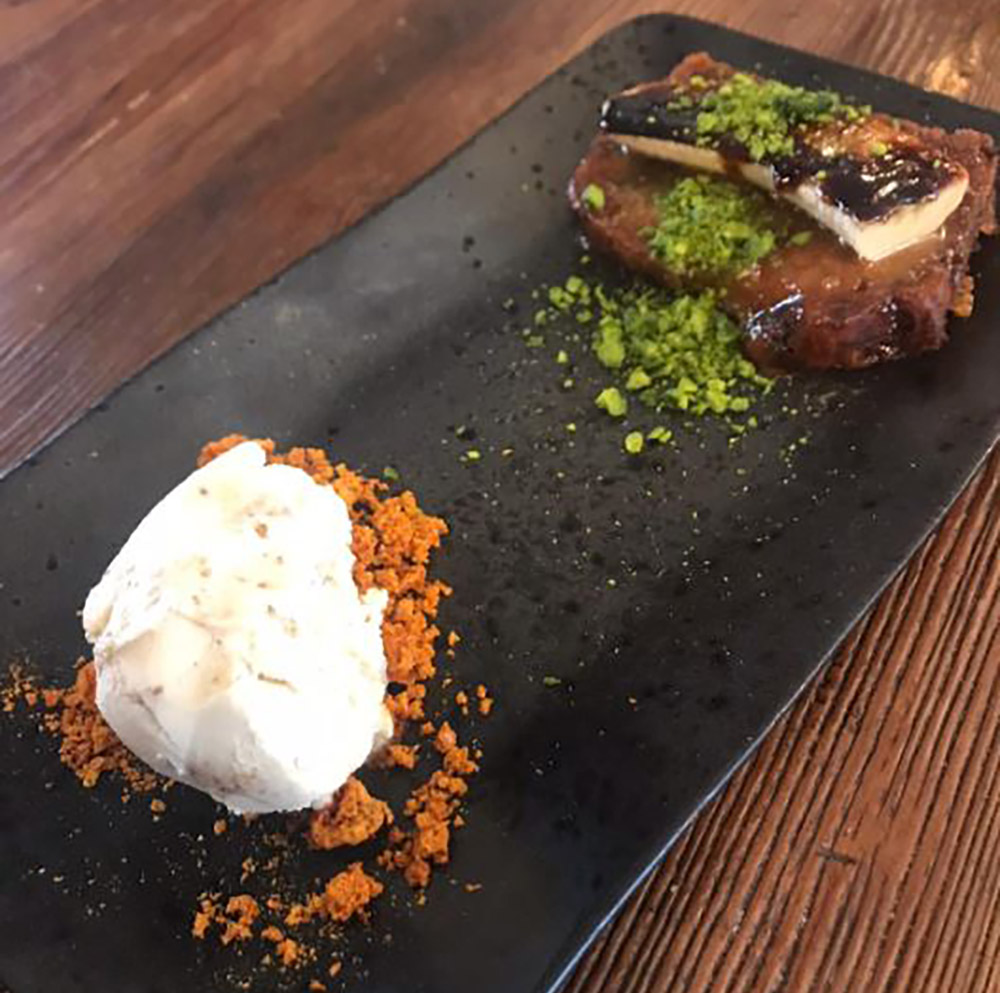 Fancy a naughty and nice boozy brunch? No problems here. You'll find a seductive selection of healthy mixologist-prepared cocktails (try the Porn Star or Up all Night) made using organic quinoa vodka. If you're planning to let loose, let this be the place to tempt you.
The hot drinks menu is pretty vast and rather fabulous too. As well as your regular go-to health hotties, turmeric and matcha lattes, you'll find some very interesting new beverages to sample. The Red Velvet Latte is one not to miss. Made with beetroot and cocoa, it might sound strange, but tastes divine. For chocolate fans, the Naughty Hot Chocolate, made with cocoa, maca (a South American super-food with aphrodisiac qualities) and honey is a nice sweet treat.
I can assure you that your Sunday will become way more exciting when you book in here.
Where: Fitzrovia
Good for: Alcohol-free cocktails, homemade healthy kombucha, sexy lighting & beautiful interior, award-winning coffee, good-looking bar staff, great Asian and Antipodean food options and good gluten- and dairy-free options.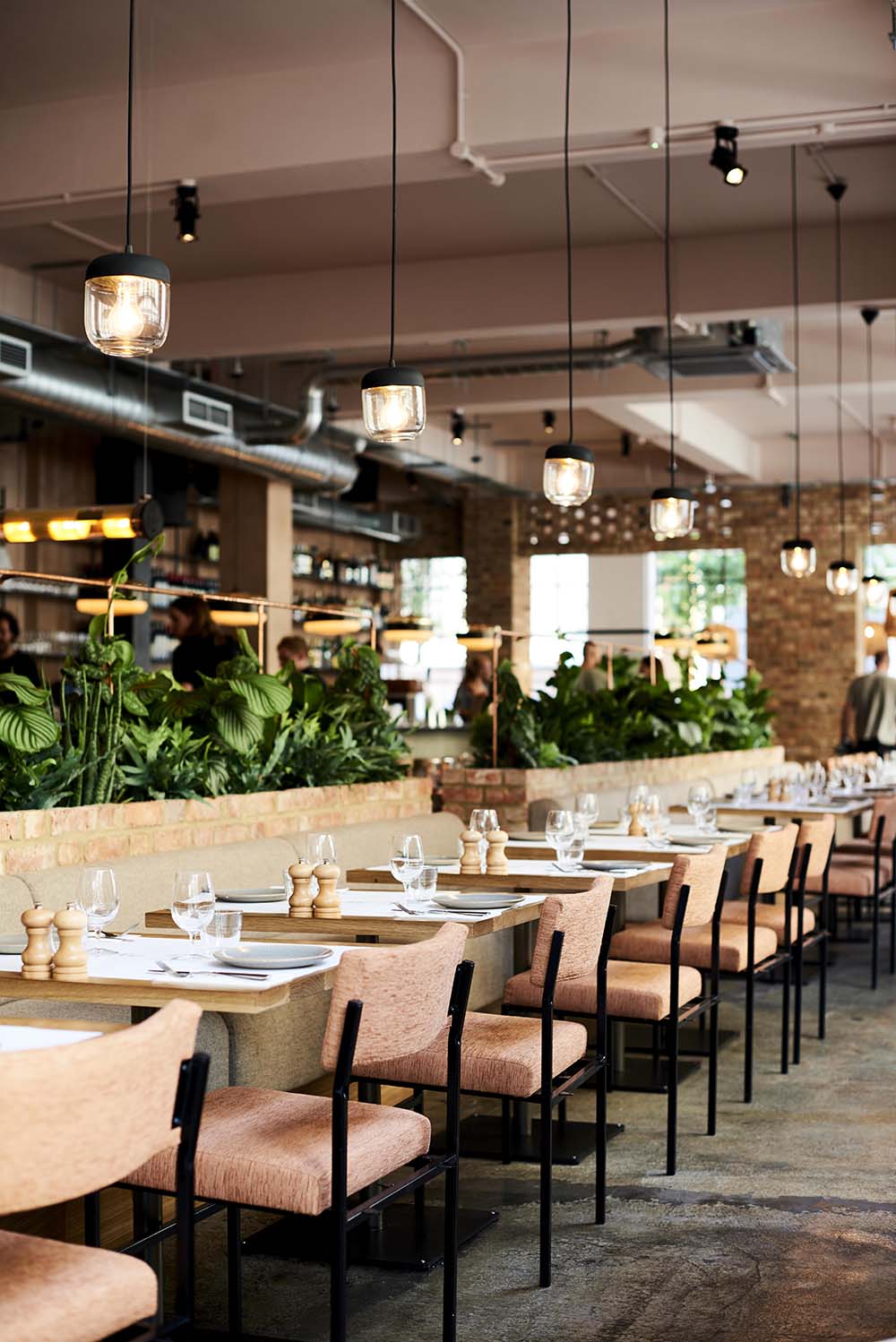 I am a huge fan of all things Caravan. As well as their exceptional-quality all-day food menus (the weekend brunch here is another one not to be missed), their coffee makes this one of my favourite hotspots for a caffeine hit.
Starting out with just one small location in Exmouth market, this Aussie-owned food and coffee business has now (thank goodness) branched out all over town, with their latest venue opening up at the former BBC radio building in Fitzrovia.
The other week, after a rigorous rebounding sesh at Frame studio (also in Fitzrovia – I can recommend this as a fun pre-dining workout if you are in the area) I came for dinner with my friend Aaron. Not only is Aaron very much into healthy eating and good coffee, he lived in Sydney for a few years, so is pretty clued up on how well the Aussies 'do' good food.
He wasn't drinking that evening so opted for the Pomegranate Kombucha. I wasn't drinking either until I saw the rather enticing cocktail list and made a 360 decision to opt for 'moderation' as my current drinking status update, going for the Chef's Margarita – tequila is my go-to spirit animal of a drink. I also ordered the Passionfruit Shrub – a fermented healthy alcohol-free drink – as a pre 'drink' drink.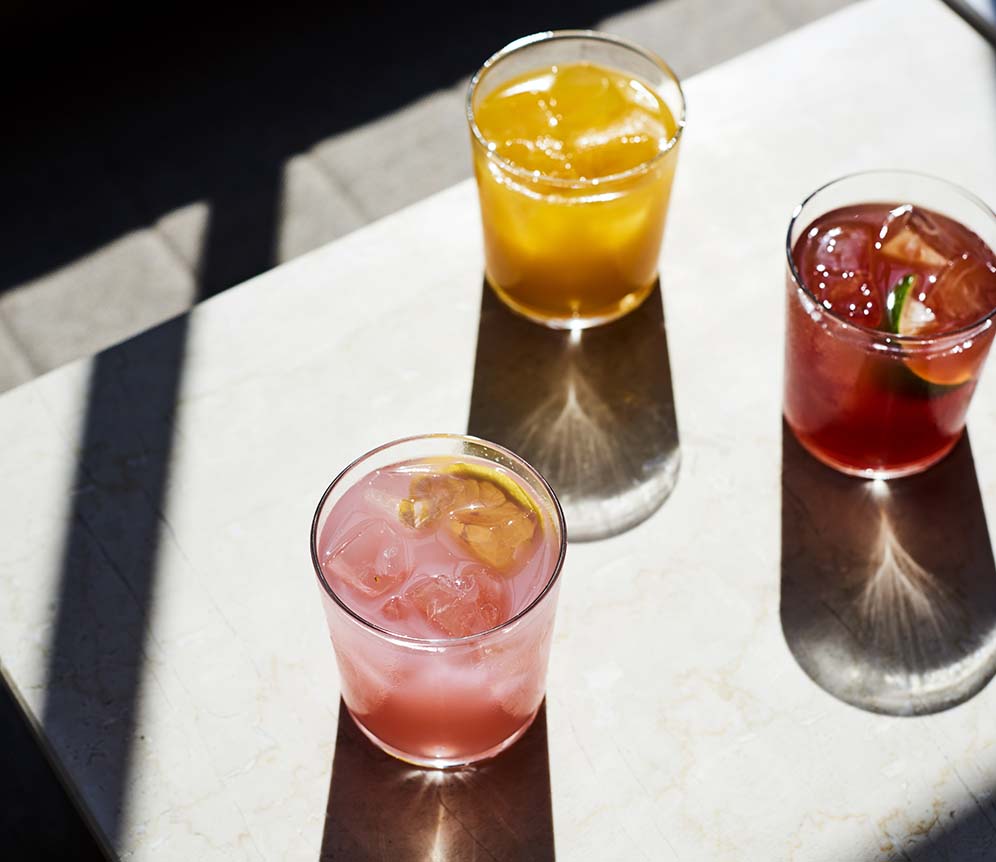 All three drinks tasted great, not too sweet – and the kombucha and Shrub were satisfying alcohol-free alternatives for those avoiding alcohol or wanting to drink less. With more people 'on the wagon' these days, it's refreshing (excuse the pun) to see a bar menu with so many unique sin-free options – especially because Caravan make their own blends on site, so you're guaranteed something free of additives, artificial sweeteners and excess sugar.
So then we came to the food. Aaron and I decided to share a few dishes so we could have a range of things to try out. After much deliberation, we agreed to have a mix of vegan and fish dishes to keep both parties happy (neither of us are vegan, but prefer to avoid dairy and eat fish over meat when given the choice).
We shared the quinoa and buckwheat grain bowl with charred sweet potato, stem broccoli, miso and tahini, the crispy chilli salt tofu with ong choi, salted black beans, sesame, and the sea bass with coconut red curry, daikon, carrot, squash and peanuts. All this was followed by a happy ending (my name, not theirs) of pudding, with the trio of sorbets: coconut, red currant and almond milk, all of which are homemade and dairy-free.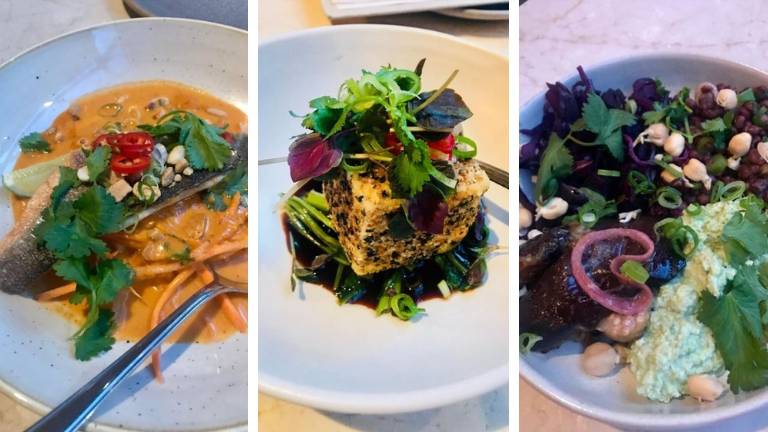 Well, there were certainly no complaints from either Aaron or me. Both of us enjoyed each of the dishes. For me, the tofu was just insanely good and so much better than I expected it to be, as a lot of tofu dishes are so bad you wonder how anyone could ever eat them.
The sea bass was his fave – so much so that I almost had to put my whole arm over the plate to protect my half from his fork getting a little too carried away. My advice post-meal is to not share this dish with a man. You need two portions – one is not enough.
In conclusion, Caravan is a dream destination in town for a fun, sexy and healthy food experience. This venue in particular has stolen my heart as it's full of natural light, beautifully furnished (FYI: the seats are very comfy – a pet hate of mine is wooden seats in restaurants, so bloody un-relaxing) and is housed in one of London's – even the UK's – most iconic old buildings.
Where: Aldwych
Good for: Saki enthusiasts, Japanese food fans following a vegan & gluten-free diet, top-notch fresh sashimi, great service and eating out with a hot date.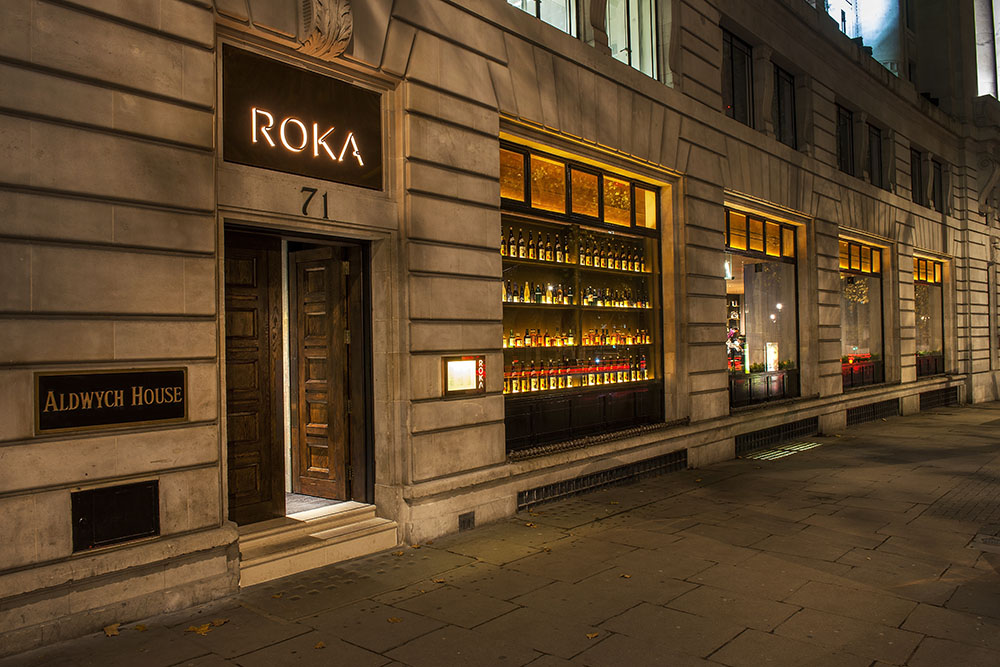 When I got an email from Anna, the editor at Healthista, to say that the super chic Japanese restaurant Roka was now offering a whole new vegan and gluten-free tasting menu, I had to re-read it about three times just to make sure I was not getting the information wrong.
As those of you following a gluten-free diet will likely know, eating well at Japanese restaurants is not an easy feat. Most have one or two options if you're lucky, as most of the seasoning and soya sauce served on the side contains gluten. So knowing I could go back to Roka, one of London's best Japanese restaurants, and eat a whole menu of gluten-free sushi made this a prime date for the diary.
And who was going to be my guest? It had to be Anna of course, being that she follows a vegan diet and loves Japanese food more than anything. We had the perfect dinner date location sorted.
It was a sunny Friday evening and London was buzzing with those end-of-week/weekend vibes and excitement. The bar at Roka was full of well-dressed couples, glamorous girls and groups of people all drinking cocktails and nibbling on decadent sushi platters.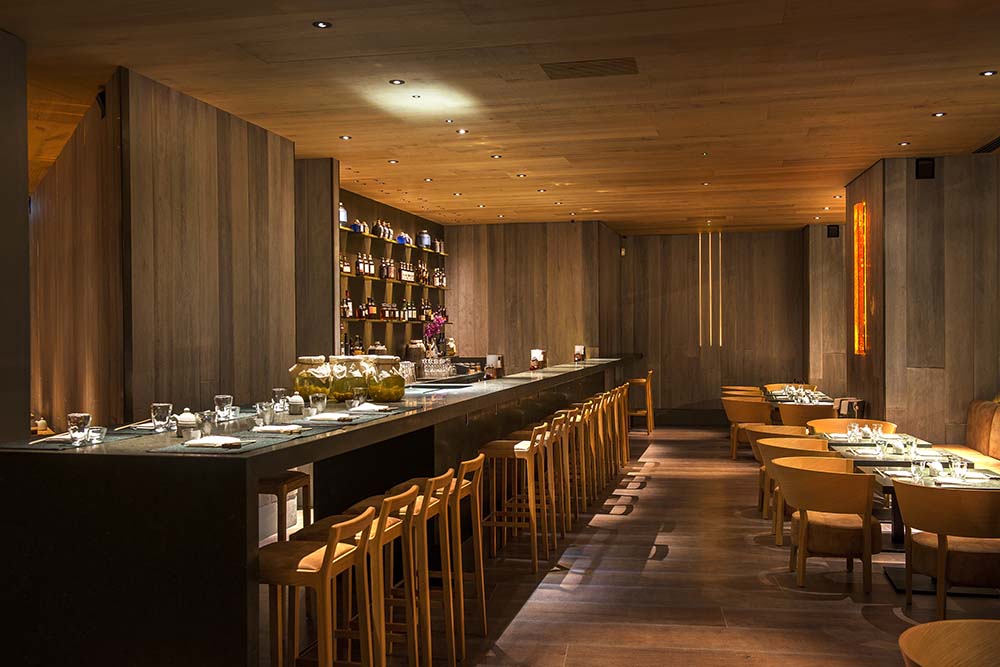 My hot date, Anna, was sat at the table, already sipping on a class of champagne and looking extra-glamorous and glossy. (I was running late, she was early… it was the other way around for a number of years, but her timekeeping is impeccable these days, whereas mine needs some work right now.) There was a time in London when going out to eat healthy vegan food in a pair of high-heels and a tight black dress, would not be okay.  Thank goodness those days are over and vegan food is finally fashionable.
The thing we both noticed straight away was just how amazing the service was.  You forget, when you don't get the opportunity to eat out in high-end restaurants too often, just how brilliant service can be. Our waiter was not only one of the nicest and friendliest of people, but knew the answer to every question we asked about the food without hesitation or needing to go and check with the kitchen, as well as telling us all the ingredients in each dish we were served. This was impressive, and made me understand why this place has such a good reputation.
we both noticed straight away was just how amazing the service was
We ordered drinks – I had chilled Sake (one of my favourite alcoholic drinks, and with almost three pages dedicated to different hot and cold Sakes to try, I was rather spoilt for choice) and Anna stayed slowly sipping her glass of champagne.
Both champagne and a dry Sake are a good low-calorie drink options. If you've had some scary Sake experiences previously and think it tastes like paint stripper (one of my friends thought this until we tried a decent one) I advise giving it a go again. It's basically Japanese rice wine, made by fermenting rice (just like grapes are fermented to make wine and certain grain to make spirits such as vodka). I wouldn't advise going out for a night on the town necking it, as it's strong, but sipped over the course of your dinner, it's ideal. And I find I don't get the woozy, boozy, sleepy feeling I get from drinking white wine.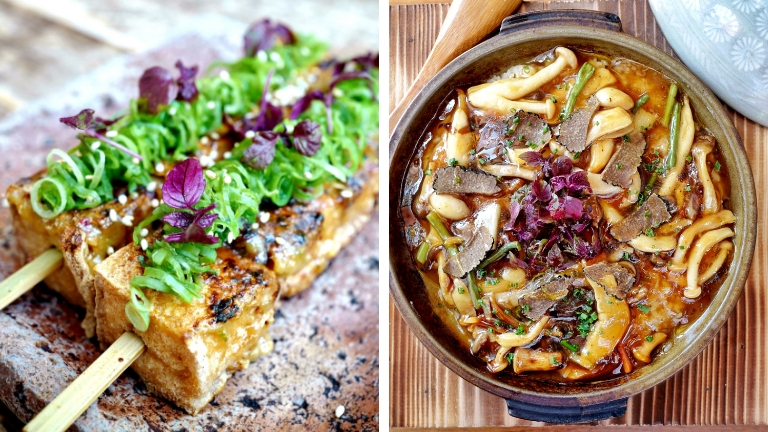 The food began to come out, starting with a miso soup with little bits of tofu and spring onion, followed by an array of dishes, including crispy tofu, shitake mushrooms, Robata grilled vegetables with truffle and plant-based sushi. All this was finished off with the most gigantic vegan pudding selection I have ever seen – even if you just go in for the pudding, it's so worth it – not only taste-wise, but it looks fantastic too.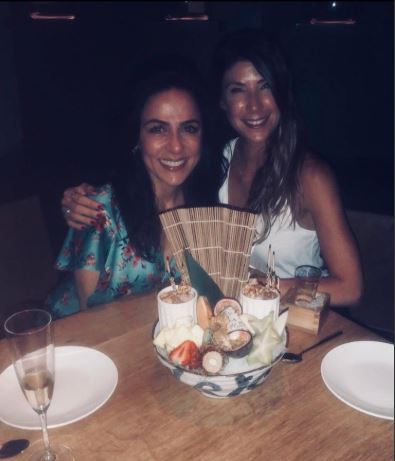 If you had listened in at our table over the course of our tasting menu you would have heard something not dissimilar to a soft porn video playing in the background, with lots of uuuuuummmmm, oooohhh, oooohhh yeeeaaahhh, ooohhh mmmyyyy, hhhhmmmm, that's just sooooo, sooo good – which to me is the quite possibly the best sound of a dinner date going well. They don't call it 'hashtag food porn' for nothing…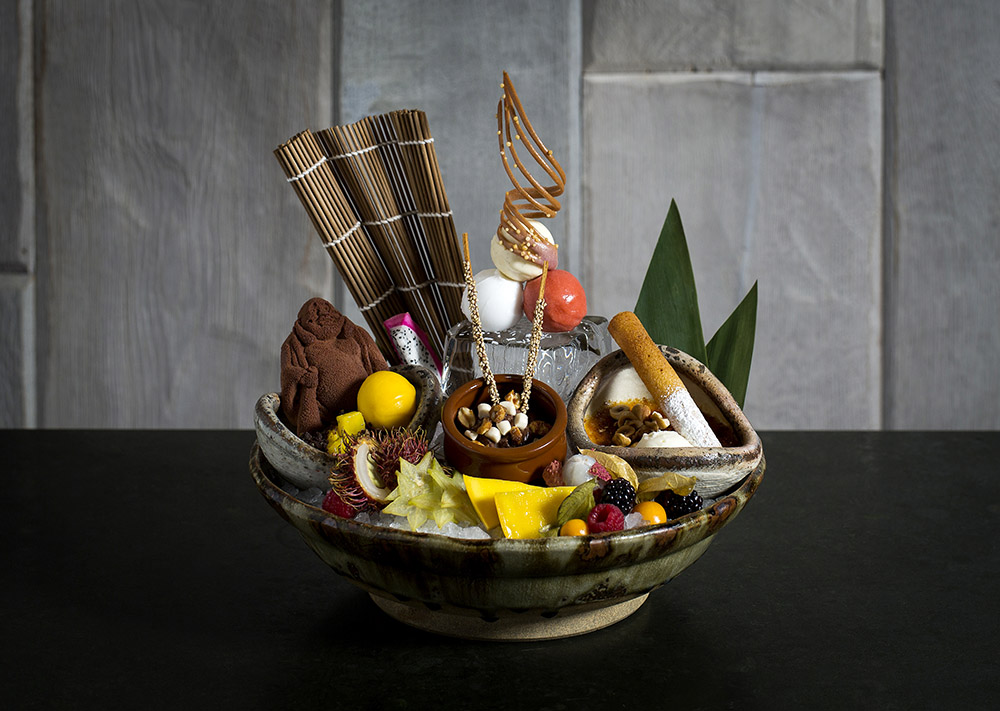 Is this place fun? Yes, it certainly is.  Would it be the ideal place to go on a date if you want to eat vegan? Absolutely. Can you go along and eat vegan whilst your meat-loving date chows down on raw fish and grilled meats? Yes you can. Would I go back and do it all over again? Yes absolutely, in fact, I am very excited to go again and hope an invitation for a date comes my way very soon.
Where: Borough market/London Bridge
Good for: Those who love the taste of authentic Portuguese food, spicy grilled Piri Piri chicken/Nando's addicts, low-carb friendly dining, high protein, gluten-free, dairy-free & Paleo diets.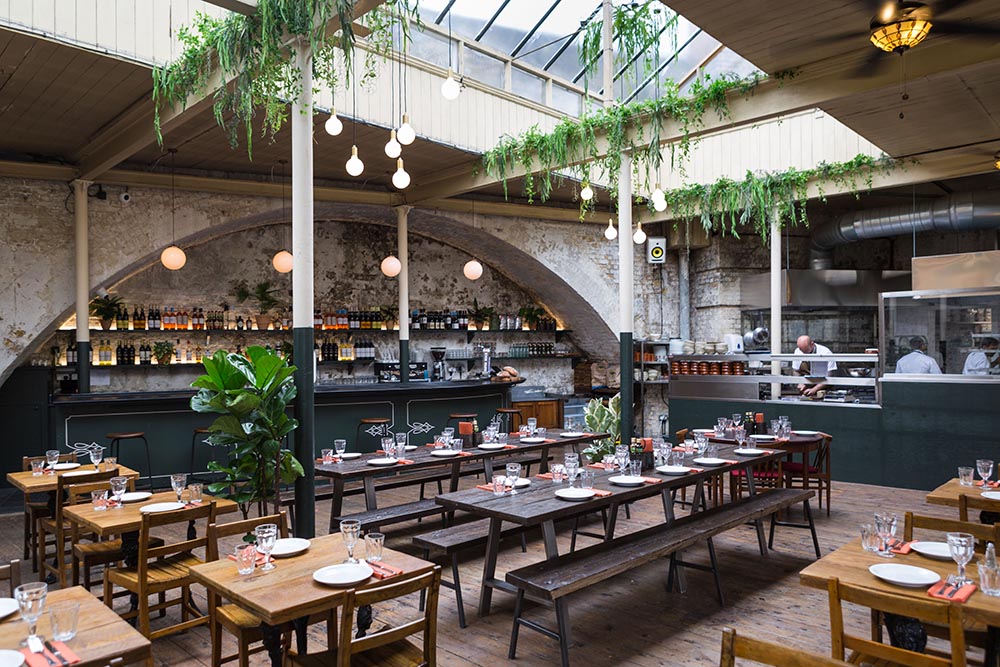 Casa do Frango, I predict, is most likely going to be one of the most successful and popular restaurants in the whole of London over the next year. Why? Because we have a whole city of Piri Piri chicken Nando's food enthusiasts who would most likely put this successful chain at the top of their 'favourite food to eat ever' list when it comes to something quick, simple and enjoyable to eat – they can't get enough of the taste of flame-grilled spicy chicken. Quite a few of my male friends are so obsessed with the taste of Nando's Piri Piri chicken that they would most likely choose to have their last meal on earth in that place!
As someone with a leaning towards the healthier dining options that London has to offer, I have often been faced with a dilemma: an over-enthusiastic request of a friend/ex boyfriend wanting to head for a 'quick bite to eat' at Nando's. I mean, it's not that I'm a snob and won't be seen in a fast-food chicken chain (well maybe a tiny bit, sorry), but I'm not too sure how ethical their sourcing is and have not been impressed by the food when I have had to go in for that 'quick bite to eat' – normally when out shopping, or to fuel up before a gig or movie when making it on time is essential.
As soon as we walked in, we knew we were going to like this place.
However, I do very much adore Portuguese food and in particular Piri Piri chicken, which tasted incredible when I had it there. I have been on holiday to both Lisbon and the Algarve a few times and found the food in restaurants to be absolutely amazing. In fact, I've had some of my favourite meals there.  The seafood in particular is incredible, and much nicer and than other holiday destinations. Sorry, Croatia (my most recent getaway), you cannot compete with Portugal when it comes to the food for me.
Now, going back to my comment around Nando's being a fave food choice for some of my friends, it was important when I went to try out Casa do Frango that I went with someone who really loved Piri Piri chicken and would be eager to try a potential upgrade on their Nando's chicken dining experience. This is where my friend Jake came straight to mind – a self-confessed Nando's Piri Piri fan.
Jake, as well as liking to cook and eat healthily where possible, is a regular at the gym, and generally (except when he's hung over, when it all goes out the window) likes to follow a low-carb/low-GI diet as part of his 'eating fit' regime. He'd previously told me that grilled chicken with sweet potato and salad was one of his fave go-to healthy dinners, and in particular spicy chicken – especially Piri Piri. So he was most excited to be invited along to check out the food at Casa Frango with me.
As soon as we walked in, we knew we were going to like this place. It looked great inside – big old warehouse/loft-style building with high ceilings, great lighting, lots of glass, and covered in plants and candles.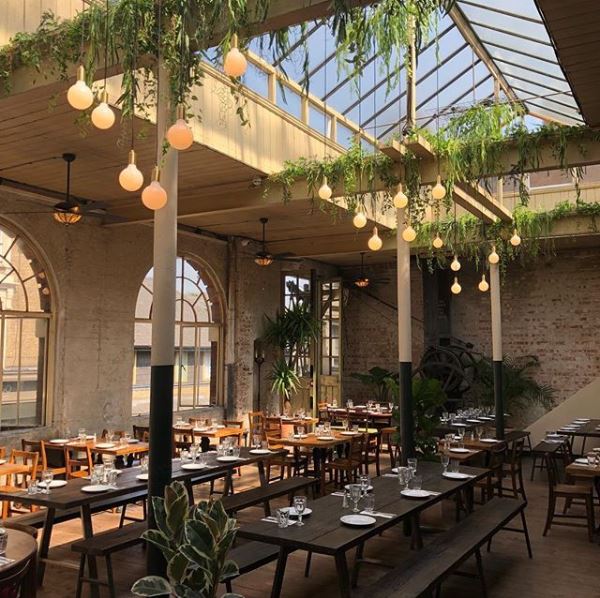 There was a really nice chilled, friendly and uplifting atmosphere with happy staff, smiling and welcoming you in like an old friend. The whole place smelt totally amazing too, with an arousing aroma of the wood charcoal grill in action, combined with the scent of fresh sizzling garlic, lemons and fragrant spices filling the air.
The menu was exactly what we had both wanted – fresh seafood, free-range grilled chicken and an amazing selection of healthy side dishes of salads, rice and potatoes – all of which sounded delicious. And the menu also clearly stated which dishes were gluten-free, so there was no need to go through all this with the waiter or risk last-minute disappointment.
we discovered they also had a chic little cocktail lounge tucked away in another room next to the main restaurant
We started off with a couple of glasses of Portugese wine (very nice, not too sweet and very fresh and citrusy) and ordered the Grilled Prawns with piri piri, white wine and parsley, and the Bacahal & Chickpea salad with salt cod, chickpeas, olives and soft boiled egg. Both dishes are gluten, grain and dairy-free.
This was followed by half a free-range chicken each – Jake selecting the Piri Piri and I the lemon and garlic as I wanted to try something different, while still hoping he would allow me to try a portion of his precious Piri Piri chicken – also both gluten, grain and dairy-free.
We had three side dishes to share: the African rice, with chicken skin, chorizo and plantain, the fresh tomato salad, with heritage tomatoes and oregano, and the butter leaf lettuce salad, with onion and grain mustard.
Once we had glugged back a couple of glasses of refreshing Portuguese vino and had a nose around the place – we discovered they also had a chic little cocktail lounge tucked away in another room next to the main restaurant.  We snuck inside behind the thick velvet curtain and saw a decedent bar area with vintage seats, a smart looking bar and interesting artwork adorning the walls.  It wasn't open on the day we went, but of a weekend it would be a great place to head to for a drink before or after dinner.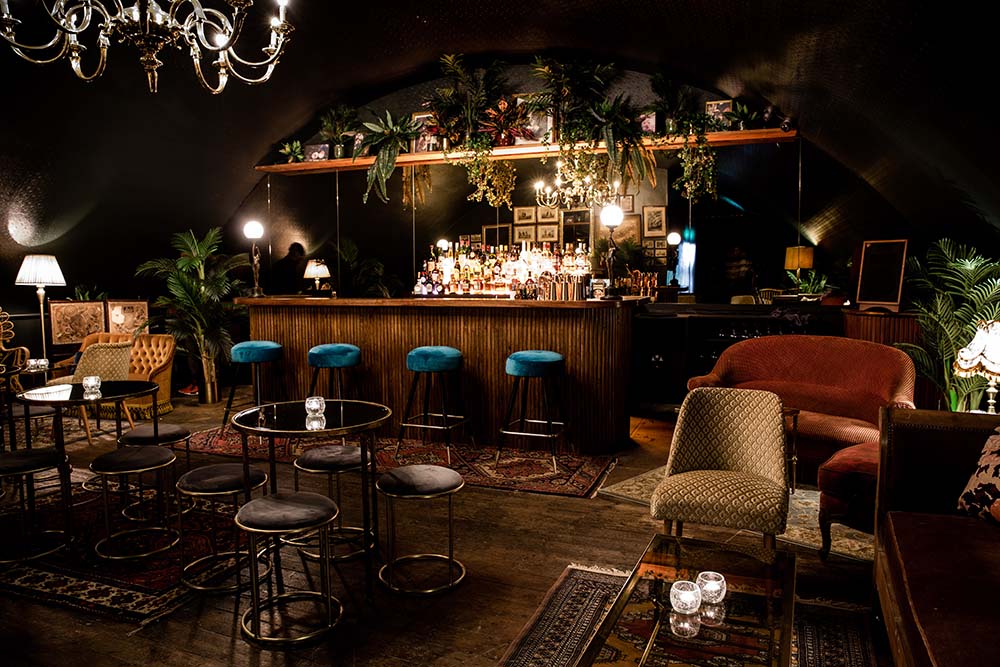 We sat back down and in the distance I could see our friendly waiter coming towards us with a big beaming smile as he carried the hot plates of food – just seeing his big smile coming towards me gave me the confidence that he was proud to be serving us this meal and the food was going to impress us.
Not only did it looks as good as I remember when last sitting at a restaurant in Portugal, but it smelt just as amazing.
Every mouthful of every dish was a delight.  The prawns and all the side dishes of rice were cooked perfectly, not too salty, or greasy, or over flavoured – just perfect and much better for the waistline to opt for rice, sweet potato and salad with tomato's over chips.
The prawns and chickpeas with salt cod (salt cod is a very traditional Portugese dish) were both delish.  Prawns can be very hit or miss and most often I have found them in London (unless spending fortune in a seafood restaurant) to be a miss, but these were a huge success and I wish I had ordered two portions.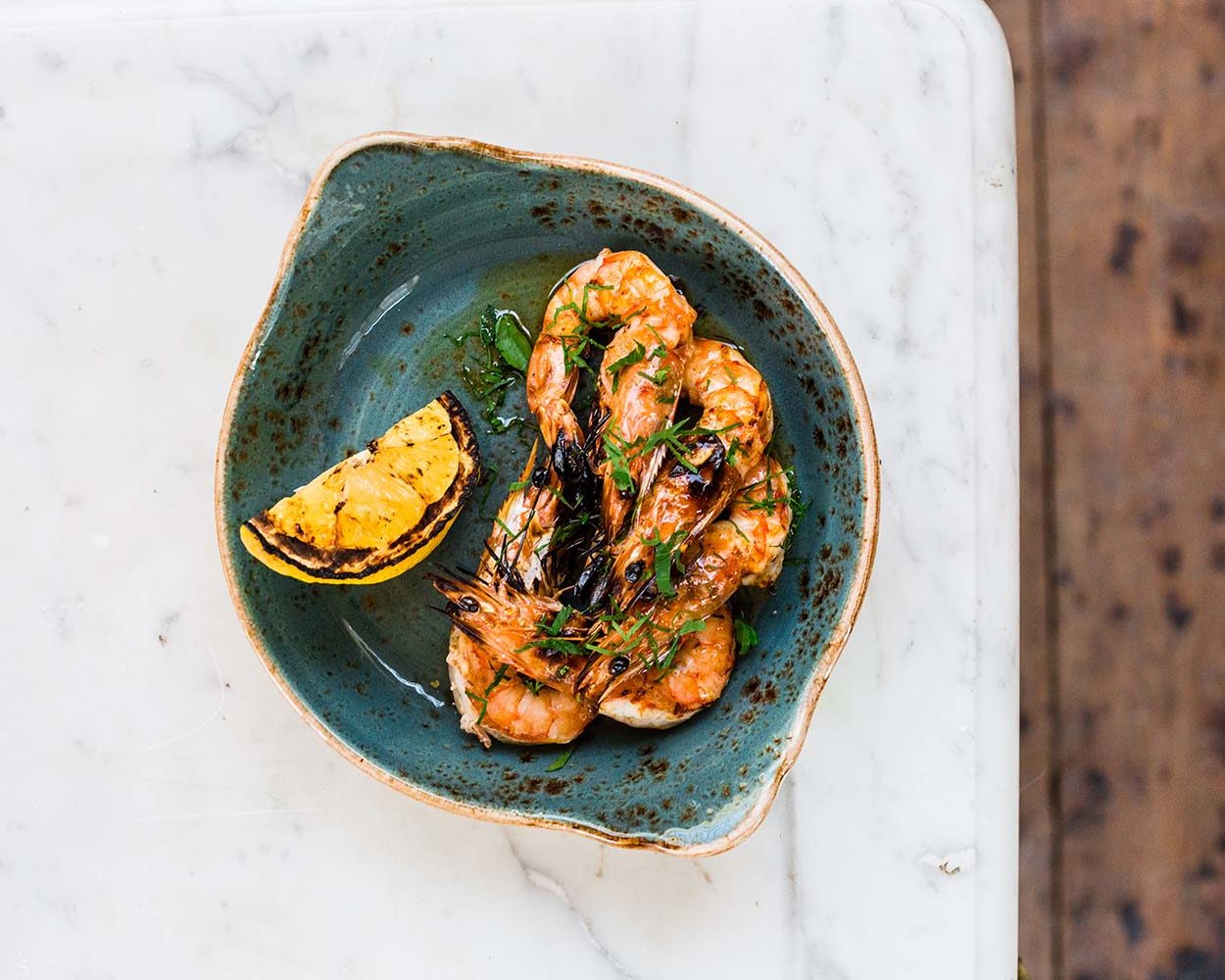 As well as seafood often being a let down, so can salads when compared to the quality we get served on holiday, but the tomato salad was as good as any I have tried in Portugal, it was seasoned perfectly with a little vinegar and salt and fresh herbs and I can assure you the tomatoes definitely taste as fresh and flavoursome as they do in Portugal.
And the hero dish – the free-range grilled piri piri chicken  – did it live up to the hype?  Was it going to be as good as the infamous Nando's dish for Jake, or for me to match up to my Algarve holiday dining expectations?
Yes, yes and YES.  It was sensational and possibly even better than I can remember from my holiday and certainly like nothing I have personally ever tried in the UK before.  And as far as Nando's goes, I have only ever tried their Nando's veggie burgers, so can't say much on my side about comparison, but I do know it looked a lot better quality that what I had seen served up at Nando's on my previous visits, and certainly with Casa Frango serving free-range British chicken, is going to put theirs up on the health credentials and taste barometer for sure.
My top chicken taste testing expert, Jake, from first glance was quite simply very impressed with his hot and spicy bird – and the result seemed to be that it was a world apart in taste and flavour from his usual mid-week Nando's pick up.
My lemon and garlic chick, was equally as good as the piri. In fact, I really loved Jake's (he let me share some in the end thank goodness) but overall much preferred mine as I really enjoy the taste of lemony with lots of hot garlic on chicken, the spicy taste is still divine, but I wasn't feeling as keen as the lemon and garlic option.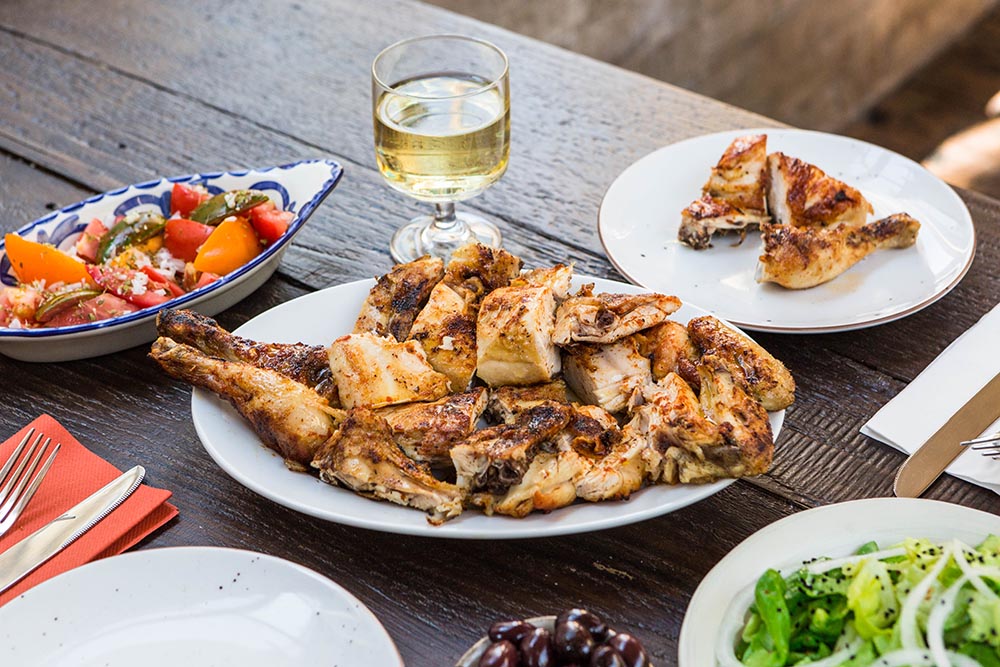 However, both the chicken dishes, we agreed, were marinated, seasoned and cooked perfectly – not too oily, not to dry not to salty or spicy – as every bite tasted totally incredible.
Why does local & free-range matter? I am not a frequent meat eater, but when I go out I do like chicken, but will have preference of course, to want to go for better quality meat (as we all should be) so finding a restaurant that sourced excellent quality local free-range chicken is important to me, not only as it is shown to be better for your health, but also for the welfare of the animals.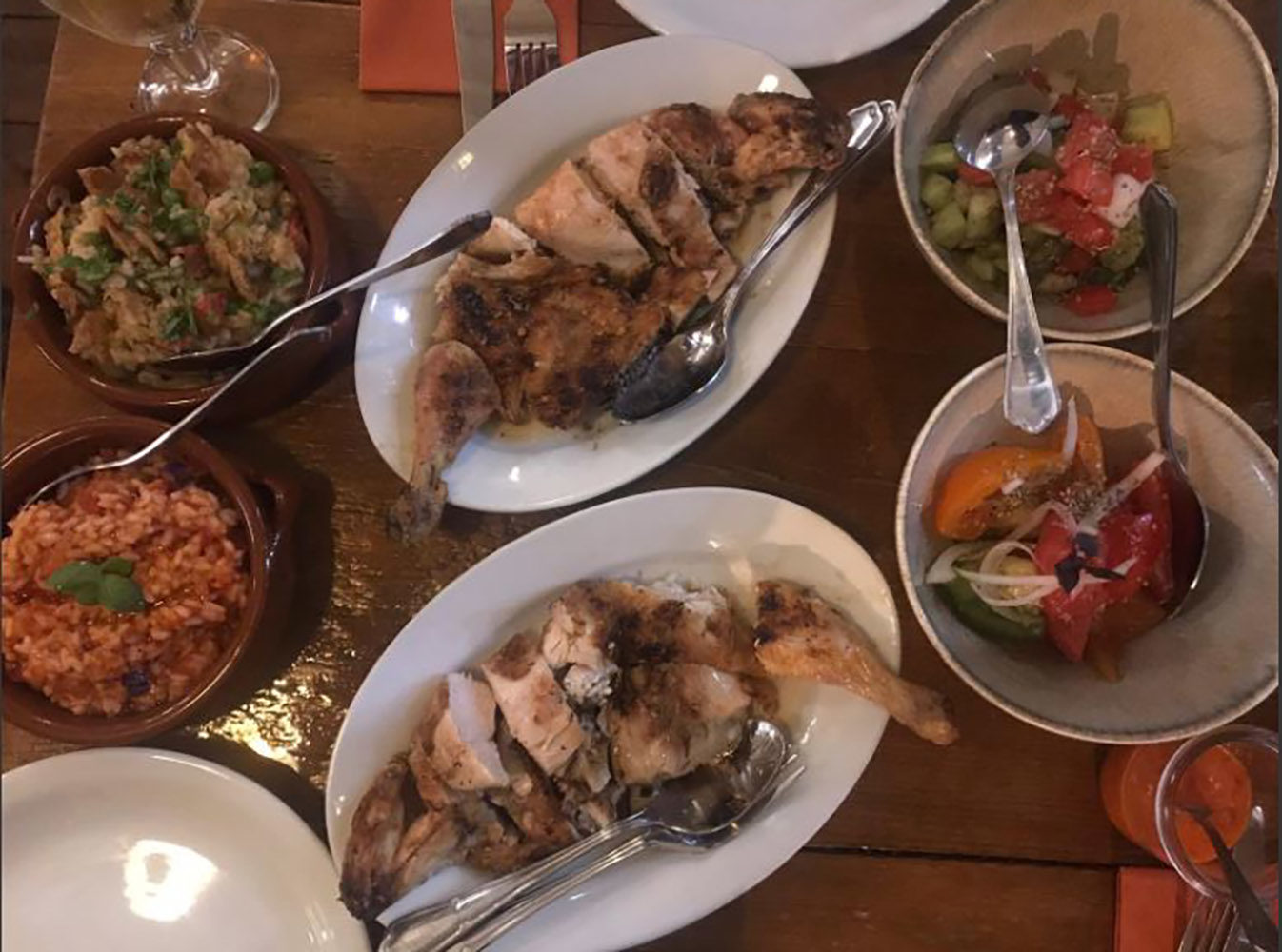 If I went back again (of which I very much want to, probably many times over) I would have exactly the same all over again.   I think it's ideal if you can share a couple of half chickens – mixing it up and having a spicy one and lemon & garlic one is ideal then you get a taste of each – but I really would not advise just getting one as they taste so good, you might find sharing tricky.
In summary, Casa do Frango is a great place to go and enjoy some good, simple and well-priced authentic and Portuguese food. Whether you are in a big group, or just going alone to get your hot chick dinner fix, the staff no doubt will be welcoming and make sure you have a brilliant meal. And with the menu clearly stating any specific food allergens – such as GF or DF – it makes it very easy to navigate and select and enjoy your meal without having to worry about what is in your food.
CHARLOTTE DORMON is our Healthista Eats blogger.  She's not a chef, or even that much of a cook.  If it's recipes you're looking for – you're in the wrong place.  But whether it's Sunday lunch or Friday night cocktails, she's the one friends and family turn to when they want to know how to eat out and be relatively healthy.  Each week she'll now be bringing you the same insider knowledge.  We'll drink – and eat – to that. Follow Charlotte on Instagram @HealthyEatsLondon
Related Healthista Content:
5 new healthy restaurants in London you will love
6 healthy cafes in London we're loving right now
5 best places to eat healthy in London post-detox season