What do leading Instagram stars eat in a day? Healthista quizzed Olympic skier Rowan Cheshire on her daily healthy eating hacks
Rowan Cheshire, 24 is a British freestyle skier who after bursting onto the international scene in 2014, has competed in both the 2014 and 2018 winter Olympics. Rowan is also a World Cup freestyle gold medallist.
As well as being widely regarded as the future face of British Winter Sport, Rowan is also a personal trainer, offering clients online programmes.
As an athlete, PT and Instagrammer (@rowancheshire ), it's clear Rowan is busy.
https://www.instagram.com/p/BftTiNXALxl/
We know her fitness and training routine thanks to Instagram, so we quizzed her about what food helps fuel her busy lifestyle.
Here's what a typical day of food looks like for Rowan:
7:30am, Breakfast: omelette with poached salmon
10am, Mid-morning snack: piece of fruit
12pm Lunch: chicken breast with vegetables and rice
3pm, Mid-afternoon snack: a cup of English breakfast tea with biscuits
7pm, Dinner: Veggie stir fry with quinoa
Healthy eating tip #1 'A fish and egg combo is the perfect protein-packed breakfast'
I always have brekkie and usually try and have something that will provide me with energy and help with muscle recovery. My favourite breakfast is something high in protein such as eggs, so they are always in my fridge. My go to is a spinach and feta cheese omelette with poached salmon.
Ever since I was little, my dad would always make me an omelette for breakfast filled with bacon and cheese. I loved it.
Now that I am an athlete, I have my own take on omelettes as they are an easy protein-packed breakfast. Eggs are an excellent protein source and are full of vitamin D, selenium, B12 and omega-3 fatty acids so provide an all-round nutrient boost. They also keep me fuller for longer so they're a great way to start the day.
When buying eggs, I look for the British Lion as the mark symbolises the highest standards of quality.
I also love salmon and it's the perfect partner. It's packed full of protein and omegas that fill you with energy and are great for regulating your mood. Plus, fish and omega-3 fatty acids found in oily fish such as salmon as well as eggs are excellent for brain power and help you focus, which is great for when I have to go to my university classes.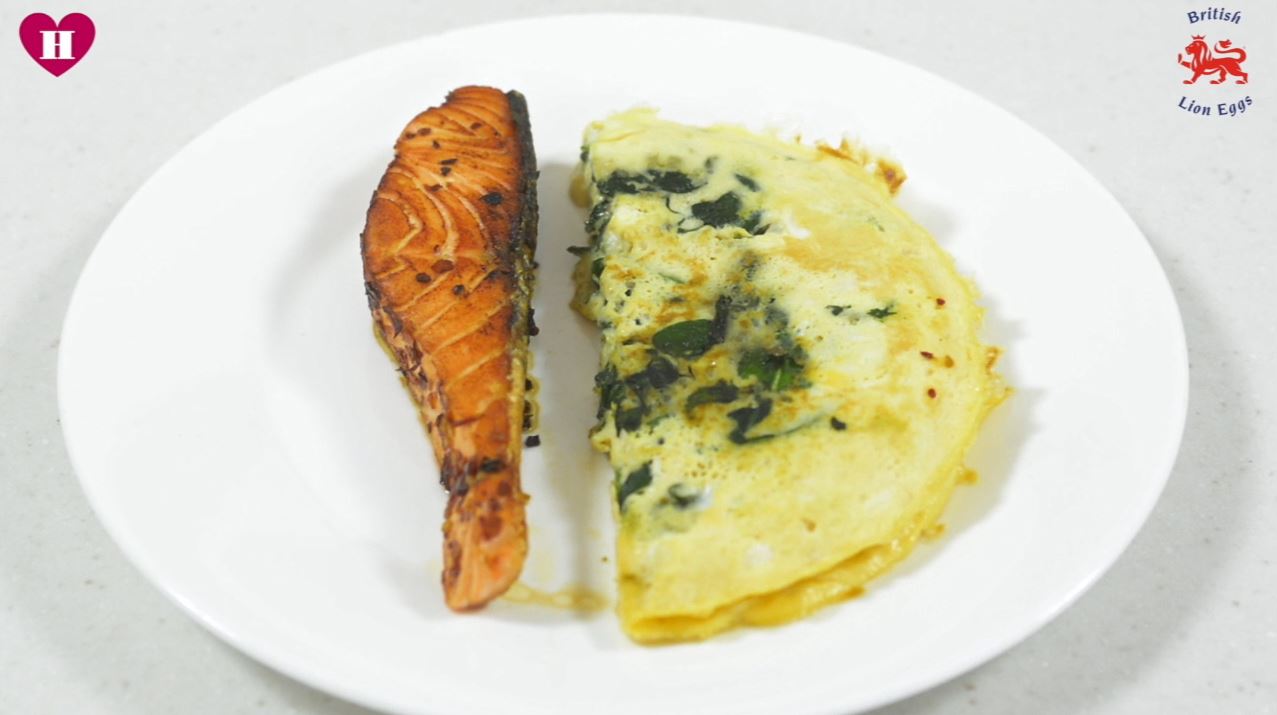 How to make Rowan's spinach omelette with salmon:
For the omelette:
Add oil to a heated pan
Once the pan is hot add the spinach and wait for it to wilt
Then add two whisked British Lion Eggs to the pan
Wait for the egg to cook, to speed up the process you can put the pan under a pre-heated grill
For the salmon::
Add chilli flakes (or your flavour of choice) to the salmon fillet.
Heat up some oil in a pan
Once heated, fry the salmon until it's cooked all the way through.
Fold the omelette in half and serve with the salmon. Bon appetite!
Omelettes are also quick and easy to make, so add a bit of smoked salmon and you've got yourself a great breakfast before you start your day. When I have time, I'll have a poached salmon fillet instead of smoked salmon.
Another great thing about this breakfast is that it isn't too carb heavy. So, if you have a busy day of exercise, whether that be at the gym, doing lots of walking, or playing a sport, it isn't going to leave you feeling sick, sluggish or heavy.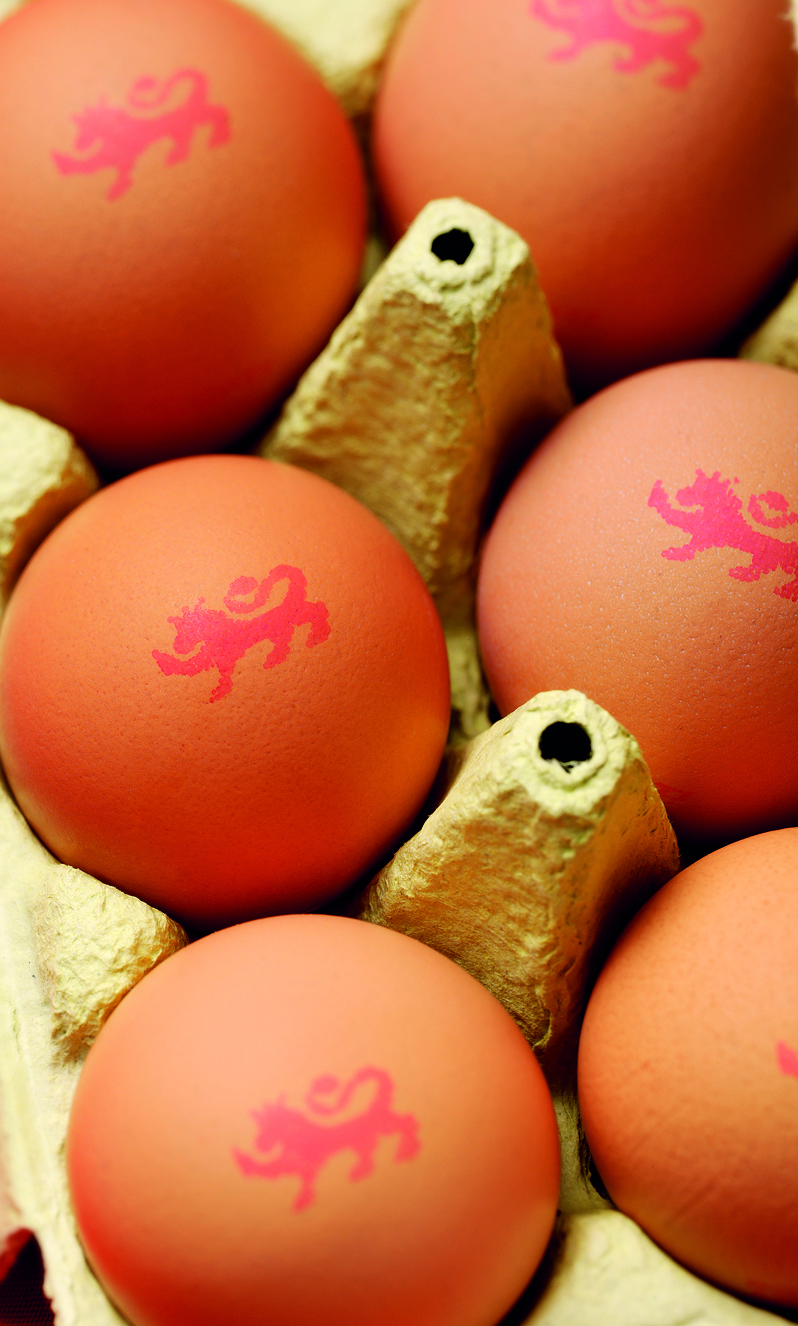 Healthy eating tip #2 'Be aware of how much you are eating compared to how much you have exercised'
My diet is very performance-based and I tend to eat smart, which means eating around my training times which can vary from day to day so that I can fuel my body appropriately. I tend to eat two hours before training.
I also eat with a full awareness of the kind of exercise I have done that day and what my food needs actually are.
For example, after skiing or weight training, I would normally have a snack straight after, usually a banana for instant energy. Then I would have a huge meal full of veggies and some form of carbohydrates such as quinoa so that my glycogen stores are replenished.
https://www.instagram.com/p/BnvonYiBf-U/
Working out what food your body actually needs can be tricky which is why many people stick to a certain number of calories or macronutrients.
Macronutrients are nutrients that provide calories or energy and nutrients are substances needed for a number of bodily functions such as growth and metabolism. There are three macronutrients: carbohydrates, protein and fats.
For me though, I can figure out for myself what food and fuel I need just by how I am feeling and what exercise I have done that day.
I always try to be sensible with what I'm eating in comparison to how much exercise I have done or how much energy my day has or will involve.
Have you been to the gym? Are you going to the gym later? Have you had to do a lot of walking? These questions will determine what and how much I will eat that day.
Healthy eating tip #3 'Moderation and balance is the key to a healthy diet'
When looking at my diet I try to make sure I have all the important macronutrients that my body needs on my plate for every meal, so that's vegetables, protein, carbohydrates and some fats.
I also make sure I have a well-balanced diet, rather than one that is restricted. I often see on social media that people limit a certain food group such as carbs or fat. That's basically punishing those two food groups, or punishing yourself for eating them.
Instead, educate yourself properly, really look into your dietary requirements and what your body needs, don't just take someone's word for it from social media. Don't just copy diet trends, because it may not be what you or your body needs.
There is nothing wrong with eating carbs or fats so long as you keep portion sizes in mind and, I know everyone says this but, everything in moderation. Restricting food will only lead to cravings and binge eating.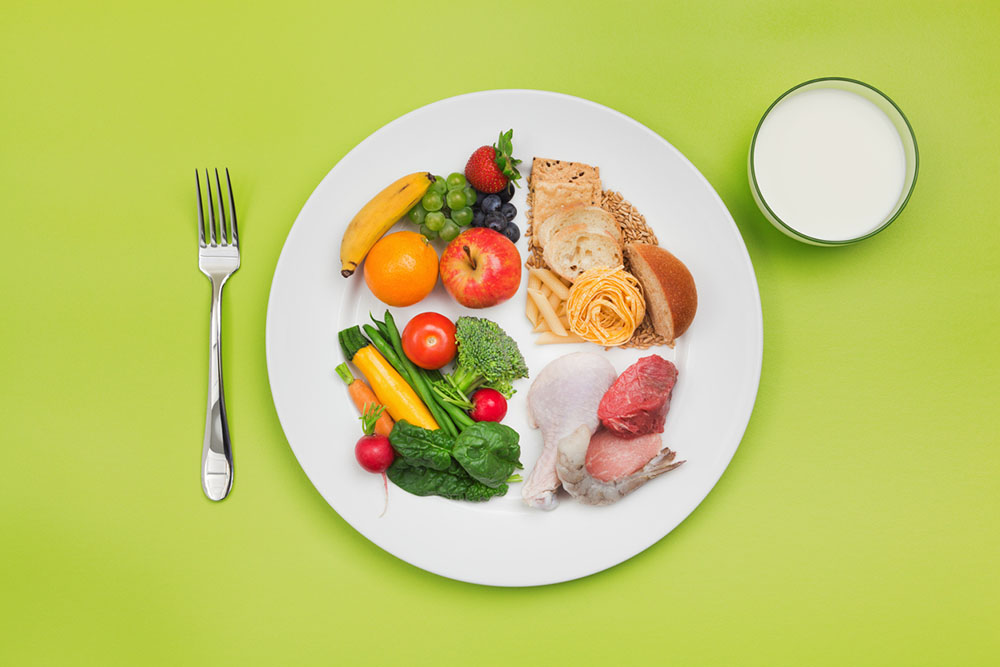 Restricting carbs for example is one thing I would never suggest as they are vital for recovery and energy.
Plus, never give up foods that you genuinely enjoy, just limit the amount or size. I love biscuits so I would never give those up, but I make sure I have two or three rather than a whole packet.
Be smart with your treats. If you have sat in front of the TV all day then it's probably not a good idea to eat a packet of biscuits. What keeps me on track is a cup of tea and some chocolate biscuits.  But that's only if I have been active enough during the day.
If you know you are going to have a bit of a binge and eat more than you usually would on the weekend due to a special occasion for example, then maybe try to limit that binge eating where you can, rather than cutting back and restricting yourself too much during the week.
I love a Chinese takeaway, but when I do (rarely) have it I won't go overboard and order the whole menu – it really is only a 'treat meal' not a 'binge meal'.
Healthy eating tip #4 'Fruit and carrot sticks are my go-to snacks'
Apart from my biscuits, in general my go-to snack will be a piece of fruit. I find that fruit provides me with a whole load of energy, especially a banana. If I am in a rush or really hungry and need that quick extra boost of energy, then a banana is perfect.
Fruit is also easy to get hold of whenever and wherever I am. It's cheap too and can be carried around without having to worry about spilling it or it needing to be in the fridge all the time.
Carrot sticks and hummus are also a great – I often have this snack as it's easy to carry around, but I don't overdo it on the hummus because it actually contains quite a lot of fat.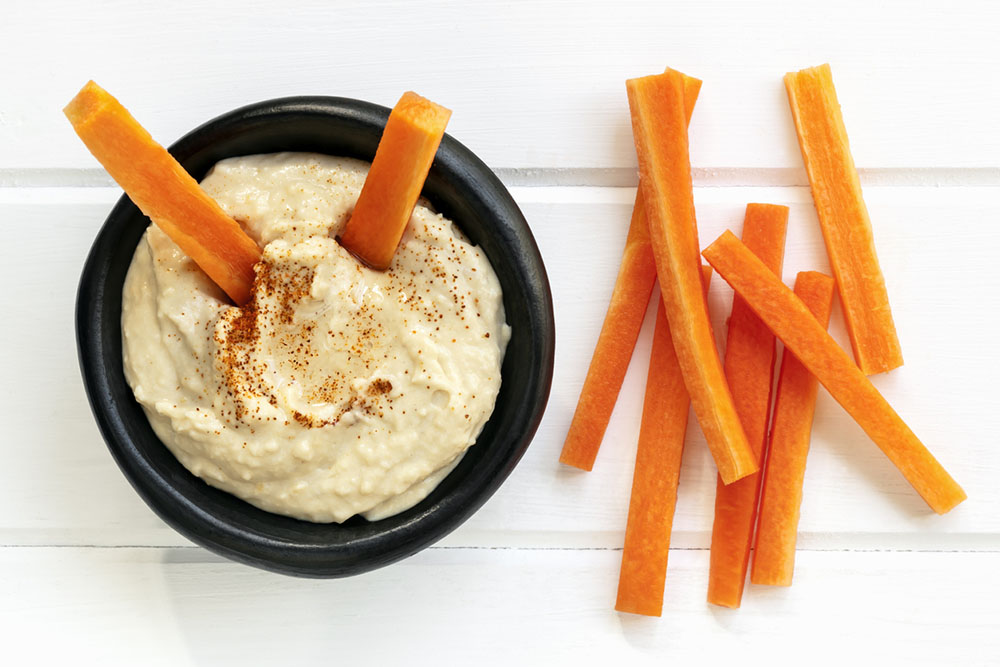 Healthy eating tip #5 'The majority of your plate should be vegetables'
Making sure you've always got loads of vegetables on your plate is one way to know you are eating a well-balanced diet. That's why filling up my plate with mostly veggies is one of my main nutrition rules.
Apart from the nutrients, vitamins and minerals that vegetables provide, when I fill up the majority of my plate with veggies, I end up with a denser and more fulfilling meal. Vegetables are low in calories, which basically means you can eat way more of them than you can of carbohydrates, proteins and fats.
Chucking a whole load of veggies into a stir fry is a great way of providing this dense, filling meal. People like to eat bigger meals in the evenings and so do I. So, in order to make sure it's a big meal, but one that is lower in calories, I make sure the majority of my plate is an assortment of vegetables.
How to make Rowan's Veggie stir fry with quinoa:
Add oil to a large frying pan and heat
Once the oil is heated, add chopped garlic and ginger and cook
Add chopped onion and cook until golden
Then add the bulkier veg – carrots, peppers and broccoli
Cook until soft and cooked through
Then add the rest of the vegetables – spring onion, courgette, beans and pak choi
After that is all cooked through add the final vegetable – spinach. Let that wilt
The final step is to add soy sauce and any other seasoning you wish to add
Serve with quinoa or carbohydrate of your choice.
Not only does this stir fry recipe taste great, if any is left over, it's a great option to meal prep and can be placed in a tub and warmed up the next day for lunch.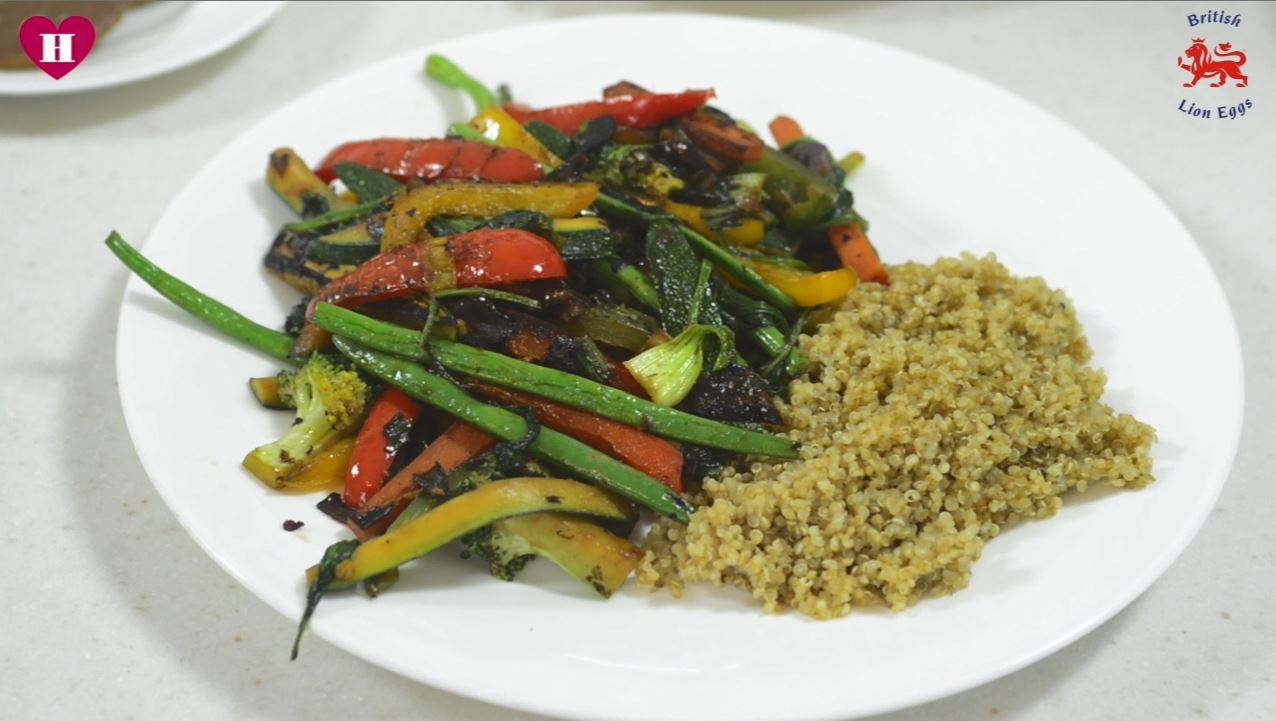 Healthy eating tip #6 'I eat plenty of lean protein and only have red meat as a treat'
As I may have mentioned, I eat lots of protein as it gives me energy and fuel and keeps me feeling full.
Lean protein such as chicken with vegetables is my go-to meal prep which I have to do as I am often busy. Plus, it's also a great way to make sure I am getting all of my needed macronutrients.
All I do is cook a whole load of chicken breast and a variety of vegetables (boiled, steamed or roasted), divide it all into tubs and keep it in the fridge.
Then all I have to do is heat up the food up when I need to in the microwave. Meal prep is also a great way to control portion sizes, calories and macros too.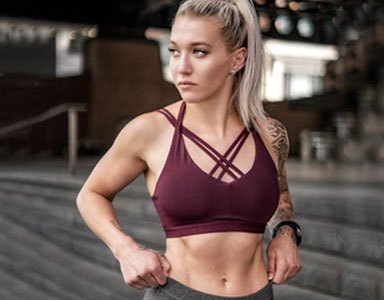 Team GB freestyle skier Rowan Cheshire burst onto the international scene in 2014, when she became the first British woman to win a Halfpipe Gold medal at the World Cup level at only 18 years old. Rowan is widely regarded to be the future face of British Winter Sport, as she looks to become the first British skier ever to win a medal at the Winter Olympics.
Find out more at rowan cheshire.co.uk
Follow Rowan Cheshire on Instagram
More 'What I eat in a day'
Hannah Barrett, aka Yoga Girl London on the diet that keeps her day fuelled
Healthy eating – What this Instagram fitness legend eats in a day
Relevant Healthista Content:
Why some vegans now eat eggs – the rise of the veggan
Are eggs healthy? Sorting the fact from fiction 
9 healthy diet myths making you fat
8 weight loss tips proven by science
Healthista Content you may also like:
25-minute glute and leg workouts with Olympic freestyle skier Rowan Cheshire
It's all SNOW! Skiing, snowboarding, skeleton and more…we round up a cool week in women's sport
Like this article? Sign up to our newsletter to get more articles like this delivered straight to your inbox.