During National Baking Week, top Instagrammer Laura Strange from My Gluten Free Guide reveals her gluten free baking tips and what's in her pantry
It's National Baking Week, but gluten free friends, rejoice. You don't need to sit in despair whilst watching Bake Off. Gluten free baking is a lot easier than the experts will have you believe so you can enjoy delicious treats, too. Once you have stocked up on a few gluten free essentials and tracked down some fail-safe recipes, you will be off and away in no time. For a start, there are tons of gluten free flours on the Healthista Shop.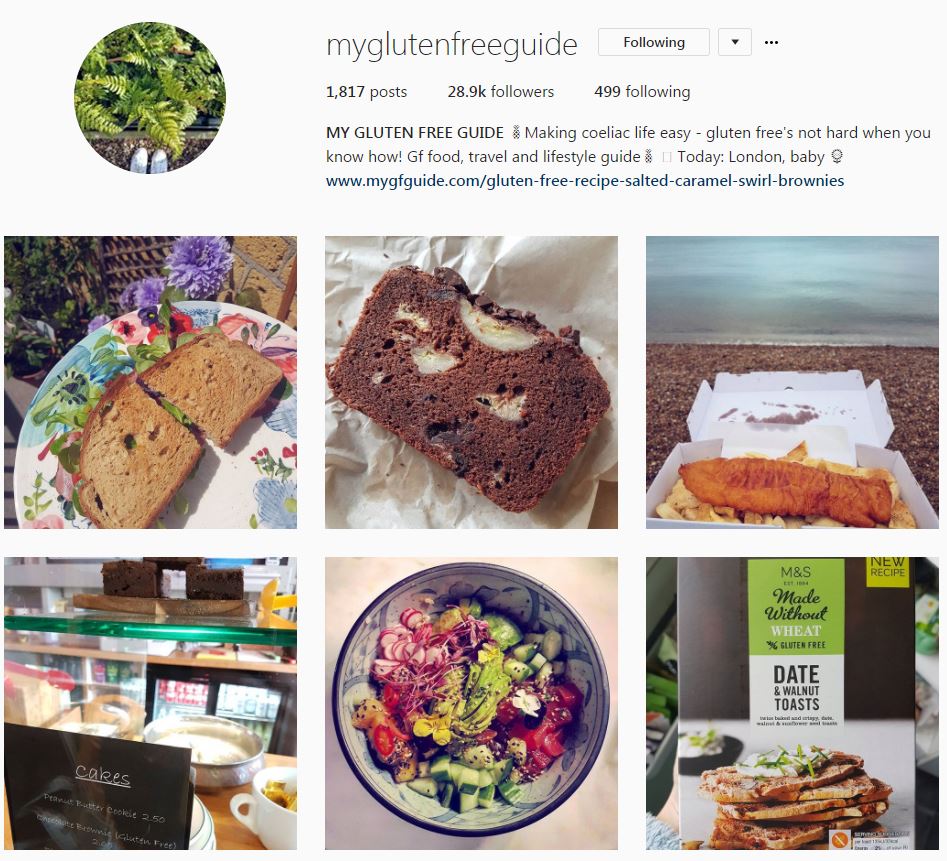 As well as a growing amount of people turning to a gluten free diet for a lifestyle choice, coeliac disease affects one in 100 people in the UK. It is a lifelong autoimmune condition caused by a reaction to gluten. Diagnosis by a doctor is essential, as blood tests and an endoscopy are needed to definitively show if you are suffering from coeliac disease. Once diagnosed, sufferers must follow a strict gluten free diet in order to alleviate their symptoms.
When I was diagnosed as a coeliac, gluten free products were not as readily available and frankly many of them were pretty inedible
I was diagnosed as a coeliac in my early teens after becoming extremely ill. After years of my stomach pains being passed off as 'growing pains' by my GP, I rapidly lost an unhealthy amount of weight and it was evident that something was wrong. Hardly able to get through the day due to extreme fatigue and weakness, I was finally put through the tests and diagnosed with coeliac disease and severe anaemia (a common side effect of undiagnosed coeliac disease). This eventual diagnosis was a huge relief, however I soon became quite daunted at the prospect of having to follow a lifelong gluten free diet – I hadn't even heard of gluten before!
Back in 1999 when I was diagnosed, gluten free products were not as readily available as they are now and frankly many of them were pretty inedible. Sandy yet rock hard bread, tooth-shattering biscuits, fake-chocolate coated rice cakes and sickly sweet coconut macaroons were my options…and I wasn't keen! So home baking became a regular thing for me as a way of making much tastier gluten free treats and helped me to realise that gluten free food can be totally delicious. These days I love baking everything and anything gluten free, particularly cakes and biscuits. You can follow my baking adventures on my Instagram account @myglutenfreeguide.
Whether you are coeliac or gluten free for other reasons, I want to share some of my gluten free baking essentials with you to get you started. Gluten free baking is easy once you get to grips with the basics!
Every baker needs to start with a good flour, however when it comes to gluten free baking don't try to run before you can walk. Before tackling that instaworthy mirror-glazed, five-tier masterpiece you should familiarise yourself with the basics. Many traditional baking recipes can be made gluten free by simply switching to a gluten free flour blend at a ratio of 1:1. The Doves Farm gluten free plain flour is excellent for cakes and light bakes and the Free From Fairy does an impressive whole grain gluten free plain flour that makes lovely biscuits with added texture.
When baking for the first time, I recommend you start with the gluten free fail-safe: brownies. Gluten free brownies are simple and always taste fantastic, as gluten really isn't needed to help develop crumb structure. In fact, without the gluten the brownies tend to be squidgier, moreish and just generally epic. Try my favourite gluten free brownie recipe. It is easy to follow and the resulting brownies are amazing – even my non-gluten free friends love them and I served these up at my wedding instead of traditional cake! Once you master the basic chocolate variety it won't be long until you have my salted caramel swirl variety nailed too.
TRY: Glebe Farm gluten free plain flour, £2.29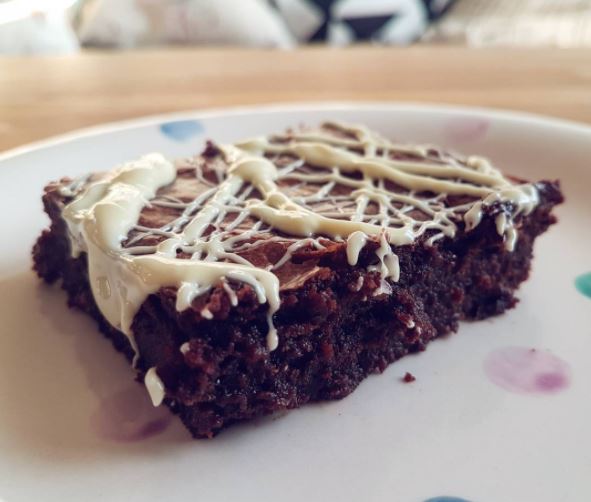 Obviously, you will also need a good gluten free self-raising flour in your store cupboard. This type of flour is needed for many cakes, scones and other bakes that require a good rise. Both Doves Farm and Free From Fairy do nice self-raising varieties. Again, it is an easy one to substitute at a ratio of 1:1, replacing regular self-raising flour in recipes that call for this ingredient.
Once you have stocked up on gluten free self –raising flour you can bake delicious gluten free scones. Try my lactose and gluten free scone recipe for a light, fluffy scone. You will want to eat these while they are still warm from the oven, with plenty of strawberry jam and clotted cream (or lactose free cream of course!).
TRY: Doves Farm gluten free self-raising flour, £2.17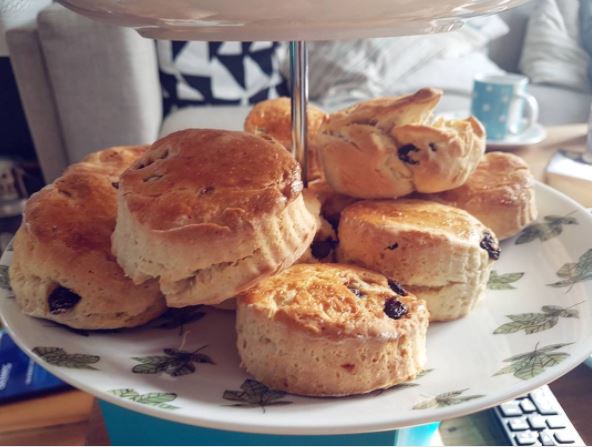 Although strangely named, xanthan gum is a magic ingredient for gluten free baking. The addition of a very small quantity of xanthan gum to your bakes will help stop your cakes and pastry turning into a big crumbly mess as it has brilliant binding properties. To get slightly scientific for a moment, the gluten protein itself is very elastic in nature and as soon as you eliminate this from flour your bakes are more prone to failure.
It sounds fairly unappetising but is brilliant for ensuring the success of certain bakes
To mimic the elastic properties of gluten in your bake there are a few gluten free substitutes you can add. Xanthan gum is my go to as it is widely available in supermarkets. It is made by fermenting corn sugar with Xanthomonas campestris bacteria – sounds fairly unappetising but it is brilliant for ensuring the success of certain bakes. There are also various alternatives to xanthan gum you can consider as well, such as psyllium husk, guar gum and ground linseed/flax. These are all excellent binders, but I often substitute xanthan gum in in their place as it is easier to get hold of in the shops. Where psyllium husk or linseed/flax is called for, you would typically use half the amount of xanthan gum instead. To replace guar gum, use two thirds of the amount of xanthan gum.
Xanthan gum will help you achieve the perfect rise
My cakes would not be half as good without the addition of xanthan gum as a binding agent. I typically use a ¼ tsp. xanthan gum to every 200g of gluten free flour. This will help you achieve the perfect rise and a light and fluffy gluten free cake.
Once you have mastered that ratio, you can work your way up to creating some real show-stopper cakes, like the biiiig, piiiink, sparkley celebration cake I baked recently. Allow your decorating skills to run wild using conventional butter cream and icing recipes. Check out Fondant Fox and Meringue Girls on Instagram for some serious cakespiration.
TRY: Doves Farm xanthan gum, £3.19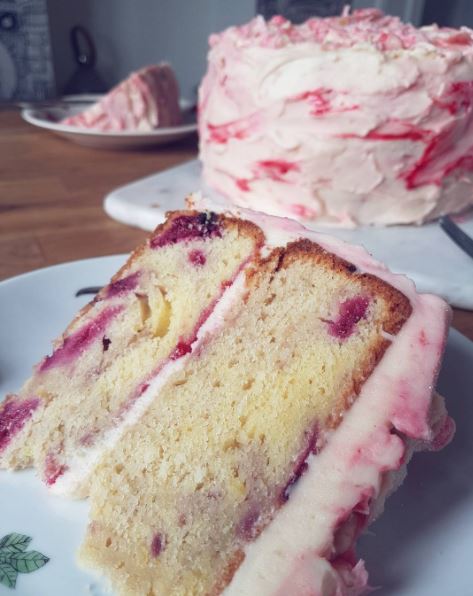 One to watch out for is baking powder. Not all varieties are gluten free as they may contain wheat starch to stop the baking powder from clumping. Many brands are now switching to the use of corn starch or potato starch instead of wheat flour, but you should always read the label to double check. I have been using the Isabel's gluten free baking powder recently, but have also used the Dr. Oetker variety in the past.
Gluten free baking powder is essential for many gluten free recipes that require a good rise, such as my gluten free Victoria sponge cake recipe. The extra boost helps you to achieve a lovely, light cake.
TRY: Doves Farm gluten free baking powder, £1.98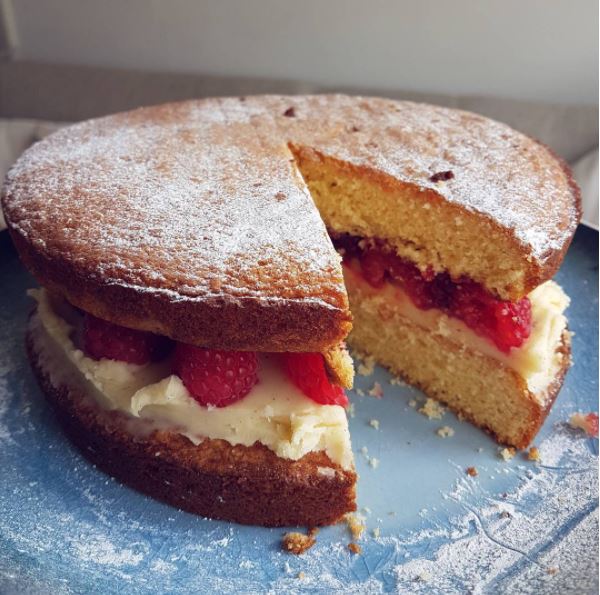 I used to think ground almonds were only for almond cake, however it turns out they can be used for so much more. Succulent self-saucing puddings and fantastically moist cakes yes, but ground almonds also work fabulously in gluten free pastry. I have found myself using them increasingly as they retain moisture well and yield a good crisp finish to pastry. For pastry, you will need to blend with other gluten free flours as used solo they can be quite rich. Ground almonds work especially well in shortcrust pastry, combined with other gluten free flours and starches.
Ground almonds are low carb and a fantastic source of fibre, protein, manganese, potassium, vitamin E and calcium. They are also rich in monounsaturated fats and make an all-round beneficial addition to your gluten free bakes or for use in grain free recipes. Try the recipe for my spring puff pastry tart.
TRY: Just Natural organic ground almonds, £4.49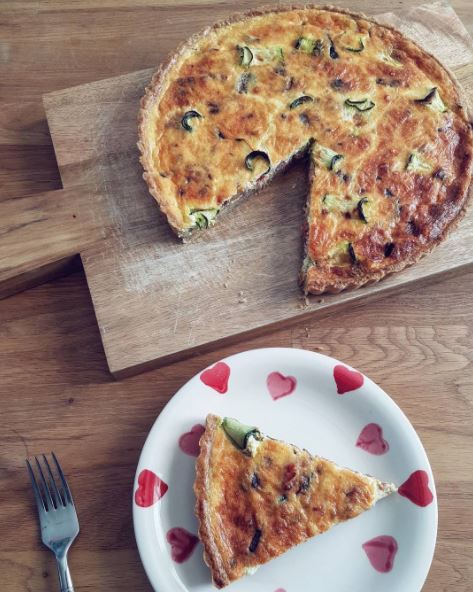 Don't be put off recipes if they call for blends of three, four or even five different flours. I was at first! Teff, millet, chestnut, buckwheat, SORGHUM?! That sounded too complex for a standard home baker and I had been getting on just fine with the regular gluten free flour blends, thank you very much.
Regular gluten free flour will not cut it for bread baking
At least, that was my thinking until I tried to make gluten free bread. For the brave who want to attempt gluten free bread baking, I am afraid regular gluten free flour will not cut it. After two horrible failed attempts at baking bread with a standard gluten free bread flour, I bit the bullet and ordered various flours online. Before long I was producing all sorts of delicious home-baked loaves of bread.
I encourage you to experiment with different flours as you can achieve brilliant results. To source the flours, Shipton Mill have very good value options including sorghum, teff, buckwheat and chestnut flours (much cheaper than in many health food shops). Holland & Barrett stock reasonably-priced gluten free brown rice flour and linseed. When buying flours please always check that they are specified as being gluten free. Some varieties may be milled using the same equipment as gluten containing flours and therefore will not be suitable for coeliacs.
For reliable bread recipes and good detail on using these flours River Cottage Gluten Free
 cookbook by Naomi Devlin is my current go to. The book contains some brilliant bread recipes that I recommend and it helps you to get to grips with the new flours.
TRY: Doves Farm teff flour, £1.69
Doves Farm gluten free gram flour, £2.30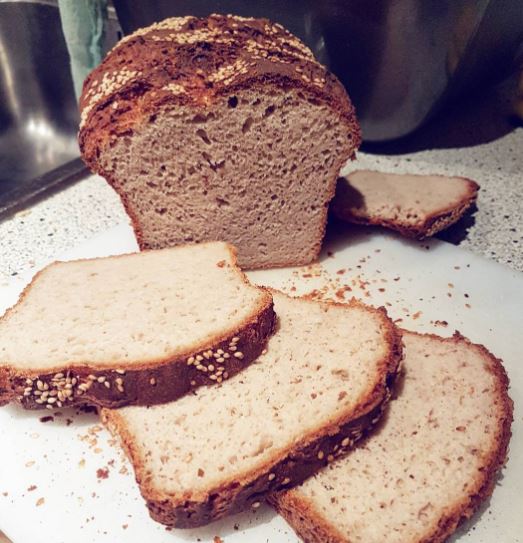 Starches go hand in hand with the flours I mentioned above and nearly every good gluten free bread recipe will call for the use of one starch or another. They help to cut through any heavy flours (such as teff) and lighten the bake. Tapioca and potato starch are the most common. Just treat them as you would a regular flour and blend away. Starches also help with binding and will contribute to a successful rise when you are baking bread.
I recently made some gluten free sourdough breakfast muffins, in which in the addition of potato starch stops from becoming too dense and heavy.
TRY: Clearspring kuzu root starch box, £6.49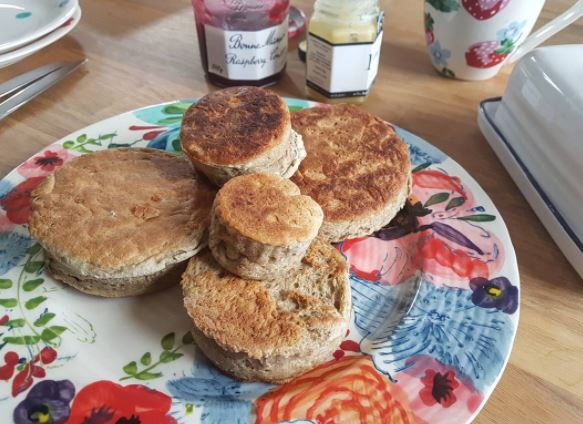 If gluten free baking is leaving you really stumped, check out these gluten free cake mixes which are easy peasy.
Spotting hidden gluten
There you have it. Some top tips to get you starting on your gluten free baking journey. Remember to check all of your ingredients before you start baking, as there can be hidden gluten where you might not expect it:
Cooking chocolate – can contain gluten or be produced on a line that handles gluten
Sprinkles, edible glitter and decorations – occasionally these contain wheat starch, for example Smarties are not gluten free
Baking powder and flours – as I mentioned above, always check that these are coeliac safe
Bicarbonate of soda – similarly to baking powder, this can sometimes contain wheat starch and it is worth double checking the ingredients list to ensure you have a gluten free variety
It is very straightforward once you get into the habit of knowing what to check, I promise. Happy baking!
Laura Strange runs the popular gluten free Instagram account @myglutenfreeguide, which she set up two years ago to show that being coeliac shouldn't put any limitations on your lifestyle. Her account has over 29,000 followers and is full of gluten free food, restaurant snaps and travel tips. Laura recently launched www.mygfguide.com, featuring gluten free travel guides, recipes, London gluten free insights and UK city guides for coeliacs. 
Please share your gluten free (or not!) baking creations with us by tagging @HealthistaTV on Twitter and Instagram. We would love to reshare!
READ MORE:
8 signs you have coeliac disease that might surprise you
7 BEST gluten free pasta alternatives
8 signs cake is your drug – former food addict on how to spot the signs
4 gluten free cake recipes with the WOW factor
Best gluten-free pancakes EVER – Healthista Eats blogger Charlotte Dormon picks her favourite eatery for French crepes
5 BEST Gluten-free afternoon teas
Like this article? Sign up to our newsletter to get more articles like this delivered straight to your inbox.