World Pasta Day is tomorrow, and with this colder weather, a comforting bowl of pasta is exactly what we all want. But what about those of us who are gluten-free? We don't want you missing out. Healthista recommends the best gluten free pasta alternatives
No one should have to live without the deliciousness of pasta. But coeliac sufferers need to be careful about where they source theirs, considering the most popular types contain gluten.
Coeliac disease is an autoimmune condition, whereby the body triggers an immune response to gluten entering their systems. Symptoms are most often related to the stomach, although there are a surprising signs of the disease that can go missed.
1 in 100 people in the UK live with the disease, and with a gluten free diet being the best way to manage it, pasta, alongside bread, cakes, cereals and sauces are off the menu for the poor buggers.
But an increasing number of non-coeliacs are also giving up gluten thanks to increasing evidence that it could affect the gut and even the nervous system.
READ MORE: 8 signs you have coeliac disease that might surprise you
Much like anything in the health bubble these days, there are alternatives for every dietary requirement. And Gosh, they are tasty, as we found out munching through various gluten-free pasta alternatives for dinner this week.
Made from beans, pulses, legumes or plants, they are also nutritionally dense in comparison to white, or even brown. Here are our top seven:
Best for vegans: Orgran Super Trio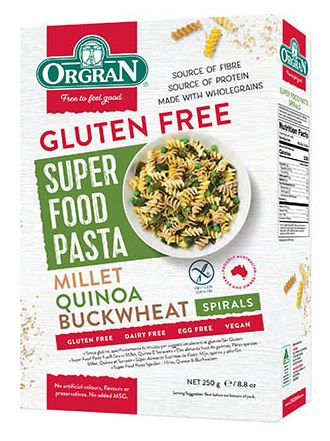 If you're getting into gluten free pasta, Orgran will be your new best friend. Their range is never-ending, which is understandable seeing as it has been developing for 37 years.
It's a trusted brand amongst coeliacs, but vegans and those with lactose intolerance can also get involved.
If you're feeling more adventurous than the classic buckwheat penne, Orgran's Superfood Pasta Spirals, are made from alternative grains such as quinoa, millet and buckwheat, so it's naturally much higher in protein and fibre compared to normal pasta, or other gluten free options.
Yanar, Healthista's previous Digital Director says: 'I was impressed with this pasta as it kept its shape and form so well and the texture was similar to conventional pasta. It's not too dissimilar to the texture of wholewheat pasta.
'I made a couple of dinners out of this, once with diced aubergine and courgettes sauce and another with a bean chilli.  The multi colours also make for an attractive dish.
'The best thing about these alternative pasta ingredients is a higher nutritional value to regular wheat pasta which is a big plus because as a vegan as I need to be conscious of getting a variety of plant sourced proteins and nutrients'.
Available to buy at Whole Foods.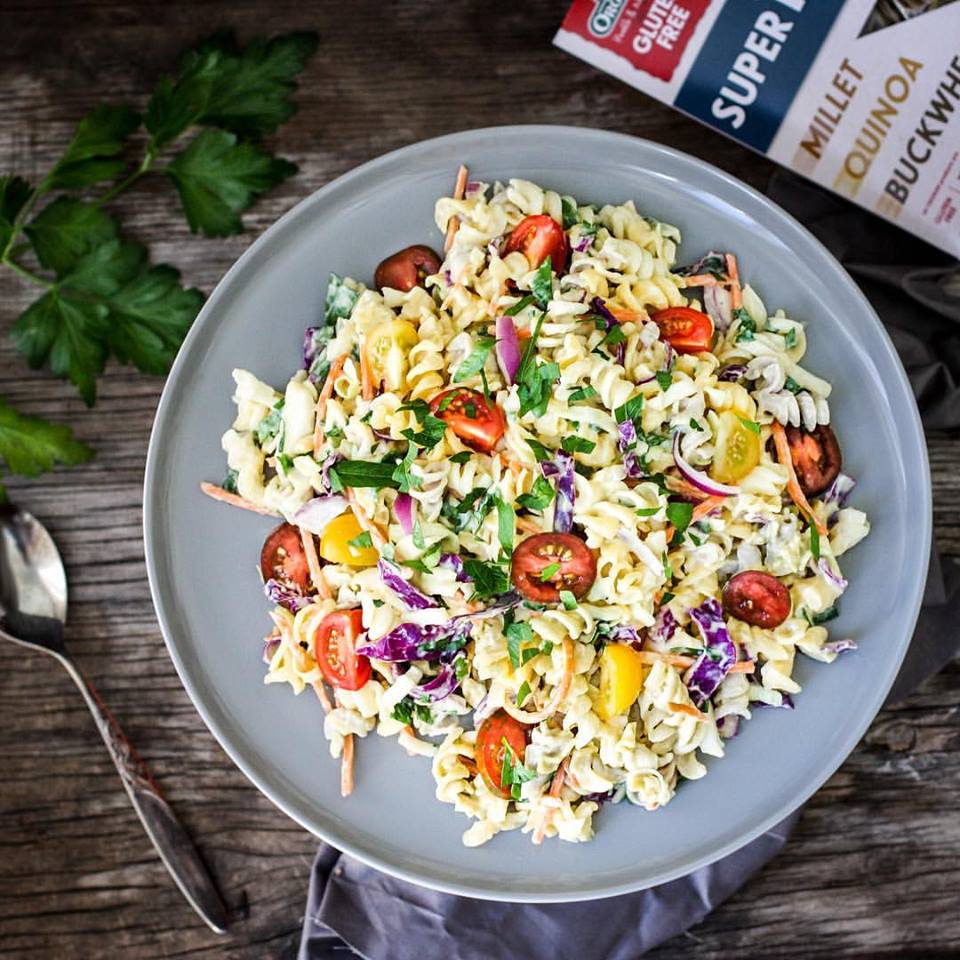 Try the Orgran recipe for Vegan Pasta Salad
Best for fibre: Explore Cuisine Black Bean Spaghetti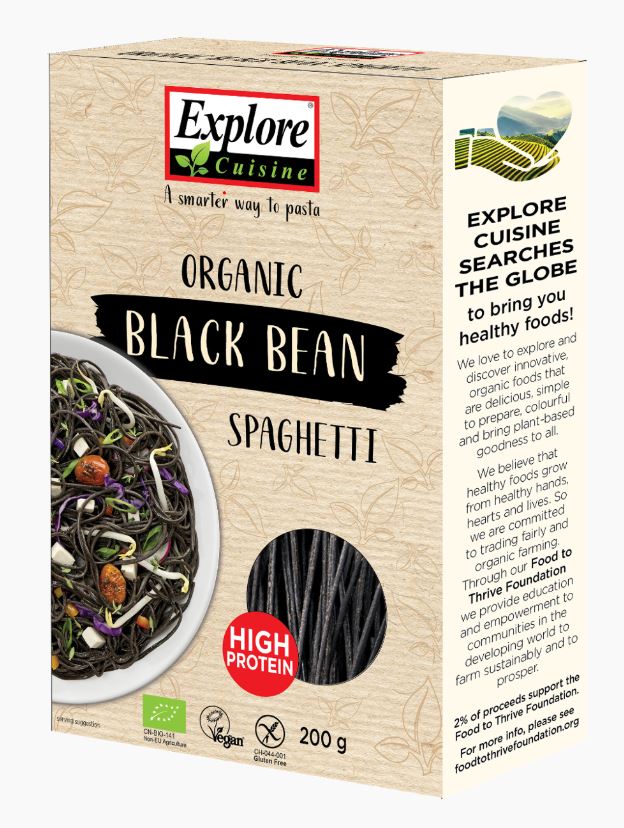 The black bean is a legume, prized for its high protein and fiber content. And you will be reaping all the benefits with Explore's Black Bean Spaghetti, considering it's over 50 per cent of your daily fibre value, and 20-25 grams of protein per serving.
That's good news for anyone bored of eating fruits for fibre! The founder of Explore, Joe Spronz, became inspired whilst travelling the Far East, particularly after getting a taste of the soybean noodles in China.
Now, Explore Cuisine's pasta alternatives are vegan, organic, low in carbs, and colourful on your plate.
Journalist Vanessa Chalmers says: 'The colour of the Black Bean spaghetti makes a dish look much more exotic. It's from the Asian range, and I found the consistency to be much like Singapore noodles.
'This was unexpected but I'm a huge fan. Chinese food is a rarity in my diet, mainly because takeaway food is so unhealthy, but this could easily be whipped up together with some prawns, veg and seasoning to make one of my favourite dishes healthy and nutritious.
Buy Explore Cuisine Black Bean Spaghetti at ASDA, Morrisons, Holland & Barrett, Wholefoods and Planet Organic or Sainsbury's for £2.50.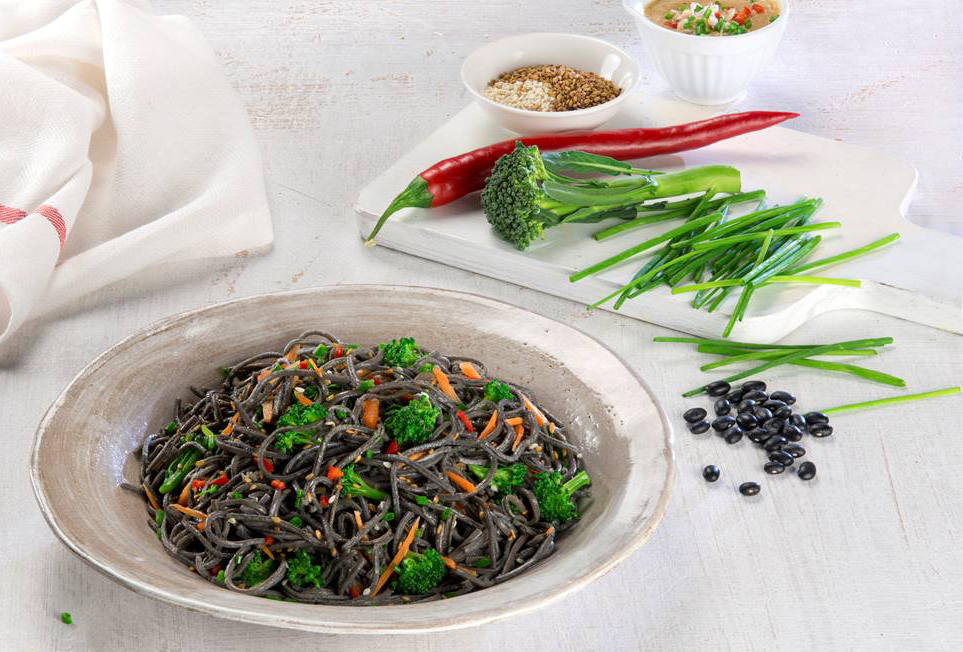 Try the Explore Cuisine recipe for Blackbean Spaghetti with lightly steamed vegetables and peanut sauce.
READ MORE: Do you really need to give up gluten?
Best for filling you up: Explore Cuisine Edamame and Mung Bean Fettuccine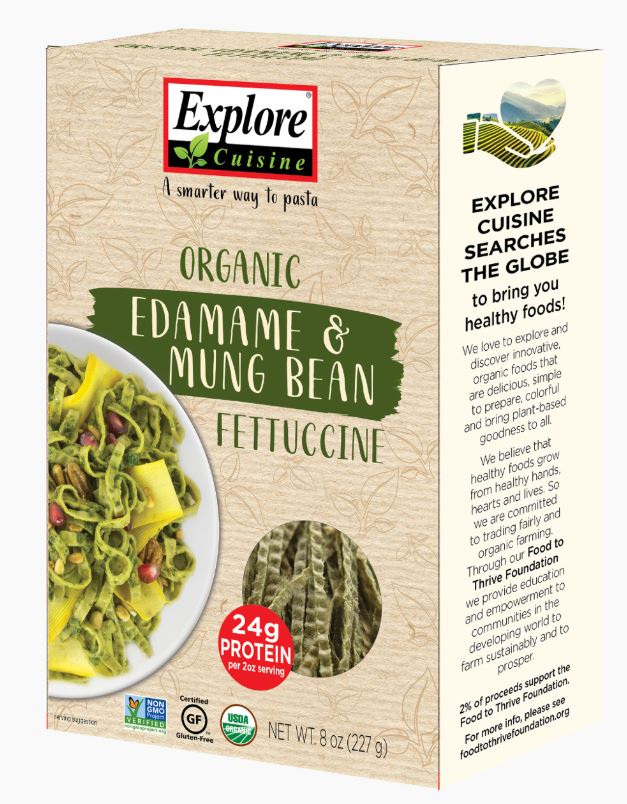 Vegans and vegetarians will be familiar with the edamame bean, a young soybean, which is high in protein and fibre, as well as the legume, the mung bean.
Both are typically found in Asian cuisine such as Japanese, and at 22g of protein per serving, it's ideal for the plant based diet as well as coeliac.
Explore's Edamame and Mung Bean Fettuccine pasta is versatile for a huge range of dishes, and this gluten free adaptation adds an extra touch of colour and culture.
Journalist Vanessa Chalmers says: 'This pasta is very light, which is far from how a normal fettuccine dish compares.
'It cooks very quickly, turning into a soft and compact blob, so if you like your pasta al dente, this won't be for you.
'Stirred into asparagus with ham and peas, the pasta was comforting and filling, which I was dubious about with it being so delicate.
'It did need a good amount of seasoning, as there is a lack of flavour despite smelling quite grassy when cooking. I cooked the whole box to serve four people which was enough'.
Buy Explore Cuisine Edamame and Mung Bean Fettuccine at ASDA, Morrisons, Holland & Barrett, Wholefoods and Planet Organic or Sainsbury's for £2.50.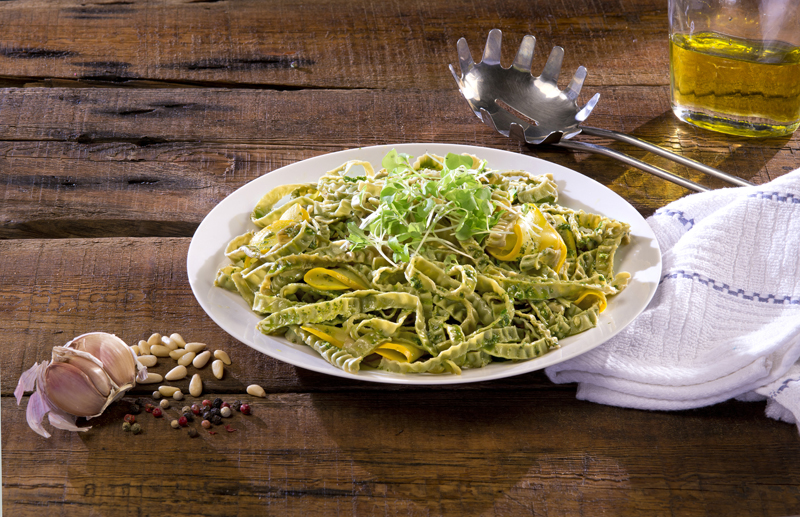 Try Explore Cuisine's fettuccine with courgette ribbons, pecans, pomegranate seeds with a light pesto sauce.
Best for fish-lovers: Atlantic Kitchen Seaweed Spaghetti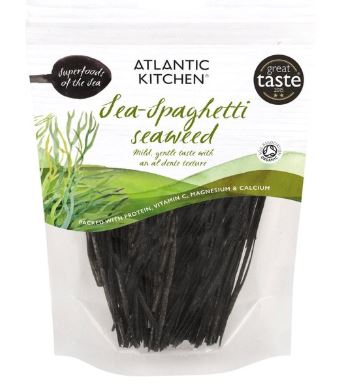 Seaweed is a naturally nourishing superfood of vitamins and minerals, according to Atlantic Kitchen who are proving the oceans' weed to be incredibly versatile.
Their products – Dried Wakame Seaweed, Dried Dulse Seaweed and Dried Sea Spaghetti – range in intensity and uses. They can be eaten as a snack, soaked and added to a salad, or cooked for a gourmet pasta dish.
Or, their soup pots flavoured with the likes of monk fish and beetroot can be bought as a healthy lunch.
Seaweed has been the Asian's cuisine for centuries, but Atlantic Kitchen source theirs from the cold salt waters off the Irish, French and Spanish coasts, where they grow abundantly (not the type you see washed up and dead on the shore).
It is picked sustainably by hand by people who know how to protect, preserve and promote growth of the fresh sea crop. It may not be to everyone's taste, but it's worth testing the waters (ahem) with this one, considering its humungous health properties.
Editor Anna Magee says: 'You have to love the taste and smell of fish to like this pasta, which thankfully I adore. The pasta is kind of chewy and cooks to a very al dente texture and it takes sauces exceptionally well.
'I would recommended doing half seaweed pasta and half spiralized courgette to ensure the texture doesn't get too chewy and too fishy. For me, this mix was perfect and really super-filling.'
Buy Atlantic Kitchen Sea Spaghetti on Ocado for £4.99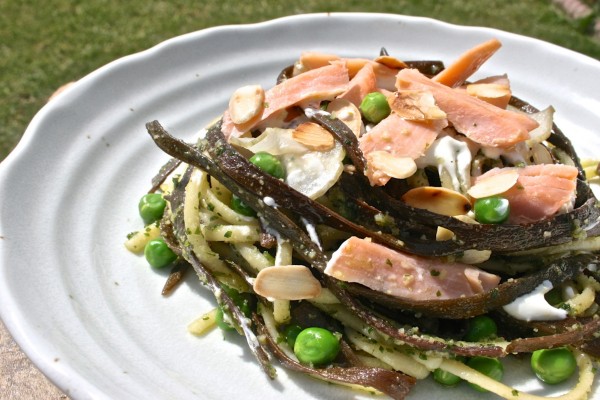 Try the Atlantic Kitchen recipe Trout & almond pesto Sea Spaghetti
Best for organic: BiOFAIR Organic Rice Quinoa Fusilli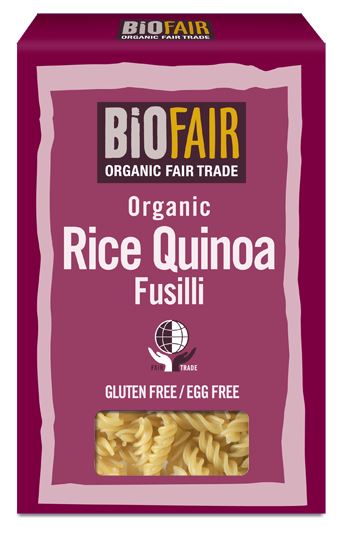 The clue is in the name – this pasta is certified organic and Fair Trade without compromising the taste of your favourite staple mid-week dinner.
The ethical brand BiOFAIR was created by Windmill Organics, who are intent on providing third world countries with long term jobs, fair prices and the ability to develop their communities, whilst giving us delicious and healthy pasta.
Made with rice flour and quinoa flour, (quinoa being the Holy Grail of wholegrains with the full nine amino acids), it's naturally gluten free. It can take up to 15 minutes to cook, and when finished, it holds its shape instead of swelling like regular pasta.
READ MORE: 10 surprising foods that contain gluten
Journalist Parisa says: 'I couldn't get my head around the fact that this pasta was made from quinoa. I made a spaghetti carbonara and it tasted almost exactly the same as usual. I did notice that it took a tiny bit longer to cook (but then maybe I was being impatient).
'The texture was soft but not soggy and the taste was no different to any other pasta I've tried. Plus it was EXTREMELY filling – I gave up on my food halfway through. I would definitely recommend this product to any pasta lover that doesn't want to give the stuff up'.
Buy BiOFAIR Organic Rice Quinoa Fusilli on Ocado for £3.30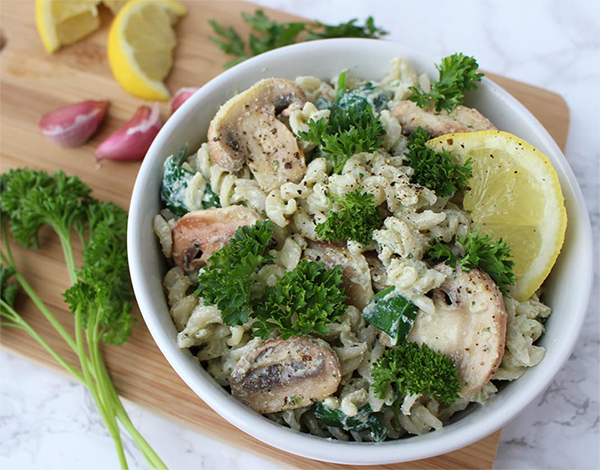 Try the Windmill Organics recipe Vegan Creamy Mushroom Pasta
Best for calorie counters: Gusto Nero Black Jasmine Macaroni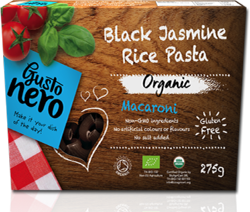 Gusto Nero's entire range is made from black jasmine rice, grown organically in Thailand where the conditions are perfect. When the rainy season begins in May, the grains are sown into the paddies where they grow free from chemical fertilisers, insecticides and herbicides.
The premium strands of rice are then produced into vegan and GMO-free macaroni, penne and linguine for a high protein meal with a fibre and iron boost.
The makers say black jasmine rice is lower in sugar and carbohydrates than the popular white and brown rice, making for a lower calorie choice.
The grain, a luxury to royal families back in ancient Asia, is also packed with antioxidants (great for reducing signs of ageing and fighting disease) and vitamin E (for healthy skin and eyes). The vitamin B content also means a handful of Black Jasmine Rice gives you twice the energy boost to the same amount of white and brown rice. Black is the new brown, don't you know.
Journalist Vanessa Chalmers says: 'I would most definitely swap this for regular macaroni for a cheeky mac and cheese. I find white pasta too boring, soft and uninteresting. This pasta has more of a bite, and I like the size of the pieces.
'I can't believe how nutrient dense black jasmine rice is, and a commodity in Thailand is now in front of me on the table as a quick week night dinner.'
Buy Gusto Nero Black Jasmine Macaroni for £3.19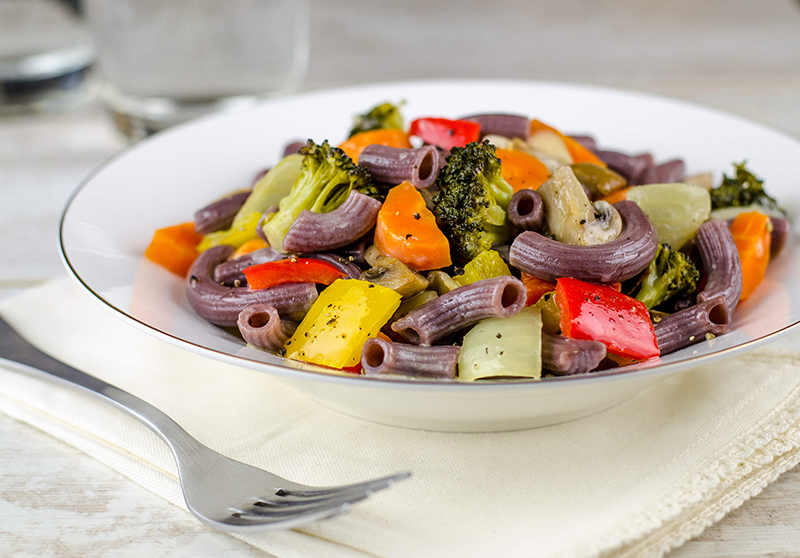 Try the Gusto Nero recipe Roasted Vegetables Macaroni & Cheese
Best for comfort: Difatti Spinach Gnocchi
Gnocchi is another delicious Italian food that screams warning bells to the gluten free clan. The dumplings are normally made with ingredients such as semolina, flour, egg and potato, but Difatti have created a gluten free and vegan version that still has an authentic taste.
They have simply swapped the wheat for rice or corn flour, produced in sunny south Italy, keeping the traditional recipe for a filling dinner. What's amazing about this pasta is how fast it cooks.
In just one minute, the pockets of flavour – either tomato, spinach or pumpkin and quinoa – are ready to be served either on their own with a sauce or as part of a pasta salad. Hey presto, a green based dinner that took minimal effort.
READ MORE: 4 gluten free cake recipes with the WOW factor
Yanar, Healthista's previous Digital Director says: 'The easiest thing I've ever cooked – after a few minutes in hot water the gnocchi rises to the surface and that signals it's done. It's literally fail proof. Because the texture is quite soft and squishy you can combine it with a variety of textures.
'I diced some veg and tomatoes with lots of herbs and garlic and made a delicious pasta sauce. The spinach version of this gnocchi has a stronger flavour than the tomato version, so if you don't Iove green flavours try the other.
'When I served half the packet I was disappointed at how small it looked in my bowl but actually, but it's deceptively filling. It's also a treat to have gnocchi as a vegan as it's traditionally made using some dairy ingredients. I would definitely recommend this product for a fast dinner perfect for busy types or healthy lunches if you like to food prep'.
Buy Difatti Spinach Gnocchi for £1.60 on Ocado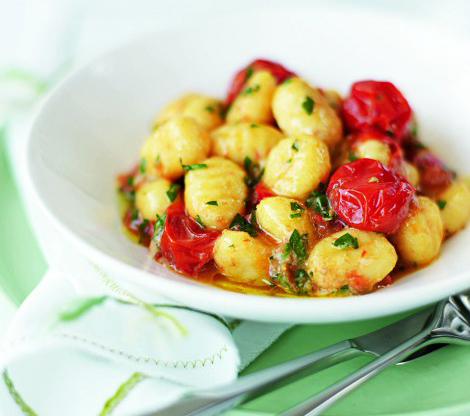 Try the Delicious Magazine recipe Gnocchi with sage and roasted tomato sauce
Have a favourite gluten free recipe you can share with the coeliac community? Tweet us at @HealthsitaTV – we would love to share!
Relevant Healthista Content
On a gluten-free diet? Chef Raymond Blanc's gluten-free cooking course
How to go gluten free – 3 shopping tips for beginners plus symptoms of gluten intolerance to watch out for
Other Healthista cotent you may also like
'I lost 11 kilos by replacing pasta with spiral vegetables
6 BEST Gluten-free comfort eats
21 gluten-free eating hacks this food-loving coeliac swears by
Like this article? Sign up to our newsletter to get more articles like this delivered straight to your inbox.