Nike's Spring '17 Zonal Strength Tights Collection is on sale today, and R&B songstress FKA Twigs is the Creative Director behind the campaign…
The 'Do You Believe In More?' campaign has been created and directed by FKA Twigs, a British singer and dancer in the contemporary R&B scene. Showcasing her athletically sexy physique, FKA Twigs has performed a short film with her new track 'Trust In Me' as the soundtrack. 12 other atheltes dance in the video, featuring the collection of Zonal Strength Nike tights, to shed light on the power of movement, and define sport as an important channel of expression. Imagery has also been shot by a photographer, 17 year old David Uzochukwu, who was handpicked by FKA.
Quirky FKA Twigs said in an open letter on Nike News: ""Do you believe in more" refers to a girl who grew up looking different from everybody else around me, who wanted to do things no one else wanted to do in a small town, who didn't grow up with lots of money, but just had so much determination and hope inside me. I wanted to do more with my life.
"Do you believe in more" is a question that anyone can ask themselves. Do you believe that, in six months' time, you'll be able to run like that, or jump like that?'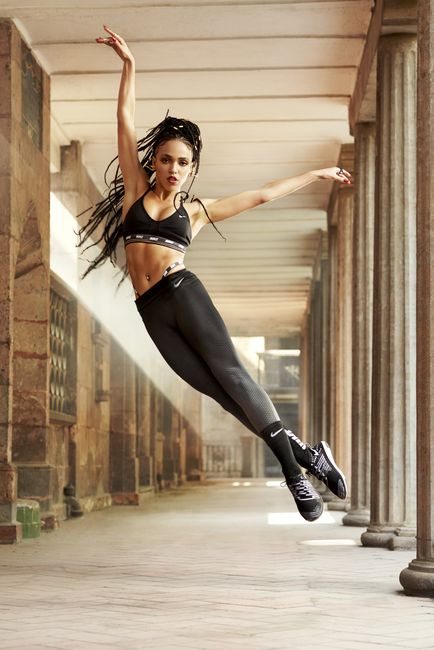 FKA Twigs shared her thoughts on sport: 'I truly believe that "preparation plus opportunity equals success." It's the same with any creative endeavor, and it's the same with any athletic endeavor. It's not about the moment you come off the block to race, or the moment you jump off the diving board. It's not about any one beat you've produced. It's about the moments before that. Preparation is the training you do, and opportunity is the moment you show what your fastest time is, how creative you can be, or how good your beat is.'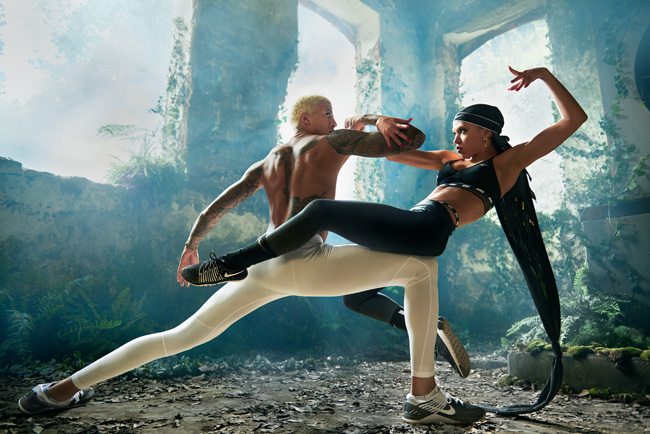 The Water Me singer, who has been dating Robert Pattinson for over two years said: 'When Nike reached out about doing a project together, I saw it as an opportunity to be inspirational to people who want to use their bodies in a positive way. I cast a group of amazing people who take their physicality seriously and have their own sense of style, in order to inspire people to be healthy and know that, through any genre of sport, they can be the best versions of themselves.'
FKA Twigs moved to London when she was 17 to pursue her dream of being a dancer. 'Since as early as I can remember, I've been obsessed with training and taking classes', FKA Twigs said. 'People don't always see dancers as athletes, but we are. As a dancer, I try to embrace my fragility and accept that where I'm at is good enough… Overall dance makes you realize that there's beauty in the imperfections. And that's what can make it most intriguing for people to watch'.
The Zonal Strength Tights collection has been designed to compress the right parts of the body/legs for an efficient workout. The fabric targets key muscles groups, glutes, squads, and hamstrings, to reduce muscle vibration without restricting mobility. When doing a high intensity workout, the high-rise waistband provides core support.
MORE: New Adidas training collection has just dropped and Healthista's loving it