Depression is no fun and sometimes antidepressants are necessary. But if you're going down the natural route these adaptogen herbs may help, says Katrine Van Wyk, author of new book Super Powders. 
If you've never heard of adaptogens, get ready to be hearing a lot about them in the next 12 months. These are botanical herbs and foods that, when taken as foods, powders, pills and potions in concentrated doses have the power to adapt to our bodies' needs, during times of stress.
I have used adaptogens in my practice for years with incredible results, and I am delighted to have collaborated with Healthista TV on a series of educational videos on how adaptogens can help with different common conditions.
When dealing with depression, you need to calm your nervous system and there are some plants that may help you with that called adaptogens that encourage your body to better adapt to and deal with stress that can lead to depression.
#1 Mucuna Pruriens
Mucuna pruriens is a tropical legume native to Africa and tropical Asia and is another favourite of mine. It is also known as the dopamine bean as it contains L-dopa, which is a precursor to dopamine – the pleasure hormone that makes you feel all buzzy and tingly when something good happens.
So having more of that flowing around your body could help improve your mood overall. Try Now Foods Dopa Mucuna £13.95 from Amazon.
#2 Rhodiola
Rhodiola is a stimulant that provides you with an energy boost that will decrease inflammation in the brain and help to lower depression.
This adaptogen is also balancing, in that it can simultaneously be calming emotionally and cognitively stimulating.  Additionally, it improves your brain's oxygen-absorbing abilities and increases serotonin, a neurotransmitter that affects sleep, mood and appetite.  Try FS Rhodiola Rosea Capsules, £16.99 from Amazon. 
#3 Ginseng
You may have heard of this one, ginseng can help reduce chronic stress and has been used for centuries as an ancient Chinese medicinal root.
Ginseng is warming to the body and a great adaptogen to take in the colder months. It's also found to boost immunity and help the body better cope with allergens.
A plant where the root is often used to make medicines and health supplements, ginseng is often called an 'adaptogen', which is a non-medical term used to describe substances that are said to strengthen the body and increase people's resistance to daily stress. Try Nature's Best Korean Ginseng, £12.20
More in Healthista's Adaptogens Uncovered series:
Video #1: Adaptogens for stress
Video #2: Adaptogens for glowing skin
Tomorrow, adaptogens for sleep and Friday, adaptogens for the immune system.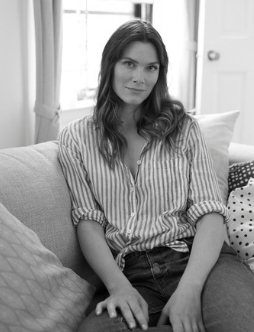 Katrine Van Wyck is the author of new book Super Powders, as well as Best Green Drinks Ever and Best Green Eats Ever. A certified health coach, wellness consultant and yoga teacher, she has been featured in Vogue, MindBodyGreen, Refinery 29, Well + Good, Be Well, Forbes and PureWow. She moved to New York from Norway as a model and later received her nutrition training from the Institute for Integrative Nutrition.
Katrine has trained with Dr. Frank Lipman at his practice in Manhattan, The Eleven  Wellness Center. As a part of Dr. Lipman's team of health coaches, Katrine has helped to guide his high–profile patients through dietary changes that also fit their demanding and busy lives. Katrine lives in Brooklyn with her husband and two children.
Super Powders by Katrine Van Wyk is out 26th February (Countryman Press, £14.99)
Relevant Healthista content:
This former model says taking adaptogens could change your life
Healthista content you might like:
5 easy dinner ideas from TV chef Gregg Wallace's new Italian cookbook
9 weight-loss mistakes ruining your body goals – Body Transformation Week 11
Got insomnia? This calming yoga routine will help you sleep
Margot Robbie's personal trainer on exactly how to get a Hollywood body
Like this article? Sign up to our newsletter to get more articles like this delivered straight to your inbox.