Adaptogens will be the super herbs on all our lips in 2020. This week, we bring you a 5-day video series about their benefits from former model-turned-health-coach Katrine Van Wyk, author of new book Super Powders. Today, adaptogens to take for glowing skin
If you've never heard of adaptogens, get ready to be hearing a lot about them in the next 12 months. These are botanical herbs and foods that, when taken as foods, powders, pills and potions in concentrated doses have the power to adapt to our bodies' needs, during times of stress.
I have used adaptogens in my practice for years with incredible results, and I am delighted to have collaborated with Healthista TV on a series of educational videos on how adaptogens can help with different common conditions. See episode one about adaptogens for stress and anxiety here.
Today, I am talking about the best adaptogens glowing skin.  Tomorrow, I will be talking about adaptogens for depression. Thursday, sleep and Friday the immune system.
Adaptogens for glowing skin
Glowing and healthy skin starts from within. What you eat and how you treat your body will certainly show up on your skin as well.
In addition to a healthy diet there are a few other things you can be doing to help your skin…
#1 Pearl Powder
Pearl powder is exactly what you think it is. It's ground up or crushed powder from fresh water pearls that you can take internally or topically on the skin to give you that healthy from within glow.
Pearl powder is widely believed to help improve the appearance of skin, and is used as a cosmetic by royal families in Asia.
It is also used as a treatment for acne. Some studies have claimed that pearl powder can stimulate the skin's fibroblasts (these are the cells in our connective tissues that produce collagen) thus helping regenerate collagen, and accelerate healing of certain skin conditions, wounds, and burns.
It is rich in minerals and antioxidants which are nourishing for the skin, plus it also helps your own body produce more collagen which gives you more of a plump look.
Plus, pearl powder is not only great for our skin, but also for our gut and our joints. Try Supreme Pearl – Nano Sized Levigated Powder (90g)
£25 from Amazon.
#2 Collagen peptides
You may have heard that collagen is what keeps us looking youthful. It also helps our joints as it's great for our gut, which is closely connected to our skin's health.
Taking collagen may help to reduce fine lines, strengthen your hair and nails and give you an overall plump look.  Try Higher Nature Aeterna Gold Collagen Restructuring Complex 90 capsules
£29.22 from Amazon.
#3 He Shou Wu
He Shou Wu is a herbal remedy common in Traditional Chinese Medicine (TCM), used to treat a variety of ailments and linked to a number of health benefits in TCM including healthy aging, longevity and virility.
The name 'He Shou Wu' translates to 'the black-haired Mr. He' – the remedy is believed to be named due to the transformational, youth-restoring effects it had on 'Mr. He' when he discovered the herb.
The plant itself is a type of vine. Once harvested, the leaves, roots and root tubers are separated and combined with other ingredients to create remedies to treat different ailments.
Taking He Shou Wu causes your body to produce more antioxidants, and antioxidants are what protect your skin from pollution and sun damage. So, eating more antioxidants and boosting your own antioxidant ability will help to protect your skin, making it look more youthful and glowing. Try Indigo Herbs Organic Fo-ti (Ho Shou Wu) Powder 100g
£9.99 from Amazon.
More in our adaptogens for health series:
Episode 1: Adaptogens for stress and anxiety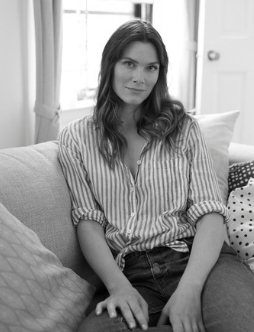 Katrine Van Wyck is the author of new book Super Powders, as well as Best Green Drinks Ever and Best Green Eats Ever. A certified health coach, wellness consultant and yoga teacher, she has been featured in Vogue, MindBodyGreen, Refinery 29, Well + Good, Be Well, Forbes and PureWow. She moved to New York from Norway as a model and later received her nutrition training from the Institute for Integrative Nutrition.
Katrine has trained with Dr. Frank Lipman at his practice in Manhattan, The Eleven  Wellness Center. As part of Dr. Lipman's team of health coaches, Katrine has helped to guide his high–profile patients through dietary changes that also fit their demanding and busy lives. Katrine lives in Brooklyn with her husband and two children.
Super Powders by Katrine Van Wyk is out 26th February (Countryman Press, £14.99)
Relevant Healthista content:
This former model says taking adaptogens could change your life
Healthista content you might like:
5 easy dinner ideas from TV chef Gregg Wallace's new Italian cookbook
9 weight-loss mistakes ruining your body goals – Body Transformation Week 11
Got insomnia? This calming yoga routine will help you sleep
Margot Robbie's personal trainer on exactly how to get a Hollywood body
Like this article? Sign up to our newsletter to get more articles like this delivered straight to your inbox.