Never heard of adaptogens? These botanical super-herbs are life-changing, says former model Katrine Van Wyk, author of new book Super Powders
After years of modelling and not eating properly, I was totally burnt out and exhausted.  That's when I first discovered adaptogens.
As a model I had to maintain a certain weight to fit in the size zero and size two samples. Things are changing now, we're embracing a wider ideal, but back then when I was modelling in 2006, you had to be skinny to be successful.
But I'm a big Viking girl, I have bones and musles, I'm 180cm tall, that's five eleven, so I need to eat.
After a few years of undereating and overexercising I had zero energy. I was running around doing catwalk shows and shooting for big US designers like Diane von Furstenburg and Isaac Mizahri, I should have been feeling on top of the world, but I  felt lethargic and had no life force.  My skin was constantly breaking out and I had low-grade flu-symptoms.
Adaptogens are a group of plants that can help the body adapt to stress.
I knew something had to change and that I wanted to have children, so I had to do something to get my body back in order. When an  acupuncturist told me about adaptogens as an antidote to adrenal fatigue, I started taking ashwagandha right away and the difference was incredible.
I am confident adaptogens helped my body find balance. I'm now a mum with two kids, age 2 and 5, to take care of.  I'm not motivated by looks, I want energy and to feel stable and resilient. You want to be the rock for your kids.  I don't have time to get sick, so I boost my immunity as much as I can and adaptogens have helped me do that.
So what are adaptogens exactly?
Adaptogens are a group of plants that can help the body adapt to stress and help us become more resilient.
These leaves, roots, mushrooms, berries, legumes and tubers work in a dual-directional way, meeting your body where it is, to help you find balance. It sounds counter-intuitive, but the same plant can help one person calm down and chill out and another person build stamina and boost their energy.
The term adaptogen was first coined by Russian scientists during WWII, when they were looking for  substances that could help their submarine crews adapt to the extreme conditions and they turned to plants used by to indigenous populations.
These plants were certainly nothing new. Most had been celebrated and used for centuries both by native cultures and in Ayurveda and Chinese Medicine.
Here are some of the ways they can help you achieve more clarity and wellbeing.
Adaptogens can beat stress
Adaptogens have the incredible ability to help decrease the amount of cortisol, that's the stress hormone, released by the body. Over time that means you'll feel less stressed out, reactive and tense.  All adaptogens will have a beneficial effect on the body's ability to handle stress but some are especially great at it.
Ashwagadha, an ancient Indian Ayurvedic herb is a personal favourite. Both calming and energising, it helps stimulate the thyroid while supporting the adrenal glands which release the stress hormones cortisol and adrenalin, making you less reactive and jumpy. Try Organic Ashwaghanda £16.95 from the Healthista shop.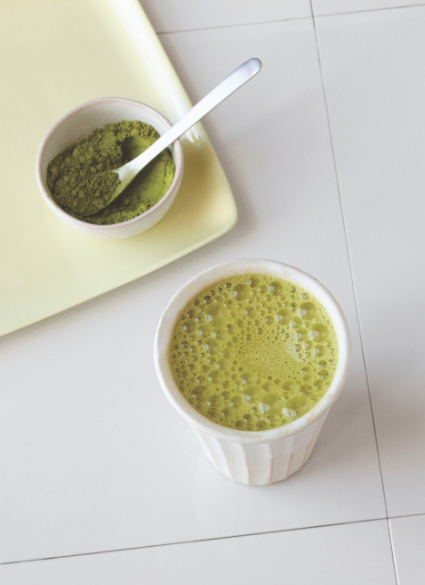 Adaptogens can help you sleep
Insomnia and sleep challenges are a common side effect of a stressful life.  Calming adaptogens like ashwagandha and reishi (a type of mushroom)  can improve your quality and quantity of sleep because they help calm the nervous system and decrease cortisol, making sleep more likely.
Schisandra, a herb used traditionally in China and Russia has been found to be beneficial for people with insomnia.  Ashwagandha's good for sleep too, in fact, its botanical name is somnifera, which translates to restful sleep.
Adaptogens can calm your nerves
A jumpy, frazzled and over-reactive nervous system is a common result of too much stress and a diet high in caffeine and sugar.
Reishi mushroom is the most studied plant in the world and its benefits include calming the nervous system, boosting immunity and supporting the hormonal system. You can take it as a supplement or hot drink such as Four Sigmatic Foods Mushroom Hot Cacao Mix with Reishi £11.99 from Healthista Shop.
Cordyceps mushrooms help balance the endocrine (hormone) system and can also be taken as a hot drink such as Four Sigmatic Foods Hot Cacao Mix with Cordyceps £11.99 from Healthista Shop.
Holy basil, also known as Tulsi, tea is an adaptogen known to help lower cortisol levels. Just one cup of holy basil tea can leave you feeling calmer.
Adaptogens help to increase energy
If more energy is what you're looking for, adaptogens are your new best friends. Eleuthero – also known as Siberian ginseng – is an invigorating energy booster and can increase stamina.
Cordyceps mushrooms also help boost energy and can be beneficial before a workout. Chaga is another mushroom with energy and focus benefits that can even replace your daily brew of coffee. Try Four Sigmatic Foods Mushroom Coffee with Chaga £10.99 from Healthista Shop.
Lastly, you need to know about rhodiola – an overall strengthening adaptogen that can help you stay alert and improve performance while helping your body cope with stress. While most adaptogens are used traditionally, this one has a limited body of supporting scientific evidence showing that it can help people cope better with stress. Schwabe Vitano 30s contains 200mg rhodiola per tablet £13.75 from Healthista Shop and has been shown to help increase energy and reduce stress.
Adaptogens can lift your mood
Challenges with mood and anxiety are so common today and are often heightened when we feel stressed and stretched too thin.
Enter Mucuna Pruriens. This bean native to Africa and Asia contains L-Dopa which helps boost the body's levels of dopamine in the brain. This is the feel-good, pleasure hormone that helps lift your mood and improves the sensations of pleasure and pain and stimulates the reward centre in the brain.
Maca, a root native to the high Andes mountains of Peru is another adaptogen often referred to as Peru's answer to ginseng, because it has been used traditionally for centuries to boost energy and enhance mood.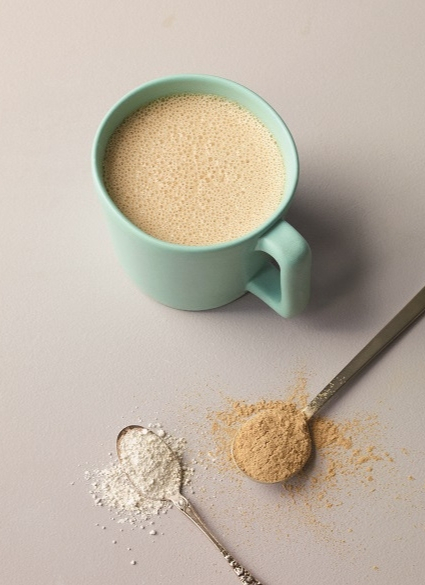 Adaptogens enhance endurance
Whether you're an athlete, training for a 5K or looking for ways to build up your overall energy and resilience – adding some adaptogens can help. Eleuthero – Siberian ginseng, mentioned above – is an adaptogen known to improve performance and alertness as well as building muscle.  A study found that a daily dose (of 800 milligrams) for eight weeks could help support endurance in athletic performance.
Adaptogens could lift libido
It's hard to find anyone not intrigued by the thought of boosting libido, increasing pleasure and finding a powerful aphrodisiac.
Shatavari – a type of asparagus found in India and Sri Lanka – translates directly to 'she who has hundreds of husbands' and contains precursors to the hormone progesterone, so it's no wonder that this adaptogen is known its fertility and libido boosting proprties .  It also helps the body recover from fatigue and supports the adrenal glands.
Maca, nutrient rich, starchy tuber from the Andes mentioned above is also known to support hormone balance, increase energy and boost libido.
Pine pollen (literally the pollen that comes from pine trees) is a nutrient dense and potent adaptogen that can help increase levels of the male sex hormone testosterone because it contains DHEA, which is a precursor to it. Testosterone decreases as we get older and both men and women need it for a healthy sex life.
Adaptogens can strengthen immunity and reduce allergy symptoms
So many people struggle with immune related issues – whether it is seasonal allergies, autoimmune diseases or simple fighting of the common cold. Lowering stress is an important part of strengthening – or calming – your immune system, whether it's over-reactive or not reacting enough. And most of us know from experience how much more susceptible we are to catching a cold or flu when we're stressed out and run down.
Reishi is a medicinal mushroom that has been studied extensively. It's been found to have a centring, calming effect and to aid the body's immune system. It contains ganoderic acid, which can inhibit histamine release, and so it may help alleviate some of the uncomfortable effects of seasonal allergies.
Ginseng is warming to the body and a great adaptogen to take in the colder months. It's also found to boost immunity and help the body better cope with allergens.
Astragalus is many herbalists favorite go-to for balancing and protecting the body and boosting the immune system. It's great to take during the cold and flu season and if you're recovering from illness. However, once you're sick, stop taking it as it's believed to make a fever last longer.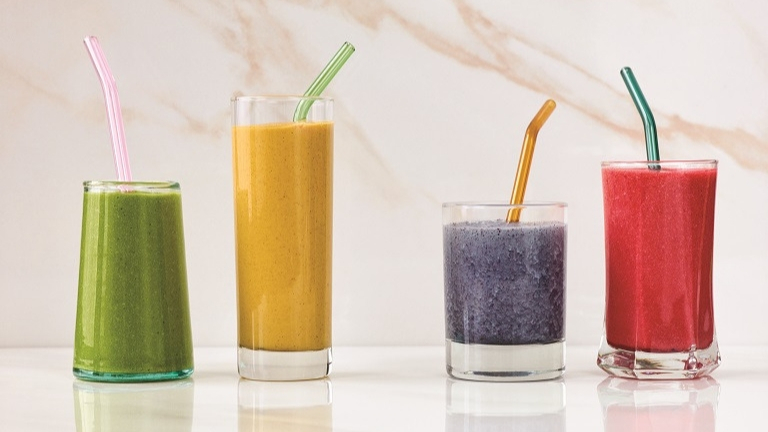 Adaptogens can help you focus
The adaptogen rhodiola (see above) grows in extreme conditions in the arctic and is a powerful strengthenening herb that improves the brain's oxygen absorbing ability. It can boost alertness and mental clarity and increases serotonin, a neurotransmitter that affects sleep, mood and appetite.
Lion's Mane is a mushroom that contains nerve growth factor and could potentially regenerate and protect the brain tissue.
Lastly, Panax Ginseng is believed to help memory retention, make you feel more alert and even improve learning speed. These powerful plants can help give you a leg up, perform better and increase your over all vitality.
Adaptogens may even help you live longer
The quest for a long, vibrant life is nothing new and these adaptogens have been celebrated for centuries for their life enhancing and longevity booting benefits.
The much-hyped goji berries actually has a potential health benefit CV that's impressive and that too is adaptogen.  They're jam-packed with antioxidants and have great energy boosting benefits.
Ashitaba, a large herb that grows primarily in central Japan and is native to Japan is celebrated there for its anti-aging benefits (and the Japanese are amongst the world's longest lived people). It helps stimulate the nerve growth hormone in the body which is important for a long life.
The anti-oxidant rich reishi mushroom is another go-to adaptogen for longevity as it both calms the nervous system and is a powerful anti-inflammatory.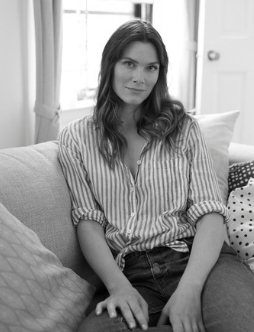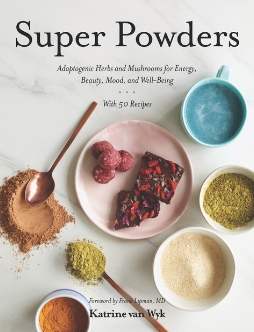 Super Powders by Katrine Van Wyk is out 26th February (Countryman Press, £14.99)
Katrine Van Wyck is the author of new book Super Powders, as well as Best Green Drinks Ever and Best Green Eats Ever. A certified health coach, wellness consultant and yoga teacher, she has been featured in Vogue, MindBodyGreen, Refinery 29, Well + Good, Be Well, Forbes and PureWow. She moved to New York from Norway as a model and later received her nutrition training from the Institute for Integrative Nutrition.
Katrine has trained with Dr. Frank Lipman at his practice in Manhattan, The Eleven  Wellness Center. As a part of Dr. Lipman's team of health coaches, Katrine has helped to guide his high–profile patients through dietary changes that also fit their demanding and busy lives. Katrine lives in Brooklyn with her husband and two children.
More Healthista Content:
5 celebrity weight loss diets – the expert's verdict
Boost energy naturally with these 5 easy life hacks