During National Vegetarian Week, Vanessa Chalmers takes her favourite vegetable – the potato – and gets creative using a Deliciously Ella recipe for inspiration
It's National Vegetarian Week, and although I am not vegetarian, I am a veggie lover. I was never fussy as a child, and through my weekly How To Cook Healthy for Beginners adventures, it's becoming more clear to me how much they can bring a dish to life.
Unashamedly, my favourite vegetable is potato. Jacket, dauphinoise, mash, salad, sweet, fried or roasted – it's possibilities are endless and every one is a top comfort food for me. Imagine my excitement when I find 'Potatoes: More Than a Bit on the Side'; a website dedicated to the root vegetable to support British growers. The recipes take full advantage of the spud, using it as a base for hundreds of meals under categories such as budget, home comforts and vegan.
70 per cent of Brits said time constraints keep them from cooking nutritious and fresh dishes
Recently the 'Potatoes: More Than a Bit on the Side' campaign brought to light some interesting research. A survey of nearly 3000 Brits revealed that 65 per cent are baffled by conflicting dietary advice. I can understand that myself; with a constant stream of information being fed to us about healthy living and how to do it properly (often in the form of fad diets which promise to change your life), it's very easy to throw your hands in the air and give up on the idea all together.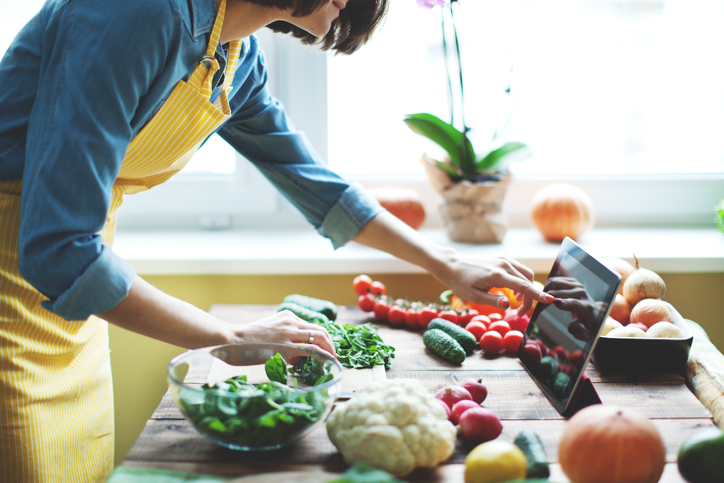 MORE: Healthy diet advice to live by – from 6 celebrity health gurus
What's more, 70 per cent of those surveyed said time constraints keep them from cooking nutritious and fresh dishes, even though 43 per cent know eating healthily makes them feel more energised, and 23 per cent feel guilty about their unhealthy habits. On top of this, cooking isn't a lot of people's forte, and in turn we end up with less than one third of adults reaching their 5-a-day, according to government figures.
Combine busy lifestyles and baffled brains, it's no wonder people struggle with healthy living.
People are looking for simple meals to quickly put together during the week, me included. I started this column with the intention of finding easy meals for a beginner cook who is keen to stay healthy, and these statistics make me realise I am not alone. Combine busy lifestyles and baffled brains, it's no wonder people struggle with healthy living.
3 things to remember when starting a healthy lifestyle
I turned to dietitian Sian Porter for some advice among the streams of mixed messages. She shares the three most important things to remember when trying to incorporate healthy eating into your life:
Don't focus on fads: 'Trying to keep up with all of the 'superfood' fads and 'miracle' diets is exhausting and confusing. Rather than giving up on healthy eating, go back to basics and ensure most of the time you that are preparing and eating the right serving size of a variety of mostly fresh, minimally processed foods that are rich in nutrients and that you enjoy.'
Take a 'food first' approach: 'Get your daily dose of vitamins and minerals through the food that you eat, rather than relying on supplements. Take a whole diet approach rather than focusing on a single nutrient like sugar. Aim to eat sensible portions of a variety of foods from the main food groups such as fruit and vegetables, protein and healthy carbohydrates. This way you'll be fuelling your body with the nutrients it needs to function properly.'
Find dishes that do it all: 'Try to have a bank of recipes that are quick, simple and bursting with vegetables, which you can refer back to when you're feeling short of time or too tired to cook. Plan ahead. Healthy eating doesn't have to mean spending hours in the kitchen!'
MORE: Quick and easy lunch recipe: warming Vietnamese noodle soup (chicken & egg) – part of our weekly Wednesday lunch series
Coronation Potatoes with Mango, Raisins, Almonds and Raw Slaw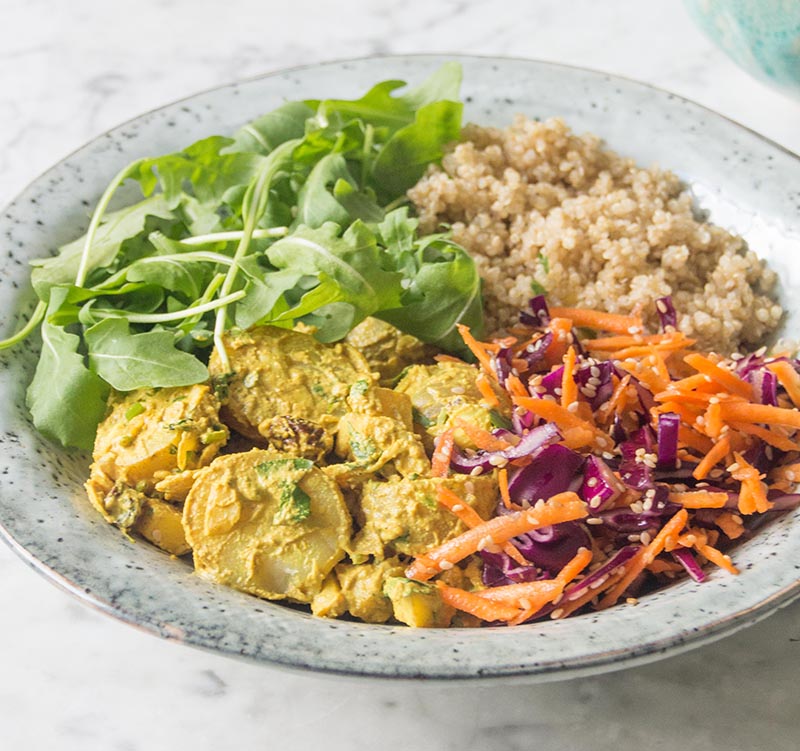 With all of this in mind, I have picked a recipe this week which I was genuinely excited to go home and make. Taste is the most important factor to Brits for an evening meal (40 per cent) and health second (20 per cent), and I confirm the meal I put together was healthy and SO tasty (not to blow my own trumpet or anything…).
Created by Deliciously Ella, the Coronation Potatoes With Mango, Raisins and Almonds side dish on Potatoes: More Than a Bit on the Side' was where I started. It incorporates some of my favourite foods and an exciting twist on shop-bought potato salad which I don't like. The sauce is made by blending cashews, cumin, tamari and lemon juice, and I cannot explain enough how delicious (excuse the pun) it was. It came together so well I would never have thought nuts would do the job as well as mayonnaise.
Alone, the coronation potatoes are perfect for BBQs in the summer with friends. For a meal, Deliciously Ella adds slaw, rocket and quinoa. I added raw slaw, which is essentially the most basic coleslaw recipe without any of the added creams, sugars and salts of shop-bought, and chicken. I bought it ready-cooked (reduced to £2.70!), but I very often buy a chicken on a Sunday, roast it for dinner and eat it throughout the week cold with salads – a hack for you there!
MORE: 5 lunch swaps – Britain's worst lunch choices made healthier
For the coronation potatoes
Serves 6 as a side
Ingredients
1kg new potatoes
175g cashews (soaked in water for at least 4 hours then drained)
1 ripe mango
30g fresh coriander
1 lemon juiced
¼ teaspoon of cayenne pepper
80g flaked almonds
1 ½ tablespoons of tamari
½ teaspoon of cinnamon
180ml of water
5 tablespoons of desiccated coconut
80g raisins
1 ½ tablespoons of curry powder
½ tablespoon of garam masala
Salt and pepper
Method
Cut the potatoes into halves or quarters (depending on their size), then place them all in a pan of cold water with a pinch of salt. Bring to the boil and simmer for 18-20 minutes until cooked through, then drain and leave to cool.
Peel and roughly chop the mango. Roughly chop the coriander. Place the coriander, mango, flaked almonds, raisins and 2 tablespoons of desiccated coconut with the potatoes in a large salad bowl.
In a high-speed blender, blend the cashews, lemon juice, spices, water, tamari, salt and pepper, and the rest of the coconut, until smooth. I used NutriBullet NBLMX 1200 Series Blender which did the job perfectly in 30 seconds. Stir the sauce through the potatoes.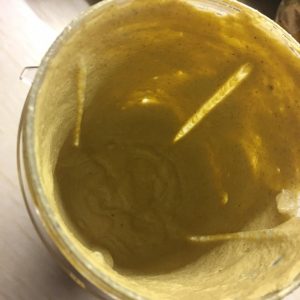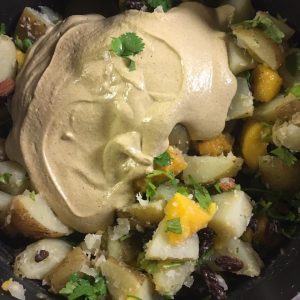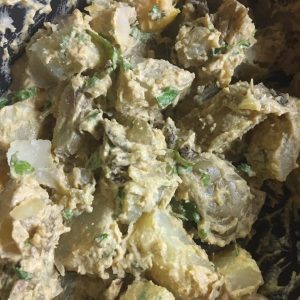 For the raw slaw
Serves 6 as a side
Ingredients
3/4 finely sliced small purple cabbage
3/4 finely sliced small green cabbage
2 grated carrots
30g chopped parsley
Mixed seeds (such as sunflower, pumpkin or poppy seeds)
Lemon dressing:
1/4 cup olive oil
2 to 3 tablespoons lemon juice, to taste
1 clove garlic, minced
1/2 teaspoon ground cumin
1/2 teaspoon salt
Method
In a bowl combine the cabbage, carrots and parsley. Toss over the seeds
To make the dressing, combine the olive oil, lemon juice, garlic, cumin and salt and whisk until blended.
Drizzle the dressing over the raw slaw and toss until all the ingredients are lightly coated. Add more lemon juice if it needs more zing!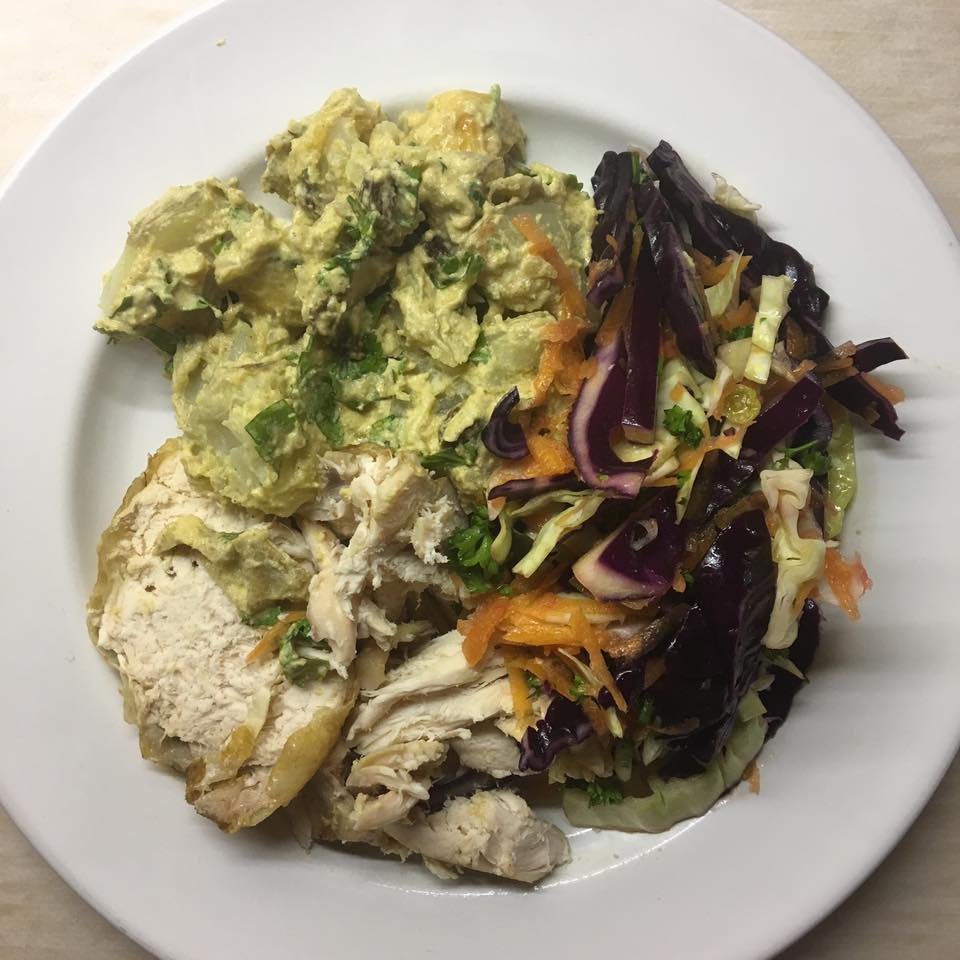 I thoroughly enjoyed this meal, I must say. I served it in plenty between five people, however I could have eaten this every day for lunch for weeks. As the summer creeps in, I am on the hunt for salad recipes bursting with flavour and as many different fruits and vegetables as possible! This really ticked the boxes for me in that sense, as well as the taste and texture. The coronation potatoes were creamy with the sweetness of mango and raisins, and the slaw was crunchy and colourful. With a tangy lemon and olive oil dressing, you just can't go wrong.
MORE: 3 easy pepper recipes packed with vitamin C
With the chicken, you have a balanced meal of protein, veg (slaw), fats (the cashews, and quite a lot!), and carbohydrates (potatoes). If, like me, you watch your high-GI intake, you could swap the potatoes for sweet potato instead. Potatoes are an incredibly good source of energy, vitamins and minerals such as potassium, but being a favourite food of mine, I make sure I don't go overboard with eating them! The coronation potatoes and slaw are also great for vegans and vegetarians, ensuring an incredible tasting side to their favourite dishes, or add quinoa and salad.
Three things I learnt this week:
Plan ahead: Sian Porter's advice was something I already knew well. healthy eating is a mission as it is, let alone if you aren't prepared for the week. Soaking the cashews for four hours is an example of this, but it was so worth it for that sauce
BBQ feasting is on it's way: I am one step closer to creating the perfect BBQ buffet, any more delicious cold salad ideas anyone can pass my way?
Better home made: Coleslaw and potato salad shop bought are just not my thang. The fresh texture and taste of these ingredients home made top the processed version any day.
Share your best vegetable creations by tweeting us at @HealthistaTV!
Vanessa Chalmers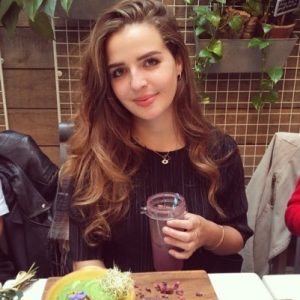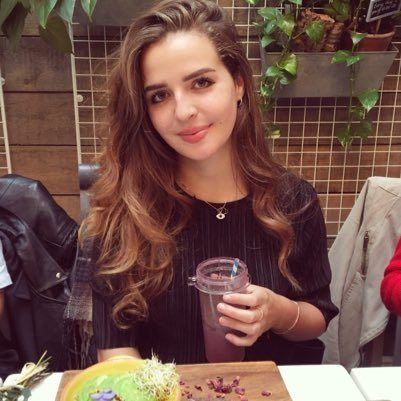 is a Food and Lifestyle Writer at Healthista, and enjoys finding new healthy living hacks, especially when it comes to her favourite thing – food. Her column How To Cook Healthy For Beginners is every Friday, for the busy everyday woman who is nothing more than an amateur chef, but loves food and to cook.
Follow on Instagram and Twitter to watch her healthy living journey.
More How To Cook Healthy for Beginners:
5 easy grain bowl recipes for comfort food without guilt
Healthy vegetarian curry recipe to try this weekend
Healthy fish and chips recipe for Good Friday (yes, that's a thing)
Like this article? Sign up to our newsletter to get more articles like this delivered straight to your inbox.