It's two weeks until Healthista's Vicky Hadley steps on stage as a bikini model fitness competitor  in Miss Galaxy Universe' fitness pageant, check out her two week out results and find out what's changed…

I'm currently sitting two weeks out from Miss Galaxy Universe now. Wow, time has flown and I can't quite believe that in two weeks time I will be stepping on stage with other fitness models who have equally worked so hard to achieve their goals.
I am genuinely amazed at the changes and progression in not only the physical look of my body but also the strength I have acquired. Throughout this journey I have managed to lift over my body weight, I have learnt how to do pull ups and best of all i have a new understanding and passion for fitness and health and really can appreciate just how hard athletes train and the hunger pangs that need to be ignored to be able to stand on that stage in the best shape of their lives.
In case you missed my journey so far you can catch up week by week of my bikini diary here:
Week 1
Week 2
Week 4
Week 6
week 9
Week 11

It is a lot harder for women to get a six pack due to their naturally higher body fat percentage than men – unfair I know… however, I set myself a goal to have a six pack on stage. I am starting to realise that maybe this was slightly optimistic and might have to be my goal to work towards next year. I have lost five kilograms in weight and dropped from 54kg to 49kg but preserved my muscle mass thanks to my bodybuilding.com coach, Lee Constantinou's training plan.
Last time I checked in I was consuming 1350 calories and struggling, well not for the faint hearted – Lee cut me again. For the past week and a half I am now consuming 1285 calories with only 105 grams of carbohydrates, 37grams of fat and 120 grams of protein.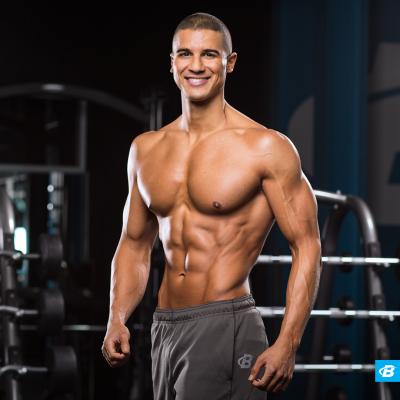 For fitness tips and advice follow Lee Constantinou on instagram and snapchat: leetino

Hitting my protein goals ensures I will preserve my muscle mass
My protein intake is higher as hitting my protein goals ensures I will preserve my muscle mass and shape, it is the key difference from looking strong and skinny on stage. As a naturally slender build it is harder to build muscle so I have had relatively high protein macros throughout the whole journey. 
For the first week I really struggled with my carbohydrates going over my goals everyday by 10-15 grams. I just constantly felt hungry due to the drop and my body craved more. Thank goodness, Lee came to the rescue and introduced me to what is called a 're-feed day'. This happens once or twice a week depending on your coaches plan and it is a day in which you get to double the amount of carbohydrates you eat but keep the fat and protein macros the same. 
So, why re-feed?

 

Well re-feeding is vital to keep the metabolism working efficiently, Lee tells me. When you are on such a low calorie and carbohydrate diet your bodies energy levels drop and it can cause your metabolism to crash which is not only unsustainable for athletes to continue training but it will also prevent fat loss and would actually result in weight gain.
https://www.instagram.com/p/BHMAJXwDNWd/?taken-by=fitness_foodie_vicky
What am I eating now?
Breakfast: 20grams of oats and 30grams of reflex nutrition chocolate flavoured protein powder
Snack: black coffee with stevia, 100 grams of raspberries or two rice cakes
Lunch: 200grams of tofu, 150grams of butternut squash noodles, 30 grams of reduced fat hummus and a handful of spinach
Dinner: 100 grams of kidney beans, 100 grams of broccoli, 100 grams of tofu
Pre-bed: 25grams of reflex nutrition protein powder mixed with water. 
Re-feed day: 1750 calories 
Breakfast: 30 grams of oats and 30grams of protein powder
Snack: Two rice cakes, spinach and hummus 
Lunch: 150grams of quinoa, 100grams of broccoli, 30grams of avocado, 100 grams of tofu.
Dinner: 200 grams of sweet potato, 200 grams of tofu and mixed vegetables or beans.
Pre-bed: 30 grams of oats and chocolate protein powder mixed with water.
What's my training regime?

My exercise plan is now broken down into four days of weighted training: A 'pull day', a 'push day' and two 'lower body' days. Pull day consists of exercises that draw the arms into the body, this will therefore target the back muscles, Lee tells me.
Push day consists of exercising all muscles in the upper body. The exercises include pressing a bar, machine or a dumb-bell away from the body, this will work the arms and shoulders, Lee reveals.
The 'lower body' days target all the muscles in the legs and glutes, normal exercises tend to be squats and lunges.
Along with these trainings days I also do three days of low intensity cardiovascular exercises such as a 30 minute walk on the treadmill on a low incline, or a yoga class. As well as two days of core workouts and three days of HIIT (High intensity interval training workouts) that I can do as a ten minute workout at the end of any of my training days.
In this week's diary entry my coach, Lee Constantinou has broken down exactly how to do these three main exercises that I do in my 'Push Day' workout.
Standing Military Press:
Seated Dumbbell Shoulder Press:
Incline Dumbbell Chest Press:
What exercise I do in a week:
Monday: Pull Day + HIIT (One hour and ten minutes)
Tuesday: Cardio, lower Body Day + HIIT (One hour and ten minutes)
Wednesday: Core day + Low Intensity Cardio (One hour)
Thursday: Push Day + Core (One hour)
Friday: Low Intensity Cardio, for example incline treadmill walk + Core (One hour)
Saturday: Lower Body Day + HIIT
Sunday:  Rest day
Like this article? Sign up to our newsletter to get more articles like this delivered straight to your inbox.