Healthista's Vicky Hadley signed up for a five month journey to participate in a bikini model competition on a vegan diet. It's week four and she's been building muscle…here's a run down of her exercises
It's been four weeks since my first bikini competition diary entry and wow has it been a roller coaster. To now I've been eating to build muscle, panicking about gaining weight, feeling like a whale and feeling hungry every three hours. Resembling the hungry hippo most of the time, really.
But now, I can thankfully say that my 'cut' period has arrived. 'Cutting' is the body builder's term for dieting meaning that I will be lowering my calorie intake to start losing body fat from now until the end of the next 15 weeks.
You can see in my photo (below) that I have gained weight around my hips and arms especially (sob).
I was anxious that I wouldn't have built enough muscle mass in this time but my coach, Lee Constantinou has assured me I have. I had my weight and body fat measured on Saturday and sure enough I have changed. From 53 kg starting weight I am now up to 55kg and down a percentage of body fat that the extra weight is muscle. You can see in my photo (below) that I have gained weight around my hips and arms especially (sob).
MORE: Bikini competition diary week one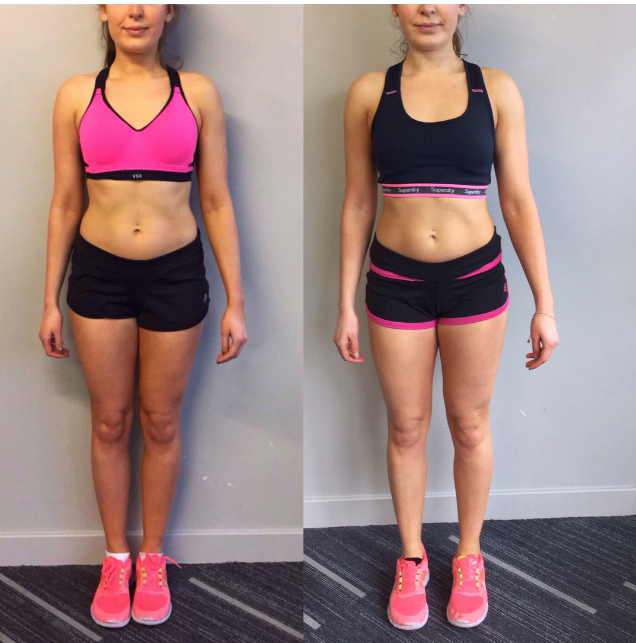 MORE: Bikini competition diary week 2: Healthista writer Vicky Hadley reveals what she's eating
I managed to push 180 kg on the leg press – that is almost four times my body weight
Even though physically I don't feel like I can see a big difference; I can definitely see a little bit more of me as I've gained weight. A lot of people have been commenting that I'm looking 'healthy and curvy'…
Biting my tongue so as not to ask, 'ARE YOU SAYING IVE GAINED WEIGHT?' I just smile and think 'diet hurry up…' I may have gained a little bit of muscle and weight which I am still slightly apprehensive about, I do notice a huge improvement in my strength, just last week I managed to leg press (push a weighted machine with my legs) 180 kg – that is almost four times my body weight. Followed by a group of men who used the machine after me doing half of that, yes, I did feel pretty smug.
So, what exercises have I been doing to build muscle?
I have been following Lee Constantinou from Bodybuilding.com's training plan spending four days training a week with three days resting, which at first didn't seem like a lot to me. 'Surely I should be training everyday and drinking a protein shake every two hours?', I'd quizzed Lee. Yet he'd assured me that what I was doing was enough… For now.
Each training day I train a different body part with the aim being that I train that one body part so hard that I can ignore it the day after. My sessions are broken down for arms, legs, back and shoulders on different days. Back and legs are definitely my favourite days whilst arms falls swiftly behind.
My exercises have been purely weight training up till now when I am going to start introducing HIIT (High Intensity Interval Training) and cardio into my plan, meaning it's time to get ready sweaty with burpees, press ups and classes like spin – help.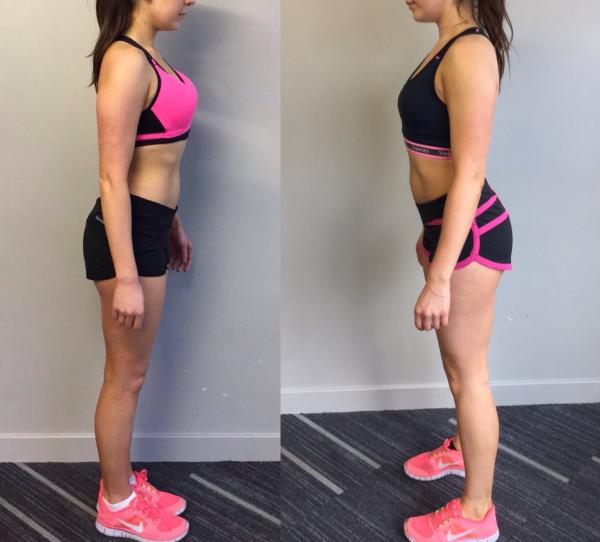 In this week's diary entry I will illustrate a couple of my favourite leg and back exercises I have been doing to build muscle in my glutes.
SQUATS
On leg day I do weighted squats with a barbell. I weigh 53kg and can now squat 65kg and I first began on 40kg. This was extremely exciting for me as it meant I actually believed I was changing shape.
I stand at the squat rack and squat down by bending my legs and sticking my bum out with a weighted barbell on my shoulders. Once I get my bum to the height of my knees I have to use my heels and abs to push myself back up to standing whilst squeezing my glutes as this helps the muscles in your booty to grow – every girl's dream right?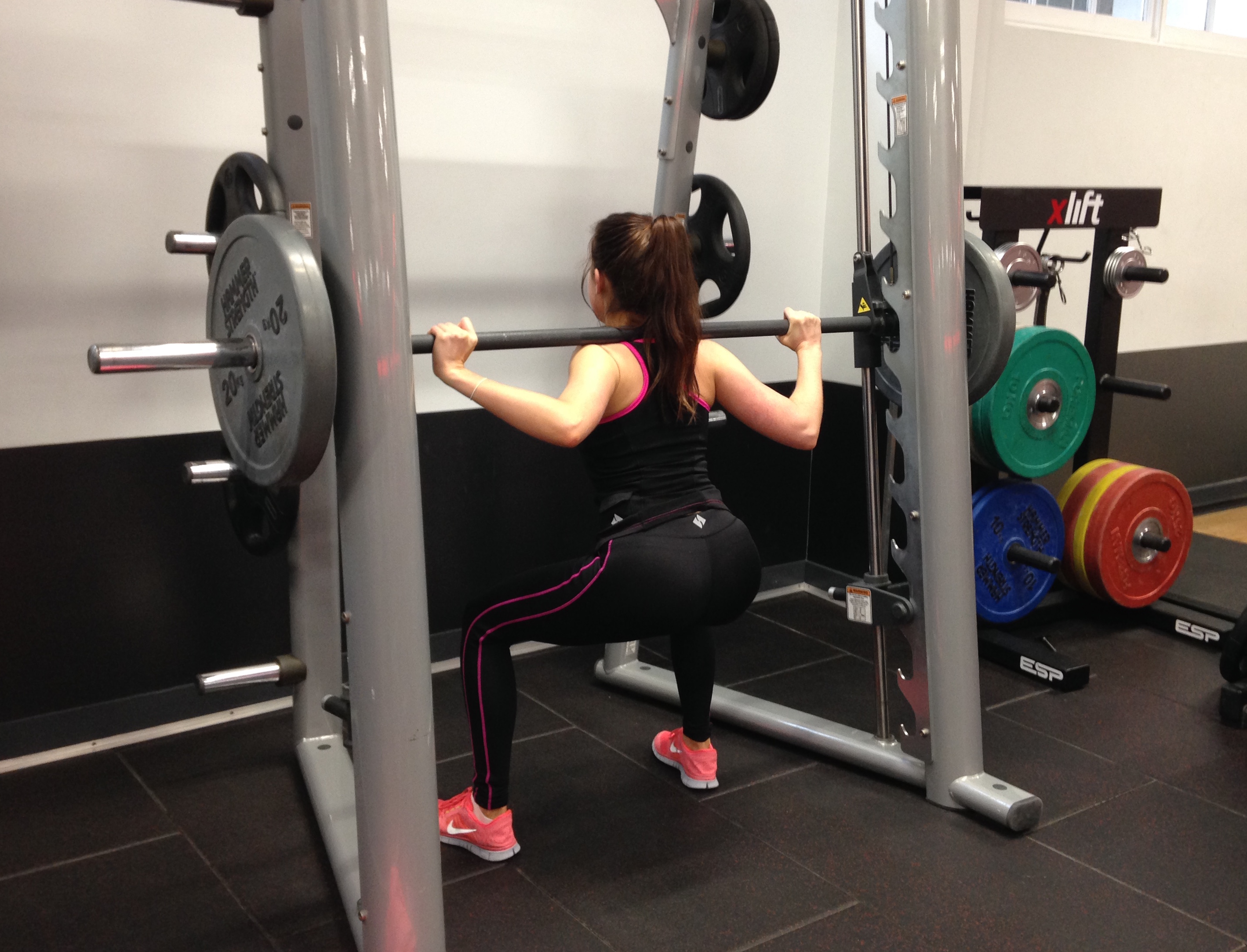 In addition to this traditional squat, Lee has added a varied technique. This one I hate… Whilst standing next to the squat machine you have one leg balanced on a bench and one leg on the floor in front as normal. Using a much lighter weight normally of 5-10kg I do a forward lunge squat then using my leg that is on the floor I push myself back up to standing. This is a real booty burner and builder and I promise if you try it you will feel it.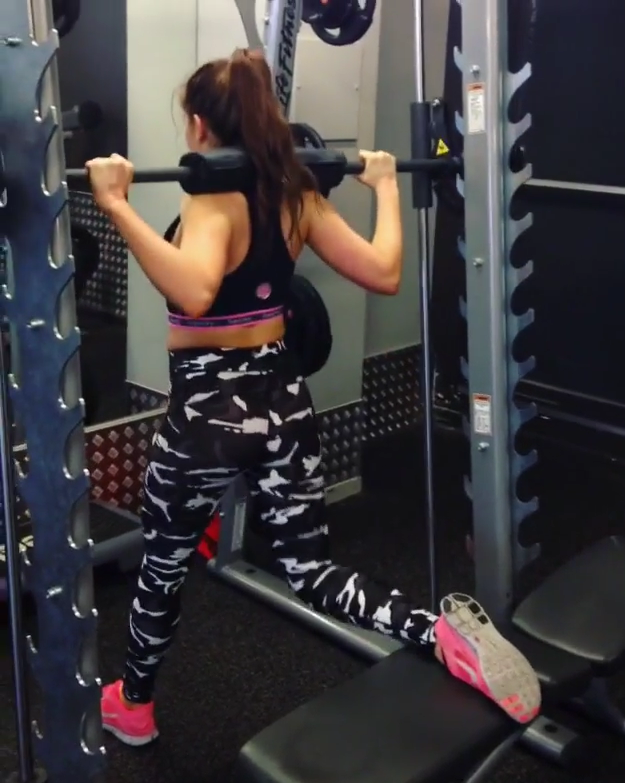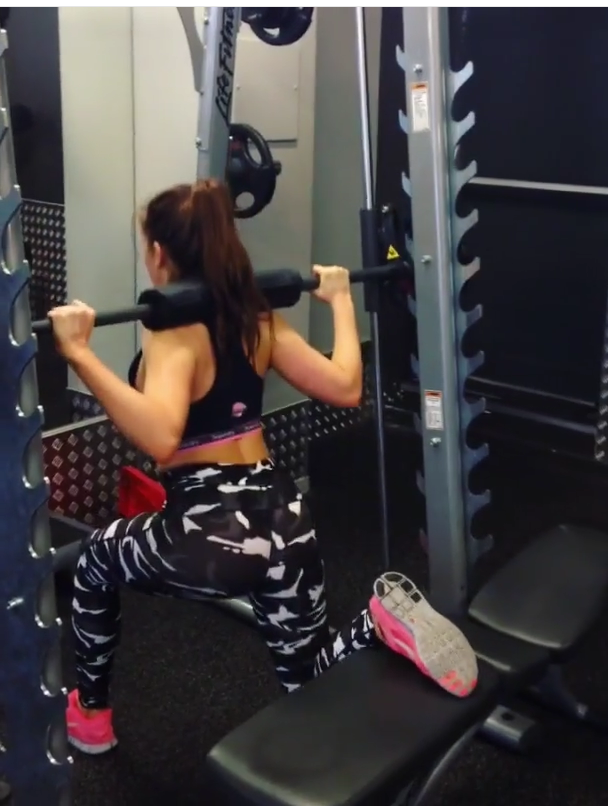 Another common exercise I do on leg day is the deadlift. The deadlift is known as a 'compound exercise' this means it targets more than one muscle group at once which can help you to build more muscle whilst simultaneously burning fat.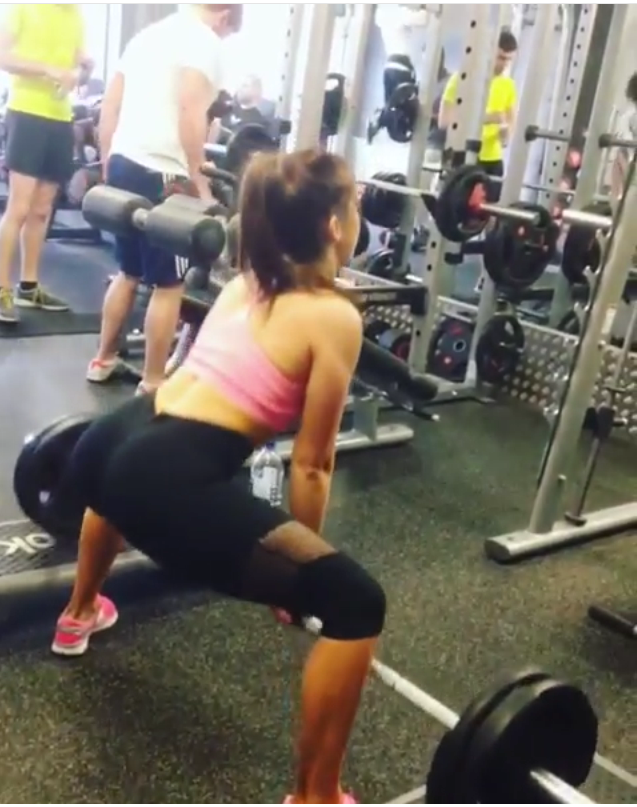 You hold the barbell in your hands with your feet hip width apart and slightly bent and the knee. Next you slowly lower the barbell down towards your ankles whilst keeping your back flat and then stand back up, again concentrating on squeezing your glutes at the top. This exercise, although very intense, is another amazing one for building glutes (i.e. booty), there are so many variations of this exercise and my favourite has to be the wide leg deadlift where your feet are even further spaced out than your hips.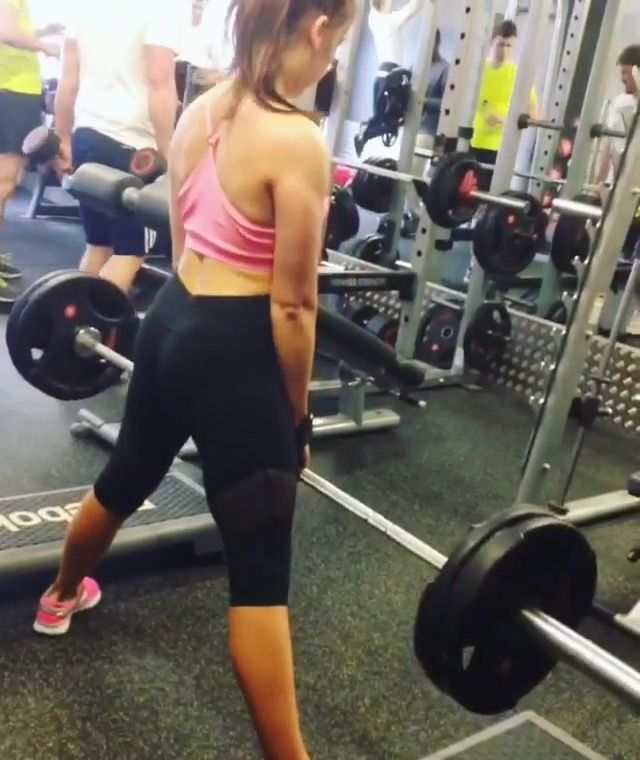 Stay tuned for my bikini bootcamp experience in next week's diary entry…
Like this article? Sign up to our newsletter to get more articles like this delivered straight to your inbox.