Breakfast granolas are either a hassle to make at home or full of sugar. Healthista rounds up the best 11 tasting granola brands that are healthy whatever your diet need
Granola has a reputation for being the 'healthy cereal'. But sadly, granolas are often laiden with sugar and fat. So much so, the British Heart Foundation included it in 12 foods you wouldn't believe are fatty and ranked it badly in the breakfast choices.
They note that an average portion of granola (40g) with nuts and milk is 261 calories, 12.8g fat of which 2.9g is saturated fat. And I don't know about you, but serving size rarely crosses my mind when I'm tucking into granola because, let's face it, it's usually addictively delicious.
Health experts generally agree an adult's sugar intake should be no more than 5 per cent of daily energy. That's around seven teaspoons of sugar, which sounds like a lot but scarily is the equivalent of a small glass of fruit juice and a flavoured yoghurt. A backlash on granola soon took hold when it was found some high-street brands contain as much as 23g of sugar. That's more than a can of coke.
It's not all doom and gloom. As with any food, granola doesn't need to be banned from your diet. If you've got the time to make your own healthy granola how you like it, go for it. If you're too lazy, at least take notice of the labels. And we don't mean the healthy looking berries on the front – that's could just be a clever marketing ploy.
We've picked out the best breakfast granolas that have genuinely decent nutritional value. Otherwise we wouldn't have spent all day long testing them…
Best chocolate granola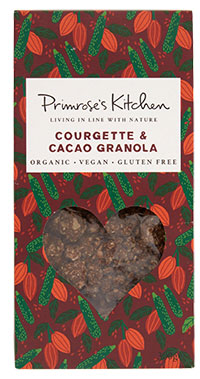 The sweet taste of chocolate in the morning, we aren't complaining. This wholesome combination of sunflower seeds, coconut, sprouted buckwheat, dates and cacao comes in brilliantly chunky clusters, and there's even the goodness of turmeric and ginger thrown in.
The star ingredient is fresh courgette, which made a few of our testers sceptical. But there is not a hint of veggie taste despite no refined sugars. It'll soon become your dessert, let alone breakfast.
Nutritional value per serving (40g)
218 kcal
14.36g carbs
7.9g of which sugars
7.7g protein
Suitable for: Gluten free, organic, paleo, wheat-free, vegan.
Best granola for low-carb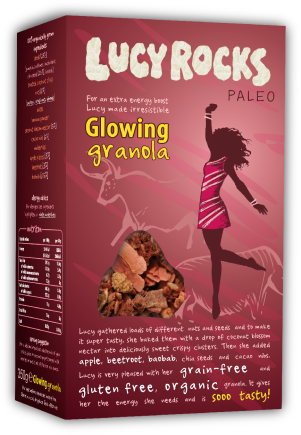 The crunch on this is insanely good. There is a broad range of textures owing to the mixture of the soft ingredients – mulberries, apple pieces, baobab, and the crunchy ingredients – pumpkin, sunflower and chia seeds, cashew, brazil and almond nuts and buckwheat.
Finished with toasted coconut and dusted with beetroot powder, this granola is packed full of antioxidant and energy boosting promises.
Healthista's Yanar particularly likes the fact it is suitable for low carb or keto diets, as this is tough (or impossible) to find with cereals. It's far ahead of other granolas in that aspect.
Nutritional value per serving (40g)
206kcal
1.3 carbs
8.9 of which sugars
4.4 protein
Suitable for: Gluten free, grain free, low-carb, organic, paleo, wheat-free, vegan
Best breakfast granola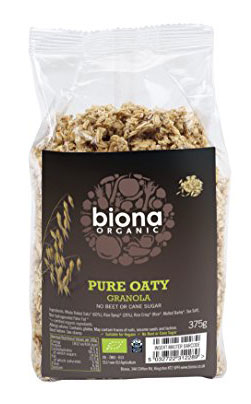 Oats are known to be a great start to your morning, with the slow release of energy keeping you from snacking too soon, a food for preventing heart disease and high in fibre which can help with weight gain.
Dressed up in delicious clusters,  Biona's oats wont let you down if you are looking for something that goes with everything. Plain and simple, you can enjoy this granola either with milk, yoghurt, fruit, topped on smoothie bowls or added to baking.
Even as a snack, the clusters sweetened with organic rice syrup will satisfy your sweet tooth and stomach.
Nutritional value per serving (40g)
178.8 kcal
26.4g carbs
6.8g of which sugars
3.4g protein
Suitable for: Organic, wheat-free, vegan
Best high protein granola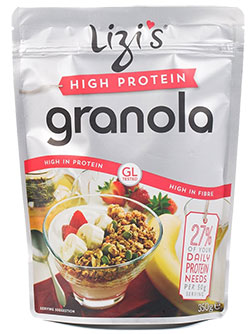 As you can see from the numbers below, this packs an awesome protein punch (27 per cent of your daily needs, according to Lizi's) and is considerably low in sugar too.
It's easy to assume this granola targets the fitness crowd here, who still want to eat yummy things but keep their macros in check, but for growing children and the elderly too who need to protect against muscle loss.
The tiny  toasted oats and soya protein flakes (suitable for vegans) give this granola a unique dessert like flavour that's irresistible. We would happily get our 100% daily protein needs from gorging on this… whoops.
Nutritional value per serving (50g)
225kcal
22g carbs
6g of which sugars
13.5g protein
Suitable for: Vegan
Best granola for dessert
Dessert for breakfast or breakfast for dessert? Either way, this granola does the job. It even recommends trying it as a crumble topping which is an epic idea.
It uses all great natural sugars, with apple pieces, cinnamon, seven different grains such as rye and oats, with a drizzle of honey, baked in unrefined cane juice sugar. Yes, sugar. They don't deny their bowl of goodness is indulgent and that's another reason we love it.
The crunchy cinnamon delight is a favourite of ours topped on porridge (yep, double whammy oat heaven), or on smoothie bowls. Or just in handfuls like a deconstructed biscuit, that works too.
Nutritional value per serving (40g)
175kcal
25.6g carbs
6g of which sugars
4g protein
Suitable for: No other diet than the normal foodie.
Best granola with natural ingredients
All the birds and bees, this fine textured granola is super natural with just ten ingredients. Most of all, 27 per cent mixed seeds, which certainly does not equate to bird food.
Seeds, a valuable addition to anyone's diet, provide a source of protein, especially for vegetarians and vegans, and can improve digestion, lower blood cholesterol and boost energy.
The sweetness of the honey gives the granola an indulgent taste to the healthy additions of buckwheat, oats and roasted chickpeas. One of our tasters said it was, 'the best he had ever tasted', which says a lot for a cereal fiend.
Nutritional value per serving (50g)
249kcal
19.1g carbs
5.7g of which sugars
8.5g protein
Suitable for: Gluten free, vegetarian
Best for the super(food) health conscious
There's healthy granola and then there is Superfoodies Green Granola, which takes it to another level. It looks a little terrifying at first and that's because the kelp and spirulina give it a green colour.
Mother of superfoods spirulina contains sources of all eight originally found essential amino acids, a high amount of protein as a plant and is a good source of iron.
With the addition of sunflower and pumpkin seeds and grated coconut, these large high-fibre clusters are powerful and amazingly, 150 per cent of your RDA iodine per serving.
Iodine contributes to the normal production of thyroid hormones. What does the green stuff taste like? Well, quite green. However, the coconut pulls through in an undoubtedly nutritious breakfast.
Nutritional value per serving (35g)
159 kcal
14.5g carbs
3.4g of which sugars
4.4g protein
Suitable for: Organic, wheat-free, vegan.
Best granola with versatility
Nutribrex have added a unique twist to their granola, in that it can be used in five different ways, either as a granola, porridge, in a smoothie, as a topping or soaked overnight to make a bircher.
With so much versatility, it only contains a few of the essentials such as fine-cut oats, honey, golden linseeds, flaked almonds and sunflower seeds – giving it a high healthy fat and fibre content tag.
We love that this one allows you to be creative, and a bag of this has gone down a treat in the office with all our breakfast conquests.
Nutritional value per serving (40g)
165kcal
21.6g carbs
2.6g of which sugars
5g protein
Suitable for: Gluten free, vegetarian
Best low sugar granola
Jordans Cereals is a leading cereal brand amongst supermarket shelves, which, normally, would collerates to sugar overload. However they've taken the lead in reducing their granola's sugar, with less than 3g per serving.
We tried the new Cherry and Almond, a fine blend made with toasted oats, and it really does clarify how little value sugar adds to taste. It's simple and flavoursome without the artificial ingredients, and a filling breakfast considering it contains chicory root fibre.
This vegetable has been shown to help reduce fat around the middle (and is also an ingredient in Healthista's Lean Diet protein powder!).
Nutritional value per serving (45g)
196 kcal
28g carbs
2.2g of which sugars
5g protein
Suitable for: No other diet than the normal foodie.
Best nutrient dense granola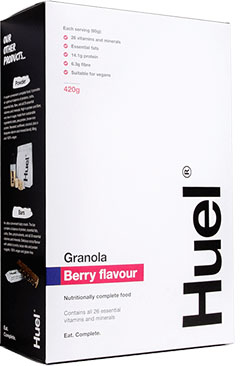 This isn't protein as you know it. In fact, Huel markets it as 'the world's first nutritionally complete cereal product', due to its long list of 26 vitamins and minerals found in each bowl.
It was created by the same nutritionist who made the Huel protein powder, who had a vision of a cereal with a balance of protein, essential fats, carbs and fibre with rolled oats, pea protein nuggets, seeds, chicory root fibre and much more.
It's the crunchiest granola we've tried – like making your head wobble crunchy. It has a powdery berry flavour coating, presumably from the protein, which reminds us of delicious sugar laden American cereal.
Except with this one, you'll be bouncing off the walls for all the good reasons.
Nutritional value per serving (60g)
213kcal
22.3 carbs
5.7 of which sugars
14.1g protein
Suitable for: Vegan
Best savoury granola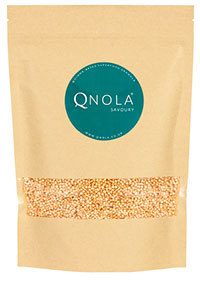 Danielle Copperman, a model and entrepreneur, was onto something when she started getting creative with quinoa. The texture is similar to popping candy in the mouth, far different from the chunky clusters we're used to.
Known for being highly nutritious, quinoa has all nine essential amino acids making it a complete-protein source (and great for vegetarians and vegans) and is a good source of calcium, magnesium, several B vitamins, vitamin E and fibre.
All the Qnola flavours excite us but check out the savoury blend that encompasses all things great – slightly salty, cheesy and spicy. Yes. It's still free from nasty ingredients, instead using nutritional yeast to create the moreish cheesy flavour.
Topped with rosemary, basil, and energising turmeric and chilli, it would make a killer topping for avocados, eggs or soups (if that takes your fancy in the morning).
Nutritional value per 100g
504kcal
30g carbs
4g of which sugars
18g protein
Suitable for: Gluten free, wheat free.
This article was last updated 15th September 2020
READ MORE
Vegan protein pancakes PLUS 8 other protein powder recipes that AREN'T smoothies
8 healthy breakfast hacks to add nutrients without calories
6 savoury breakfast recipes that will make you forget sweet cereals
What Britain's best female athletes really eat every day