In a bid to stop using steroid creams, Vanessa Chalmers has been trialling natural eczema creams that claim to soothe, moisturise and rejuvenate. She rounds up the best ten with no nasty ingredients
This article was last updated 11th September 2020
When I stopped using steroid creams this January, I was awakened to the natural eczema remedies and the booming industry for sensitive skin friendly creams.
Constantly trying to calm down my condition, I carry a minimum of three in my handbag, a shrine of them on my desk, and leave grease marks on every surface. In the meantime I have found the ones that live up to their claims and have done wonders for helping the symptoms of an extremely frustrating condition.
When looking for an eczema friendly cream, there are a few things that are important to consider so I spoke Dr Emma Wedgeworth, a Consultant Dermatologist & British Skin Foundation spokesperson who I knew would be an independent voice that could provide answers.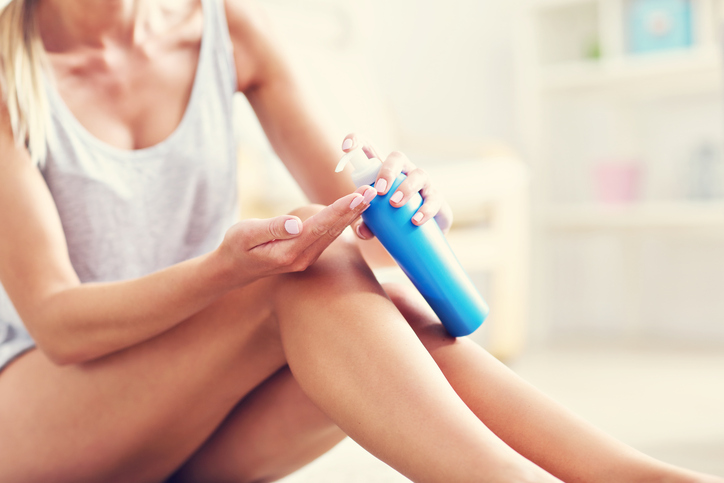 What ingredients should people with eczema avoid?
'Anyone who has sensitive skin should avoid fragranced products, which can sometimes be difficult to distinguish. They may be labelled as "linalool" "cinnamyl alcohol" or "citronellal", amongst other names. There are a number of different websites and apps now which can help you sift through the complicated ingredients of your cosmetics (Healthista recommends trying Paula's Choice or Environmental Working Group). I also advise avoiding certain preservatives such as methoxyisothiazolinone and isothiazolinine (MCI and MI) because we have recently discovered they are strong allergens.'
What about Sodium Laureth Sulphate (SLS) and parabens?
'SLS is most commonly used as a surfactant to help a product function as a detergent. Any product that foams is likely to contain high concentrations of SLS.  It can significantly disrupt the natural pH of the skin by raising it and this can disrupt the skin barrier. I always advise people with sensitive skin to avoid these products.
'Parabens have been the subject of huge controversy. Concerns about links to increased risk of cancer have now largely been disproven. Most skincare does need a preserving agent, otherwise we would be at huge risk of contaminants. All the latest research suggests parabens are safe and I would far rather use this than the MCI/MI agents [see above] which we know have caused an epidemic of contact allergies.'
When is it okay to use steroid creams?
'Steroid creams are extremely useful for a number of skin conditions and can relieve itching and pain in some very distressing conditions, for example severe eczema. Used correctly, they can also be extremely safe. However, if you are using steroid creams more than occasionally, you should do so under medical guidance.
'In the UK, there are only two steroid ingredients you can buy over the counter – 1% hydrocortisone and clobetasone butyrate 0.05% creams. These must be sold by a registered pharmacy and supplied with pharmacist supervision.  Dermatologists are fully aware that strong steroids are being sold over the internet and in shops and markets. These products are often manufactured illegally or outside the UK where the laws may be different, are not clearly labelled and can be harmful.'
What ingredients should I look for in natural eczema creams?
'Moisturising agents such as shea butter, glycerin as well as mineral oils can all be very soothing. Oats have also been shown to improve the skin barrier function which may be weakened in eczema.'
Best for moisture – Weleda Skin Food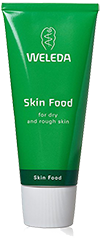 This was the first natural eczema cream I started to use and it's still my favourite – it's now gained cult status with a load of celebrities swearing by it including Victoria Beckham, Julia Roberts and Adele. No wonder because it is amazing.
In all its natural form and glory, this little green tube contains an incredible citrus orange smelling cream, thick in consistency, which applied to rough skin will literally feed it.
It has extracts of gentle viola tricolor, calendula and chamomile in a base of oils and beeswax, which applied in a small amount will deeply moisten the skin (and honestly, has put my anxiety about the state of my eczema at bay many times).
Available to buy on Amazon in the US and in the UK. 
Best for natural ingredients – Lush Dream Cream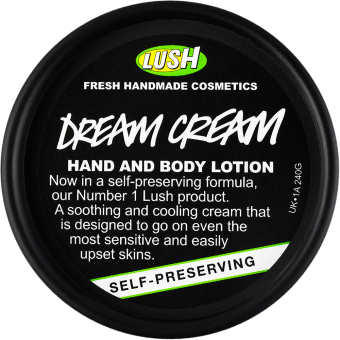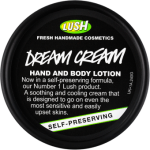 I have seen Dream Bream work wonders for friends, literally removing their random rashes, making it Lush's number one product.
I like to use it as an all over moisturiser before bed, with a thin consistency that penetrates quickly. It contains calming ingredients such as chamomile, essences of lavender and Turkish rose.
Fair trade (and organic) cocoa butter deeply nourishes the skin, but the star ingredient here is the oat milk – oats are hailed as soothing to the skin as far back as Ancient Romans, according to Lush.
It comes in a self preserving form, which means it keeps itself clean without the use of synthetic preservatives. I would also recommend Ceridwen's Cauldron Bath Melt, an oaty milky balm in a muslin cloth (yep, Lush don't just do rainbow coloured glittery bath bombs!)
Buy Lush Dream Cream Self Preserving.
Best for daily – Aveeno Daily Moisturising Lotion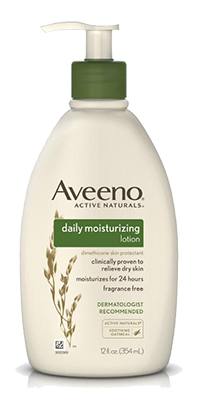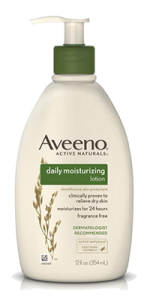 Aveeno should be paying me commission because I have got every aunt, uncle and pet onto this stuff.
I started using this around ten years ago, prescribed by the doctor. Now it is hugely popular, with Jennifer Aniston as the brand ambassador.
It's use of finely-milled oatmeal is desirable for anyone, not only eczema sufferers, and the fast-absorbing formula makes it easy to apply as frequently as you like.
It's clinically proven to improve skin in just one day, with significant improvement in two weeks. For those with sensitive skin, this cream will not let you down or cause stinging.
The Daily Moisturising Shower Mist is also incredibly useful for quick application in seconds after washing. If I was stranded on a desert island with only one item, it would be Aveeno.
Available to buy on Amazon in the US and in the UK. 
Best for overnight – SkinFix Nourishing Cream
I turned to this cream when my face was in a very dire situation – dry, red and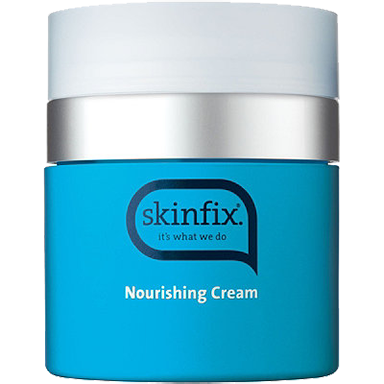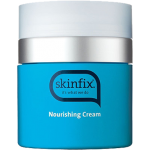 itchy.
Lipids are found in skin's outermost layer and create a barrier to keep moisture in, which is why Skin Fix's Healthy Skin Lipid Complex boosts moisture and elasticity.
In clinical results over a 28-day period, 94 per cent of people showed a significant increase in skin's moisture after just one use, which I can say rings true for me, too.
This may be due to it's other ingredients of jojoba oil, macadamia oil, red seaweed extract, aloe leaf extract and cucmber extract, making it a 99 per cent natural product.
I can't say anything bad about this cream – it saved me on numerous disaster occasions. I have also begun using their cleanser and serum which I would highly recommend if you are concerned about products high in chemicals.
Available to buy on Amazon in the US.
Best for the gym – Silver Serum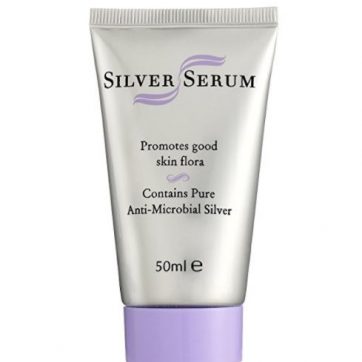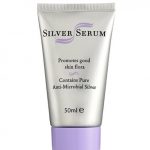 Silver Serum is quite importantly tapping into the good/bad bacteria conversation, noting that, 'it's the bad bacteria that leads to inflammation, redness and itching from eczema, but the good bacteria is essential for keeping skin healthy and strong'.
Labelling their Silver Bullet cream as the first 'smart' eczema cream, it contains a form of silver called MicroSilver ™ that specifically seeks out and kills bad skin bacteria while leaving good skin bacteria in tact.
This silver ingredient was found to be effective at reducing the severity and symptoms of eczema symptoms in 70 per cent of patients after a two-week trial period.
It even has a silver colour, and being extremely lightweight, I like to apply this generously before and after the gym, when sweat easily seeps into the eczema and causes HELL.
Buy Silver Serum on Amazon. 
Best for flare-ups – Cetraben Ointment
I apply this thick, glue-like cream to my eczema when it is in desperate need of help.
It was previously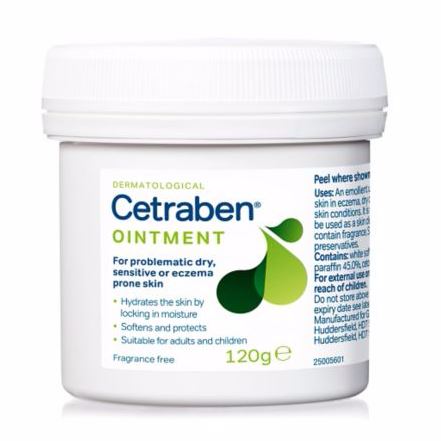 only available on prescription, but now is available for anyone whose eczema needs a higher level of attention – it feels more clinical, but sometimes that is just what you need when lathering on before bed.
When I take off my gloves in the morning (I have eczema on my hands), the skin is softened and its irritability is reduced. This would be due to the light liquid paraffin, which replaces lost skin oils, and the white soft paraffin, which forms a protective barrier on the skin surface.
It can also be used as a cleanser and bath additive – melt around four grams in hot water then add to the bath.
Available to buy on Amazon in the US and in the UK. 
Best for soothing – La Roche-Posay Lipikar Baume AP+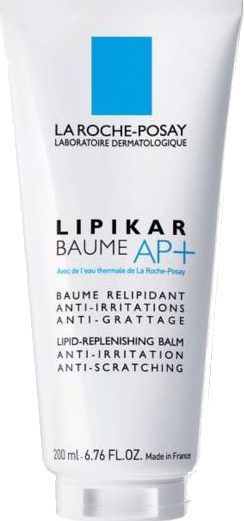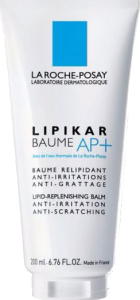 'Anti-irritant' and 'anti-scratching' are what caught my eye on this product, considering most eczema creams are for moisture. However, this too, is extremely hydrating.
Despite being a thick consistency you can just get away as using as hand cream without a greasy finish. All over the body it acts as a deeply restoring moisturiser.
With 25 years of research behind the brand, La Roche-Posay has used Aqua Posae Filiformis, a new ingredient that re-establishes the skin's microbiome (bacteria) balance, and preserves the skin's barrier – both essential for dry skin. It's always on my desk for fast relief.
Available to buy on Amazon in the US and in the UK. 
Best for after the shower – Skin Shop Cardiospermum Damp Skin Gel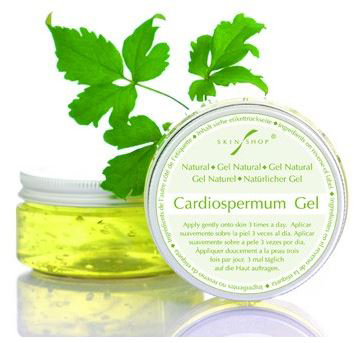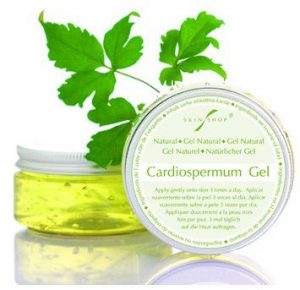 This vine extract from South Asia excited me because of its anti-inflammatory properties and its scientifically proven anti-bacterial effects.
It's not exactly a cream – it's a small pot of green coloured gel, which applied to damp skin after the shower has been shown in trials to be as effective as steroids- say what!
The trial, by a UK GP Dr Donald Grant, was undertaken on 50 people, 28 of whom were previously using steroids for their sensitive skin.
It found that Skin Shop's Cardiospermum Gel was both more effective than all existing treatment the patients had tried and  66 per cent of the patients said they preferred to use the gel going forward.
I can certainly say that this unique product is a pleasure to use for locking in moisture after a bath. The jelly-like substance glides over the skin and leaves it tingling, which is perfect for itch relief.
Buy Skin Shop Cardiospermum Damp Skin Gel, £9.95
Best oil – Rawgaia MSM Organic Beauty Cream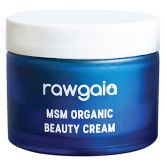 A little goes a long, long way with this cream which melts into an oil upon touching the skin.
The MSM stands for Methyl Sulphonyl Methane, a natural form of organic sulphur compound which Rawgaia claim to be a new buzzword within beauty.
Sometimes eczema and the beauty industry don't walk hand in hand, however, the formulation of keratin, elastin and collagen can be highly effective in the treatment of eczema (as well as being anti-ageing, which is an added bonus).
It packs several eczema-essentials into a tiny tub, including apricot and jojoba oil, cacao butter and vitamin E. 96 per cent organic (and suitable for vegans), it's a gorgeous addition to my pamper sessions when my complexion is suffering. I pop a moisturiser over the top when it has sunk in for maximum care.
Available to buy on Amazon in the US. 
More Healthista Content:
5 celebrities you didn't know have rosacea plus 5 products to help
We love: Purepotions range of natural skin salves with nothing nasty added – great for itchy skin and eczema
Best natural fake tan ever – Green People Self Tan Lotion
What to eat for glowing skin by the Medicinal Chef
Like this article? Sign up to our newsletter to get more articles like this delivered straight to your inbox.