With these 6 teeny featherweight items snuggly packed inside your luggage, you can turn your hotel room into your own personal portable gym
I always used to put on weight on holidays, but on my last trip to Thailand, I decided to take the bull by the horns and try not to come back home resembling a block of lard.
So I gathered a few bits of small and light gym equipment and took them with me to see if I could avoind piling on the pounds. And what happened? For the first time EVER, I managed to lose 2kg in 14 days, I went from 61kg to just under 59kg.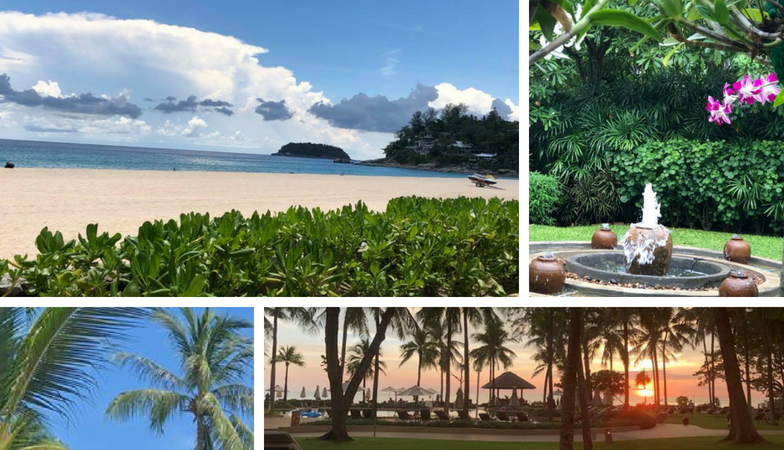 Here are the tools I snuggly packed into my suitcase.
And trust me, they absolutely have to be lightweight if you are travelling with a budget airline like I did.
Fit for travel tool #1 – Pilates ring
Upper body exercises
Pilates rings are probably more commonly used for leg work but they are great for upper body exercises too. Just lift your arms straight in front of you with your hands open and fingers stretched out and squeezed together but not too tightly.
Hold the Pilates ring between your hands and squeeze it as tightly as you possibly can. This will work the muscles of your entire arm including those on your forearm – which are particularly difficult to isolate and exercise – and especially your pectorals  or chest muscles, to get your chest uber-toned.
Lower body exercise
Pilates rings are especially great for toning your inner legs. If you hold and squeeze the ring between your feet with your legs lifted off the floor while lying down on your back, you will work all the muscles along the entire length of your inner legs. The lower your legs are, the harder your muscles will work.
Alternatively, you can focus the exercise on your inner thighs by squeezing the ring while seated. Sit down preferably on a chair that allows you to bend your knees at 90 degrees and place the ring just above the knees. Now squeeze, squeeze, SQUEEEEEEEEZE, as hard as you can.
These are just a couple of ideas to get you started on your journey to becoming The Lady of the Rings. But we are so sure you will love working out with the pilates ring that we are also including a video (see below) by avid fitness Instagrammer, vlogger (YouTube channel 'The Live Fit Girl') and blogger (The Live Fit Girls) Deanna Dorman with a great 10 minutes Ab workout. This way you have a few moves to work out your entire body with a single piece of equipment.
Oh, and before I forget, remember to keep one of these at the office. It is great to prevent the legs from swelling during those long hours sitting on your tushie. Find Pilates rings from Amazon here
Fit for travel tool #2 – Resistance bands
Resistance bands, aka flexi-bands, are great items to take with you on your travels because they weigh next to nothing and occupy virtually no space. And the range of exercises you can do with them for both upper and lower body is really quite spectacular. I have mine snuggly tucked inside my bag everywhere I go. Here are a couple of exercises for you to try.
Upper bodyexercises
Hold the band on a horizontal fist with your arms stretched out in front of you.
With your arms nice and straight but not lovked at the elbow, open your arms out until they are parallel with your body and level with your shoulders.
Return to the start position slowly and repeat.
Alternatively, you can hold the band above your head and slightly behind your ears. With your arms straight up but with a soft but firm elbow, strech the band out as you open your arms out in a downward movement. This will work your upper back muscles to get themboxer-fit.
Lower body exercises
For most lower body exercises with the resistance bands you will have to turn them into a ring by tying them into a knot. You can regulate the resistance generated by the band by decreasing or increasing the ring's circumference. Increasing it will make the exercises lighter and decrasing will make them harder.
A really simple exercise to perform with the resistance loop is to place your legs inside the ring and lift them sideways as far as you can. This will work the sides of your thighs so it is especially good for people who tend to put on weight arounf the hips. Pear-ladies, this is the exercise for you.
The video below has loads more examples for an 8-minute total body workout with the resistance ring also by the YouTube channel 'The Live Fit Girls'. You can buy resistance bands from Amazon right here
Fit for travel tool #3 – Hand-grippers
This is is the easiest one to do and there really is no excuse not to do it. You can do it as you walk or as you soak those lush amber sun-rays as you lay on a super comfy beach bed. You could probably do it as you sleep but that is probably not the best time to exercise. And just as an extra bit on the side, hand grippers are great tools to have at the office.
You may be surprised to find that, on small study performed by the BBC and bradcast on the program "Trust me I'm a Doctor",  this low-tech equipment helped lower the blood pressure of participants by up to 16% which indicates that these grippers can help you take a grip over your cardiovascular system's health
Arm grippers will also strengthen your forearm muscles, which is great for wall climbers out there, and improve blood circulation to your upper extremities.  Get your grips on these grippers from Amazon right here.
Fit for travel tool #4  – Skipping rope
Ok, this one may be old school but it totally holds its own as far as fitness goes. There is probably no need to describe the 'HOW-TOs' here but we have added a video below to show you some really groovy moves if you're feeling adventurous.
The 10-minute skipping rope workout below is hosted by Anna Renderer, fitness host at the YouTube channel POPSUGAR Fitness. 'The jump rope is more than child's play; we consider it to be the ultimate fitness tool. And after trying this jump rope workout, we're convinced you will too. This 10-minute workout will burn a ton of calories while toning your gams. If you don't have a rope but are ready to get your sweat on, fake it and jump along with us' saya Anna.
Are you ready to skip your way to fitness while hlidaying? Get ready, set, SKIP!
Click HERE
to get your hands on your skippers' rope.
Fit for travel tool #5 – Sliders
Nope, unfortunately (or fortunately depending on your philosophical inclination at any given moment) by sliders I do not mean New York-style mini-burgers or power-point presentations.
Sliders are colourful discs about as wide as your hand that you will probably find in the stretching area of the gym. These low-tech 90's style pops of colour are to fitness workouts what spices are to food quite literally, they will take the burn of your workouts off the Scoville scale.
The principle by which they work is quite simple but nevertheless awesome. In most exercises using sliders, the main body parts that move are the extremities – ie. arms and/or legs. Because the movement is virtually isolated to those areas, your core, which acts as your central axis, your pivoting point, needs to be as hard as steel to stabilize all the crazy happening in the arms and legs. Wanna get
The 13-minutes long video below, by the YouTube channel YogiApproved, has loads of ideas for you to try with your sliders but DO be creative. These are not set-in-stone rules, they are merely suggestions to get your slide on. Be also super careful while using your sliders though, especially if your fitness level is not quite there yet. Start with the easier exercises and work your way up. And don't over-stretch yourself to protect your tendons and ligaments.
You can get double-sided sliders (compatible for use on both carpet and hardwood) from Amazon right HERE
.
Fit for travel tool #6 – Belt
So, how can a humble leather/fabric belt be an essential part of your travel gym? EASILY. The belt here substitutes those super useful but not always so-easy-to-find yoga straps used for stretching especially the lower limbs.
Don't go for metal belts because they might be painful and will quite posibly break. What you want to do here is to make a small circle by tying your belt at the last whole leaving a relatively long strap. The circle only needs to be wide enough for you to fit your foot. Lie on your back on the floor, place your foot inside the ring and stretch both your legs forward. Then, lift you leg straight up as far as you can naturally then pull it a little further to stretch your hammstrings (the tendons at the back of your thighs).
You can also stretch the sides of your hips and your inner thighs by changing the angle of the movement. For the sides of the hips, pull your stretched legs inwards towards your head. For the inner thighs, your stretched leg upwards in an outwards movement.
Have a look at the 10-minute long video below by Liz Nierzwicki, author of the book Happy Healthy Fit: Transform Your Life in 90 Days with the figureFIT! Lifestyle Program
,  to see exactly what to do and how to do it safely. Never go beyond a point that is comfortable to you. You should feel a stretch but not pain.
And of course, remember the zillions of exercise routines out there that don't need any equipment to keep you looking hot on your holidays. You can find a bunch of them right here at Healthista, see – the links below or check out our Youtube channel.
Related Healthista content:
4 surprising ways music could improve your workout
How to stop sweating in a heatwave
HIIT challenge – squat jumps, skips, burpee jumps – day 22
Home fitness video special: HIIT workouts to do in your living room
30 Day dumbbell workout challenge – Day one
The fitness app that uses AI to give you your OWN workout programme