Can't get your other half to open up? Try these 3 mental health tips for a happier, harmonious relationship with your partner
Mental health and physical health go hand in hand, but sometimes, broaching the subject of feelings and thoughts can be challenging.
In fact, encouraging a partner to open up isn't always easy and often, certain tactics are needed.
Noticed your partner isn't quite themselves? Or perhaps they have hinted that something is wrong, yet they've never gone into the details?
We all want the best for our loved ones, so going about things the right way is important when asking your other half to open up.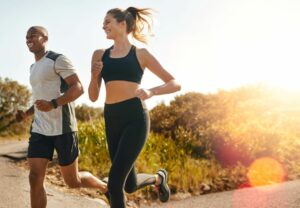 Last week, Puresport hosted a workout and panel chat at Sweat by BXR, continuing the discussion on male mental health.
Following a 45 minute Versa Climb class, four panelists opened up on acceptance of feelings, replacing bad habits with good and gave insights into steps they take to ensure a healthier mind.
Puresport's founder Grayson Hart sat on the panel with Matt Rodwell, Founder of Arc Athletics Club; Simon Mundie, broadcaster, life coach, motivational speaker and author and Marvin Blake, osteopath, personal trainer and trainee counselling psychologist.
Here is the advice the expert panel had to give, three simple tips a go for a happier, harmonious relationship with your partner…
#1 Don't pile on the pressure
Simon Mundie explains that showing an interest, without being too pushy, is important.
Ask your partner: 'Is there something you'd like to talk about?', and tell them that there's 'no pressure, no obligation, I'm just interested'.
They may not open up straight away, however, just knowing that you're there for them may be enough.
showing an interest, without being too pushy, is important
It may also be helpful to turn it on yourself. Try asking, 'is there anything I am doing that you find frustrating or difficult? Is there anything anyone else is doing that you are struggling with at the moment?'
Here, you're accepting that you might be a reason or a trigger behind certain feelings, which could help your partner to feel more comfortable.
#2 Pick your moment
No-one wants to be questioned on how they're feeling the second they walk through the door after a hectic day at work.
Choosing the right time to broach the subject is key.
However, Puresport's head of Wellness Lucy Gornall adds that making it into a formal occasion won't work either.
'Try bringing it up when you're on the sofa after dinner, relaxing. Or even when you're cooking or out on a walk. This way, you have other distractions, should your attempts fall flat, such as the TV and/or food.'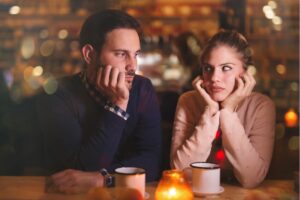 #3 Practice nonviolent communication
'Here, you separate an observation of the feeling with any judgement,' says Simon.
For example, instead of, 'you messy bastard, you do my head in when you leave your stuff on the floor like this,' opt for, 'I feel frustrated when you leave your dirty clothes on the floor, would you mind picking them up?'
'So that's observation, feeling and request,' explains Simon. 'It's the same meaning with a different approach.'
More Healthista Content:
How to get fit at 50 – Hollywood stuntman & team GB athlete reveals 10 things you need to know
6 ways to overcome self-doubt – an expert guide
6 secrets to London marathon recovery
Foodie Friday vegan recipe: smoked tofu & vegetable skewers with spicy peanut dipping sauce
Foodie Friday healthy lunch: Crushed pea, pesto and goat's cheese bruschetta
Like this article? Sign up to our newsletter to get more articles like this delivered straight to your inbox.