Listening to music during your workout isn't only entertaining, it can make you train harder. Here's a sample track list to match any rock song lover's taste during each type of exercise to help make the workout feel good.
Music is just as much of an essential for some people during their work out, as is a water bottle and towel. While others choose to train silently, music can help you get more out of your workout than you might have imagined.
Not only can listening to music while running or training help to keep you engaged and focused, but according to a study published in Sports, Exercise, and Performance Psychology it also encourages you 'to exercise at an intensity that feels good for longer periods of time,' while also enjoying the burn. After finishing, you will remember your training as more fun than it actually might have been.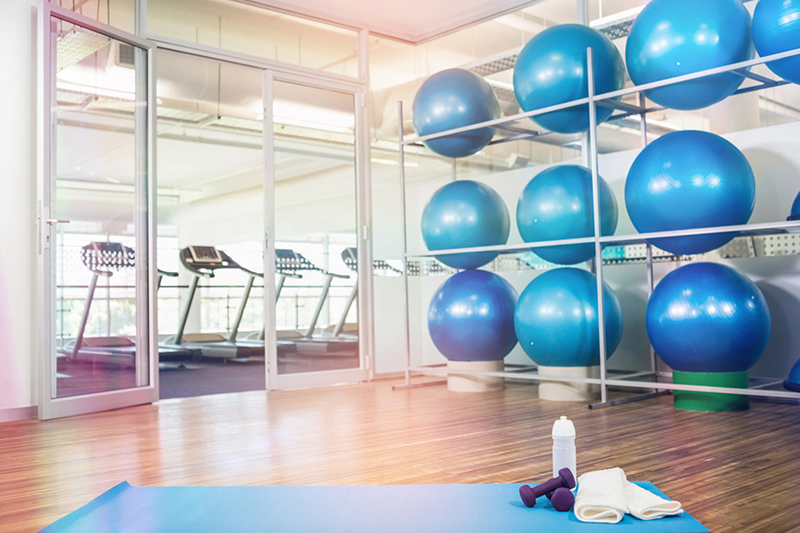 So, if you're finding it difficult to find pleasure during your silent run or can't keep up with your friend's reps on the machine, try plugging in those earbuds.
Rock music is great to workout because its tempos are versatile. You get songs with high tempos and songs with low and medium beats. That means you can get rock tracks on a workout playlist with tempos to match your warm up, workout and stretching time, while never having to look at your phone during a visit to the gym.
The key is to start off slow during your warm up, move along to pumping up your mental energy along with your blood flow to increase your workout potential and then finally slowing it back down again for the cool down. I've done exactly this for you below, which will give inspiration on what types of artists and songs to put into your own gym playlist.
Warm up
These four tracks are just a quick taste of what music you might want to listen to during your warm up. Especially if working out in the early morning before work, you might not want to start off with heavier drum lines and loud vocals. Just as much as your brain might still be waking up, so are your muscles. These suggested songs will allow you to start off smoothly with calm indie rock that slowly feeds into your iconic pump up music like My Chemical Romance to kick start that flood of energy and make your workout the best it can be.
Walk The Moon – Tightrope
Imagine Dragons – Radioactive
Jake Bugg – Bitter Salt
My Chemical Romance – Welcome to the Black Parade
Running
Running music is usually different than other training music. Because your thoughts might overpower your feelings on a run, you may want to listen to more enjoyable music with a beat your feet can match that's considerably less intense on the ears. This can include old classics you may never tire of or a new artist you've been dying to hear. Below are tracks that are consistent in tempo to keep you going at a steady pace, while also giving you that thinking space you may desire.
Arcade Fire – Ready To Start
Queens of the Stone Age – No One Knows
Black Keys – Lonely Boy
Gorillaz – Feel Good Inc
Lifting
When lifting you might want more beat heavy pump up music. These should be in the middle ground between what you might consider heavier rock and indie rock. Try to keep songs with a pace you can do reps to, while also pushing you to work a little harder when at a machine. Lifting is usually a slow, controlled time where you're focusing on muscle building. You may want to keep your music inspirational and at a controlled pace. These song suggestions will get your blood pumping and give you the energy you need to push you during your workout.
The Killers – The Man
Muse – Panic Station
Kings of Leon – Molly's Chambers
You Me At Six – Win Some, Lose Some
Boxing
For those heavier feeling workouts, you might want more intense music to match. These would include rock songs with a much heavier drum and fun guitar progressions. Training is a time to really push your body and workout past it's limits to build yourself into the person you want to be. Your music should work to inspire you to keep pushing yourself without holding you back. These songs are sure to trigger your body to enjoy the burn.
Foo Fighters – All My Life
Jimmy Eat World – Sweetness
Sum 41 – Fat Lip
The White Stripes – Seven Nation Army
High Intensity Training
These workouts are fast paced. That means that means that you don't want music that's too slow and will slow you down midway through your 100 jump rope exercise. These songs are fast paced to match your pace, while also keeping you entertained during your workout.
Panic! At The Disco – I Write Sins Not Tragedies
The Joy Formidable – Cholla
Grouplove – Ways To Go
CHVRCHES – Gun
Stretching and cool down
When you've reached the end of your workout, whatever intensity it might have been, you will want to slow down your music again. Just like during a warm-up. Especially when stretching out the muscles, you want to listen to soft, slower rock like indie and soft-alternative to relax the brain and the body. These song suggestions will not only slow you down when you need to, but allow you to enjoy your cool down and stretching as much as possible.
Foster the People – Pumped Up Kicks
The Head and the Heart – All We Ever Knew
The Strokes – Call Me Back
The Lumineers – Ophilia
Fleetwood Mac – Dreams (Editor's Choice)
In the end, what you listen to during your workout is a totally up to you and your mood. But if you are looking to match your workout routine to your workout playlist, these suggestions may help. Making the most of your workout can be helped by paying attention to the types of music you listen to, and by matching them so you can enjoy your training as much as possible.
Here we've also made the playlist for you. Enjoy!
30 minute lower body weights workout you will LOVE – Part 1
Anti-ageing workout – 25-minute resistance training circuit
20 minute Pilates workout to strengthen your core
The fitness app that uses AI to give you your OWN workout programme
Like this article? Sign up to our newsletter to get more articles like this delivered straight to your inbox.