To celebrate International (ahem) Fetish Day, we are not going to be biased and focus on one fetish – but on something that can help make them all more pleasurable – the best lubes for the job 
I could write an entire book on why people need to calm all the way down about lube (that way I could bring it out at social events and beat people over the head with it).
If I had a penny for every misinformed, cocky human that told me 'I don't need to use lube, I'm good at sex' my bank would likely think I was some sort of drug lord.
There is far too much of an unnecessary stigma around lubricants.
I've said it before, and I'll say it again (and again and again): Lube is a sexual enhancer. The choice to use it has little to do with your ability to get aroused and a lot more to do with enriching the experience.  
Sex without lube is like washing your hair without conditioner
Sex without lube is like washing your hair without conditioner; Yeah, it works okay but you're missing out on some serious goodness. (Those of you who don't use conditioner, please see me after class). 
Fortunately, it seems like the stigma maybe slowly dying out. In a sexual health study by lovehoney.co.uk it was revealed that 37 per cent of people across the UK, US and Australia had tried using a lubricant – this broke down as 38 per cent for the UK, 43 per cent for the US and 31 per cent for Australia.
When looking at age groups, lubricants are (perhaps surprisingly) more popular with the 25-34 year old age group with 49 per cent saying they own them.
In stark contrast 28 per cent of 55-64 year olds and 22 per cent of over 65s are apparently the only ones not missing out.
Here are some reasons Lube is great:
 Source: via GIPHY (Note: Your lube should probably not be smoking)
It enhances sensation– Warming, cooling, tingling and even plain lubricants can open the doors to new sensations and enhance your sensitivity. 
It reduces risk of STDs & tearing– Anal and vaginal tearing can leave you more vulnerable to STDs and other infections. More lubrication means less risk of tearing.  
It increases comfort– Plus no tearing, chafing or general discomfort will probably keep you from getting turned off. 
It helps you go longer– Our own natural lubrication is also connected to how hydrated we are, lube to takes the pressure offyour body to use its own water and is a longer-lasting source of moisture.  
It helps with dryness…
Okay, let's get to the so-called elephant in the room. I'm not going to pretend that dryness isn't a reason to use lube. Dry sex is probably not what you're after, mostly because it can be extremely painful and lead to tears in the vagina.
Here are some common causes of dryness: 
Stress: There are a lot of reasons we might be experiencing stress. Bad day at work, feeling body conscious or just straight up anxiety. On top of making us feel drained, stress and anxiety affect our hormones. All our hormones. So sometimes our glands just don't have the right ingredients to make it happen. 
Medications or treatments: Antihistamines, some antidepressants, chemotherapy and radiation treatments can all be causes of vaginal dryness. 
Over washing: Soaps, perfumes, and chemically treated products like scented toilet paper or tampons are generally bad news for your vagina. While there's nothing wrong with cleaning your vulva (the external part) many of these items will simply wreak havoc on your vagina. 
Dehydration: Yet another reason to keep yourself hydrated is your vaginal health. As with the rest of your skin, your labia minora and majora will suffer if you aren't hydrated. For your vagina to be comfortably lubricated, even in a day-to-day sense, your whole body needs to be getting enough water.  
Under stimulation: Most vagina owners require more stimulation than penis owners do, both physically and mentally. A lack of foreplay before jumping into vaginal intercourse can mean that your body has not had the time to catch up to and properly enjoy what's going on.  
Menopause: Around half of post-menopausal women experience vaginal dryness and discomfort, not only during sex, but also in their day-to-day lives. It's a natural thing that happens to our bodies and is nothing to feel ashamed of. During menopause, our levels of oestrogen start to decline, this causes our vaginal tissue to become thinner, making self-lubrication more difficult. 
With all that in mind, now we can move on to recommending the best kind for you. Here are the best lubes to try in 2020 (maybe ever):
Standard Water-Based:
A standard water- based lube is probably the best place to start if you're new to lubricants. They have little to no flavour or scent  
Our pick: Bondara Luxury Lubricant (water-based) £8.99  

Bondara's light-weight nonstick lube is a simple way to get things really moving in the bedroom. It is oderless and flavourless as all good simple lubes should be and has enough slide to keep you going for as long as you like.
Sensitive:
Okay, so let's say you've given lube a go already, but to your utter horror, you've found yourself having an allergic reaction. Total mood killer, right? 
Not to worry, some of our bodies just don't agree with some of the more common ingredients included in lube. It's not unheard of and in fact already has a solution: Sensitive lubes. Any sexual wellness retailer worth their salt will offer a few gentle options.  
Our pick: ID Moments £10.99

ID Moments is a hypoallergenic option. This is a very gentle lube that glides softly over and around the skin. It also has the added bonus of being glycerine and paraben free.  
Moisturizing:
A moisturising lube is easily mistaken for a hand cream in consistency, colour and sometime even packing. They tend to be very discreet, often called 'personal moisturisers', and can even be used as a regular moisturiser. What sets them apart from your nana's hand cream is that these are designed to be safe to use internally as well as with condoms. 
Our pick: Lelo Personal Moisturiser £17.90

 Extremely soft and silky, and best of all, very discreet. We don't recommend eating it though.
Thick:
Thick lube best serves those experiencing tightness or painful sex, hut it's also great for those who enjoy the richness of the texture. It is also most useful for lubricating areas that don't produce their own moisture such as the hands or anus. 
Our pick: Smilemakers Generous Gel £18.78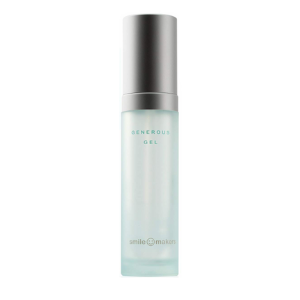 Generous is the perfect name for this product. You'd be forgiven for mistaking it for a silicone lubricant, it has a luxurious feel that glides across the skin and is unlike any other water based lubricant on the market today. The best way we can describe it? Pillowy.
Close Second: Probe Natural Lubricant Classic Thick Rich £14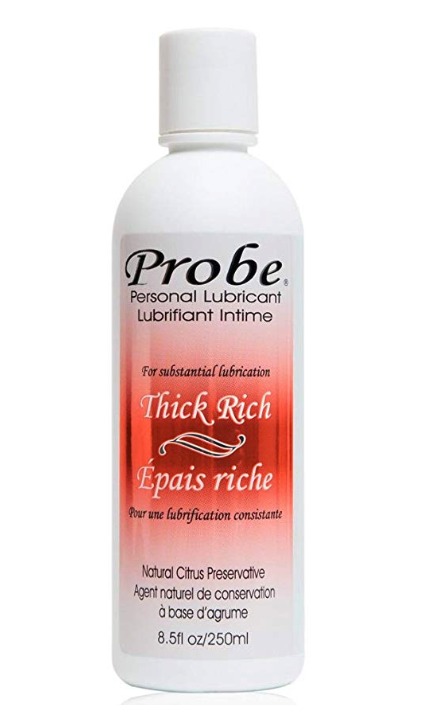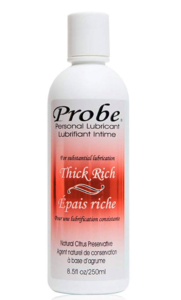 This is the perfect lube for anyone who enjoys a thicker texture without sacrificing any of the slickness of a regular lube. It has no odour or taste and is well suited to those who don't mind a stickier lubricant with a wild texture. Best of all, because it's water-based, you can get as messy as you like without ruining your sheets.   
Flavoured:
While all water-based lube should be edible, the biggest downside for a lot of them can be the taste which, unless you've opted for a flavourless one, can really take you out of the moment. A good tasting lube can have the exact opposite effect.  
Our pick: JO Gelato Hazelnut Espresso £5.85 (Also available in Salted Caramel, Creme Brûlée, Tiramisu and Mint Choc Chip.)

Everyone lost their collective minds when I got them to taste test this lube at Healthista HQ. It's just that good. We tried all the flavours available, but Hazelnut Espresso won the day by a landslide. 'I'd put that in my coffee' was a common compliment for this particular lube. Best of all? It's zero calories!
Close second: JO Candy Shop Bubblegum £9.99 (Also available in Butterscotch and Cotton Candy.)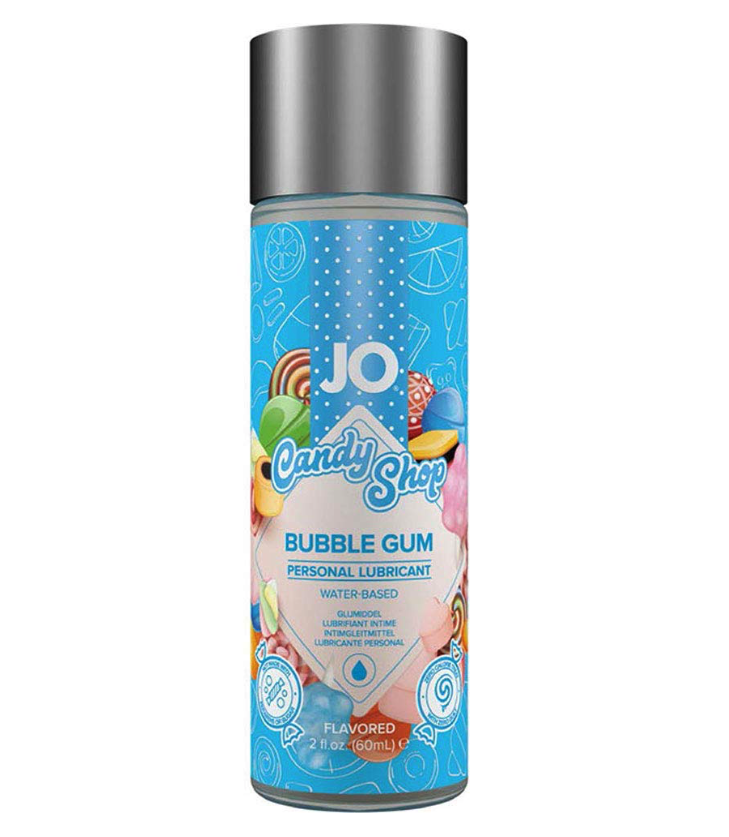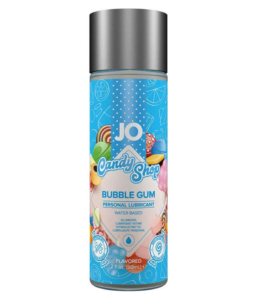 For those of you who aren't that keen on bringing the Starbucks experience into the bedroom, we had a very close second. This bubblegum flavoured lube is the perfect way to bring some flavour into your sex life. And again- zero calories!
Vegan:
Made without parabens or glycerine, sugar, alcohol or preservative vegan lubes are ethically made and tend to be well-suited to more sensitive lube users. 
Our picks: YES WB £13 & Sliquid Organics £18.33

This one is a tie as we couldn't decide which one we liked best. YES WB is probably one of the most lightweight lubes you will ever encounter, while liquid offers that more 'traditional' experince. Both are totally scent and flavour-free, so we'll leave it up to you and your texture preferences.
Flavoured Vegan:
Whoever said vegans had to have limited options?
Our pick: ID Frutopia -Mango Passion £3.20 (Also available in Watermelon, Strawberry, Cherry, Raspberry and Banana)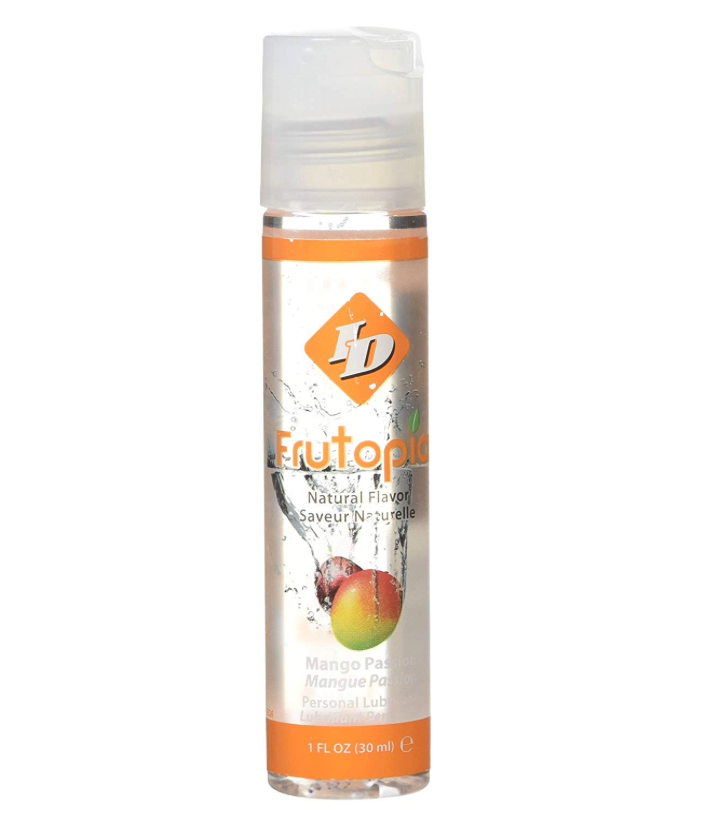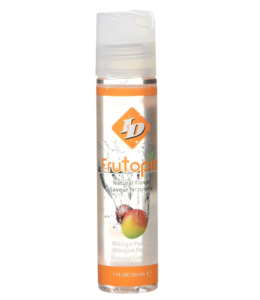 This was a tough one to agree on, all of the flavoured lubes from ID are delightful. In the end though, mango won the day, it's a thicker textured lubricant with sweet, subtle flavour that keeps you coming back for more. Another snack that will make you rethink how you define 'guilty pleasure'.
Close second: Intimate Earth- Naughty Nectarine £19.28 (Also available in Strawberry, Apple, Banana Pie and Chocolate)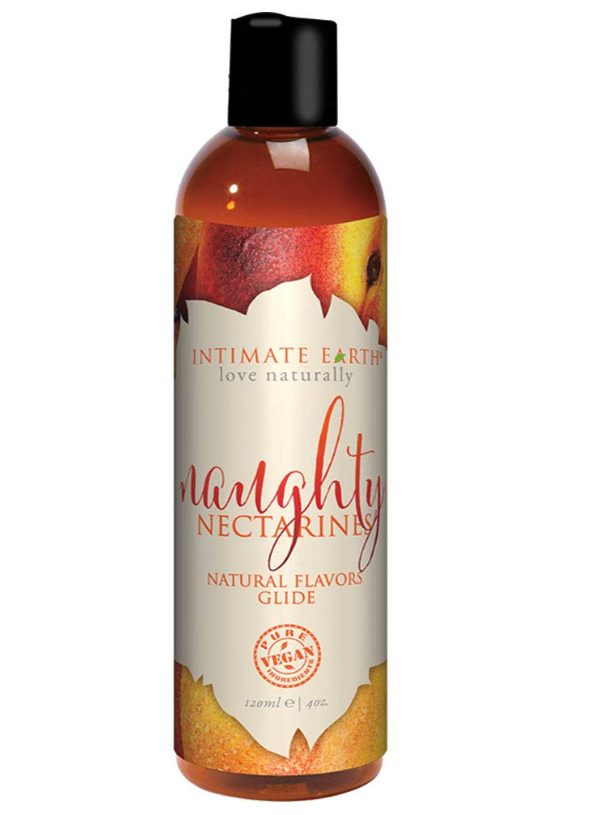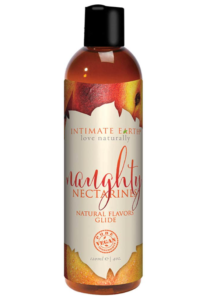 If you prefer a more subtle taste, we recommend Intimate Earth. They give you just enough to keep you wanting more which, in the bedroom, can be very advantageous.
Warming:
Warming lubricants increase blood flow to the area, which in turn enhances your state of arousal. They can also be used for temperature play. For a less intense expense, select a 'tingling' option. (Bonus tip: if you're worried about the effects of a warming lube on your nether-regions, sample some on the inside of you lower lip, if it burns, steer clear.)
Our pick: Intimate Earth- Melt (Warming Glide) £14.99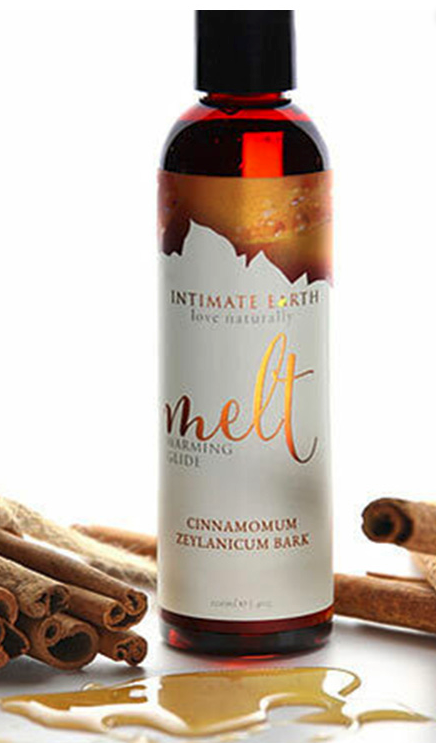 This warming glide has a sleek texture that allows for simple application, the warming effects are gradual, which allows you to slowly work your way up to wherever you are comfortable with. It also just so happens to be vegan. You always get bonus points for being vegan.
Cooling:
As with warming lubes, these are arousal-enhancing and can be a cool way to experiment with temperature play. As well as providing a different take on a slider experience, it can also be quite soothing for some of you experiencing painful sex. These tend to have more tingling options than warming lubes.
Our pick: System Jo H2O- Cooling £11.90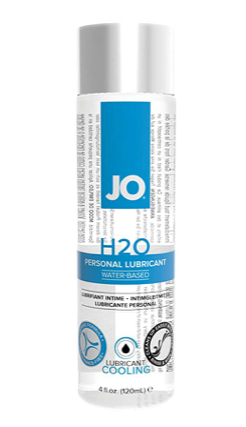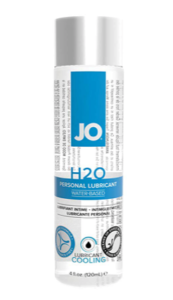 This lightweight menthol lubricant is perfect for cooling down. Unlike a lot of cooling lubricants it doesn't have a strong taste or scent and has a long lasting slide.
Menopause:
Yup, there are some lubes designed specifically for post-menopausal women. These lubes can double up as vaginal moisturisers that also help with the general discomfort that vaginal dryness tends to cause.
Our pick: OVIO Replenish £12.99

Ovio's long lasting vaginal moisturiser comes in small 5ml pessaries for your convenience. They have no scent, but have a lightly medicinal flavour. They can be applied before/during sex or just used daily for extra comfort.
Close second: Yes VM £10.20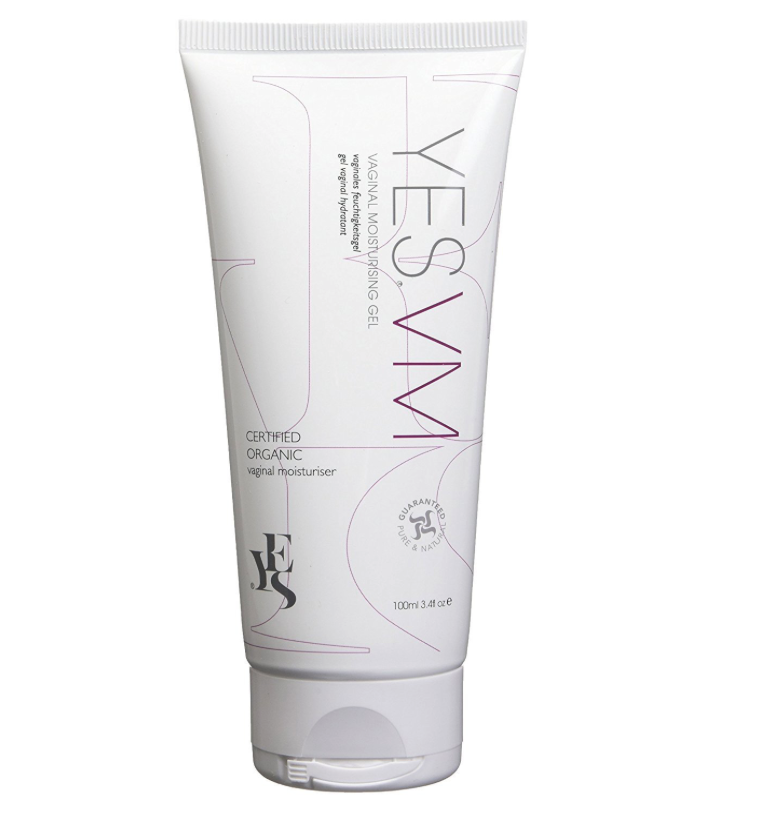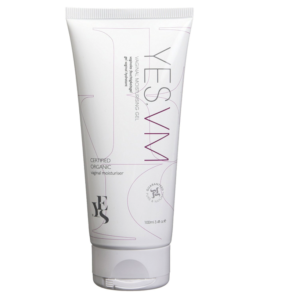 Yes VM is an extraordinarily light lubricant that also doubles as a vaginal moisturiser. It is 100% organic.
Oil based:
Oil based lubricants are gentle on the skin and can turn a sexy massage into something a little more…Unlike with water–based lubes, you will likely only want to use a small amount of oil–based lube to get going.  Oil lubricants can be anything from coconut oil to scented balms and frequently contain more natural ingredients.  A downside is that they can stain bed sheets and clothing. They can also rip through condoms, rendering them useless. We also don't recommend using them with sex toys or internally unless you know that your body won't react badly to it.. 
Our pick: Cosmopolitan Kissable Strawberry Massage Oil £9.99

This oil smells and feels divine on the skin. While it has little flavour, it is completely safe to ingest and as we've already established, a subtler taste can often be advantageous.
Silicone based:
A silicone based lube won't lose it's slip until you wash it off, making it the ideal companion for anal or for shower sex. It's long lasting nature means that unlike with a water based lubricant, you won't need to keep adding more and had the added benefit of being non-oily, fragrance and taste free. The biggest downside is that as with oil based, most silicone based lubricants will stain any fabrics they come into contact with. We also don't recommend using them with sex toys as it causes the material to corrode – or vaginally as they only wash off with soap – something  that can really mess with your pH. 
Our pick: Uberlube £18

Unlike most silicone-based lubricants Uberlube is a multi-purpose lubricant designed to take you even further than the bedroom. According to their website this lube is not only a sleek way to get things running more smoothly in the bedroom, but in all facets of life: 'Athletes use it as an effective and long lasting anti chafe. Salons use it to finish hair, add sheen, seal in mature and de-frizz'
Now this I've got to see. If you ever spot it in your local gym or salon, feel free to @ me.
BUT, how do I explain this in the bedroom?
Unless you find my style of writing especially sexy, you're not likely to want to pull out your laptop mid–foreplay and commence a dramatic reading of this article (though I'd be beyond flattered if you did). 
The reality is that selling your partner on the whole 'lube issue' can be rather tricky, especially if they have the wrong idea about why anyone would want to use lube. Not to worry, I've thought of that. 
Think of it this way: You've just bought a sexy new toy into the bedroom. How are you going to sell your partner on it? 
You could: 
#1 Talk about it first– Let your partner know what about this new thing has you so excited and what it can do for you both. It can be anything thing from a frank discussion to some dirty talk. 
#2 Get them to 'educate' themselves– Get your partner a small bottle of lube for them to try out for themselves– if you really want to get them experimenting try a warming/cooling or tingling lube. Sensational ones tend to be less threatening as they bring something different into the mix. 
#3 Just do it– If you think the build-up would spoil the main event, you can just bring it out and let your partner see exactly what this does for you.  
Relevant Healthista Content:
7 tantric sex tips to improve your love life
Vibrators for women – the beginner's guide to sex toys
Why does sex hurt? Dyspareunia explained
Healthista content you might like:
Nicole Scherzinger looks hotter than ever – her PT reveals 7 key tips
Margot Robbie's personal trainer on exactly how to get a Hollywood body
I tried a new flat stomach fix that claims to be as good as doing 20,000 sit ups and this is what happened
Like this article? Sign up to our newsletter to get more articles like this delivered straight to your inbox.