Looking for a fitness studio in London to kickstart your new health regime? Healthista has tested SO many to find you the most exciting and effective 
With all the incredible options of fitness and workout classes in Britain's capital, it can be tricky to know where to start. So, with you (and our sheer desperation to try and test them ALL) in mind, Healthista undertook a mission to sweat it out at some of London's best gyms.
Best for learning new skills: BXR, Baker Street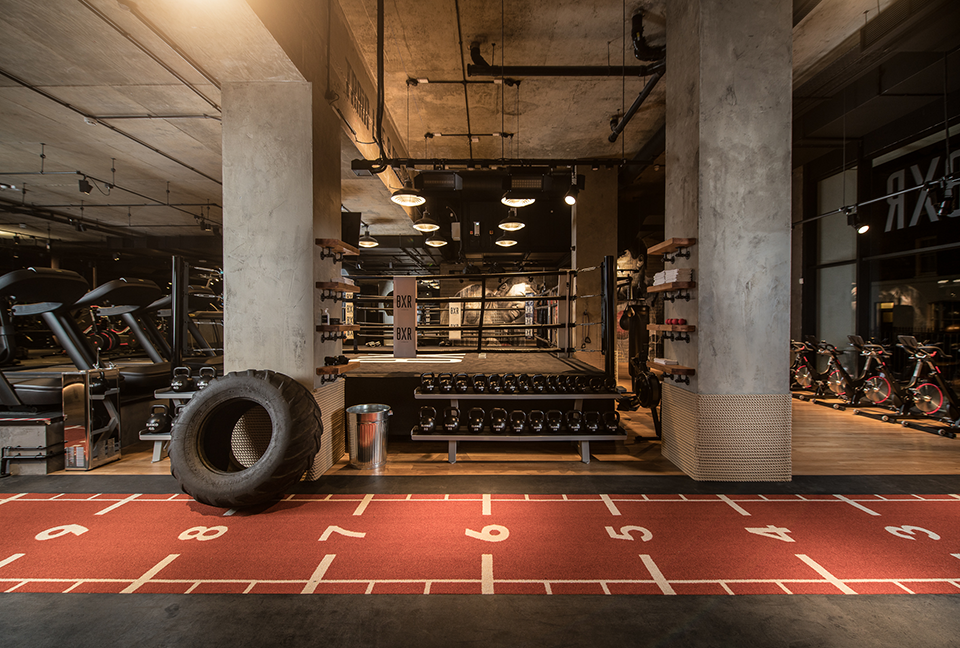 Hanging in a building owned by the brothers of supermodels Jourdan Dunn and Rosie Huntington-Whiteley does give BXR's gruelling workouts a glamorous edge. One of the latest boxing gyms to hit London's fitness scene, the high-end gym describes itself as bridging the gap between personal and group training. Classes are lead by boxing professionals and top-of-their-game trainers and focus on strength and conditioning, boxing skills and cardio and mobility so that gym-goers can address all their needs under one roof. Classes are small and intimate, changing rooms are big, open and bright and a lounge area with a Joe's Juice Bar converts this place into a workout come meetup venue (there's also a sauna and steam room – uh, yes please).
The class we love
Great for any Nicola Adams wannabes, try the Kick Boxing Class and learn a new skill. The class was small in size, meaning that instructor Alex Nicholl was able to make his way around the room and correct form. Working on bags, you do a combination of punching and kicking moves weaved in with some plyometric training (hello, burpees) for good measure. We loved that this really was a skills class and real attention is paid to making sure you're doing everything right. By the end of the class, you're not only dripping with sweat and pumped with endorphins but can go away with the feeling you've learned something new.
Don't miss
The VersaClimber machines in BXR's dedicated studio. A VersaClimber is a 75-degree vertical rail with pedals and handles, variables can be tweaked including handle height, stroke length and resistance.The machines mimic the natural motion of climbing and will be sure to give you a gruelling cardio workout.
Healthista hint
If you're a music buff with a love of local DJs head to BXR trainer Courtney Fearon's class, he plays tunes from his Spotify but is happy to take requests.
Where do I sign up?
All classes are under one hour and are priced from £15 as part of a package plan, or £6 as part of a monthly Sweat Membership which starts from £180 a month. For more info check them out here.
Best for a focus on form: UN1T, Fulham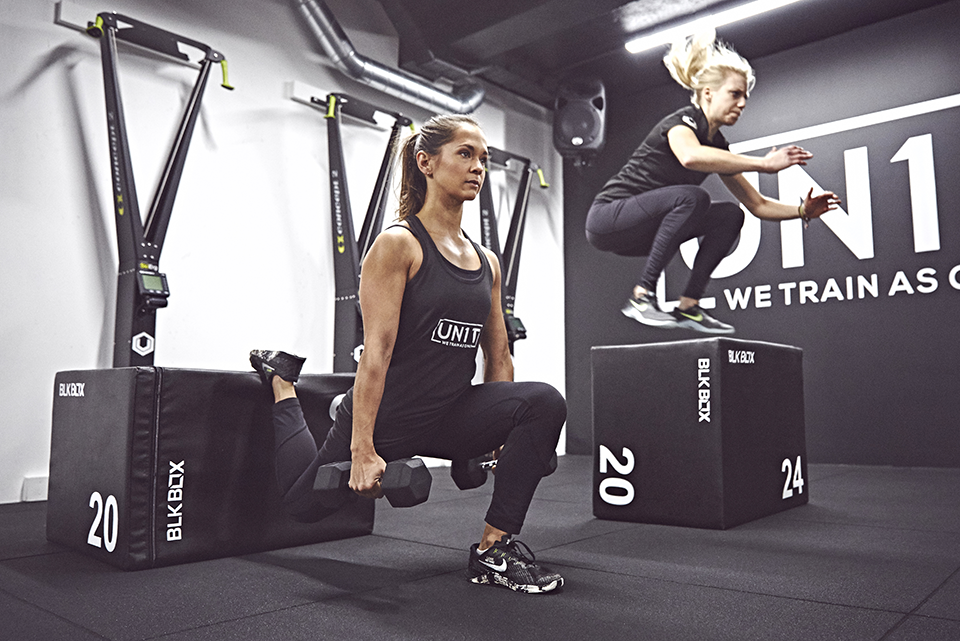 Frequented by the elites of fit Instagram, this place is a little intimidating at first glance. When you enter, it still feels that way. Dark, sleek black room with aeroplane LED lighting up the floor. All takes place in the same room. The studio has cardio, strength training and even yoga classes but also gets involved in the London fitness scene outside of this, hosting run clubs and outdoor classes and festivals throughout the year. Get techy and connect up your MyZone heart rate monitor while you work out to see how hard you're working.
The class we love 
The Trooper signature class – according to the team at UN1T this is 'the hardest class you'll do in London. Expect a combination of Olympic lifts, TRX, resistance bands and definitely expected to be aching the next day. If you love being pushed to your limit (and working out with weights) then this is the class for you.
Don't miss 
Don't miss out on how far these trainers will push you. Trainers will be checking you are lifting heavy enough, that your form is spot on and that you are sweating it out as much as you possibly can. Take advantage of it and channel it into your personal workouts.
Healthista hint 
Undecided? Try the gyms 7-day Challenge – this is a 7 day trial of the gym for only £20.
Where do I sign up?
Drop in classes cost £20 each. Memberships start at £195 a month for a rolling contract or £210 for a single month.
Best for trainers and coaches: ONE LDN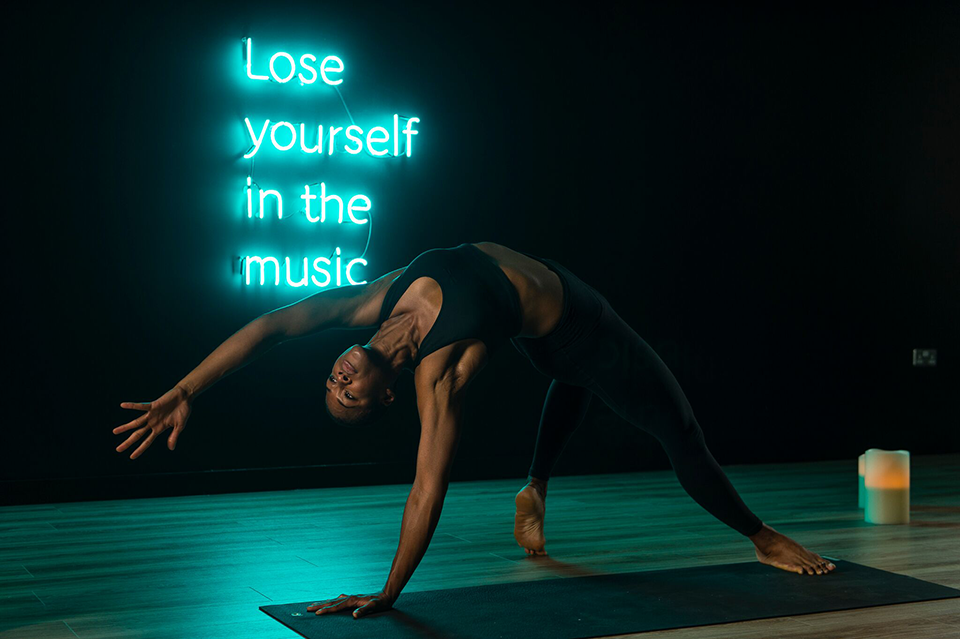 ONE LDN will have you quickly pumped for your class due to the inspirational fitness slogans that line the walls, as well as a huge blackboard in reception, scribbled on by trainers and clients. It's clear that London's finest PT's are up for grabs here, and ONE LDN are keen to show it. Their photos are framed on the wall with their personal philosophy written underneath. The classes are more than your bog-standard.  The gym says 'become ONE of us', and that's exactly what you can expect. They push you incredibly hard to unleash your inner athlete and they don't care how much pain you're i
The class we love 
The Hip Hop Yoga is the first class of its kind in London. In a candlelit room with neon lights exclaiming 'Lose yourself in the music', prepare to relax to the max. The best part? The vinyasa flow class has urban beats as it's soundtrack – think Sampha and Solange Knowles.
Don't miss
The community page on the website is full of blog posts with tips and motivational memos by interviewing the trainers at ONE LDN and experts
Healthista hint 
Make the most of the amazing trainers at this gym. You're more than likely to get a little personal coaching in each. Don't be afraid to ask Alice for help with form when using the squat rack as you sweat your way through a Strength and Sweat class.
Where do I sign up?
ONE LDN have boutique gyms in Tower Hill and Imperial Wharf. Classes cost £20 pay as you go or £120 a month for membership. Find out more info here.
Best for recovery: Virgin Active Beyond Movement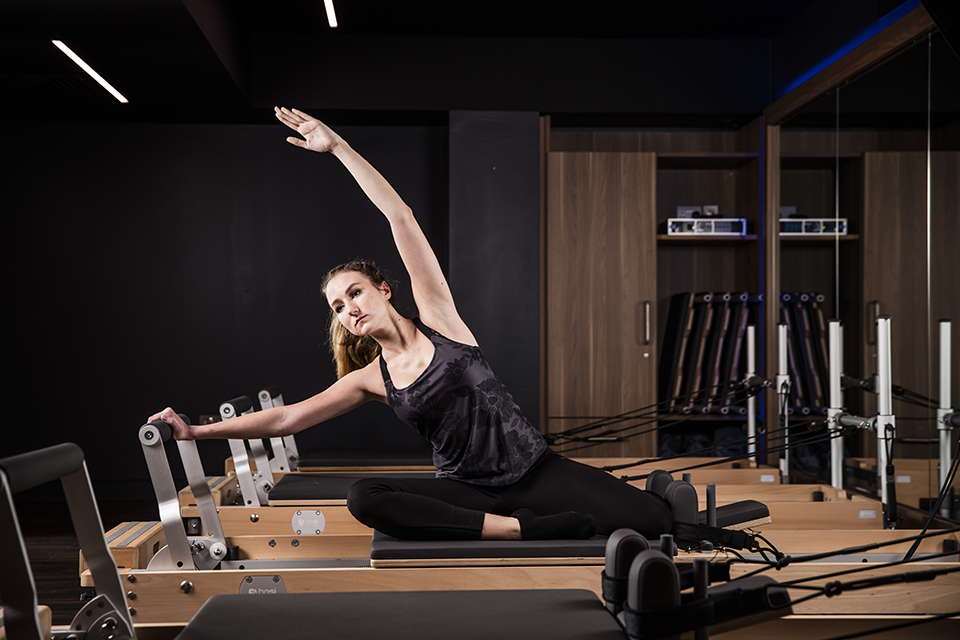 Virgin Active's Beyond Movement gyms are a therapeutic twist on the original. With the same spacious, well-equipped gym rooms as regular Virgin studios, the Beyond Movement spaces also feature therapeutic treatment rooms and has a heavy focus on rehabilitation. The studio has two large Pilates studios, both reformer and regular, the latter of which has a room-length glass wall that looks out onto the gyms swimming pool. The pool is the ultimate in post-workout chill, with blue lighting and sun loungers creating a luxe ambience. The gym is in an impressively large building with a bright red lounge area that looks like a cosy hotel lobby.
The class we love
When it comes to Pilates this studio knows what it's doing. We loved the chilled but challenging workout we were put through by instructor Stephen Goff. It was a combination of soft flow Pilates and some more physically challenging positions and movements. There was no music playing which seemed alien at first but really helps you to focus on your form and the way you're moving. Goff explained that his routines vary from class to class so the class always remains varied and difficult.
Don't miss 
From stretch classes to physio sessions this gym is the perfect place to recover from heavier workouts. We suggested a relaxing dip in the Beyond Movement jacuzzi (located in the pool area) after your exercise – exactly what we needed before a day in the office.
Healthista hint
Don't stress about bringing or buying a towel, this Virgin gym comes complete with a towel concierge booth.
Where do I sign up? 
Virgin Active membership starts from £58, Reformer Pilates starts from £20 per person and sports massage and physiotherapy start from £35 and £45. Find more information on the Beyond Movement website here.
Best for a sense of achievement: The Foundry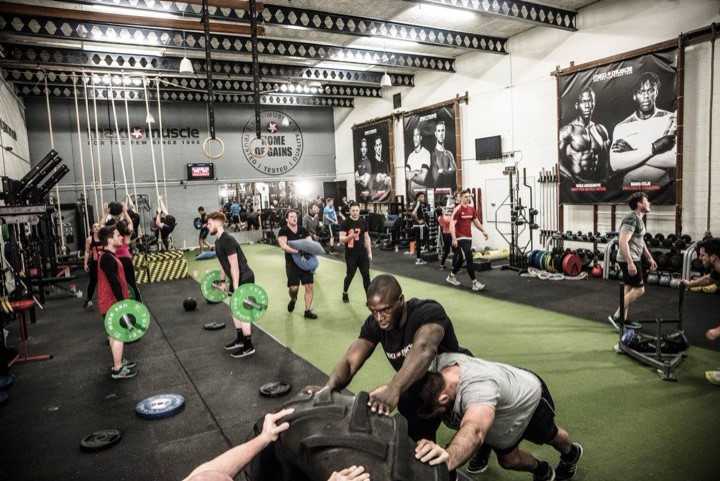 Set in a big well-equipped warehouse space in the middle of a housing estate, this gym is like no other. Move aside pretentious London boutiques and train like an athlete at this gym which stresses that fitness is not about calorie counting or sweating it out on a treadmill but about conditioning the body with resistance training that creates metabolic changes.
The class we love
City Strongman – the aim is to get women and men training like an athlete and to adopt a different mindset about training.  Expect to lift and chuck cement balls, push prowlers and lift HEAVY. This is one fun and functional class that will make you feel seriously good about yourself. Fellow class go-ers and instructors will encourage you and make you feel proud of your body and what it can do.
Don't miss 
Getting involved and channelling those endorphins into cheering on everyone else. You'll be placed in a small group as you go through your circuits so there will be plenty of opportunities to get to know each other and shout a few words of encouragement. Two winners are chosen at the end of class – when we visited they each won a crate of BCAA.
Healthista hint 
If your hands are red-raw and aching at the end of this class, you're doing it right.
Where do I sign up?
Try three classes for £30 or try out membership which includes eight semi-private personal training sessions and unlimited classes for 30 days for £299. There are two gyms, one in Vauxhall and the other in Old Street.
Best for pay-as-you-go: Another Space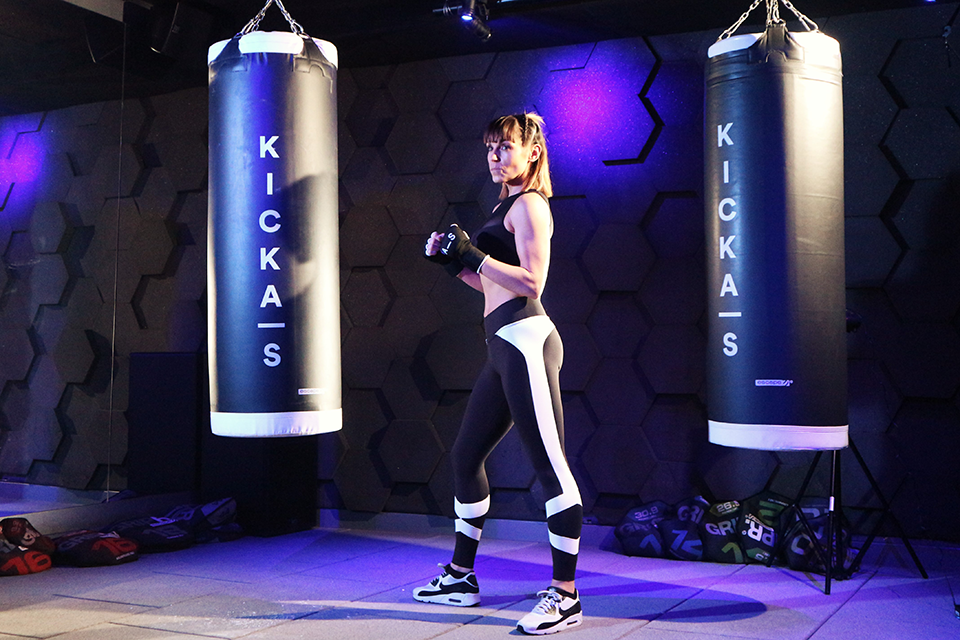 The epitome of London-cool, Another Space is a studio specialising in HIIT, spinning and yoga and workout by the motto that they have 'everything you need, nothing you don't'. Hip-hop beats pump through the changing rooms getting you geared up for your workout and bright airy entrance spaces contrast light-canister lit, dark workout spaces. GHD's, bobbles and face wash make getting ready for work easy. Plus Another Space comes complete with a food and smoothie bar so you can get that post-workout protein in before heading off to work. This studio has no membership or joining fee, it just offers straight-up classes whenever you're in need of one.
The class we love
Another Space's Indian Summer Yoga class is a must-do, especially on a cold winter's morning. The Indian summer playlist (comprised of a mix of electronic beats mashed up with more mellow yogic vibes) and pink and yellow lights line the room to create a warm, relaxed atmosphere that is absolute bliss – and the Vinyasa flow style adds to the heat. Class sizes are large but instructor Kate Lister takes care to walk around the room and make sure that everyone's poses are spot-on. Arm balances are a key part of this class which left us wanting to come back for more – great for anyone that is looking to progress week-to-week.
Don't miss
The peanut butter, banana and chocolate vegan protein shake – just trust us.
Healthista hint 
While we love the vibes in Another Space changing rooms, there aren't many showers so be prepared to queue for a wash, especially during the 9 am rush (or just make sure you pack that dry hair shampoo).
Where do I sign up?
Another_Space is a 'pay-as-you-train' studio with single classes costing £20 for one credit. Packages are also available here.
Best for busy people: The Clock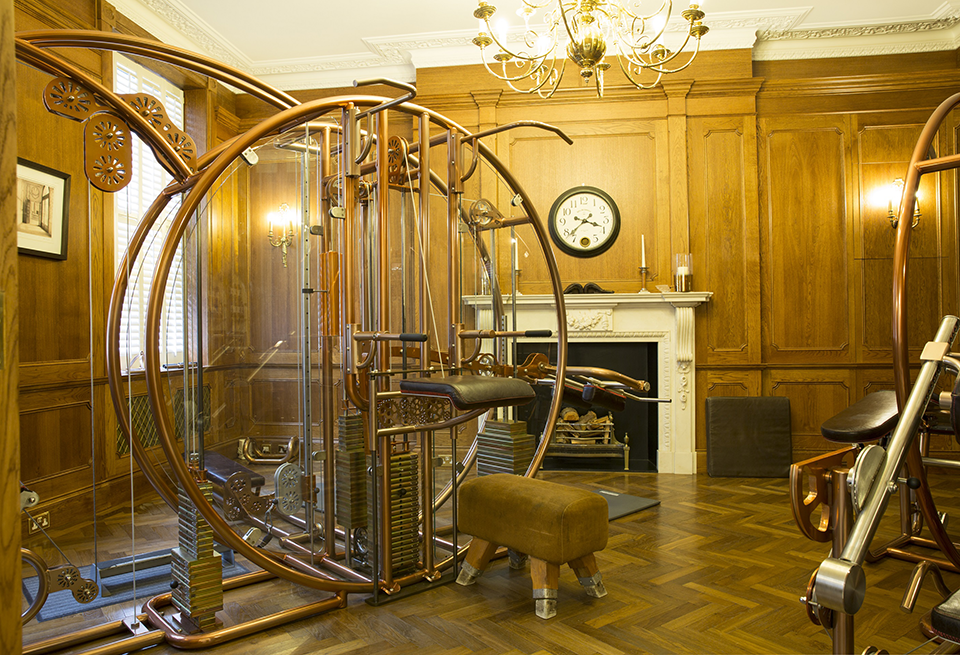 This luxury Marylebone gym is sister gym to London's famous The Library gym. With gym equipment shaped like cogs, a gorgeous living area space that opens up into a boxing arena and an open, marble-topped kitchen complete with French chefs rustling up healthy treats, this is the place to go if you've cash to splash on a complete lifestyle overhaul. Membership begins with two initial consultations about what you want to achieve and the best nutrition plan to put you on – options include high fat and low fat diets. Then you'll be put on a programme of sessions – each session is no more than 20 minutes and is split into three days of weight training different parts of your body. We love that you're back out the door before you've had the chance to realise you've worked out.
The class we love 
While The Clock doesn't technically run classes (instead the sessions are broken up into 20 minutes of weight training), we recommend giving the 12-day programme a go. Panic working out to squeeze into that party dress? This gym has got you covered. Not only will they cover your nutrition and workout regime for 12 days but they're also on hand to answer any burning questions that might throw you off track and offer you some of their beautifully packaged supplement range that'll help you on your get-fit quest.
Don't miss 
A delicious on-plan lunch rustled up by resident chef Michael Beignet. Being able to eat so well and stay on your fitness plan will leave you feeling motivated.
Healthista hint 
Exhausted after your workout? Grab a cup of complimentary Lavazza coffee to go from The Clock's kitchen (just don't bring your own flask to fill up – Michael doesn't love that).
Where do I sign up?
A month's membership costs £600 or annual membership costs £365 per month or a 25-day pass can be purchased for £875 or try the 12-day programme for £595. Find out more information on the website here.
Best for total body workouts: KXU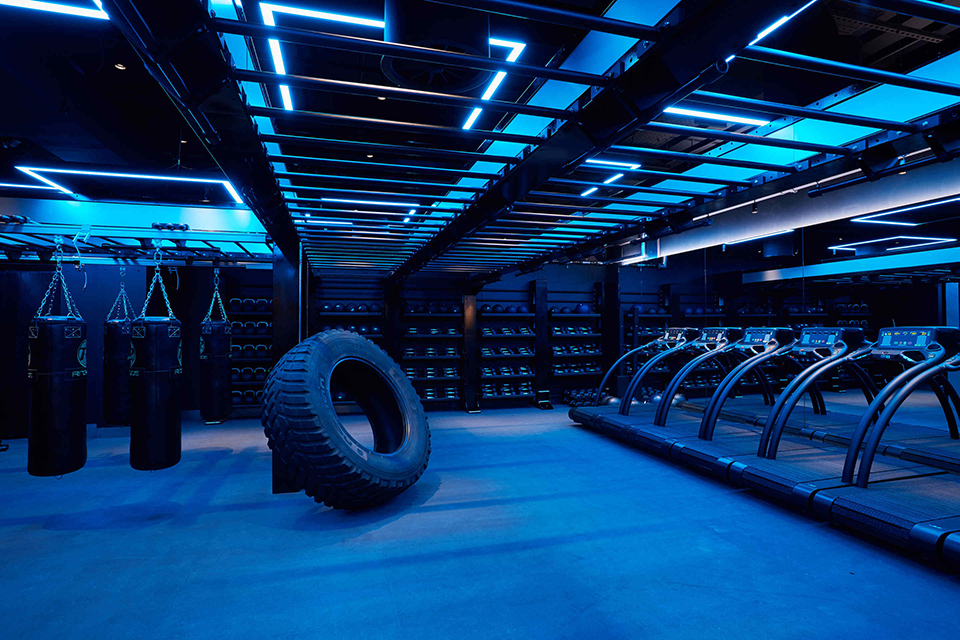 Sister venue to the famous KX gym (it's frequented by celebs like Adele), KXU pride themselves on offering everything from Spinning to Sparring, Deadlifts to Detoxes, all under one roof. The gym not only oozes west London boutique cool (expect luxurious changing areas, staff that look straight off the Victoria's Secret runway and cleaners endlessly circling around keeping the place in tip-top condition) but also has a spa and therapy options.
The class we love 
HIIT and run. This intense 45-minute class will have you moving A LOT. Perfect for a total body workout, HIIT and run will have you feeling as though you're at a social gathering as you whoop and cheer your classmates on their final treadmill sprint. Expect it to be hard. The high intensity push up variations, squats, burpees and core exercises will leave you trembling.
Don't miss 
We highly recommend leaving enough time after your workout session to take ten in the infrared sauna – a seriously relaxing way to start your morning.
Healthista hint 
Class sizes can get very full so if you thrive in a smaller training environment avoid weekend and peak time classes.
Where do I sign up?
Classes cost £24 pay-as-you-go but the more you buy as a bundle the cheaper the overall cost. Pay £300 per month for 25 classes a month.
Best for community spirit: F45 Paddington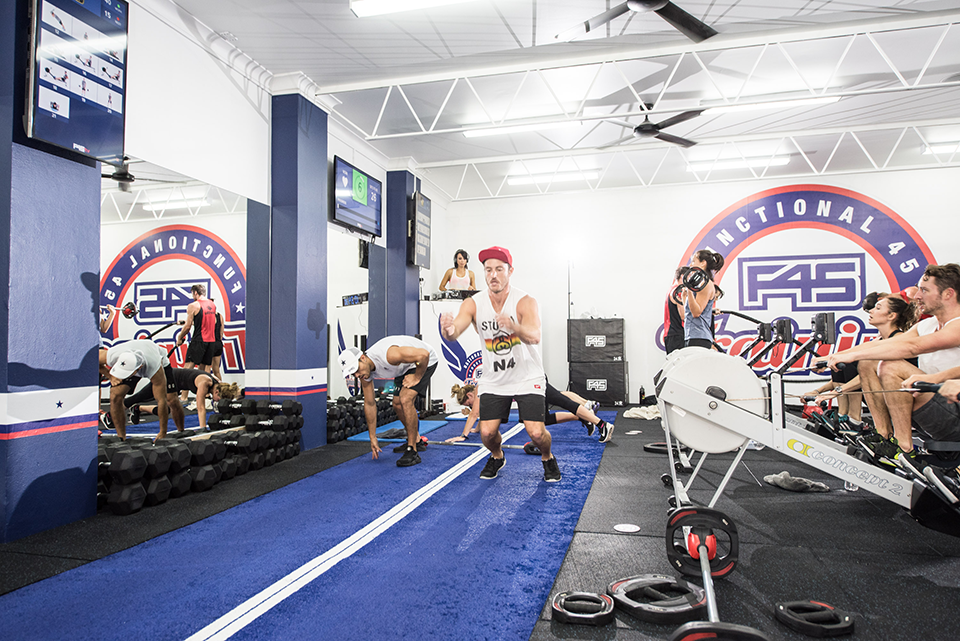 Not only are Nicole Ritchie and Hugh Jackman massive fans of the F45 workout but Healthista writer Vanessa Chalmers hails F45 in London, Paddington as 'the best gym I have ever been to.' Classes consist of 45 minute workouts (a combo of cardio and weights days) that are divided up into different stations that change day-to-day. TV screens with a model demonstrating the exercises surround the room so you know what you're doing. Our love of this gym comes not only because of the brilliant combination of cardio and weight training classes but mainly because of the amazing community spirit the gym fosters. Owners Cam and Daniella pay attention to remember everyone's names and offer encouragement throughout the classes.
The class we love
The Hollywood class, twice on a Saturday morning, pushes you to your limits with a whopping 27 stations. The class is a cardio/weights hour-long combination – an extra fifteen minutes longer than the usual session, and you really feel the difference. While the class content varies from week to week expect a hardcore workout filled with bike sprints, prowler pushes, clean and press and a few jump squats thrown in for good measure (it will make you feel a lot less guilty for those Saturday night cocktails).
Don't miss
The buzz of the community feel at F45. Forget awkward changing rooms where people seem to lose their voice. Instead, gear up for chatting away to girls from all walks of life after Cam and Daniella get you to pose for a sweaty group photo. You can even sign up for 8 week transformations (free with your membership) which brings you even closer to fellow gym goers.
Healthista hint
Stay for the stretching at the end of the class If you have time. The music choice will chill you out if not the 'and breathe' vibes.
Where do I sign up?
Sessions start from £16 per class and memberships start from £185 a month at locations around London.
Best for beginners: Best's Bootcamp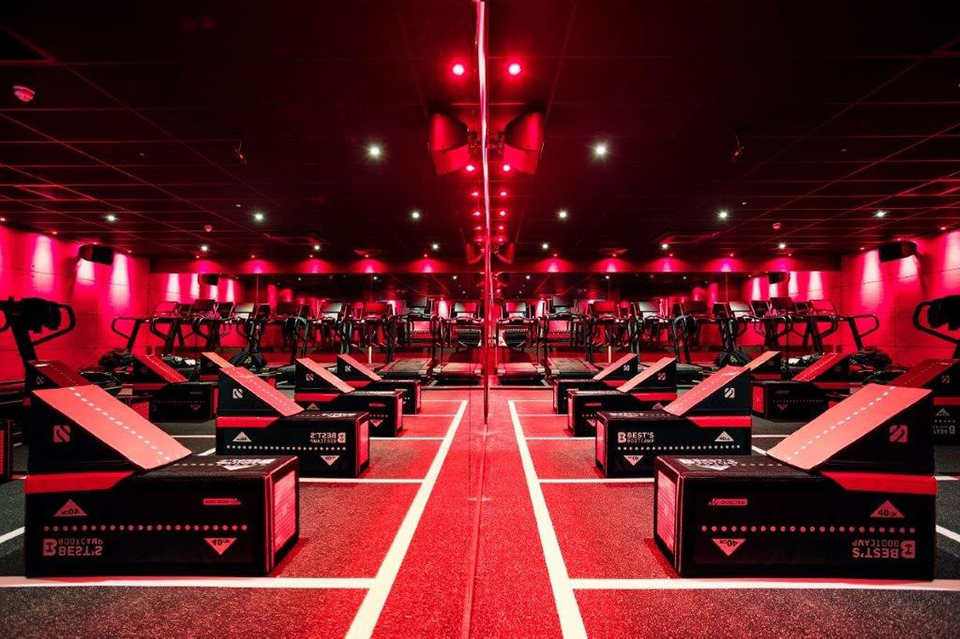 With a resident DJ that mixes new music every day to make sure the music is as good as the workout and a studio that is fully kitted out with club lighting that'll help you party while you sweat, Best's Bootcamp promise to make your workout fun. While they pride themselves on being unpretentious (saying 'everyone is on the list'), they also provide a little haven of luxe, with changing rooms that contain high-end beauty products and lavender-scented iced sweat towels – ooooheee! This studio is perfect for fitness newbies as staff are helpful and supportive and don't scare you straight back out the door.
The class we love 
Best's Bootcamp (the gym's namesake) is the class Healthista seriously rates. A mix of weights, ab exercises and treadmill workouts this class is bound to make you sweat. It's fun and fast-paced and the mix of weights and cardio gives you a seriously amazing endorphin buzz. This is a great all-rounder class for anyone that is new to fitness as you're really encouraged to go at your own pace and level making it a comfortable environment to get sweaty in, plus there are lots of total body conditioning skills for you to pick up.  Plus the classes uses FreeMotion treadmills which can run by themselves or you can power them. They can also change to a parachute resisted run or weighted sled at the push of a button. Best's South Kensington Studio is currently the only studio in the world with this tech – we definitely recommend checking it out.
Don't miss
The Best Blast Shower. It's a cooling airstream shower which guarantees to stop you sweating before you get dressed – a total lifesaver when you've got to rush back to work or out to dinner after your class.
Healthista hint 
Never remember to keep your phone charged up? Don't sweat it (you'll have done enough of that already) – lockers are furnished with secure mobile phone charge points so you never have a flat battery.
Where do I sign up?
Studios are located in Charring Cross or South Kensington. Classes cost £20 each or you can sign up for membership. Prices start at £175 for 6 months of membership.
Best for the feel-good-factor: Core Collective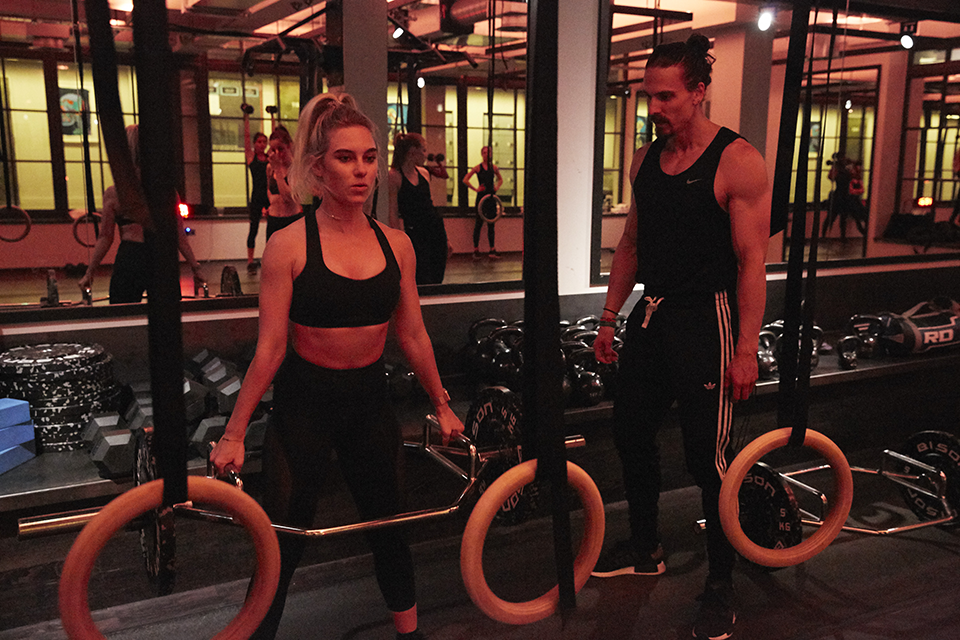 Core Collective is nestled next to Holland Park in Kensington. The outside looks modern, yet you'd almost pass by the building aside from the little hanging sign with the gym's name.Even if you've never been to Core Collective, it's more than likely that you follow some of the trainers of this gym on social media. If you're living in London and in touch with the cities fitness scene, this gym will definitely be on your radar. The gym offers seven different styles of classes including row, TRX, Pilates, Power Yoga, stretch and cycle – basically, it caters to every gym-class-obsessives needs.
The class we love 
The 55-minute circuit class at Core Collective will leave you ready to take on the world. This workout is a total body affair and you can expect to bike, box jump, crab crawl and kettlebell swing your way around the room. Instructor Emma is super enthusiastic and makes it round to every person in class to help with technique and encouragement when the going gets tough. So if you love your plyometrics and getting that sweaty, feel-good factor out of a workout – this is the class for you.
Don't miss 
Got work to catch up on? Spend a bit of time in the open and airy waiting area. Plush, leather couches and dimmed lighting makes the space feel homey. Sit at a table and whack out your laptop or just enjoy a light breakfast post-circuits.
Healthista hint 
Social media savvy? Head to Power Yoga to work out with Tone Your Own founder Kim Hartwell or Cycle to get shouted at by Instafamous Kirby Akindeinde. 
Where do I sign up?
Classes cost £22 each or can be purchased as part of a package here.
Best for a luxe experience: 3 St James Square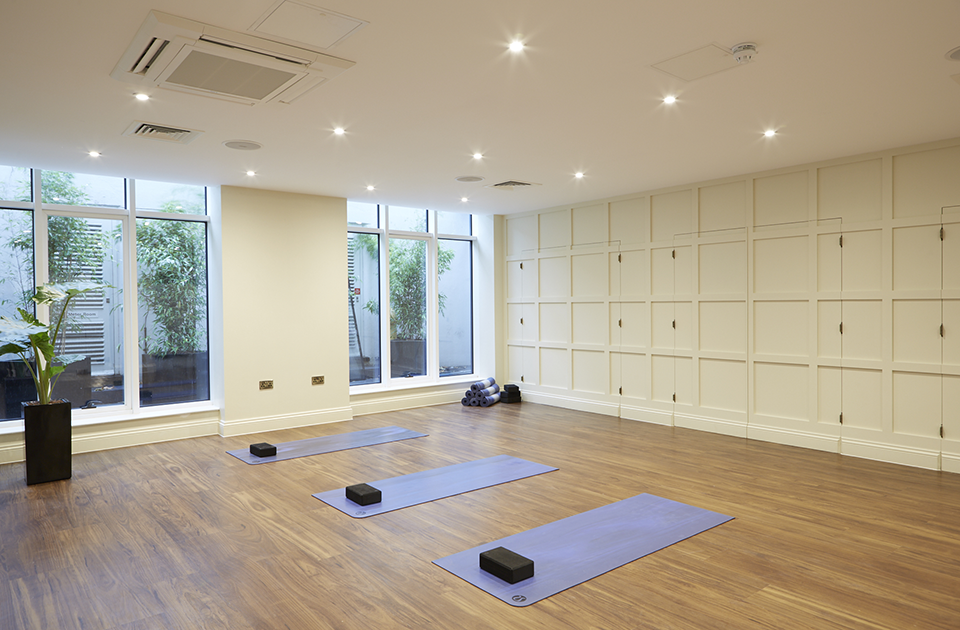 Members club, gym, spa and social meeting point, 3 St James Square is the newest luxury fitness experience to hit London's wellness scene. They call themselves the 'concierge to your wellbeing' and offer personal training including bespoke sessions in body composition, yoga, boxing, pilates, nutrition advice and general training. The club even has a Golf Academy where members can practice their golfing skills and undertake private, semi-private or small group lessons with a leading Tour Experienced Professional. And if by any chance you don't fancy working out some days? Sitting at the bar with a cocktail is just fine by them too.
The class we love 
Don't miss out on a 121 Yoga session with resident yogi coach, Leah – it will change your life. Leah will contact you by email ahead of your appointment to find out what you want to get out of your session and if there's anything, in particular, you'd like to work on. We opted for a relaxing, unwinding session and can't believe how restorative it was. It's worth joining up for this session alone.
Don't miss 
A treatment at 3 St James Square spa. The spa might just sit next door to the clubs changing rooms but try the hot stone massage post personal training session and you'll feel miles away from the gym floor. We guarantee it will change your day around.
Healthista hint 
Be prepared for a shock on your first session. You'll get your body composition taken on a normal electric machine but you'll also strip off and stand in a 3D body scanner – it'll make an avatar-like version of your body so that you can see all of your lumps and bumps – horrifying but seriously motivating.
Where do I sign up?
To sign up to this amazing gym you'll have to fork out a £2,000 joining fee and then it costs a further £6,000 per year. But if you're one of the first 250 people to join this brand new gym there's no joining fee and the gym will cost £4000 per year. Find out more here.
Read more
The new Boxing Boutiques – hot new fighting studios you CANNOT miss
Chroma Yoga – the new class combining yoga with LIGHT therapy
The new fitness app that lets you book any class in London
Like this article? Sign up to our newsletter to get more articles like this delivered straight to your inbox.