Whether you want all night coverage or a dewy look, we have tested and tried the best foundations for your skin's need
Party season is with us, and the change in weather  coupled with the sleepless nights, alcohol and less-than-perfect food choices can wreak havoc on your skin. You want to look your best but your choice of foundation could be making things worse. Good news is, there are foundations out there specifically designed to help your skin breathe and even treat your skin from the outside in – while also looking great. Well, they're the claims we'd heard, so we tested a load of such foundations to find you the best.
Best for a no-makeup look: bareMinerals barePRO Foundation
BareMinerals new barePro Foundation is their newest range of foundation, offering long-lasting coverage and SPF 20. It is a light, breathable foundation with a matte finish. The product is buildable on the skin, claiming to work for all skin types, and promotes evening skin tone. barePro Performance Wear Foundation contains both papaya enzymes and bamboo stem extract, which are known for improving skin. Papaya enzymes work as an exfoliator for the skin, while bamboo stem extract is often used to even out skin tone. It comes in an impressive 30 shades, so finding a shade to match your skin is easy.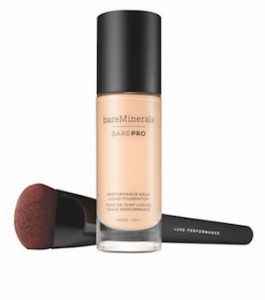 Healthista writer Parisa says:
I love the idea of mineral-based makeup that is good for your skin but was always reluctant to try the more common powder-based versions (a no-can-do for my dry skin). This liquid foundation was a perfect fit for a dryer skin type. The consistency was thick but created a surprisingly thin layer when applied to the face and there was no caking around drier patches of my face (bareMinerals foundation primer is also partly to thank for this!) I loved that this product was buildable which meant I could wear a light layer to the gym paired with a cream blush for a no-makeup makeup look. The foundation felt quite wet to apply but quickly dried to a matte finish. This meant it was perfect to use alongside a cream bronzer and blush without resulting in smudge. My skin has improved over the week of wearing it (but that could also be due to reduced stress levels!)
Buy bareMinerals barePro Advanced Performance Wear Foundation SPF20, for £29.99 here. 
Buy bareMinerals Prime Time Foundation Primer, for £24 here. 
Best for glowing skin: Clinique Even Better Glow Foundation
Clinique Even Better Glow is a lightweight, moisturising liquid foundation that's 100 percent fragrance-free which limits harsh chemicals coming into contact with your skin. Even Better Glow foundation provides moderate coverage and a luminous, dewy glow. The foundation is also oil-free, so suitable for those with an oily skin type, but also won't go greasy after a few hours. It also contains SPF 15, for extra protection against UV rays. Clinique professes that the foundation will give you a gorgeous glow instantly, and over time.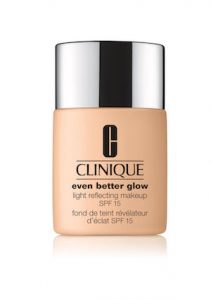 Healthista writer Parisa says:
This foundation offered seriously good levels of coverage – reminding me of the cult classics Mac Studio Fix and Estee Lauder Double Wear in its thick and dense texture. So for that reason, I was surprised to find this foundation gave my skin a seriously dewy finish. Paired with a Fenty Highlighter I was positively glowing and not at all oily or shiny. The product smells like a beauty counter which makes it surprisingly calming to apply in the morning. While it isn't as dewy as some foundations I am completely on board with Clinique Even Better Glow. Usually you have to choose between glow or long-lasting and this product let me have both. With no powder or setting spray, I still had makeup on when I went for post-work drinks (usually it slides off my face before 5.30pm).
Buy Clinique Even Better Glow SPF15 for £27 here. 
Buy Fenty Highlighters for £26 here.
Best for a long-lasting look: Laura Mercier Flawless Fusion Ultra-Longwear Foundation
This foundation looks so sleek and fabulous, we couldn't wait to try it out. Laura Mercier's Flawless Fusion Ultra Longwear foundation is a light liquid foundation, that offers long lasting coverage. It is an oil-free formula, so works for all skin types even oily skin and contains silica powder that work to absorb oil produced by the skin so you can avoid looking shiny and greasy by the end of the day. It is suitable for sensitive skin, and comes in 20 different shades, it's definitely worth a try.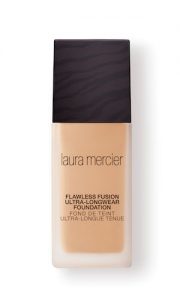 Healthista writer Brianna says:
I absolutely love this foundation. The product glides on smoothly and creates an even look on my skin. Often foundation can leave my skin looking oily or too shiny. This foundation is great because every time I used it my skin was left looking dewy and natural. There was no apparent scent which was nice- no overwhelming smell of chemicals or the standard makeup smell. The product is also really buildable and allows the person using the product to layer it as much as they like.
Buy Laura Mercier Flawless Fusion Ultra-Longwear Foundation for £35 here. 
Best for on the go touch-ups: NARS Velvet Matte Foundation Stick
Not only is this a gorgeous cream foundation stick, it also has a convenient little beauty blender on the other end.  It makes touch ups on the go simple. The sponge is removable for easy use, and is covered with a lid so you don't even have to worry about dirt clinging to it. It is a blendable foundation that offers a medium coverage look, but can be layered for a fuller coverage. It comes in 20 shades, so finding the right match for you is easy.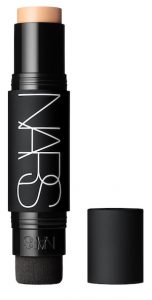 Healthista writer Mary says:
I really like how the NARS Velvet Matte Foundation stick comes, one end is the foundation stick and the other end is a little sponge so it makes touch ups so easy. I was sceptical at first because I have never tried a stick foundation and generally the creamy foundations I have tried haven't been very blendable. I was really pleasantly surprised – it goes on really smoothly and is very blendable. It also provides surprisingly good coverage and a little bit goes a long way. I wanted to try this product because liquid foundations tend to sink into my pores, and the NARS foundation stick really helped prevent that. It was a good, long lasting foundation, and the colour really matched my skin tone which isn't very common for me. I would definitely use the product again and I would recommend it to others, although perhaps not people with dry skin, as the texture can be quite drying.
Buy NARS Velvet Matte Foundation Stick for £30 here. 
Best for breakouts: Oxygenetix Oxygenating Acne Control Foundation
Oxygenetix Foundation is a Healthista favourite – we adore the regular Oxygenetix which is an anti-ageing foundation – so when we found out about the Acne Control Foundation we absolutely had to give it a go.  Oxygenetix Acne Control Foundation contains two per cent salicylic acid, an ingredient known for exfoliating skin and getting rid of blemishes. This foundation also has no added water, is oil-free and paraben free. The base of the foundation is aloe gel, which is why there is no added water. Oxygentix claim that added water can attract bacteria, so the aloe gel base prevents this from being a problem. It also has SPF 25 UVA/UVB protection, to shield your skin from sun rays.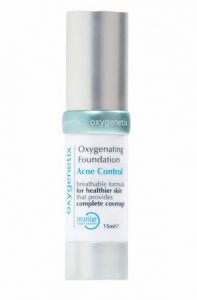 Healthista writer Mary says:
This foundation has a relatively thick consistency but it goes on smoothly, and is quite blendable, for a high overage look. I would say that it gives a high coverage look. The first time I used it I put way too much on, just because I didn't expect how full coverage it would be – a little goes a long way which is thankful, at that price.  Once i had got used to the amount needed I liked the foundation and the way it set on my skin, without looking too heavy. After about a week's use I could see a marked improvement in my skin too, with fewer breakouts. Definitely a keeper.
Buy Oxygenetix Oxygenating Acne Control Foundation for £55 here.
Best for sunny days: Perricone MD No Foundation Foundation
This product is like a foundation and sun cream combined and literally smells like the latter – hello, summer reminiscing. Thankfully it is not as thick, or greasy, as a generic sunscreen. Perricone MD is a brand created by a dermatologist, so skin care in make up is at the forefront of the brand. The No Foundation Foundation contains titanium dioxide and zinc oxide, both for the purpose of sun protection. The foundation has SPF30, so works to protect the skin against damage from the sun, but is also buildable to allow you to get the right coverage. The product also claims to minimise the appearance of pores and wrinkles, as well as even skin tone.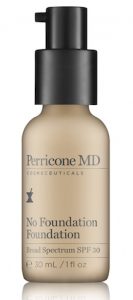 Healthista Editor Anna Magee says:
I love this product because I am obsessed with sun protection but by the time I use a serum, moisturiser, sunscreen, primer and foundation my face is swimming in product. This glides on and looks super natural on the face while providing an almost translucent coverage that somehow still covers blemishes. For me, it's more like a BB Cream texture than a foundation, which is why I am hooked. I could workout in it and it still stayed put yet never looked caked.
Buy Perricone MD No Foundation Foundation for £45 here.
Best budget foundation: Sleek Lifeproof Foundation
This foundation is the cheapest foundation on the list at only £8.99, but that doesn't mean its not just as good as the rest of the foundations. Sleek's new foundation is available in 24 shades and various undertones, which makes finding the right match for you easy. It is created with an oil-free formula, to balance levels of moisture on the skin. It is infused with liquorice extract; liquorice extract has properties that brighten dull and tired skin. Lifeproof foundation also claims to be sweat proof, so it can be worn from the gym to office and everywhere in between.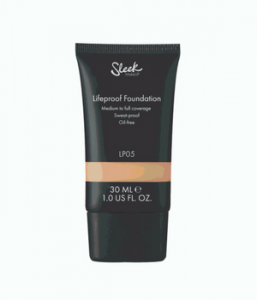 Healthista writer Parisa says:
With a reasonable price point and unassuming packaging, I was not expecting this foundation to be as good as it was. The texture was thick, creamy and buildable with barely any fragrance. It easily blended into my face, feeling almost moisturising. It lasts throughout the working day and when layered it is the perfect long-lasting companion for my Saturday night out (especially thanks to the plastic packaging – nobody wants a glass foundation bottle spillage in a public bathroom, trust me, I've been there). With only one layer the product disappears into your skin, evening out tone and giving you a naturally smoothed out look. But be careful, this product comes out fast and is easy to waste! I would definitely recommend it to anyone looking for a full coverage foundation on a budget.
Buy Sleek Lifeproof Foundation for £8.99 here.
Best for full coverage: Vichy Dermablend 3D Correction Foundation
We are obsessed with the classy design of this packaging, almost as much as the foundation inside. It gives a full coverage look, with minimal product, so theres no need to worry about layering and building to get the look you want. A pea-size amount of this blendable foundation gives surprisingly good coverage. Vichy's Dermablend 3D Correction foundation works to cover imperfections, scarring, redness, uneven skin tone and other skin concerns.  It's oil-free which allows the skin to breathe under the foundation, and won't aggravate oily skin. The foundation contains active ingredients, such as salicylic acid and eperulin that work to cool down redness and even skin tone.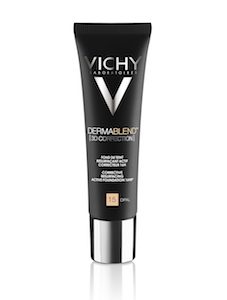 Healthista writer Mary says:
I wasn't totally convinced that this foundation would work for my skin when I first tried it out. It is quite a thick creamy texture, and when my skin was feeling particularly dry, I thought there was no way it was going to be right for me. However, the product goes on really well, it blends so nicely and it gives a full coverage look. It doesn't come out dry at all and it doesn't dry throughout the day either. The product lasted on my skin well, I often have the problem with foundations becoming virtually redundant by about 3pm, but I didn't have this with Vichy Dermablend. I would definitely keep using it, and for anyone after a full coverage foundation without having to use excessive amounts of the product, I would certainly recommend.
Buy Vichy Dermablend 3D Correction Foundation for £23 here.
Best for a lightweight finish: Vichy Dermablend Covermatte Compact Foundation
Vichy's Dermablend Covermatte compact powder foundation works using the same ingredients as their 3D Correction Foundation, however in a powder form. The powder allows you to build to the right coverage for you and keeps a matte finish. The powder contains SPF 25 to protect against UV rays, as well as salicylic acid, zinc and vitamin E. These ingredients are useful in improve skin's texture and reducing redness, and blemishes.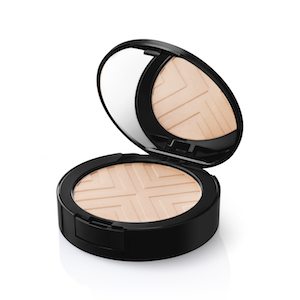 Healthista writer Mary says:
This is the first time I used a powder foundation by itself, and not as a setting powder. So when I first tried it I was really concerned about the coverage it would give and its lasting power. I always go for high coverage foundations, so I was hoping it would be enough for me throughout the day. I was pleasantly surprised by the results – the powder gives good coverage but it is buildable. I found it easier to layer the foundation using the powder than other liquid foundations. It went on evenly and felt so light on the skin too, like II wasn't wearing any foundation, and it actually did last throughout the day. I had to reapply a couple of times, but that was more to get rid of shine than movement of the foundation. I would suggest this to people with a more oily skin type, because it won't add to any shine as some liquid foundations do.
Buy Vichy Dermablend Covermatte for £20 here.
Best for layering pigments: WUNDER2 COVERPROOF Foundation
COVERPROOF Foundation is another Healthista favourite and we love it most of all for its power to help layered pigments (your blush and bronzer) to last longer on top of it. It provides high coverage, without the risk of cakey foundation, sounds perfect right? It is also has serious staying power, avoiding smudging and transfer. Not only is COVERPROOF long wearing, but it supposedly grips to any makeup applied afterwards making them just as long lasting. It even claims to last up to 24 hours, although we don't generally recommend that. COVERPROOF contains vitamins and anti-oxidants, which both promote healthy skin. This foundation only comes in five shades, however, so finding a match for darker skin tones might not be an option.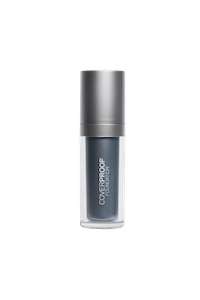 Healthista editor Anna says:
This is my go to when I'm feeling tired and I know I need a lift – there's something honestly wondrous about how it transform tired skin, restoring its radiance quickly. It's high coverage so be warned, you don't need a lot and once on, it really won't budge. They're right, anything put on top of it such as blush or highlighter won't move either.
Buy WUNDER2 COVERPROOF Foundation for £24.95 here. 
Best for evening out your skin tone: Algenist REVEAL Colour Correcting Drops
These aren't foundations in the conventional sense, they are colour drops in four different colours each created to counteract a specific problem. Green colour corrects redness, apricot corrects discolouration, pink corrects dullness, and blue colour corrects sallowness. You can get a sample size of all four and use a combination that works for your skin. The drops correct colour instantly, but they also claim to even out the skin tone in 10 days. You can wear it under your foundation as a base, but if you perfect the technique you should be able to wear it without any more make up. It's a light liquid so it works wells as a base.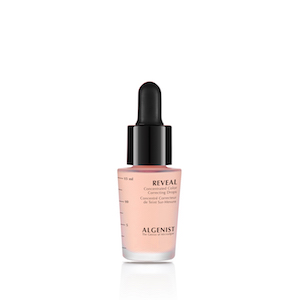 Healthista writer Brianna says:
The REVEAL Colour Correcting Drops I tried were the pink colour. These drops promise to correct dullness, correct and cover and reduce the signs of ageing. After testing the product for a few weeks,  definitely noticed my skin appeared brighter and more even when I used the pink drops in combination with my foundation. Since I am quite fair skinned, I was afraid adding pink would make my face look all blushed, but this product instead gave my skin a dewy look rather than any signs of pink.  The colour correcting component of pink helps to block bluish tones, so this product is definitely good to help brighten the whole face and take the attention off of under-eye discolouration.
Buy Algenist REVEAL Colour Correcting Drops for £30 here. 
READ MORE…
We love: Oxygenetix Foundation
9 best skin brightening products to make your face GLOW
19 beauty products this make-up artist with psoriasis swears by
Eyebrows to KILL for – 15 best products to get the top trends