In this week's 'Yoga For…' series, yoga expert Jessica Stewart, demonstrates a yoga for runners sequence help lower the risk of injury and even help your run technique 
Welcome back to our 'Yoga for..' series. This week we have partnered with expert Jessica Stewart, yoga teach at 3tribes. In this 10-minute yoga for runners sequence, Jessica brings you gentle but essential moves that can be done either before or after your run (or both). Let us know what you think on Twitter and Facebook.
This is a Yin Yoga class perfect for a deep post run release of tight ankles, legs and hips. Yin Yoga is a specific form of yoga that invites you to 'passively stretch', in other words, to not force the lengthening of the muscle fibre, but rather to use deep breath and gravitational pulls and staying in the poses for a little longer to widen the connective tissue as well as the muscles that contract during running. This sequence will also suit post-run to release tension in the muscles.
Equipment needed: 
Strap or bathrobe belt
Yoga brick
Yoga block
Spair yoga matt rolled up
Sequence
Supta hasta padangustasana A and B – 2 minutes)
Dangling / passive forward fold – 3 minutes)
Supine twist (option for heel on wall)
Kneeling toe squat and lifting the thighs to release front of ankle
Supta virasana
MORE YOGA FOR… SEQUENCES: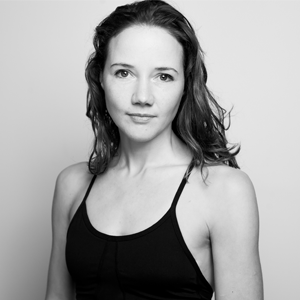 Jessica Stewart is a senior yoga teacher at Yogacentic and 3 Tribes, runs the Centric 200 hour Yoga training and yoga retreats worldwide. Jessica trained with tribe yoga in India, in tantra and ashtanga vinyasa yoga disciplines, and has since advanced trainings in anatomy with Tiffany Cruikshank. Jess' teaching fuses yoga's traditional lineage and modern anatomical awareness. Jess is known in London for strong vinyasa classes, yang yin and candlelit yin yoga classes that energise and de-stress.
Like this article? Sign up to our newsletter to get more articles like this delivered straight to your inbox.